Ontology Crypto Price Prediction: Is ONT Coin a Good Investment?
September 1, 2022
Price Prediction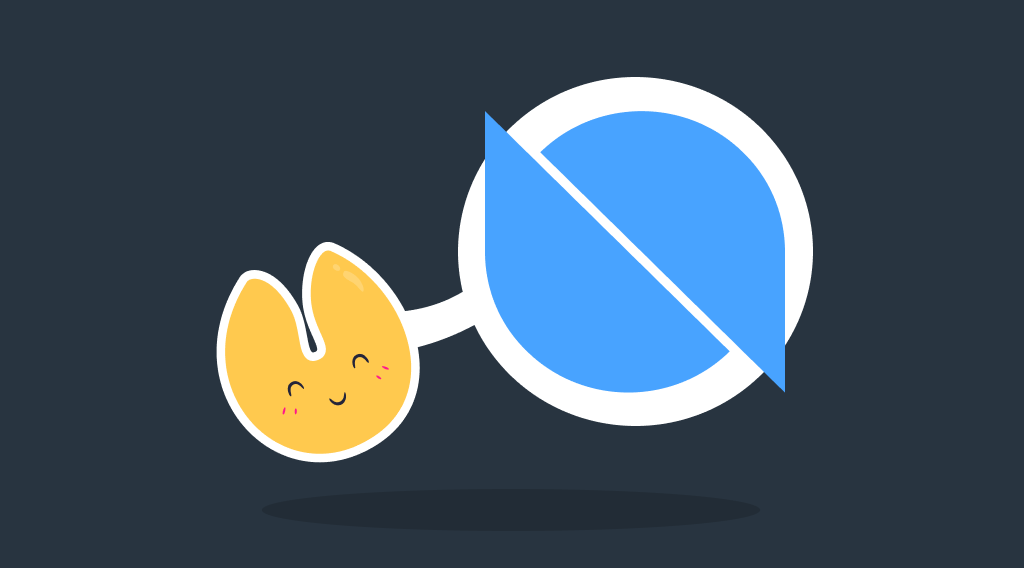 The world of crypto offers a multitude of projects that operate as middlemen between different blockchains or those that are aimed at smoothing the process of blockchain communication. In addition, many new blockchains concentrate on working with digital data. One of such networks is Ontology. Read more about Ontology crypto price prediction in the new StealthEX article.
| | | |
| --- | --- | --- |
| Current ONT crypto price | Ontology price prediction 2022 | Ontology crypto price prediction 2025 |
| $0.2471 | $1.08 | $1.89 |

Ontology network is a high-performance public blockchain project and a distributed trust collaboration platform. Its public blockchains include a series of complete distributed ledgers and smart contract systems. Ontology supports public blockchain systems and is able to customize different public blockchains for different applications. It also supports collaboration amongst chain networks with its various protocol groups. They will constantly provide common modules on the underlying infrastructure for different kinds of distributed scenarios, such as those for the distributed digital identity framework, distributed data exchange protocol, etc. The platform features its own token, ONT.
Ontology Crypto Price Prediction
Let's take a closer look at this crypto project to see what the future holds for the developing digital company.
PricePrediction Ontology Crypto Price Prediction
The experts at PricePrediction believe that in the future, ONT crypto price will be growing slowly, but steadily. According to their forecasts, by 2025, Ontology coin price will reach $0.94 (+280%) on average, while at its peak it will skyrocket to $1.12 (+353%). By 2027 ONT token's maximum price might be equivalent to $2.33 (+842%). PricePrediction sees a bright future for the project when it comes to long-term predictions. According to the website's estimates, in 2031, ONT coin will reach $8.33 (+3,271%), and that'll be just its average price. At its maximum, its price might go nearly as high as 10 dollars – $9.83 (+3,878%).
TechNewsLeader Ontology Cryptocurrency Price Prediction
TechNewsLeader forecast promises ONT coin a stable growth, though a bit less exciting than that by PricePrediction. According to the website experts' estimates, in 2025 ONT's price will rise to $1.09 (+341%). The website also promises ONT token a price of $2.46 (+895%) in 2027. In 2031 Ontology coin is expected to reach $10.94 (+4,327%).
LongForecast ONT Coin Price Prediction 2030
Meanwhile, LongForecast experts also have a very positive long-term prediction for ONT coin price, and according to them, it's supposed to perform better than expected: they believe that in 2025, ONT coin price will reach $2.769 (+1,020%) on average and by July 2026, we'll see it climb up to $5 (+1,923%) at its highest. This may be the most optimistic forecast among crypto experts.
Ontology Coin Price Chart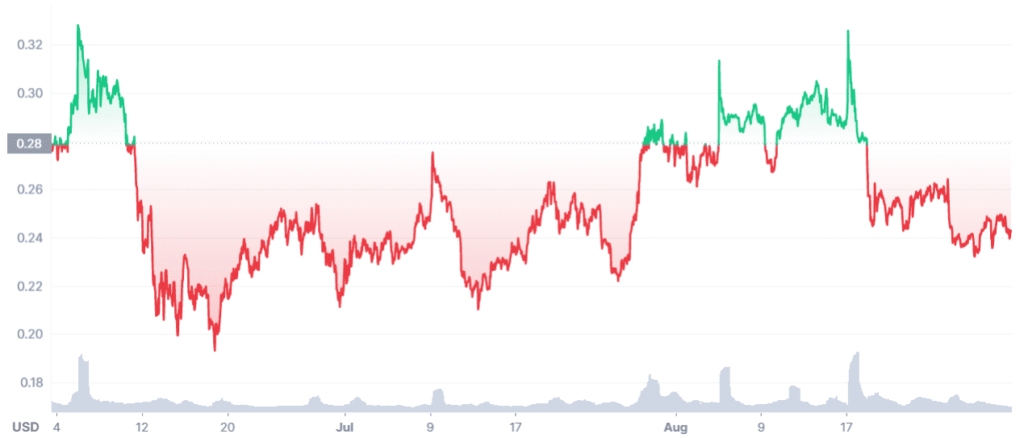 | | |
| --- | --- |
| Current Price | $0.2471 |
| Market Cap | $215,924,989 |
| Volume (24h) | $14,736,901 |
| Market Rank | #129 |
| Circulating Supply | 875,249,524.00 ONT |
| Total Supply | 1,000,000,000 ONT |
| 7 Day High / Low | $0.2651 / $0.2313 |
| All-Time High | $11.18 May 3, 2018 |
Source: CoinMarketCap, 1 September 2022
Ontology Price Technical Analysis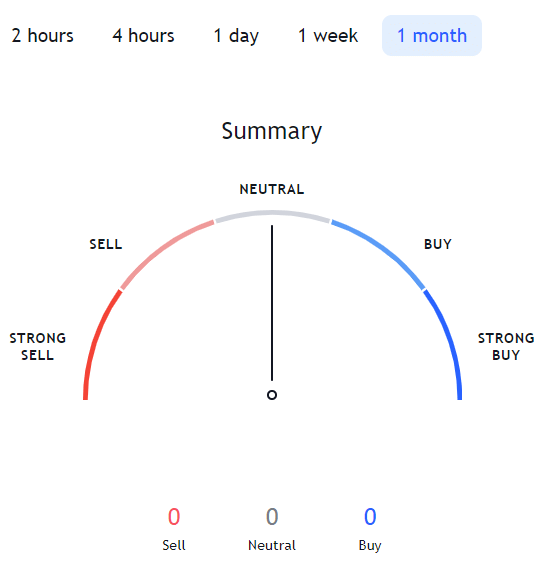 Source: Tradingview, Data was taken on 1 September 2022.
Ontology Platform: Overview
As we have already stated, the Ontology blockchain is a high-speed, low-cost public blockchain bringing decentralized identity and data solutions to Web3.
Ontology blockchain main features:
Privacy
Transparency
Trust
High speed
Low cost
Flexibility
This Layer 2 blockchain is designed to give users and enterprises the flexibility to build blockchain-based solutions that suit their needs, while also ensuring regulatory compliance. Through Ontology's Ethereum Virtual Machine (EVM), Ontology ensures frictionless compatibility with Ethereum, the first step in the creation of the Ontology Multi-Virtual Machine and further interoperability for the chain. Multiple languages and add-on protocols are also integration supported.
The fact that all the data is stored on a decentralized ledger means that there is no single point of failure, which minimizes security breaches and misuse of data by third-party centralized entities. This concept is termed self-sovereign identity (SSI), in reference to the user having full control and governance over their online identity. Trust anchors serve to verify these identities within Ontology's distributed identity network. Ontology claims that this innovation, part of what they call 'decentralized identity' (DID), can protect users' data from being hacked, as well as help maintain their data privacy.
Ontology's Unique Assets
The ONT network offers four major projects within its blockchain:
ONT ID. By creating ONT ID, users will be able to protect their identities and data without constant oversight or maintenance. Using ONT ID prevents malicious actors from hijacking users' identities or accessing personal information. ONT ID lets users securely manage their digital identity by storing them on their phones or on trusted cloud storage with a private key that only grants them access to their data.
ONTO Wallet. Being a cross-chain wallet, ONTO Wallet ensures that users' data is completely protected through encryption and controlled 100% by the users themselves. From ownership of on-chain assets to transaction history, ONTO Wallet gives Ontology users total control of their digital footprint.
Saga. SAGA is a decentralized data protocol that helps users purchase and monetize data in a fair, secure, and compliant way.
Wing Finance. And, finally, Ontology product number four is a premier cross-chain DeFi lending protocol integrated with a reputation score.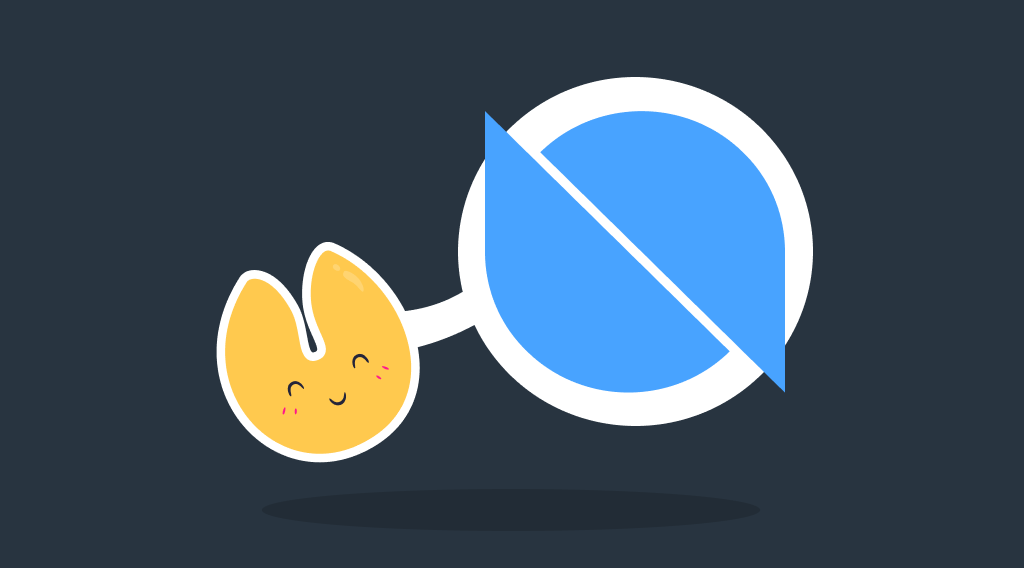 How Does Ontology Work?
Ontology uses a unique consensus mechanism called verifiable byzantine fault tolerance (VBFT), which is a combination of the blockchain consensus mechanisms of byzantine fault tolerance (BFT), proof of stake (PoS), and verifiable random function (VRF) mechanisms.
This combination blends the strengths of each mechanism to achieve faster transaction speeds than the more energy-intensive proof-of-work (PoW) consensus mechanism used by Bitcoin.
Ontology handles an impressive 4,000 transactions per second (TPS) on its mainnet, and that number can increase to tens of thousands when combined with scalability solutions such as sharding. In comparison, Bitcoin currently handles about seven transactions per second and Ethereum handles about 15.
The Purpose and Use Cases of Ontology Network
Ontology lets businesses benefit from things that blockchain technology can provide like:
Smart contracts (self-executing contracts of computer code), which can automate processes and increase business efficiency.
Cryptographic identity proofs, such as those provided by ONT ID. ONT ID quickly and securely verifies new users in the digital age without sensitive documents like passports.
Tokenization of data, as with Ontology's upcoming DDXF, which will make data trackable (the record of where data goes and what happens to it will be recorded on the blockchain) and transferable across different systems or blockchains, such as those that are part of the Ontology ecosystem.
One sector that Ontology has recently focused on is the automotive industry. Ontology has proposed a solution using the blockchain to authenticate car parts, facilitate payments and agreements along the supply chain, handle insurance claims, and more. According to Ontology developers, this solution is currently used by a major German automotive company.
Ontology History: What Is ONT Crypto?
Ontology Coin originally started out as a NEP-5 token (NEP-5 is a type of NEO token) on the NEO blockchain. However, on June 30th, 2018, the Ontology mainnet was launched and NEP-5 ONT was swapped for native mainnet ONT. The Ontology MainNet provides peak reliability and consistency for over 300 dApps that the Ontology public blockchain currently supports.
The company behind the Ontology project, Onchain, is actually the same company behind NEO, which has quickly become one of the more well-known blockchain-related projects. At one point, NEO was regularly called the 'Chinese Ethereum' in the crypto community, due to its roots in China and its focus on building a smart contract platform like Ethereum. One of the founders of the crypto project is Jun Li.
Close ties between the two blockchains, NEO and Ontology, have persisted even after Ontology launched its independent mainnet in 2018. In 2019, Ontology and NEO announced a partnership in creating the cross-blockchain platform known as the PolyNetwork.
Is ONT Coin a Good Investment?
Ontology's data- and privacy-centric focus on the decentralized transfer of data and online self-identity ownership come at a time when data security breaches are on the rise, and users are becoming increasingly aware of data harvesting. The platform has been quite innovative when working with identity verification, data exchange, and credit scoring, thus allowing for many possible use cases for both businesses and individuals. This solid background may be key to further ONT token price surges.
It's quite possible that ONT coin will be able to survive the crypto winter of 2022 and prosper with the next bullish trend on the market. It can therefore be seen as a profitable investment opportunity, judging by its price movements in the past.
Where and How to Buy ONT Token?
StealthEX is here to help you buy ONT tokens. You can do this privately and without the need to sign up for the service. Our crypto collection has more than 450 different coins and you can do wallet-to-wallet transfers instantly and problem-free.
Just go to StealthEX and follow these easy steps:
Choose the pair and the amount you want to exchange. For instance, BTC to ONT.
Press the "Start exchange" button.
Provide the recipient address to transfer your crypto to.
Process the transaction.
Receive your crypto coins.

Follow us on Medium, Twitter, Telegram, YouTube, and Reddit to stay updated about the latest news on StealthEX.io and the rest of the crypto world.
Don't forget to do your own research before buying any crypto. The views and opinions expressed in this article are solely those of the author.
crypto price prediction
ONT
Ontology
price analysis
price prediction
Recent Articles on Cryptocurrency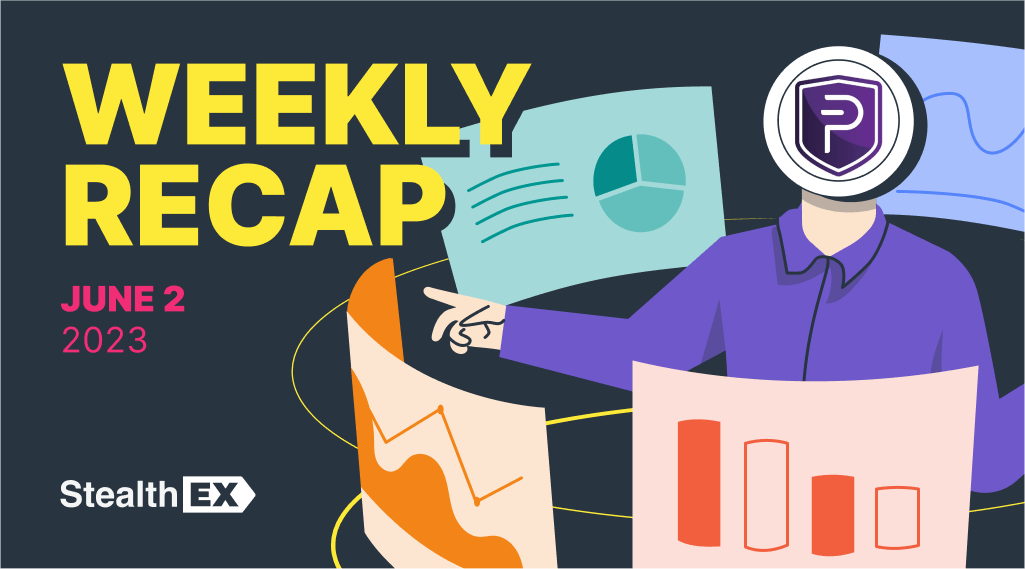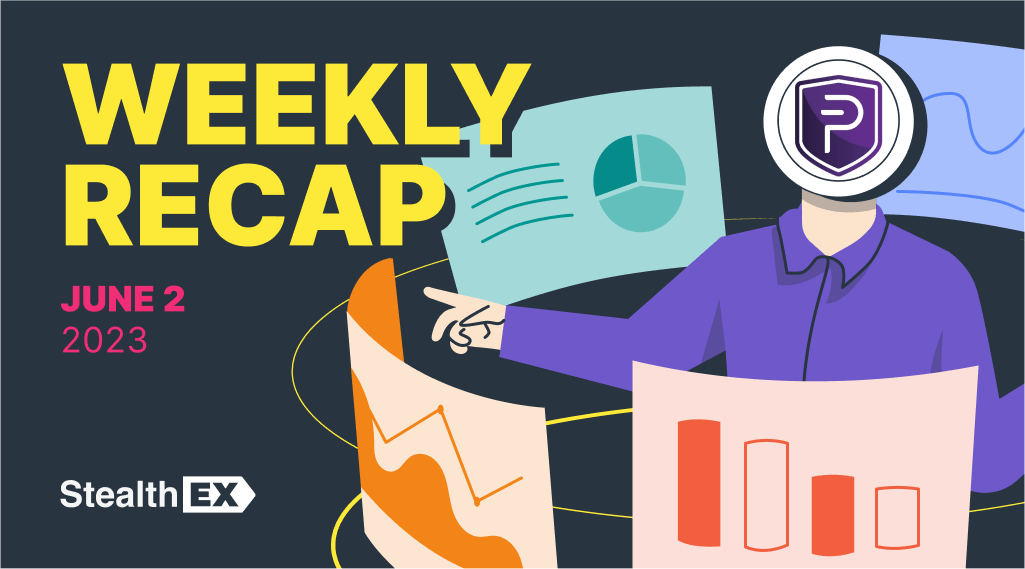 Review of the Crypto Market: June 2, 2023
Weekly Crypto Market analysis with major trends, Ethereum & Bitcoin performance, and impactful news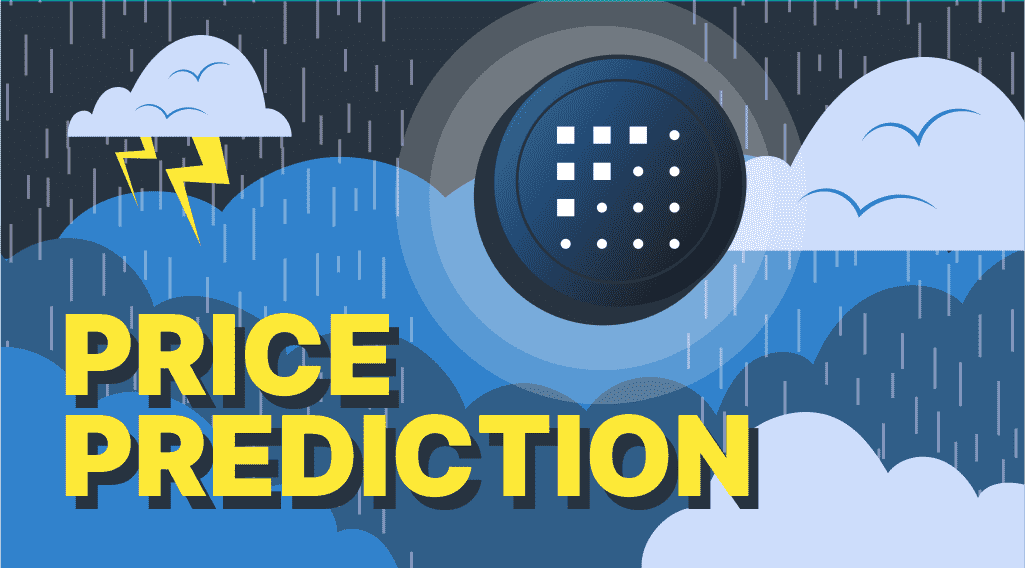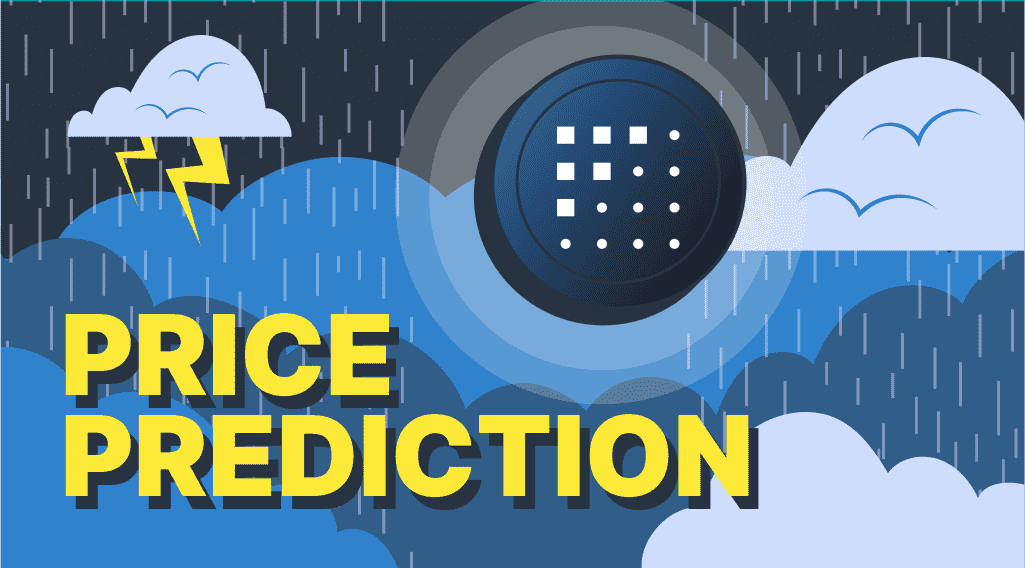 June 1, 2023
Price Prediction
Fetch.ai Price Prediction: Unveiling Future Trends of FET Crypto
Uncover Fetch.ai Price Prediction, empowering you to anticipate market trends and make decisions about its future.