Love Hate Inu (LHINU): Vote-to-Earn Meme Coin
New categories of coins keep popping up on the market, and these often have a multitude of characteristics attached to them. We've all seen Play-to-Earn coins, for instance. Love Hate Inu is a project that features a Vote-to-Earn mechanism. Let's take a closer look at the Love Hate Inu coin and its main characteristics to analyze its perspectives.
Love Hate Inu Crypto Overview
Love Hate Inu is a new Vote-to-Earn cryptocurrency platform that allows members to earn token rewards for voting on different matters and hosting new polls. $LHINU, an ERC-20 token, is the native cryptocurrency of this platform. Love Hate Inu project is the world's first Web3 Vote-to-Earn cryptocurrency platform, where members can vote on engaging polls. Buyers can use LHINU meme coins to cast their votes on topics such as politics, entertainment, sports, and social issues.  
Love Hate Inu will also host a vote submission platform allowing users to share ideas and create their own polls. Users will be able to create their own polls by Q4 2023. The final platform is the management dashboard, which ensures that all votes are conducted in a safe and secure manner. 
The voting platform will reward those who are willing to stake tokens and contribute to the community. On Love Hate Inu, users can vote on the user interface platform after staking $LHINU tokens.  Voters are rewarded with LHINU tokens by the poll creator. Thus, you can earn cryptocurrency for sharing your opinions with the Love Hate Inu community. 
LHINU crypto has set aside 90% of the 100 billion token supply for Love Hate Inu presale in an effort to win over investors. Therefore, the first investors in the platform maybe those who want to participate in the community. In addition, Love Hate Inu has instituted a minimum 30-day staking period to guarantee that users aren't exchanging tokens on a regular basis to cause abrupt fluctuations in price. 
Love Hate Inu Features
The meme coin project has a number of unique features:
Love Hate Inu is the world's first blockchain-based online voting platform. 

Platform members can leverage cryptocurrency to share their thoughts and opinions on polls about entertainment, politics, sports, and important social issues. 

Built on the Ethereum chain, $LHINU is the native cryptocurrency of this project. Investors are required to stake LHINU tokens before participating in the voting process. 

Love Hate Inu members can earn rewards by voting on polls through the user interface. They can also make new polls by accessing the vote submission platform. 

All members are required to stake $LHINU for a minimum of 30 days. The platform uses a real-time staking mechanism to ensure there is no fraudulent activity in the voting process. The votes also remain completely anonymous. 

Love Hate Inu

has a maximum supply of 100 billion tokens. 90% of the supply has been allocated equally across eight presale rounds. The remaining 10% has been set aside for future exchange listings. 
Love Hate Inu System
The native coin, $LHINU, must be purchased by the user in order to start using this voting platform. One of the most popular networks for developing and implementing smart contracts and dApps is the Ethereum blockchain, on which the token has been developed. The platform has invested time and effort into thoroughly testing its smart contracts after completing many audits and testing procedures. 
Users must stake their LHINU tokens in order to cast votes in this vote-to-earn environment. Interestingly, tokens are awarded to any user who votes in the accessible polls. The designers fund new polls and give voters tokens in exchange. Love Hate Inu makes sure that the voting process is anonymous since cryptocurrency is being staked to cast a ballot. 
A person's contribution to the votes increases with the amount of $LHINU they stake. According to Love Hate Inu, each user must stake tokens for at least thirty days. As a result, only people who are genuinely invested in the idea have voting power on this cryptocurrency network. In order to stop spam during the voting process, the platform also employs a real-time staking mechanism. 
Love Hate Inu Roadmap
The Love Hate Inu development team has already laid out the blueprint for the project's future. Love Hate Inu has achieved all the goals for Q1 2023, including the release of the presale, setting up social media accounts, and making the whitepaper public. 
At the moment, the team is getting ready to implement the other stages of their roadmap, including distributing rewards and launching brand partnerships and polls.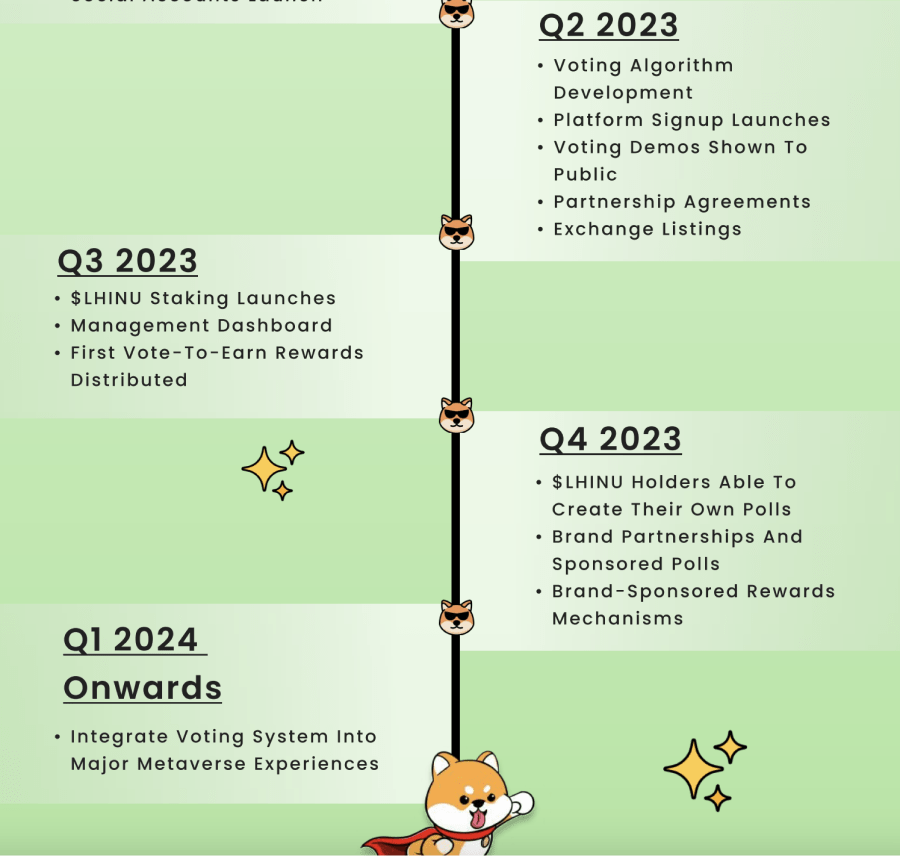 Love Hate Inu Roadmap
Is Love Hate Inu Coin a Good Investment?
Love Hate Inu coin is trending at the moment and, like every meme coin, its final value will depend on the demand by the community. Considering that the listing price has already been determined by the development team, Love Hate Inu may be a worthwhile investment. Early investors have the opportunity to theoretically lock in a 'paper profit' straight immediately. Additionally, the project has visualized a roadmap for the future, which is always a good sign. Like every cryptocurrency, Love Hate Inu is volatile, however, it can become part of a crypto portfolio for an investor who's not afraid to take risks. As always, it's recommended to do your own research.
Love Hate Inu Price Prediction
In general, experts believe that LHINU might go up in price within the next following years. For instance, DigitalCoinPrice crypto analysts believe that by 2032, Love Hate Intu crypto will go up to $0.000629 per coin at its peak, while experts at BTCC predict that the cryptocurrency can reach $0.001 already by 2030. You can read more about Love Hate Inu price prediction in our newest article.
How to Buy Love Hate Inu Coin?
StealthEX is here to help you buy LHINU coins. You can do this privately and without the need to sign up for the service. Our crypto collection has more than 1400 different coins and you can do wallet-to-wallet transfers instantly and problem-free.
Just go to StealthEX and follow these easy steps:
Choose the pair and the amount you want to exchange — for instance, BTC to LHINU. 

Press the "Start exchange" button.

Provide the recipient address to transfer your crypto to.

Process the transaction.

Receive your crypto coins.
Follow us on Medium, Twitter, Telegram, YouTube, and Publish0x to stay updated about the latest news on StealthEX.io and the rest of the crypto world.
Don't forget to do your own research before buying any crypto. The views and opinions expressed in this article are solely those of the author.