Akita Inu Price Prediction: Is It About to Release Its Potential?
August 11, 2022
Price Prediction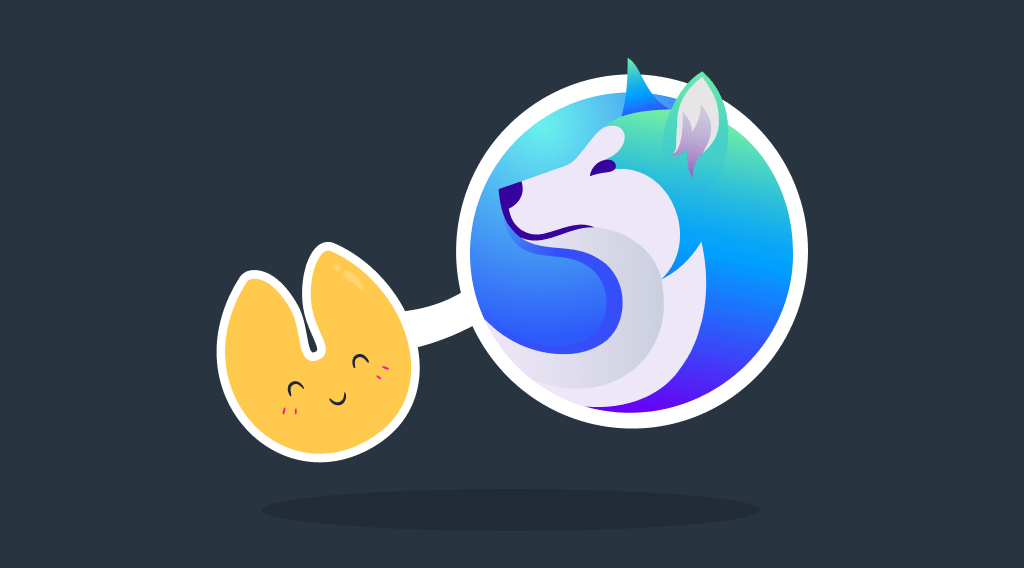 The AKITA mainnet with a dog logo launched on February 1, 2021 and was originally inspired by the meme currency called Dogecoin, Elon Musk's favorite cryptocurrency. Akita is a community coin on the carbon-neutral Avalanche blockchain and it's found great success after being accepted for trading on multiple exchanges including MXC, HotBot, Poloniex and others. Read more about Akita Inu price prediction 2025-2030 and beyond in the new StealthEX article.
| | | |
| --- | --- | --- |
| Current AKITA crypto price | AKITA price prediction 2022 | AKITA price prediction 2025 |
| $0.000000213 | $0.0000027 | $0.0000054 |

Akita Inu Price Prediction
TechNewsLeader Akita Inu Coin Price Prediction 2025
TechNewsLeader experts believe that AKITA crypto price is going to gradually climb up after a temporary drop. The analysts at TechNewsLeader think that by 2025 the average AKITA coin price will be equivalent to $0.00000126 (-114%), however, things will change for the better and by 2030 its price will fluctuate around $0.000008 (+196%). The forecasts suggest that AKITA token will cost $0.00001174 (+334%) in 2031.
Telegaon Akita Inu Crypto Price Prediction 2030-2050
Telegaon analytics are pretty much of the same opinion about the coin's prospects, although they are way more optimistic, especially when it comes to the very distant future. Akita Inu's earning potential is +85.92% in one year and +2,562% in five years.
According to Telegaon analytics, the average price in 2030 for AKITA token will be $0.00000635 (+34,233%), and on top of that, in 2040 and 2050 it will on average cost a whopping $3.56 (+131,851,751%) and $21.17 (+784,073,974%), respectively. While it's hard to imagine what will happen to AKITA after 2030 and in particular, that this digital currency will reach such a staggering price, the earlier forecast seems to instill hope.
CoinDataFlow Akita Price Prediction 2025 and 2031
CoinDataFlow believes that if AKITA crypto has 100% of Bitcoin's previous average grow per year, then in 2025 the minimum AKITA crypto price may be equivalent to $0.0000099 per coin (+266%), while in 2026 it will reach a new price level with $0.000035 (+1,196%).
AKITA Coin Price Chart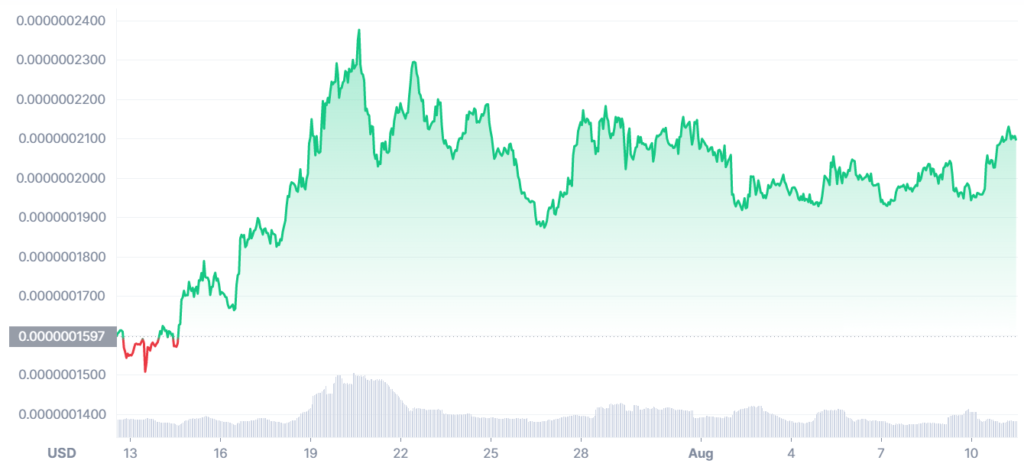 | | |
| --- | --- |
| Current Price | $0.000000213 |
| Volume (24h) | $381,657 |
| Market Rank | #3311 |
| Total Supply | 100,000,000,000,000 AKITA |
| 7 Day High / Low | $0.0000002133 / $0.0000001926 |
| All-Time High | $0.00002886 May 11, 2021 |
Source: CoinMarketCap, 11 August 2022
AKITA Coin Price Technical Analysis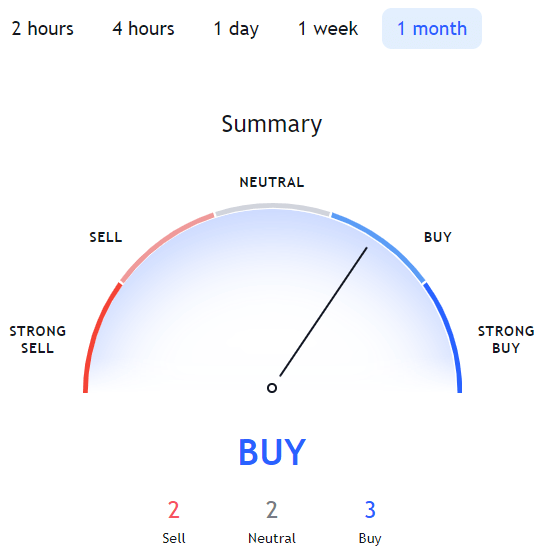 Source: Tradingview, Data was taken on August 11, 2022.
What Is Akita Inu Coin?
Akita Inu is a decentralized meme currency built on the Ethereum network. As many other modern cryptocurrencies, it uses ERC-20 protocol and it has set the decentralized world in motion with its fast-paced development in association with the Polarfox community.
Originally a meme token with no background or project, AKITA currently has over 60,000+ holders, a devoted team of community members/investors, and a significant number of projects. The objective of the AKITA team is to turn the Akita Inu coin from a meme into a real, usable token with a variety of applications. Interoperability exists between chains as well.
Akita Inu DAO
Members of the community came together to develop the AKITA network DAO. The purpose of the founders is to empower the holders and provide project governance to the community.
The DAO's purpose is to establish itself as a decentralized cooperative that structures and incentivizes members to contribute using its liquidity and token architecture. The goal is to create a policy-controlled currency system that is native to the AVAX network and in which the DAO controls the behavior of the gAKITA token. This system can be refined for stability and consistency in the long run, allowing gAKITA to serve as a worldwide unit of account and medium of exchange currency. The crypto project aims to optimize the system for growth and wealth creation in the short run.
Benefits: Staking and Minting
Staking and minting are the two options available to market participants who want to engage in the AKITA Network DAO. Holders can stake their gAKITA tokens in exchange for more, or they can mint gAKITA tokens by exchanging LP tokens or gAKITA tokens for discounted gAKITA tokens after a set vesting period. Staking is a long-term, passive approach. This means that, even if the market price of gAKITA falls below the user's initial purchase price, given enough time to stake, the increase in the staked gAKITA balance should eventually overtake the price reduction.
Every time a user uses AKITA tokens, a small part of those tokens is burned and gAKITA tokens are minted, which are then given to the users involved in the transaction. This is used as an incentive for people to trade more AKITA tokens. According to AKITA network DAO, by focusing on supply expansion rather than price appreciation, gAKITA can maintain its purchasing power regardless of market instability.
Elaborating on the AKITA tokenomics, the maximum supply of the Akita Inu token is 100,000,000,000,000. Out of the maximum supply, 7.82% is already burned or destroyed. Token burning is sending the tokens to an unusable or invalid address called burned addresses. Once the tokens are sent to such addresses, they can never be retrieved and are lost forever. This is done to decrease the token supply and increase the token's value.
AKITA Crypto News
On February 1, 2021, AKITA token was launched anonymously by its creators. The whole market supply of 100,000,000,000,000 AKITA has been divided up, with half going to Vitalik Buterin's wallet and the other half going to the Uniswap pools. The cryptocurrency has been taken over by the community, which is governed by a number of core team members and moderators.
In May 2021, AKITA token gained traction alongside its fellow doggie coins. The project has grown in popularity, and currently works with the Avalanche blockchain to provide cross-chain interoperability.
In 2022, the project began final stages of development on staking and farming platforms, and also the formation of a basic DAO structure to channel the community's voice for future developments. These efforts have culminated in the closing of a multi-million dollar funding commitment by Gitcoin through 2027. Akita Inu team has also begun talks with partners in GameFi and other platforms seeking to utilize AKITA in their business products.
On August 9, 2022, the project initiated a new giveaway. Together with #AKITAINU the community started a raffle of 300,000,000 $AKITA.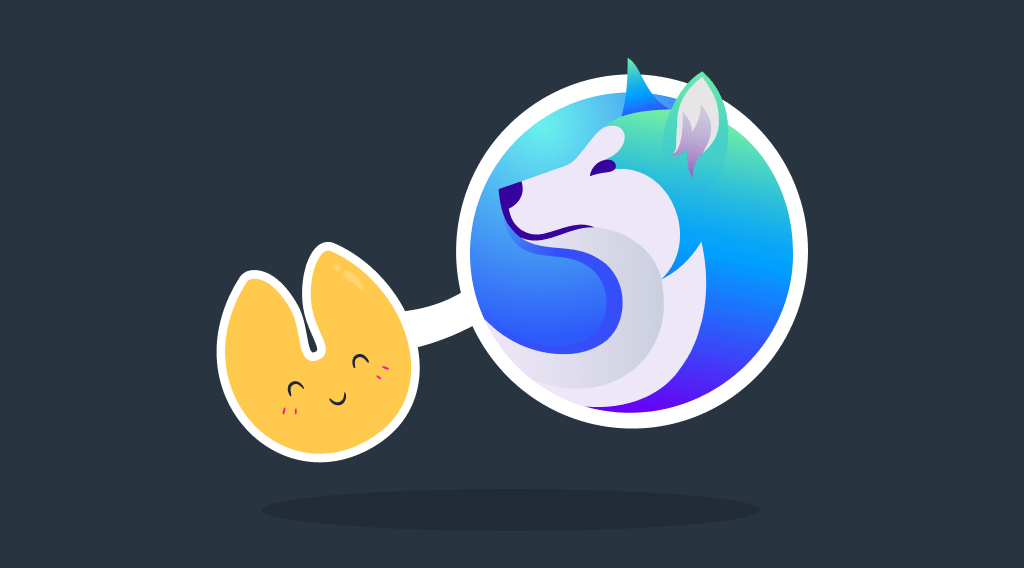 Is Akita Inu Token a Good Investment?
Akita Inu has a strong community that shows no signs of slowing down anytime in the near future. They are committed to making Akita Inu a growing success that can compete with major dog meme coins like Dogecoin and Shiba Inu, and the power of the AKITA community is probably the cryptocurrency's strongest side.
Despite this, the crypto market is extremely volatile and versatile: at the moment, there's over 12,000 cryptocurrencies that trade at different prices, and that means the competition is tough. Akita Inu coin may become popular only if the project develops a solid platform and continues to grow.
At the moment, a lot of the project's infrastructure is at an advanced stage of development. But the fact that Akita Inu is still at its beginning suggests that it is not widely supported yet. As for the rest of the plans, we still have to find out what the Akita Inu community and developers have in store for the crypto enthusiasts.
StealthEX is here to help you buy AKITA INU coin. You can do this privately and without the need to sign up for the service. Our crypto collection has more than 450 different coins and you can do wallet-to-wallet transfers instantly and problem-free.
How to Buy AKITA Coin?
Just go to StealthEX and follow these easy steps:
Choose the pair and the amount you want to exchange. For instance, BTC to AKITA.
Press the "Start exchange" button.
Provide the recipient address to transfer your crypto to.
Process the transaction.
Receive your crypto coins.

Follow us on Medium, Twitter, Telegram, YouTube, and Reddit to stay updated about the latest news on StealthEX.io and the rest of the crypto world.
Don't forget to do your own research before buying any crypto. The views and opinions expressed in this article are solely those of the author.
AKITA
Akita Inu
crypto price prediction
price analysis
price prediction
Recent Articles on Cryptocurrency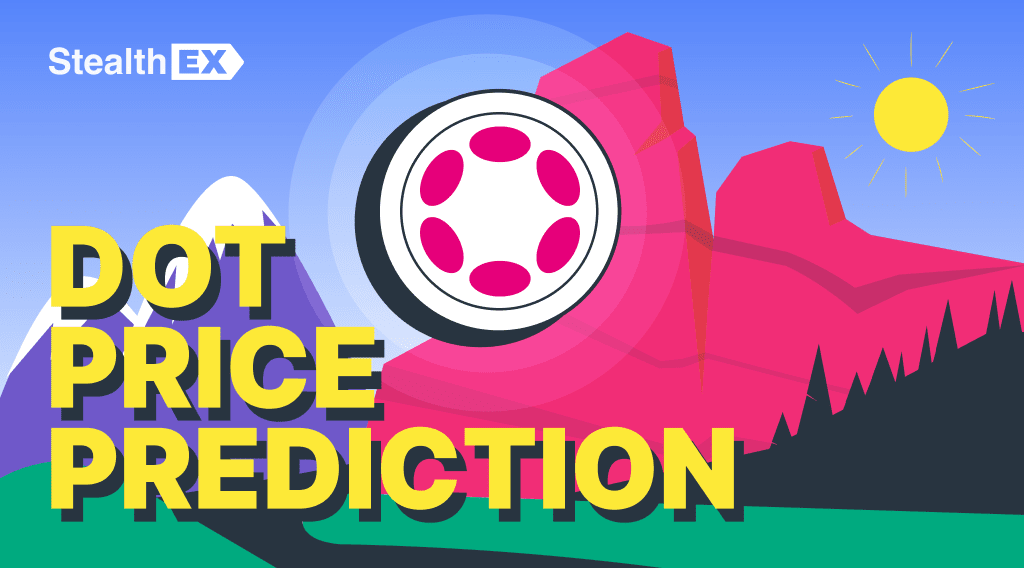 November 29, 2023
Price Prediction
Polkadot (DOT) Price Prediction: Will DOT Coin Reach $1000?
According to the long-term Polkadot price prediction by the end of 2030, the DOT price may rise to $195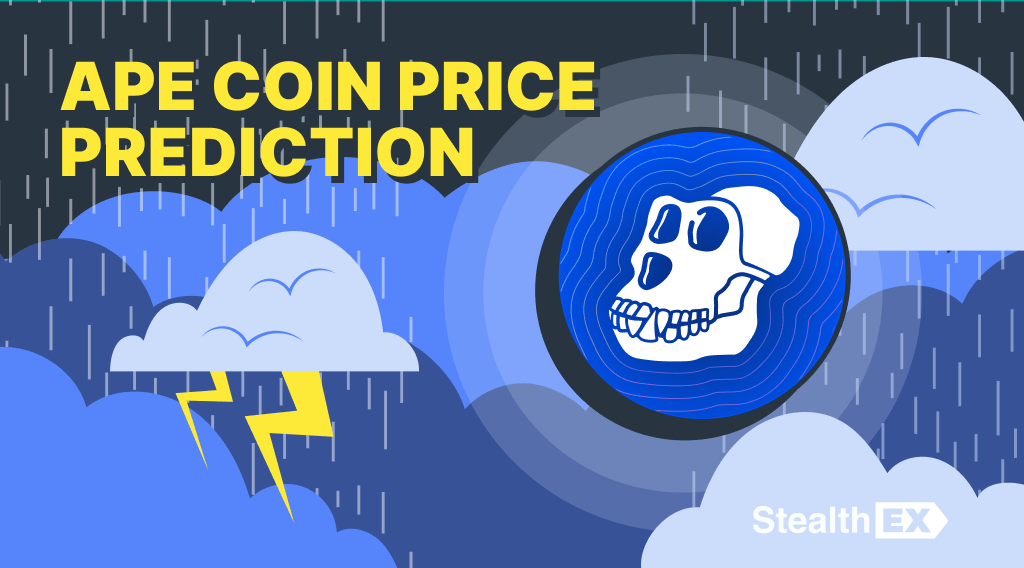 November 29, 2023
Price Prediction
ApeCoin Price Prediction: Is APE Coin a Good Investment?
According to the long-term ApeCoin price prediction by the end of 2030, the APE price may rise to $250