Best Bitcoin Wallets: Part 2
April 1, 2020
Wallets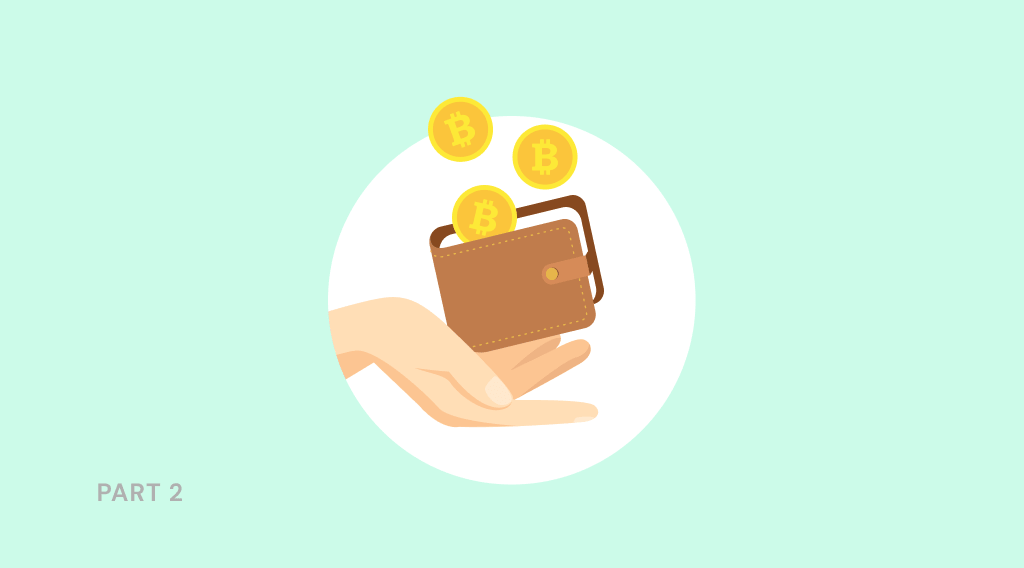 Bitcoin is the first widely adopted, most famous and popular cryptocurrency in the world. In 2008, a person or group of people under the pseudonym Satoshi Nakamoto published a file describing the protocol and how the payment system works in the form of a peer-to-peer network. On January 3, 2009, the first block and the first 50 bitcoins were generated. Since then, Bitcoin has experienced many ups and downs, but to this day continues to dominate the cryptocurrency market.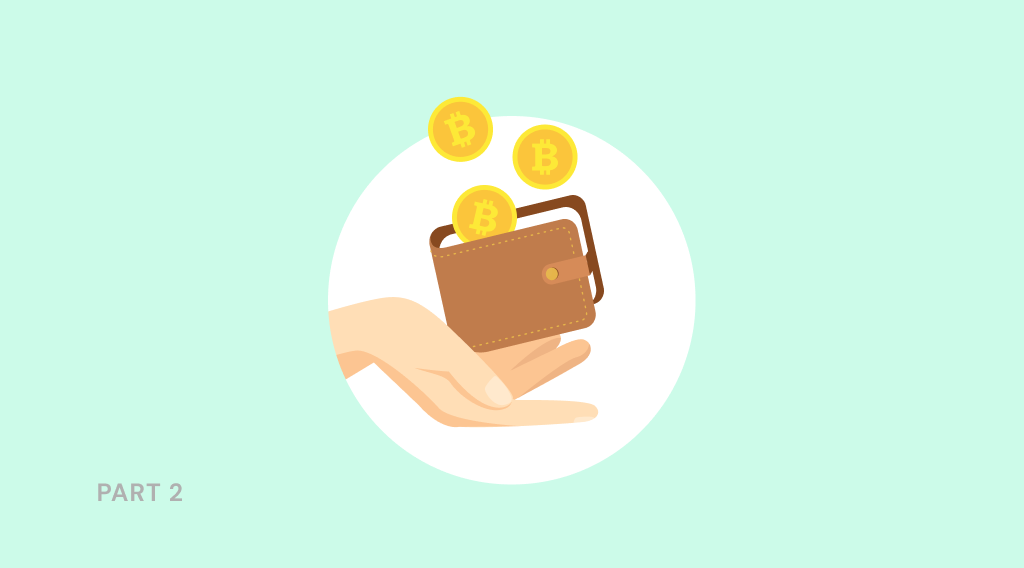 Let's say you have mined or exchanged bitcoins. Your next task is to make sure that your asset is saved from encroachment, but at the same time quickly available for future use.
Cryptocurrency wallets are devices or programs that store your private keys and allow you to use them safely. Fundamentally, they are classified into hot (with Internet access) and cold ones (work offline). Let's look at some of the most popular wallets of different types.
Bitcoin wallets Apps
BRD WALLET
BRD (Bread) wallet is one of the first mobile wallets for storing digital currencies and the first to provide the ability to use cryptocurrency wallets on Apple devices, which was recently introduced in the Android version.
The wallet allows you to manage your private keys using an easy-to-use user interface.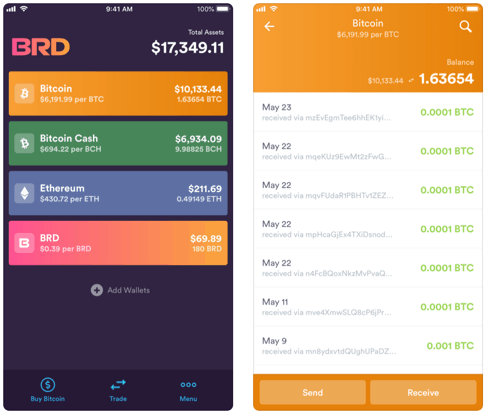 Bread generates a backup seed-code just like the previous wallets. To increase the security of your wallet, you can set an additional passcode to log in. It does not have a server that can be hacked or may fail due to technical reasons. In addition, since it is directly connected to the Bitcoin network in SPV mode, it does not charge additional transaction fees (only the blockchain one). This is a very light application, and therefore it is ideal for use on your phone.
TRUST WALLET
Trust Wallet is an application that allows you to store and transfer cryptocurrencies from your smartphone. The wallet was initially developed for storing Etherium and acquired by Binance in July 2018 and is now the official application for working with the assets of this exchange. Keys are stored locally and protected by a multi-level security system. The wallet does not have access to users' personal information, which means data theft by hacking the platform is not possible.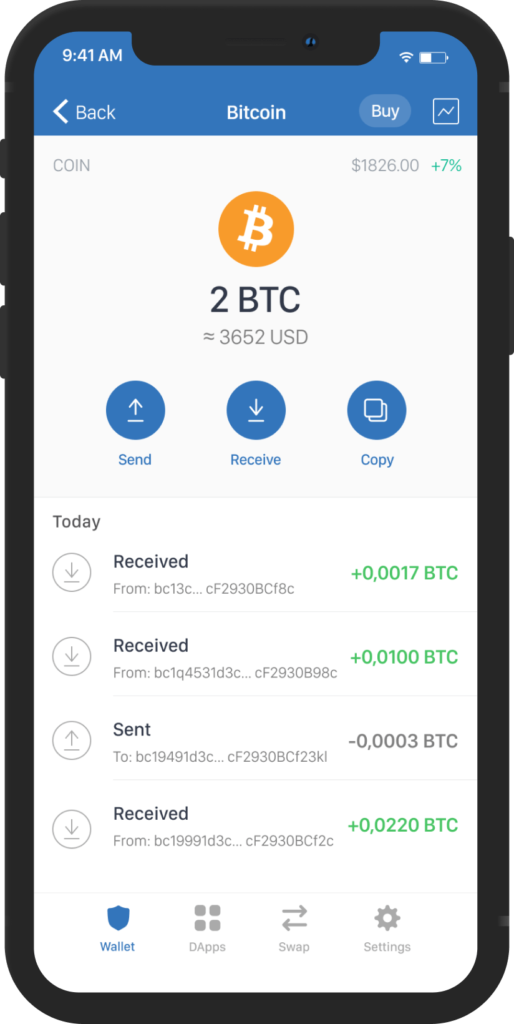 Trust has an intuitive functionality. The Tokens section shows the user's holdings and also the coins that the user would like to keep track of.
It is available now on Android and iOS.
Multi-platform bitcoin wallets
EXODUS WALLET
Initially, the Exodus wallet was exclusively a desktop application that could be installed on devices running Windows (x64), Linux and Mac OS, but last year developers introduced mobile versions for gadgets running on iOS and Android.
One of the main features of Exodus is storing private keys in encrypted form directly on a personal computer. The developers claim that they are not able to access customer funds, despite the existence of a backup system that allows you to restore the wallet remotely on another computer.
A multi-currency wallet is available on almost all platforms. The interface is simple and incredibly visually pleasing. Data on user-owned cryptocurrencies displays in the "Portfolio" menu item in the form of a pie chart, as well as a detailed list of coins with their names, prices, quantity and value.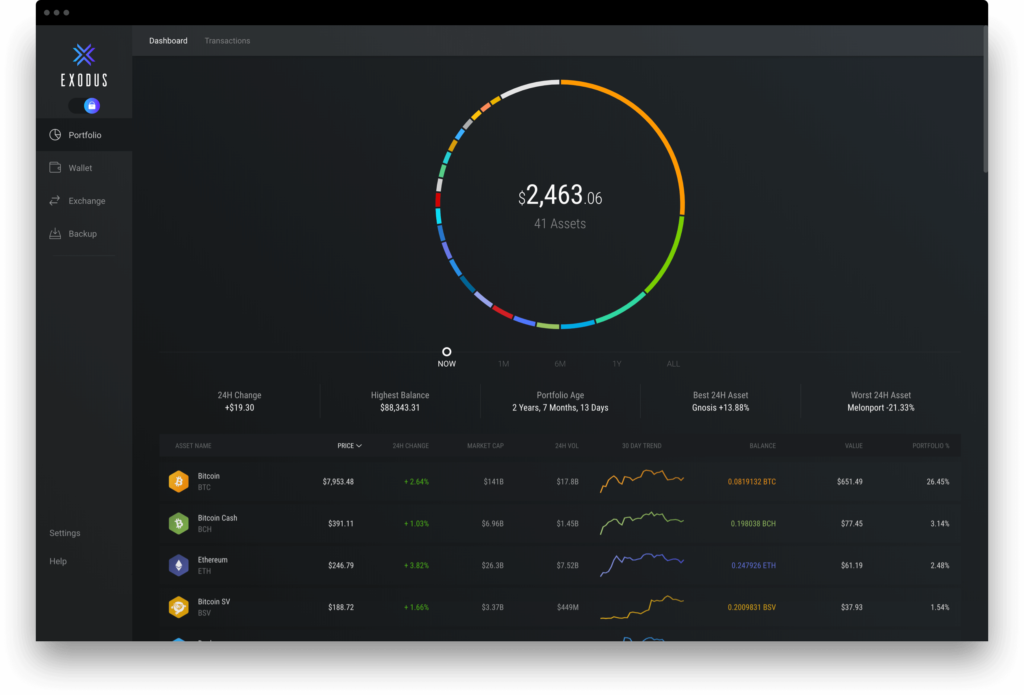 You can also view the history of changes in the total value of assets in your portfolio as a graph by selecting one of the available time intervals.
In the Hardware wallets section, you can connect Trezor to Exodus — so far the only supported hardware cryptocurrency storage. After setting a connection with the device, the "Portfolio" section of the application will display assets stored in Trezor, and you will also be able to perform operations with them through the Exodus interface and use the internal cryptocurrency exchange function.
COINOMI
In opposite to the Exodus, Coinomi's advantage is an absence of optional, low-demand tools such as market depth, numerous settings, price charts, news feeds, optional currency exchange, chat, and so on. Everything is simple and minimalistic.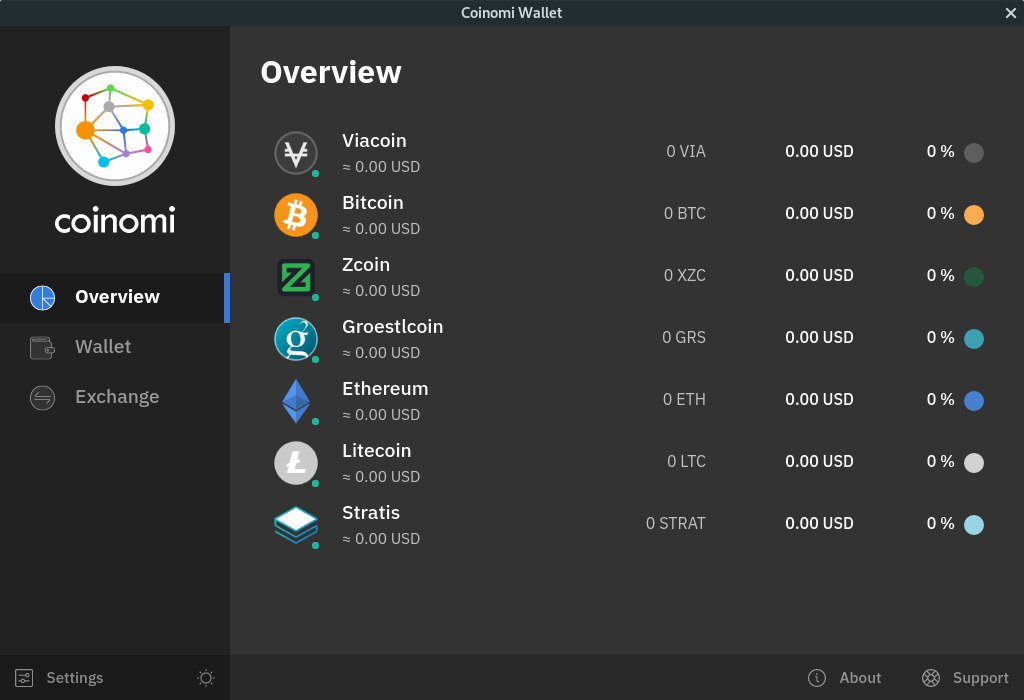 Coinomi is a pretty secure wallet. Passwords are stored and generated exclusively on the client's side. Hacking the Coinomi network will be useless for scammers since it does not have access to cryptocurrency accounts and user accounts.
Due to the lack of additional and often unnecessary features, the app takes up very little space on the device and has low requirements for memory capabilities, which is important for mobile devices.
So you have a variety of options for every taste. Carefully study all the pros and cons of the selected wallet. Get Bitcoins on the anonymous and easy-to-use StealthEX exchange and store them in the most secure place.
Bitcoin (BTC) is available for exchange on StealthEX with a low fee. Follow these easy steps:
✔ Choose the pair and the amount for your exchange. For example ETH to BTC.
✔ Press the "Start exchange" button.
✔ Provide the recipient address to which the coins will be transferred.
✔ Move your cryptocurrency for the exchange.
✔ Receive your coins.
Follow us on Medium, Twitter, Facebook, and Reddit to get StealthEX.io updates and the latest news about the crypto world. For all requests message us via support@stealthex.io
April 1, 2020
Bitcoin
Bitcoin wallet
crypto wallet
Exodus
Trust wallet
Recent Articles on Cryptocurrency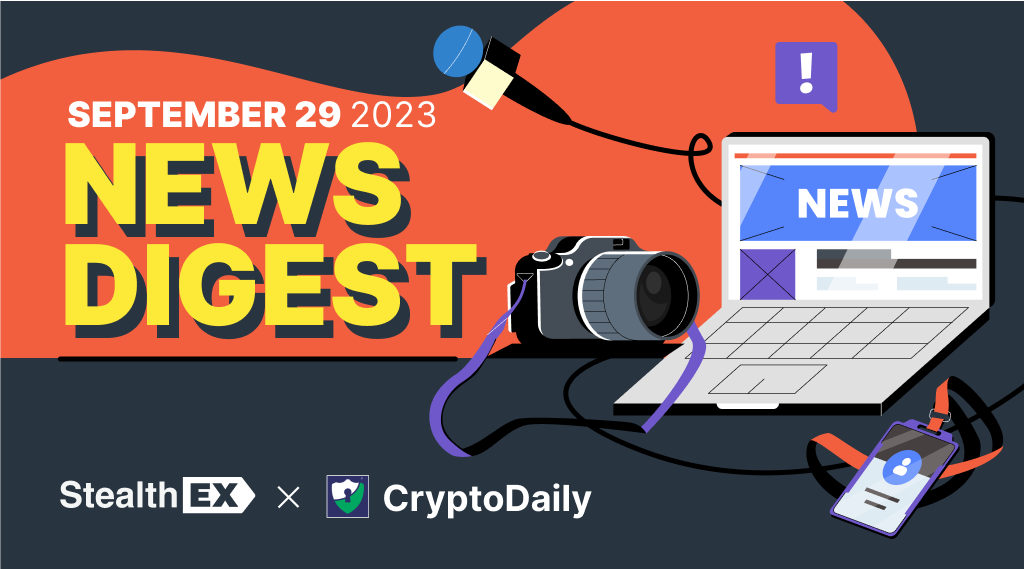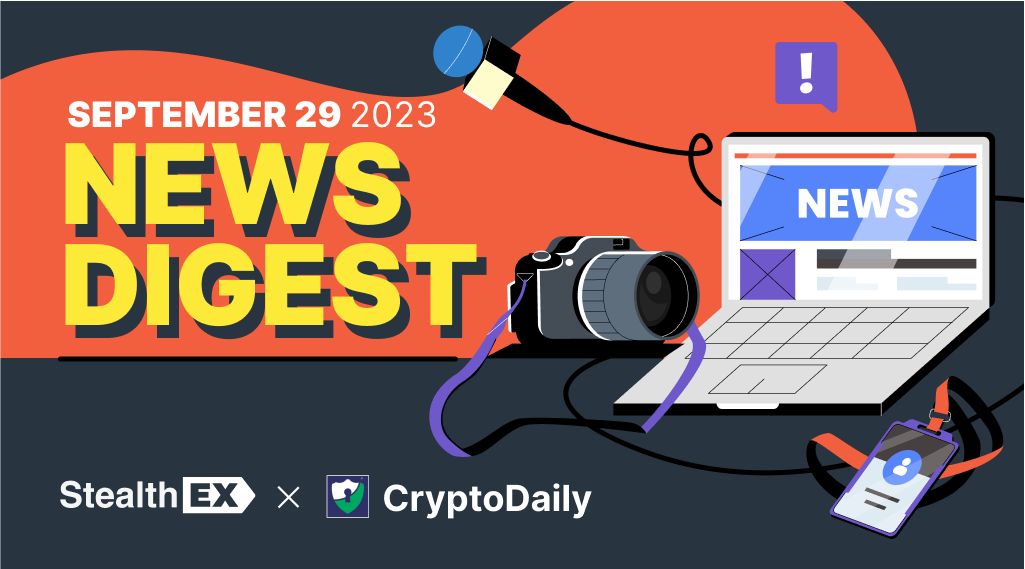 September 29, 2023
Crypto World
MicroStrategy, Coinbase, and MoneyGram Wallet in StealthEX x CryptoDaily Digest
MicroStrategy's new BTC buy, SEC scrutiny on Gensler, MoneyGram wallet, and Marathon Digital's invalid block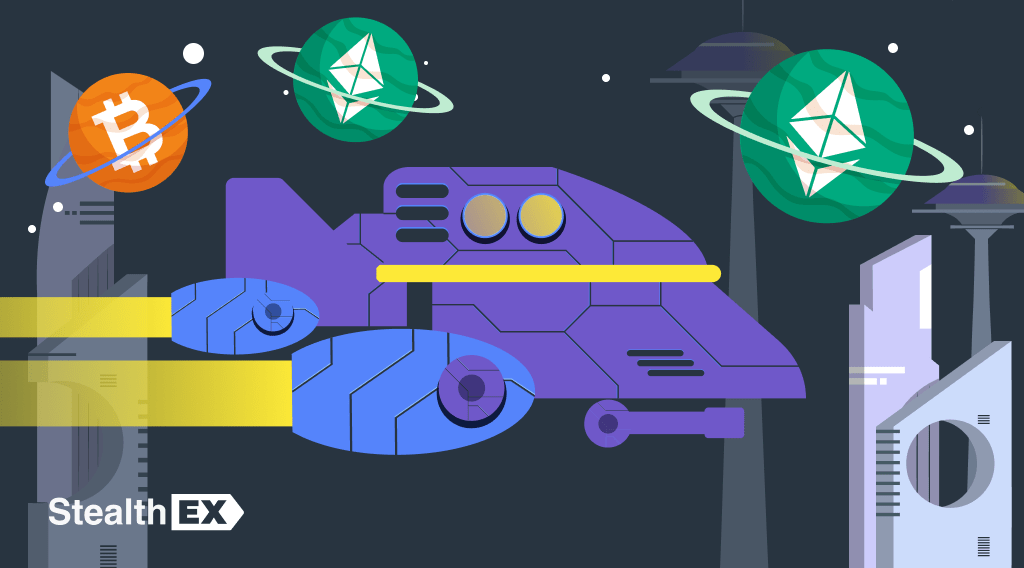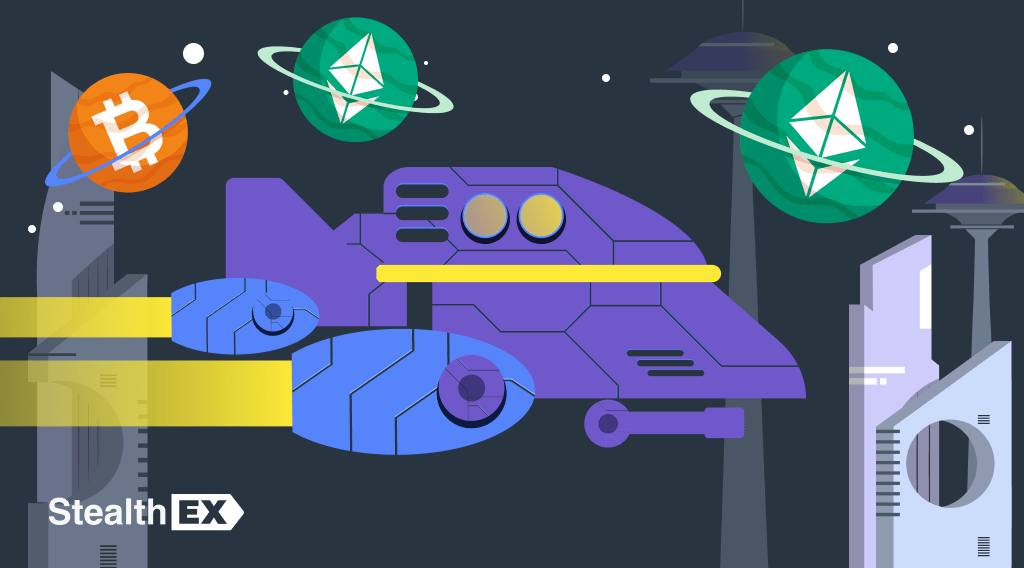 September 28, 2023
Investment
Future of Crypto in the Next 5 Years: Trends, Challenges, and Predictions
Navigating the future of crypto in the next 5 years: what can we expect from the cryptocurrency market in the…