Best Crypto Exchanges: 10 Crypto Exchanges Review
September 9, 2022
Crypto World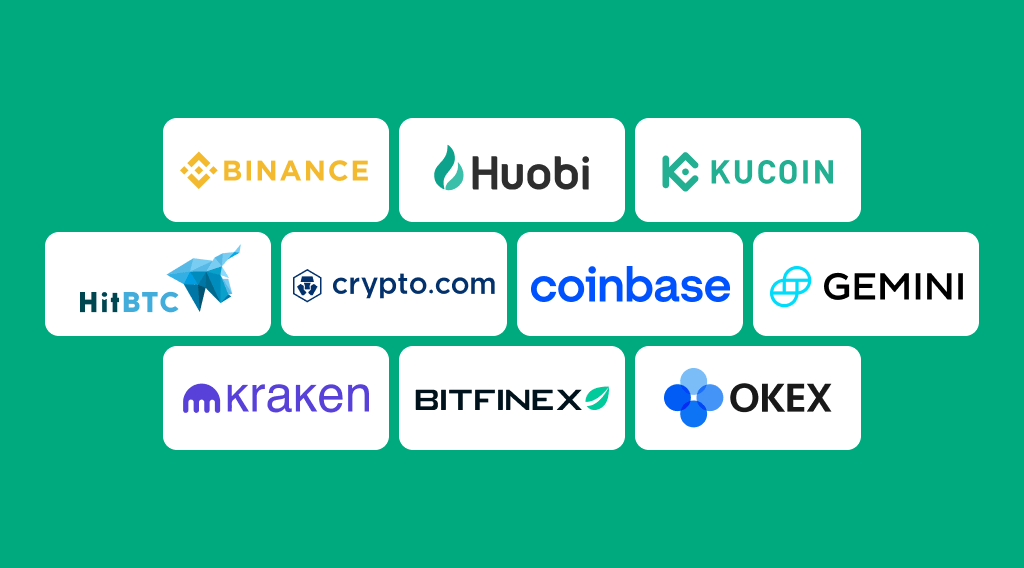 In search of different trading options, many crypto enthusiasts turn to cryptocurrency exchanges. Not only do they offer a variety of crypto services, but also provide 24/7 customer support and a decent level of security. In this review of the best crypto exchanges we'll take a look at top 10 of the largest and most prominent crypto platforms.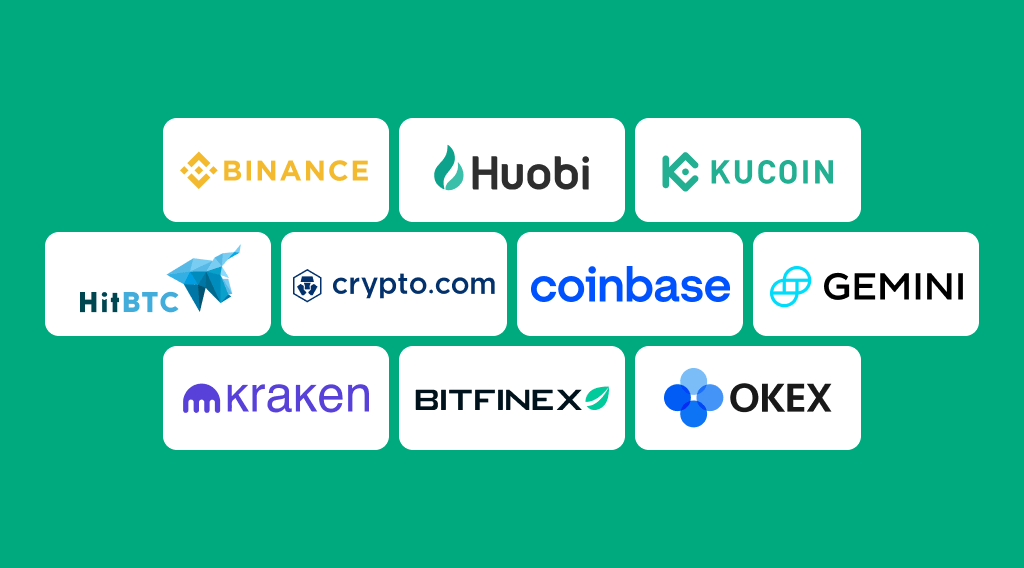 10 Best Crypto Exchanges
Binance
Binance is the largest and most well-known cryptocurrency platform in the world. Founded in 2017 by Changpeng Zhao, it's considered one of the most important crypto institutions in the industry and has backed many new trends. Binance is the leading global cryptocurrency exchange by trading volume, with users from over 180 countries and regions, and is considered to be one of the top cryptocurrency exchanges.
This top crypto exchange offers a number of services, Binance Earn and Binance Savings where users can earn on staking their assets. Binance Launchpad and Launchpool are platforms that help and advice project teams on how to best issue and launch their token. BNB Vault combines rewards from Flexible Savings and Launchpool and offers Binance customers competitive returns. Binance Staking also offers ETH 2.0 program with passive earnings, with APR (Annual Percentage Rate) up to 5.20%.
The platform also offers their own Binance card that lets its users get up to 8% BNB cashback every time they buy goods. The platform's customers can also use its Crypto Loans option to borrow for Spot/Margin/Futures trading or staking to earn high APY. In addition, Binance wallet can be used to store, exchange, and trade your digital assets. The native cryptocurrency of Binance, BNB token, is highly valued on the market. Binance also offers lower rates when paying with its exchange tokens.
Huobi
Huobi Global was founded in 2013 in China by Leon Li. At the moment the company has offices in Hong Kong, South Korea, Japan and the United States. The cryptocurrency exchange platform is registered in the Seychelles. In August 2018 it became a publicly listed Hong Kong company. Currently, there are over 600 coins and more than 1,000 trading pairs available on the exchange. Although the platform can't be used in the United States, it is still a suitable option for a number of countries all over the world.
Huobi Global provides deep liquidity, supports a large number of cryptocurrencies, and offers a broad array of yield-earning opportunities, making it an attractive destination for experienced crypto traders.
The exchange is available as a web-based platform and a mobile app for Android and iOS. The crypto platform charges a 0.2% base fee. Huobi Token (HT) holders receive a discount on trading fees, which decreases the more HT a user has in their exchange wallet. The platform's client funds are located in multi-signature cold wallets. Huobi also has a 20,000 BTC Security Reserve Fund that was founded to cope with extreme security incidents.
KuCoin
KuCoin is one of the top 5 crypto exchanges, with over 20 million registered users worldwide. It was founded by Michael Gam, a former technical expert at Ant Financial.
Launched in August 2017 and registered in the Seychelles, this exchange has over 200 cryptocurrencies and more than 400 markets. The platform offers bank-level security and a wide range of crypto services: margin and futures trading, a built-in P2P exchange, ability to buy crypto with credit or debit cards, and instant-exchange services. Its users can participate in fresh initial exchange offerings (IEOs) via KuCoin Spotlight.
The platform offers a convenient option of buying and selling with the service using a core trading engine that can process millions of transactions at once. Additionally, the exchange has its own native cryptocurrency called Kucoin Shares (KCS), and it provides its holders with daily incentives if they hold the asset. Users can earn crypto by lending or staking via the platform's Pool-X. You can turn to KuCoin with the question 'Which crypto exchange has the lowest fees?' Kucoin offered the lowest taker fee at 0.1%.
HitBTC
HitBTC is one of the lesser known cryptocurrency exchange platforms. It was launched in 2013 by HiTech Digital Business Ltd incorporated in the British Virgin Islands. Its headquarters is located in China.
When the project was launched, it managed to attract 6 million USD via Venture Capital investments. The platform replicated the features of world-renowned exchanges such as NASDAQ. It became one of the first exchanges on the market that introduced rapid powerful API, added automated trading tools, WebSocket, FIX API, and algo traders. The users can also take advantage of its outstanding matching core engine that helps cryptocurrency traders improve their trading experience.
More than 40 percent of transactions on the platform are made with Bitcoin (BTC). There are no HitBTC applications for Android or iOS, nonetheless, this platform remains one of the oldest and most trusted crypto exchanges in the world.
Crypto.com
Crypto.com is a quite popular exchange, along with its token called Cronos (CRO). It was founded in 2016 by Bobby Bay, Gary Or, Kris Marszalek, and Rafael Melo and the headquarters is located in Singapore.
This exchange has more than 250 different currencies and it's famous for its reasonable fees and discounts for those who hold a significant stake in CRO. Fees are limited to 0.40% and decrease with high trading volume or a significant holding of the CRO currency.
Additionally, Crypto.com offers its customers a variety of cryptocurrency-based financial services, including Crypto.com App, which allows users to buy and sell different cryptocurrencies, and a non-custodial DeFi wallet that lets users hold crypto assets and earn interest on them. The platform's NFT marketplace is used by crypto enthusiasts for collecting and trading nonfungible tokens, while Crypto.com Pay allows users to send and receive payments directly in cryptocurrency. In addition, the exchange issues its own Visa card that allows users to convert cryptocurrencies into fiat currencies for purchases at retailers accepting Visa.
Coinbase
Coinbase is one of the top crypto exchanges on the Internet. The company was founded in 2012 by Brian Armstrong and Fred Ehrsam. It's an American publicly traded company that operates a cryptocurrency exchange platform. Coinbase is a distributed company, and all its employees operate via remote work. It is also the largest cryptocurrency exchange in the United States by trading volume.
The company's products for retail traders include an app used to buy, store and trade different cryptocurrencies, such as Bitcoin, Bitcoin Cash, Ethereum, Ethereum Classic and Litecoin, and Coinbase Pro, a professional asset trading platform for trading digital assets. Moreover, its users can store their assets in the platform's wallet, an app that allows customers to access dApps using a dApp browser, or buy and sell their NFT to one another.
Traders can take advantage of Coinbase Prime, a trading platform for institutional customers or Coinbase Custody, specialist level services for institutions that hold Bitcoin and other cryptocurrencies with Coinbase. The platform also issues a debit Visa card that allows customers to spend cryptocurrency and lets them use Coinbase Commerce, a payment service for merchants. Coinbase Earn, a cryptocurrency learning platform, rewards users with small amounts of altcoins for watching videos and taking quizzes to learn about them.
Gemini
Gemini is one of the most popular crypto platforms on the market, mainly due to legal battles with Facebook. It was founded in 2014 by two twins, Cameron and Tyler Winklevoss. Currently, it operates in the United States, Canada, the United Kingdom, South Korea, Hong Kong, and Singapore and is headquartered in New York.
The platform is available in over 60 countries and all U.S. states. Gemini offers its users two wallets: a cold storage system called Gemini Custody, and an insured hot wallet, Gemini Wallet.
Gemini Custody, which moves the crypto off the network for secure holding by Gemini, charges a 0.4% fee each year.
Gemini Wallet offers high-security storage online and insurance from theft of digital assets.
In addition, the crypto exchange offers its users trading in over 70 cryptocurrencies and a program called Gemini Earn that allows crypto enthusiasts to earn interest on their holdings.
One of the features of this popular exchange is its Cryptopedia, Gemini's online learning hub to teach people about cryptocurrencies. The source includes hundreds of articles on many crypto topics, ranging from simple explainers to deep dives on more complex topics.
Kraken
Kraken is a US-based cryptocurrency exchange and bank, founded in 2011. Its founder and CEO is Jesse Powell. The exchange was one of the first Bitcoin exchanges to be listed on Bloomberg Terminal and is reportedly valued at $11 billion USD, as of mid-summer 2022.
Kraken is also one of the more established crypto exchanges on the market. The company offers a platform with top-notch security, more than 120 coins to choose from domestically and up to 160 coins for international users. Users can also stake and earn rewards for their digital assets, all at a price point on the lower side of average.
The platform has relatively low Bitcoin (BTC) withdrawal fees and a wide range of educational material. Kraken is also famous for its security – it has not had any major hacking events since its launch of its trading operations in 2013. It's also because the exchange offers safe coin storage, with 95% of deposits held offline in cold storage units spread worldwide.
BitFinex
BitFinex is a private platform that was founded in 2012. It's owned and operated by iFinex Inc registered in the British Virgin Islands. The platform was initially started as a P2P margin lending platform for Bitcoin and later added support for more cryptocurrencies. The platform is famous for its low fees with most trades costing just 0.20% or less. However, this crypto exchange is also closely associated with the Tether stablecoin. Tether has gotten the platform into trouble with regulators.
Bitfinex supports over 170 cryptocurrencies on its active trading platform, including Bitcoin, Ethereum, Terra, Tether, Solana, Litecoin, Ripple, and many others.
To add to the overall positive customer experience, the exchange supports a large ecosystem of cryptocurrency products and trading options, including spot trading, margin accounts, derivatives, and more. New cryptocurrency users can test the platform risk-free with paper trading, and Bifinex's mobile app is easy to use.
OKX
OKX, formerly known as OKEx, is a Seychelles-based cryptocurrency exchange and the last on our list of top 10 crypto exchanges. OKX is essentially a derivatives exchange that provides a platform for trading various instruments.
It was founded in 2017 by Jay Hao and Haider Rafique. While it's not available to users in the United States, it could be a good choice for others looking to buy, stake, and trade a large number of currencies. Trading fees start at 0.10% and decrease with higher trading volumes or larger stakes in OKX's currency, OKB token.
The platform's users can buy cryptocurrencies with a credit or debit card, bank account transfer, Apple Pay, Google Pay, and other supported services. It also offers exceptionally high yields in some cases when participating in staking or saving features. While it's not the biggest cryptocurrency exchange and can't compare to the likes of Binance and Coinbase, it does a good job of supporting a large number of currencies and a wide range of services.
If you're looking for a place to buy crypto, for instance, BNB without registering on one of the largest crypto platforms, you can do it via StealthEX.
How to Buy BNB Without KYC?
Just go to StealthEX and follow these easy steps:
Choose the pair and the amount you want to exchange. For instance, BTC to BNB.
Press the "Start exchange" button.
Provide the recipient address to transfer your crypto to.
Process the transaction.
Receive your crypto coins.

Follow us on Medium, Twitter, Telegram, YouTube, and Reddit to stay updated about the latest news on StealthEX.io and the rest of the crypto world.
Don't forget to do your own research before buying any crypto. The views and opinions expressed in this article are solely those of the author.
Recent Articles on Cryptocurrency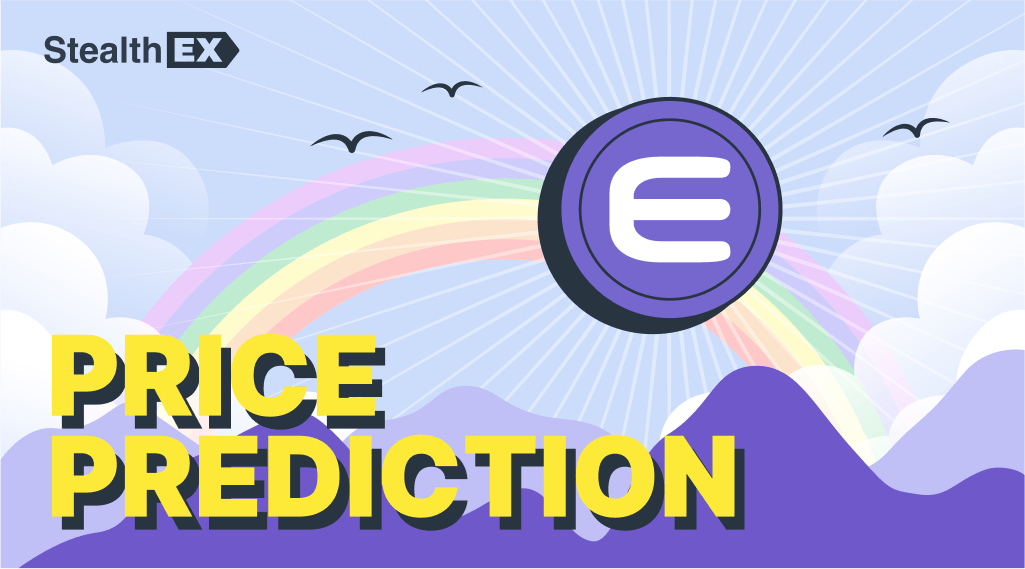 September 27, 2023
Price Prediction
Enjin Coin Price Prediction: How High Will $ENJ Crypto Go?
Based on expert Enjin Coin price prediction, the maximum price of ENJ crypto is predicted to be $75 by 2030.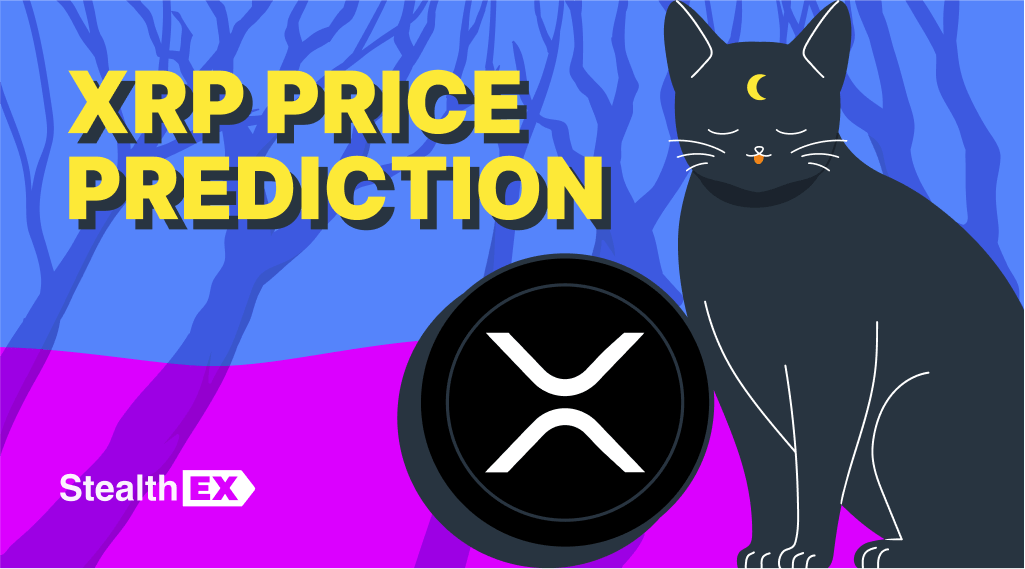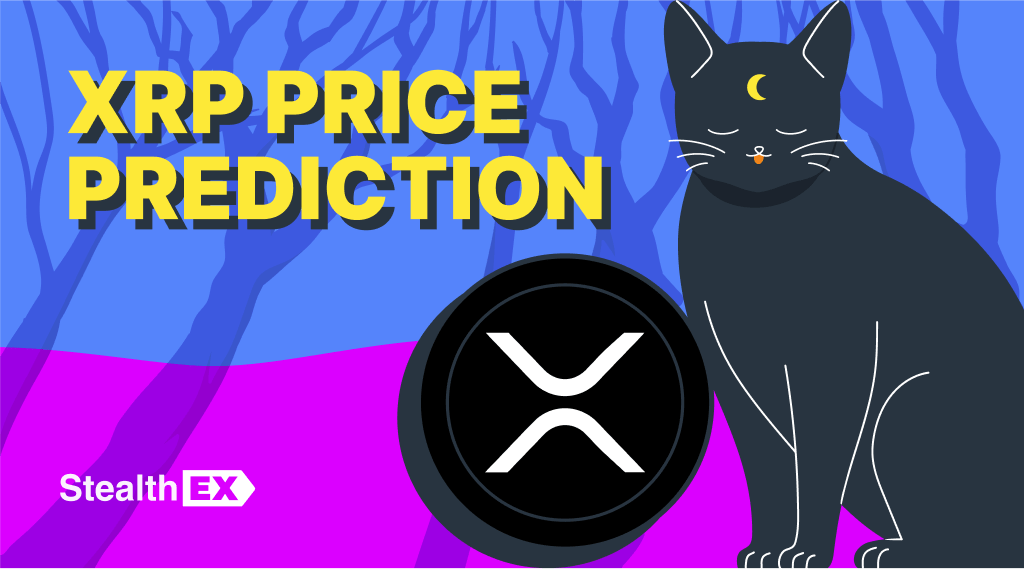 September 26, 2023
Price Prediction
Ripple XRP Price Prediction: How High Can XRP Go?
Based on expert XRP price prediction, the maximum price of XRP coin is predicted to be $12 by 2030.