Blur Price Prediction: Forecast & Analysis | Get Insights Now
June 15, 2023
Price Prediction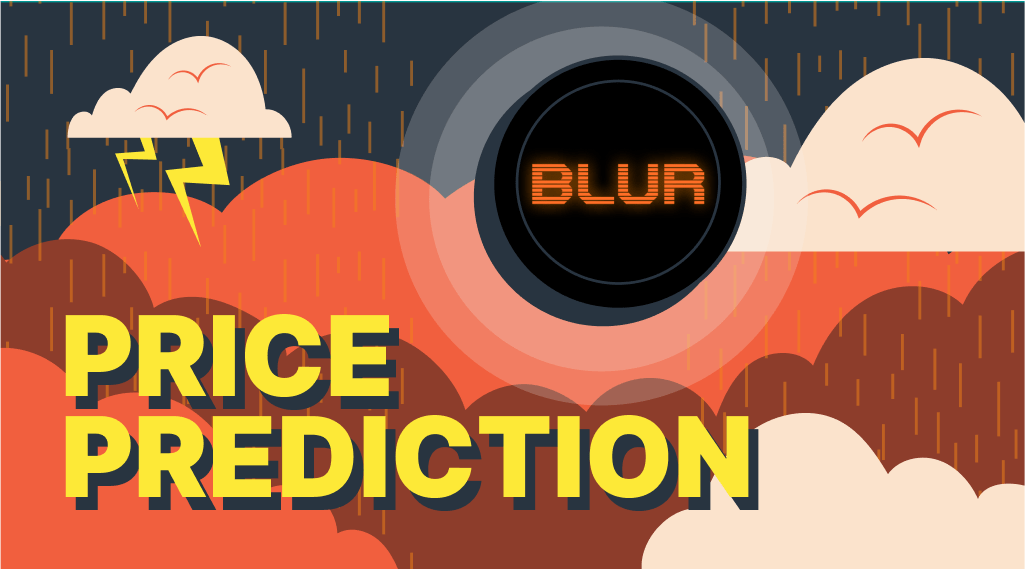 Despite the bear market, a number of projects have popped up in the cryptocurrency industry. One of them is Blur, a zero-fee non-fungible token marketplace that debuted in October 2022 to meet the needs of experienced NFT traders. Blur's team got $14 million in funding from world-class investors and NFT traders. The goal of Blur is to strengthen the NFT trading community. Unlike other NFT marketplaces, Blur was created primarily for professional traders with unique trading requirements. Read more about Blur price prediction in the new StealthEX article.
| | | |
| --- | --- | --- |
| Current Blur Crypto Price | BLUR Prediction 2025 | Blur Token Price Prediction 2030 |
| $0.328 | $2.466 | $35.25 |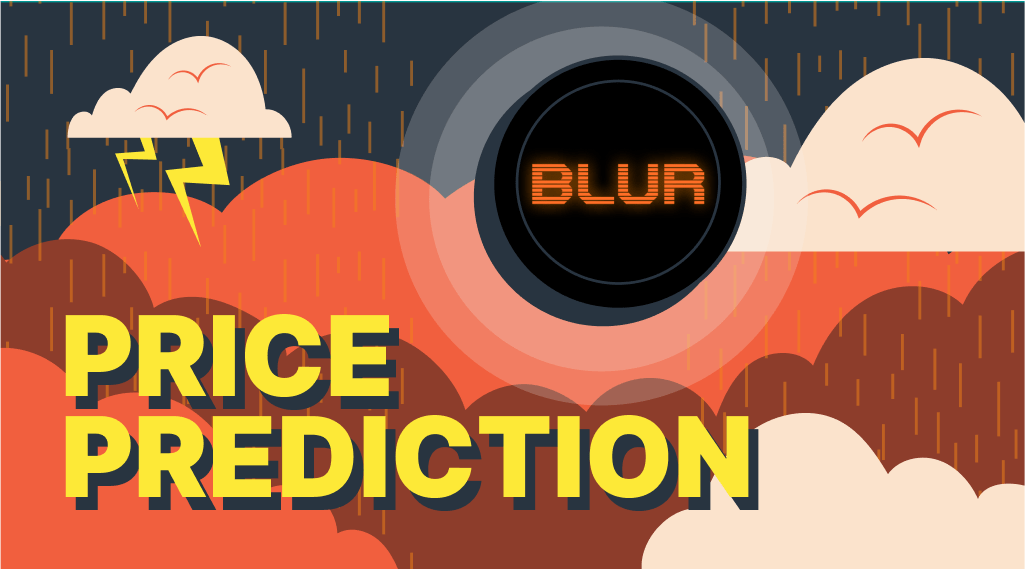 Blur Price Prediction
BLUR Crypto Price Prediction 2023
WalletInvestor crypto analysts have a broad forecast for BLUR crypto for this year. According to their estimates, this digital currency may fall in price by the end of 2023 – to a record minimum of $0.000001 (-99%), which is way below its current price. However, their team of analysts also believes that the cryptocurrency may outperform its competitors to reach a maximum price of $1.827 (+481%).
According to DigitalCoinPrice, in 2023 the minimum price of BLUR coin will drop to $0.28 (-10%), which is a little below its current price level. Its maximum price, $0.69, will see the cryptocurrency rise in price by 119%.
Meanwhile, PricePrediction.net analysts believe that in 2023, the expected minimum price of BLUR crypto will be $0.38 (+20%), and it may also reach a maximum price level of $0.45 (+43%).
BLUR Token Price Prediction 2025
DigitalCoinPrice analysts are optimistic about BLUR coin, and their experts believe the cryptocurrency will rise in price again, as when it was launched, as time goes by. Based on the experts' forecasts, in 2025, BLUR crypto might climb up to $1.14 (+262%) per coin at its highest point. Its minimum price might reach $0.92 (+192%).
Though WalletInvestor experts think that the coin may drop to minimum price levels throughout that year, they believe that by the end of 2025 BLUR coin is going to reach a higher minimum price level of $0.07080 (-77%). Its maximum price, however, will differ from its lows: $2.466 (+685%).
PricePrediction.net experts are positive about BLUR crypto reaching a steady price level around $1. According to their website, the expected minimum price of BLUR coin at the end of 2025 will be $0.81 (+157%), and it may also climb to a maximum of $1.01 (+221%).
Blur Coin Price Prediction 2030
According to DigitalCoinPrice forecasts, in 2030 the highest price BLUR coin may reach is $3.28 (+944%) per coin, while its low may amount to $3.06 (+874%).
Experts at PricePrediction.net are positive about BLUR crypto and believe it will reach new price levels. According to their website, the expected maximum price of BLUR coin at the end of 2030 will be $4.97 (+1,482%), and it may also drop to a minimum of $6.00 (1,810%).
Telegaon experts are even more optimistic than PricePrediction analysts. According to them, in 2030, BLUR cryptocurrency's minimum price may reach $30.59 (+9,638%). Its maximum price will be a little over that price level – $35.25 (+11,122%).
BLUR Price Prediction 2040
Telegaon provides us with some estimates for BLUR coin when it comes to long-term predictions. Though the crypto market is highly volatile, the website's experts believe that by 2040, the price of BLUR coin will reach an all-time high with $66.11 (+20,947%) at its lowest point. Its maximum is estimated to be $72.13 (+22,864%).
Blur Token Price Prediction 2050
Telegaon also provides us with the all-time highs for BLUR coin for the year 2050. The coin's price may rise even higher and skyrocket to a record-breaking price level of $121.49 (+38,578%), while it may also drop down to a minimum of $105,04 (+33,341%).
BLUR Coin Price Chart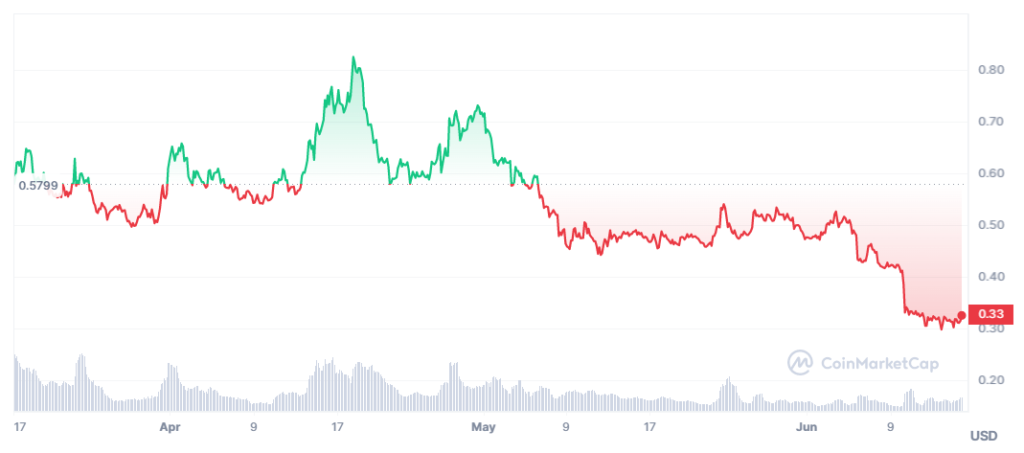 | | |
| --- | --- |
| Current Price | $0.328 |
| Market Cap | $226,318,781 |
| Volume (24h) | $226,318,781 |
| Market Rank | #112 |
| Circulating Supply | 689,902,016 BLUR |
| Total Supply | 3,000,000,000 BLUR |
| 7 Day High / Low | $0.429 / $0.2963 |
| All-Time High | $45.98 Feb 13, 2023 |
Source: CoinMarketCap, 15 June 2023
BLUR USDT Price Technical Analysis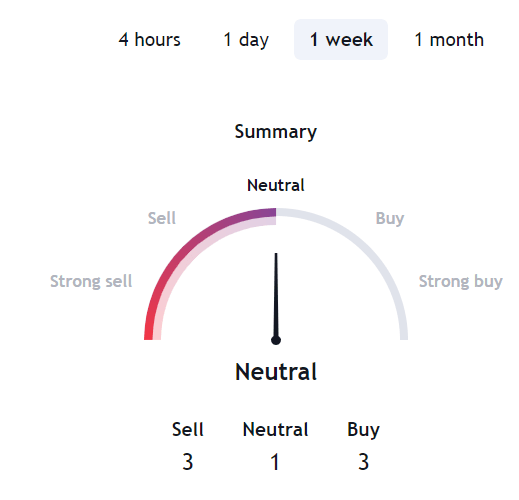 Source: Tradingview, Data was taken on June 15
Now that we've taken a look at some forecasts for BLUR crypto, let's find out a bit more about this NFT marketplace.
Blur: NFT Marketplace & Aggregator
Blur NFT Marketplace is a new platform that functions as both a marketplace and an aggregator, allowing users to put their NFTs for sale on various platforms at the same time with no royalties charged. It promises better tools, more liquidity for NFTs, and a speedier experience than its competitors. Blur was founded by @PacmanBlur who is a MIT-graduate and member of the Peter Thiel Fellowship.
Blur.io is an NFT Marketplace built on Polygon, a layer-two scaling solution for Ethereum. Blur also provides an NFT aggregator, which aggregates NFTs from multiple sources, such as OpenSea, Rarible, SuperRare, and others. The platform went live on October 19, 2022 and swiftly became the number one trading platform for NFTs by volume. Unlike other marketplaces that appeal to retail consumers, Blur is geared at professional NFT traders.
In addition to order book NFT transactions, the platform supports batch shelf and floor-sweeping transactions, allowing traders to do batch operations more conveniently. Buyers can browse NFTs not only on Blur but also on other NFT markets and place orders directly through Blur, with a similar experience to buying or selling cryptocurrencies with instant liquidity.
Blend: Accessible NFT Financing on Blur
Blur Marketplace also features Blend, a peer-to-peer lending platform launched in order to improve NFT liquidity and accessibility. Collectors can use the platform to purchase high-value NFTs with a modest initial deposit, equivalent to a home down payment. This financing option enables new purchasers to enter the NFT market, making pricey collections such as the Bored Ape Yacht Club and CryptoPunk NFTs more accessible. Blend also features new collections that pop up there from time to time.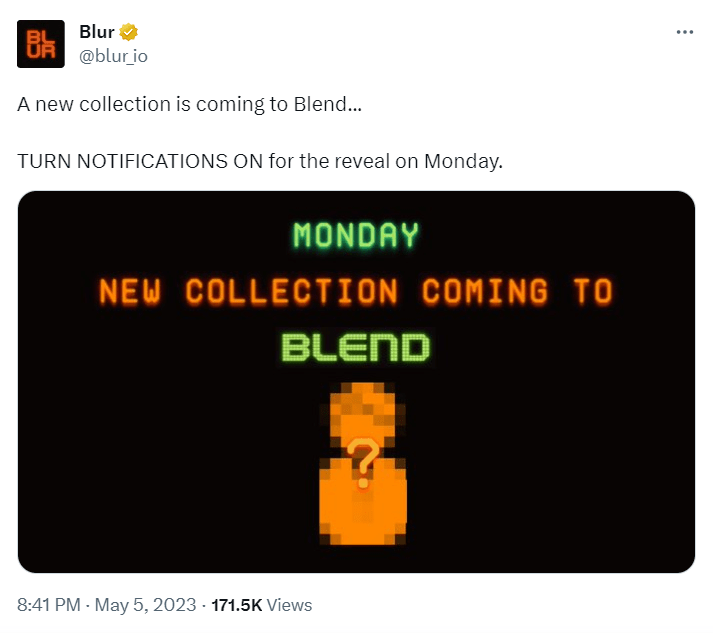 Blend was initially created in partnership with leading venture capitalists Paradigm and extends Blur's reach into decentralized finance by providing a flexible, fee-free lending protocol that supports several collateral types and adapts to market-driven rates.
Fee-Free NFT Platform for Traders
Blur has a very trader-friendly fee structure and does not impose transaction fees to platform users. Blur proposes a 0.5% default royalty rate for purchasers when it comes to royalties, which are required for a specific percentage of secondary transactions on other marketplaces. This, however, can be customized and even set to 0 if the user so desires. Blur.io, in general, provides a more easy and cost-effective platform for expert NFT traders.
BLUR Roadmap
The roadmap does not explicitly announce specific plans and timelines, but according to the information revealed, the next phase of Blur's development plans may include a new fee structure and royalty program, a partnership with Artblocks, and more.
The Blur platform recently completed its $BLUR token airdrop after Season 1 of the incentivization program finished. Users were rewarded with Care Packages for providing liquidity and trading on the platform. These became available on the 14th of February at 12PM EST. Some traders earned up to $3 million in $BLUR tokens and the project launched at a crazy $400 million valuation.
Blur has another round of airdrops coming for Season 2. The project promises to distribute 300M+ Blur tokens. The best strategy to earn BLUR cryptocurrency in the next airdrop is to use the platform by buying, selling, and listing your NFTs on the platform.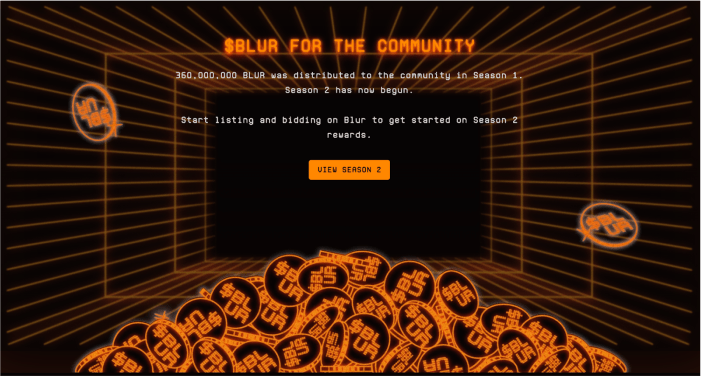 Blur Intro to Season 2, June 15, 2023
$BLUR Token: Governance & Distribution
$BLUR is Blur's native governance token, with a maximum supply of 3 billion. According to Blur's disclosed distribution plan, 49% of $BLUR total supply will be distributed to core contributors, early investors, and the advisory team. These tokens vest over 4 years. 40% will be unlocked in year 1, 30% in year 2, and so on.
The remaining 51% of the total supply will be distributed to the community, of which 12% has already been used for retroactive airdrops or incentive programs prior to February 14, 10% has been voted in for the next incentive season, and the remaining 29% will be distributed based on governance proposals.
Buy BLUR Coin Privately with StealthEX
StealthEX is here to help you buy BLUR coin in case you made up your mind. You can do this privately and without the need to sign up for the service. Our crypto collection has more than 1,000 different coins and you can do wallet-to-wallet transfers instantly and problem-free.
Just go to StealthEX and follow these easy steps:
Choose the pair and the amount you want to exchange. For instance, BTC to BLUR.
Press the "Start exchange" button.
Provide the recipient address to transfer your crypto to.
Process the transaction.
Receive your crypto coins.

Follow us on Medium, Twitter, Telegram, YouTube, and Publish0x to stay updated about the latest news on StealthEX.io and the rest of the crypto world.
Don't forget to do your own research before buying any crypto. The views and opinions expressed in this article are solely those of the author.
Blur
crypto price prediction
NFT
NFT marketplace
price analysis
Recent Articles on Cryptocurrency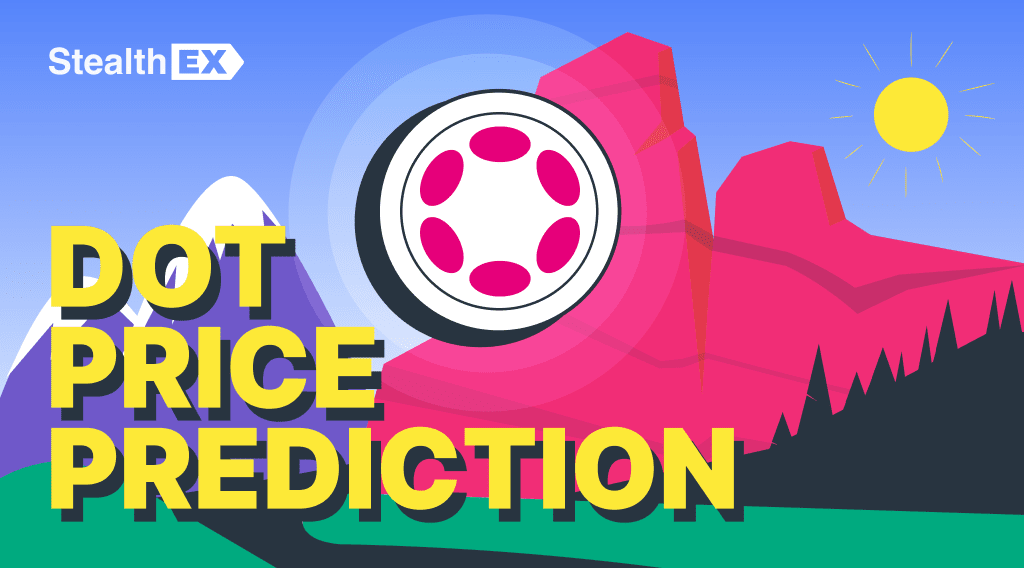 November 29, 2023
Price Prediction
Polkadot (DOT) Price Prediction: Will DOT Coin Reach $1000?
According to the long-term Polkadot price prediction by the end of 2030, the DOT price may rise to $195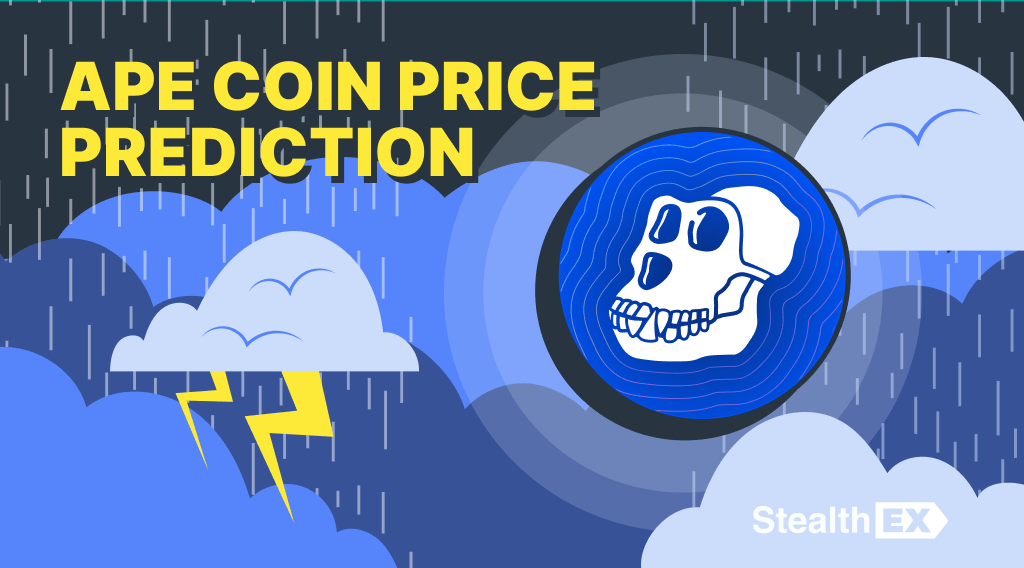 November 29, 2023
Price Prediction
ApeCoin Price Prediction: Is APE Coin a Good Investment?
According to the long-term ApeCoin price prediction by the end of 2030, the APE price may rise to $250