Crypto Exchange in UK: How to Find the Best Platform?
September 15, 2022
Crypto World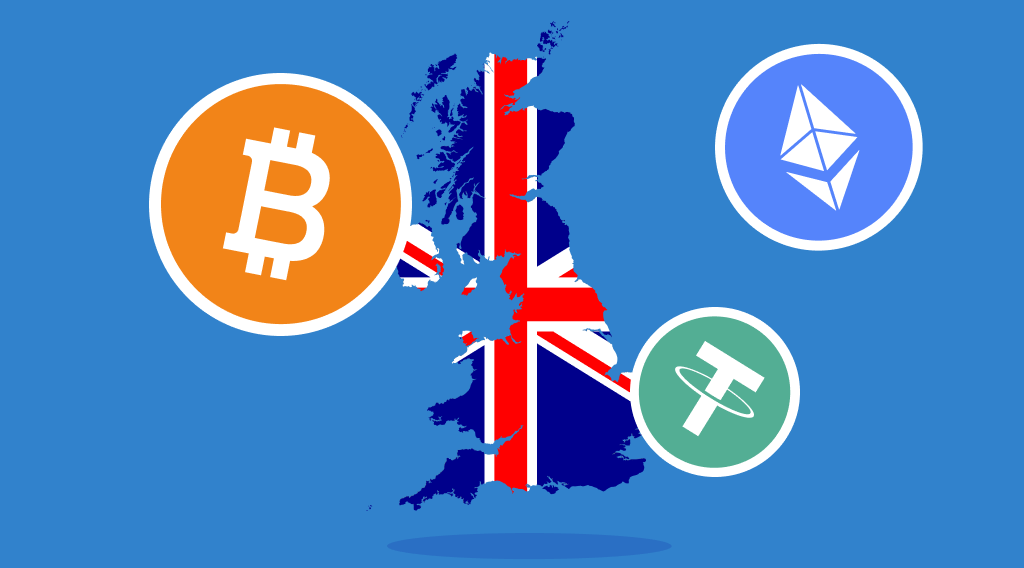 Cryptocurrencies have spread all over the world and as they are not limited by borders, every country now tries to regulate them the best it can. Some countries, however, have paid little attention to digital assets and have only joined the race to woo the crypto industry only now. One of them is Great Britain. Read more about the crypto exchange in UK in the new StealthEX article.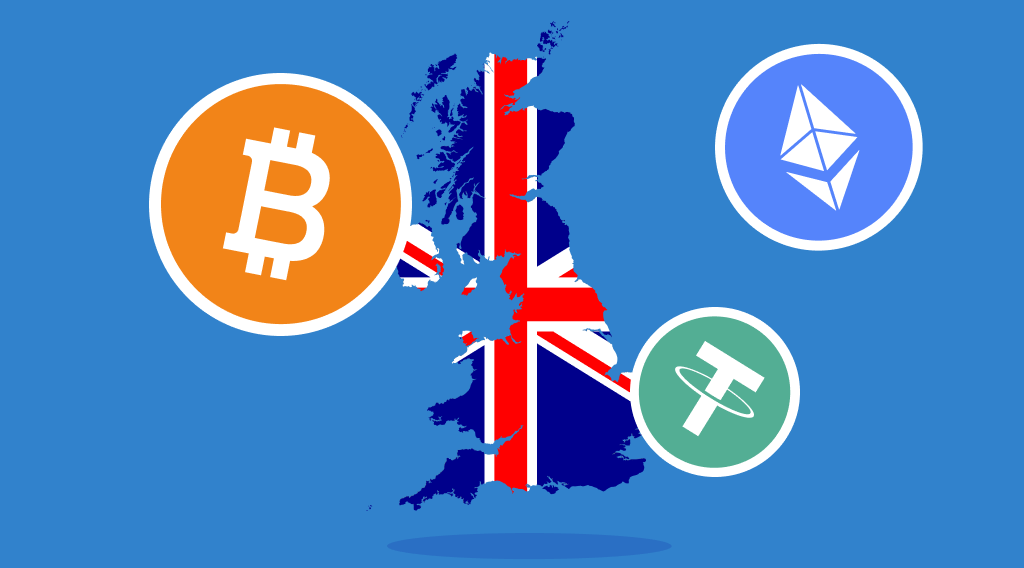 In the past, the government of the United Kingdom was a bit skeptical towards crypto space. For instance, in 2019 the regulator called Financial Conduct Authority (FCA) banned crypto derivatives for retail investors, warning that trading them was 'akin to gambling.' UK cryptocurrency regulations allow users to buy and sell cryptocurrencies, however, without trading them.
Regulations and Crypto Exchange in UK
Gradually, the question of digital assets became more critical, and in 2022, the UK government announced moves to turn the country into the number one crypto asset technology hub. The measures included the following:
Stablecoins to be brought within regulation paving their way for use in the UK as a recognized form of payment.
Working with the Royal Mint on a Non-Fungible Token (NFT) this summer as an emblem of the forward-looking approach the UK is determined to take.
Introducing a 'financial market infrastructure sandbox' to enable firms to experiment and innovate.
Establishing a Cryptoasset Engagement Group to work more closely with the industry.
Exploring ways of enhancing the competitiveness of the UK tax system to encourage further development of the crypto asset market.
The UK's vision for being a global hub for crypto asset technology was set out in a speech by the Economic Secretary to the Treasury, John Glen at the Innovate Finance Global Summit in April. Since then, the country has aimed to enrich their financial services sector with crypto assets.
In September, the government made crypto exchanges report suspected sanctions breaches to UK authorities. The concerns arose when the government started suspecting that Bitcoin and other crypto assets are being used to dodge restrictions imposed on Russia.
How Crypto-Friendly Is Liz Truss?
After a series of scandals Boris Johnson had to step down from the post of the prime minister and handed his duties over to Liz Truss. Truss has beaten former Chancellor of the Exchequer Rishi Sunak in the leadership race and officially entered her new office in September.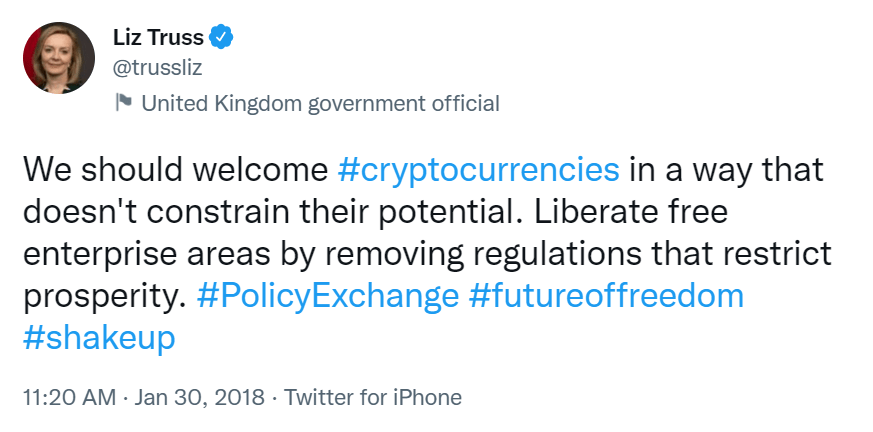 Back in 2018, she tweeted that regulations should be removed from the crypto space. Despite this, she is a bit less predictable than her former competitor Rishi Sunak. When Sunak was in office as Britain's Finance Minister, the government seemed especially keen to embrace cryptocurrencies, and this is where the UK's plan to become a crypto hub came from.
Two days after Liz Truss was officially named the country's prime minister, Economic Secretary Richard Fuller took part in a parliamentary debate on digital assets. In the first Westminster crypto debate he said that the county wants to 'become the country of choice for those looking to create, innovate and build in the crypto space'. However, at the moment It's unclear how Truss' previous policy positions on crypto may influence her views going forward as prime minister.
Tax on Crypto Assets in the UK
Most people hold cryptocurrency as a personal investment, usually to make a profit. For this reason, HMRC requires all UK nationals to pay Capital Gains Tax (CGT) when you make a gain on crypto assets in the same way you pay CGT when selling other assets like stocks.
Therefore, anyone who makes a profit from selling cryptocurrencies will pay taxes on the portion of the profit above £12,300. This £12,300 is the citizen's annual CGT allowance, and any profit made above it is usually subject to Capital Gains Tax.
It is also important to highlight that the CGT allowance of 12,300 also applies to investment gains from stocks and shares. So if a British citizen has already used up their CGT allowance on stocks, for example, they will have to pay tax on their crypto profits.
Best Crypto Exchanges in the UK
Despite the cryptocurrencies being subject to a tax in the UK, many businesses are still prospering. And all the while Great Britain decides on how to regulate crypto assets, there's a number of online platforms that keep working in accordance with the FCA guidelines. Here's a list of the most popular ones:
eToro
Uphold
CoinJar
Revolut
Let's take a closer look at these platforms to see what they can offer British crypto investors.
eToro Company
One of the most popular crypto platforms in the UK is eToro, an FCA-registered crypto exchange. eToro's number of users has increased more than tenfold since 2012, reaching a total of 28.5 million registered users as of March 2022.
eToro offers both investing in stocks and crypto assets, as well as trading CFDs. With eToro, you have over 120 cryptocurrencies to choose from. The platform does not charge a deposit fee but charges a 1% trading fee on all buy and sell orders. Trading on eToro is processed in USD, so a conversion fee will apply if you deposit or withdraw in a currency other than USD. Withdrawals have a fee of $5, and the minimum withdrawal amount is $50.
In addition, eToro offers the so-called eToro Money app to all of its UK customers. The app allows them to convert their GBP to USD free of charge, thereby reducing your foreign exchange costs. The app also functions as a wallet for storing crypto holdings and allows for easy transfer of cryptocurrencies from one exchange or wallet to another.
Uphold Trading Platform
Uphold is an FCA-registered beginner-friendly cryptocurrency exchange that allows you to buy and sell over 200 cryptocurrencies and utility tokens. There are both altcoins and emerging tokens available. Customers can schedule regular transactions using AutoPilot, which allows to set up recurring buy or sell orders and reduce the impact of price volatility. Uphold also lets users withdraw funds to bank accounts in 36 countries or to private wallets on five crypto networks. There are no withdrawal or deposit fees in most regions. Uphold currently has over 1.7 million customers worldwide.
There are multiple fees involved when trading crypto on Uphold. Users will see the price of the trade before they start trading. Uphold allows for a fast account setup with low deposit minimum, however, it offers costly spread fees, especially for low-liquidity cryptocurrencies.
In addition to crypto, the platform allows trading of fiat currencies and precious metals, but has no volume discount for larger purchases.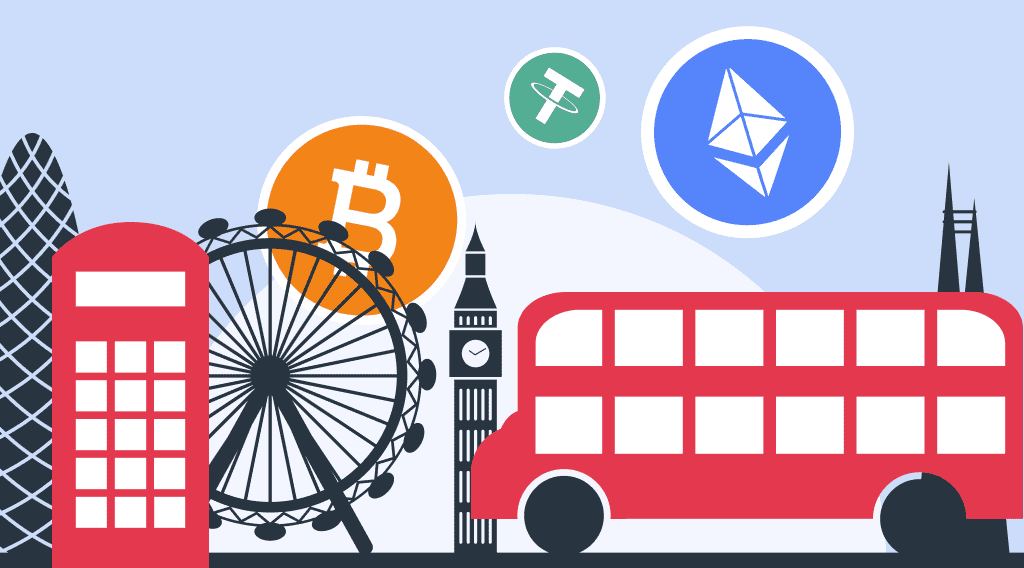 CoinJar Crypto Exchange
The main focus of the global financial company CoinJar is the CoinJar Bitcoin platform, which allows the trading of cryptocurrency and the sending and receiving of payments in Bitcoin. CoinJar was founded by Asher Tan and Ryan Zhou in 2013 and is currently headquartered in Melbourne, Australia. To date, CoinJar has more than $75 million in digital assets and 450,000 customers, mostly in Australia, but it's also registered with Britain's FCA.
Customers can buy, sell, hold or spend cryptocurrencies via the CoinJar app and wallet. Money transfers made with CoinJar have no fees, and the CoinJar wallet is free of charge. The CoinJar app is available for both iOS and Android. CoinJar Card offers a prepaid cryptocurrency Mastercard, powered by CoinJar. It's free to activate, and there are no monthly fees for using the card. CoinJar Rewards can be earned every time customers spend crypto with their cards.
The minimum deposit to open an account with CoinJar is £10. Deposits are made in GBP, so FX fees do not apply. There is a trading fee of 1% on the CoinJar mobile app and website.
Revolut Technology Company
One of the most popular options to buy and sell crypto in the United Kingdom is undoubtedly the FCA-registered Revolut. Revolut was founded in 2015 by Nik Storonsky. In 2021, Revolut became the biggest fintech firm in the United Kingdom. It is a personal finance and money management app that allows you to invest in over 30 currencies from as little as US$1. Just recently, Revolut Ltd. launched a one-click payment feature in a bid to rival PayPal Inc. and other tech giants at online checkouts.
With Revolut, you can stay on top of market movements, receive notifications when crypto hits your desired prices and enjoy the latest market news directly in-app. Revolut also allows its customers to round up your spare change and invest the difference in any cryptocurrency available on the platform.
Revolut charges a single, fixed fee for crypto conversions. This fee is 2.5% for Standard and Plus users (and 1.5% for Premium and Metal users).
International Exchanges and Crypto ATMs in the UK
In addition to FCA-registered crypto platforms, there's a number of international exchanges operating in the United Kingdom, for instance, Coinbase (US), Phemex (Singapore), Coinsmart (Canada), and many more.
According to Coinatmradar, at the moment the country has around 15 tellers and ATMs that will let you buy or sell your crypto. Most of them are located in London, and a few others are in Birmingham, Oxford, and Manchester. Generally, the exchange is being done by Gadcet, a company that sells electronics.
How to Buy Cryptocurrency in the UK?
Except for UK crypto exchanges and ATMS, you can also purchase digital assets via non-custodial platforms. Just go to StealthEX and follow these easy steps:
Choose the pair and the amount you want to exchange. For instance, BTC to ETH.
Press the "Start exchange" button.
Provide the recipient address.
Process the transaction.
Receive your crypto coins.

Follow us on Medium, Twitter, Telegram, YouTube, and Reddit to stay updated about the latest news on StealthEX.io and the rest of the crypto world.
Don't forget to do your own research before buying any crypto. The views and opinions expressed in this article are solely those of the author.
crypto
crypto exchange
crypto world
exchange cryptocurrency
UK
Recent Articles on Cryptocurrency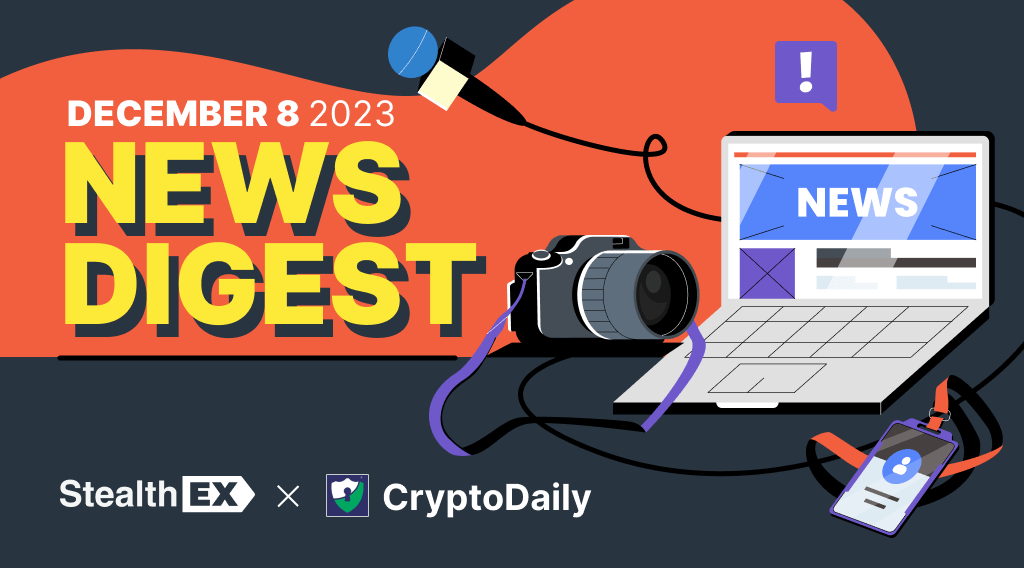 December 8, 2023
Crypto World
StealthEX & CryptoDaily: Weekly Crypto Insights
Explore key cryptocurrency developments and trends in StealthEX's insightful weekly roundup, in partnership with CryptoDaily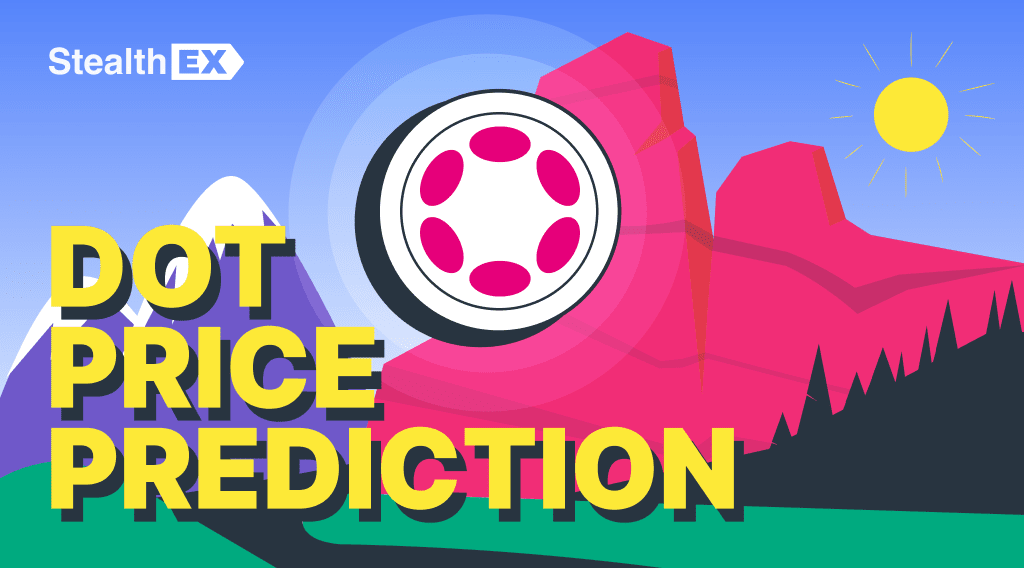 November 29, 2023
Price Prediction
Polkadot (DOT) Price Prediction: Will DOT Coin Reach $1000?
According to the long-term Polkadot price prediction by the end of 2030, the DOT price may rise to $195