Crypto Market Week in Review: April 7, 2023
April 7, 2023
Crypto World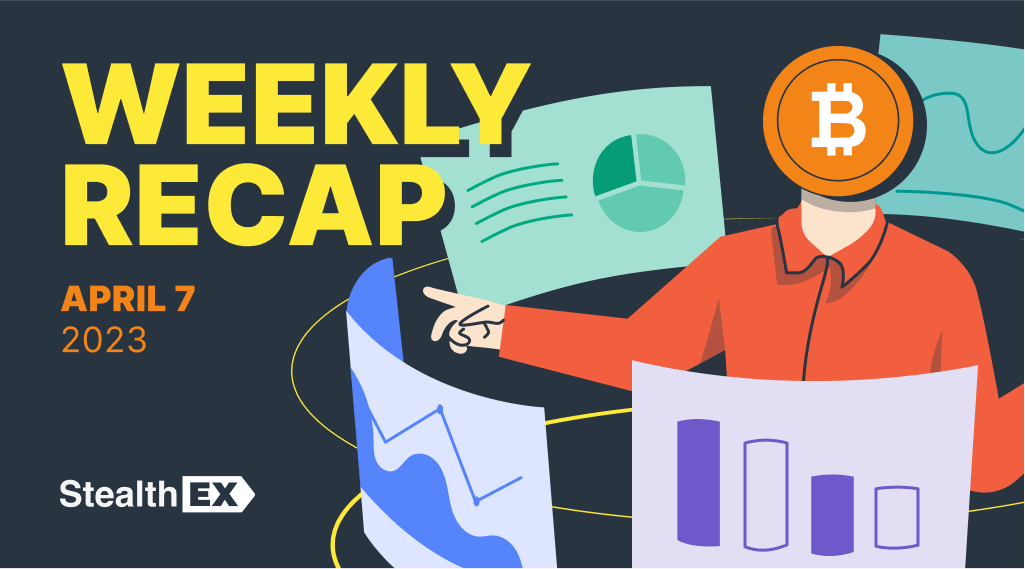 This week was rather quiet for the major cryptocurrencies. Bitcoin lost only 0.3% in value during the week and moved in a very narrow range. Nevertheless, several developments affected altcoin prices. So let's check out what happened to crypto this week. As always, we will analyze BTC and ETH prices first and then move on to the most important news.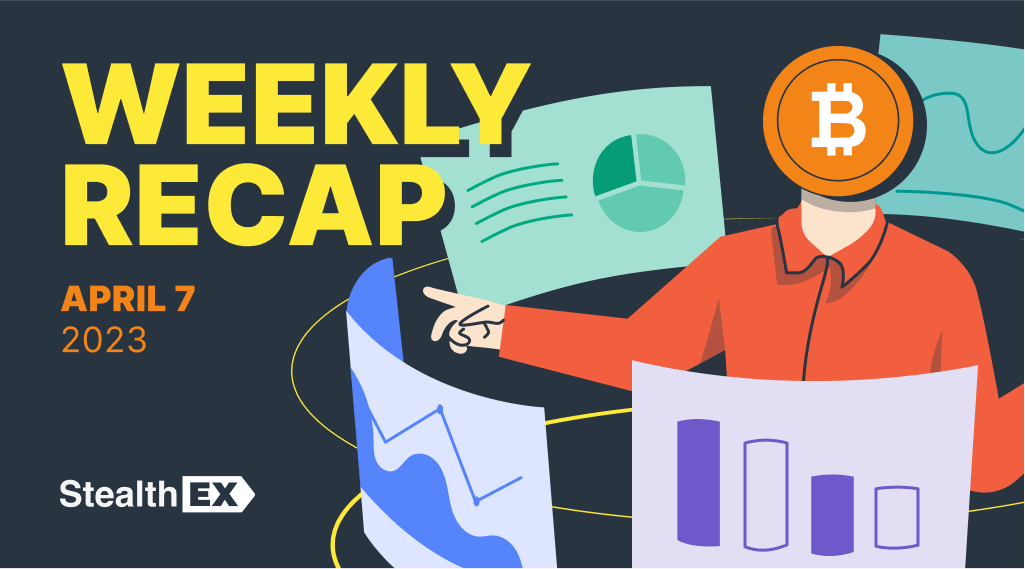 What Happened to Crypto This Week?
As always, we begin our recap by briefly analyzing the two largest cryptocurrencies by market cap: BTC and ETH.
Bitcoin Price in USD This Week
The Bitcoin price moved in an extremely narrow range this week. We did not observe much volatility, which is a symbol of cryptocurrencies. So, what is the Bitcoin price today? Bitcoin's current price is $27,906, and its market cap is $540 billion. The 7d high of BTC was nearly $29,000, while the 7d low stood at $27,200. The dominance of the crypto's king remains at around 44%.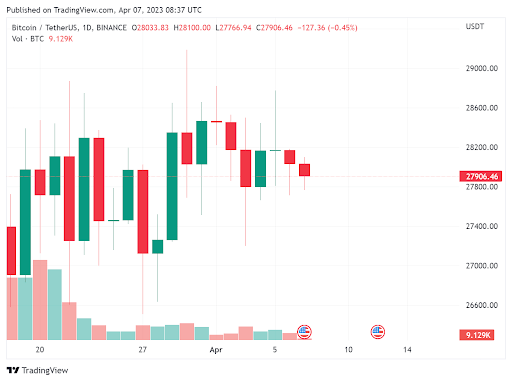 In terms of investor sentiment, the Bitcoin Fear & Greed Index indicates 64. This means that the market is dominated by greed.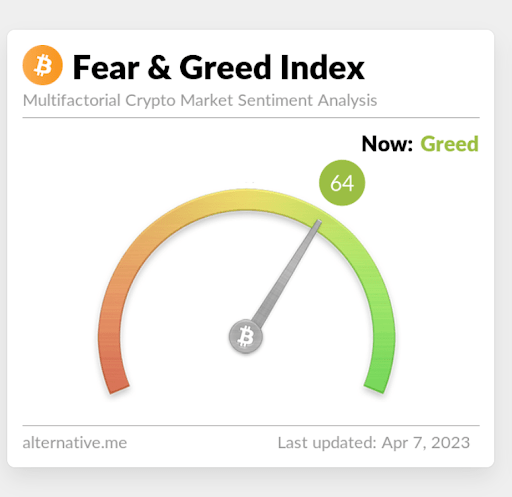 Ethereum Price USD This Week
The situation for Ethereum looks slightly different than for Bitcoin. The range in which ether traded last week was somewhat larger. Look at the chart below: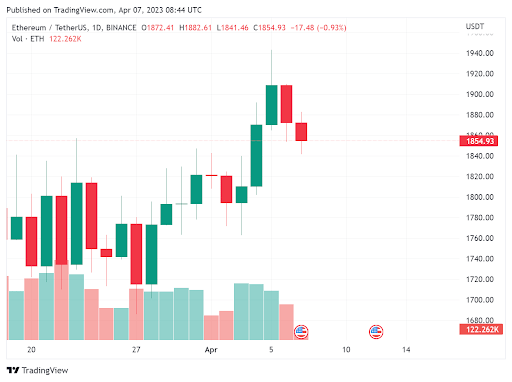 So, what's the price of Ethereum (ETH) today? The price of ETH currently stands at $1854. Over the past week, the second-largest cryptocurrency has oscillated between $1770 – $1940. The dominance of smart contracts king continues to hold steady at 18%.
Biggest Crypto Gainers This Week
Although BTC and ETH prices were fairly stable and stayed within a narrow range, the situation differs for many altcoins. Of the TOP 100 largest cryptocurrencies, several brought investors substantial gains.
At the top of the list should be DOGE, which rose 30% after Elon Musk changed Twitter's logo to Dogecoin. Nevertheless, Twitter has already reverted to the old version of the logo, and DOGE has seen a decline. So, which projects are the biggest crypto gainers this week?
Other projects that provided investors with at least 10% gains over the week were: Aave (AAVE), Dogecoin (DOGE), Lido DAO (LDO), Curve DAO (CRV), and Synthetix Network (SNX).
Cryptocurrency News of the Week
We already know how Bitcoin and Ethereum performed last week. We also know which projects brought the biggest returns to investors. So it's time to move on to the next thing we discuss in each of our weekly recaps – news. So, what happened in the crypto market this week?
US Authorities Sold Nearly 10,000 BTC from Silk Road
On March 14, 2023, the US government sold 9,861 BTC for $215.7 million. That's according to court documents filed on March 31. The Bitcoins in question are those linked to Silk Road.
It is worth noting, however, that this is not the end of the sale. The U.S. still holds as much as 41,491 BTC, and they intend to liquidate them too "later this calendar year."
El Salvador Eliminates Taxes on Technology Innovation
El Salvador established Bitcoin as a legal tender in 2021. At the time, President Nayib Bukele said he saw blockchain technology and cryptocurrencies as tools to help combat hyperinflation. On top of that, his goal was to reduce the country's dependence on the US dollar.
Now the authorities are going one step further. The country's government has decided to abolish all taxes related to innovative ventures. El Salvador's president said the abolition of such taxes could accelerate technological development.
As a result, on April 1, he sent his bill to Parliament to cancel all taxes that innovative companies still have to pay.
It involves technological innovation, software-related projects, application development, and artificial intelligence, as well as computer and communications equipment production.
Elon Musk Has Changed Twitter's Logo to a Dogecoin
Twitter users on Monday afternoon may have been very surprised to see the Dogecoin logo instead of the bird in blue. Dogecoin's symbol is the Kabosu, or Shiba Inu breed dog, whose photo became a meme and circulated the world. As a result of the change, Dogecoin has surpassed the $0.10 per coin threshold for the first time since early December.
Elon Musk has long called Dogecoin his favorite cryptocurrency. The move sparked a wave of comments on Twitter, with surprised users sending tweets expressing their amazement. There was even speculation that this was the action of hackers.
The owner of Twitter also published a post. In the meme, Dogecoin's "dog" shows a police officer an ID card with the famous bird on it and says: "That's an old photo."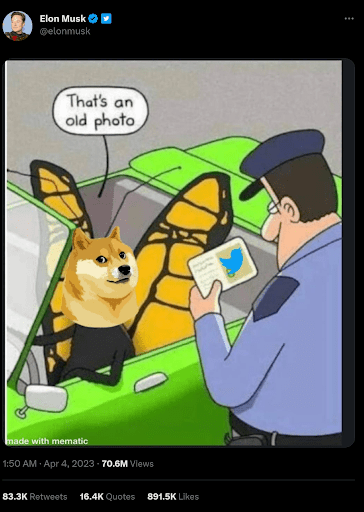 Binance "lost 16% of its market share in terms of trading volume," according to a blockchain analysis service Kaiko. The company's dominance in the CEX sector at the end of the first quarter of this year was 54%. In addition, the suspension of the zero transaction fee program also led to the exchange's excess volume disappearing.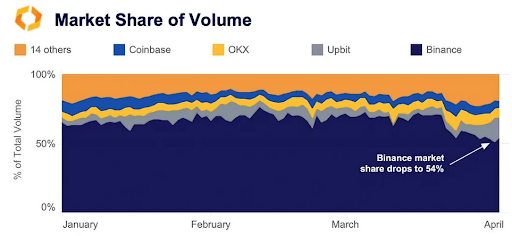 However, Kaiko explains that a sizable percentage went to the exchange's US subsidiary, Binance.US. This entity boasts that it managed to triple its market share from 8% to 24% in the past quarter. What's more, it's not that the CZ-led exchange is completely losing its market dominance. The company is still the undisputed leader in the crypto derivatives sector.
News and Updates from StealthEX Partners
In addition to news strictly from the crypto world, there was also a lot going on with StealthEX itself and our partners.
StealthEX Partnered with Floki Inu (FLOKI)
StealthEX has formed a partnership with Floki Inu (FLOKI). Together we have prepared a giveaway due to the upcoming Easter holiday – Easter Egg Hunt Giveaway. The total prize pool for the contest is $8,000,000 FLOKI.
For more information on the giveaway and to stay updated with promotions, join StealthEX and Floki Inu on Twitter!
FEG (Feed Every Gorilla) Has Launched a Migration Tool
The FEG (Feed Every Gorilla) project has launched a migration tool. It allows you to transfer FEGtoken and FEG Stake V2 balance to the new upgraded FEGtoken – powered by SmartDeFi™.
All you need to do to migrate the tokens is to go to Migration tool and connect your wallet.
Volt Inu Releases Crypto Card
The Volt Inu project has released its physical & virtual crypto card, which you can top up directly from the DeFi wallet. Interestingly, it does not require ID verification. The only requirement to use it is to have a minimum of 200 million VOLT tokens!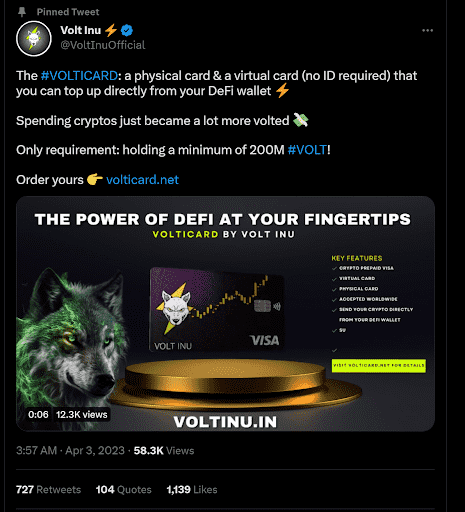 ---
Follow us on Medium, Twitter, Telegram, YouTube, and Publish0x to stay updated about the latest news on StealthEX.io and the rest of the crypto world.
Don't forget to do your own research before buying any crypto. The views and opinions expressed in this article are solely those of the author.
Bitcoin price
crypto world
cryptocurrency
Ethereum
exchange crypto
Recent Articles on Cryptocurrency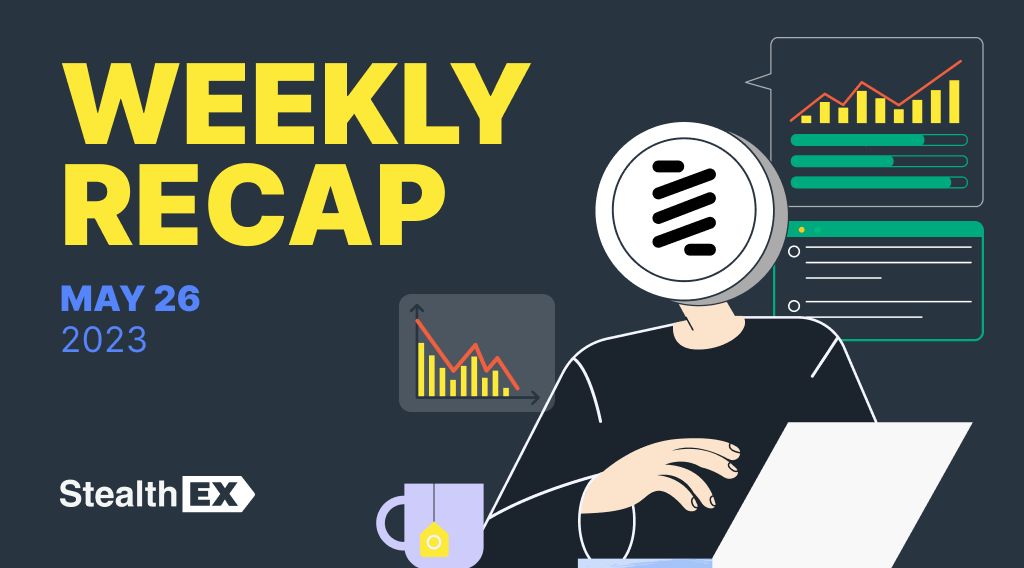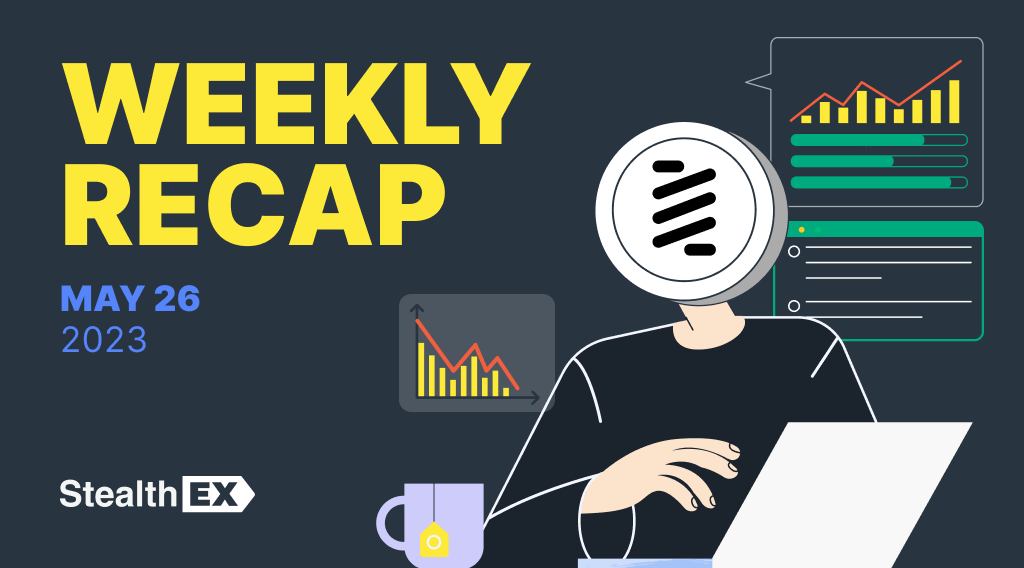 May 26, 2023
Crypto World
Review of the Crypto Market: May 26, 2023
Dive into the crypto market's weekly trends: get the detailed analysis and major news for May 20-26, 2023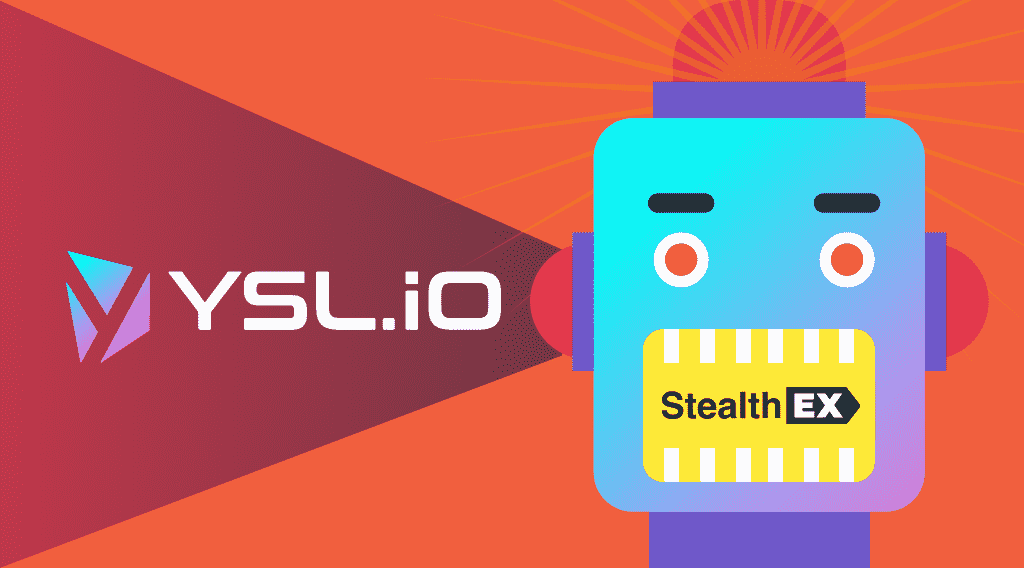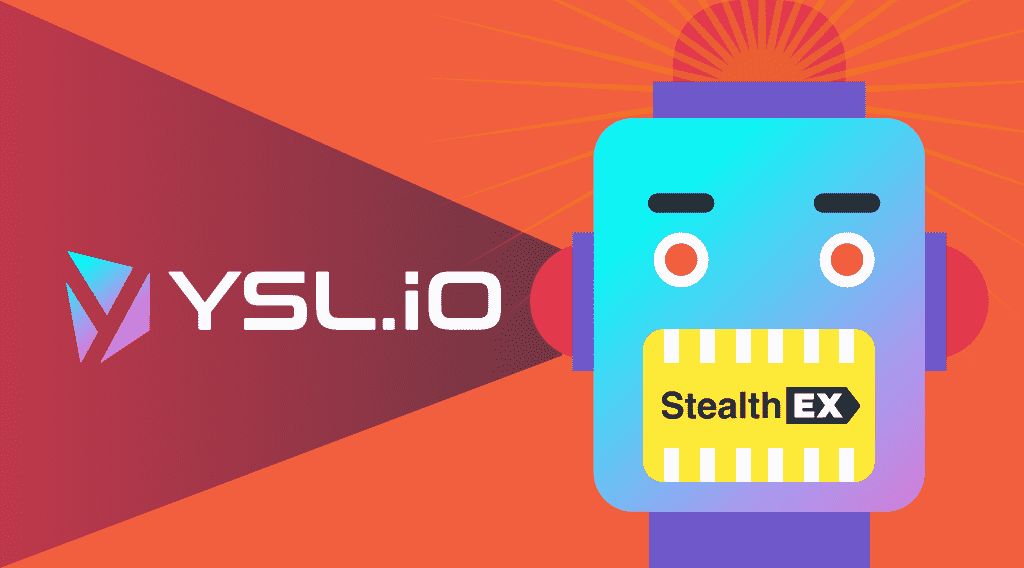 May 25, 2023
Our News
StealthEX Has Been Integrated into ChainZap by YSL.IO
Instant crypto exchange StealthEX partners with DeFi 3.0 protocol YSL.IO for seamless integration into ChainZap