Crypto VC Activity Drops in Q2 2023: What Does This Mean for the Industry?
August 31, 2023
Investment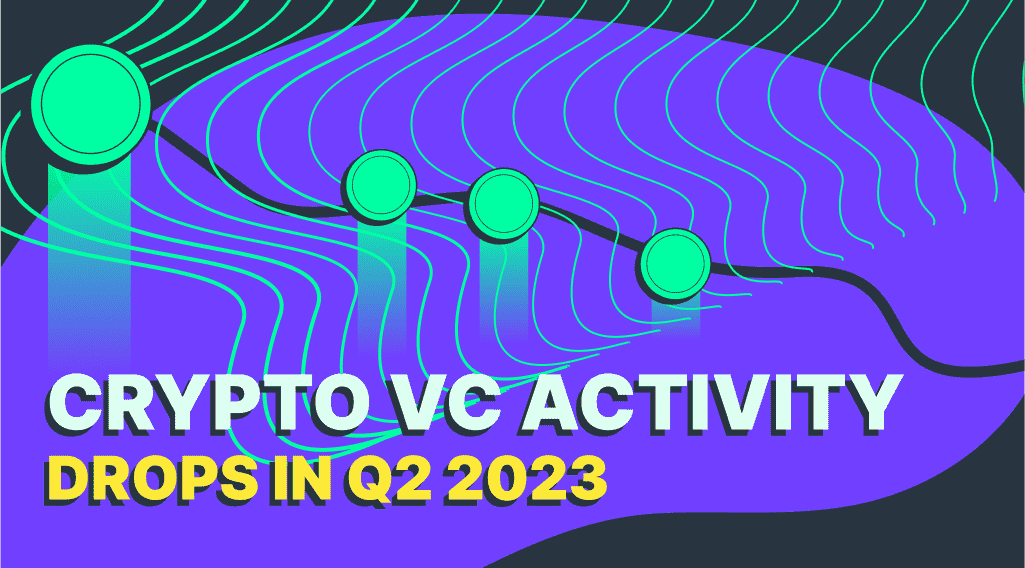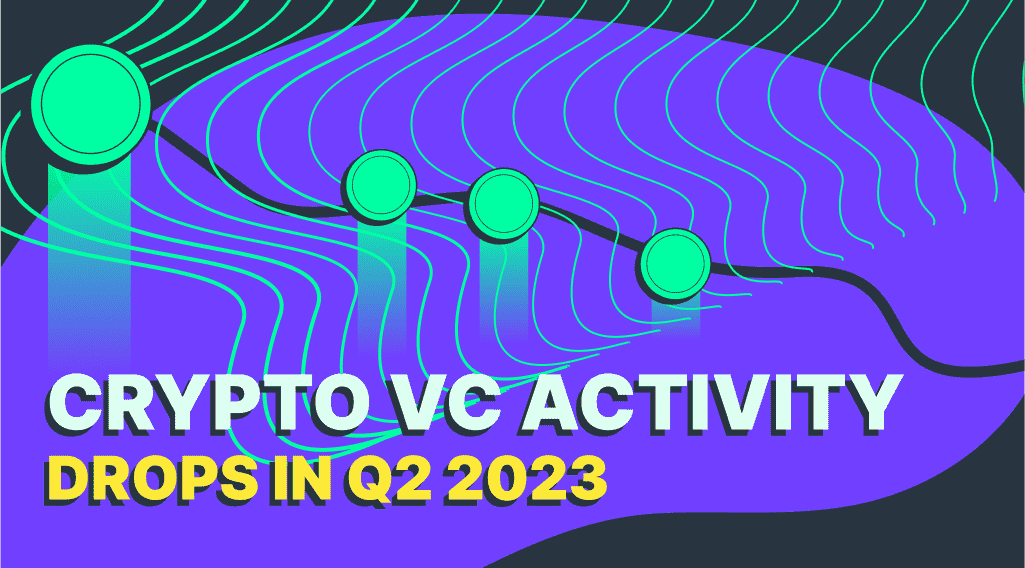 In the second quarter of 2023, crypto investment activity decreased to its lowest level since the fourth quarter of 2020.
According to PitchBook's latest report, global venture capital investments in crypto companies have dropped by 14.7% in terms of deal value and 16.3% in terms of the number of deals completed. This marks the fifth consecutive quarter of declining crypto investment activity.
Despite that, blockchain infrastructure projects continued to attract the largest investments. LayerZero raised a $120 million Series B round, valuing the company at $3 billion, while WorldCoin raised a $115 million Series C. Gensyn and Together also raised significant Series A rounds at $43 million and $20 million respectively.
However, the overall trend in valuations and deal sizes is erratic. Seed rounds saw an 18.1% increase, while early- and late-stage rounds were down by 20.3% and 15.8% respectively. The valuations of down-rounds and later stages were initially higher but have drastically declined as a result of the small sample size and the fact that down-rounds are kept private.
Over all stages of the investment cycle in 2023, the median deal size has decreased by less than 10%, with seed, early-stage, and late-stage deals each averaging $2.3 million, $5.1 million, and $10 million respectively.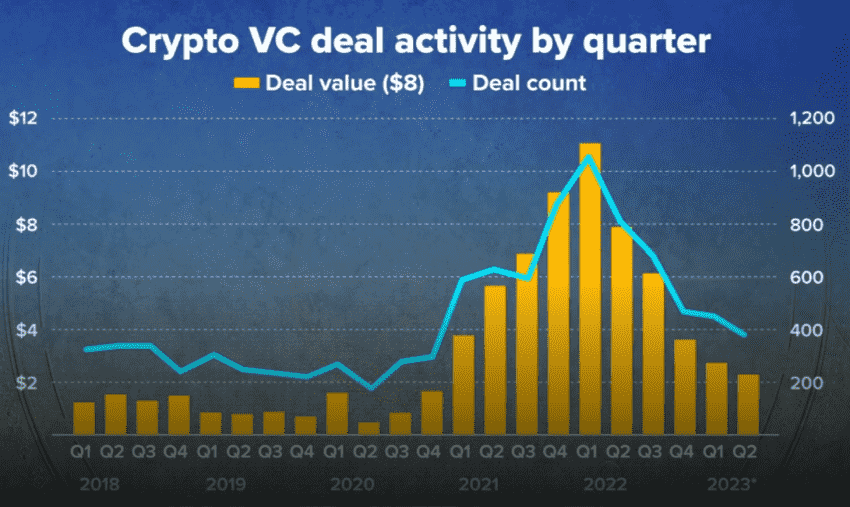 Source: PitchBook
According to Robert Le, crypto analyst at PitchBook, the second half of 2023 will see an uptick in VC investments.
"Investors have been slowing down the investment pace, but they've been having conversations with a lot of different companies, founders and teams to really understand what is being built out there.

"Now they're starting to get comfortable and understand what opportunities are out there. So, we do think that investors will be more comfortable later this year."

Robert Le
Additionally, he noted that despite the correlation between the crypto investment activity and crypto prices, it does not exist on a daily basis since the crypto asset class is up overall this year.
Le added:
"Overall, Bitcoin, Ethereum and a lot of large crypto asset prices have been up this year, and we think that's going to carry over to private markets later this year."
To further bolster the crypto market, the infrastructure layer must mature before application layer projects can be built on top.
This is similar to the development of cloud and mobile computing, which saw the likes of Uber and Airbnb come later after the core infrastructure was established.
It is for this reason that blockchain infrastructure is currently attracting the largest investments.
While a number of challenges stand in the way of the crypto industry's rise, including continued regulation uncertainty and major crypto companies' failures, the industry is maturing – and those challenges will eventually be addressed, resulting in rapid growth and innovation for the market.
---
Make sure to follow us on Medium, Twitter, Telegram, YouTube, and Publish0x to stay updated about the latest news on StealthEX.io and the rest of the crypto world.
This article is not supposed to provide financial advice. Digital assets are risky. Be sure to do your own research and consult your financial advisor before investing.
Originally published at The Daily Hold.
Bitcoin
crypto
crypto world
cryptocurrency
Ethereum
Recent Articles on Cryptocurrency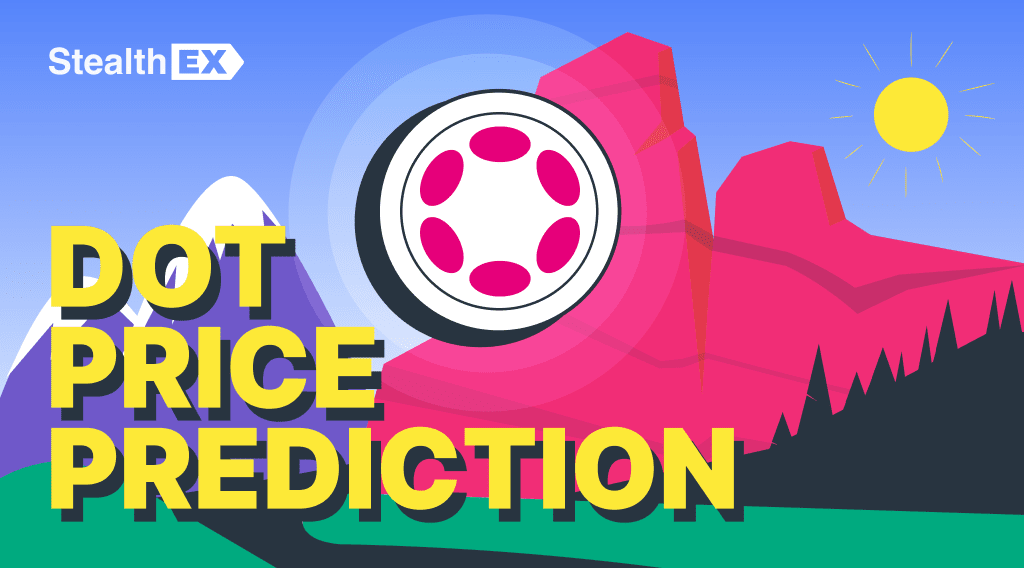 November 29, 2023
Price Prediction
Polkadot (DOT) Price Prediction: Will DOT Coin Reach $1000?
According to the long-term Polkadot price prediction by the end of 2030, the DOT price may rise to $195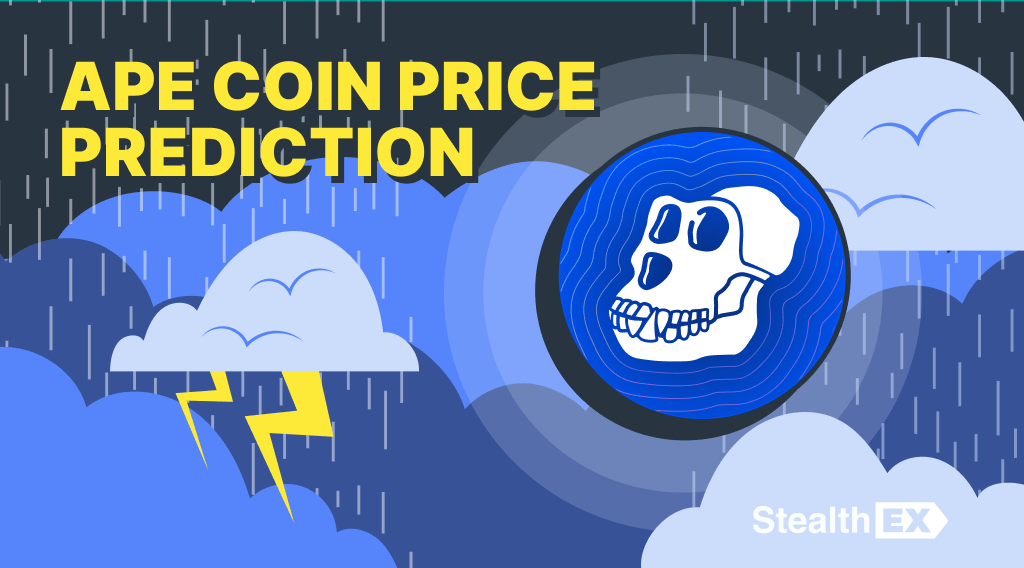 November 29, 2023
Price Prediction
ApeCoin Price Prediction: Is APE Coin a Good Investment?
According to the long-term ApeCoin price prediction by the end of 2030, the APE price may rise to $250