HBAR Price Prediction 2023-2025-2030: Will Hedera Reach $10?
November 24, 2023
Price Prediction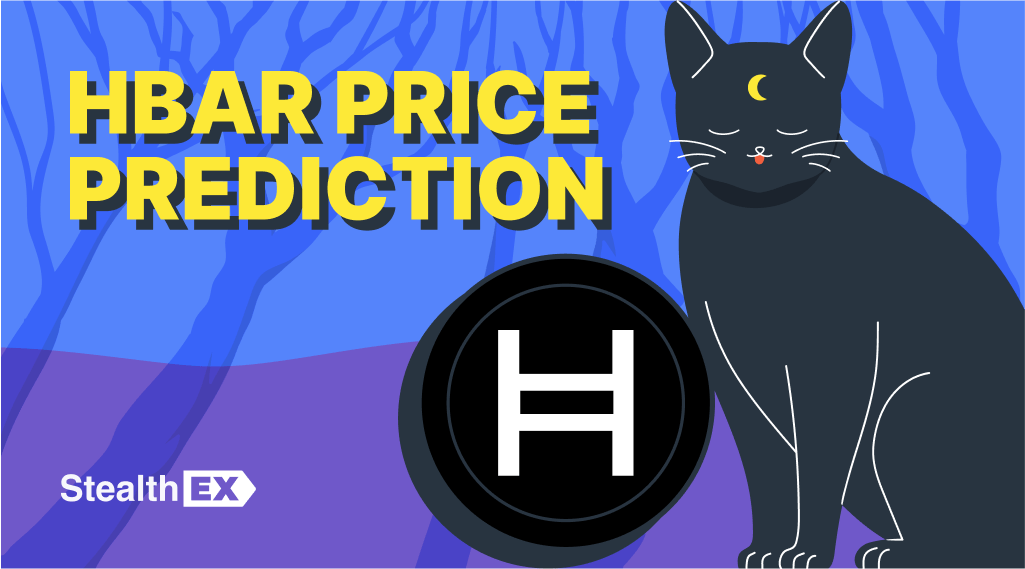 One of the most prominent projects on the crypto market is Hedera Hashgraph (HBAR). Hedera Hashgraph is a decentralized distributed network that is structurally quite different from the Bitcoin and Ethereum blockchains, but which performs equivalent functions. It is based on security and validation algorithms that are more efficient than those used on blockchain networks. Read more about HBAR price prediction in the new StealthEX article.
| | | |
| --- | --- | --- |
| Current HBAR Coin Price | HBAR Price Prediction 2025 | HBAR Price Prediction 2030 |
| $0.0622 | $0.23 | $1.03 |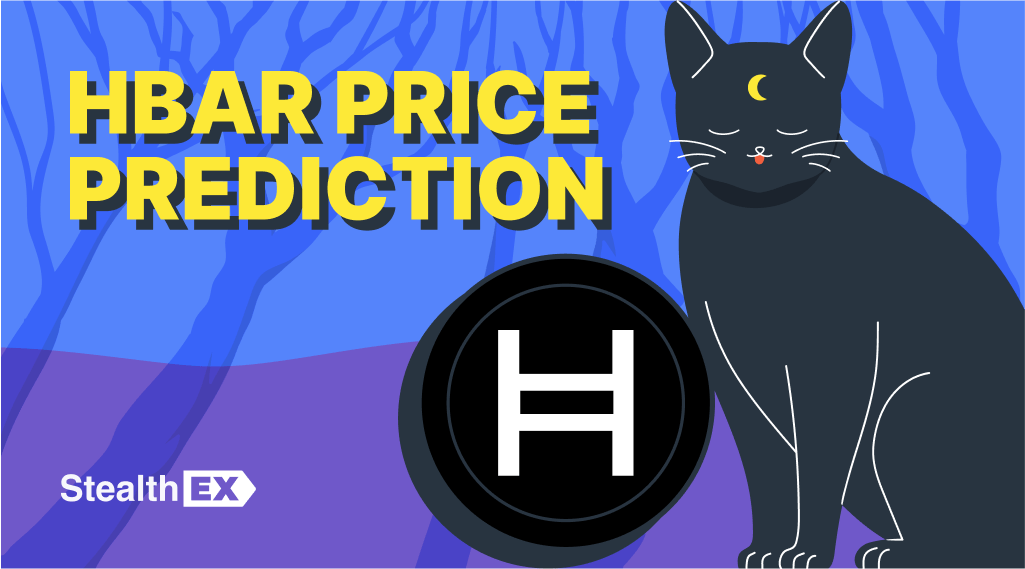 Hedera Hashgraph Overview
HBAR crypto, or Hedera Hashgraph, is a groundbreaking public network developed by Dr. Leemon Baird and Mance Harmon in 2018.
It's a Proof-of-Stake (PoS) network using a unique hashgraph consensus mechanism, aiming to be a faster, more secure blockchain alternative. With the capability to process up to 10,000 transactions per second (TPS), it stands out for its efficient bandwidth usage and high transaction speed.
The network's foundation is based on directed acyclic graphs from graph theory, enabling immutable transaction records. Hedera's asynchronous Byzantine fault-tolerant (ABFT) consensus allows for more efficient, logical, and secure transaction validation than traditional blockchain methods.
Supporting smart contracts, Hedera enables the creation of decentralized applications (DApps) that facilitate secure and efficient exchanges without intermediaries. Its scalability and innovative consensus model position Hedera as a potential leader in decentralized ledger technology.
HBAR Price History
Hedera Hashgraph (HBAR) has experienced a dynamic price history since its launch. Debuting in 2019, HBAR's price initially fluctuated modestly, reflecting early market uncertainty.
| | |
| --- | --- |
| Current HBAR Price | $0.0622 |
| Market Cap | $2,087,015,403 |
| Volume (24h) | $45,941,229 |
| Market Rank | #33 |
| Circulating Supply | 33,563,623,254 HBAR |
| Total Supply | 50,000,000,000 HBAR |
| 1 Month High / Low | $0.06787 / $0.05051 |
| All-Time High | $0.5701 Sep 16, 2021 |
In 2020, it witnessed a gradual increase as the platform's potential became more widely recognized.
In 2021, HBAR's price rose significantly, reaching a peak of around $0.57 in September, driven by the crypto market's overall bullish trend and Hedera's technological advancements.
However, 2022 brought challenges, with prices mostly declining amid market-wide downturns, touching lows near $0.07.
The trend continued into early 2023, reflecting broader economic uncertainties and fluctuating investor confidence in the crypto sector. These shifts highlight HBAR's sensitivity to market dynamics and investor sentiment, while underscoring the volatile nature of cryptocurrency prices in response to external economic and technological factors.
HBAR Price Chart
Source: CoinMarketCap, 24 November 2023
HBAR Price Prediction
Hedera Hashgraph Price Prediction 2023
DigitalCoinPrice experts believe that HBAR might strengthen its position: they expect that the minimum price of HBAR coin might drop to $0.0555 (-10%), while its maximum price, $0.14, would mean that the cryptocurrency rose in price by 125% from its current price level.
WalletInvestor crypto experts believe that HBAR can experience a rapid decline in price to a price level of $0.0000431 (-99%) at its lowest point. At its maximum, HBAR crypto might reach $0.0672 (+9%), which is a significant price increase.
PricePrediction crypto analysts think that in 2023 Hedera might rise in price. According to their calculations, the expected maximum price of HBAR will rise to $0.0692 (+11%), and it may also drop to a minimum of $0.0636 (+2%).
HBAR Price Prediction 2025
DigitalCoinPrice experts believe that in 2025, HBAR will continue rising in price. Based on their forecasts, HBAR crypto might go as high as $0.23 (+256%) per coin at its highest point. Its minimum price might go as low as $0.18 (+200%).
WalletInvestor gives a very broad forecast for the cryptocurrency: in 2025, it can fall to an absolute minimum and reach a lowest price level of $0.000001 (-99%). However, its maximum price might surprise the crypto market – $0.234 (+276%).
According to PricePrediction, HBAR crypto will gradually rise in price and that will definitely cost more than it does now. The website claims that the expected maximum price of HBAR coin at the end of 2025 will be $0.1685 (+170%), and it may also drop to a minimum of $0.1368 (+120%).
HBAR Price Prediction 2030
According to DigitalCoinPrice, Hedera Hashgraph won't make an enormous leap in price by 2030 like many other cryptocurrencies, however, their analysts believe the cryptocurrency will rise in price even by very moderate predictions. Based on the experts' forecasts, in 2030, HBAR might go as high as $0.65 (+952%) per coin at its highest point. Its minimum price might go as low as $0.6 (+876%).
Telegaon experts believe that in 2030, HBAR crypto will considerably rise in price to reach $3.82 (+6000%). Its maximum price might be even higher – $4.55 (+7200%).
PricePrediction believes that the price of HBAR will rise gradually. According to their website, in 2030 HBAR crypto might finally reach $1.03 (+1550%), and it may also drop to a minimum of $0.855 (+1270%), which is undeniably higher than its current price level.
HBAR Crypto Price Prediction 2040
According to Telegaon forecasts, HBAR crypto will be making significant progress: in 2040, the highest price Hedera Hashgraph may reach is $9.61 (+15400%) per coin. It can also drop in price to a minimum of $7.45 (+11900%) per coin.
HBAR USDT Price Technical Analysis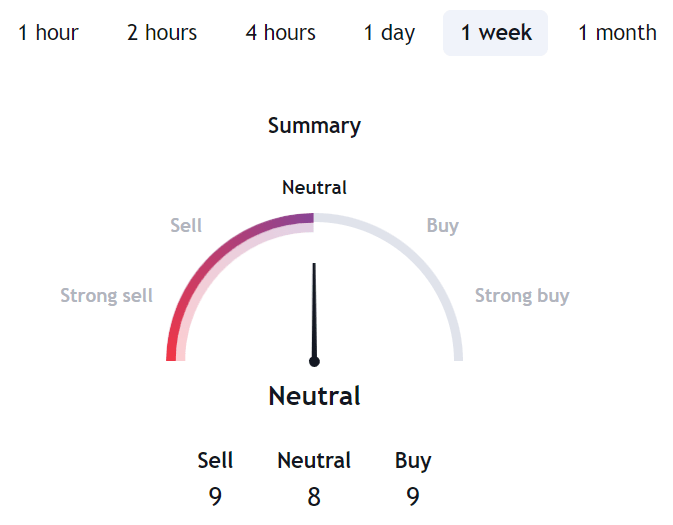 Source: Tradingview, Data was taken on 24 November 2023
Now that we've seen what the future can bring for HBAR crypto, let's find out a bit more about the project itself.
How Does Hedera Hashgraph Work?
A concept from graph theory known as directed acyclic graphs serves as the foundation for Hedera Hashgraph. These graphs make it easier to create data structures and flows that don't keep track of previous states. Acyclic graphs ensure that transactions cannot be changed once they have been confirmed and added to the network when used as the foundation for a DLT.
With the help of these graphs, Hedera implements an asynchronous byzantine fault-tolerant (ABFT) consensus process in its nodes (network validators). The slow and resource-intensive cryptographic consensus techniques employed by blockchain-based ledgers can be replaced by this technology. Hedera firmly believes that the ABFT mechanism, which incorporates transactions into the network in an energy- and cost-efficient manner, is more efficient, logical, and secure than traditional validation techniques.
Hedera Achievements
The Hedera Hashgraph project had the following main updates and news:
Neuron leverages the Hedera Network for a drone radar system in a UK government-sponsored trial.
Hedera has launched its own NFT ecosystem that's different from other blockchains.
Shinhan Bank, the leading bank in South Korea, announced that it has completed the development of stablecoin built on the Hedera network.
London School of Economics and DBS Bank joined Hedera blockchain's governing council.
HIP-206 became available on the Hedera preview net, allowing the use of Hedera Token Service in smart contracts.
SDK in React became available for use.
The project is taking part in the Digital Climate Finance event.
HBAR Roadmap: A Paved Road
In 2022, The Hedera Governing Council further decentralized the Hedera network with the transition of the Development and Management teams, including Dr. Leemon Baird and Mance Harmon, from Hedera Hashgraph to Swirlds Labs. Swirlds Labs' mission is to accelerate building the future on Hedera.
Hedera22, a 6-week hackathon competition dedicated to decentralized applications that take full advantage of the upgraded HSCS, took place across 95 countries.

Additionally, the Hashgraph platform, including the Hashgraph consensus algorithm, entered open source under Apache 2.0 license on August 5, 2022, making the entire Hedera network, including the services code and developer tools, open source. Native staking was introduced on Hedera, enabling the ecosystem to develop tooling and stakers to earn rewards.
Hedera Hashgraph's roadmap prioritizes developing enhanced EVM tool support, token association improvements for user experience, and advancing decentralization through community-run mainnet nodes. These steps aim to bolster Hedera's infrastructure and user accessibility.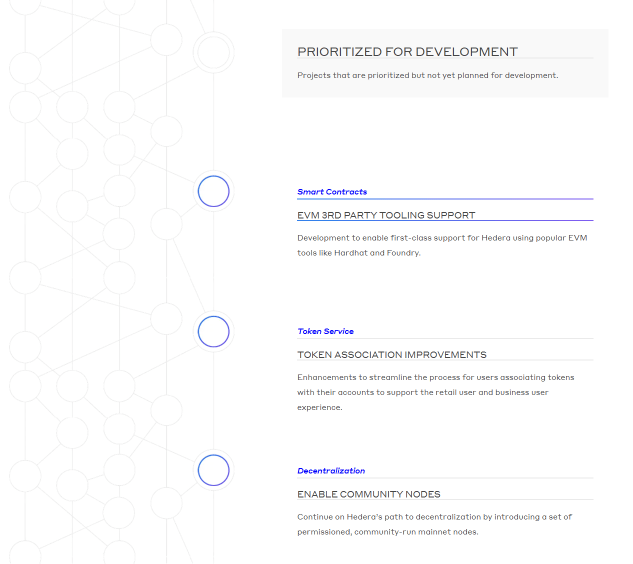 Source: Hedera.com
HBAR Price Predictions: Experts' Opinions
Many experts believe that the future of Hedera Hashgraph may be quite bright. In August 2023, HBAR's price jumped 16%. The key reason for HBAR's recent price climb might be the positive sentiment surrounding the Hedera network, given a recent uptick in institutional adoption. On August 14, when word of the Federal Reserve's FedNow adding Dropp, a Hedera-based micropayments platform, as a service provider spread, HBAR experienced a significant increase. Hyundai and Kia, two major automakers, have embraced the Hedera network, marking yet another significant adoption milestone for the platform.
Many crypto experts claim that Hedera Hashgraph can be used for many things. Apart from powering energy-efficient cryptocurrencies and dApps, it's also used for network protection, fungible management and data logging. Hedera is currently being used by Boeing, Deutsche Telekom, Google, Tata Communications, IBM, LG Electronics, and many other global companies. All these companies add to the project's credibility and sustainability.
Is Hedera Hashgraph a Good Investment?
According to Hedera, its distributed technology combines the benefits of both public and private ledgers, allowing customers the security of a centralized network and the privacy of a decentralized platform. Hedera wants to offer a quick, safe network that prioritizes equality for all users. Hedera's commitment to being carbon-negative as a green cryptocurrency makes it a workable alternative to the energy-intensive outputs of earlier blockchains like Bitcoin.
Additionally, Hedera Hashgraph enables each user to stake currencies in exchange for rewards. In order to help ensure the stability of the network, this enables investors to hold sizeable stakes on the Hedera platform while also profiting.
How Much Is HBAR Worth in 2025?
Based on DigitalCoinPrice forecast, HBAR crypto might go as high as $0.23 per coin at its highest point.
Can HBAR Reach $1 in 2023?
HBAR crypto will most likely reach this price level later on.
Can Hedera Reach $5 Dollars?
Considering the criteria Quality of Investment, growth required and time required, HBAR has a low to moderate chance of reaching $5.
Will Hedera Reach $10?
For HBAR to reach $10, the current HBAR price will need to increase 200+ times. Since 2010, Bitcoin is up around 22,000 times, so this event is moderately feasible for HBAR.
Will HBAR Reach $20?
Considering growth required and time required, HBAR has a low chance of reaching $20 in the near future.
Can HBAR Reach $100 Dollars?
HBAR is unlikely to reach $100 in the near future.
Will HBAR Reach $1000?
There is no evidence HBAR will reach $1000. It is currently heavily focused on businesses and it is unlikely that will drive massive token usage.
What Is the Price of 1 Hedera?
At the moment, it's $0.0622 per coin.
Should You Consider Buying HBAR?
As any cryptocurrency, Hedera (HBAR) is a risky and volatile investment, however, many analysts believe investing into this cryptocurrency may bring good returns.
How to Buy HBAR Coin?
StealthEX is here to help you buy HBAR crypto if you're looking for a way to invest in this cryptocurrency. You can do this privately and without the need to sign up for the service. Our crypto collection has more than 1400 different coins and you can do wallet-to-wallet transfers instantly and problem-free.
Just go to StealthEX, choose the amount and cryptocurrencies you want to swap, click Start Exchange, and get HBAR crypto to your wallet! Here is a quick guide on how to buy HBAR effortlessly.

Follow us on Medium, Twitter, Telegram, YouTube, and Publish0x to stay updated about the latest news on StealthEX.io and the rest of the crypto world.
Don't forget to do your own research before buying any crypto. The views and opinions expressed in this article are solely those of the author.
crypto price prediction
HBAR
Hedera Hashgraph
price analysis
price prediction
Recent Articles on Cryptocurrency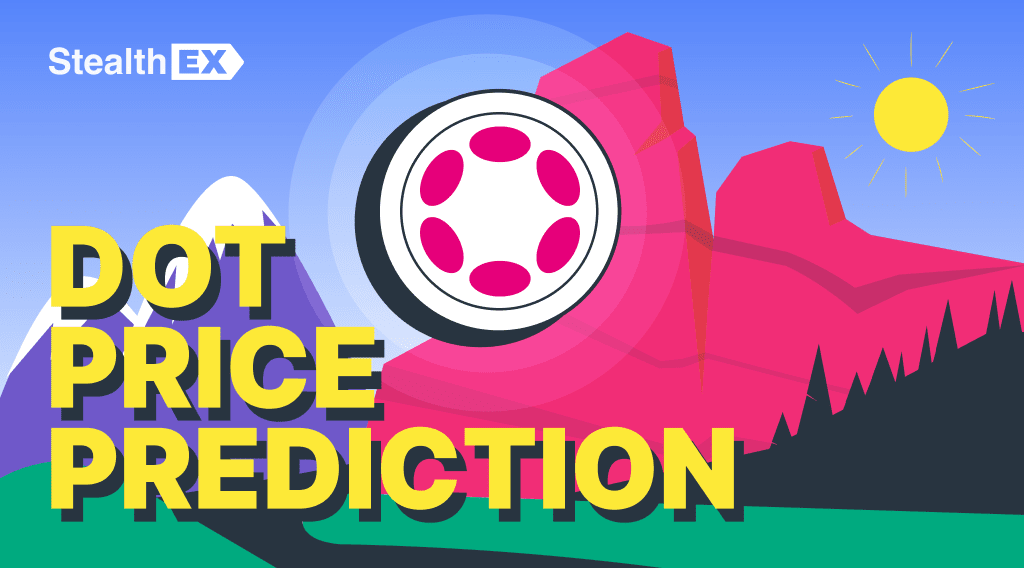 November 29, 2023
Price Prediction
Polkadot (DOT) Price Prediction: Will DOT Coin Reach $1000?
According to the long-term Polkadot price prediction by the end of 2030, the DOT price may rise to $195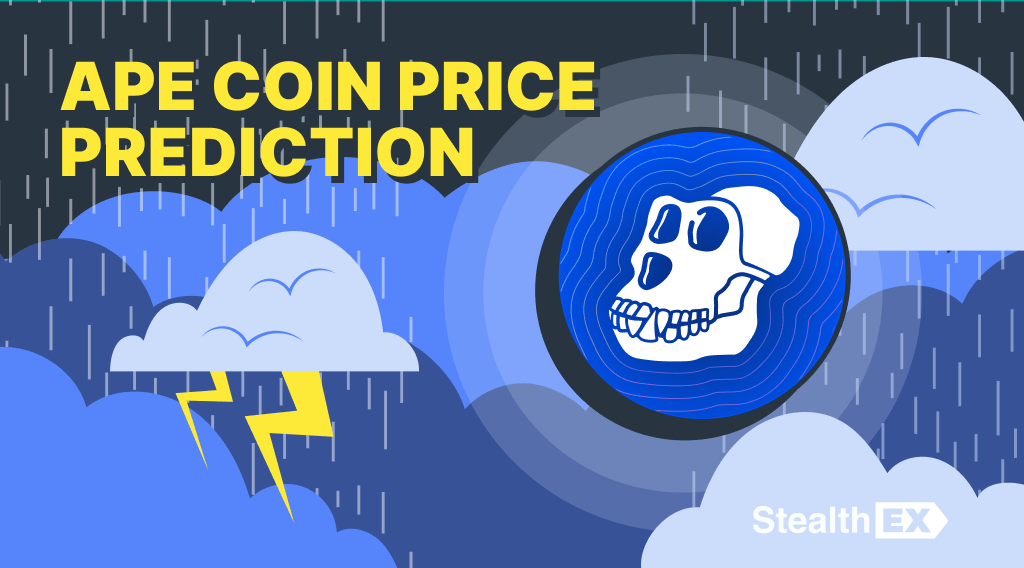 November 29, 2023
Price Prediction
ApeCoin Price Prediction: Is APE Coin a Good Investment?
According to the long-term ApeCoin price prediction by the end of 2030, the APE price may rise to $250