How and Where to Buy Fantom Crypto FTM?
May 18, 2022
How to Buy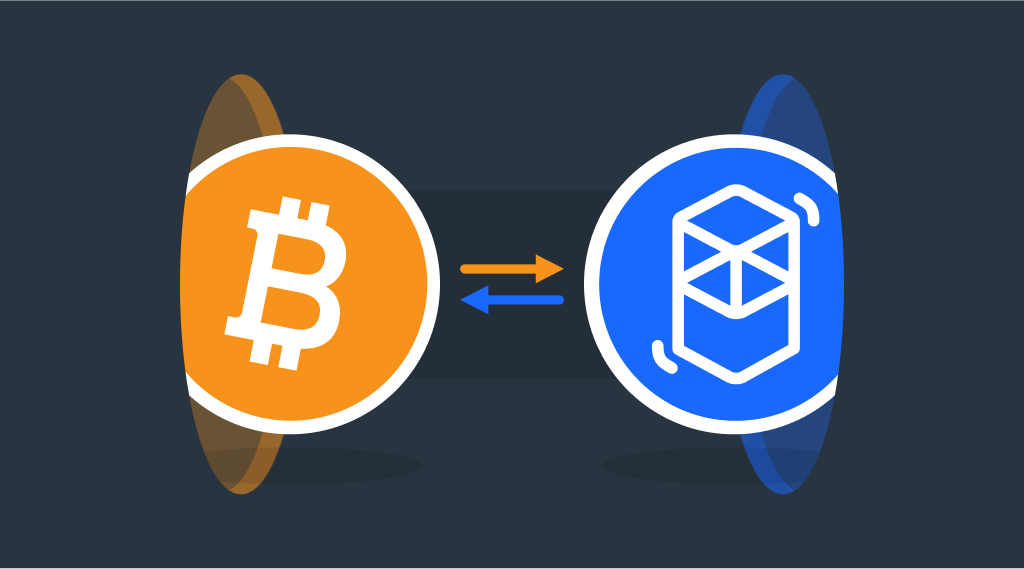 Today, crypto enthusiasts can rarely be surprised as new crypto projects pop up on the market every month. Some of them succeed, while others are relegated to oblivion. It takes a solid platform for the blockchain and its native cryptocurrency to eventually enter the market and become more or less popular. One of such projects is Fantom crypto. Read more about where to buy Fantom crypto FTM in the new StealthEX article.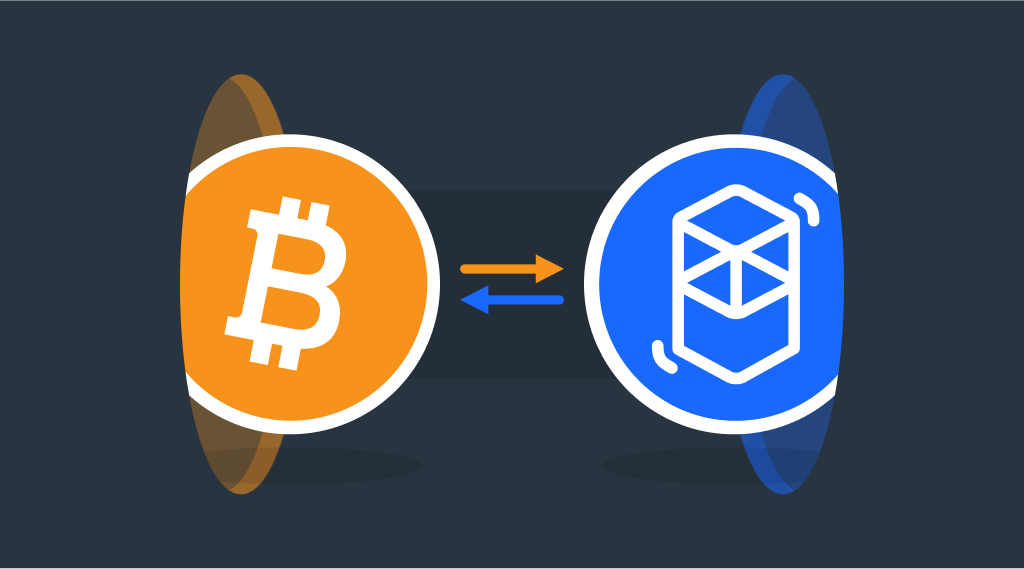 What Essentially Is Fantom Crypto?
It's a protocol that delivers unparalleled speed, security, and reliability. It features the following characteristics:
Instant transfers: Fantom transactions are finalized in seconds.
Extremely low fees.
Security based on the Proof-of-Stake network.
Highly scalable: FTM ecosystem can process thousands of transactions within seconds and scale to thousands of nodes.
Ethereum compatible.
The company, Fantom Foundation, that stands behind the Fantom coin, was founded in early 2018. The project's native token FTM is used for payments, governance, and ongoing block rewards that are sent to validators and delegators who stake FTM.
Incorporated in the Cayman Islands with ongoing operations in South Korea, the project aims to cooperate with a wider variety of project types, make the blockchain better serve their users, and support smaller teams that are just getting started building on Fantom. The project was founded by computer scientist Dr. Ahn Byung Ik, and the Foundation's chief executive officer is Michael Kong.
The project is integrated with such famous and popular crypto currencies as Chainlink and Waves. Among the lesser known are the Band Protocol, REN and the Graph.
FTM Fantom Crypto Price Prediction
FTM coin price has been fluctuating with the token being highly volatile. It soared quite high during the fall of 2021 and the spring of 2022. It reached an all-time high in October, 2021 with $3.48 and its all-time low was in May 2020 – back then, Fantom coin price dropped to $0.001953. With Fantom currently sitting at $0.3508 per coin, let's see what experts expect from the crypto going forward.
According to WalletInvestor, the coin will reach $1.66 in a year, and in 5 years from now, in 2027, it will cost $6.737.
PricePrediction is also very bullish on this asset. The website claims that in 2027 the average price of FTM Fantom token will be around $2.50. Analytics from PricePrediction are quite optimistic about Fantom in general as they believe that its price may soar to a maximum of $13.84 by year 2031.
Is Fantom Crypto a Good Investment?
Well, it seems that according to a number of blockchain pros, FTM crypto has a lot of long-term potential. Its platform is solid and it ranks 61 at CoinMarketCap. However, the crypto market is highly volatile and it's advised to buy any new assets with caution.
Where to Buy FTM Crypto?
If you think about buying Fantom crypto and start looking for an exchange that can help you with that, then StealthEX must be your number one choice. Offering over 400 digit assets and allows you to purchase FTM crypto with no hidden fees. Provide only basic data and receive your coins almost instantly.
How to Buy FTM Coin?
Just go to StealthEX and follow the instruction below. Let's imagine you want to exchange BTC to FTM. To make an exchange, you need to take a few simple steps:
First, you should choose Bitcoin in the left drop-down list. Then choose the Fantom token in the right list of coins.
After setting the pair it is necessary to enter the amount of BTC you want to exchange.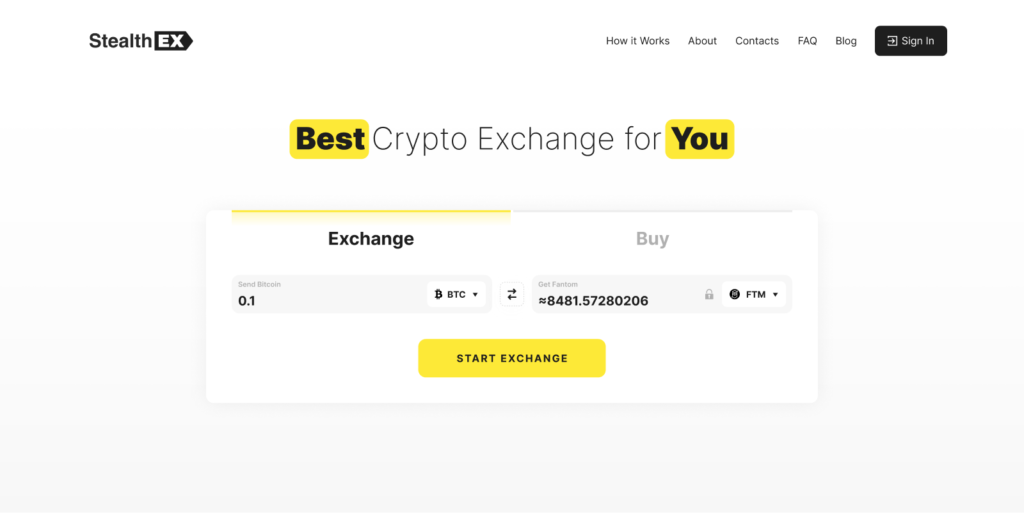 Here you will see the estimated amount of Fantom coin that you will receive after the exchange.
Now when everything is set for the exchange, press the START EXCHANGE button and you will be taken to the next page.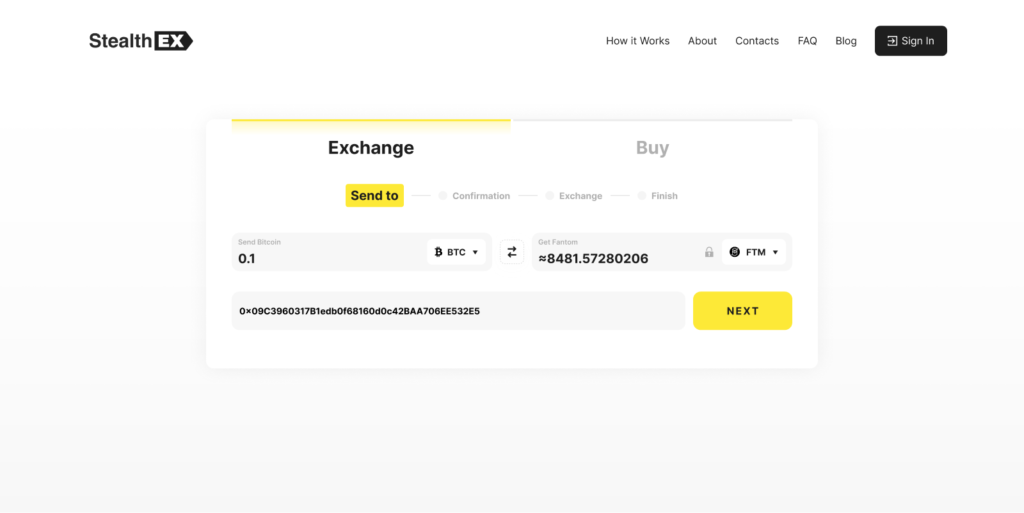 In the second step, you need to provide the FTM recipient address. The recipient address must match the cryptocurrency you are going to receive. Remember to double-check the information you enter prior to the exchange as the transaction you make cannot be canceled.
As soon as you have carefully checked all the details, you can press the NEXT button and you will be redirected to the CONFIRMATION page with the information about the exchange.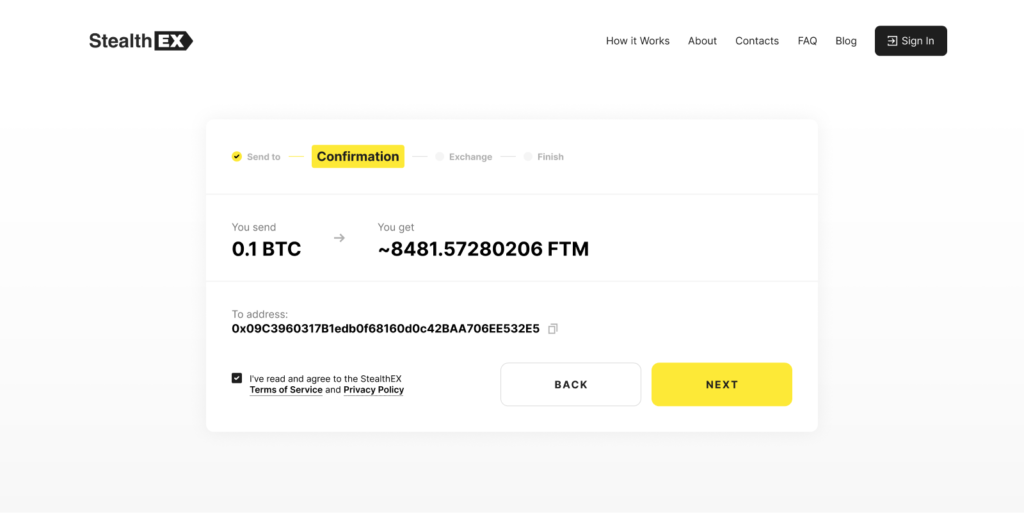 Here you can revise the address provided and the amount of FTM cryptocurrency you will receive. Don't forget to read and check the Terms of Use and Privacy Policy box. Without checking the box you will not be able to continue the exchange.
Pressing the NEXT button you will be redirected to the EXCHANGE page.
At first, you will see the address where you need to send your BTC coin to continue the exchange. StealthEX will also provide you with the exchange ID. It will allow you to keep all the information about the swap. It is recommended to save your exchange ID or the link to your exchange.
Exchange Statuses
After sending BTC coins to the shown address, the information on the EXCHANGE page will be renewed automatically. The EXCHANGE page has several statuses that will change during the time of the exchange.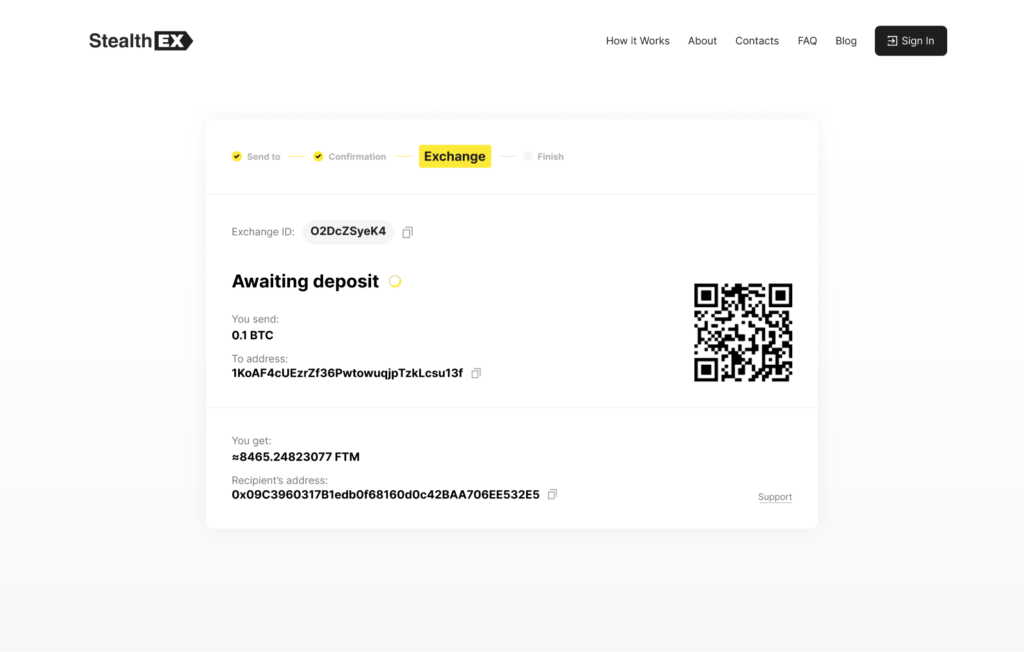 The first status is Awaiting deposit.
The following status is Confirming. This means that StealthEX is confirming the transaction you made.
The next status is Exchanging. During this time the exchange is being made.
Then the status will be changed to Sending to your wallet. This indicates that there are just a few minutes left until you will receive your Fantom coin.
Completion of the Exchange
Finally, you will be redirected to the FINISH page. This shows that the exchange has been successfully made and you will receive crypto to the address provided. To be sure that FTM coins were sent to your wallet you can also use the Output hash shown on this page and check it in the blockchain list of transactions.
From here you can either create a new exchange on StealthEX.io or leave the page and check your Fantom coin wallet to be surprised at how fast you got FTM crypto. Usually, the process is quite rapid so you won't need to wait long.
And by the way, don't forget that now our users can purchase cryptocurrencies using fiat and we still offer the opportunity to buy crypto at fixed rates!

Follow us on Medium, Twitter, Telegram, YouTube, Reddit to get StealthEX.io updates and the latest Fantom blockchain news.
We are always ready to give you support if you have any issues with exchanging coins. Our team does our best to protect all members and answer their questions. For all requests message us via [email protected]
You are more than welcome to visit StealthEX exchange and see how fast and convenient it is.
Fantom
FTM
how to buy
how to buy crypto
invest in crypto
Recent Articles on Cryptocurrency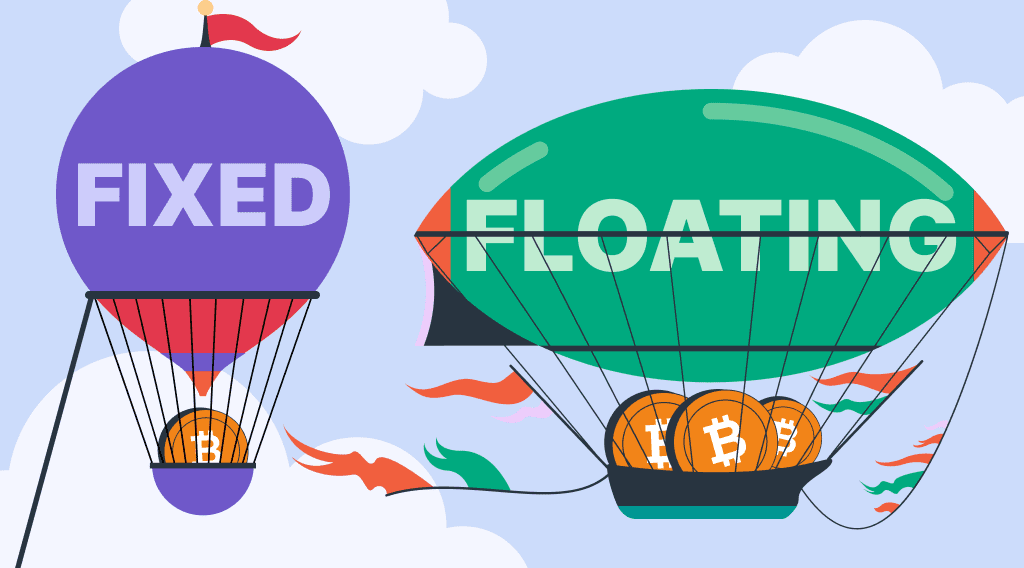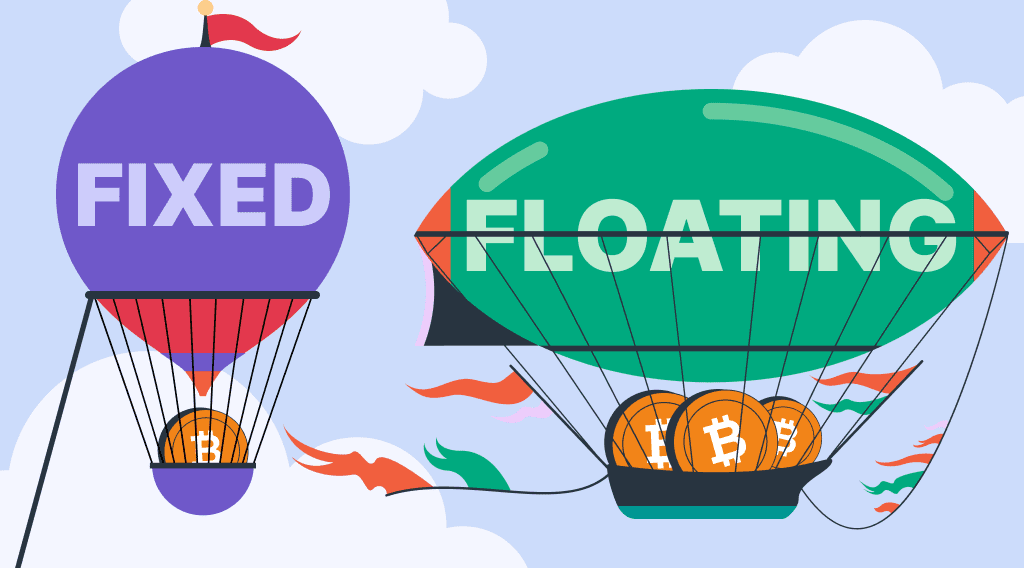 March 24, 2023
Our News
Fixed Exchange Rates on StealthEX — Get Exactly What You Want
Crypto is unstable, exchange rate fluctuations happen quite often — get what you want with exchanges at a fixed rate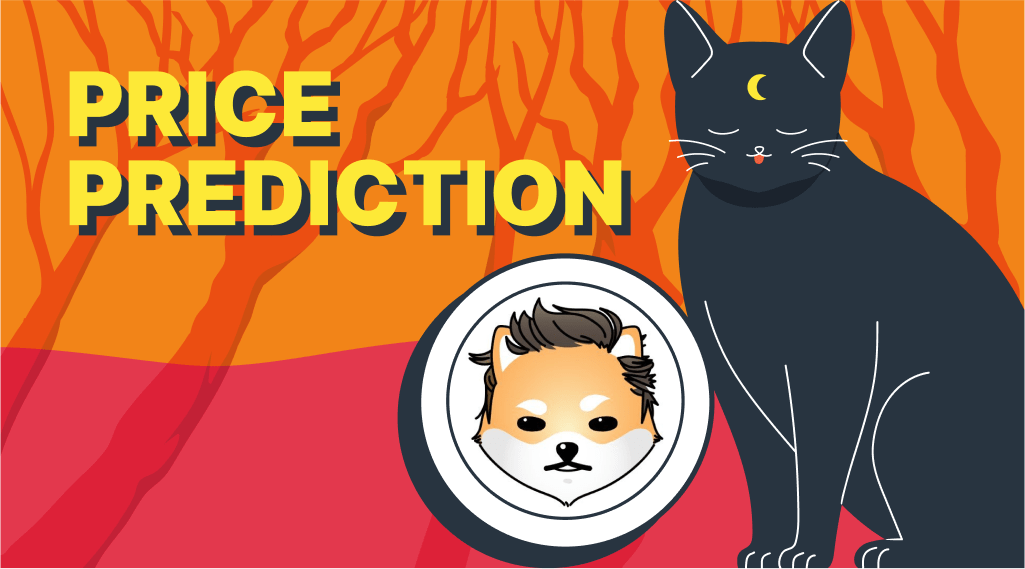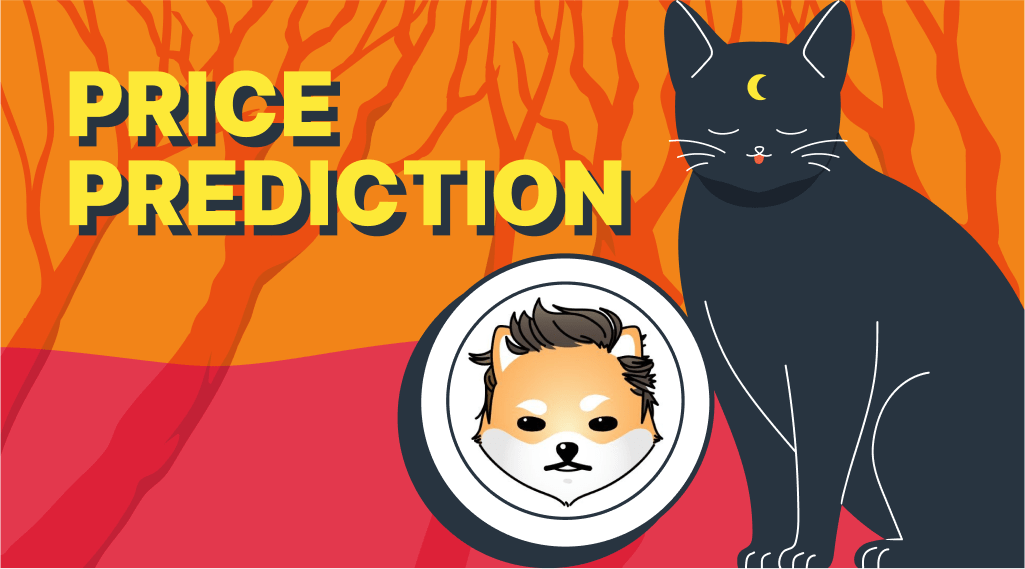 March 23, 2023
Price Prediction
Dogelon Mars Price Prediction, News, and ELON Coin Analysis
Is ELON coin a good investment? Dogelon Mars price prediction 2030 shows that ELON price may rise by 20,000 percent