How and Where to Buy Internet Computer Coin?
September 20, 2022
How to Buy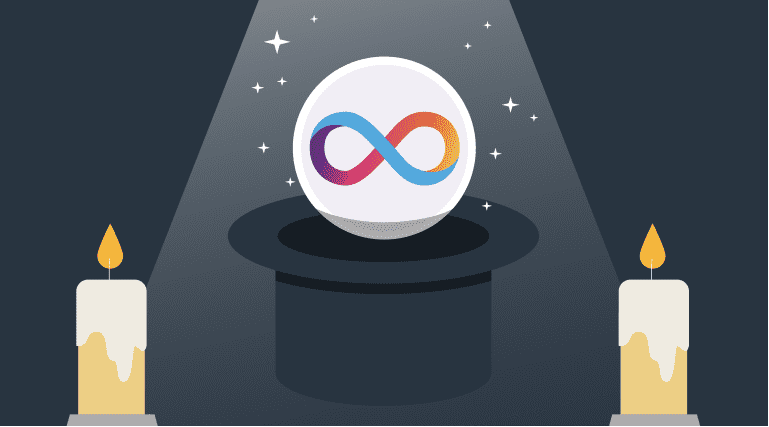 As Web 3.0 keeps developing, more and more projects try to enter this field. One of them is Internet Computer Protocol by DFINITY Foundation that was founded by Dominic Williams in October 2016. The Internet Computer itself was launched in May, 2021. It is creating a decentralized internet – with independent data centers providing alternative to corporate cloud services. At the moment, the network includes thousands of web3 services and dApps, and most run 100% from the blockchain without need for centralized cloud services and server computers. As the project keeps attracting new customers, the price of its native token, ICP, rises. Read more about where to buy Internet Computer coin in the new StealthEX article.
The ICP token has several major uses: it acts as a governance token (allowing holders to lock some of their ICP crypto into the network in exchange for having a say in the future development of the ICP protocol), is rewarded by the network to participating data centers, and is used to pay transaction fees on the network.
Where to Buy Internet Computer Coin?
There are many exchanges where to buy ICP coin, and StealthEX is one of the safest options. This platform offers users to get ICP with no extra fees and with the best floating and fixed rates.
Internet Computer Coin: How to Buy?
Just follow the guidelines below. Let's imagine you want to exchange BTC to ICP. To make an exchange, you need to take a few simple steps.
First, you should choose Bitcoin in the left drop-down list. Then choose Internet Computer in the right list of coins.
After setting the pair it is necessary to enter the amount of BTC you want to exchange.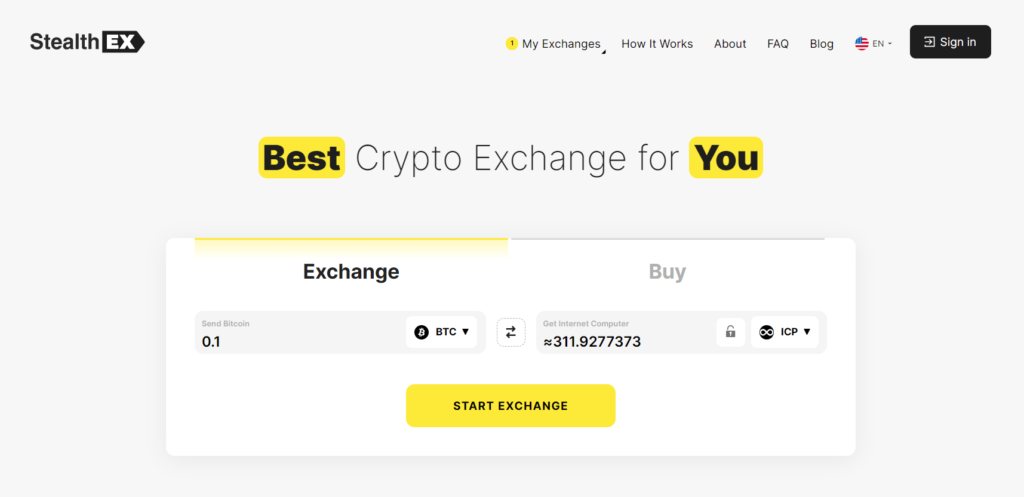 Here you will see the estimated amount of ICP crypto that you will receive after the exchange.
Now when everything is set, press the Start Exchange button and you will be taken to the next page.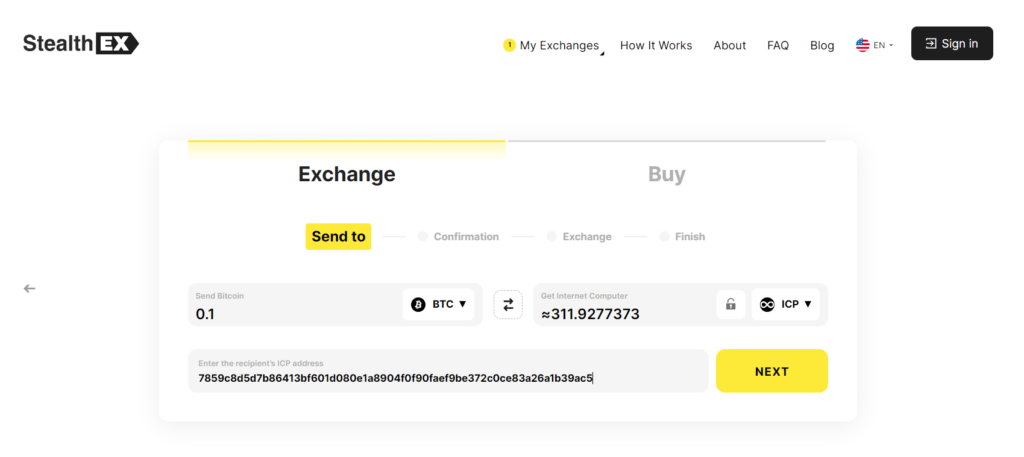 In the second step, you need to provide the Internet Computer coin recipient address. The recipient address must match the crypto you are going to receive. Remember to double-check the information you enter prior to the exchange as the transaction you make cannot be canceled.
As soon as you have carefully checked all the details, you can press the Next button and you will be redirected to the Confirmation page.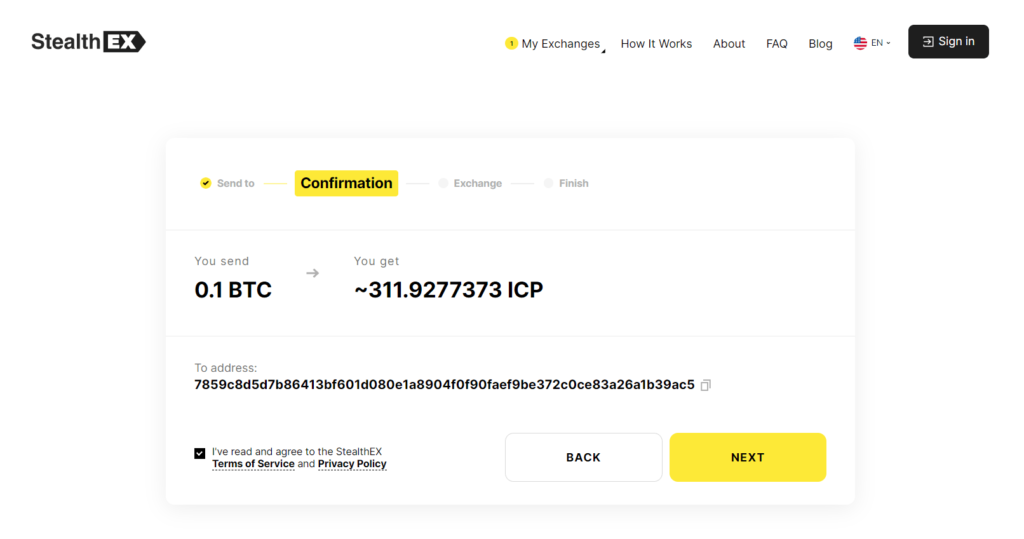 Here you can revise the address provided and the amount of ICP coin you will receive. Don't forget to read and check the Terms of Use and Privacy Policy box. Without checking the box you will not be able to continue the exchange. 
Pressing the Next button you will be redirected to the Exchange page. 
At first, you will see the address where you need to send your BTC coin to continue the exchange. StealthEX will also provide you with the exchange ID. It will allow you to keep all the information about the swap. It is recommended to save your exchange ID or the link to your exchange.
Exchange Statuses
After sending BTC coins to the shown address, the information on the Exchange page will be renewed automatically. The Exchange page has several statuses that will change during the time of the exchange.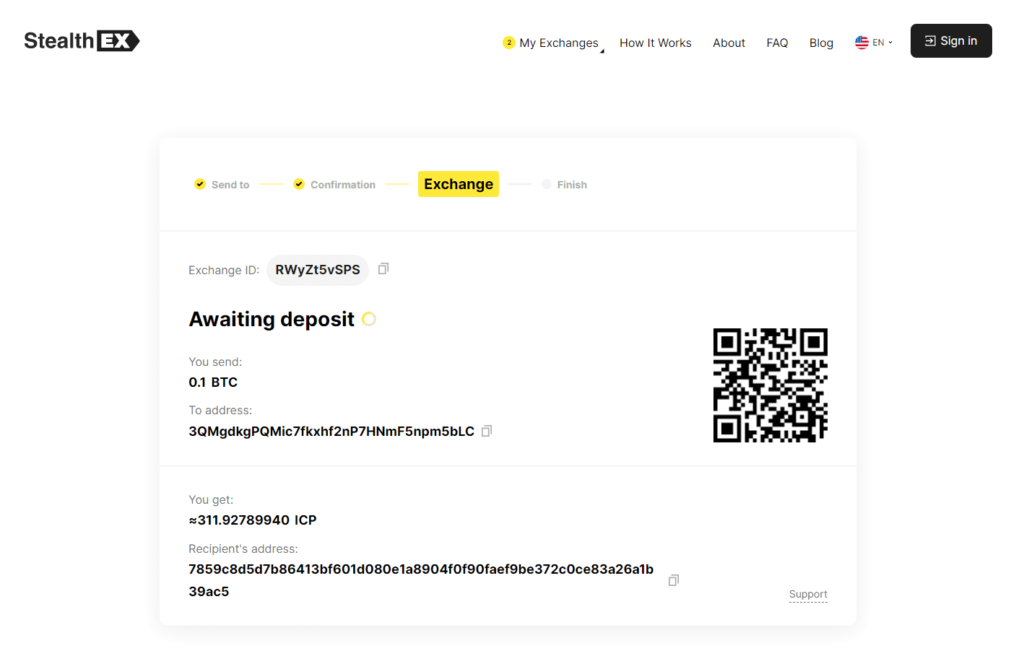 The first status is Awaiting deposit.
The following status is Confirming. This means that StealthEX is confirming the transaction you made.
The next status is Exchanging. During this time the exchange is being made.
Then the status will be changed to Sending to your wallet. This indicates that there are just a few minutes left until you will receive your ICP coin.
Finally, you will be redirected to the FINISH page. This shows that the exchange has been successfully made and you will receive crypto to the address provided. To be sure that ICP coins were sent to your wallet you can also use the Output hash shown on this page and check it in the blockchain list of transactions.
From here you can either create a new exchange on StealthEX.io or leave the page and check your ICP coin wallet to be surprised at how fast you got Internet Computer crypto. Usually, the process is quite rapid so you won't need to wait long.
Keep reading StealthEX's article to learn more about Internet Computer Protocol and ICP crypto.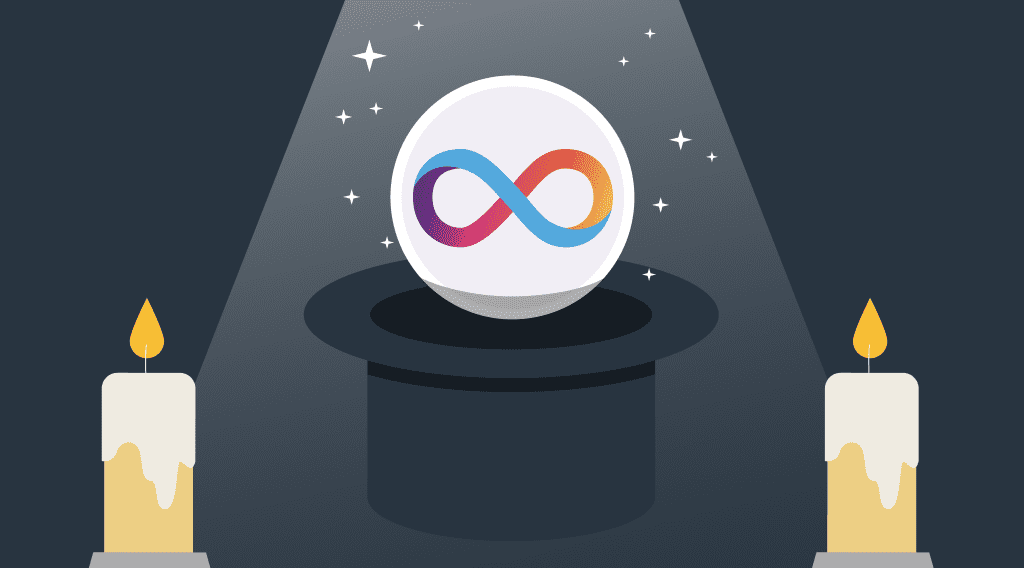 What Is ICP Crypto?
The ICP developers plan to use blockchain technology to decentralize the entire Internet, making tech giants less powerful. Instead of building one massive blockchain, they are arranging the blockchain into a set of 'subnets' that hold a smaller piece of the blockchain. Brand new cryptography called 'Chain Key' ties these separate pieces together in a secure way.
To create decentralized applications on the Internet Computer blockchain, developers run their programs on so-called 'canisters,' which each have a storage capacity of 4 Gb. The canisters are smart contracts, which are software code enabled by blockchains that makes it easier to remove intermediaries from digital interactions.
ICP tokens have two uses: first, they can be locked inside the NNS to create 'neurons' which can then vote on governance proposals and earn voting rewards, second, they can be converted into cycles to power computation done by canisters.
Internet Computer Crypto Features
Among many features that the crypto network offers are:
Cheap storage. Unlike most blockchains, the efficiency and costs of the IC approach the traditional IT stack so it is economically feasible to host dApps with lots of data and content (not just small smart contracts as in other blockchains).
Limitless scaling. The Internet Computer can scale its capacity without limit, simply by adding additional nodes to fuel new subnets. Nodes are added via the Network Nervous System (NNS) which forms new subnets almost on a weekly basis since genesis. 
Smart contracts that can process HTTP requests. The IC introduces something called boundary nodes. These nodes act as a layer that translates HTTP requests from users to messages that can be processed by smart contracts running on the IC. This allows users to update the state of the blockchain simply by interacting with a browser.
Web speed. Users can interact with dApps on the Internet Computer with speeds indistinguishable from traditional web applications. Developers can therefore build a much broader range of fully on-chain dApps without relying on cloud services and risking single points of failure. Concretely, query (read) calls are answered in approximately 200 milliseconds, and update (write) calls in approximately 2 seconds.
Sovereign network. The Internet Computer blockchain network is hosted by special node machines, which are hardware devices that are dedicated to the task (thus creating a sovereign network). This is conceptually similar to how the internet is hosted by network routing devices.
Lower energy consumption. The energy consumption of the Internet Computer is substantially lower than competing blockchain projects, but also existing (highly optimized) web2 tech.
Internet Computer Coin Use Cases
The DFINITY Internet Computer is designed to accommodate decentralized finance platforms, enterprise IT systems, and websites among other use cases.
Projects currently building on DFINITY include Fleek, which allows websites to be built on the Internet Computer, and Capsule Social, a censorship-resistant social media platform.
In theory, the Internet Computer can accommodate any kind of application – from social networks similar to LinkedIn and TikTok to new kinds of applications not yet conceived. As a demonstration, ICP developers have published open source code for CanCan, which they describe as a 'decentralized TikTok.' Though DFINITY does not plan to continue developing more codes or the applications already published, it open-sourced the projects' code for developers who wish to build on them.
Internet Computer Crypto Price Prediction
The project seems to be doing well compared to many similar blockchains. The platform has a large number of unique features that have proved to be very attractive for computer enthusiasts. There is a possibility that the ICP crypto price will rise in the next decade. While at the moment ICP coin costs $6.07, different sources offer different predictions. For instance, the DFINITY community website provides a very optimistic scenario, where ICP coin will reach a minimum of $323.85 in 2028-2030. TechNewsCrypto experts expect that by 2026, ICP coin price will go as high as $90.9.
Researchers all over the world contribute to the foundations' work – including cryptographers that hold around 100,000 academic citations and 200 patents. With such developments the project seems to be doing just fine and provides an opportunity for investments.
And by the way, don't forget that if you're looking for a place to buy ICP crypto, StealthEX is exactly what you need.

In addition, our users can purchase cryptocurrencies using fiat and we still offer the opportunity to buy crypto at fixed rates!
Make sure to follow us on Medium, Twitter, Telegram, YouTube, and Reddit to get StealthEX.io updates and the latest news about the crypto world. If you need help, drop us a line at [email protected]
Please make sure to always research any cryptocurrency and assess your risks before you invest.
crypto exchange
how to buy
how to buy crypto
ICP
Internet Computer
Recent Articles on Cryptocurrency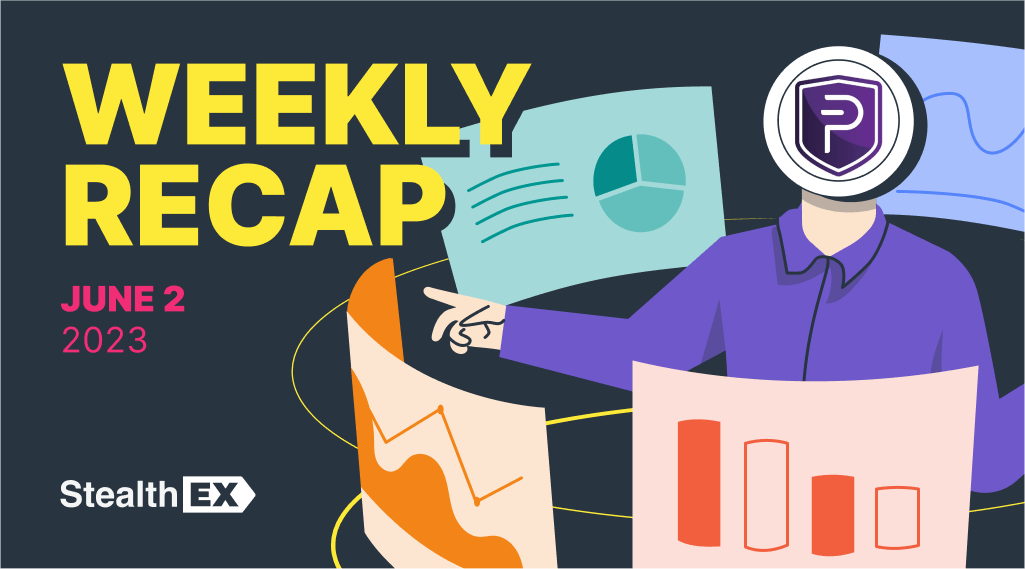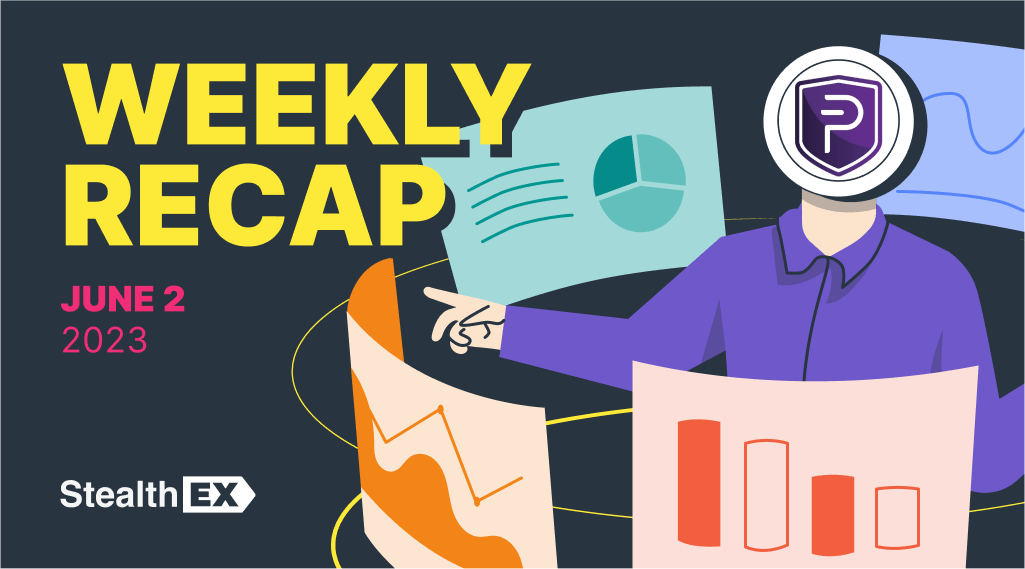 Review of the Crypto Market: June 2, 2023
Weekly Crypto Market analysis with major trends, Ethereum & Bitcoin performance, and impactful news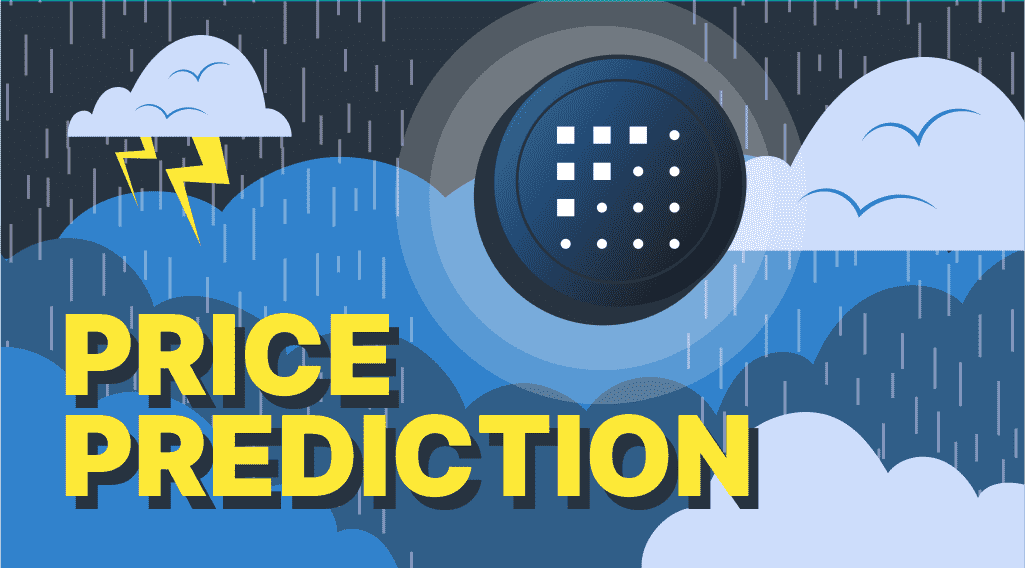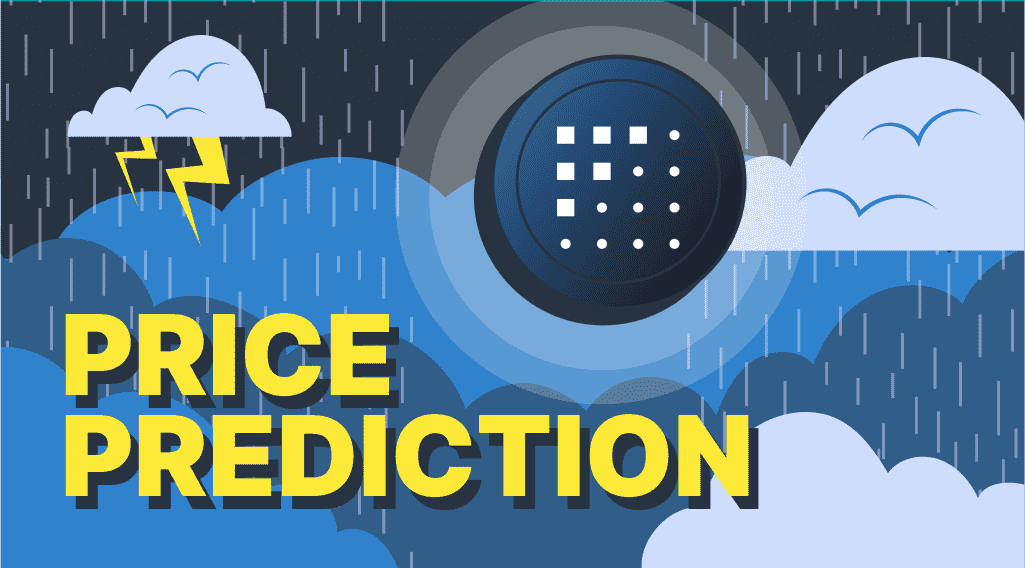 June 1, 2023
Price Prediction
Fetch.ai Price Prediction: Unveiling Future Trends of FET Crypto
Uncover Fetch.ai Price Prediction, empowering you to anticipate market trends and make decisions about its future.