How and Where to Buy Kadena Coin KDA Crypto?
July 12, 2022
How to Buy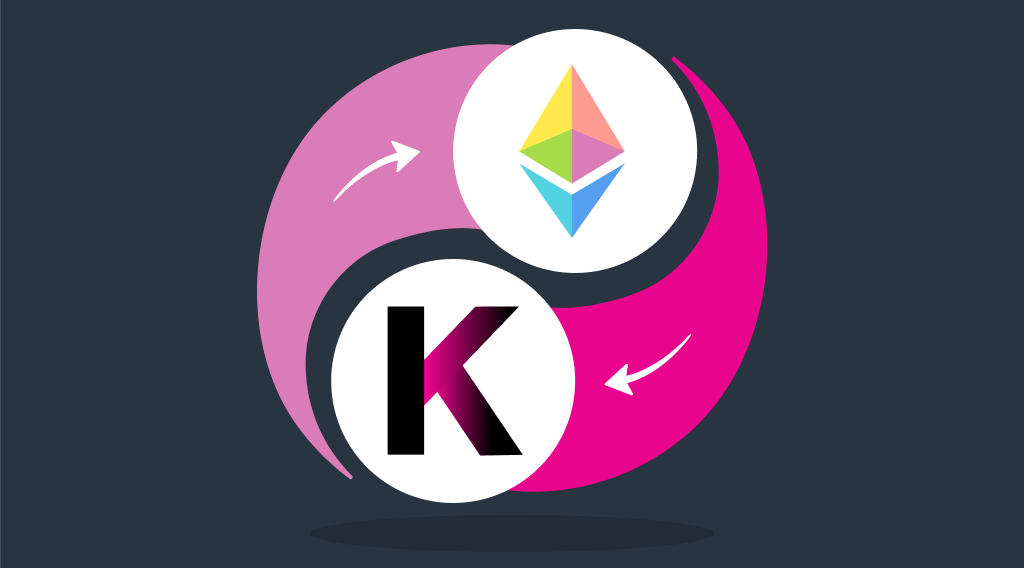 Kadena is a hybrid Layer-1 network that seeks to create a developer-friendly and scalable blockchain and employ it for real-world blockchain use cases. It is a private blockchain that has successfully addressed scalability and privacy issues in blockchain systems. Read more about KDA crypto and where to buy Kadena coin in the new StealthEX article.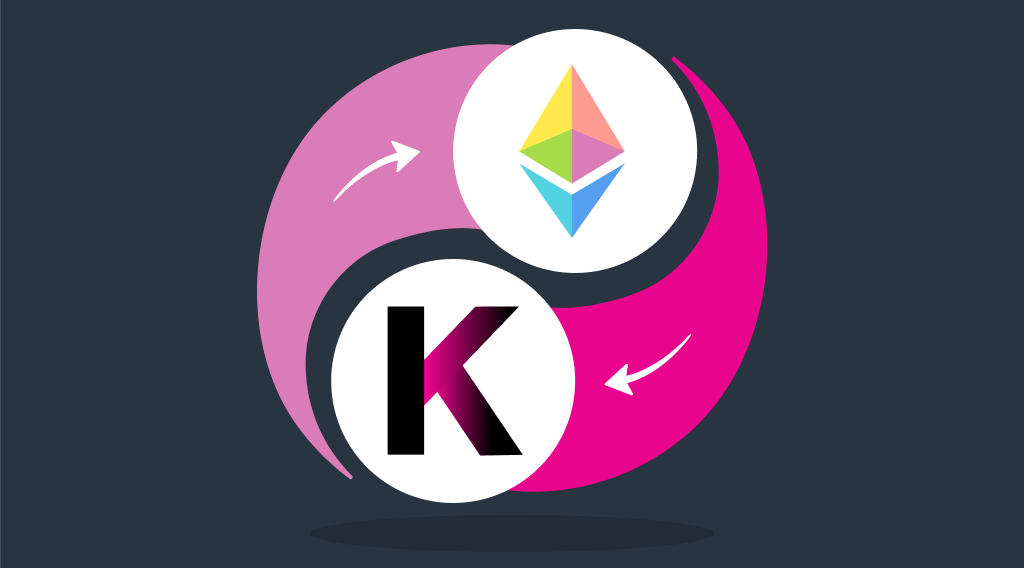 KDA is Kadena's native coin or cryptocurrency, which serves to pay for transaction fees and to reward miners. It is a digital currency that is used to pay for compute on the Kadena public chain. Similar to ETH on Ethereum, KDA on Kadena is the manner by which miners are compensated for mining blocks on the network and is the transaction fee that users pay in order to have their transactions included in a block. The total KDA supply is fixed at 1 billion tokens to be mined over 120 years.
Kadena crypto didn't witness any major price action until its parabolic rise in Q3 2021, with KDA price range-bound in $0.06 to $0.334 prior to that. It also turned out to be one of the biggest winners in 2021, ending the year with an 8,000% gain.
Kadena's public network architecture, called Chainweb, is designed as a set of parallel chains, each handling a fraction of the network's transaction flows. This novel Proof-of-Work consensus mechanism supports a high-transaction throughput at the base-layer without the need for any second-layer scalability or functionality solutions. Kadena also offers smart contract functionality with its native smart contract language called Pact. Kadena's private blockchain, Kuro, is built for enterprises and works as a Layer-2 blockchain.
Where to Buy Kadena Coin?
If you're looking for a way to invest in KDA, then StealthEX is your number one choice. This non-custodial exchange allows you to select from over 450 cryptocurrencies and makes everything fast because you must provide only general information for transactions.
How to Buy Kadena Crypto KDA?
Just go to StealthEX and follow the instruction below. Let's imagine you want to exchange ETH to KDA. To make an exchange, you need to take a few simple steps.
First, you should choose Ethereum in the left drop-down list. Then choose Kadena token in the right list of coins.
After setting the pair it is necessary to enter the amount of ETH you want to exchange.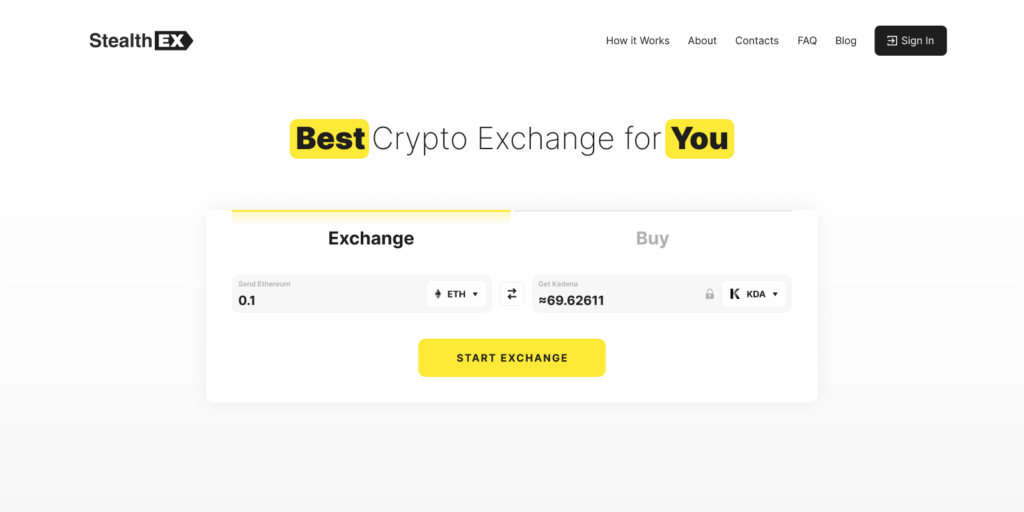 Here you will see the estimated amount of Kadena crypto that you will receive after the exchange.
Now when everything is set for the exchange, press the Start Exchange button and you will be taken to the next page.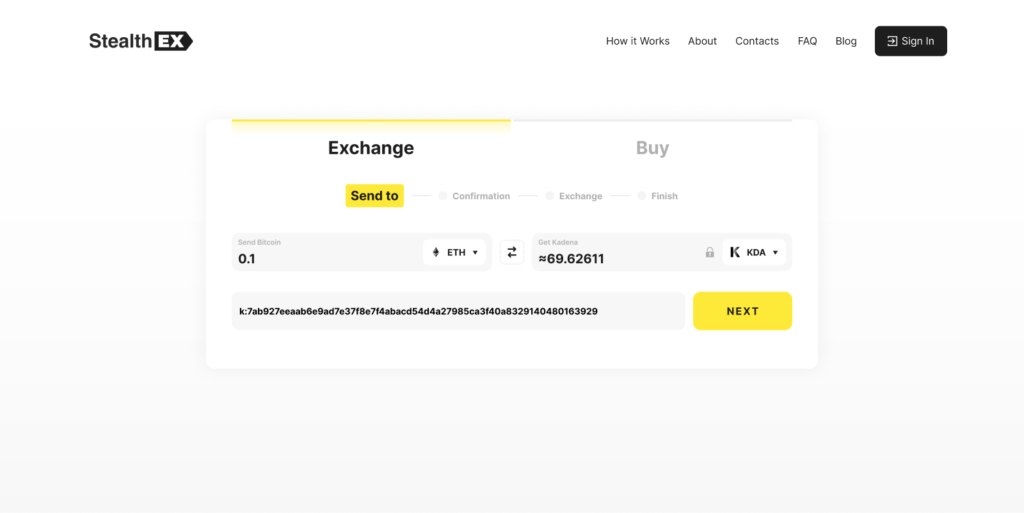 In the second step, you need to provide the KDA recipient address. The recipient address must match the cryptocurrency you are going to receive. Remember to double-check the information you enter prior to the exchange as the transaction you make cannot be canceled.
As soon as you have carefully checked all the details, you can press the Next button and you will be redirected to the Confirmation page with the information about the exchange.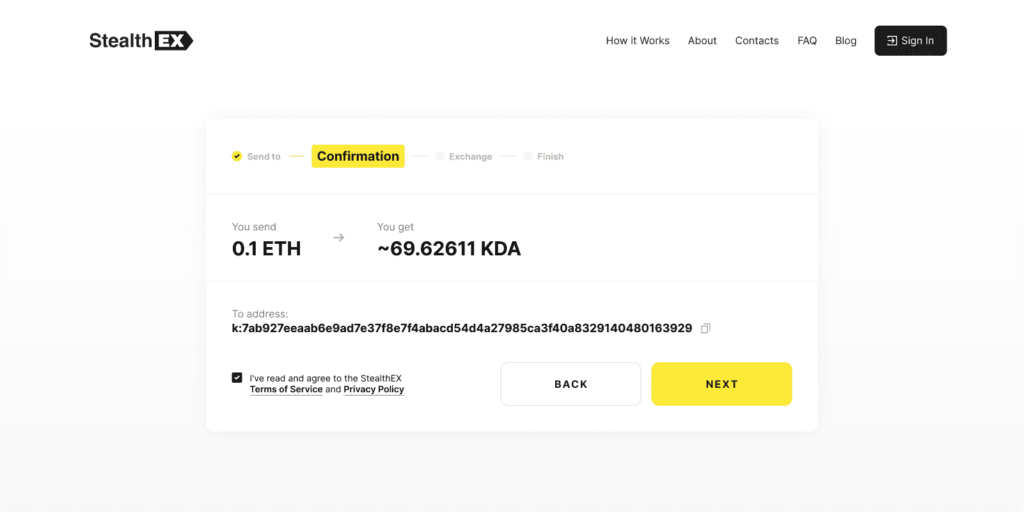 Here you can revise the address provided and the amount of KDA cryptocurrency you will receive. Don't forget to read and check the Terms of Use and Privacy Policy box. Without checking the box you will not be able to continue the exchange.
Pressing the Next button you will be redirected to the Exchange page.
At first, you will see the address where you need to send your ETH coin to continue the exchange. StealthEX will also provide you with the exchange ID. It will allow you to keep all the information about the swap. It is recommended to save your exchange ID or the link to your exchange.
Exchange Statuses
After sending ETH coins to the shown address, the information on the Exchange page will be renewed automatically. The Exchange page has several statuses that will change during the time of the exchange.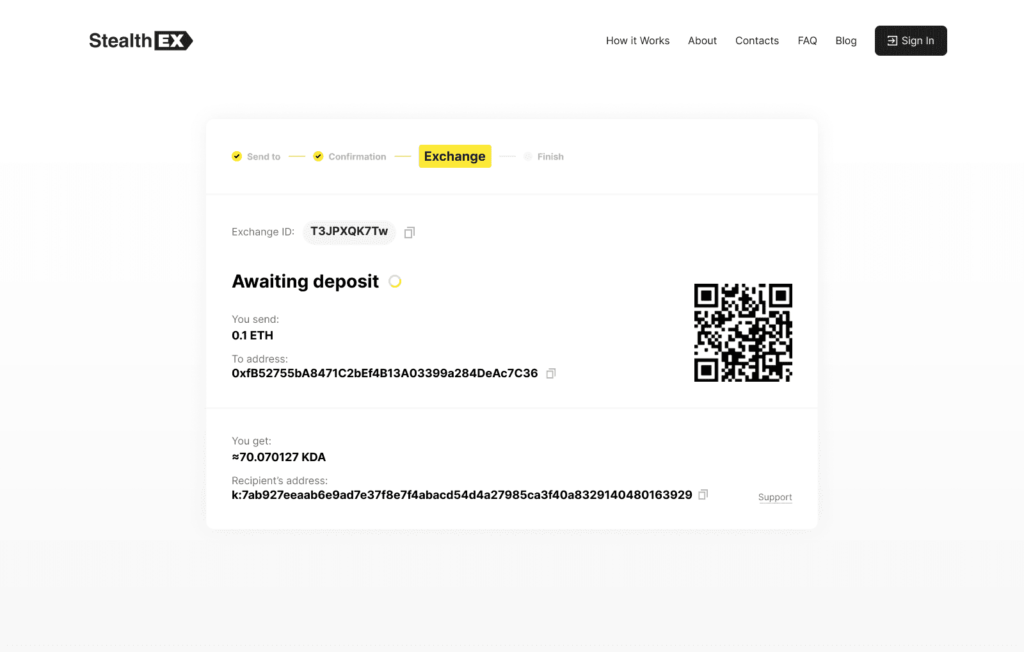 The first status is Awaiting deposit.
The following status is Confirming. This means that StealthEX is confirming the transaction you made.
The next status is Exchanging. During this time the exchange is being made.
Then the status will be changed to Sending to your wallet. This indicates that there are just a few minutes left until you will receive your Kadena coin.
Finally, you will be redirected to the FINISH page. This shows that the exchange has been successfully made and you will receive crypto to the address provided. To be sure that KDA coins were sent to your wallet you can also use the Output hash shown on this page and check it in the blockchain list of transactions.
From here you can either create a new exchange on StealthEX.io or leave the page and check your Kadena coin wallet to be surprised at how fast you got KDA crypto. Usually, the process is quite rapid so you won't need to wait long.
Kadena Crypto Features
Safer smart contracts: Pact makes designing safer smart contracts effortless, whether you're writing your first contract or launching your fiftieth dApp. By automatically detecting bugs, Pact frees you from the exploits you'll face on Ethereum and other unsafe platforms
No-cost transactions: The platform has gone a step further in introducing the first crypto gas station to allow businesses to eliminate all transaction fees for their customers
Energy efficient at scale: As network demand increases, Kadena's energy use remains constant. Its unique architecture makes it the only platform that can deliver increased energy efficiency as TPS (Transactions per Second) scales
Secure: To solve for the security and throughput demands of financial services clients, Kadena runs on Proof of Work, which is reliable and secure
Industrial scalability: Unlike other platforms, Kadena is designed to power global financial systems. The protocol continually scales to higher TPS as more chains are added to the network
Kadena History
The project was founded in 2016 by former members of the JPMorgan blockchain development team for Juno: Stuart Popejoy, who led JPMorgan's Emerging Blockchain group prior to building Kadena, and Will Martino, who worked as the tech lead at the U.S. Securities and Exchange Commission. Kadena has raised $15 million to date, with the majority of those funds secured in the form of SAFTs (Simple Agreement for Future Tokens). Not included in this total is the $150,000 grant Kadena received from the Interchain Foundation (the development team behind the Cosmos network) to build a version of Pact that is compatible with the Tendermint protocol.
According to the official website, Kadena's advisory team consists of experts such as Dr. Stuart Haber, the co-inventor of blockchain and the most cited author in Satoshi Nakamoto's renowned 2008 Bitcoin white paper.
Upcoming Updates at Kadena Crypto
Pact Core v1.
Signing Kadena transactions with a Ledger hardware wallet.
Wallet API support for signing multiple transactions in one request.
Account search and balance checking in the block explorer.
Chainweaver token support.
WalletConnect integration.
Wrapped native tokens (kBTC, kETH, kUSD) launched on Kadena.
Ecosystem initiative phase 2.
Developer, ambassador and grant programs phase 2.
Marmalade, NFT standard, smart contract on mainnet.
Marmalade, NFT standard, frontend beta.
Major ecosystem growth partnerships.
Kadena sustainable mining initiative launched.
Kaddex, DEX, the most powerful Proof of Work DEX launched on Kadena.
Kadena Crypto News
In March 2022, the price of KDA spiked 40% from a low of $5.94 in the early hours on March 11 to a high of $8.28 as its 24-hour trading volume surged 784% to $325 million. Three reasons for the recent price growth for KDA include a new listing on Binance, the launch of the first decentralized exchange (DEX) on the Kadena network and upcoming roadmap plans which include the launch of an NFT standard and wrapped native tokens.
In April 2022, the project unveiled a $100 million grant program to bolster the growth and adoption of world-changing blockchain technology. The grant program is part of Kadena Eco, a strategic initiative that brings together top industry thinkers, tech talent and funding.
KadenaEco Program
Kadena Eco is an innovation network fueling mainstream adoption on Kadena's builder-centric blockchain that delivers Web3 innovation with Web2 usability. Initially, Kadena Eco focused on developing a core ecosystem fund that will deploy capital to builders using Kadena and provide the technological and strategic help they need to become the industry titans of tomorrow. Kadena Eco promises to bring on many strategic co-investment partners, while aiming to speed the development and adoption of meaningful applications that benefit everyday people, worldwide.
Kadena Price Prediction
At the moment, Kadena coin trades at $1.52, which is a very attractive price even in the bear market, considering it reached an all-time of $28.25 in November 2021. When it comes to the coin's potential, Kadena seems to be a promising asset. For instance, TechNewsLeader believes that in 2025, KDA price will rise to $10.61, while in 2031 it will soar to $103.80.
According to PricePrediction, Kadena price prediction for 2025 is $6.54. Their experts are in general less optimistic about Kadena price and believe in a moderate rise, estimating its price will fluctuate around $62.15 in 2031, which will still bring its holders an astounding 3,988% gain if bought at today's prices.
Kadena Coin Wallets
Kadena features a number of wallets, namely:
Chainweaver: Official Kadena wallet for advanced blockchain usage and smart contract development. The desktop edition has a signing API to interact with dApps on Kadena Chainweb.
Zelcore: User-friendly multi-network wallet for storing and trading (3rd party). Zelcore has a signing API to interact with dApps on Kadena Chainweb.
X-Wallet: Early v1 web extension wallet. X-Wallet does not have a signing API that interacts with current dApps.
Clover Finance: Open source multicurrency web and mobile wallet.
Ledger: Leading hardware wallet and infrastructure solutions.
Torus: Crypto wallet that enables one-click login for Web 3.0 applications via social media accounts.
Is Kadena Worth Mining or Buying?
Well, considering the price of KDA at the moment, you can still make profits at the current price, but a bit of a slow ROI if the machine has a lower hash power. When it comes to buying Kadena coin, its novel ecosystem and its future growth combined with another crypto-wide rally could see the price of KDA surging again.
And by the way, don't forget that now our users can purchase cryptocurrencies using fiat and we still offer the opportunity to buy crypto at fixed rates!

Make sure to follow us on Medium, Twitter, Telegram, YouTube, and Reddit to get StealthEX.io updates and the latest news about the crypto world. If you need help, drop us a line at support@stealthex.io.
Please make sure to always research any cryptocurrency and assess your risks before you invest.
crypto exchange
how to buy
how to buy crypto
Kadena
KDA
Recent Articles on Cryptocurrency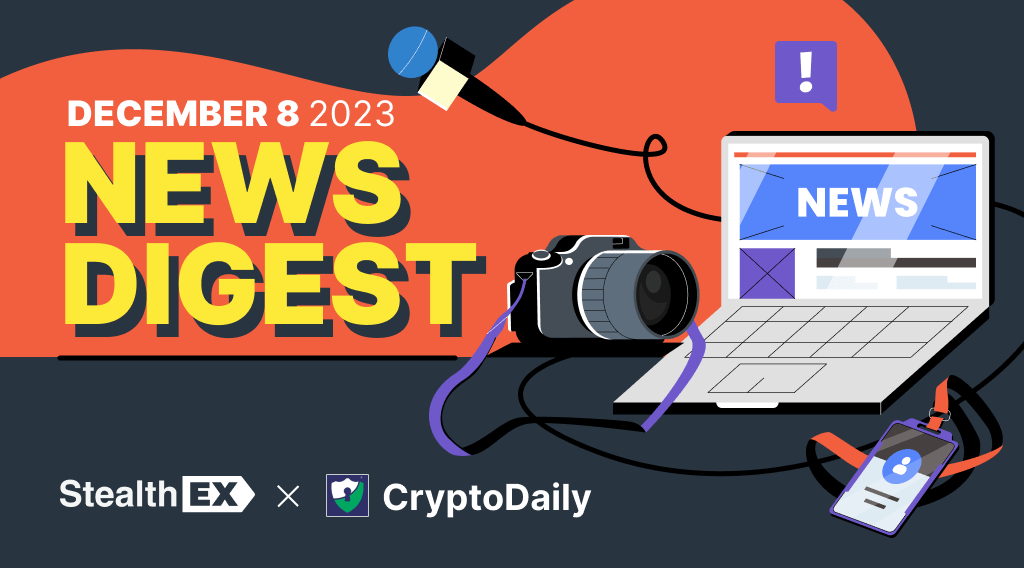 December 8, 2023
Crypto World
StealthEX & CryptoDaily: Weekly Crypto Insights
Explore key cryptocurrency developments and trends in StealthEX's insightful weekly roundup, in partnership with CryptoDaily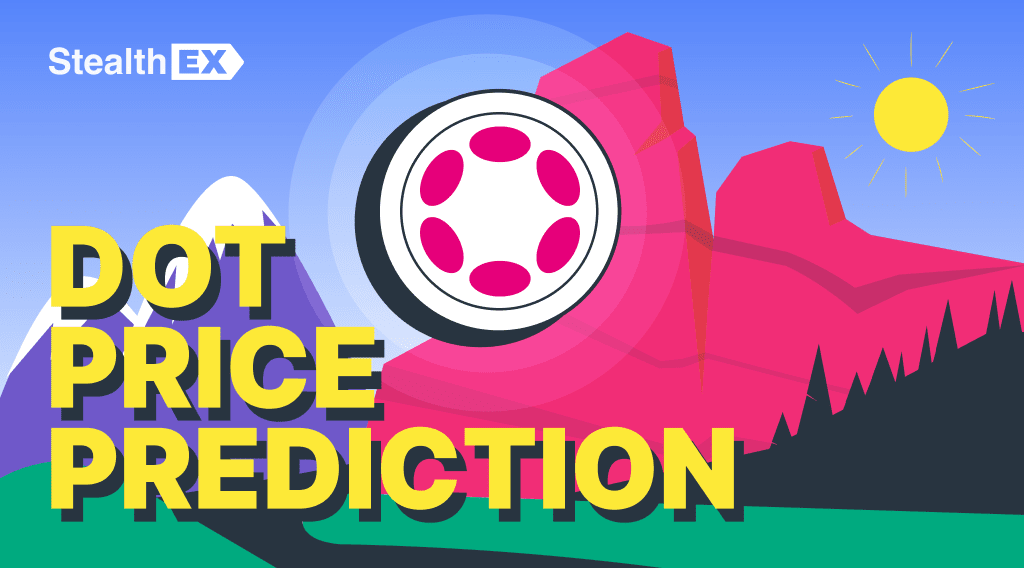 November 29, 2023
Price Prediction
Polkadot (DOT) Price Prediction: Will DOT Coin Reach $1000?
According to the long-term Polkadot price prediction by the end of 2030, the DOT price may rise to $195