How and Where to Buy Osmosis Crypto? OSMO Coin Exchange Guide
January 31, 2023
How to Buy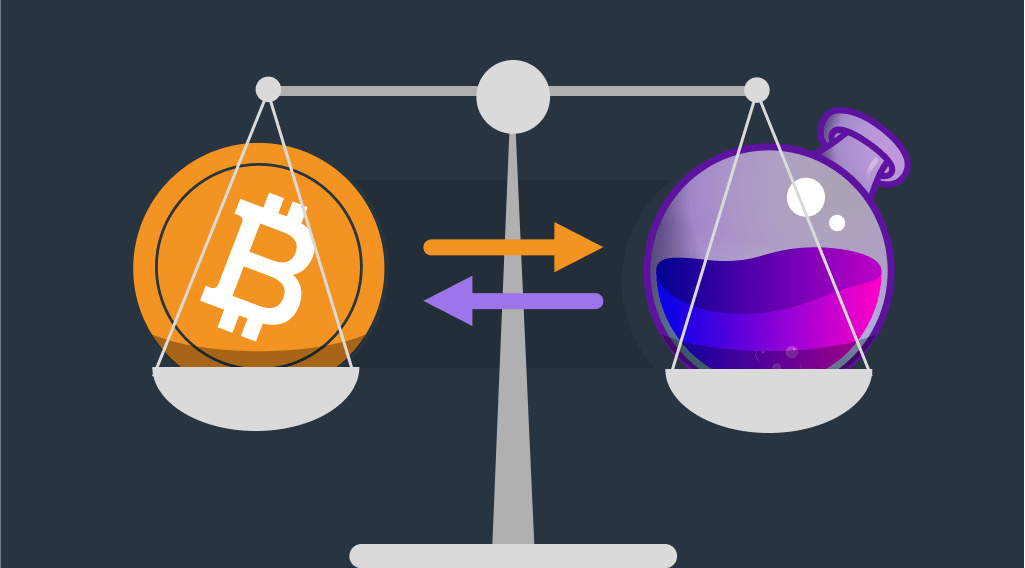 The crypto industry offers not only a number of successful projects in the fields of DeFi or GameFi – there are plenty of utility companies that offer their services on the crypto market. One of such service companies is Osmosis. Read more about where to buy Osmosis crypto in the new StealthEX article.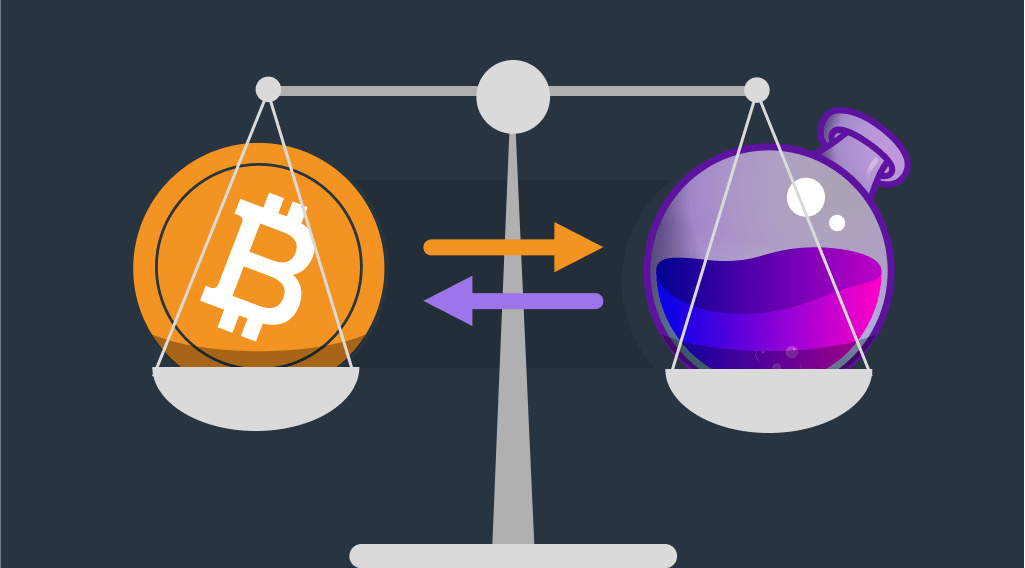 Osmosis is an automated market maker (AMM) built on Cosmos that enables cross-chain transactions through Inter-Blockchain Communication (IBC). This gives the protocol an added layer of interoperability and composability. Unlike most existing AMMs, Osmosis is a deeply customizable decentralized ecosystem and allows developers to leverage many different changeable parameters to build truly unique AMMs that can dynamically fit a variety of outcome goals. Ultimately, Osmosis enables developers to design and deploy custom AMMs that can quickly adjust to changing market conditions and allow market participants to decide which iterations provide the most optimal results, rather than relying on the protocol itself.
Where to Buy Osmosis Crypto?
There are many exchanges where to buy OSMO crypto, and StealthEX is one of the safest options. This platform offers users to get OSMO coin with no extra fees and with the best floating and fixed rates. This meme cryptocurrency is always freely available for purchase via StealthEX.
How to Buy OSMO Coin?
Just follow the guidelines below. Let's imagine you want to exchange BTC for OSMO. To make an exchange, you need to take a few simple steps.
First, you should choose Bitcoin in the left drop-down list. Then choose Osmosis (OSMO) in the list of coins on the right.
After setting the pair it is necessary to enter the amount of BTC you want to exchange.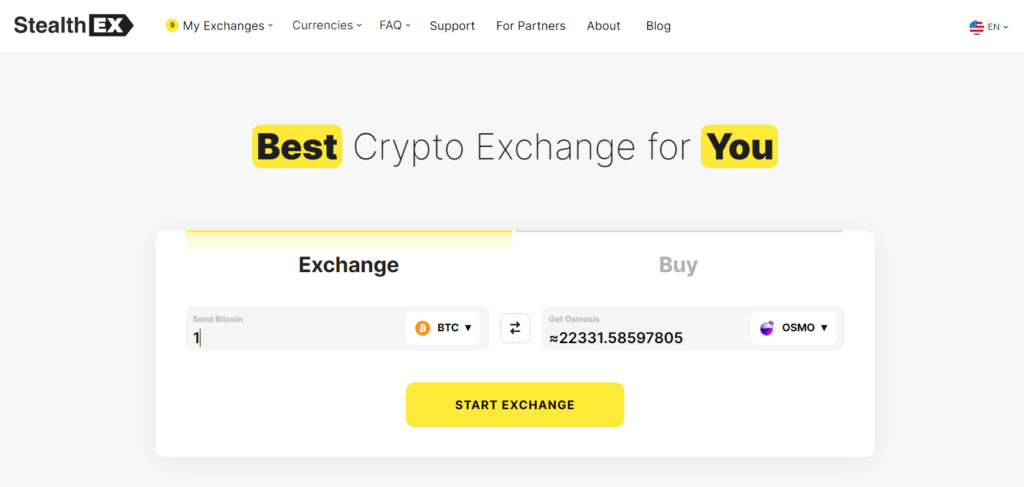 Here you will see the estimated amount of OSMO coin that you will receive after the exchange.
Now, when everything is set, press the Start Exchange button and you will be taken to the next page.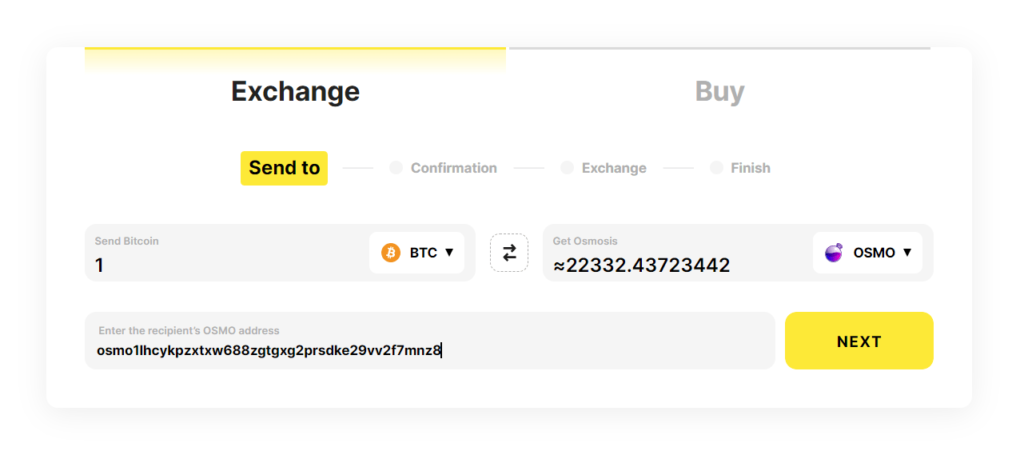 In the second step, you need to provide the OSMO crypto recipient address. The recipient address must match the crypto you are going to receive. Remember to double-check the information you enter prior to the exchange as the transaction you make cannot be canceled.
As soon as you have carefully checked all the details, you can press the Next button and you will be redirected to the Confirmation page.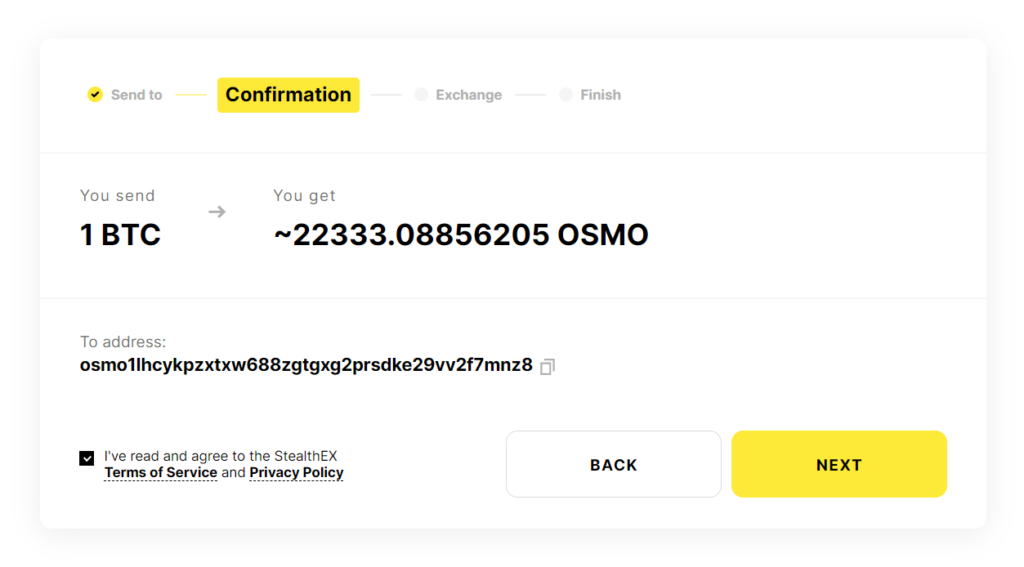 Here you can revise the address provided and the amount of OSMO token you will receive. Don't forget to read and check the Terms of Use and Privacy Policy box. Without checking the box you will not be able to continue the exchange.
Pressing the Next button you will be redirected to the Exchange page.
At first, you will see the address where you need to send your BTC coin to continue the exchange. StealthEX will also provide you with the exchange ID. It will allow you to keep all the information about the swap. It is recommended to save your exchange ID or the link to your exchange.
Exchange Statuses
After sending BTC coins to the shown address, the information on the Exchange page will be renewed automatically. The Exchange page has several statuses that will change during the time of the exchange.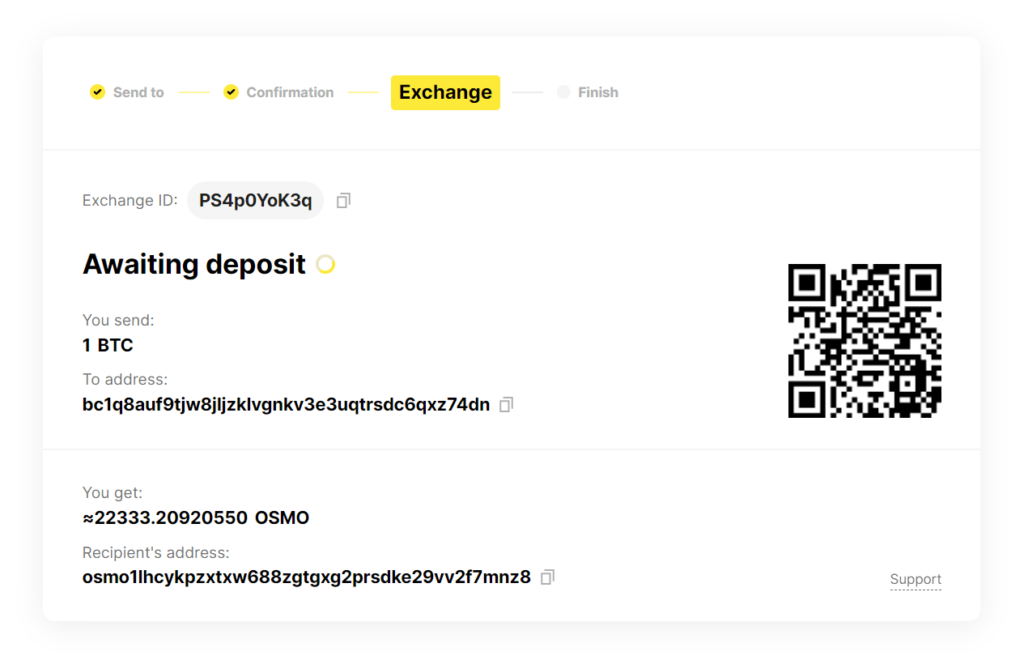 The first status is Awaiting deposit.
The following status is Confirming. This means that StealthEX is confirming the transaction you made.
The next status is Exchanging. During this time the exchange is being made.
Then the status will be changed to Sending to your wallet. This indicates that there are just a few minutes until you receive your Osmosis crypto.
Finally, you will be redirected to the FINISH page. This shows that the exchange has been successfully made and you will receive crypto to the address provided. To be sure that the OSMO coin was sent to your wallet you can also use the Output hash shown on this page and check it in the blockchain list of transactions.
From here you can either create a new exchange on StealthEX.io or leave the page and check your OSMO coin wallet to be surprised at how fast you get the Osmosis token to your address. Usually, the process is quite rapid so you won't need to wait long: Solar crypto swaps are processed in a matter of minutes.
Keep reading StealthEX's article to learn more about the project itself and OSMO crypto.
What Is Osmosis Crypto?
As said, Osmosis is an automated market maker. An AMM is a system of autonomous liquidity providers that determines digital asset pair pricing using smart contracts. Most existing AMMs are confined to operate within the native blockchain in which they were originally built. While there are workarounds, this places certain limitations on developing a truly chain-agnostic AMM that can execute transactions across different networks seamlessly and efficiently.
In addition, while the features between AMMs can vary quite significantly, they are often hardcoded into the protocol, leaving a rigid infrastructure that is unable to adapt quickly to the demands of an ever-changing market. There is no single solution that fits all AMM design goals, and an additional layer of customization helps developers fine-tune optimal strategies around fees and liquidity provision, and takes into account other factors that may directly impact success of the AMM.
Osmosis attempts to solve these shortcomings in many different ways. As mentioned before, the protocol was developed using the Cosmos SDK which allows it to operate across chains. This gives Osmosis access to any chain built on the Cosmos ecosystem. It also allows the project to integrate with non-IBC enabled chains, such as Ethereum, giving it even more composability and interoperability.
Additionally, Osmosis is focused on user experience and a deep level of customization. The protocol extends AMM functionality beyond simply token swaps and implements a host of other features such as bonding curves, dynamic fee swaps, and multi-token liquidity pools. It therefore enables developers to build, design, and deploy their very own AMM, fully customized with novel parameters and fully connected to the IBC ecosystem and beyond.
Osmosis Validators and Delegators
As a PoS network, token holders participate in securing the blockchain through staking the protocol's native token, OSMO. Token holders can participate in network security as a delegator or validator. Validators actively participate in network consensus by operating validator nodes, while delegators can delegate their staked OSMO to validators. By delegating to a validator, the user is allowing the validator to use their delegated stake to participate in consensus. A validator must garner enough stake (self-bonded + delegated) to become active and earn rewards for participating in consensus. The validator 'active set' is composed of the top validators ranked by stake, the number of which is determined by on-chain governance.
While operating a validator requires a level of technical competency, there is no deep technical knowledge needed to delegate. Any token holder can stake by delegating their OSMO to a validator and earn rewards in return. Delegated OSMO is locked and requires unbonding to become liquid again. Once a delegator initiates an unbonding, the tokens are locked throughout the unbonding period (21 days) and do not receive any staking rewards. If delegated to a validator outside of the active set, unbonding is immediate.
Governance for OSMO Stakers
OSMO stakers can also participate in on-chain protocol governance. There are many ways in which OSMO stakers can participate in governance, from discussing topics in the Osmosis governance forum to submitting a proposal on-chain. Governance is especially important in Osmosis as it allows for the community to decide on protocol upgrades, parameter changes, community pool spends, decision signaling, and more.
History of Osmosis
Osmosis Labs, originally founded by Josh Lee and Sunny Aggarwal, created the majority of the Osmosis protocol's initial code. During an October 2021 token sale headed up by Paradigm, $21 million was raised for the platform's development. Since the start of 2022, Osmosis' popularity has skyrocketed, with its TVL increasing drastically and crossing the $1 billion mark.
Osmosis: Features
The Osmosis DEX's innovative features give it key advantages over some of the other DEXs that are currently available.
Customizable and self-governing liquidity pools. The customization capabilities of Osmosis' liquidity pools provides a more flexible fee structure than those of other platforms, who exclusively take token pair rarity into account. Liquidity providers can optimize earnings from fees and staking rewards by compensating for market volatility and other factors. To encourage longer-term commitments to the pools, those who make such commitments gain more liquidity mining rewards and have greater voting power. And those who have a greater financial investment in the platform have more say in the direction their pools take.
Superfluid staking. Osmosis is the first platform to offer enhanced staking rewards, which it calls Superfluid Staking. When users stake OSMO tokens, they can also contribute to a liquidity pool. This allows them to receive two types of rewards at the same time, including earning a proportional amount of transaction fees from the liquidity pool and earning staking rewards.
MEV Resistance. MEV (maximal extractable value) resistance makes it impossible for malicious forces to identify such trading opportunities, which protects users against losses from nefarious actions.
Osmosis thirdening is a model adopted to create scarcity for the OSMO token and increase its price. Every year, Osmosis will release a set number of tokens. However, the amount of tokens released will decrease by a third with every thirdening. Osmosis thirdening occurs in June.
Greater trading opportunities. The many single-blockchain platforms in use today only permit native token trades, which places significant restrictions on users' activities. As a multi-chain DEX, Osmosis works with other blockchains via the IBC protocol, dramatically increasing trading opportunities for Osmosis users.
Osmosis Crypto Price Prediction
When it comes to the future price of the token, most crypto sources provide crypto enthusiasts and investors with an optimistic forecast. For instance, PricePrediction believes that by 2032, OSMO crypto may reach a maximum of $44.78, hitting $3.35 in 2025, $10.25 in 2027, and $20.75 in 2030 along the way. DigitalCoinPrice experts are less enthusiastic: they believe that Osmosis token will reach $18.39 by 2032 as a new all-time high. However, they also estimate the progress OSMO crypto will be making in 2025 at a $3.42 mark.
Osmosis ranks #79 on CoinMarketCap, which signifies that the project is quite popular in the field. Its main cryptocurrency, OSMO, may go beyond what's expected of it once the crypto market recovers if its developers keep expanding.
We'd like to remind you that if you're looking for an Osmosis (OSMO) coin exchange or simply want to buy OSMO crypto right away, you can do it via StealthEX. Our users can purchase cryptocurrencies using fiat and we still offer the opportunity to buy crypto at fixed rates.

Make sure to follow us on Medium, Twitter, Telegram, YouTube, and Publish0x to get StealthEX.io updates and the latest news about the crypto world. If you need help, drop us a line at support@stealthex.io.
Please make sure to always research any cryptocurrency and assess your risks before you invest.
Cosmos
exchange cryptocurrency
how to buy crypto
OSMO
Osmosis
Recent Articles on Cryptocurrency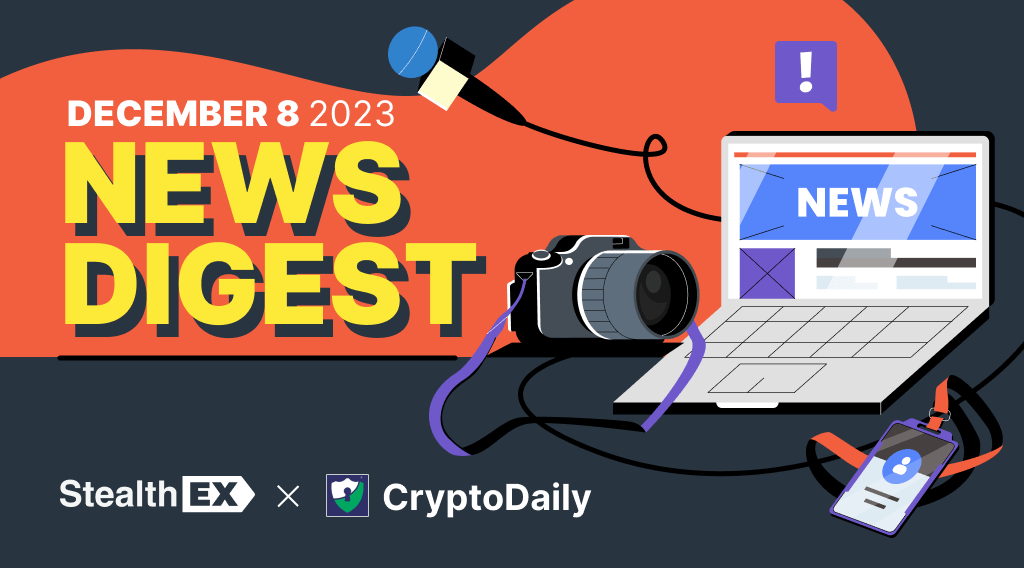 December 8, 2023
Crypto World
StealthEX & CryptoDaily: Weekly Crypto Insights
Explore key cryptocurrency developments and trends in StealthEX's insightful weekly roundup, in partnership with CryptoDaily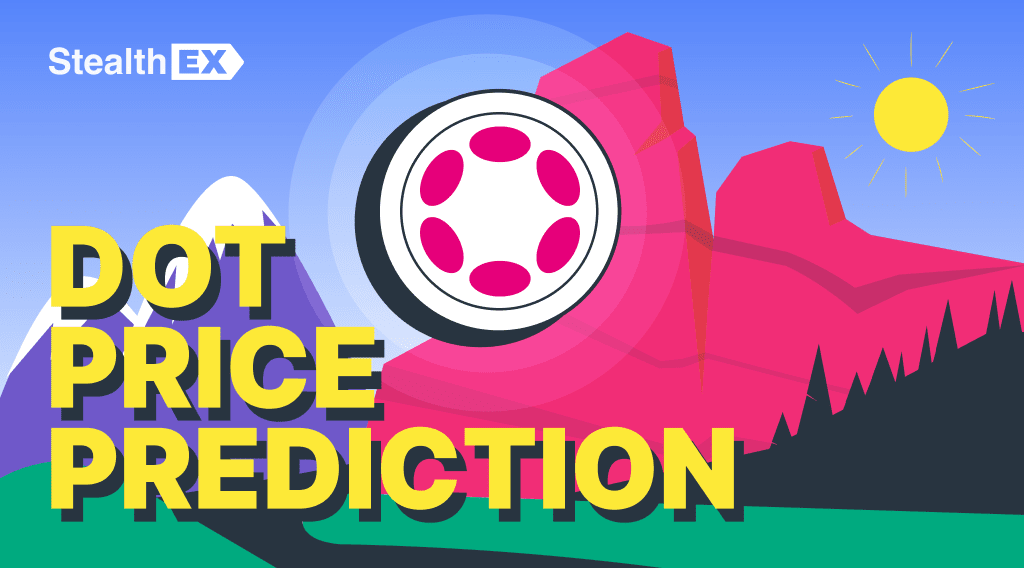 November 29, 2023
Price Prediction
Polkadot (DOT) Price Prediction: Will DOT Coin Reach $1000?
According to the long-term Polkadot price prediction by the end of 2030, the DOT price may rise to $195