How Does Cryptocurrency Works?
September 29, 2020
Crypto World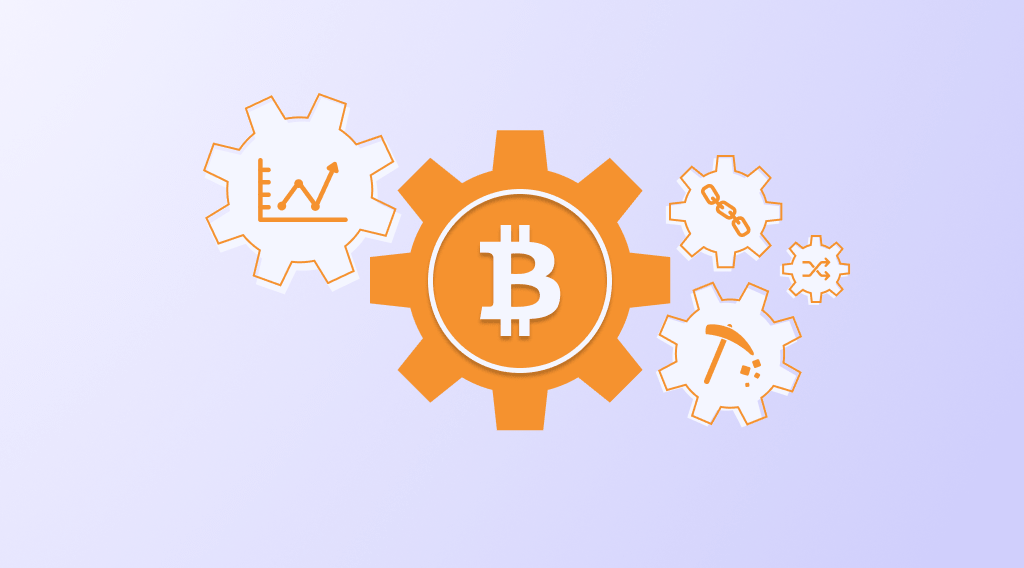 When we were a much smaller society, people could trade in the community pretty easily, but as the distance in our trade grew, we ended up inventing institutions such as banks, markets, stocks etc. that help us to conduct financial transactions. The currencies we are operating with nowadays are bills or coins, controlled by a centralized authority and tracked by previously mentioned financial institutions. The thing is, having a third party in our money transactions is not always what we wish for. But fortunately, today we have a tool that allows us to make fast and save financial transactions without any middlemen, it has no central authority and it is regulated by math. Sounds cool, right? Cryptocurrency is this tool. It is quite a peculiar system, so let's take a closer look at it.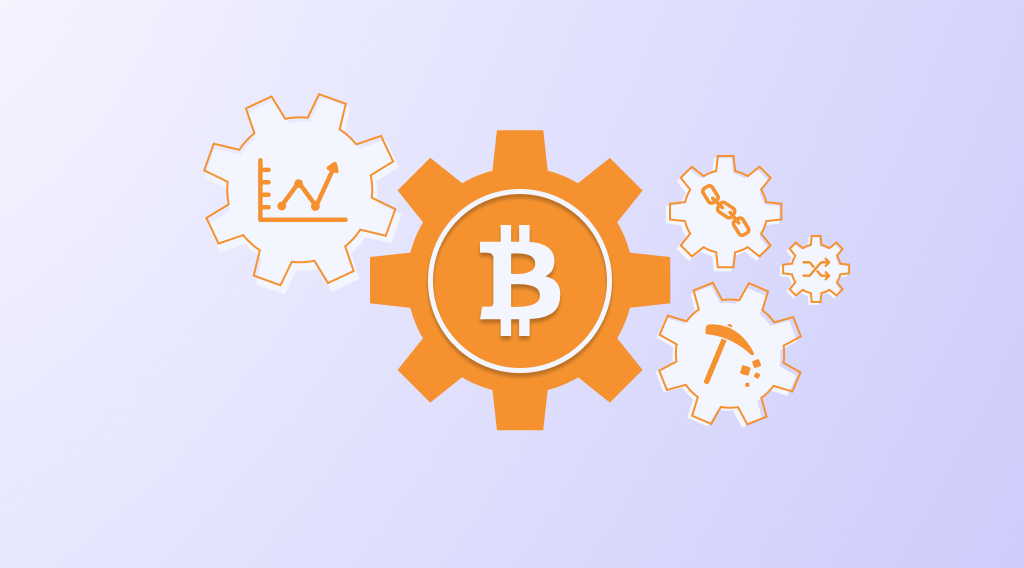 Layers of a crypto-cake
Layer 1: Blockchain
First of all – any cryptocurrency is based on the blockchain. In simple words, blockchain is a kind of a database. It stores information in batches, called blocks that are linked together in a chronological way. As the blockchain is not located in one place but rather on thousands of computers around the globe, the blockchain and the transactions thus are decentralized, they have no head center. The newest blocks of transaction are continuously added on (or changed) to all the previous blocks. That's how you get a cryptocurrency blockchain.
The technology's name is a compound of the words "block" and "chain", as the "blocks" of information are linked together in a "chain". That's how crypto security works – the information in the recently created block depends on the previous one. It means that no block can be changed without affecting the others, this system prevents a blockchain from being hacked.
There are 2 kinds of blockchain: private and public. Public, as goes by its name, is publicly available blockchain, whereas private blockchain is permissioned, which only a limited number of people have access to.
Layer 2: Transaction
In fact, everything begins with the intention of someone to complete a transaction. A transaction itself is a file that consists of the sender's and recipient's public keys (wallet addresses) and the amount of coins transferred. The sender begins by logging in into his cryptocurrency wallet with the private key – a unique combination of letters and numbers, something you would call a personal password in a bank. Now the transaction is signed and the first step which is called basic public key cryptography is completed.
Then the signed (encrypted) transaction is shared with everyone in the cryptocurrency network, meaning it gets to every other peer. We should mention that the transaction is firstly queued up to be added to the public ledger. Then, when it's broadcasted to the public ledger, all the computers add a new transaction to a shared list of recent transactions, known as blocks.
Having a ledger forces everyone to "play fair" and reduce the risk of spending extra. The numbers of transactions are publicly available, but the information about senders and receivers is encrypted. Each transaction holds on to a unique set of keys. Whoever owns a set of keys, owns the amount of cryptocurrency associated with those keys (just like whoever owns a bank account owns the money in it). This is how peer-to-peer technology works.
Layer 3: Mining
Now let's talk about mining. Once confirmed, the transaction is forever captured into the blockchain history. The verification of the block is done by Cryptocurrency Miners – they verify and then add blocks to the public ledger. To verify them, miners go down on the road of solving a very difficult math puzzle using powerful software, which is that the computer needs to produce the correct sequence number – "hash" – that is specific to the given block, there is not much chance of finding it. Whoever solves the puzzle first, gets the opportunity to officially add a block of transactions to the ledger and get fresh and new coins as reward. The reward is given in whatever cryptocurrency's blockchain miners are operating into. For example, BTC originally used to reward miners in 50 BTC, but after the first halving it decreased to 25 BTC, and at present time it is 6.25 BTC. The process of miners competing against each other in order to complete the transactions on the network and get rewarded is known as the Proof-of-Work (PoW) algorithm, which is natural for BTC and many other cryptocurrencies. Also there are another consensus mechanisms: Proof-of-Stake (PoS), Delegated Proof-of-Stake (dPoS), Proof-of-Authority (PoA), Byzantine Fault Tolerance (BFT), Practical Byzantine Fault Tolerance (pBFT), Federated Byzantine Agreement (FBA) and Delegated Byzantine Fault Tolerance (dBFT). Still, all of them are used to facilitate an agreement between network participants.
The way that system works – when many computers try to verify a block – guarantees that no computer is going to monopolize a cryptocurrency market. To ensure the competition stays fair, the puzzle becomes harder as more computers join in. Summing it up, let's say that mining is responsible for two aspects of the crypto mechanism: producing the proof and allowing more coins to enter circulation.
Types of cryptocurrency
In the virtual currency world there are a bunch of different cryptocurrency types with their own distinctive features.
The first cryptocurrency is, of course, Bitcoin. Bitcoin is the first crypto coin ever created and used. BTC is the most liquid cryptocurrency in the market and has the highest market cap among all the cryptocurrencies.
Altcoins
The term 'altcoins' means 'alternatives' of Bitcoin. The first altcoin Namecoin was created in 2011 and later on hundreds of them appeared in crypto-world, among them are Ravencoin, Dogecoin, Litecoin, Syscoin etc. Altcoins were initially launched with a purpose to overcome Bitcoin's weak points and become upgraded substitutes of Bitcoin. Altcoins usually stand an independent blockchain and have their own miners and wallets. Some altcoins actually have boosted features yet none of them gained popularity akin to Bitcoin. More about altcoins in our article.
Tokens
Token is a unit of account that is used to represent the digital balance of an asset. Basically tokens represent an asset or utility that usually are made on another blockchain. Tokens are registered in a database based on blockchain technology, and they are accessed through special applications using electronic signature schemes.
Tokens and cryptocurrencies are not the same thing. Let's explain it more detailed:
• First of all, unlike cryptocurrencies, tokens can be issued and managed both centralized and decentralized.
• The verification of the token transactions can be conducted both centralized and decentralized, when cryptocurrencies' verification is only decentralized.
• Tokens do not necessarily run their own blockchain, but for cryptocurrencies having their own blockchain is compulsory.
• Tokens' prices can be affected by a vast range of factors such as demand and supply, tokens' additional emission, or binding to other assets. On the other hand, the price of cryptocurrencies is completely regulated by the market.
Tokens can be:
• Utility tokens – something that accesses a user to a product or service and support dApps built on the blockchain.
• Governance tokens – fuel for voting systems executed on the blockchain.
• Transactional tokens – serve as a unit of accounts and used for trading.
• Security tokens – represent legal ownership of an asset, can be used in addition to or in place of a password.
Tokens are usually created through smart contracts and are often adapted to an ICO – initial coin offering, which is a means of crowdfunding. It is much easier to create tokens, that is why they make a majority of coins in existence. Altcoin and token blockchains work on the concept of smart contracts or decentralized applications, where the programmable, self-executing code is ruling the transactions within a blockchain. By the way, the vast majority of tokens were distributed on the Ethereum platform.
Forks
Generally a fork occurs when a protocol code, on which the blockchain is operating, is being changed, modified and updated by developers or users. Due to the changes, the blockchain splits into 2 paths: an old way of doing things and a new way. These changes may happen because: a disagreement between users and creators; a major hack, as it was with Ethereum; developers' decision to fix errors and add new functionality. The blockchain mainly splits into hard forks and soft forks. Shortly speaking, coin hard forks cannot work with older versions while soft forks still can work with older versions.
Hard fork – after a hard fork, a new version is completely separated from the previous one, there's no connection between them anymore, although the new version keeps the data of all the previous transactions but now on, each version will have its own transaction history. In order to use the new versions, every node has to upgrade their software. A hard fork requires majority support (or consensus) from coin holders with a connection to the coin network. If enough users don't update then you will be unable to get a clean upgrade which could lead to a break in the blockchain.
Soft fork – a protocol change, but with backward compatibility. The rules of the network have been changed, but nodes running the old software will still be able to validate transactions, but those updated nodes won't be able to mine new blocks. So to be used and useful, soft forks require the majority of the network's hash power. Otherwise, they risk becoming set out and anyway ending up as a hard fork.
Stablecoins
As it comes from the name, stablecoins are price-stabilized that are becoming big in the crypto world. Still enjoying most of the "typical-cryptocurrency" benefits, it is standing out as a fixed and stable coin, not volatile at all. Stablecoins' values are stabilized by pegging them to other assets such as the US Dollar or gold.
Stablecoins include Tether (USDT), Standard (PAX), Gemini Dollar (GUSD) which are backed by the US Dollar and approved by the New York State Department of Financial Services.
Conclusion
Now that we hacked into cryptocurrency, you probably understand that it is much less mysterious than it first seemed. Nowadays, cryptocurrencies are making the revolution of the financial institution. For example, Bitcoin is currently used in 96 countries and growing, with more than 12,000 transactions per hour. More and more investors are involved, banks and governments realize that these cutting edge technologies are prone to draw their control away. Cryptocurrencies are slowly changing the world and you can choose – either stand beside and observe or become part of history in the making.
And remember if you need to exchange your coins StealthEX is here for you. We provide a selection of more than 300 coins and constantly updating the cryptocurrency list so that our customers will find a suitable option. Our service does not require registration and allows you to remain anonymous. Why don't you check it out? Just go to StealthEX and follow these easy steps:
✔ Choose the pair and the amount for your exchange. For example BTC to ETH.
✔ Press the "Start exchange" button.
✔ Provide the recipient address to which the coins will be transferred.
✔ Move your cryptocurrency for the exchange.
✔ Receive your coins.
Follow us on Medium, Twitter, Facebook, and Reddit to get StealthEX.io updates and the latest news about the crypto world. For all requests message us via suppo[email protected]
The views and opinions expressed here are solely those of the author. Every investment and trading move involves risk. You should conduct your own research when making a decision.
September 29, 2020
altcoins
blockchain technology
crypto
cryptocurrency market
what is Bitcoin
Recent Articles on Cryptocurrency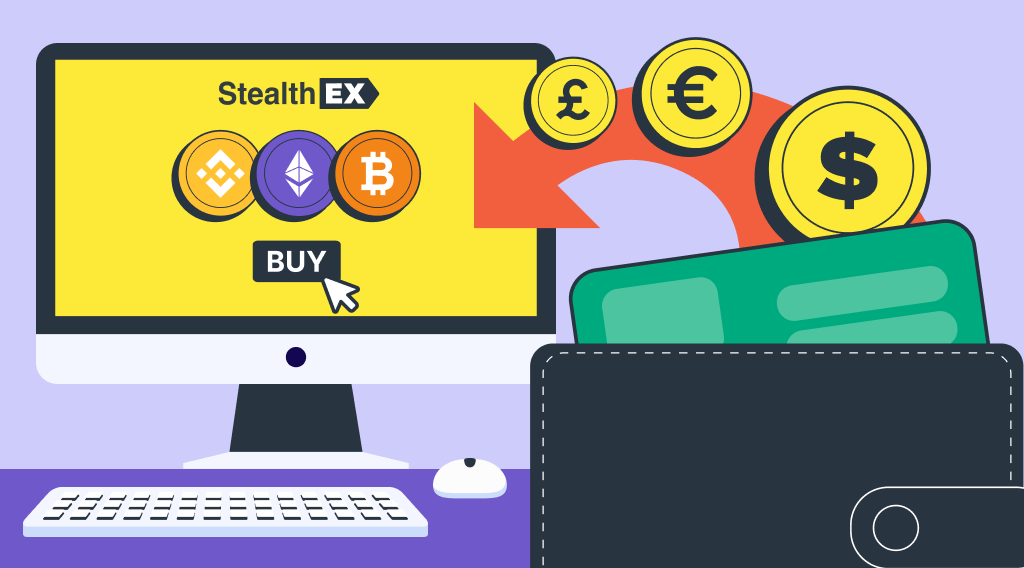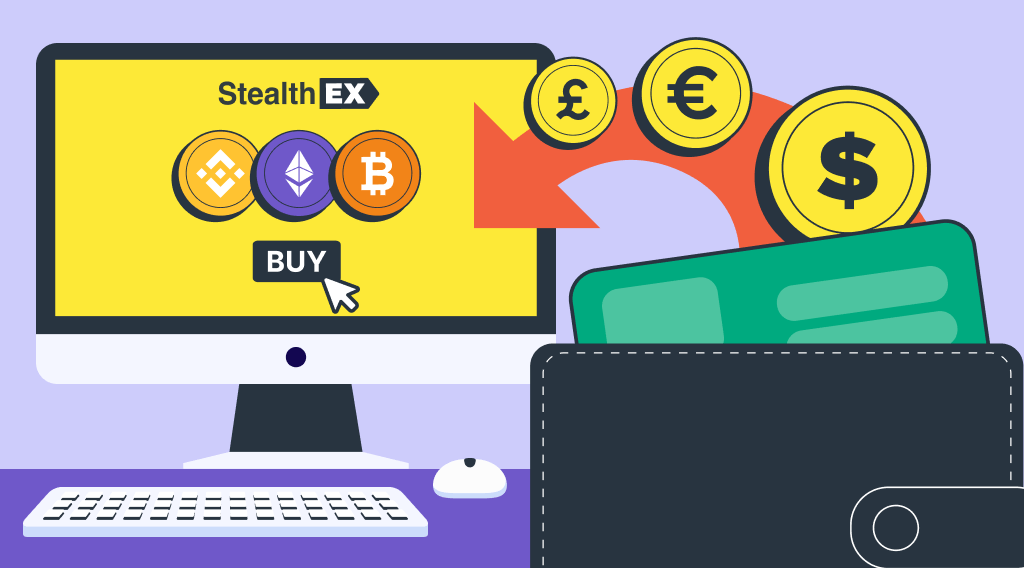 March 29, 2023
Our News
Buy Crypto with Credit Card: Fast & Easy on StealthEX
Buy crypto with a credit card on StealthEX: a secure, user-friendly platform for seamless and convenient transactions.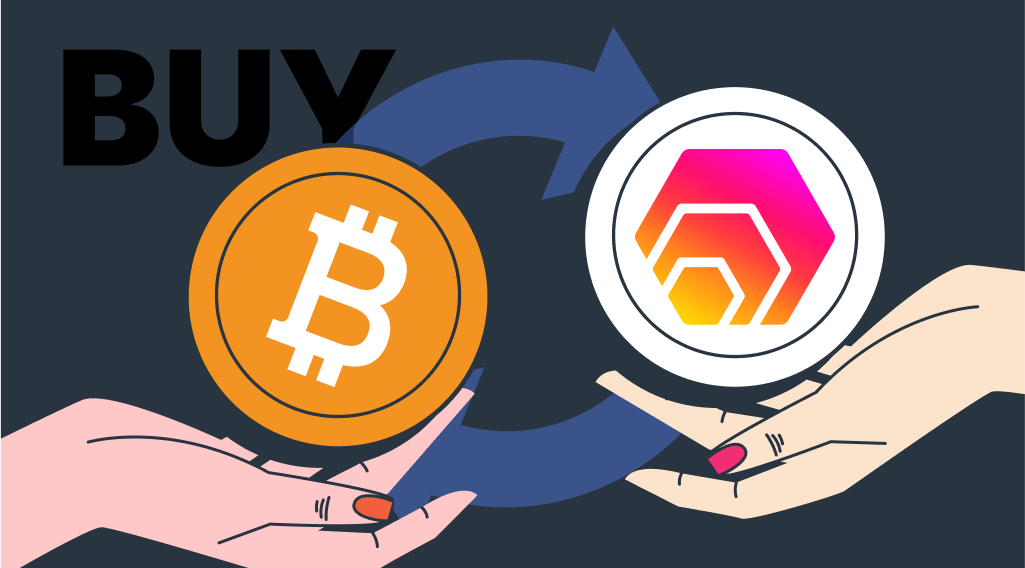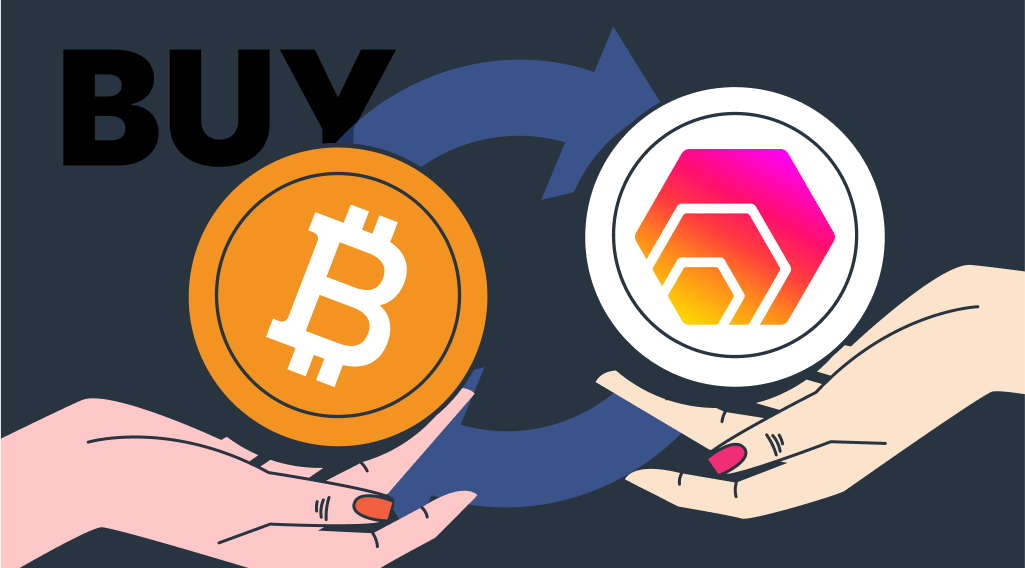 March 28, 2023
How to Buy
Where and How to Buy HEX Coin: A Comprehensive Guide
Learn to buy HEX coin effortlessly with our guide, exploring its background, benefits, and potential as an investment.