How to Buy Bitcoin with a Credit Card?
March 29, 2021
How to Buy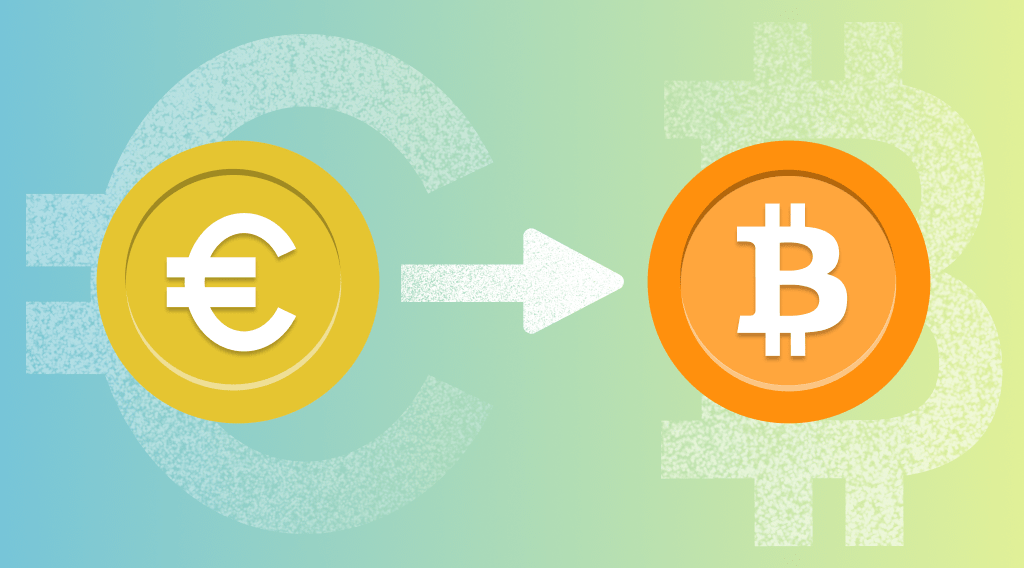 Bitcoin (BTC) is a cryptocurrency that operates exclusively on the Internet. No one controls the issuance and exchange rate of this digital asset, and the mining takes place on the computers of users who are connected to the system.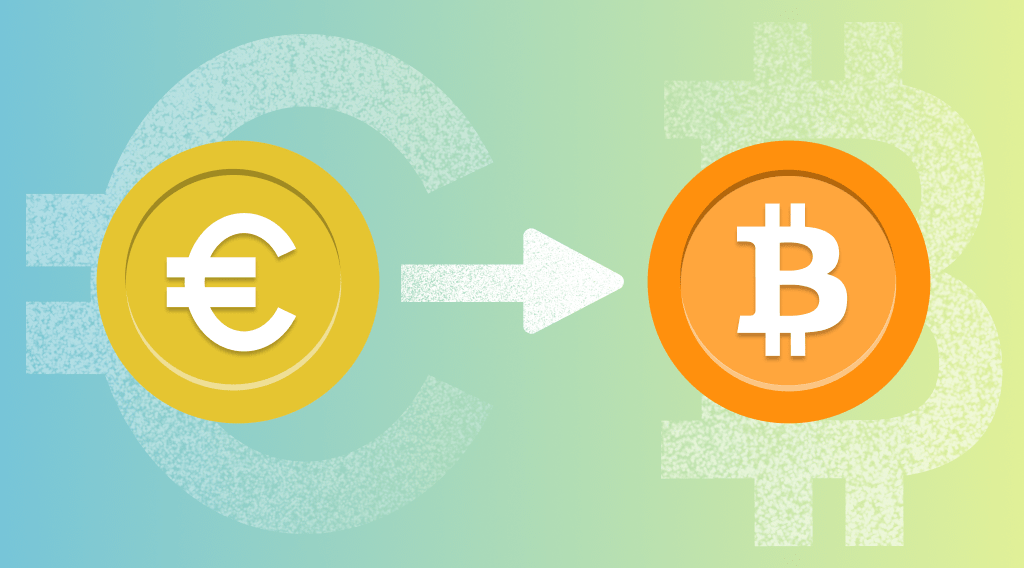 Bitcoin works almost the same as conventional fiat money:
It can be exchanged for any other currency.
It can be used to buy goods or pay for services.
It is possible to accumulate such funds.
Where to Buy Bitcoin with a Credit Card?
Since Bitcoin price prediction is positive, it's better to invest in this cryptocurrency now. StealthEX is the best platform for those who want to know how to buy Bitcoin online. All transactions are done via a credit card, for this purpose, the most popular currencies (EUR, USD, RUB, GBR) are accepted. The process is private, and everyone can buy this digital asset instantly without learning how to mine Bitcoins, worrying about their anonymity and safety of their digital assets.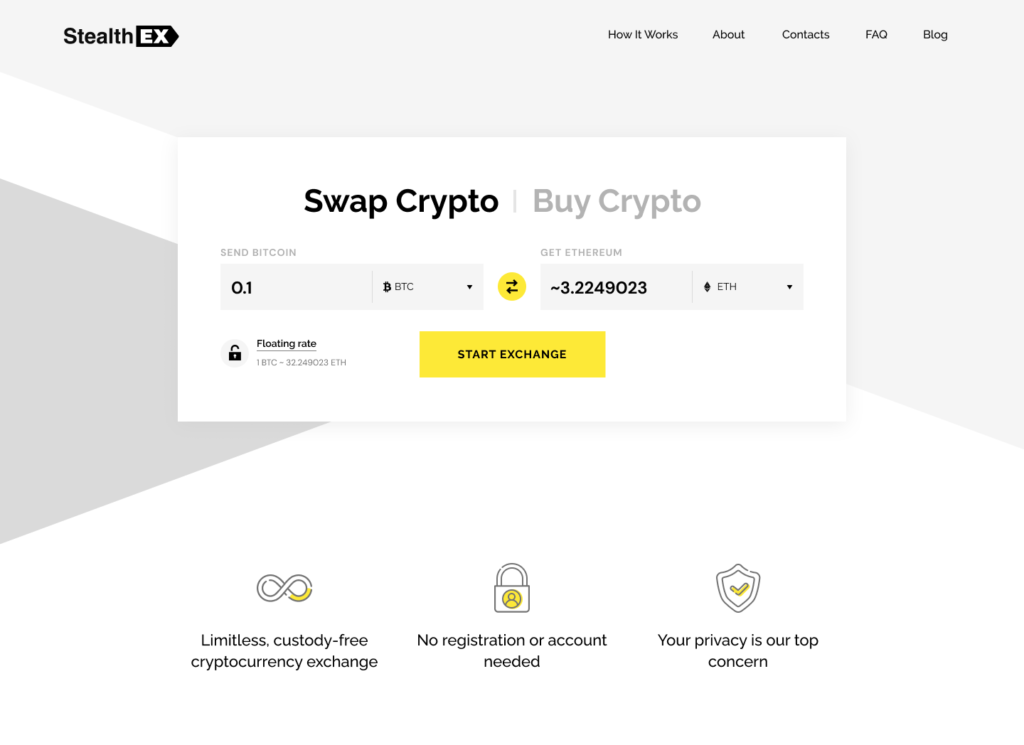 Previously StealthEX allowed users only to exchange one cryptocurrency for another.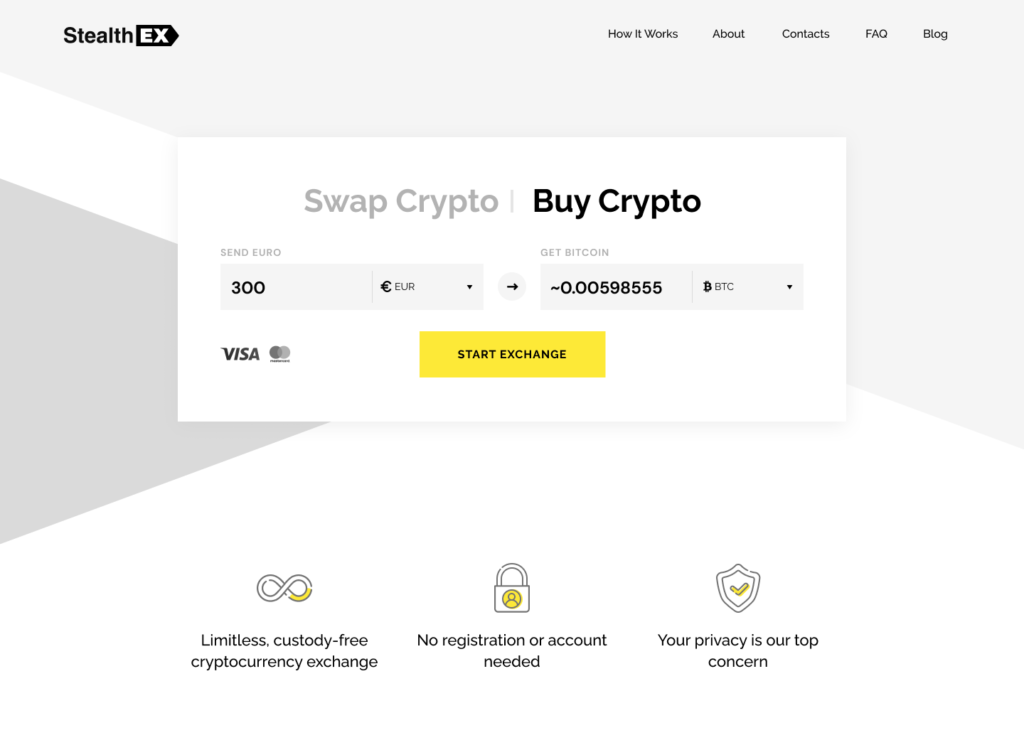 However, now everyone can buy digital assets with fiat money.
How to Buy Bitcoin with a Credit Card?
To start this process, a user just has to:
Switch from Swap Crypto to the Buy Crypto section. 
Select a fiat currency, for example, EUR, from the left drop-down list and BTC cryptocurrency from the right list of coins. 
Enter the amount of fiat money he wants to exchange. Then the estimated amount of Bitcoin that a user will receive appears in the right column.
Press the Start Exchange button.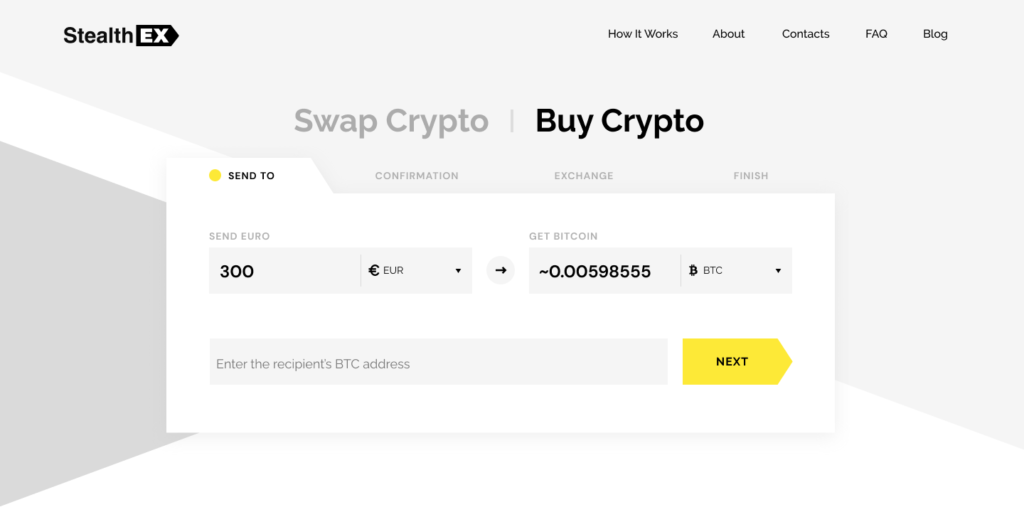 As the second step, you need to provide the Bitcoin recipient address. The recipient address must match the cryptocurrency you are going to receive. Remember to double-check the information you enter prior to the exchange as the transaction you make cannot be canceled.
As soon as you have carefully checked all the details, you can press the Next button and you will be redirected to the CONFIRMATION page with the information about the exchange.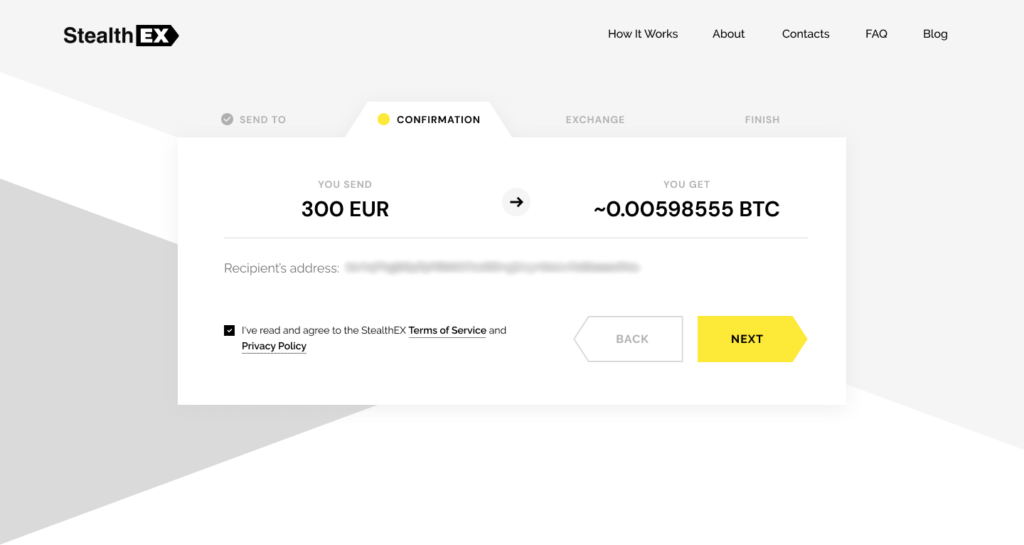 Here you can revise the address provided and the amount of BTC cryptocurrency you will receive.
Pressing the Next button you will be redirected to the Exchange page.
Before purchasing crypto, read the Terms of Service of StealthEX and agree with them. By doing this, you confirm that you understand that our platform is not responsible for any claims, damages or costs arising from your use of Mercuryo services.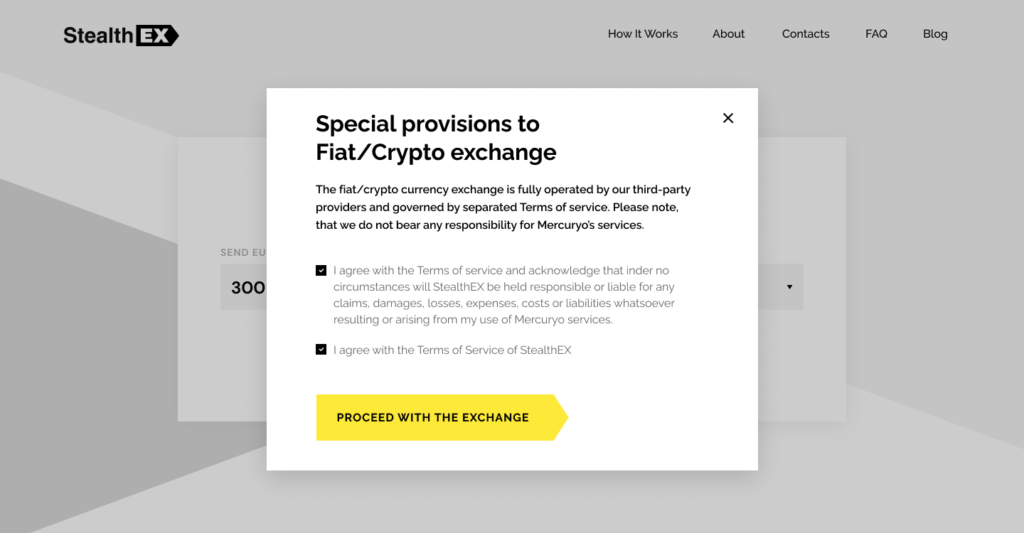 After pressing the Proceed With The Exchange button, the Mercury service will be opened inside the StealtEX interface.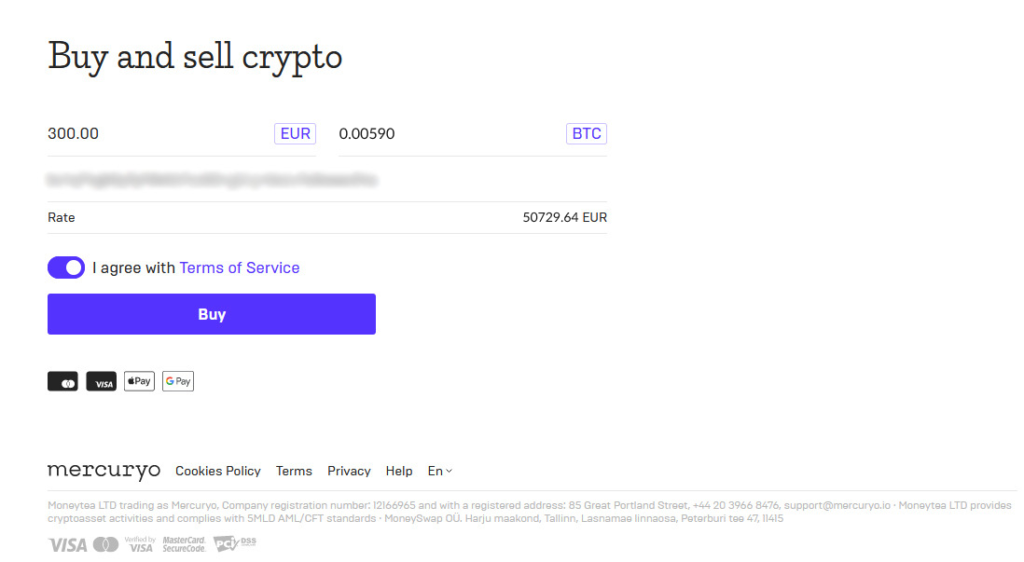 Firstly, agree with the Terms of Service provided by Mercuryo and click Buy.
If you purchase crypto via Mercuryo for the first time, you have to verify your identity. You aren't required to go through this procedure again if you've already used these services.
To verify your identity, you need to provide your phone number, email, enter confirmation codes that you've got to your phone and email. Then insert your personal info, including your first name, last name and date of birth.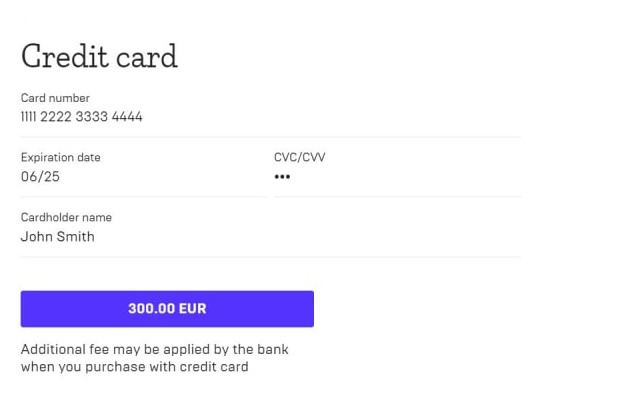 After that, provide your card details, such as your card number, expiry date, cardholder name with capital letters and click Buy.
Mercuryo accepts ONLY Visa and MasterCard: virtual, debit and credit cards. Mercuryo holds and immediately withdraws 1 EUR to check if your bank card is valid.
If you swap fiat money to crypto via Mercuryo for the first time, you should also pass the KYC procedure. As soon as you complete it, Mercuryo sends crypto to the blockchain address you have indicated earlier.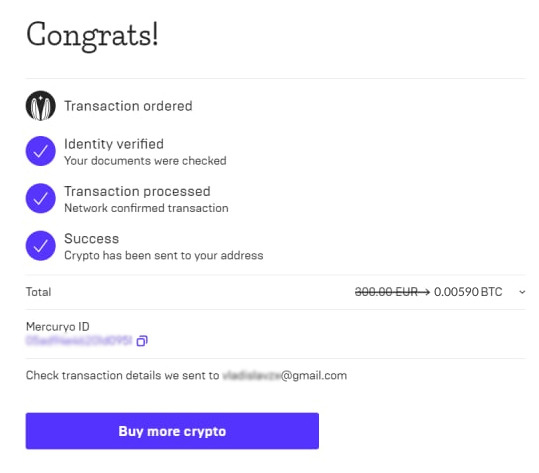 After buying crypto, you'll also receive a letter from our partner Mercuryo to your email with all data about this transaction, including the amount of fiat debited, the amount of crypto sent, Mercuryo ID of the transaction, top-up address.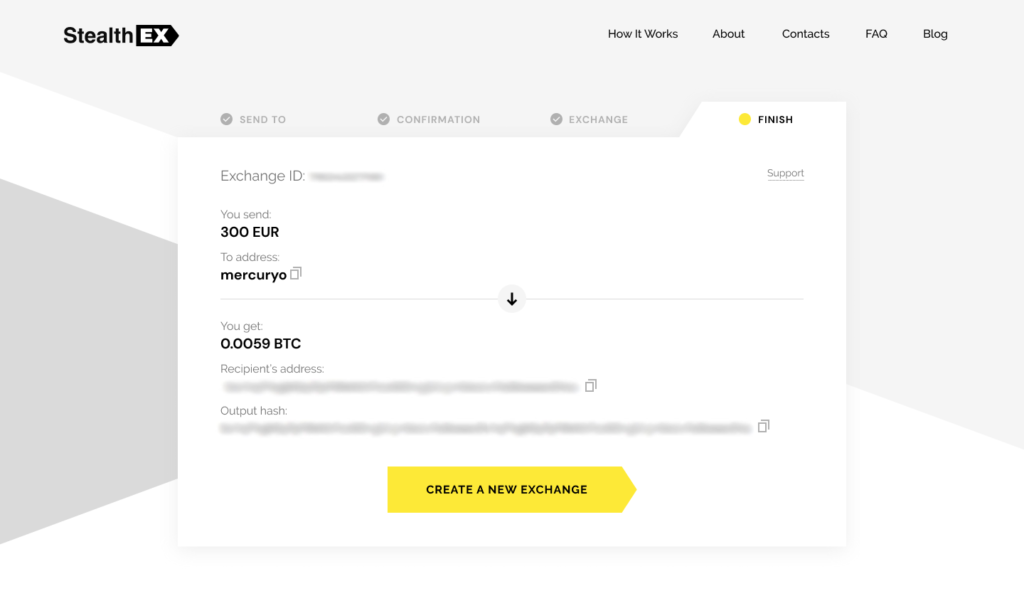 From here you can either create a new exchange on StealthEX.io or leave the page and check your Bitcoin wallet to be surprised at how fast you got BTC coin. Usually, the process is quite rapid so you won't need to wait long.
Should I Buy Bitcoin Now?
One of the main reasons why it's better to find out how to invest in Bitcoin now is that more and more big companies and startups, wholesalers and retailers allow you to pay with Bitcoin. You can use the cryptocurrency while buying real estate at a company who accepts Bitcoin or pay for traveling around the world.
Is It a Good Time to Buy Bitcoin?
The price of Bitcoin is regularly increasing. This is primarily due to the small supply of Bitcoin. Since the system has a daily payment limit and is programmed to produce only 21 million coins, users try to get them while it's possible. The limited supply decreases inflation. If you think about how many Bitcoin are there today, at the end of 2020, about 18,5 million tokens were mined.
What's more, there is a volatile economic environment all over the world, but the Bitcoin exchange rate is not as tightly tied to the situation on the stock exchanges or the quotations of national currencies. In fact, Bitcoin can even benefit from the collapse of the traditional economy.
If you have remaining questions about the StealthEX exchange service you can go to our FAQ section and find all the necessary information there.
Follow us on Medium, Twitter, Telegram, YouTube and Reddit to get StealthEX.io updates and the latest news about the crypto world.
We are always ready to give you support if you have any issues with exchanging coins. Our team does our best to protect all members and answer their questions. For all requests message us via [email protected]
You are more than welcome to visit StealthEX exchange and see how fast and convenient it is.
The views and opinions expressed here are solely those of the author. Every investment and trading move involves risk. You should conduct your own research when making a decision.
Bitcoin
BTC
buy Bitcoin
how to buy
how to buy crypto
Recent Articles on Cryptocurrency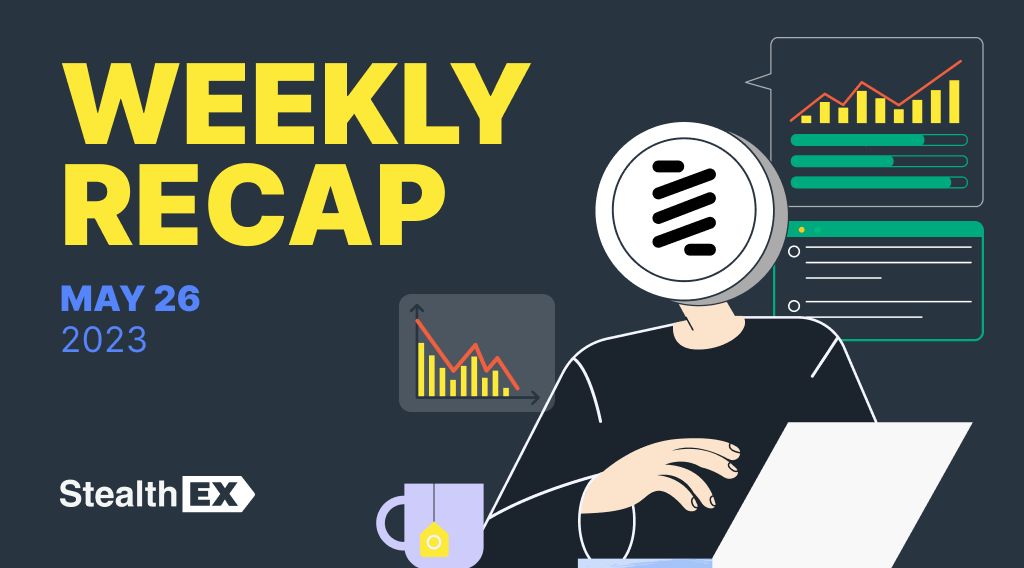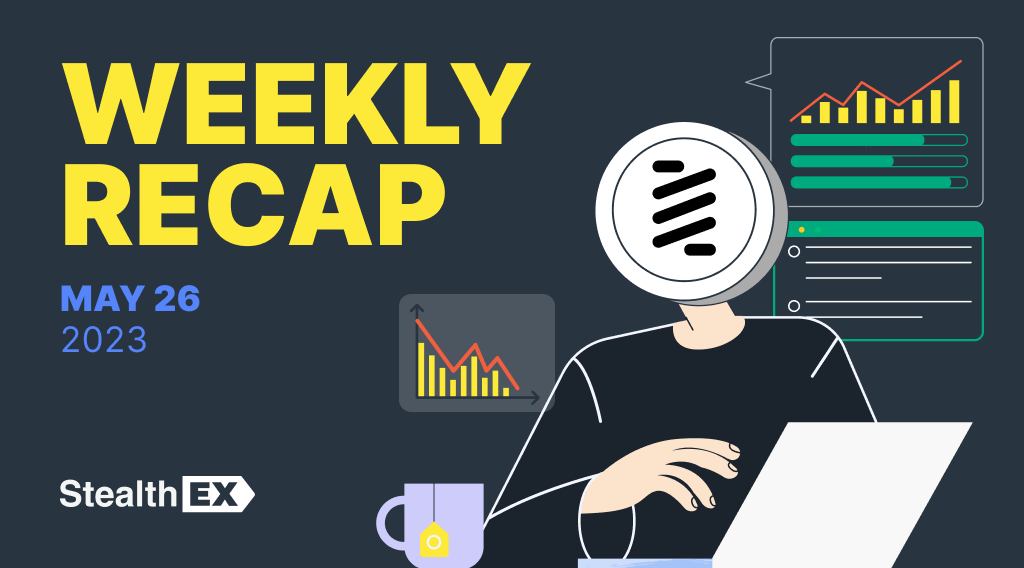 May 26, 2023
Crypto World
Review of the Crypto Market: May 26, 2023
Dive into the crypto market's weekly trends: get the detailed analysis and major news for May 20-26, 2023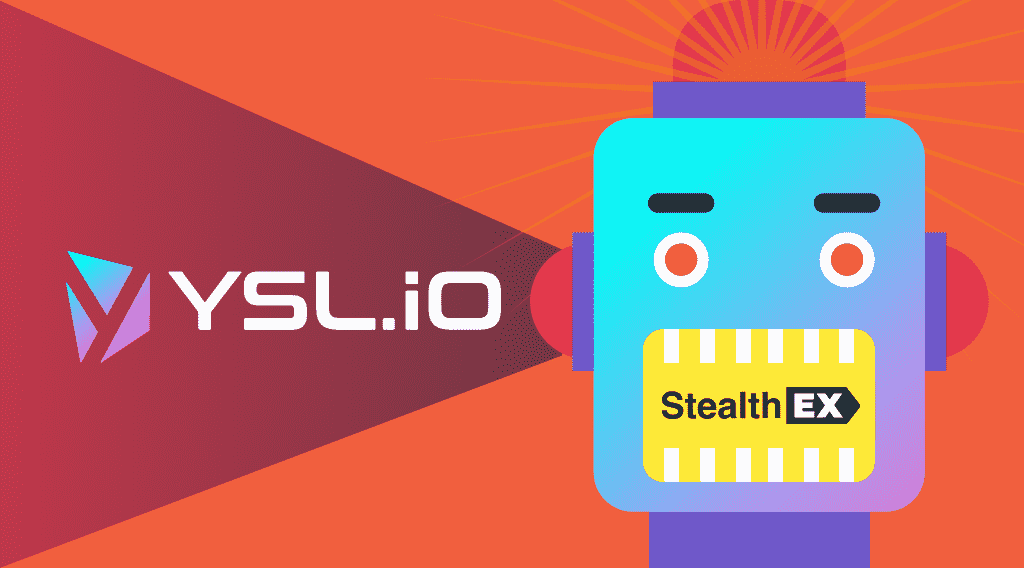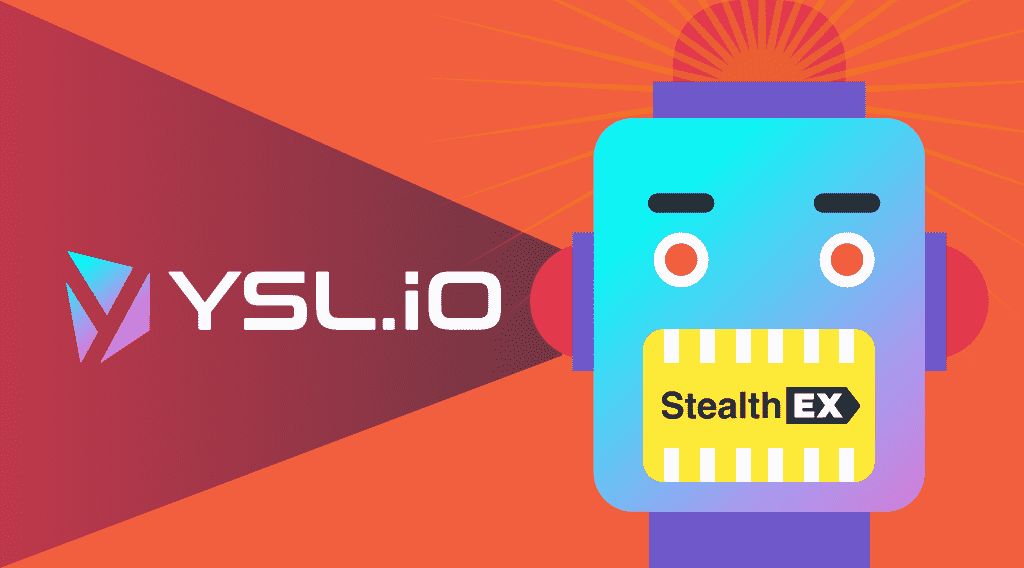 May 25, 2023
Our News
StealthEX Has Been Integrated into ChainZap by YSL.IO
Instant crypto exchange StealthEX partners with DeFi 3.0 protocol YSL.IO for seamless integration into ChainZap