Your Ultimate Guide to Buy SUI Crypto — Unlocking Web3's Potential
May 11, 2023
How to Buy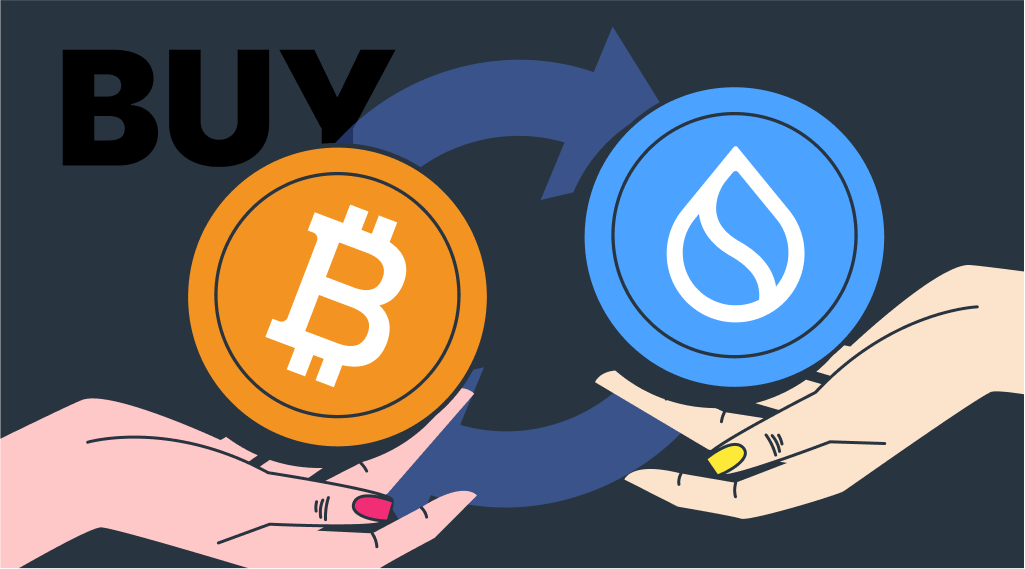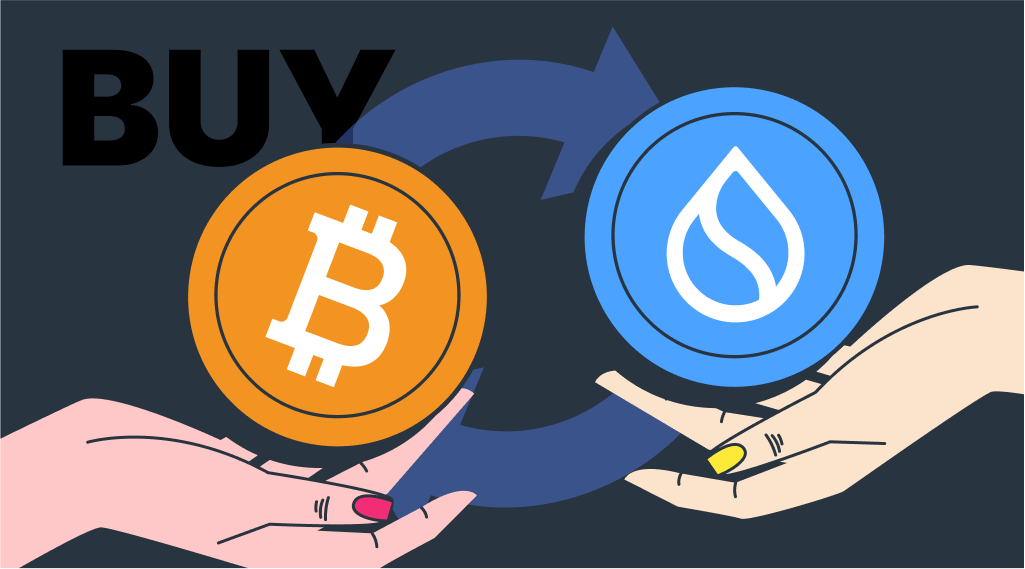 One of the most dynamic blockchains on the market is Sui. The Sui network, named after the element of water in Japanese philosophy, provides a fluid, easily adaptable, and flexible environment to power the Web3 movement. Sui Move, a smart contract programming language evolved from Move, is used to build the Sui platform. Let's take a closer look at the project and how you can buy SUI crypto.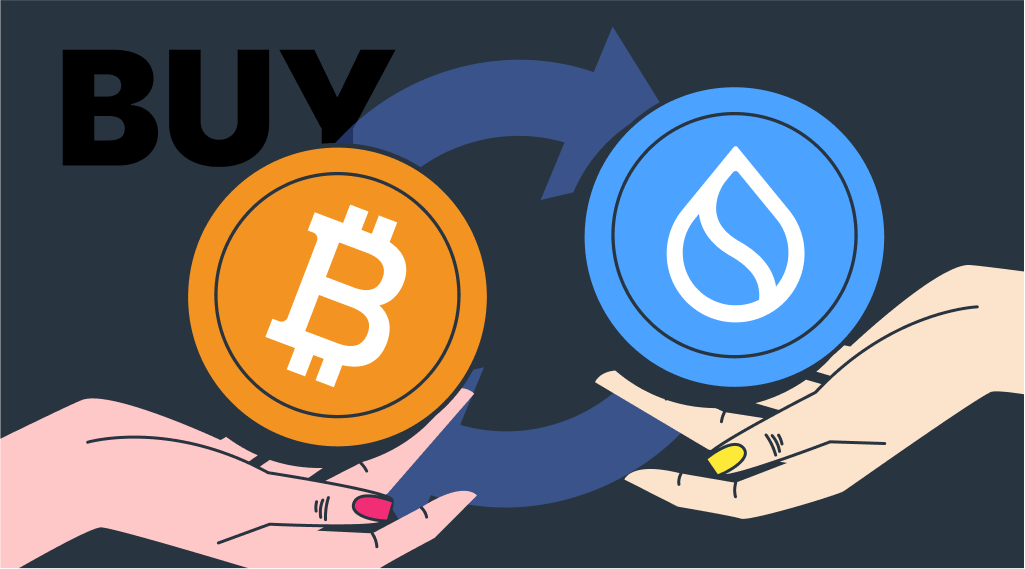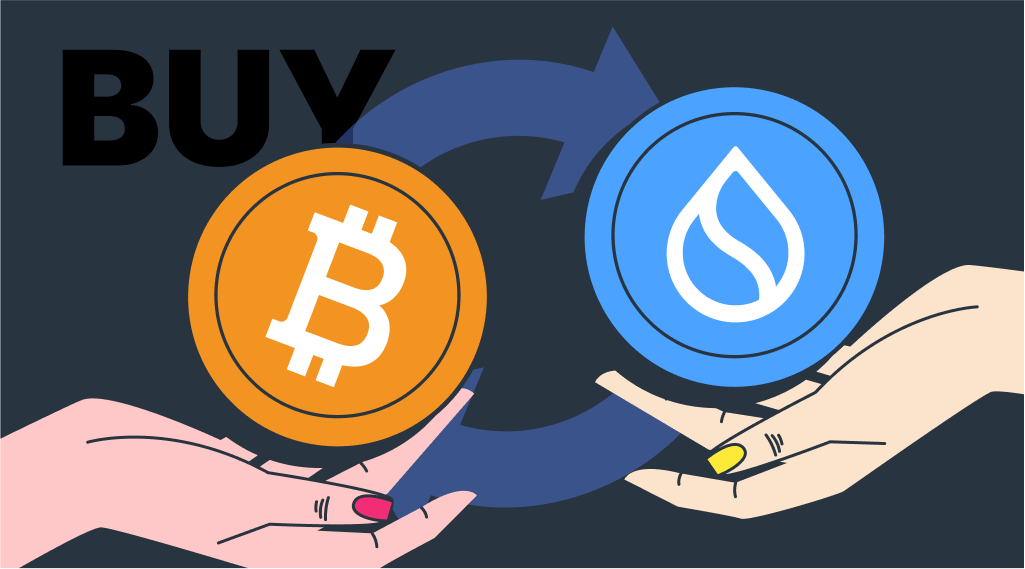 Where to Buy Sui Crypto?
There are many exchanges where one can buy SUI crypto, and StealthEX is one of the safest options. This platform offers users to get SUI token with no extra fees and with the best floating and fixed rates. This cryptocurrency is always freely available for purchase via StealthEX.
How to Buy SUI Token?
Just follow the guidelines below. Let's imagine you want to exchange BTC for SUI. To make an exchange, you need to take a few simple steps.
First, you should choose Bitcoin in the left drop-down list. Then choose SUI in the list of coins on the right.
After setting the pair it is necessary to enter the amount of BTC you want to exchange. Here you will see the estimated amount of Sui coin that you will receive after the exchange.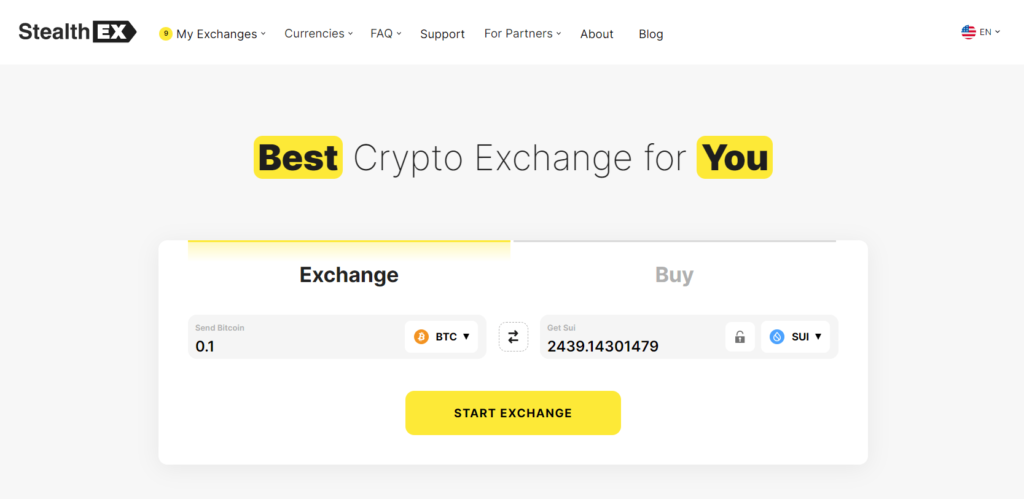 Now, when everything is set, press the Start Exchange button and you will be taken to the next page.
In the second step, you need to provide the SUI coin recipient address. The recipient address must match the crypto you are going to receive. Remember to double-check the information you enter prior to the exchange as the transaction you make cannot be canceled.
As soon as you have carefully checked all the details, you can press the Next button and you will be redirected to the Confirmation page.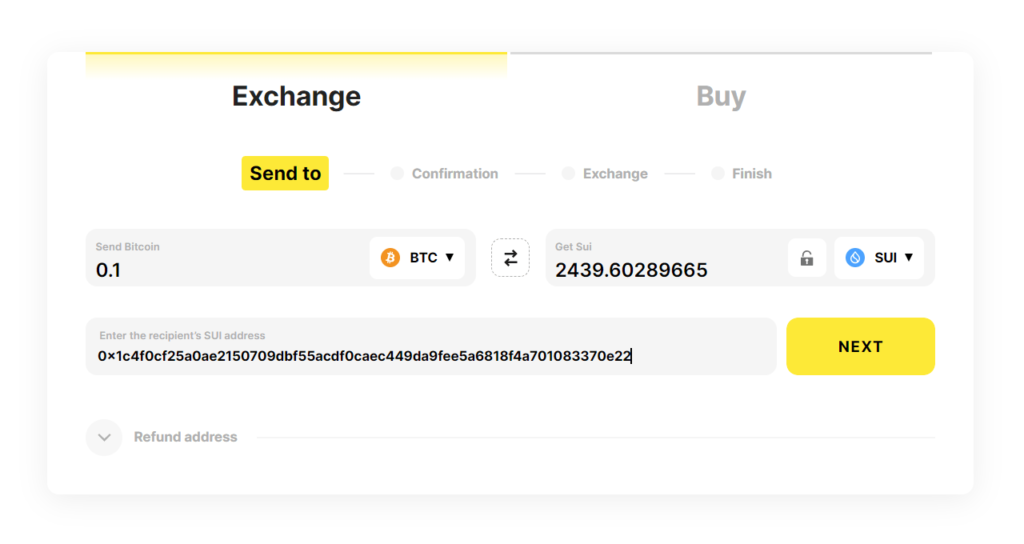 Here you can revise the address provided and the amount of SUI token you will receive. Don't forget to read and check the Terms of Use and Privacy Policy box. Without checking the box you will not be able to continue the exchange.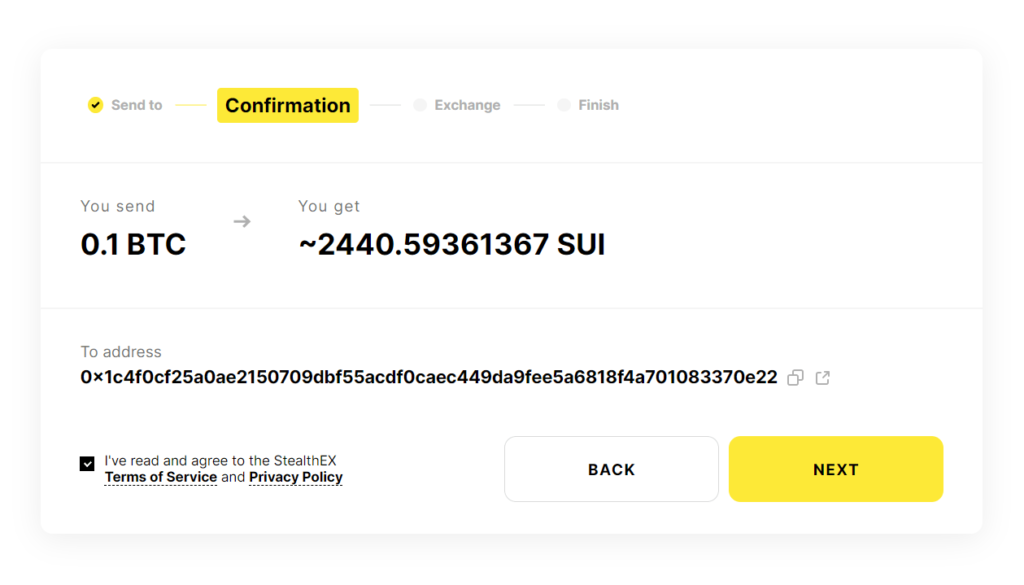 Pressing the Next button you will be redirected to the Exchange page.
At first, you will see the address where you need to send your Bitcoin to continue the exchange. StealthEX will also provide you with the exchange ID. It will allow you to keep all the information about the swap. It is recommended to save your exchange ID or the link to your exchange.
Exchange Statuses
After sending BTC coins to the shown address, the information on the Exchange page will be renewed automatically. The Exchange page has several statuses that will change during the time of the exchange.
The first status is Awaiting deposit.
The following status is Confirming. This means that StealthEX is confirming the transaction you made.
The next status is Exchanging. During this time the exchange is being made.
Then the status will be changed to Sending to your wallet. This indicates that there are just a few minutes until you receive your SUI token.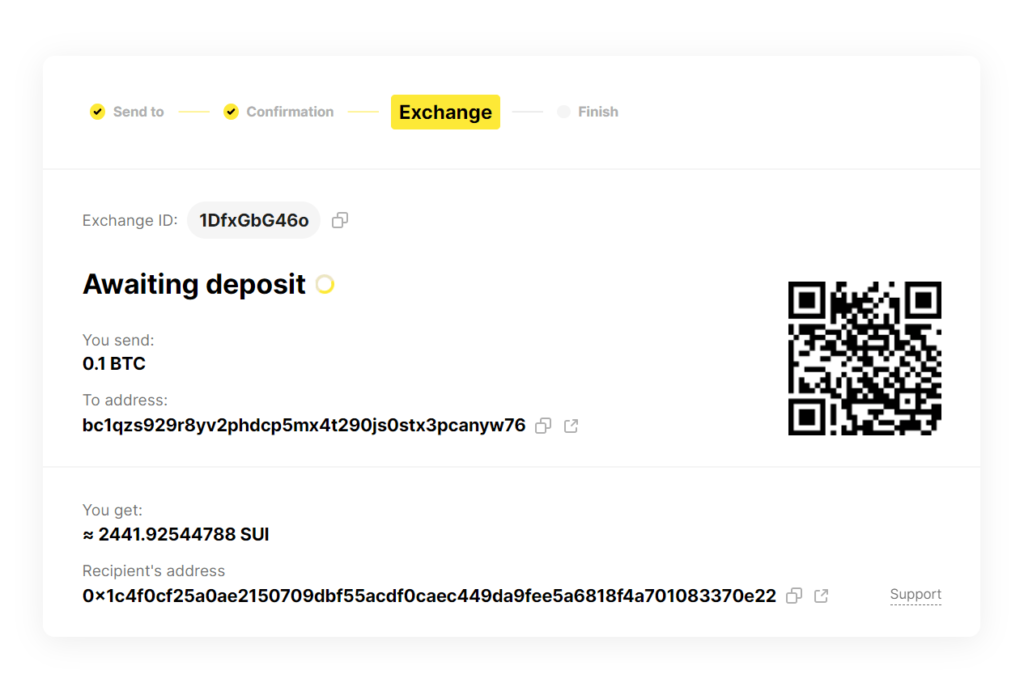 Finally, you will be redirected to the Finish page. This shows that the exchange has been successfully made and you will receive crypto to the address provided. To be sure that SUI crypto was sent to your wallet you can also use the Output hash shown on this page and check it in the blockchain list of transactions.
From here you can either create a new exchange on StealthEX or leave the page and check your SUI crypto wallet to be surprised at how fast you get SUI coin sent to your address. Usually, the process is quite rapid so you won't need to wait long: SUI swaps are processed in a matter of minutes.
Now that we've sorted out how you can buy SUI token via StealthEX, let's take a closer look at the project and its properties.
SUI: A New Blockchain to Enter the Competition
Sui, the first product from Web3 infrastructure company Mysten Labs, is one of the most exciting blockchain solutions. It's a rapidly growing platform that poses a threat to such high-powered smart-contract platforms such as Aptos or Solana. Smart contract platforms allow developers to build decentralized applications, and Sui blockchain is no exception. Sui is a permissionless layer 1 blockchain designed to provide instant settlement and high throughput for next-gen, latency-sensitive decentralized applications. The blockchain utilizes a Proof-of-Stake (PoS) consensus mechanism and offers a developer-friendly platform to create innovative dApps. Additionally, the Sui network can be a perfect choice in the gaming field.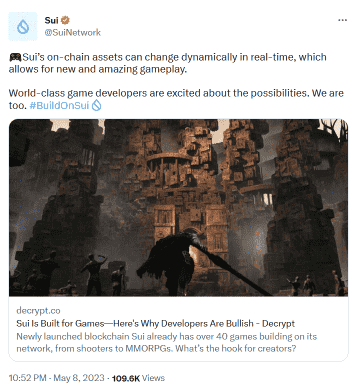 Sui Blockchain intends to support Web3 and NFT. According to the platform's developers, its distinct features and programming language have addressed the issues of scalability, security, and gas fees.
Sui is backed by Mysten Labs, founded by former senior executives at Meta's Novi Research. It includes experts in cryptography, programming languages and distributed systems. The Sui project is famous for being built on Move, a programming language designed at Meta, formerly known as Facebook.
After Meta shut down its crypto project Diem in 2022, Mysten Labs started actively working on the Sui network. In September 2022, the Sui Foundation announced a $300 million raise for the development of the Sui ecosystem.
Sui Features
The high scalability of SUI is built on two main innovations:
Narwhal-Tusk consensus algorithm.
MOVE programming language.
The native programming language used on the Sui blockchain to create applications is MOVE, a parallel execution framework built on RUST and created by FB's Libra project. While most smart contract platforms are built around accounts, Sui's repository is built around objects with Move. These objects are programmable and can be manipulated through smart contracts. Sui's global state consists of a set of programmable objects.
In Sui blockchain, the consensus method is Narwhal-Tusk, which isolates data transmission from the transaction consensus process. Thus resolving the Mempool – consensus issue in traditional blockchain systems such as Ethereum and Bitcoin.
Based on the preceding two innovations, the Sui blockchain allows the network to scale horizontally, allowing it to support millions of transactions per second without the need for dedicated nodes in the network (these nodes cannot run on cutting-edge hardware). regular computers because they require sophisticated settings to execute more transactions faster, which requires a large investment in hardware).
Sui appears to be capable of executing up to 120,000 transactions per second thanks to parallel execution. In comparison, Ethereum can handle 7-15 transactions per second. Visa processes transactions at a rate of 24,000 transactions per second.
Sui Gas Fees
At the moment, most blockchain networks have expensive gas fees. In traditional blockchain networks, gas fees rise and fall based on network demand. This means that if individuals want to go online for a time, gas prices will rise and become prohibitively expensive. However, the Sui blockchain can give more consistent gas fees across epochs. Sui runs in an epoch sequence (24 hours) – epoch sequence. Each epoch is overseen by a committee of validators. The validators set has no right to be reordered from one epoch to the next. Instead of fluctuating minute by minute, gas prices will be steady over a 24-hour period.
Stake validators can be authorized by users. You can raise your voting rights and earn lower fees by delegating your shares. Furthermore, as long as two-thirds of the total shares are allotted, the Sui network retains its security properties.
Sui Token and Its Functions
Here are the four main functions of the SUI token.
Use SUI tokens to stake and participate in PoS consensus.
Use SUI tokens to pay gas fees for transactions and other activities.
SUI acts as an asset that acts as a medium of exchange.
It allows Sui blockchain investors to participate in on-chain voting.
SUI tokens are used as the currency to pay gas for all operations on the Sui blockchain. Validators staking SUI to participate in the transaction consensus process. In case of fraud, their SUI tokens will be cut as punishment.
SUI: Mainnet Now Live
The Sui Mainnet went live at midday UTC on Wednesday after a closely watched build-up. Last year, in September 2022, the development team behind the chain raised $300 million in a Series B round.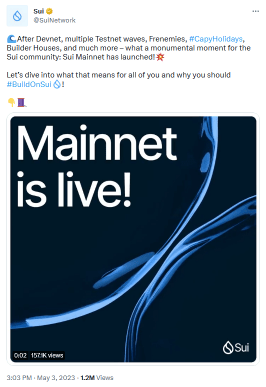 Immediately, big exchanges, including Binance, Huobi, KuCoin, ByBit, OKX and Poloniex, announced SUI listings. Poloniex welcomed SUI token and noted that the total supply of SUI is capped at 10 billion tokens.
We'd like to remind you that if you're looking for the best exchange for SUI token or simply want to buy Sui coin right away, you can do it via StealthEX. Our users can purchase cryptocurrencies using fiat and we still offer the opportunity to buy digital assets at fixed rates.

Make sure to follow StealthEX on Medium, Twitter, Telegram, YouTube, and Publish0x to stay updated about the latest news on StealthEX.io and the rest of the crypto world.
Don't forget to do your own research before buying any crypto. The views and opinions expressed in this article are solely those of the author.
crypto
crypto meme
exchange cryptocurrency
how to buy crypto
SUI
Recent Articles on Cryptocurrency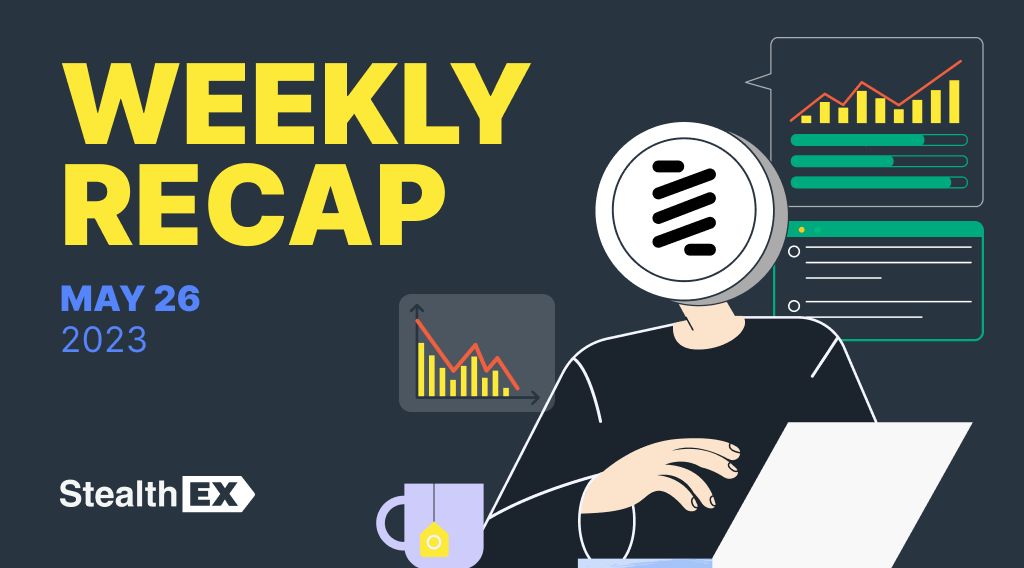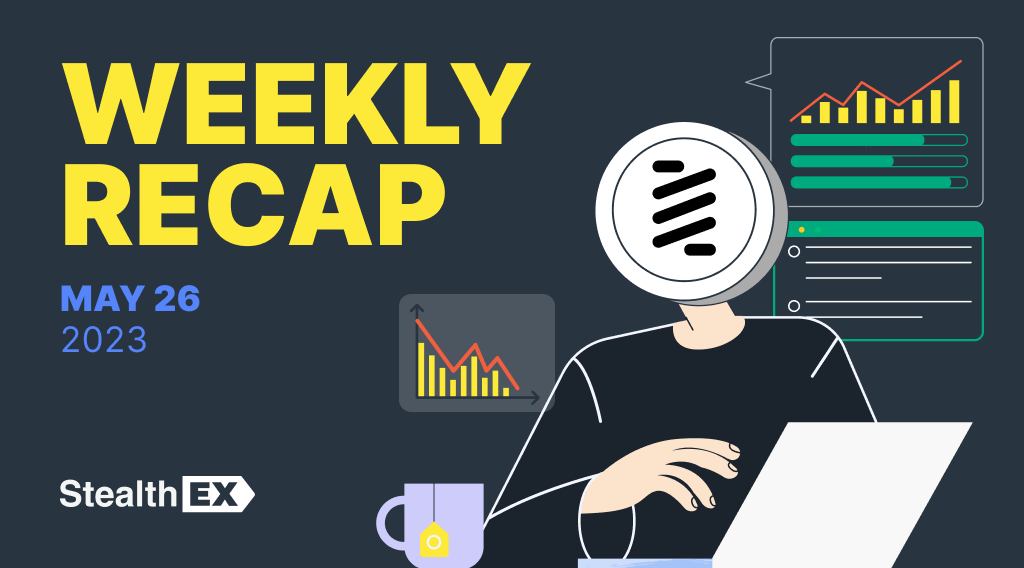 May 26, 2023
Crypto World
Review of the Crypto Market: May 26, 2023
Dive into the crypto market's weekly trends: get the detailed analysis and major news for May 20-26, 2023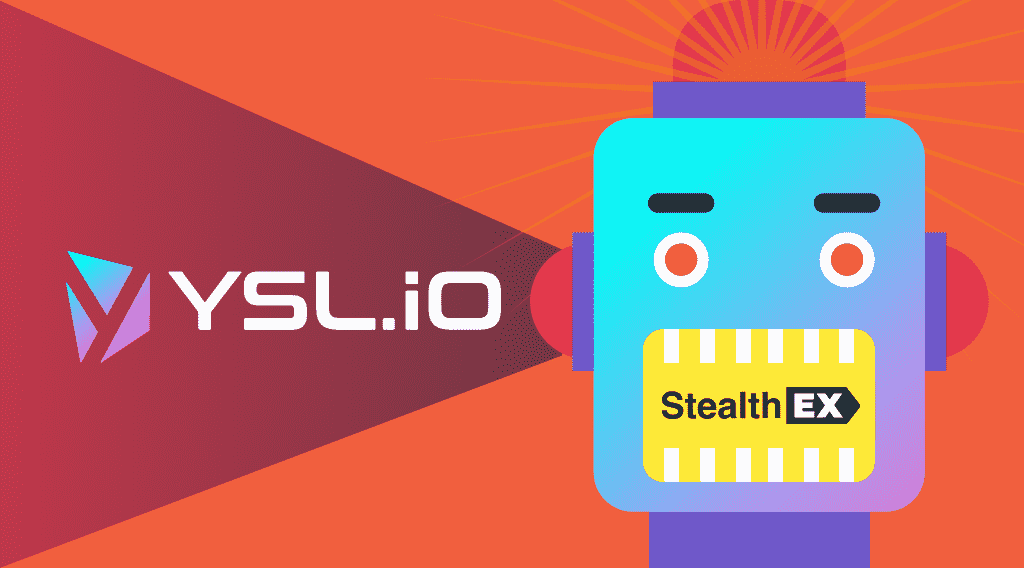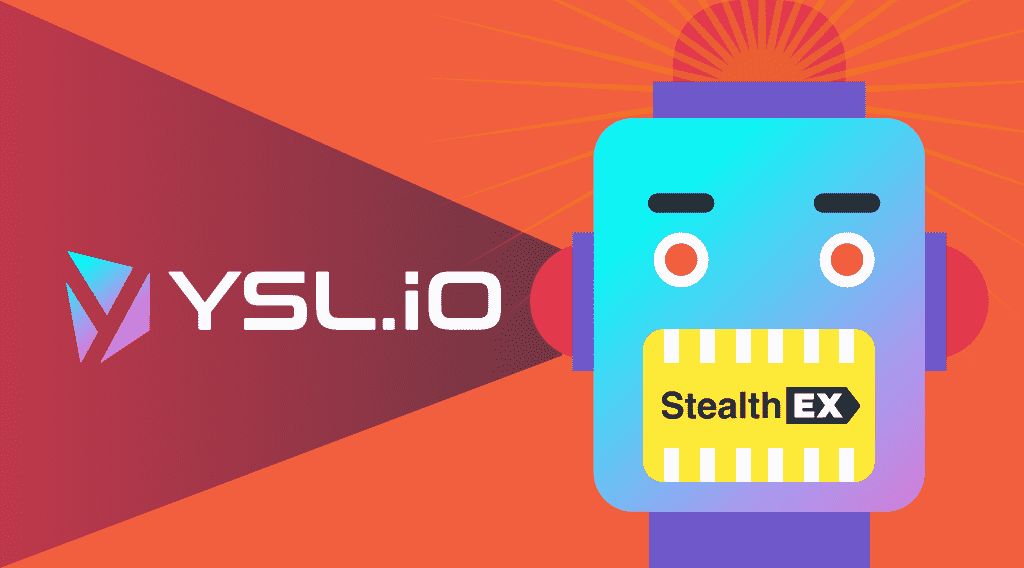 May 25, 2023
Our News
StealthEX Has Been Integrated into ChainZap by YSL.IO
Instant crypto exchange StealthEX partners with DeFi 3.0 protocol YSL.IO for seamless integration into ChainZap