Meet Dogecoin and Other Dog Coins!
October 21, 2021
Crypto World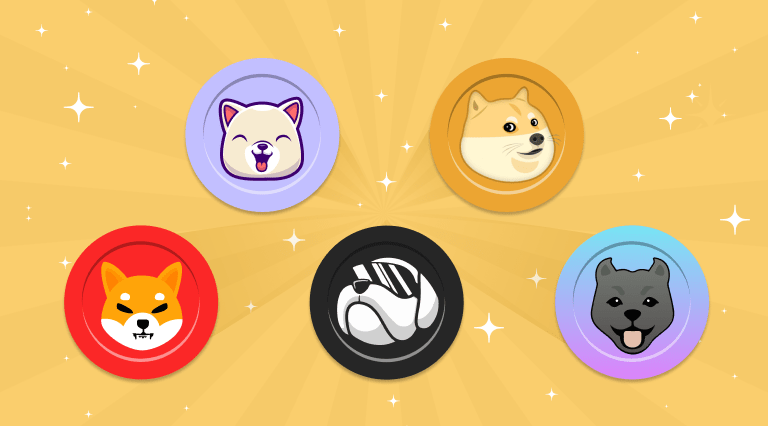 Everyone loves four-legged friends and dog memes. We bring to your attention a special overview of "doggish" coins and tokens. You will learn about the most popular "doggish" cryptocurrencies, where you can buy Dogecoin, and decide whether it is worthy to invest in such cryptos. All this and much more in the new StealthEX article. So let's start.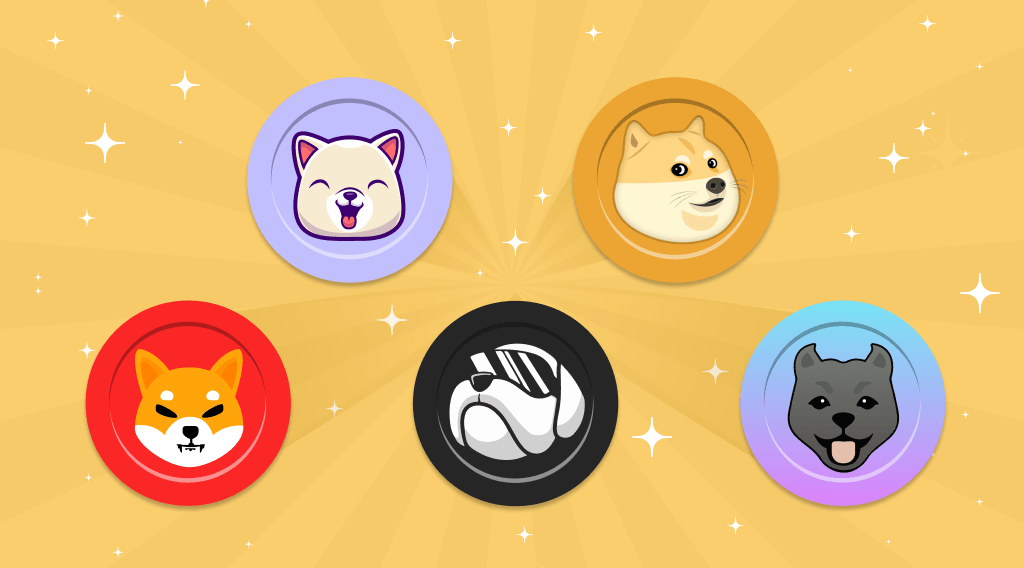 Dogecoin (DOGE)
Dogecoin is perhaps the most famous meme coin on the crypto market. Initially, Dogecoin was not considered a serious project – this cryptocurrency started as a joke, a meme created by Billy Markus, a programmer. He developed the "doggish coin" as a parody of actively growing cryptocurrencies. This is why the technical structure of Dogecoin is quite simple.
Nonetheless, what was once a simple joke, quickly turned into a very real crypto project. Dogecoin quickly gained popularity and acceptance among crypto enthusiasts. And all thanks to the support of Tesla and SpaceX founder Elon Musk, who has already received the nickname "Doge Father", although it is still unknown how many Dogecoins Musk owns.
Each tweet by Musk raises the value of the token to new all-time highs, generating thousands of dollars in profit for the holders of the meme coin. Sometimes, his comments even make the meme coin drop in value.
Elon Musk on Dogecoin
February 2020, after the publication of a tweet by Elon Musk, where he called Dogecoin "a crypto coin for people", the price of the token increased by 50%.
In the spring of 2021, on May 14, Musk tweeted that he was "working with DOGE developers to improve the efficiency of system transactions." After that, the cryptocurrency briefly returned to the top-5 in terms of capitalization.
In advance of Musk's appearance on Saturday Night Live in 2021, Dogecoin reached a record high of 73 cents as fans of the cryptocurrency speculated that he might mention the crypto during the show. After he called the cryptocurrency a "hustle" during the show, DOGE fell about 30%.
Later, on July 1, 2021, Musk announced the impossibility of using the Dojo supercomputer, which is being developed by Tesla, to mine Dogecoin cryptocurrency. Subsequently, the businessman mentioned Dogecoin in two more tweets. After that, the coin rate rose by 13% in less than an hour.
Finally, on July 13, 2021, the head of Tesla once again mentioned Dogecoin, responding to a user's comment about the possibilities of electric vehicles. The subscriber reported that Tesla's autopilot is capable of identifying dogs. In a commentary, Musk suggested that EVs would display the Dogecoin logo if they spotted a Shiba Inu dog. After this comment, at the moment, the DOGE rate grew by 2%, and the Dogecoin cryptocurrency development team told the media that they have been collaborating with Elon Musk since 2019.
In June 2022, Musk tweeted "I will keep supporting Dogecoin" to his 99 million followers, garnering more than 300,000 likes. Just minutes later, one Twitter user replied to Musk's tweet saying "keep buying it then," to which Musk replied that he was. Musk's tweets correlated with an 11.7% increase in DOGE price.
Is Dogecoin a Good Investment?
Today, Dogecoin remains the most popular and most famous meme coin with a capitalization of more than $27 billion. According to experts from PricePrediction, Dogecoin might hit the level of $1 by 2028. In 2031, the cryptocurrency may reach an all-time high of $3.53. Dogecoin remains one of the TOP-10 cryptocurrencies by market cap, so it is likely to follow the price trajectory of large coins in the near future.
Keanu Inu Coin (KEANU)
The skyrocketing cryptocurrency price growth of Dogecoin paved the way for similar cryptocurrencies named after Japanese "inu" (dogs) of different breeds. One of them is the Keanu Inu Coin. Charity is at the center of what the volunteer project team and user community do.
In June 2021, Keanu Inu launched the matrEX swap decentralized exchange. It includes a built-in feature that allows the project to send 0.2% of all transactions to the charity wallet. These funds are then distributed to charities based on user votes.
The project also intends to launch its own NFT market. All proceeds will go to the charity wallet.
Kishu Inu Coin (KISHU)
The Kishu Inu token (KISHU) was launched just a few days after its counterpart Shibu Inu in the amount of 100 trillion coins. The news of the release of a new meme coin instantly attracted the attention of investors and hodlers, and trading in the token exceeded several billion dollars. Kishu Inu was created in April 2021 by an anonymous group of developers, with 31% of the coin's pool being concentrated in their hands. Started as a mem, Kishu Inu grew to over 150,000 holders and a market cap of over 2 billion in less than a year. The total limited supply of Kishu Inu in circulation is 100 quadrillion KISHU tokens.
Hoge Finance Coin (HOGE)
HOGE is a meme token that supports DeFi (decentralized finance). The Hoge Finance project positions its token as "Like DOGE, but DeFi."
Hoge Finance token is not related to DOGE directly, but there are still similarities here: as in Dogecoin, the developers were just having fun creating a token and memes. There were no expectations that it would become something serious. According to the founder, it was decided to create the project after "pumping" DOGE by Elon Musk.
The ERC-20 based meme cryptocurrency, considered the DeFi version of DOGE, has already received its #hogearmy fan base. And obviously, DOGE fans are loyal to the new meme token.
The project offers several games, among them HOGE Runner and HOGE Game, a 2D endless shooter. In the future, the company intends to create a platform that will allow token holders to donate or invest in indie games. Games will be released that will allow community members to use and win HOGE.
Baby Doge Coin (BabyDoge)
The Baby Doge Coin project is an ecosystem using BSC infrastructure. Baby Doge Coin (BabyDoge) is yet another "dog-themed" coin that went the same way as its predecessors.
Due to the intense interest in meme tokens, the Baby Doge Coin project has also managed to reach a serious user base. BabyDoge token, which started to be listed on the stock exchanges in the second half of 2021, has increased by 1000% and has been followed by many.
Floki Inu Coin (FLOKI)
Floki Inu has emerged as one of the hottest meme tokens, named after Elon Musk's Shiba Inu and gaining a cult meme following in 2021. Floki Inu was released after news emerged that Elon Musk had bought a Shiba Inu breed and named it Floki. A multi-chain protocol, Floki Inu is available on both the Ethereum and Binance Smart Chain. With a maximum supply of 10 trillion tokens, Floki Inu's ICO was set at a very affordable price of $0.0000041 per token. During the next few weeks, the coin value almost doubled, going from $0.000002763 on July 28th to $0.000004458 on July 30th, 2021.
Floki Inu has then concentrated on developing its three flagship utility projects – focusing on NFT marketplaces, metaverse-bases games and educational platforms.
Shiba Inu Coin (SHIB)
Shiba Inu is another doggy token that has made a splash in the market. Immediately after entering the market, the SHIB coin began to get listed on the largest exchanges such as Huobi, Binance, OKEX, and many others. Just a day after the launch, the token trading volume reached $20 billion. The SHIB token was talked about as the "Dogecoin killer".
Will Shiba Inu Coin Reach 1$?
The Shiba Inu maximum supply is capped at 1 quadrillion tokens. It implies that Shiba Inu crypto would amass a $1 quadrillion market cap if the token were to reach $1. In this case, Shiba crypto would need to grow its value by 11.5 million percent.
On September 17, 2021, the Coinbase cryptocurrency exchange launched Shiba Inu (SHIB) trading. The asset was previously listed on Coinbase Pro. Against the background of the news, the price of Shiba Inu soared by 35%.
Despite the fact that after the global distribution of tokens by Vitalik Buterin, the SHIB price dropped several times, the coin holders are still confident in its value and ability to generate profit. It is likely that in the long term, SHIB can bring substantial dividends to its holders.
Dogelon Mars (ELON)
Dogelon Mars is a doge-themed token project that aims to replicate the success of Dogecoin (DOGE) while piggybacking on Elon Musk's plans to colonize Mars. ELON is an ERC-20 utility token compliant with the Ethereum network, and its maximum supply is 1 quadrillion.
The founders of Dogelon Mars locked 50% of all the ELON liquidity in a Uniswap liquidity pool. The other half was donated to a wallet owned by Vitalik Buterin, the founder of Ethereum. He then sent the donated ELON to various DAOs and foundations, including the Methuselah Foundation, a non-profit medical charity focused on extending the healthy human lifespan.
Conclusion
Most of the "doggish" coins have low prices. Nevertheless, you can invest in such assets if you are an experienced trader and can predict how tweets from Elon Musk and other celebrities will affect the rates of "doggish" coins. Well, or if you simply love dogs.
Where to Buy DOGE Coin?
StealthEX is here to help you buy meme coins like Dogecoin. You can do this privately and without the need to sign up for the service. Our crypto collection has more than 450 different coins and you can do wallet-to-wallet transfers instantly and problem-free.
Just go to StealthEX and follow these easy steps:
Press the "Start exchange" button.
Provide the recipient address to which the coins will be transferred.
Move your cryptocurrency for the exchange.
Receive your coins!
Follow us on Medium, Twitter, Telegram, YouTube, and Reddit to stay updated about the latest news on StealthEX.io and the rest of the crypto world.
Don't forget to do your own research before buying any crypto. The views and opinions expressed in this article are solely those of the author.
Updated July 1, 2022
Baby Doge
crypto world
DOGE
Dogecoin
Shiba Inu
Recent Articles on Cryptocurrency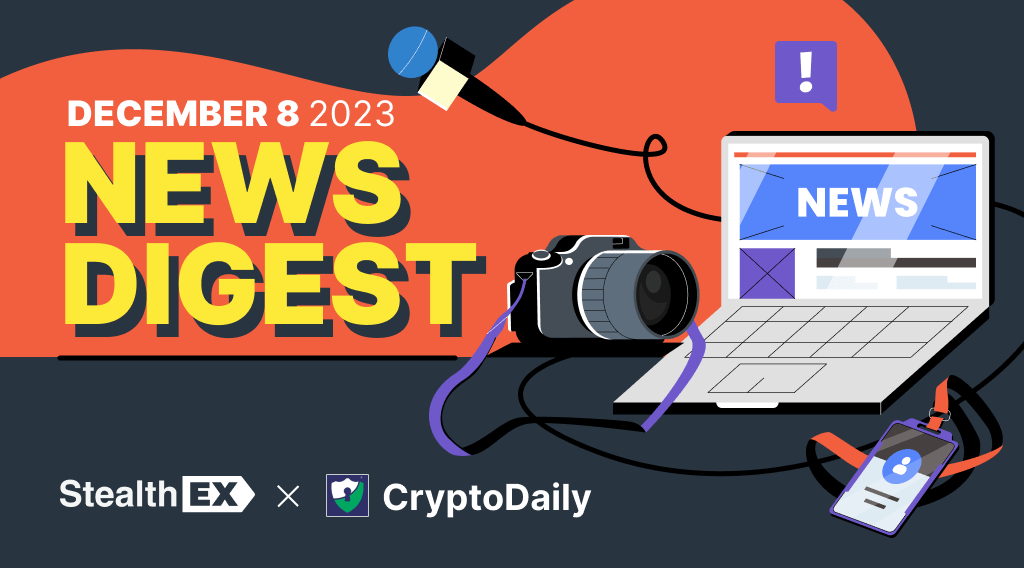 December 8, 2023
Crypto World
StealthEX & CryptoDaily: Weekly Crypto Insights
Explore key cryptocurrency developments and trends in StealthEX's insightful weekly roundup, in partnership with CryptoDaily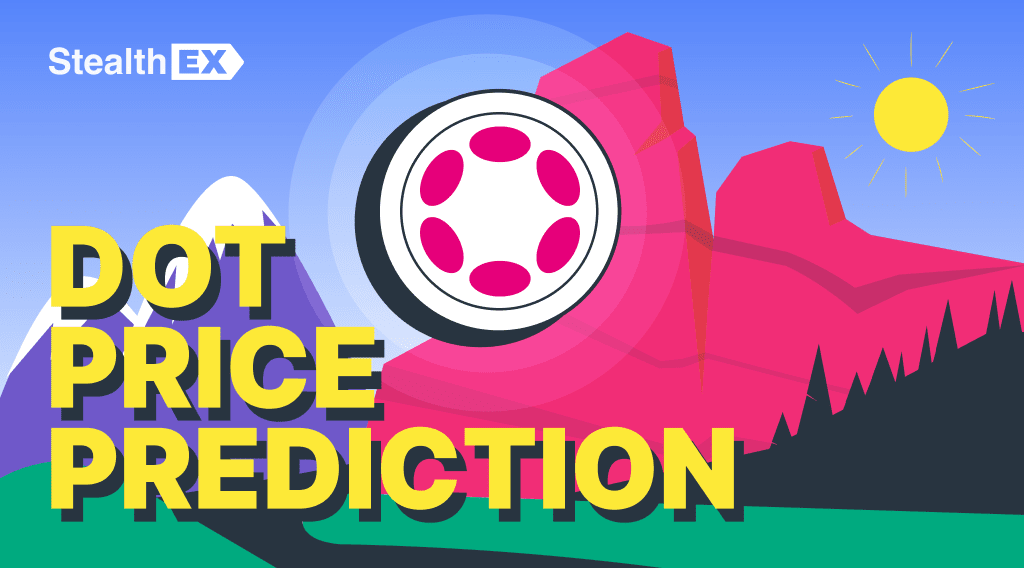 November 29, 2023
Price Prediction
Polkadot (DOT) Price Prediction: Will DOT Coin Reach $1000?
According to the long-term Polkadot price prediction by the end of 2030, the DOT price may rise to $195