Pepe Coin Price Prediction: Can PEPE Crypto Reach $1?
September 7, 2023
Price Prediction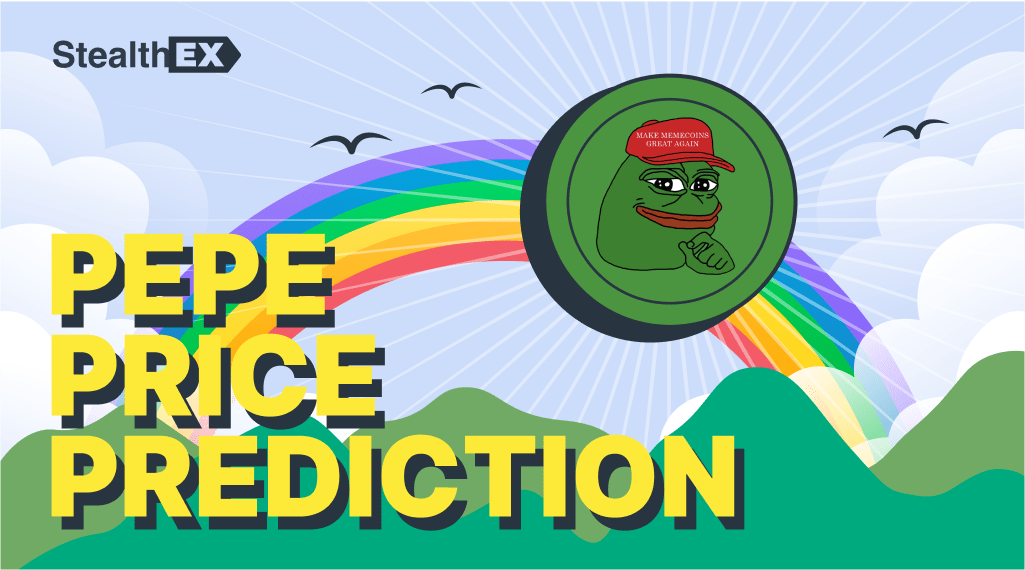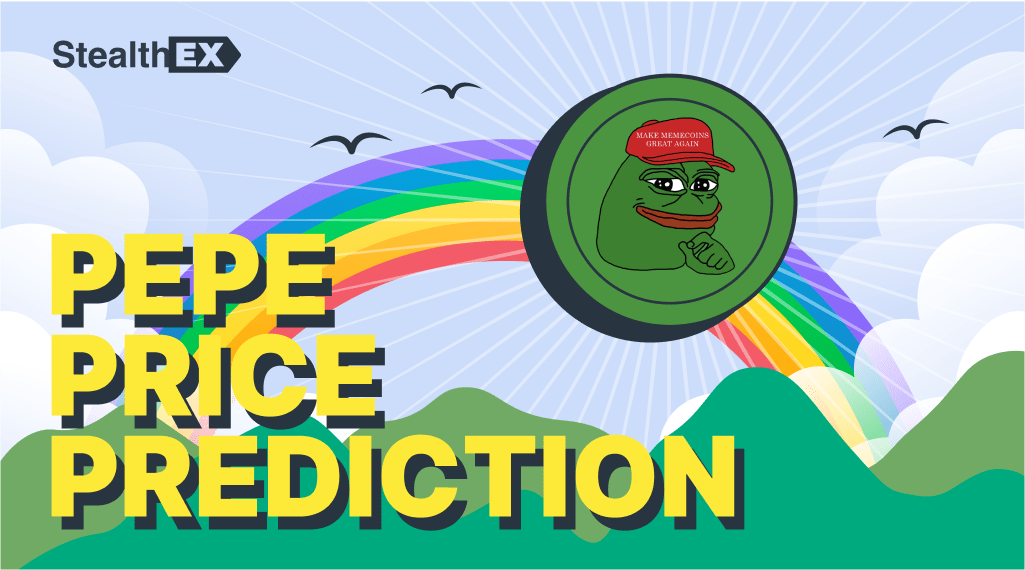 Memes are now an essential part of the Internet. They have existed since the very beginning of Web1 and most likely will for a very long time to come. It shouldn't come as a surprise that they've infiltrated the cryptocurrency industry. Meme coins, in contrast to other coins, concentrate on becoming viral through the explosive nature of memes and their rapid dissemination. Examples include Dogecoin (DOGE), Shiba Inu (SHIB), Floki Inu (FLOKI), and so forth. Last but not least, we have the PEPE coin that experienced a similar explosion in popularity. Read more about PEPE coin price prediction in the new StealthEX article.
| | | |
| --- | --- | --- |
| PEPE Coin Price Now | PEPE Price Prediction 2024 | Pepe Coin Price Prediction 2030 |
| $0.0000007925 | $0.0000024 | $0.0000305 |
$PEPE Coin Overview
PEPE coin is another meme coin which does not hold any fundamental and intrinsic value and has no utility. In fact, it is regarded as the most memeable meme coin built on the Ethereum blockchain and works as an ERC token. The initial entry point on Etherscan was April 18, 2023, when the PEPE meme coin was released around the middle of the month. The meme coin's mascot is Furie's Pepe, a cartoonish frog with a green humanoid body that first appeared in the 2005 comic Boy's Club. The meme went viral in the 2010s and has continued to resurface even years later.
Less than three weeks later, the cryptocurrency entered the top 100 coins by total market capitalization with a market cap of nearly $420 million. PEPE is currently traded on well-known exchanges as Huobi, MEXC, OKX, and others. In addition, it's accessible through a variety of decentralized exchanges, including Uniswap.
PEPE Coin: More About the Project
There is no official team or direction for PEPE coin. The official PEPE website states that the coin has no intrinsic worth and no expectation of financial gain. PEPE was created to profit from the craze around meme coins like Dogecoin, Shiba Inu, and others. Due to this, Shiba Inu and Dogecoin are very similar to PEPE coin; the main difference is that Shiba Inu and Dogecoin are based on dogs, whereas PEPE is based on frogs.
With each transaction in the deflationary system used by PEPE Coin, a small number of tokens are burned. This method aids in establishing scarcity and gradually raises the value of the tokens that have been left.
Additionally, it employs a redistribution scheme in which a percentage of each transaction is distributed to the holders of the current tokens, aiding in user engagement and long-term investment.
Pepe Coin: Tokenomics
The total token supply of PEPE is 420,690,000,000,000. In itself, the number is paying homage to the popular meme numbers 4:20 and 69. 93.1% of the supply has been sent to the liquidity pool, the LP tokens were burnt, and the contract itself was renounced.
The remaining 6.9% of the total supply is being held in a multi-sig wallet and is to be used for future listings on centralized exchanges, liquidity pools, and bridges.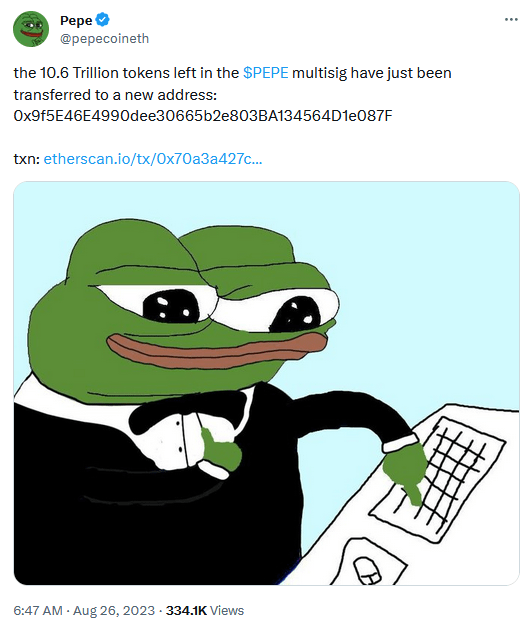 That's at least according to the official website. You can also track this wallet with the ENS name 'pepecexwallet.eth.'
PEPE Price History
The price of Pepe coin rose as much as 6,300% between April 18 and its zenith on May 5, after being listed on a number of major exchanges.
In just two weeks since its introduction, PEPE has managed to break into the top 100 cryptocurrencies by market cap despite having no fundamentals.
According to cryptocurrency data provider CoinGecko, Pepe had a market worth of about $275 million prior to being listed on OKX. Its market cap reached a height of $1.7 billion following its listing on Binance, and in the first week of May, its trading volumes consistently dwarfed those of Dogecoin or Shiba Inu.
The cryptocurrency is currently ranked at position 92 on CoinMarketCap. PEPE coin initially launched on April 15, 2023, for about $0.000000001, and currently one PEPE coin is worth $0.0000007925.
PEPE Price Chart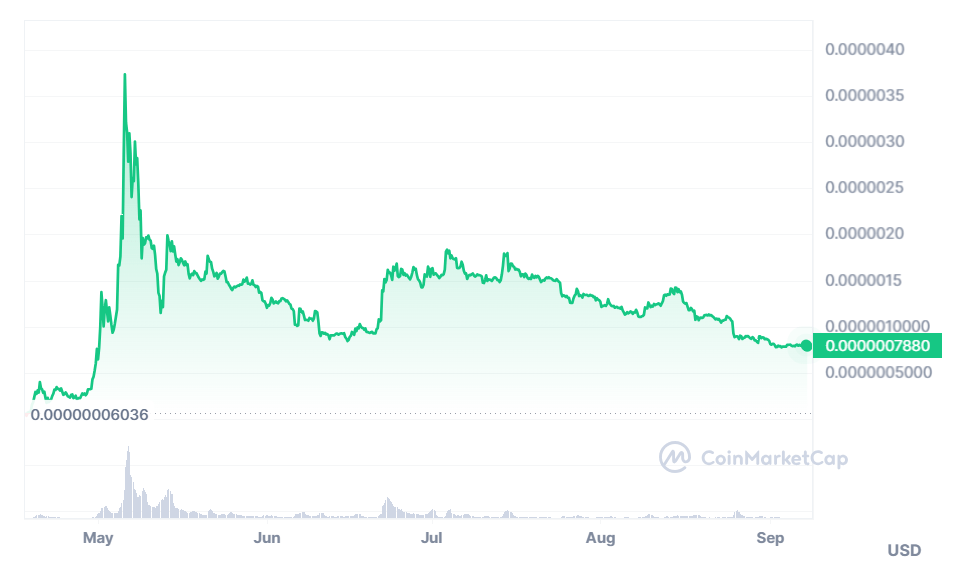 PEPE Coin Price History. Source: CoinMarketCap, 7 September 2023
| | |
| --- | --- |
| Current Price | $0.0000007925 |
| Market Cap | $310.800,000 |
| Volume (24h) | $41.870,000 |
| Market Rank | #92 |
| Circulating Supply | 391.790,000,000,000 PEPE |
| Total Supply | 420,690,000,000,000 PEPE |
| 1 Month High / Low | $0.000001447 / $0.0000007621 |
| All-Time High | $0.000004354 May 05, 20223 |
PEPE Coin Price Prediction
PEPE Price Prediction 2024
DigitalCoinPrice experts believe that in 2024 PEPE might strengthen its position: they expect that the minimum price of PEPE coin might drop to $0.00000168 (+114%), while its maximum price, $0.00000203, would mean a 159% rise in price from its current price level.
WalletInvestor crypto experts believe that PEPE can experience a decline in price to a price level of $0.000000365 (-53%) at its lowest point. At its maximum, PEPE crypto might reach $0.00000164 (+109%), which is a significant price increase.
PricePrediction crypto analysts think that in 2024 PEPE coin might rise in price. According to their calculations, the expected maximum price of PEPE will rise to $0.0000024 (+206%), and it may also drop to a minimum of $0.00000196 (+150%).
PEPE Coin Price Prediction 2025
DigitalCoinPrice experts believe that in 2025, PEPE will continue rising in price. Based on their forecasts, PEPE crypto might go as high as $0.0000024 (+206%) per coin at its highest point. Its minimum price might go as low as $0.00000231 (+194%).
WalletInvestor gives a positive forecast for the meme cryptocurrency: in 2025, it can fall to an absolute minimum and reach a lowest price level of $0.000000527 (-150%). However, PEPE's maximum price might go as high as $0.00000176 (+124%).
PricePrediction claims that the expected maximum price of PEPE coin at the end of 2025 will be $0.00000339 (+332%), and it may also drop to a minimum of $0.00000291 (+271%).
PEPE Coin Price Prediction 2030
According to DigitalCoinPrice, Pepe coin will rise in price even according to very moderate predictions. Based on the experts' forecasts, in 2030, PEPE might go as high as $0.00000820 (+946%) per coin at its highest point. Its minimum price might go as low as $0.00000764 (+875%).
Telegaon experts believe that in 2030, PEPE crypto will considerably rise in price to reach $0.0000186 (+2,274%) at its lowest point. Its maximum price might be even higher – $0.0000305 (+3,793%).
PricePrediction believes that the price of PEPE will rise considerably. According to their website, in 2030 PEPE crypto might reach $0.00002315 (+2,855%), and it may also drop to a minimum of $0.00001923 (+2,354%).
PEPE Price Prediction 2040
According to Telegaon forecasts, PEPE crypto will be making significant progress: in 2040, the highest price PEPE coin may reach is $0.000258 (+32,833%) per coin. It can also drop in price to a minimum of $0.000122 (+15,473%) per coin.
PEPE USDT Price Technical Analysis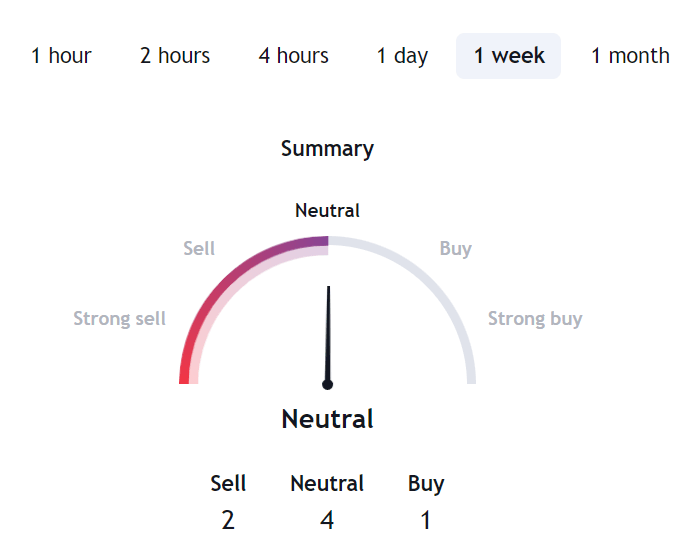 Source: Tradingview, Data was taken on September 7
Now that we've seen what the future can bring for PEPE crypto, let's find out a bit more about what the experts have to say about this meme coin.
PEPE Price Predictions: Experts' Opinions
The Pepe trade makes sense to those who work in the sector. The secret is to avoid the hoopla and dread of losing out that newly released coins can cause as interest increases. The hype around Pepe may still be ongoing given this dynamic and indications that significant market participants known as crypto whales are entering the fray.
Arguably the most significant driver of Pepe's growth is the fact that crypto participants are now familiar with how quickly meme coins can grow. It pays to be early, and this self-reinforcing force pulls in more buyers as the meme grows in popularity.

Chase Devens, senior research analyst at Messari
As Pepe and other tokens are published on cryptocurrency exchanges, their popularity only increases. The meme cryptocurrency's May 1 listing on OKX, which was immediately followed by May 5 replication by Binance, was the first significant reason driving up prices. Listings can operate as implicit endorsements and channel billions of dollars of liquidity to tokens even while exchanges don't officially support coins (Binance has put Pepe in its 'Innovation Zone' for smaller and frequently more volatile coins).
Is PEPE Token a Good Investment?
Pepe draws inspiration from the well-known online meme character 'Pepe the Frog' in an effort to give crypto aficionados a fresh experience. Pepe Coin has built a large community through its offers, including a no-tax policy, a redistributive system rewarding long-term stakeholders, and a burning mechanism to maintain the scarcity of the PEPE coin and increase its value. It's essential to note that the cryptocurrency market is highly volatile, and predictions can change based on various factors. Always conduct your own research before making any investment decisions.
Will Pepe Coin Go Up?
Based on expert forecasts, in 2040, PEPE might go as high as $0.000255 (+30,000%) per coin at its highest point.
Can Pepe Reach 1 Cent?
Pepe's market cap would be $4.0 trillion at one cent, which is utterly improbable. This is way more than the cryptocurrency's total market capitalization at the moment.
Can Pepe Coin Reach $1?
Unfortunately, there is no chance of Pepe Coin reaching a value of $1 in the foreseeable future.
How to Buy PEPE Coin?
StealthEX is here to help you buy PEPE crypto if you want to invest in this cryptocurrency. You can do this privately and without signing up for the service. StealthEX crypto collection has more than 1300 different coins and you can do wallet-to-wallet transfers instantly and problem-free.
Just go to StealthEX, choose the amount and cryptocurrencies you want to swap, click Start Exchange, and get PEPE crypto to your wallet.

Follow us on Medium, Twitter, Telegram, YouTube, and Publish0x to stay updated about the latest news on StealthEX.io and the rest of the crypto world.
Don't forget to do your own research before buying any crypto. The views and opinions expressed in this article are solely those of the author.
crypto price prediction
PEPE
Pepe Coin
price analysis
price prediction
Recent Articles on Cryptocurrency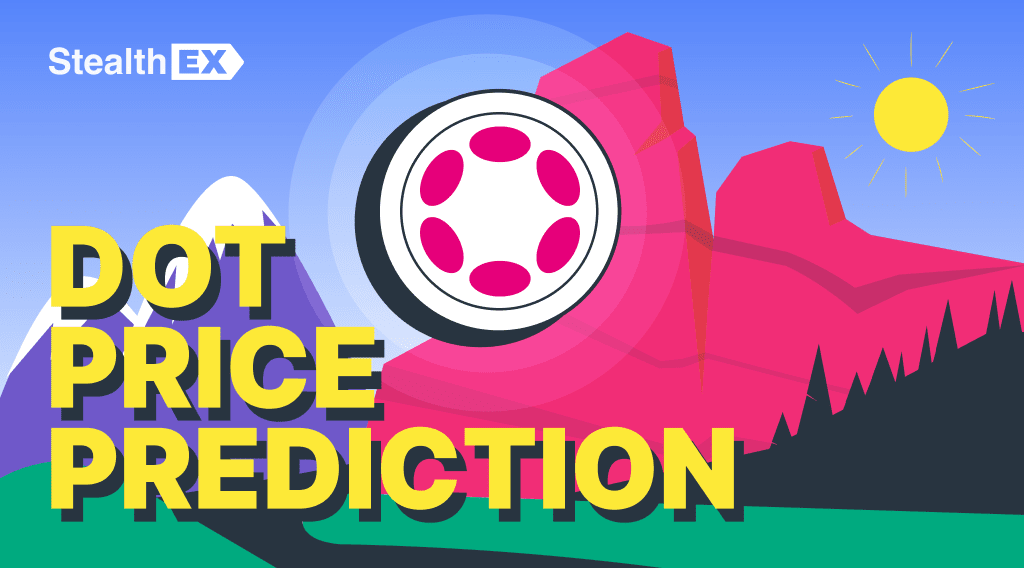 November 29, 2023
Price Prediction
Polkadot (DOT) Price Prediction: Will DOT Coin Reach $1000?
According to the long-term Polkadot price prediction by the end of 2030, the DOT price may rise to $195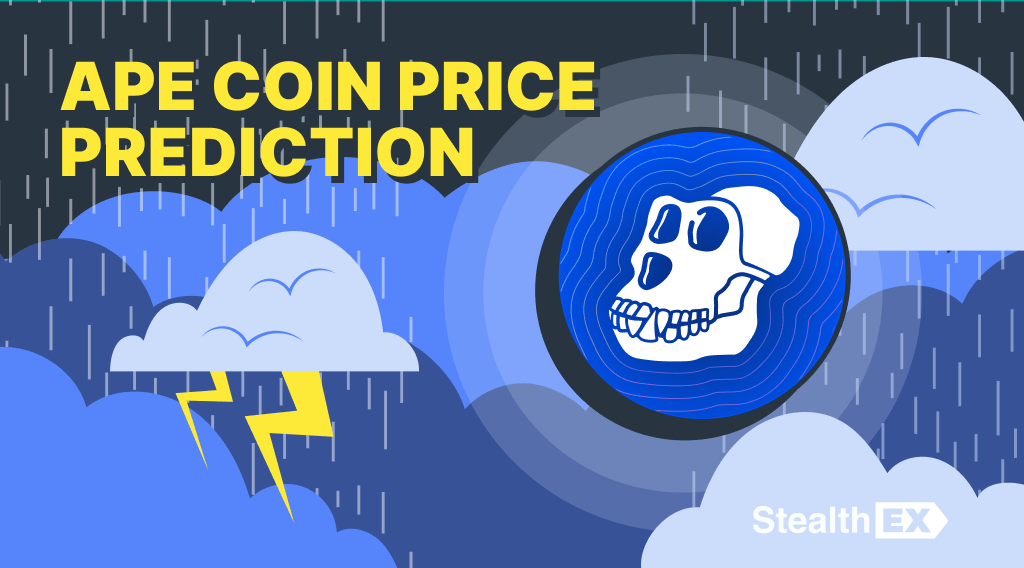 November 29, 2023
Price Prediction
ApeCoin Price Prediction: Is APE Coin a Good Investment?
According to the long-term ApeCoin price prediction by the end of 2030, the APE price may rise to $250