Review of the Crypto Market: April 21, 2023
April 21, 2023
Crypto World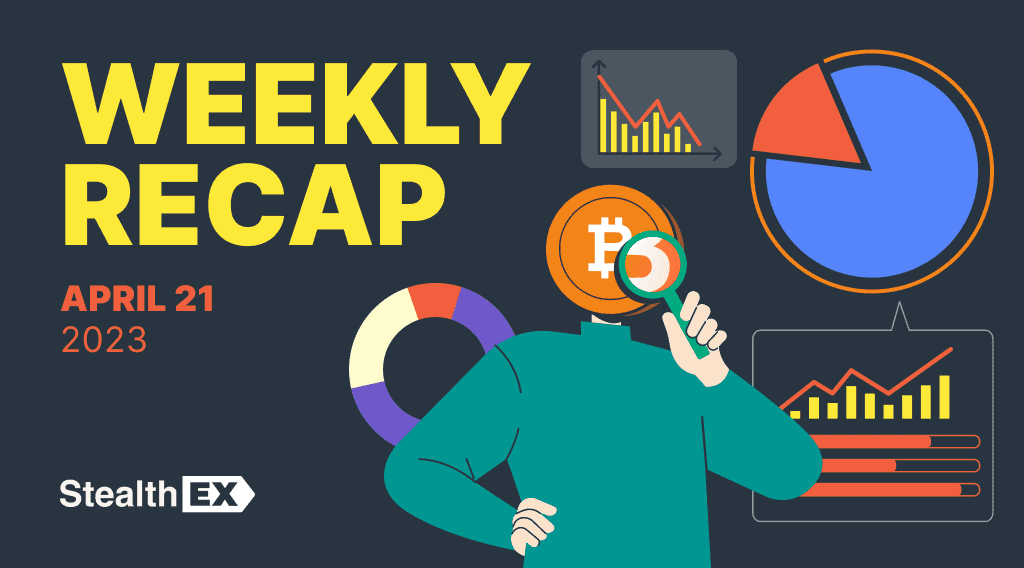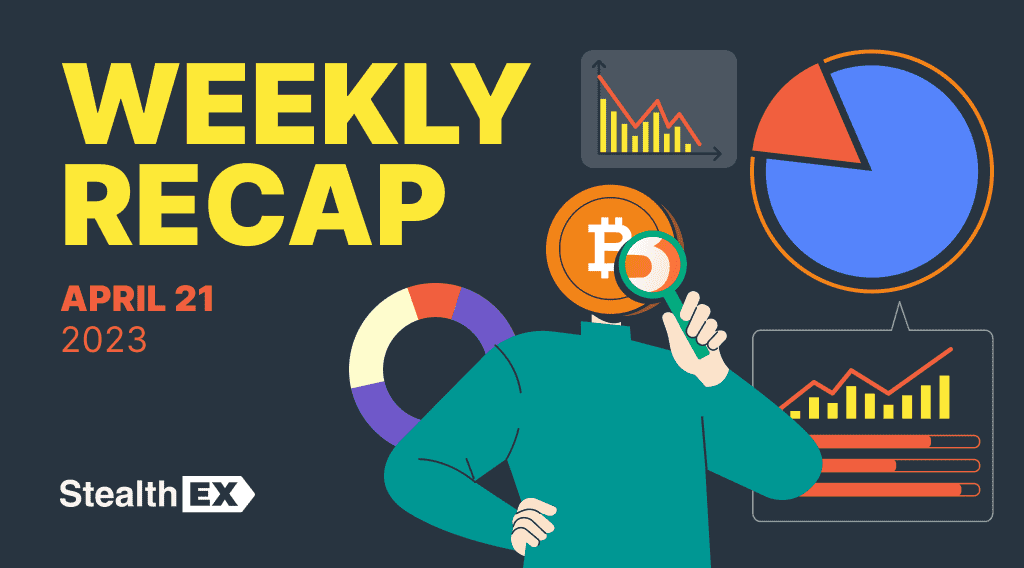 Last week Bitcoin managed to break through the psychological barrier of $30,000. Everything seemed to indicate the initial crypto was heading "to the moon". However, the situation turned around, and BTC recorded a massive red candle—likewise, ETH, which soared above the $2,000 mark after the Shapella update.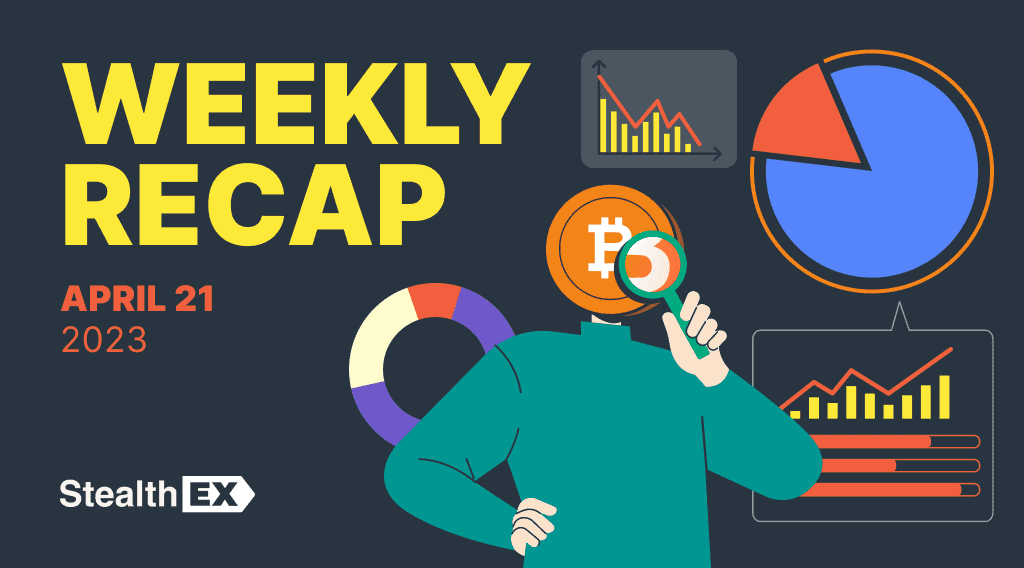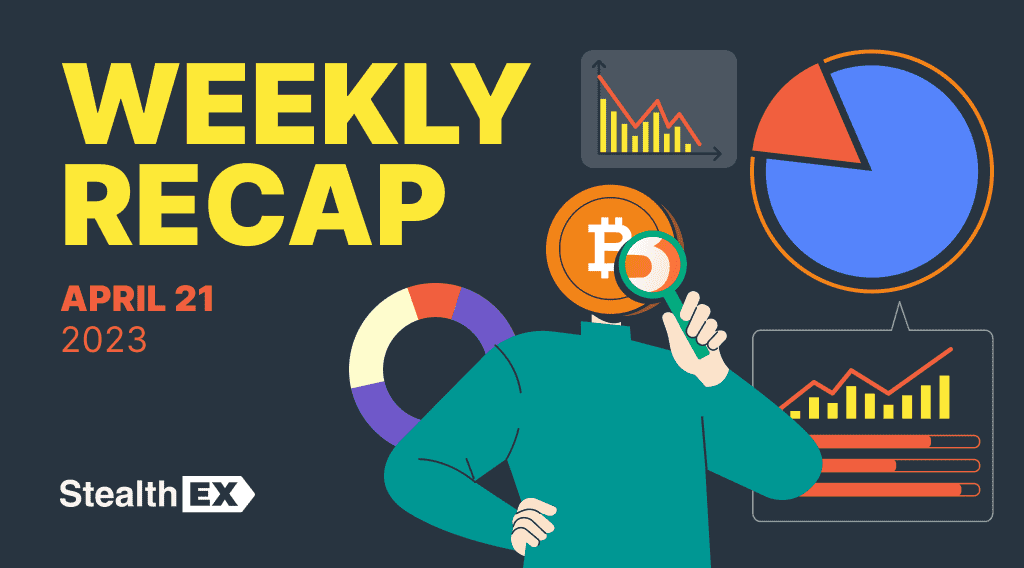 As every week, we welcome you to our routine weekly recap. Let's check out together what happened to crypto this week. Take a brief look at how the BTC and ETH price charts are doing, and then discuss the most important news.
What Happened to Crypto This Week?
Classically, let's start our recap with a quick review of the USD price charts for Bitcoin and Ethereum. Let's check out how these coins have performed over the past week and where they stand today.
Bitcoin Price in USD This Week
Last week, the price of BTC broke through $30,000. Now, however, the situation has gotten worse. Indeed, Bitcoin has recorded a massive red candle. So, what is the Bitcoin price today? Currently, BTC costs about $28,200. Its market cap is $546 billion. The 7d high of BTC was a little over $31,000, while the 7d low was a little under $28,000. The dominance of the crypto's king has fallen and is now back to 44%.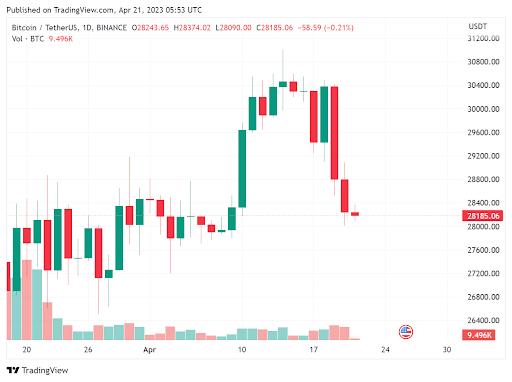 As for investor sentiment, it, too, has declined. The Fear and Greed Index currently indicates a level of 50, which is neutral. In recent weeks, greed dominated the market.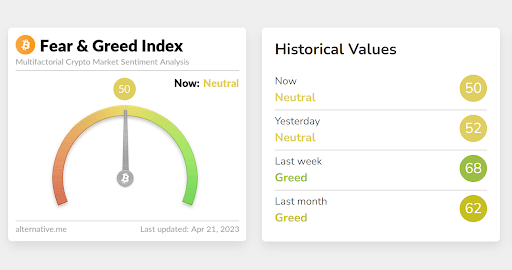 Ethereum Price USD This Week
Ethereum's situation looks similar to Bitcoin's. First, there was an uptrend driven by the Shanghai update, but suddenly a high red candle emerged on the chart. ETH fell from a level above $2100. The current price of Ethereum is $1934, and the market cap of Vitalik Buterin's project stands at $233 billion. Over the past week, the cryptocurrency has been trading in a price range of $1,900 – $2,150. ETH's dominance increased slightly this week and totals 18.8%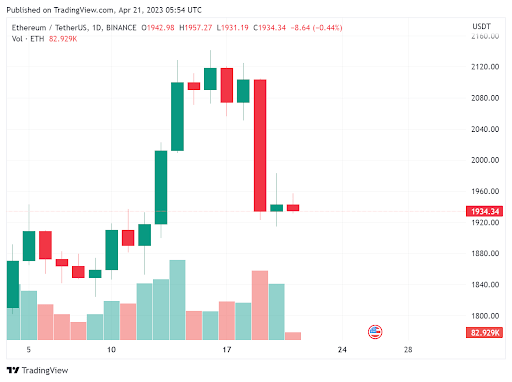 Biggest Crypto Gainers This Week
In the past week, BTC and ETH saw declines of 7% and 4%, respectively. However, quite a few cryptos provided investors with sizable returns during the same period. Which coins have done best? Which projects are the biggest crypto gainers this week?
Other projects in the TOP 100 that have experienced higher increases than Bitcoin are Radix (XRD) and Zilliqa (ZIL). As you can see, these tokens belong to completely different categories, from exchange tokens to meme coins. You can't see any correlation between them.
Crypto News of the Week
Since we now know how Bitcoin and Ethereum behaved last week and that their prices were falling, it's time to analyze the most important news of the past week. This may brighten up the situation.
Twitter Partners With eToro to Make Investing in Crypto Easier
Twitter gives its users access to stocks, cryptocurrencies, and other financial assets, all via a partnership with eToro. The new feature lets Twitter users view market charts and buy and sell stocks and other assets with eToro. All the user has to do is type $btcusd in the site's search engine, for example, and – when a BTC price chart is displayed – click on "View on eToro."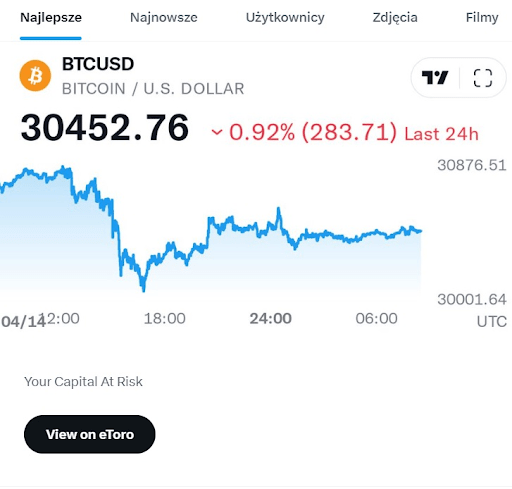 The new project aligns with Musk's vision of making Twitter a "super-app." Earlier, he caused controversy with his moves – he reduced the number of employees from 8,000 to 1,500. His actions spooked advertisers. However, Musk says they have already returned to the company.
There are many indications that the Tesla chief wants to design an app offering users various services, such as communication or banking. The concept is wildly popular in East Asia. Indeed, Internet giant Tencent offers payments in China through its messaging app, WeChat.
Fintwit, as a new version of Twitter is beginning to be called in social media, has already made it possible to track the prices of various assets in December 2022. The so-called cashtags also included Bitcoin and other cryptocurrencies. The service has already been used as many as 420 million times this year.
But how do cashtags work? When someone tweets the symbol of a particular stock or cryptocurrency and puts a "$" sign in front of its name, there will be a post with current rates and charts of the assets in question.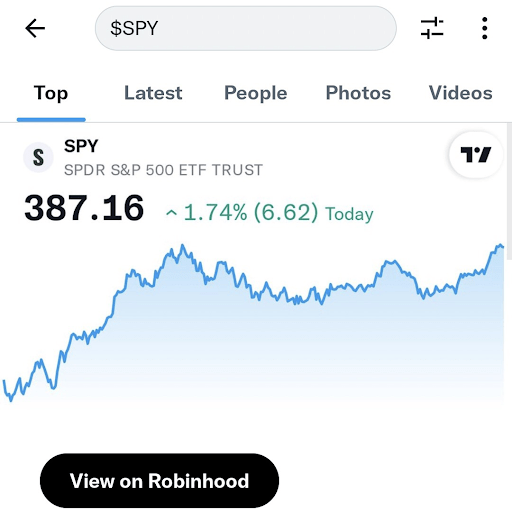 Bittrex Terminates US Operations Due to SEC
U.S. cryptocurrency exchange Bittrex could become the SEC's next target. The company is facing a lawsuit over, among other things, alleged violations of regulations related to investor protection.
In March, the SEC was said to have informed Bittrex of potential enforcement actions. Bittrex's general counsel, David Maria, noted that the company began winding down its US operations in late March this year.
In a notice of potential enforcement action – the so-called Wells Notice – the SEC wrote that Bittrex had violated the law. Among other things, it broke the law by operating as an exchange and also as a broker-dealer without registering with the regulator. According to the company's general counsel, Bittrex discussed with the SEC in late 2022 how it could fully register its operations in the US.
The company argues that regulations in the US are structured in such a way as to block it from offering revenue-generating services. Attorney David Maria pointed out that Bittrex's inability to comply with SEC rules is primarily due to the SEC's incompetence. This is because the agency still needs to provide the market with clear regulations on crypto. This "lack of regulatory clarity here results in significant costs and uncertainty about what can and cannot be offered," he said.
Coinbase May Move from the US to the UK
Coinbase's exchange may eventually move from the US to the UK. The company maintains a fairly warm relationship with the British government, and the UK is also seeing huge turnover on its platform and sizable profits from investors there. The UK is an affordable destination for cryptocurrency players. Especially those that are forced to leave their current territory of operation as a result of legal difficulties.
This is precisely the situation in the United States. Indeed, the wild policies of the SEC are making it difficult for digital asset companies to operate. On Tuesday, Coinbase CEO Brian Armstrong gave an interview with CNBC television. During it, he talked about his company's attitude towards the SEC's actions. He also outlined what they plan to do as a result of the Wells Notice they received and what solution they might adopt in the wake of the regulatory difficulties.
The exchange's CEO announced that if work on crypto regulation in the United States does not progress, Coinbase may move its headquarters to London. Armstrong said his business is close to going on the warpath with the SEC and meeting the commissioners in court. The goal of the legal battle is to gain clarity in the context of how federal securities regulations are expected to invade cryptocurrency entities.
Tornado Cash Developer Will Go Free
In August 2022, the US government attacked the crypto mixer Tornado Cash. At the time, it placed the service on a strict sanctions list. Tornado Cash was alleged to facilitate money laundering. In response, Dutch authorities arrested one of the developers in Amsterdam. He was taken into custody for quite a long time.
Indeed, a judge decided in February not to release Pertsev until April. His sentence was extended for the same reason as in October, namely because of fears that the man would flee the country and obliterate evidence when he was temporarily released. Now, however, that time has come. It turns out that the Tornado Cash developer will be released – he has been allowed to await trial at home. The court requires Pertsev to be electronically monitored, but he is free and does not have to pay bail. The next hearing will be held in 's-Hertogenbosch on May 24.
News and Updates from StealthEX Partners
Every week, in addition to the usual news from the crypto world, we also bring you news from our partners. This week we have new info from Bounce Finance and Space ID (ID).
Bounce Finance Establishes Several Partnerships
The Bounce Finance protocol is growing at an insanely fast pace. This project is closing partnerships one after another, and there is no sign of slowing down. Only this week, it launched partnerships with BlockVision, MES Protocol, Zealy, and several other platforms.
The project is also firmly committed to its community. Indeed, it holds regular AMAs in which it answers its questions – which is why it's worth following Bounce Finance's Twitter.
Space ID launch DAO and $ID token buyback
The Space ID project has announced that it is creating its own DAO and will conduct a $ID token buyback. In the team's own words, it is intended to be "a community-driven platform that promotes our shared vision."
Users can already apply to become delegates here. For more information on the new Space ID DAO, see the post on Medium.
---
Follow us on Medium, Twitter, Telegram, YouTube, and Publish0x to stay updated about the latest news on StealthEX.io and the rest of the crypto world.
Don't forget to do your own research before buying any crypto. The views and opinions expressed in this article are solely those of the author.
Bitcoin
crypto
crypto world
cryptocurrency
Ethereum
Recent Articles on Cryptocurrency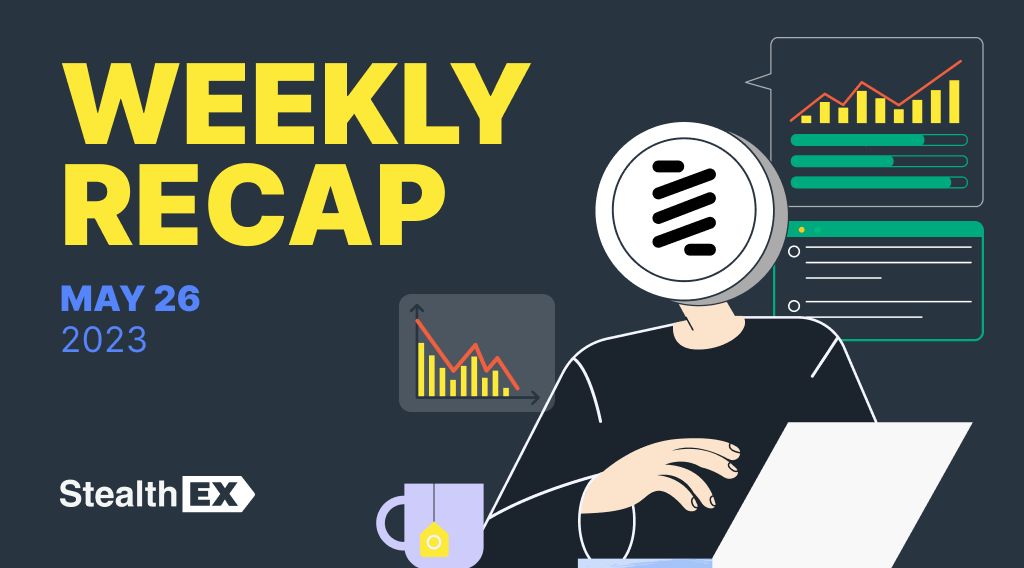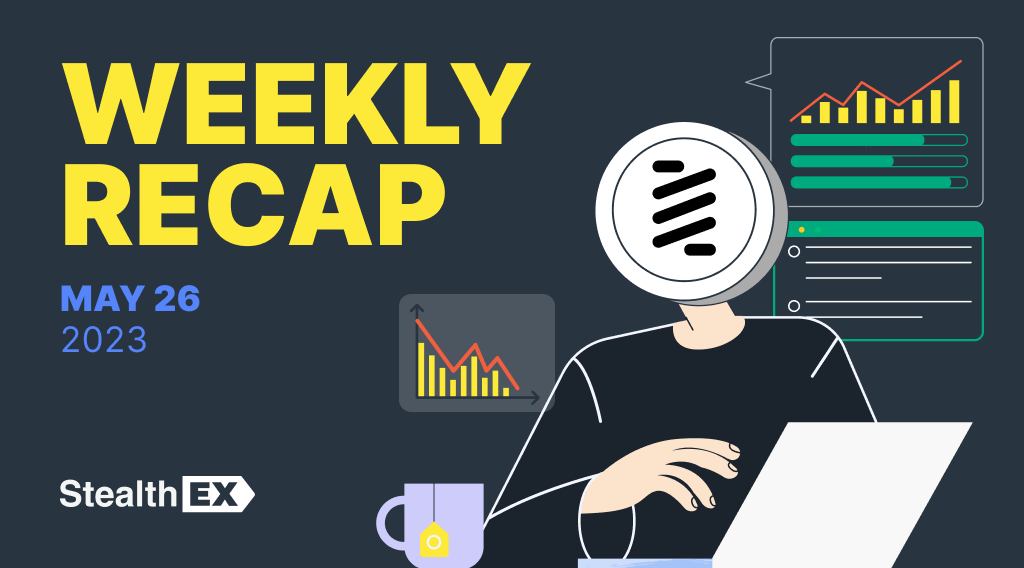 May 26, 2023
Crypto World
Review of the Crypto Market: May 26, 2023
Dive into the crypto market's weekly trends: get the detailed analysis and major news for May 20-26, 2023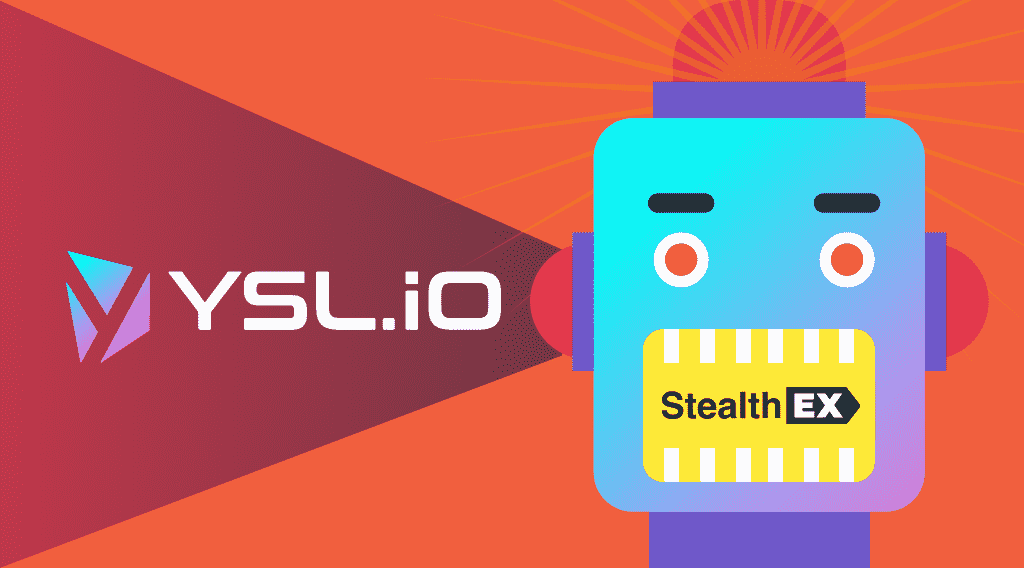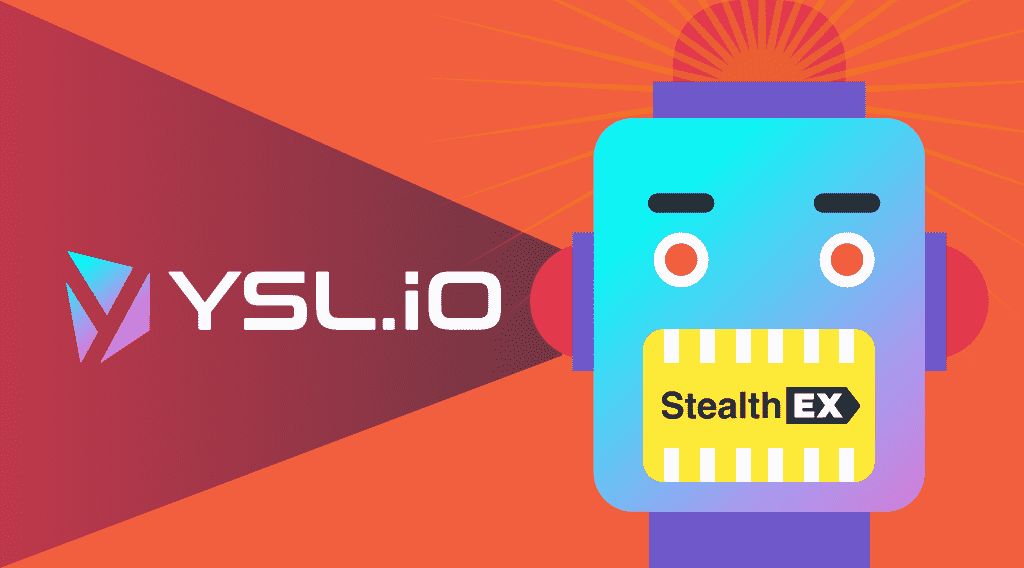 May 25, 2023
Our News
StealthEX Has Been Integrated into ChainZap by YSL.IO
Instant crypto exchange StealthEX partners with DeFi 3.0 protocol YSL.IO for seamless integration into ChainZap