StealthEX Welcomes Solar
November 24, 2022
Our News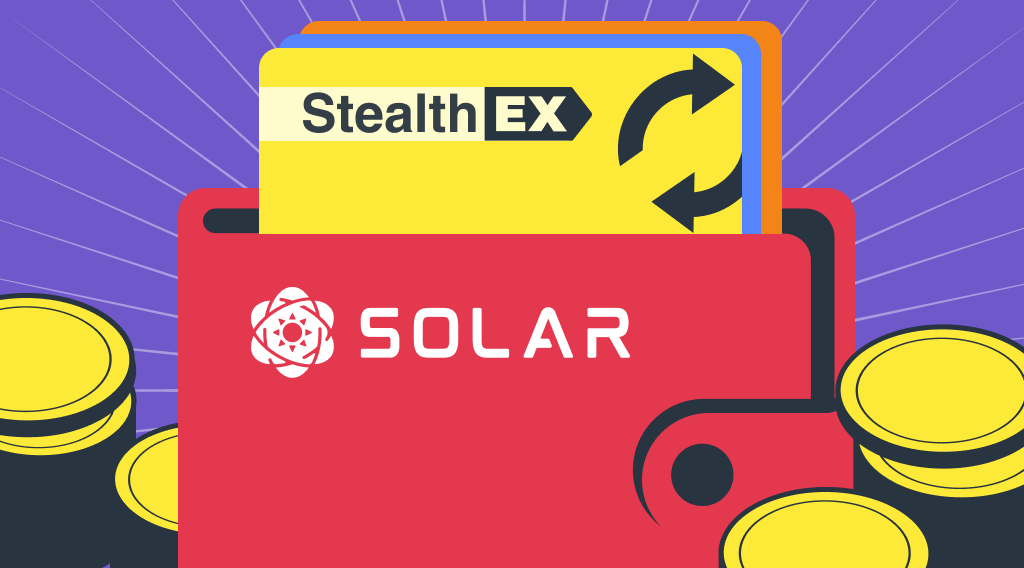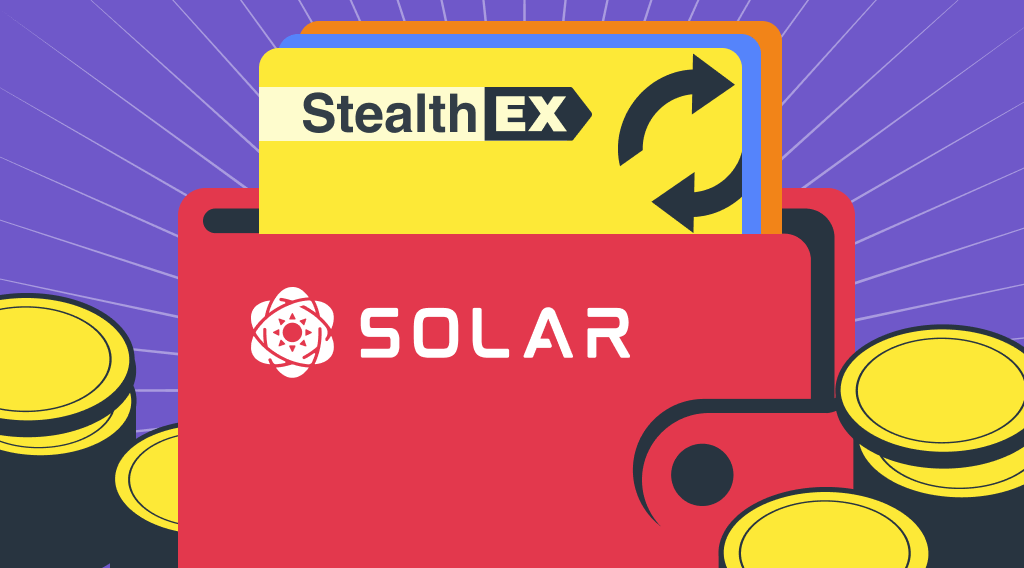 StealthEX is happy to expand its horizons. The upcoming joint efforts include close collaboration with Solar, a fully decentralized blockchain and open-source network which supports the SXP blockchain. The SXP blockchain operates via a Delegated Proof of Stake consensus and is secured by 53 voted-in delegates that produce blocks and validate transactions.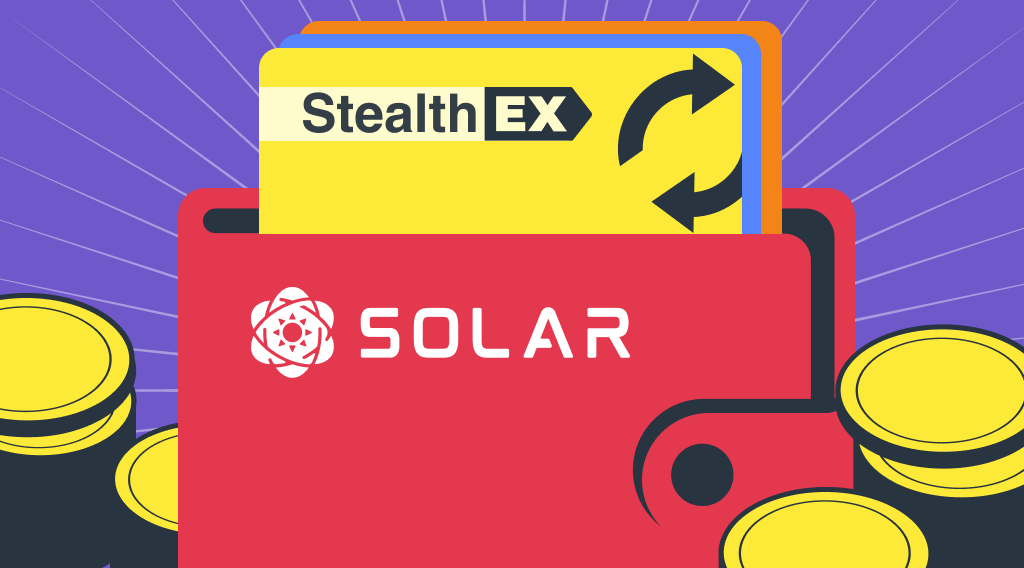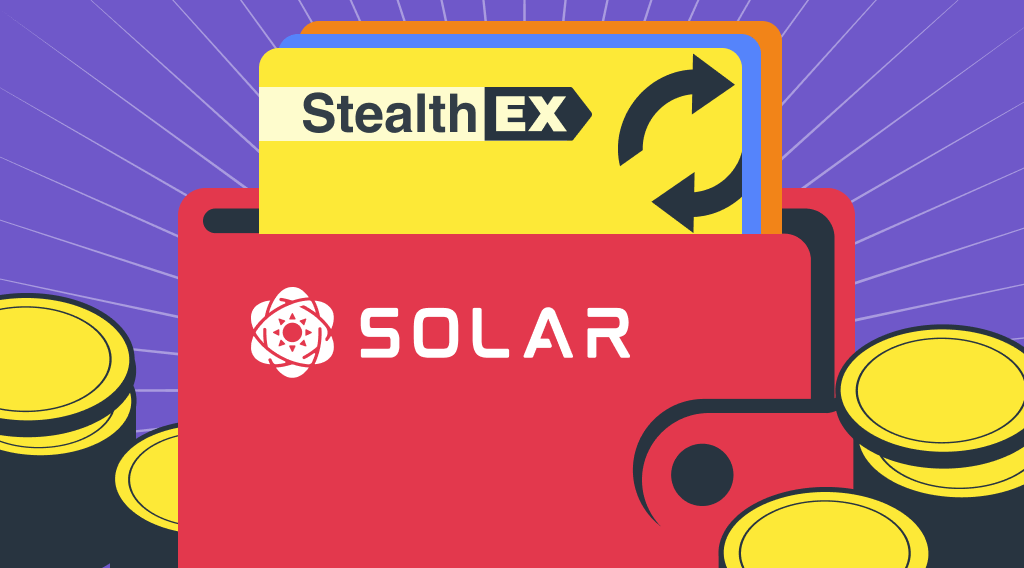 Solar provides its users with a range of wallets. The Solar Wallet helps crypto enthusiasts connect with the SXP Blockchain. In addition to payments and vote transactions, the wallets will be further enhanced with a vast number of tools and features to interact with the blockchain and the Solar community.
The wallets are available in three versions: desktop, mobile, and browser. The desktop version can be downloaded from the official Solar website for Windows, MacOS, and Ubuntu. Solar Mobile Wallet is currently only available for Android as part of the Open Testing program. The Solar Browser Wallet called Armor was accepted by the Chrome Web Store and is currently undergoing an internal audit.
Solar Blockchain Foundation: About
The Solar Blockchain Foundation is a non-profit organization established in Estonia that aims to develop a blockchain ecosystem, including open-source components and wider community involvement.
Solar is powered by Solar Core, which has improved on the security of the Blockchain Framework by fully utilizing Schnorr for signatures and no longer using ECDSA signatures.
Solar is essentially a safe and secure Layer-1 Blockchain Framework. As mentioned, it utilizes the Delegated Proof of Stake consensus, also known as DPoS. The blockchain with its own native coin named SXP is fast, modular, sustainable, efficient, and fully decentralized without the known issues and vulnerabilities from traditional Proof-of-Work (PoW) blockchains. The Delegated Proof-of-Stake consensus with 53 delegates, also known as node operators or validators, is responsible for securing and maintaining the network with high-end servers.
The project is actively maintained on Github, and this lets anyone create a PR or open an issue on the website's repositories to discuss any potential suggestions for the Solar code and its development. The company does its best to ensure that the framework stays safe to use for its users and for anyone participating in the Solar project.
SXP Coin, Voting, and Staking
The SXP tokens that currently exists on ERC20 and BEP20 (wrapped BEP2) will be migrated to the SXP mainnet. The complete swap details for users can be found at solar.org/swap.
Block rewards are inflationary coins, meaning the total SXP supply is increased by 530 SXP per round. This serves as a form of consistent inflation that reduces over time due to the non-fluctuating rate of rewards. However, the amount of block rewards may be changed in the future by modifying the milestones of the Solar Core. Modifying the future block rewards or to introduce halving requires the approval from delegates and voters and the wider community. Block rewards and transaction fees are awarded to the active delegate responsible for validating a given block and securing the network.
SXP coin holders can vote for delegates within the Solar Desktop wallet. The SXP stays in the voter's wallet and is not transferred to the delegate. It is the vote weight that counts. Voter's funds are not locked up for any amount of time and they are free to vote and unvote at will. Voters can choose which delegates they would like to vote for by reading the delegates' proposals on the Solar Delegates website. Depending on the delegates' proposal voters can earn staking rewards which are automatically transferred to their wallet. Delegates are expected to contribute to Solar to help its development by contributing with marketing efforts, tech support, content creation, or security.
StealthEX to Welcome Solar
Solar is looking forward to new developments, expanding their Metaverse game D53, developing an NTF Marketplace, and much more. We look forward to working with Solar and eagerly anticipate their new features, products, and tools. We also hope to provide more tailored services to our users together with this innovative decentralized platform.
---
Follow us on Medium, Twitter, Telegram, YouTube, and Publish0x to stay updated about the latest news on StealthEX.io and the rest of the crypto world.
Don't forget to do your own research before buying any crypto. The views and opinions expressed in this article are solely those of the author.
crypto news
Solar
Solar Network
StealthEX news
SXP
Recent Articles on Cryptocurrency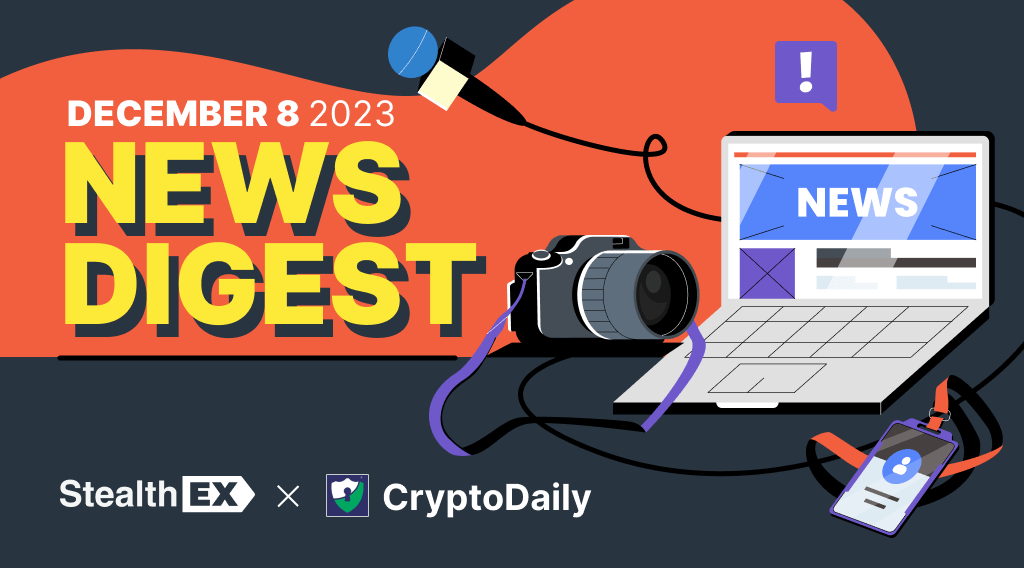 December 8, 2023
Crypto World
StealthEX & CryptoDaily: Weekly Crypto Insights
Explore key cryptocurrency developments and trends in StealthEX's insightful weekly roundup, in partnership with CryptoDaily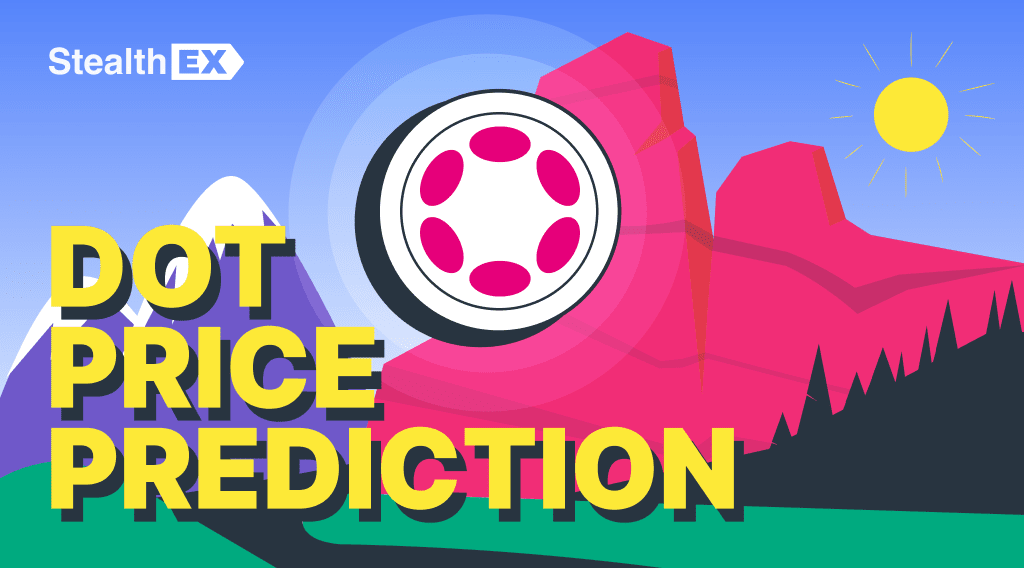 November 29, 2023
Price Prediction
Polkadot (DOT) Price Prediction: Will DOT Coin Reach $1000?
According to the long-term Polkadot price prediction by the end of 2030, the DOT price may rise to $195