Expand Your Stablecoins with Tether Gold and Euro Tether
April 5, 2023
How to Buy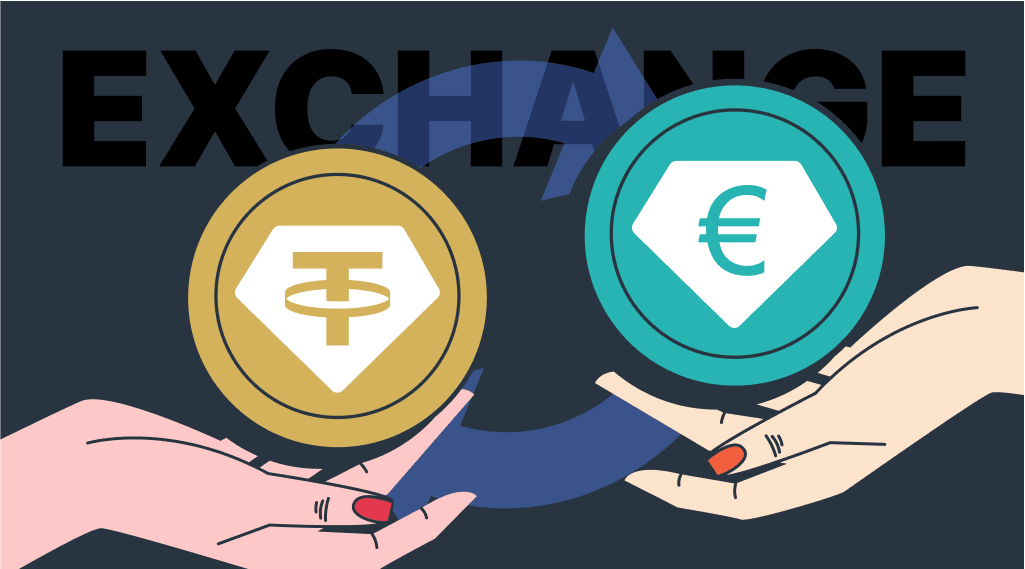 StealthEX is glad to announce that it added two sought-after exchange options to its platform: Tether Gold (XAU₮) and Euro Tether (EUR₮)! Stablecoins have always been in demand, since cryptocurrencies are extremely volatile, and to offer its customers a wider range of stablecoin options, StealthEX has included these two coins into its vast crypto collection of over 700 digital assets.
We are pleased EUR₮ and XAU₮ have been listed on a crypto exchange that especially prides itself in its speed, security, and non-custodial nature. We believe StealthEX customers will be excited to have access to these tools for financial freedom that are backed by the same company behind the world's first, largest, most liquid, and most widely used stablecoin.

Paolo Ardoino, CTO at Tether, tether.to
The service has a number of other Tether digital currencies freely available for exchange, including Tether OMNI (USDT), Tether TRC20 (USDTTRC20), Tether Binance Smart Chain (USDTBSC), Tether Solana (USDTSPL), and many more Tether variations. Tether tokens are considered to be the most popular stablecoins, having pioneered the concept in the digital token space. Read more about XAUT and EURT coins in the new StealthEX article.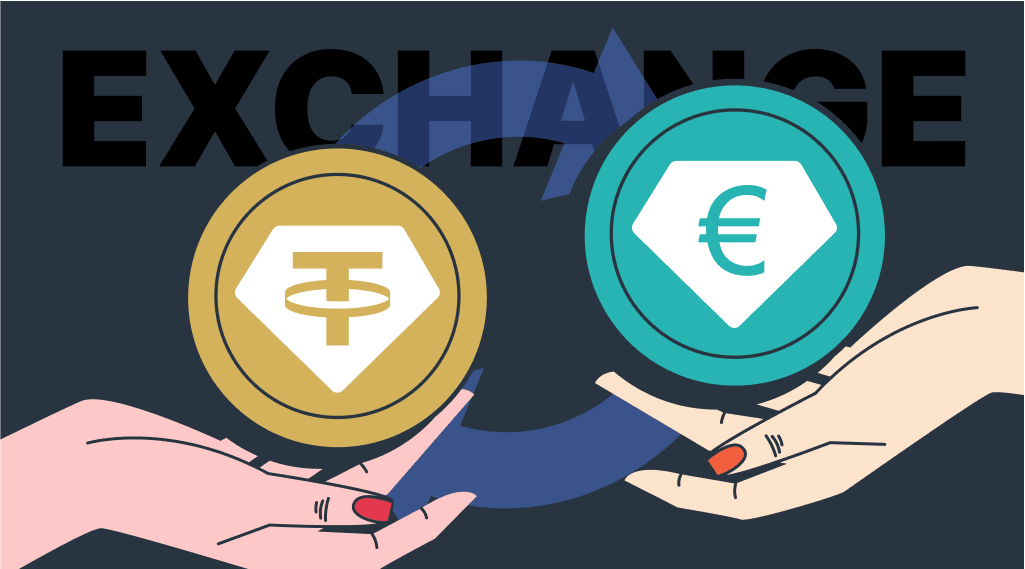 Tether Gold & Euro Tether: Secure Digital Gold & Euro Investments
Digital Gold Investment Made Easy with Tether Gold (XAUT)
Tether, the company behind the industry standard USDT stablecoin, has created a range of non-volatile digital assets. The firm operates like a platform and issues blockchain-based tokens that are linked to the prices of government monies like the Euro, the Dollar and the Chinese Yuan, or commodities like gold. XAUT crypto is a cryptocurrency pegged to the price of gold to provide an easy and accessible way for investments. Every one Tether Gold is equal to a troy ounce of gold, which are backed using physical London Good Delivery (LGD) standard bars. The LGD guidelines require a bar to have 400 troy ounces.
The Tether Gold website states: 'Holders of XAUT obtain the combined benefits of both physical and digital assets. XAUT token holders will be able to enjoy ownership of gold while avoiding drawbacks associated with physical gold, such as high storage costs and limited accessibility.'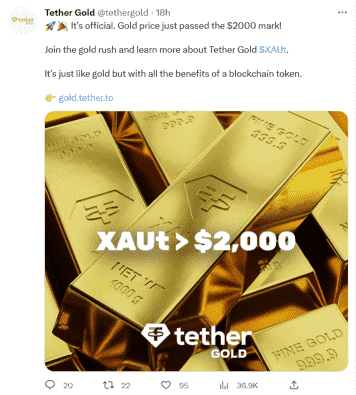 Euro Tether (EURT) — Bridging Crypto & Traditional Finance
EURT is another Euro-pegged stablecoin supported by Tether company. The coin mirrors the Euro via a decentralized network, providing a means to exchange value in crypto using a familiar accounting unit. The Euro-pegged stablecoin is another popular stablecoin option from Tether, the company bridges the traditional financial world with the emerging crypto universe.
XAUT and EURT: Advantages of Safe Digital Gold & Euro Investments
For those looking to invest in digital gold or Euro, XAUT and EURT do have their advantages. The cryptocurrencies are both ERC-20 tokens, meaning it can be moved easily on the Ethereum blockchain and transferred to different addresses.
The physical reserve of gold to back the stablecoin will bring more security to XAUT, while being pegged to such an established currency as Euro will add credibility to EURT. Reserve-backed cryptocurrencies have a history of being safer than algorithm-based stablecoins, giving hope that the XAUT and EURT price can maintain their peg. In the last months, Tether has dominated among stablecoins, owning nearly 50% of the stablecoin market.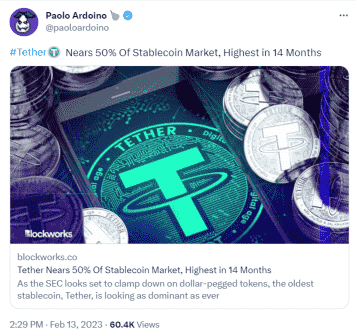 It's worth noticing that Tether Gold holders have ownership rights to specific physical bars and can identify the details with a unique serial number. They can even redeem their tokens for the real thing by going through a verification process. Tether has built up a sturdy reputation for developing stablecoins. It launched the USD backed token in 2014, which it claims 'pioneered the stablecoin model.' This has translated into one of the most traded and liquid tokens. The company's anti-money-laundering measures and KYC checks have also seen it become a favorable option by investors and regulators.
Tether Gold and Euro Tether Are Now Available for Easy Exchange
If you're looking for a Tether Gold or Euro Tether coin exchange or simply want to buy Tether stablecoins right away, you can do it via StealthEX. This platform offers users to get XAUT and EURT with no extra fees and with the best floating and fixed rates. Swap crypto privately and without any sign-ups!
How to Buy XAUT and EURT Stablecoins?
Just go to StealthEX and follow the guidelines below. Let's imagine you want to exchange BTC for XAUT. To make an exchange, you need to take a few simple steps.
First, you should choose Bitcoin in the left drop-down list. Then choose XAUT (Tether Gold) in the list of coins on the right. After setting the pair it is necessary to enter the amount of BTC you want to exchange. Here you will see the estimated amount of XAUT that you will receive after the exchange.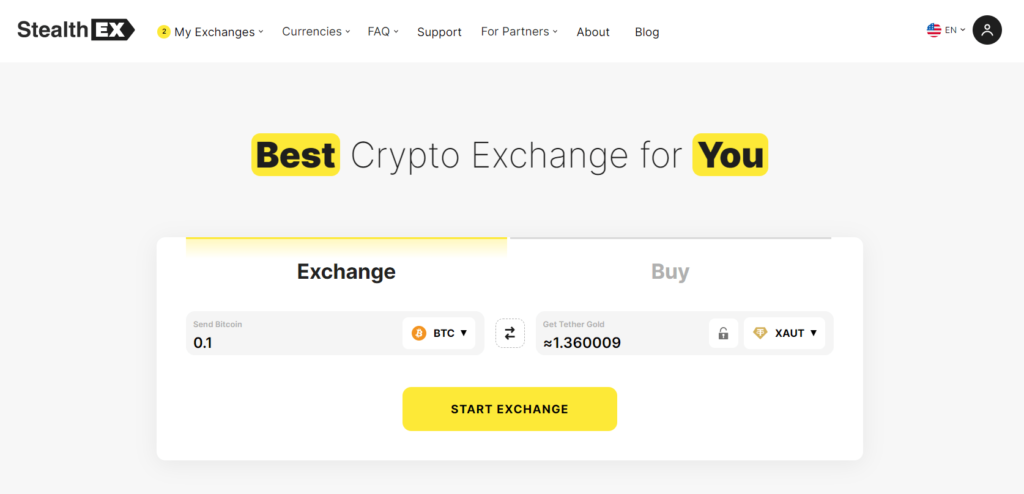 Now, when everything is set, press the Start Exchange button and you will be taken to the next page.
In the second step, you need to provide the XAUT coin recipient address. The recipient address must match the crypto you are going to receive. Remember to double-check the information you enter prior to the exchange as the transaction you make cannot be canceled.
As soon as you have carefully checked all the details, you can press the Next button and you will be redirected to the Confirmation page.
Here you can revise the address provided and the amount of XAUT coin you will receive. Don't forget to read and check the Terms of Use and Privacy Policy box. Without checking the box you will not be able to continue the exchange.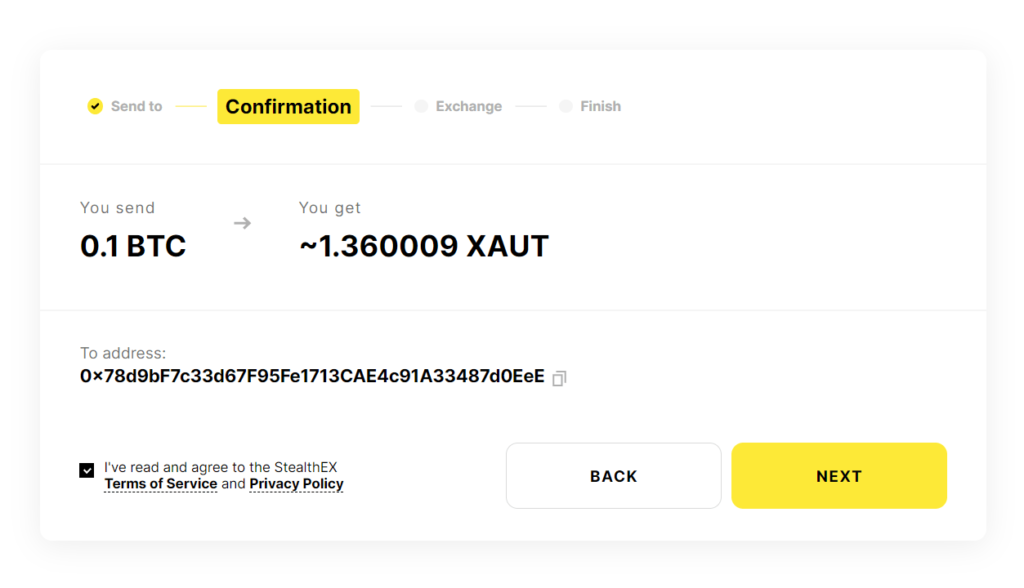 Pressing the Next button you will be redirected to the Exchange page.
At first, you will see the address where you need to send your BTC coin to continue the exchange. StealthEX will also provide you with the exchange ID. It will allow you to keep all the information about the swap. It is recommended to save your exchange ID or the link to your exchange.
Exchange Statuses
After sending BTC coins to the shown address, the information on the Exchange page will be renewed automatically. Exchange page has several statuses that will change during the time of the exchange.
The first status is Awaiting deposit.
The following status is Confirming. This means that StealthEX is confirming the transaction you made.
The next status is Exchanging. During this time the exchange is being made.
Then the status will be changed to Sending to your wallet. This indicates that there are just a few minutes until you receive your Tether Gold.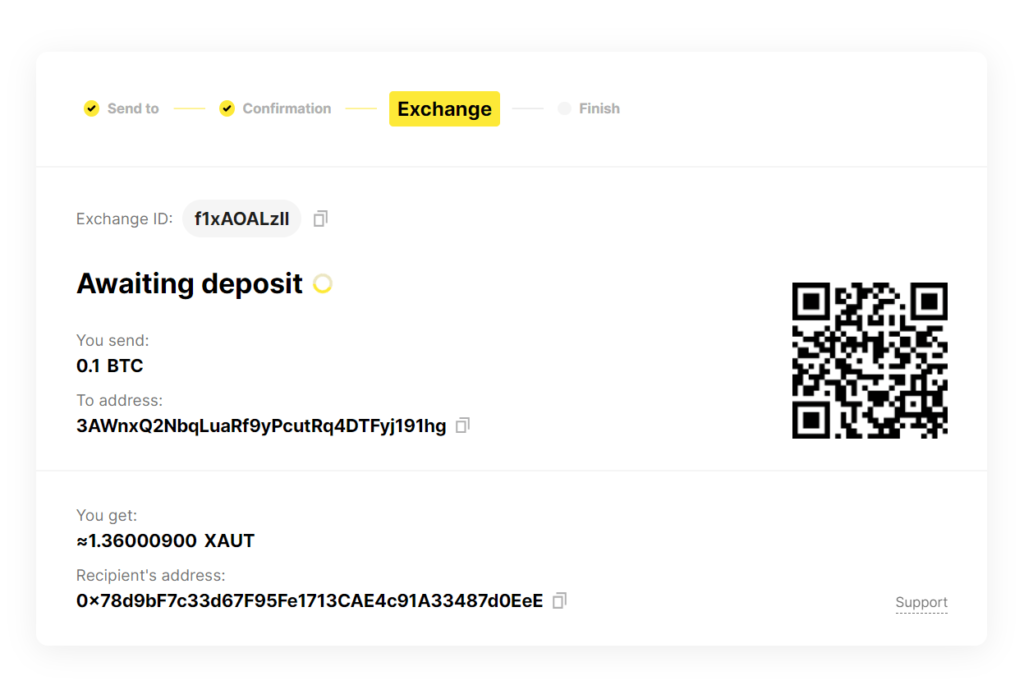 Finally, you will be redirected to the Finish page. This shows that the exchange has been successfully made and you will receive crypto to the address provided. To be sure that XAUT crypto was sent to your wallet you can also use the Output hash shown on this page and check it in the blockchain list of transactions.
From here you can either create a new exchange on StealthEX or leave the page and check your XAUT coin wallet to be surprised at how fast you get Tether Gold (XAUT) sent to your address. Usually, the process is quite rapid so you won't need to wait long: Tether swaps are processed in a matter of minutes.
Keep Reading: StealthEX explores more about Tether project and stablecoins
Tether Stablecoins: Adaptable & Efficient Across Multiple Blockchains
Tether Limited accepts fiat deposits and withdrawals on behalf of users. The company is responsible for minting and burning Tether tokens in accordance with the reserves they administer. Originally, Tether was issued on the Bitcoin blockchain via the Omni Layer protocol – a decentralized platform used to create and trade assets on Bitcoin. Today, most Tether tokens are issued on Ethereum (ETH) and other blockchains like Tron (TRX) and EOSIO (EOS).
Typically, these blockchains are used when the memory pool of Ethereum is clogged up, but in general they aim to create new native assets on the blockchain depending on client demand. Put together, this technology enables the minting and burning of Tether tokens based on the total value under custody. The circulation of Tethers is also tracked and reported via the protocol(s).
StealthEX is happy to offer its customers a wider range of digital asset exchange options as the platform adds XAUT and EURT to its long list of cryptocurrencies.
Effortless Swaps with a Non-Custodial Exchange
StealthEX is an instant cryptocurrency exchange for limitless swaps. It is a non-custodial limitless platform that never holds your funds. The service offers its customers a wide range of assets that is regularly updated for you to buy crypto instantly with debit/credit cards or exchange one crypto for another.
When it comes to fees, StealthEX calculates a fixed fee for each transaction and does not use a spread. The final fee is determined by various factors, including the cryptocurrency being exchanged, network fees, and others. For every exchange, you have to pay the network transaction fee – this payment is needed to push the transaction into the blockchain. Besides, there might be trading fees on the liquidity provider's side. However, StealthEX is fully transparent when it comes to fees, so all the possible fees will be included into the transaction estimate and presented to the customer before they make an instant crypto swap.

Make sure to follow StealthEX on Medium, Twitter, Telegram, YouTube, and Publish0x to get StealthEX.io updates and the latest news about the crypto world. If you need help, drop us a line at support@stealthex.io.
Please make sure to always research any cryptocurrency and assess your risks before you invest.
Euro
Gold
how to buy crypto
stablecoin
Tether
Recent Articles on Cryptocurrency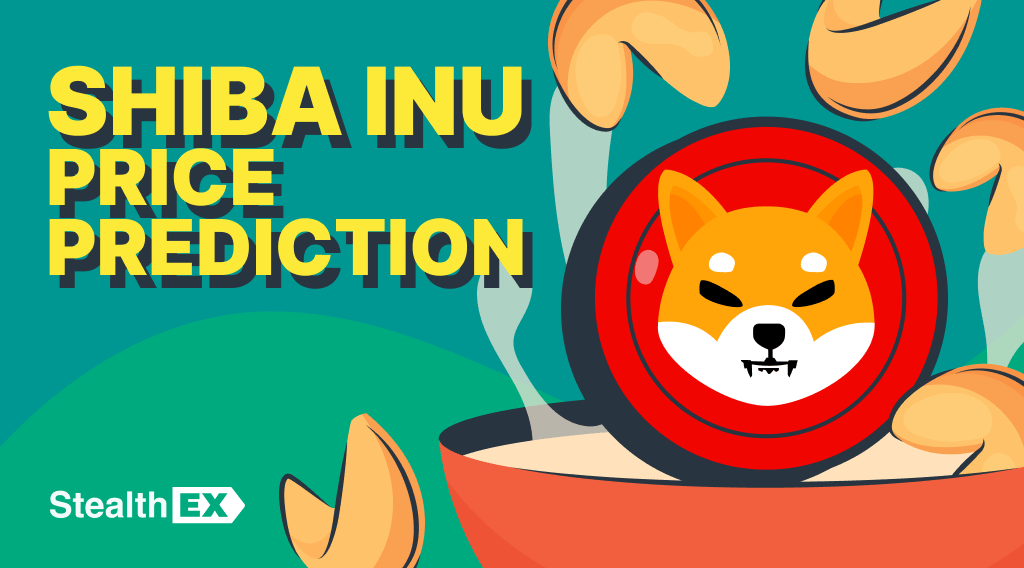 November 28, 2023
Price Prediction
Shiba Inu Price Prediction: Will SHIB Coin Reach $1?
Shiba Inu price prediction, by the end of 2030, the SHIB coin price is expected to reach a maximum level…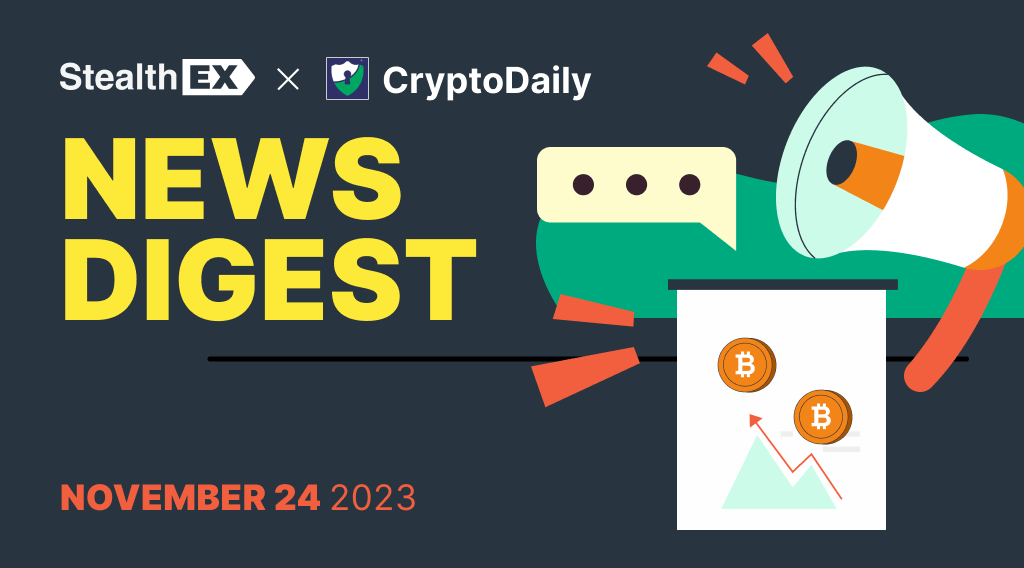 November 24, 2023
Crypto World
StealthEX & CryptoDaily: Key Elections, Investments, and Crypto Market Movements
Welcome to StealthEX weekly crypto digest, in collaboration with CryptoDaily: summary of this week's key events and trends in the…