Top 10 Cryptocurrencies of 2022 by Market Cap
December 28, 2022
Investment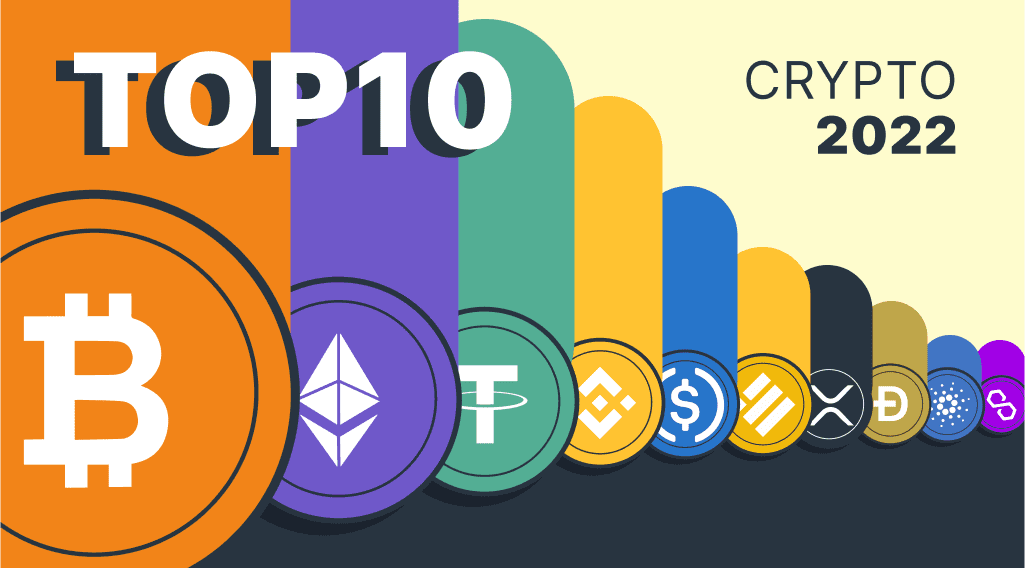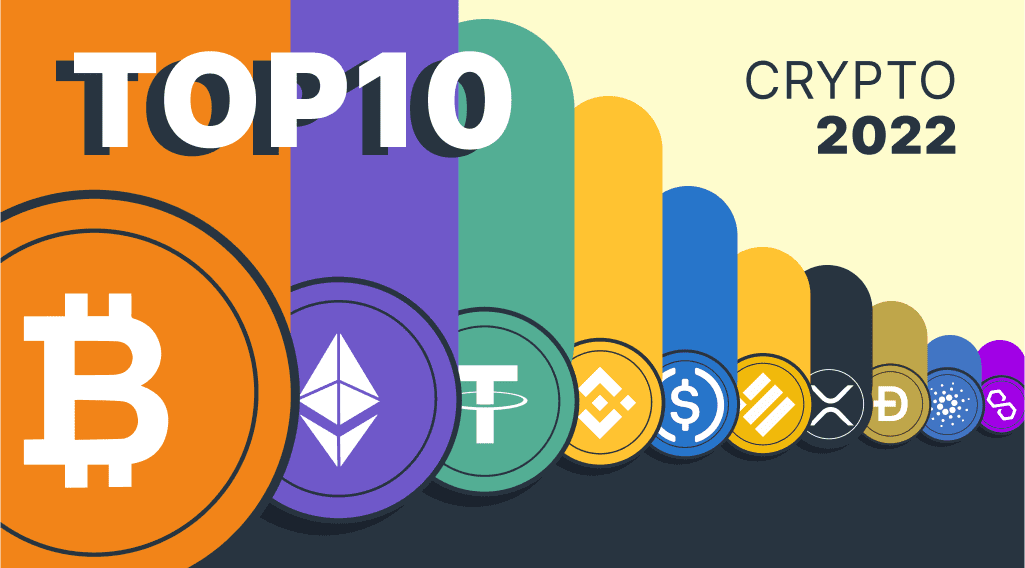 In every market, there are winners and those who lag behind. It can be quite overwhelming to get started when it comes to cryptocurrencies. In this article, we'll give you an overview of the Top 10 cryptocurrencies by Market Cap, which might help you navigate in the endless sea of crypto.
Crypto market cap is one of the most important indicators for evaluating and ranking cryptocurrencies. The higher the market cap of a cryptocurrency, the more dominant it is considered to be in the market. Cryptocurrency market capitalization is an indicator that measures the total value of a cryptocurrency. All in all, the market cap gives investors an idea of where the project is at right now and how well it is performing.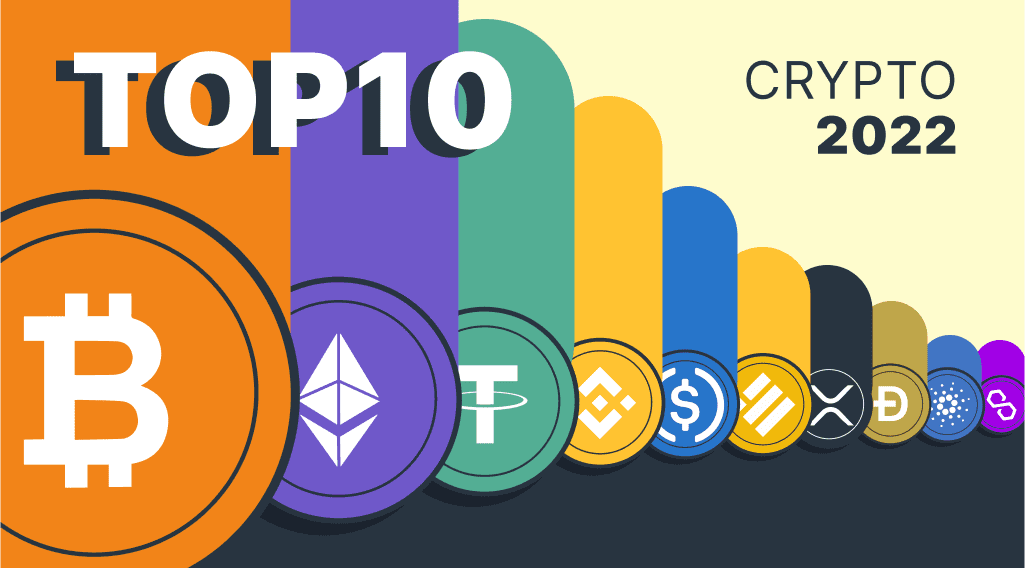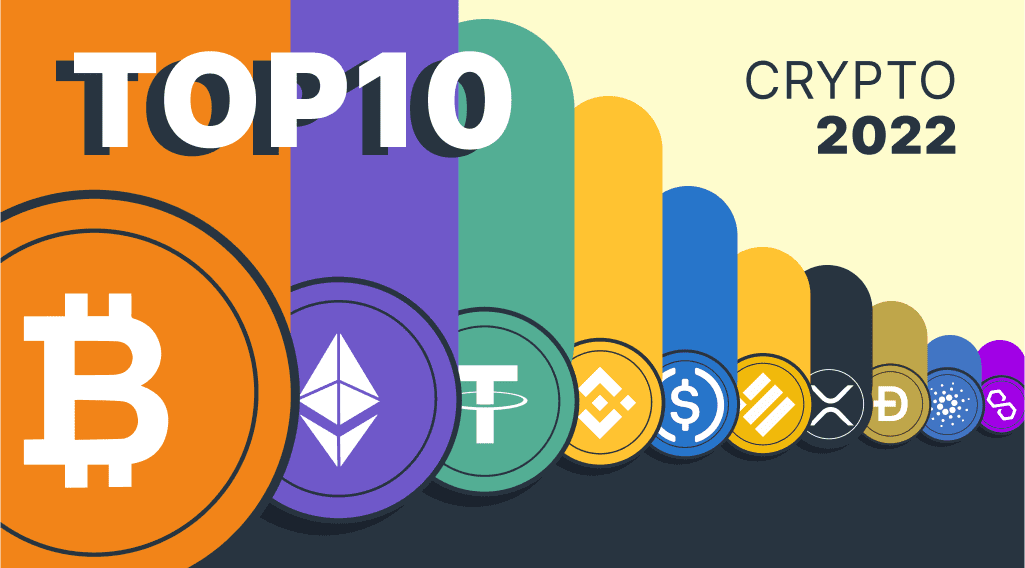 Top 10 Cryptocurrencies Based on Their Market Capitalization
Bitcoin (BTC)
Market Сap: $322,520,463,898
Launched in 2009 by a mysterious developer known as Satoshi Nakamoto, Bitcoin (BTC) was the first and most valuable, entrant in the emerging class of crypto assets.
Bitcoin is powered by open-source code known as blockchain, which creates a shared public history of transactions organized into 'blocks' that are chained together to prevent tampering. This technology creates a permanent record of each transaction, and it provides a way for every Bitcoin user to operate with the same understanding of who owns what. A Bitcoin wallet contains a public key and a private key, which work together to allow the owner to initiate and digitally sign transactions. This unlocks the central function of Bitcoin: securely transferring ownership from one user to another.
While Bitcoin's value has risen dramatically over the years, buyers' fortunes have varied widely depending on the timing of their investment. Those who bought in 2017 when Bitcoin's price was racing toward $20,000, for example, had to wait until December 2020 to recover their losses. More recently, Bitcoin's price began 2022 slightly over $47,000 per coin. After a tough year for cryptocurrency in general, Bitcoin has slumped to its current price of just under $17,000. However, you could buy one Bitcoin in May 2016 for about $500. Now, with a price tag of $17,000, Bitcoin's growth can be estimated at 3,000%.
Ethereum (ETH)
Market Сap: $147,462,091,310
Ethereum is one of literally thousands of cryptocurrencies that have sprung up over the last few years. As the brainchild of 8 co-founders, Ethereum made its debut in 2015. The cryptocurrency or platform is called Ethereum, while the individual unit is called an ether. NFTs can be powered by Ethereum and can allow artists or others to sell art or other items directly to buyers using smart contracts. By using Ethereum, some people may be able to avoid centralized (government) control over the movement of money or other assets.
In 2016, ETH was in the initial stages of its first market cycle. ETH increased from a low of $0.76 to a high of $10.10. It has been moving upwards until 2021, reaching a new all-time high of $3,609 on May 6.
Tether (USDT)
Market Сap: $66,237,210,219
Tether (USDT) was one of the first cryptocurrencies to peg its market value to a fiat currency. Tether, originally called 'Realcoin,' valued each token at $1 to reduce the friction of moving real currency throughout the cryptocurrency ecosystem. Because of that peg to a stable fiat currency, Tether and other similar cryptocurrencies have been dubbed 'stablecoins.' Tether is the largest stablecoin by market capitalization, and its users can redeem tethers for dollars. It also issues a cryptocurrency tied to the price of gold known as tether gold, whose value is backed by physical gold bars.
USD Coin (USDC)
Market Сap: $44,355,511,995
USD Coin is another stablecoin that runs on Ethereum. USDC was created to be a highly useful form of digital money that wouldn't see value swing dramatically in the middle of a transaction.
USDC can be used to facilitate blockchain payments and transfer of value in the context of Ethereum smart contracts. This allows users to keep cryptocurrencies in a wallet, ready to send to a friend or interact with decentralized financial tools and services, and with minimal any exposure to the risk of their holdings falling in price before they get a chance to spend them. It is backed by dollar-denominated assets of at least equal fair value to the USDC in circulation, in segregated accounts with U.S. regulated financial institutions.
Binance Coin (BNB)
Market Сap: $39,120,041,584
BNB is the cryptocurrency issued by the Binance decentralized exchange (DEX), which is one of the largest cryptocurrency exchanges by volume. BNB was initially launched on Ethereum but was later switched to the Binance Chain, designed for ultra-fast trading. However, due to the intrinsic constraints of blockchain systems, the chain does not have much flexibility to use smart contracts. As a result, scalability was limited. To address this, developers designed the Binance Smart Chain, a new blockchain that is fully equipped to produce high-performing decentralized applications.
BNB's price in 2017 was just $0.10. By late December 2022, its price had risen to around $249, a gain of 248,944%.
XRP (XRP)
Market Сap: $18,186,568,006
XRP is a cryptocurrency that runs on the XRP Ledger. XRP's blockchain operates a little differently than most other cryptos. Other cryptocurrencies open their transaction ledgers and verification processes to anyone who can solve complex equations quickly. But transactions are secure as the majority of ledger holders must agree with the verification for them to be added.
At the beginning of 2017, the price of XRP was $0.006. As of December 27, 2022, its price reached $0.36, equal to a rise of over 5,000%.
Binance USD (BUSD)
Market Cap: $17,185,500,445
BUSD is a regulated, fiat-backed stablecoin pegged to the U.S. dollar. For every unit of BUSD, there is one U.S. dollar held in reserve. In other words, the supply of BUSD is pegged to the U.S. dollar at a 1:1 ratio. Holders can swap their tokens for fiat and vice versa. Paxos, the token's issuer, releases monthly attestations of BUSD's reserves. The BUSD token is based on the Ethereum blockchain and is ERC-20 compliant. The BUSD to USD rate is always approximately 1:1. It is recognized as a medium of exchange by the New York State Department of Financial Services (NYDFS) and used as a payment method on the crypto market across the globe.
Dogecoin (DOGE)
Market Cap: $9,539,810,348
Although Dogecoin has its roots as a meme coin, it quickly became an internet currency that facilitated online tipping on social media platforms due to its high supply and low price. It also functions similarly to many other cryptocurrencies and can be used as a means of payment wherever it is accepted. Technically speaking, Dogecoin is very similar to some of the earliest altcoins, which, like Bitcoin, operate on proof of work consensus. Since it was forked from the now-defunct Luckycoin, which was itself a fork of Litecoin, the two coins share many similarities.
Dogecoin's price in 2017 was $0.0002. By December 2022, its price was at $0.07, up 36,771%.
Cardano (ADA)
Market Cap: $8,755,359,068
Cardano's cryptocurrency is named Ada after Augusta Ada King, who is commonly regarded as the first computer programmer. Ada is used in the blockchain's PoS consensus mechanism. It is given as a reward for work done for the blockchain by users participating in a stake pool. Cardano is a blockchain platform that was founded in 2015 by Charles Hoskinson. It was launched in 2017. Cardano aims to be a decentralized application development platform with a multi-asset ledger and verifiable smart contracts.
In 2017, ADA's price was $0.02. As of Dec. 20, 2022, its price was $0.26, that's an increase of over 1,100%.
Polygon (MATIC)
Market Cap: $6,909,607,656
Polygon was formerly called Matic Network. Polygon (MATIC) is an Ethereum token that powers the Polygon Network, a scaling solution for Ethereum. It provides an easy framework for new and existing blockchain projects to build on Ethereum without scalability issues. Polygon aims to provide faster and cheaper transactions on Ethereum using Layer 2 sidechains, which are blockchains that run alongside the Ethereum main chain. Users can deposit Ethereum tokens to a Polygon smart contract, interact with them within Polygon, and then later withdraw them back to the Ethereum main chain. The MATIC token is used to pay transaction fees and participate in Proof-of-Stake consensus.
Polygon has solutions for everyday users, developers and enterprises alike. Polygon's primary objective is to create an Internet of Things (IoT) for the Ethereum blockchain. Additionally, Polygon offers developers a stack of solutions on a single network. This approach grants developers higher levels of control and customization when choosing a scaling solution best suited to their application.
MATIC traded for $0.00263 per coin when it was first launched. Today, MATIC trades at $0.79, that is a 30,126% gain.
This concludes our top 10 cryptocurrencies list. In case you feel like purchasing any of the top 10 cryptos, you can do this privately at StealthEX, without the need to sign up for the service. Our crypto collection has more than 650 different coins and you can do wallet-to-wallet transfers instantly and problem-free.
How to Buy Top Crypto?
Just go to StealthEX and follow these easy steps:
Choose the pair and the amount you want to exchange. For instance, BTC to ETH.
Press the "Start exchange" button.
Provide the recipient address to transfer your crypto to.
Process the transaction.
Receive your crypto coins.

Follow us on Medium, Twitter, Telegram, YouTube, and Publish0x to stay updated about the latest news on StealthEX.io and the rest of the crypto world.
Don't forget to do your own research before buying any crypto. The views and opinions expressed in this article are solely those of the author.
Bitcoin BTC
CoinMarketCap
crypto market
Market Cap
Top Cryptocurrency
Recent Articles on Cryptocurrency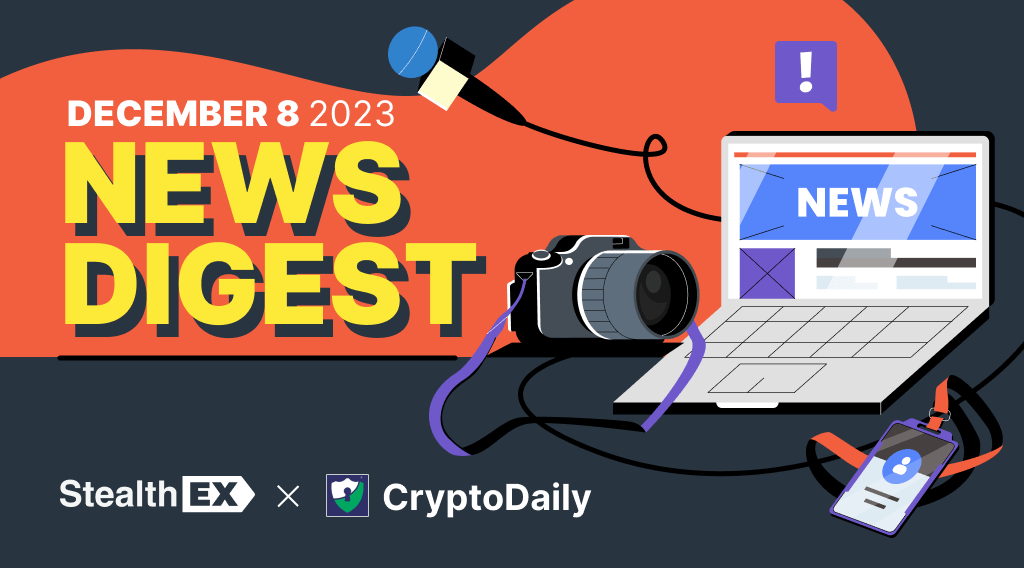 December 8, 2023
Crypto World
StealthEX & CryptoDaily: Weekly Crypto Insights
Explore key cryptocurrency developments and trends in StealthEX's insightful weekly roundup, in partnership with CryptoDaily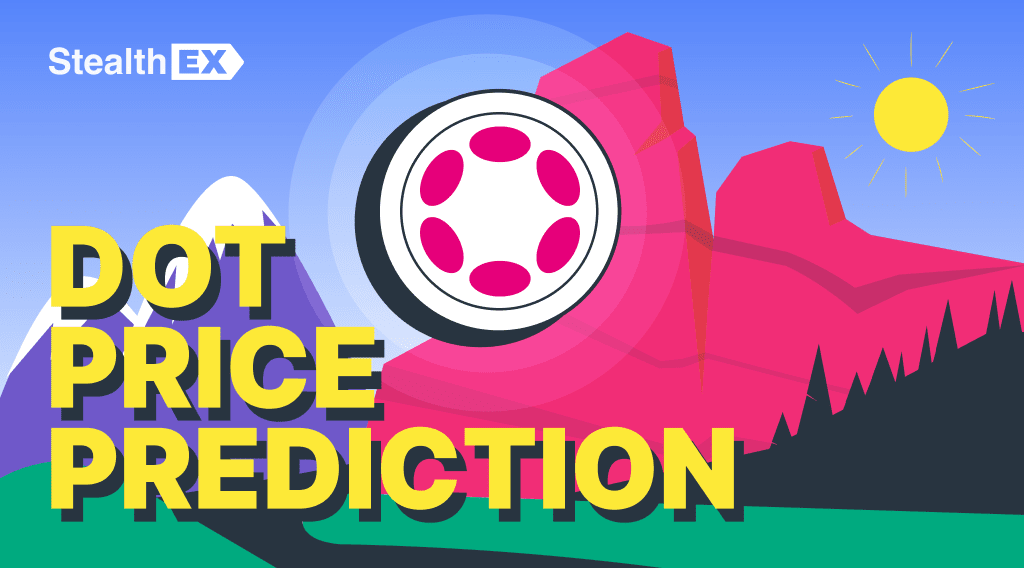 November 29, 2023
Price Prediction
Polkadot (DOT) Price Prediction: Will DOT Coin Reach $1000?
According to the long-term Polkadot price prediction by the end of 2030, the DOT price may rise to $195