VRA Crypto: How to Buy Verasity Coin?
November 8, 2022
How to Buy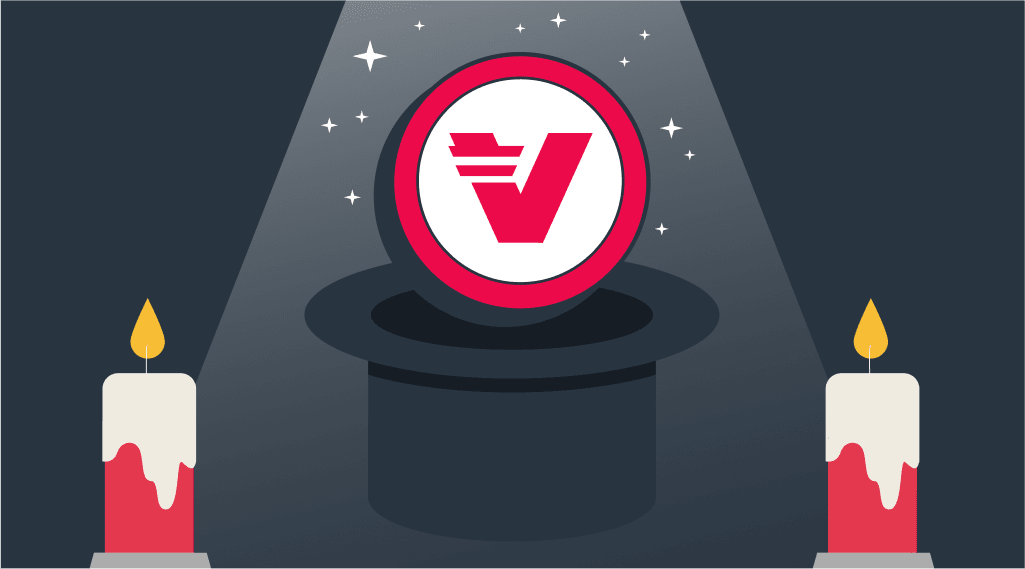 Many blockchains occupy different fields of life to pierce into the most popular industries and offer their services to clients. There are blockchain companies in retail, finance, gaming, logistics, and even esports. One of these companies is Verasity, an esports, AdTech, and digital rights management project. With its own wallet and its native VRA coin, the blockchain is looking to create an entirely new experience in the developing digital fields. Read more about where to buy Verasity coin in the new StealthEX article.
Where to Buy VRA Crypto?
There are many exchanges where to buy $VRA coin, and StealthEX is one of the safest options. This platform offers users to get Verasity coin with no extra fees and with the best floating and fixed rates. This meme cryptocurrency is always freely available for purchase via StealthEX.
How to Buy Verasity Coin?
Just follow the guidelines below. Let's imagine you want to exchange ETH to VRA. To make an exchange, you need to take a few simple steps.
First, you should choose Ethereum in the left drop-down list. Then choose Verasity (VRA) in the list of coins on the right.
After setting the pair it is necessary to enter the amount of ETH you want to exchange.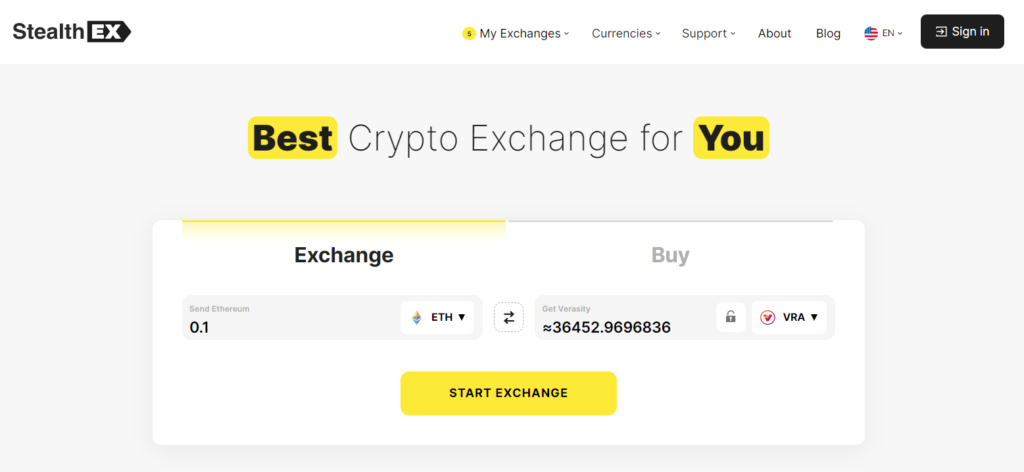 Here you will see the estimated amount of VRA crypto that you will receive after the exchange.
Now, when everything is set, press the Start Exchange button and you will be taken to the next page.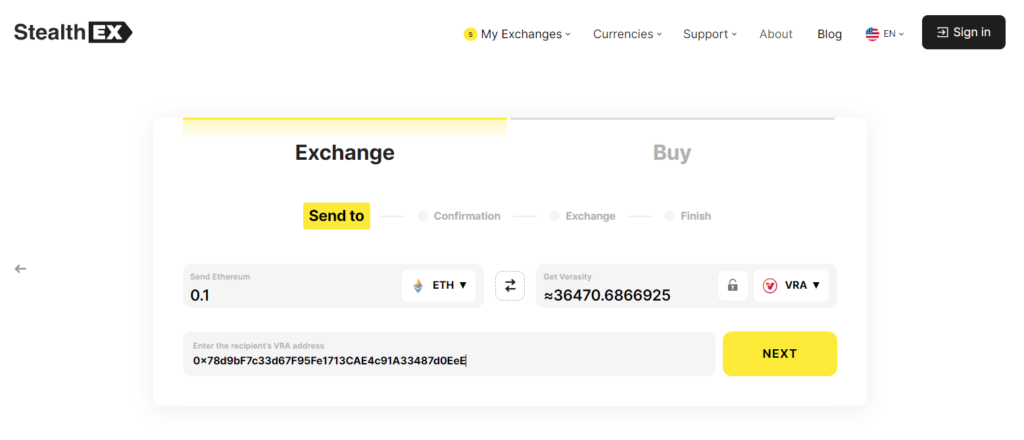 In the second step, you need to provide the Verasity coin recipient address. The recipient address must match the crypto you are going to receive. Remember to double-check the information you enter prior to the exchange as the transaction you make cannot be canceled.
As soon as you have carefully checked all the details, you can press the Next button and you will be redirected to the Confirmation page.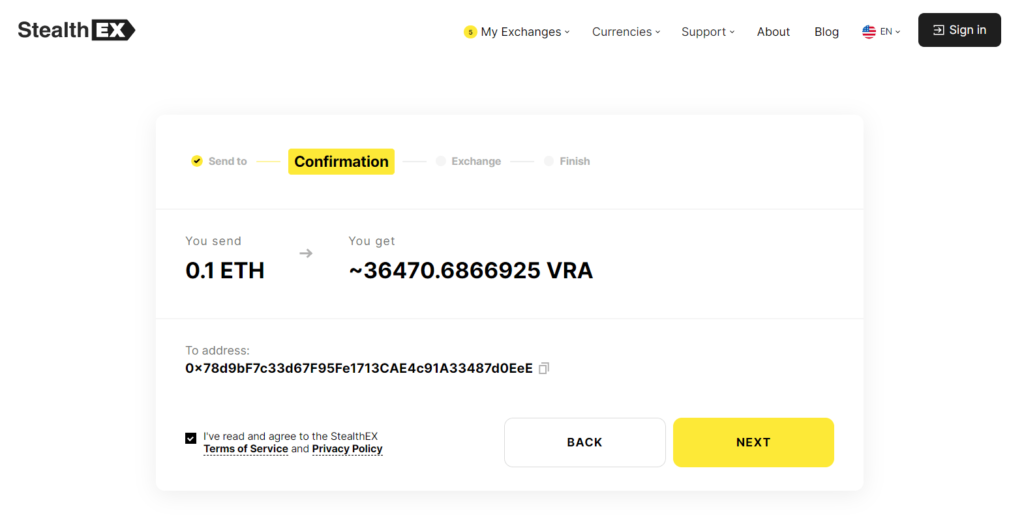 Here you can revise the address provided and the amount of Verasity crypto you will receive. Don't forget to read and check the Terms of Use and Privacy Policy box. Without checking the box you will not be able to continue the exchange. 
Pressing the Next button you will be redirected to the Exchange page. 
At first, you will see the address where you need to send your ETH coin to continue the exchange. StealthEX will also provide you with the exchange ID. It will allow you to keep all the information about the swap. It is recommended to save your exchange ID or the link to your exchange.
Exchange Statuses
After sending ETH coins to the shown address, the information on the Exchange page will be renewed automatically. The Exchange page has several statuses that will change during the time of the exchange.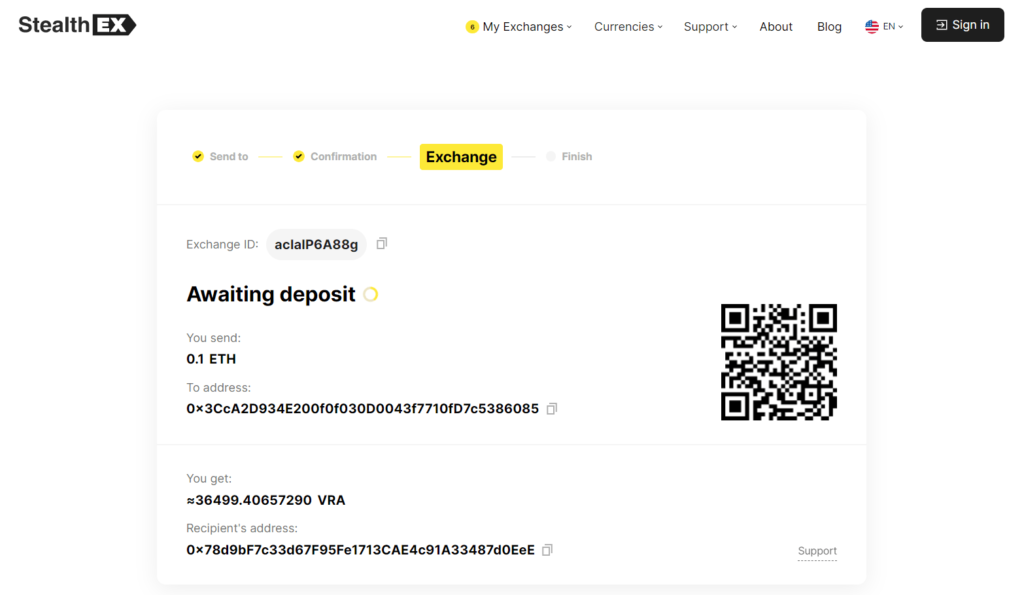 The first status is Awaiting deposit.
The following status is Confirming. This means that StealthEX is confirming the transaction you made.
The next status is Exchanging. During this time the exchange is being made.
Then the status will be changed to Sending to your wallet. This indicates that there are just a few minutes until you receive your VRA crypto.
Finally, you will be redirected to the FINISH page. This shows that the exchange has been successfully made and you will receive crypto to the address provided. To be sure that Verasity coins were sent to your wallet you can also use the Output hash shown on this page and check it in the blockchain list of transactions.
From here you can either create a new exchange on StealthEX.io or leave the page and check your Verasity crypto wallet to be surprised at how fast you get VRA coin to your address. Usually, the process is quite rapid so you won't need to wait long: Verasity swaps are processed in a matter of minutes.
Keep reading StealthEX's article to learn more about the project itself and Verasity crypto.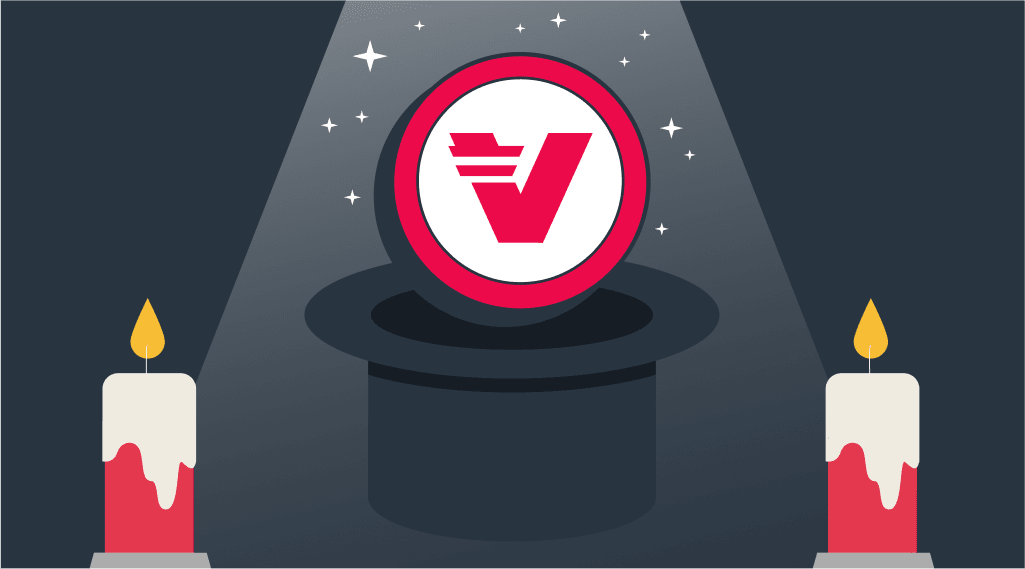 What Is Veracity Crypto?
Verasity is a rapidly growing blockchain-enabled company across the ad tech, esports, and video entertainment industry. The platform is actively developing a technology that will help eliminate ad fraud across video advertising channels. Verasity is already a revenue-generating project through growing ad revenue, with several product verticals actively deployed and used by enterprise clients. The VeraViews ad stack utilizes Verasity's patented protocol layer on the VeraChain blockchain, ensuring transparency and immutability for both advertisers and publishers within the Verasity ecosystem. The crypto project aims to do that through its protocol, product layers, and platforms, including:
VRA Rewards.
VeraPlayer — proprietary Video Player.
VeraViews — proprietary ad stack.
Proprietary Proof of View technology.
PoV is the only Protocol Layer Patented ad tech solution developed on blockchain technology.
PoV-enabled smart contracts for NFTs as well as the VeraChain protocol layer to safeguard NFT authenticity.
VeraWallet.
VeraViews Ad Tech Stack 
The project has developed a number of unique solutions to promote its technology. The VeraViews ad tech stack is an enterprise-grade anti-fraud solution developed by Verasity. Using a combination of both off-chain and on-chain elements, VeraViews combines 13 separate modules to prevent ad fraud at its source, ensuring video ads are served exclusively to real users. Verasity has developed Proof of View technology and the VeraViews ad tech stack to combat several problems, including bot and fraud detection. Utilizing over 200 touch points and AI, VeraViews determines with very high confidence whether a bot or human is watching an ad or content based on the viewers' behavior, in real time.
By preventing bots from viewing ads, VeraViews ensures that publishers can provide advertisers with a tamper-proof record of true ad serve data. This, in turn, results in faster payment times for publishers and higher ROI for advertisers. VeraViews is a revolutionary new way to serve ads via video content and VoD.
The Proof of View system also prevents the multiple methods bad actors may try to manipulate view counts and audience metrics. The content view evaluation phase provides multiple metrics. Additionally, Proof of View applied to NFTs will help prevent some of the fraud that is circling on the NFT market today. Many published artists, including traditional and classically trained artists, are concerned about taking the leap into blockchain-based ownership until NFTs are proven to be free of fraud and secure. Verasity might prove the authentication of the chain of ownership and therefore put both content creators and buyers at ease.
Verasity Products
The platform has come up with a number of fascinating digital products that may prove to be crucial for the entertainment industry. These include:
VeraEsports. A leading destination for Esports content which proves and packages PoV and VeraViews technology for international broadcasters. Verasity has already built and deployed a fully functional Esports Tournament site through VeraEsports.
VeraPlayer. A proprietary video player which contains the unique VeraViews ad stack built to optimize advertising revenue using Verasity's ad partners. VeraPlayer is currently deployed on VeraEsports, and is available through the Brightcove Marketplace.
VeraWallet. A custodial wallet for storing Verasity's utility and ecosystem token, VRA. VeraWallet stores rewarded tokens and is itself a payment system for both crypto- and traditional transactions. VeraWallet has over 130,000 users and offers VRA holders an 18.25% per year staking option.
VeraVerse. A complete NFT ecosystem for art, in-game items, and metaverse collectibles. 
Watch & Earn. A reward system that offers users token incentives for watching video content. Watch & Earn rewards users with the $VRA token via an SDK integration into the publisher's video player. The integration is available already for YouTube, Twitch, Vimeo, and 90% of all video players when they are used on a publisher's domain.
Verasity.tv: Publishers Aggregator 
These are not the only effective tools developed by the project. Verasity.tv or Verasity.io has been developed as an entire ecosystem that enables software development kits, or SDKs, to be deployed by any publisher for YouTube, Twitch, Vimeo, JWPlayer, etc. This tool is now available for over 2 million video publishers struggling to survive on low advertising revenues. During 2022, Verasity will focus on integrated elements of the VeraViews ad tech stack natively into the Brightcove player. Now, over 3,000 publishers can turn on VeraViews and protect their ads from fraud with a single click.
Veracity Coin Price Prediction 
With a large variety of available digital products, Verasity is making its way up the market. At the moment, its price is $0.004235, however, it has already reached an all-time high during last year's bull run ($0.08683). Most predictions for the innovative project's token seem to be very bullish. For instance, TechNewsLeader promises that by 2031, the coin will cost anywhere from $0.12 to $0.15, whereas DigitalCoinPrice estimates that its price in 2031 will rise to a maximum of $0.0299. The crypto project seems to have a solid basis, however, only the future will show whether VRA's coin price is going to soar.
We'd like to remind you that if you're looking for a VRA crypto exchange or simply want to buy VRA coin right away, you can do it via StealthEX. Our users can purchase cryptocurrencies using fiat and we still offer the opportunity to buy crypto at fixed rates.

Make sure to follow us on Medium, Twitter, Telegram, YouTube, and Reddit to get StealthEX.io updates and the latest news about the crypto world. If you need help, drop us a line at support@stealthex.io.
Please make sure to always research any cryptocurrency and assess your risks before you invest.
crypto swap
exchange crypto
how to buy crypto
Verasity
VRA
Recent Articles on Cryptocurrency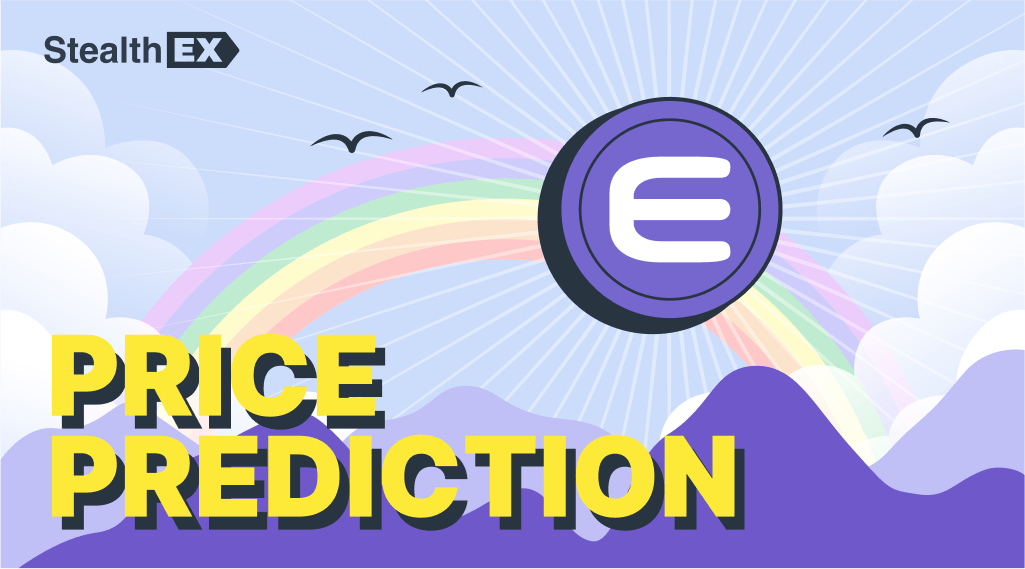 September 27, 2023
Price Prediction
Enjin Coin Price Prediction: How High Will $ENJ Crypto Go?
Based on expert Enjin Coin price prediction, the maximum price of ENJ crypto is predicted to be $75 by 2030.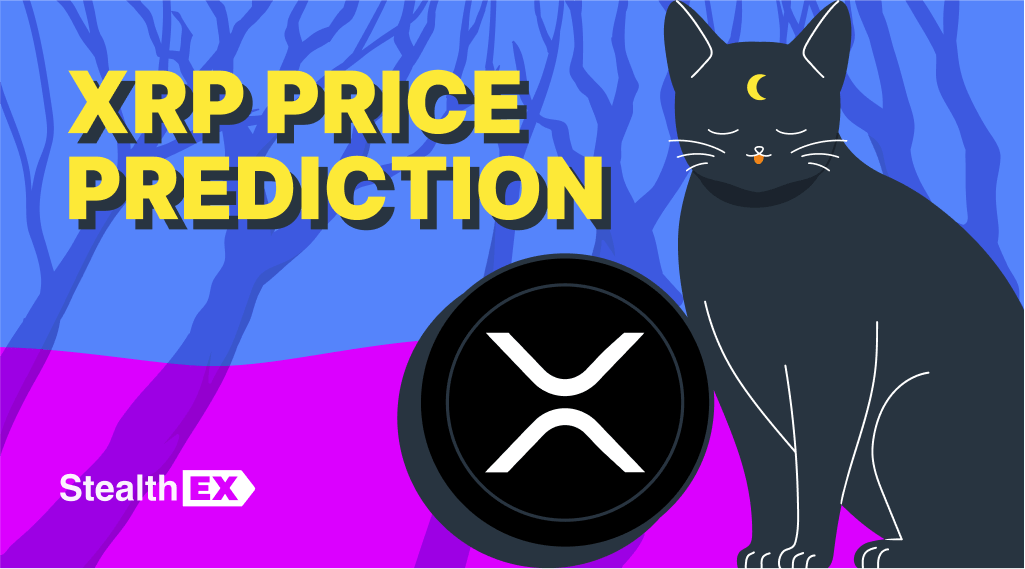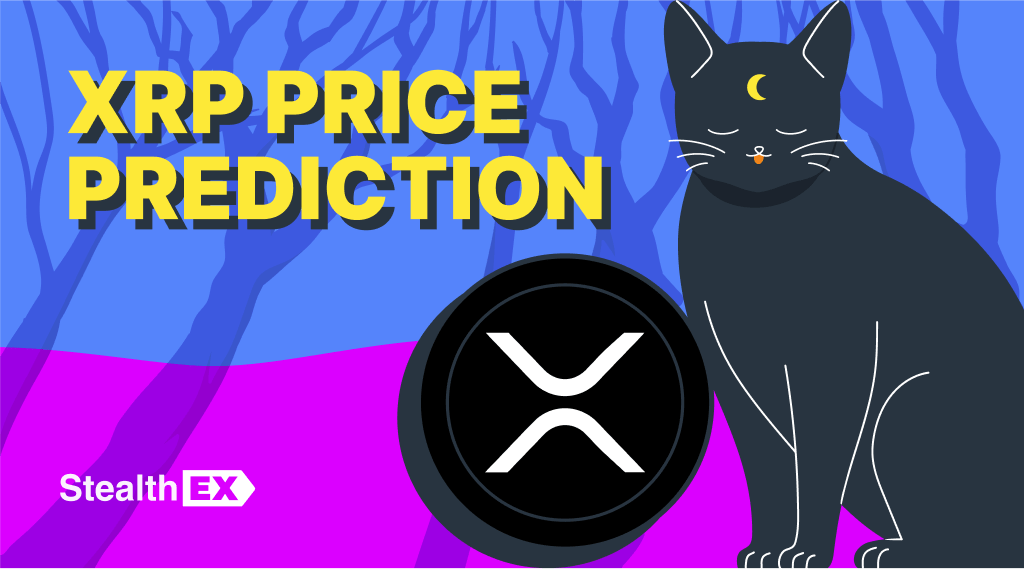 September 26, 2023
Price Prediction
Ripple XRP Price Prediction: How High Can XRP Go?
Based on expert XRP price prediction, the maximum price of XRP coin is predicted to be $12 by 2030.