Where and How to Buy AMP Crypto Coin?
September 17, 2021
How to Buy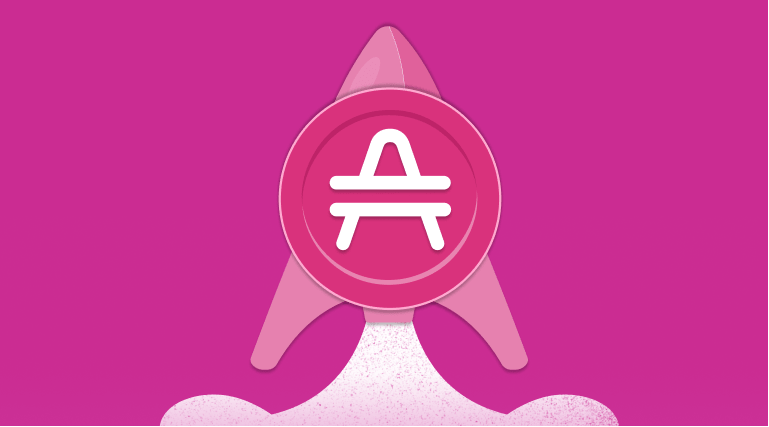 Amp is a cryptocurrency designed for instant transactions with any type of value transfer. Since it's an ERC-20, it has a wider range of storage options and greater interoperability between different platforms compared to independent blockchain projects such as Bitcoin or Litecoin. Everyone can use Amp for both long-term investment and short-term trading. What is Amp Crypto in detail? Learn about the features of AMP crypto and how to buy AMP coin. All this and much more in the new StealthEX article. So let's start.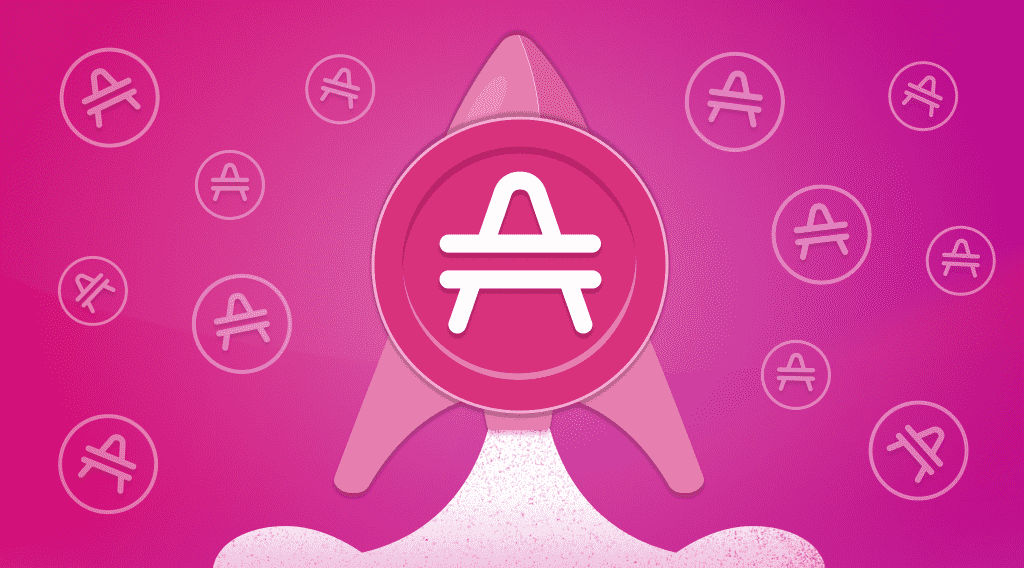 Where to Buy AMP Coin?
Since the Amp crypto news is positive, it's a great time to buy this cryptocurrency, and StealthEX is the safest platform for your transactions. Choose from over 350 tokens for your secure exchange, get your Amp quickly, and hold your coins in any wallet you want. No need to provide much information or wait for transactions.
How to Buy AMP Coin?
Just go to StealthEX and follow the instruction below. Let's imagine you want to exchange ETH to AMP. To make an exchange, you need to take a few simple steps:
First, you should choose Ethereum in the left drop-down list. Then choose Amp in the right list of coins.
After setting the pair it is necessary to enter the amount of ETH you want to exchange.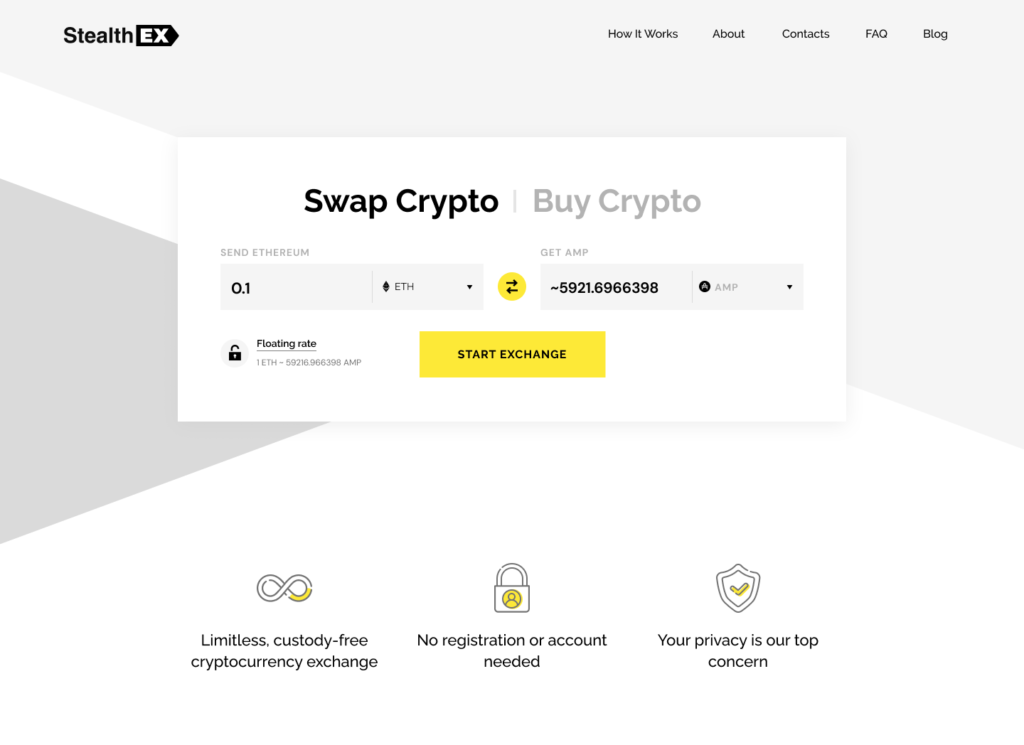 Here you will see the estimated amount of Amp coin that you will receive after the exchange.
Now when everything is set for the exchange, press the Start Exchange button and you will be taken to the next page.
As the second step, you need to provide the AMP token recipient address. The recipient address must match the cryptocurrency you are going to receive. Remember to double-check the information you enter prior to the exchange as the transaction you make cannot be canceled.
As soon as you have carefully checked all the details, you can press the Next button and you will be redirected to the Confirmation page with the information about the exchange.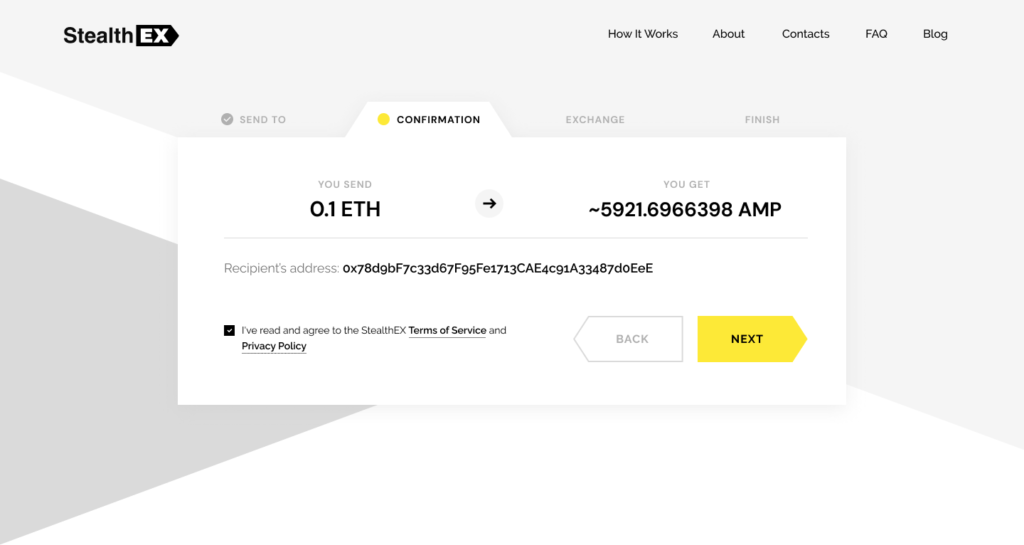 Here you can revise the address provided and the amount of AMP cryptocurrency you will receive. Don't forget to read and check the Terms of Use and Privacy Policy box. Without checking the box you will not be able to continue the exchange. 
Pressing the Next button you will be redirected to the Exchange page. 
At first, you will see the address where you need to send your ETH coin to continue the exchange. StealthEX will also provide you with the exchange ID. It will allow you to keep all the information about the swap. It is recommended to save your exchange ID or the link to your exchange.
Exchange Statuses
After sending ETH coins to the shown address, the information on the Exchange page will be renewed automatically. The Exchange page has several statuses that will change during the time of the exchange.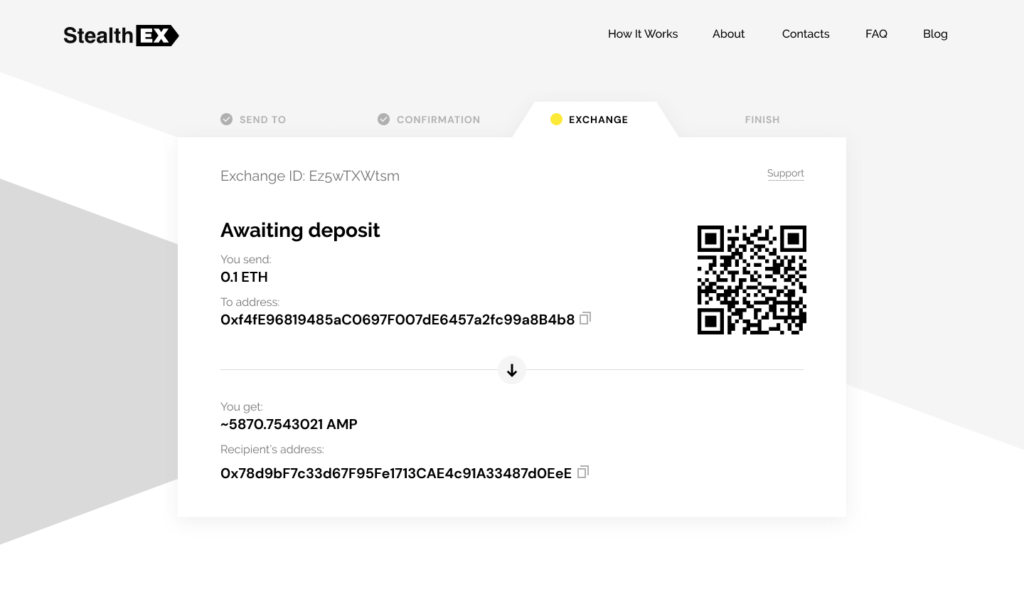 The first status is Awaiting deposit.
The following status is Confirming. This means that StealthEX is confirming the transaction you made.
The next status is Exchanging. During this time the exchange is being made.
Then the status will be changed to Sending to your wallet. This indicates that there are just a few minutes left until you will receive your AMP coin.
Finally, you will be redirected to the Finish page. This shows that the exchange has been successfully made and you will receive crypto to the address provided. To be sure that AMP was sent to your wallet you can also use the Output hash shown on this page and check it in the blockchain list of transactions.
From here you can either create a new exchange on StealthEX.io or leave the page and check your AMP coin wallet to be surprised at how fast you got AMP crypto. Usually, the process is quite rapid so you won't need to wait long.
What Is AMP Crypto?
Amp is a cryptocurrency created in a partnership between Flexa and ConsenSys in September 2020. It took over half a year to launch this cryptocurrency and add all the features needed for a secure token to function. Today, this coin is supported by numerous crypto projects and investors worldwide.
How Amp Platform Operates?
With Amp crypto, action delays dependent on the transmission of a particular transaction are resolved. By using the token as collateral, everyone receives secure and efficient collateral, transparently validated in an immutable blockchain. Besides, this cryptocurrency's feature set is compatible with any form of value transfer, so it can be used to facilitate any instant and secure transaction.
To organize the collateral placement process, the concept of partitioning is applied. For each application or process, Amp defines its own partition, providing virtually unlimited choices of usage options and point control.
Amp Crypto Technology
It is based on the concept of collateral partitions. Collateral partitions are subsets of tokens that provide collateral for certain purposes.
Each section is endowed with its own set of rules regarding transfers, privileges, and special features.
To block or release collateral, Amp employs special managers, which are smart contracts that manage on behalf of a specific application. Managers work closely with collateral partitions to allow, deny, or redirect token transfers and maintain transaction collateral.
Amp can support any number of implementations of manager contracts.
Any user can deploy his or her own collateral manager smart contract with the desired usage options.
How to Earn with Amp Token?
All Amp token holders can get extra income with Flexa launched in 2018. It is a network in which Amp accumulates the value of all capacity and provides a network rewards system.
Users earn interest as Flexa distributes network rewards as a percentage of the value of each successful transaction made with their tokens.
Today, there are over 24 billion AMP of spending capacity on the Flexa network, and this number is increasing daily, helping users earn more.
AMP Coin Price Chart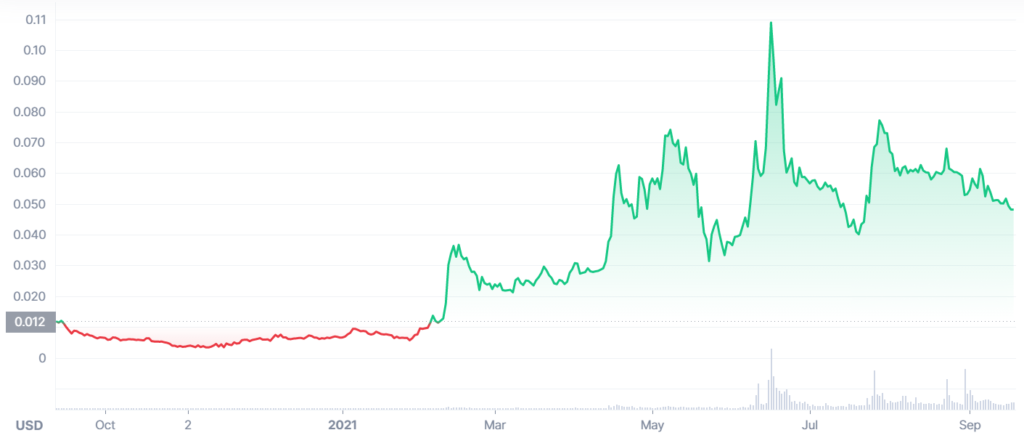 Source: CoinMarketCap, Data was taken on 16 September 2021.
Amp Crypto Price Prediction
Amp is a token wedded to Flexa, and as this network improves, this cryptocurrency becomes more useful. In September 2021, the project team introduced Transformers for connecting layer 2 scaling solutions to Flexa for fraud-proof payments. The coin itself may also be used in many ways, be held in popular digital wallets like Valora or dharma, and integrated into trustworthy DeFi projects.
All these factors increase the Amp coin price, and experts believe it will keep rising. As for the WalletInvestor experts, AMP will cost $0.0876 at the end of 2021. The PricePrediction team doesn't have such a positive Amp coin price prediction, but it still believes that this coin will cost over $0.057 by the same time.
Is AMP Crypto a Good Investment?
Overall, AMP offers an unusual solution for transaction optimization. The token has growth potential due to its noninflationary delivery. As the functionality expands, volatility should decrease. Project founders have already put a lot of effort into creating a flexible and forward-looking foundation on which this cryptocurrency platform will keep developing. That's why AMP attracts both newcomers and experienced investors.
And by the way, don't forget that now our users can purchase cryptocurrencies using fiat and we still offer the opportunity to buy crypto at fixed rates!
Follow us on Medium, Twitter, Telegram, YouTube, Reddit to get StealthEX.io updates and the latest AMP coin news.
We are always ready to give you support if you have any issues with exchanging coins. Our team does our best to protect all members and answer their questions. For all requests message us via support@stealthex.io.
You are more than welcome to visit StealthEX exchange and see how fast and convenient it is.
AMP
cryptocurrency
how to buy
how to buy crypto
what is altcoin
Recent Articles on Cryptocurrency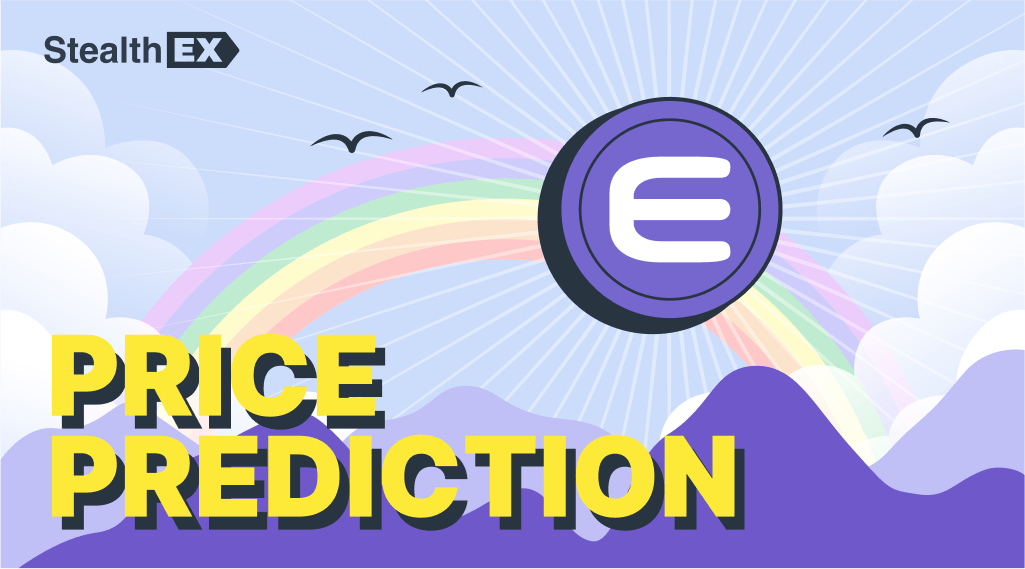 September 27, 2023
Price Prediction
Enjin Coin Price Prediction: How High Will $ENJ Crypto Go?
Based on expert Enjin Coin price prediction, the maximum price of ENJ crypto is predicted to be $75 by 2030.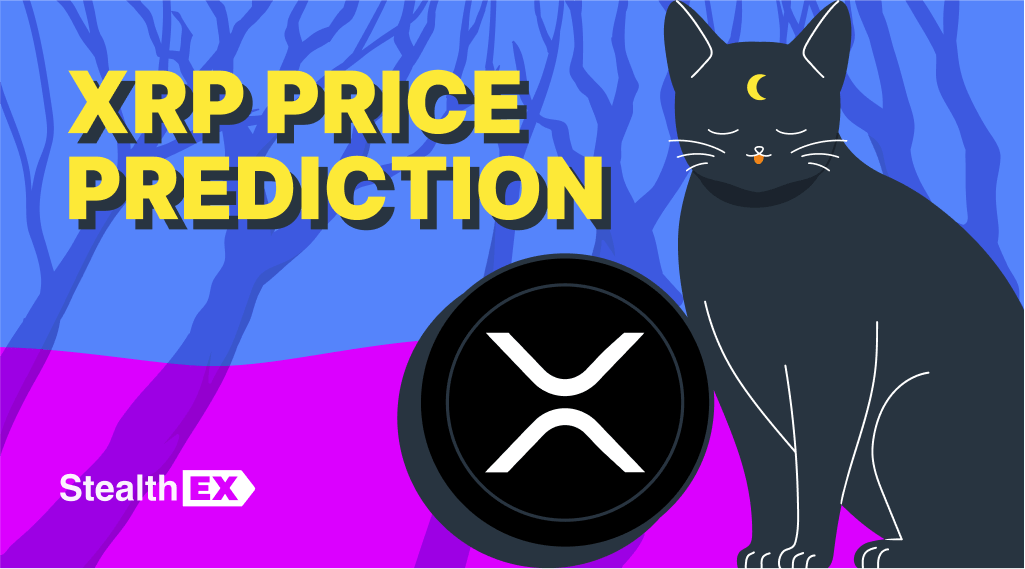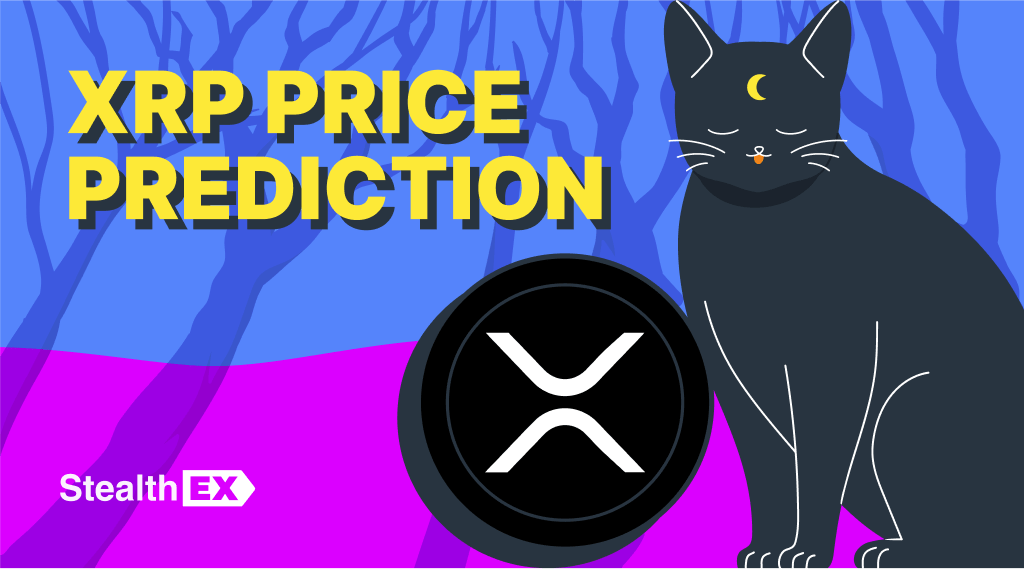 September 26, 2023
Price Prediction
Ripple XRP Price Prediction: How High Can XRP Go?
Based on expert XRP price prediction, the maximum price of XRP coin is predicted to be $12 by 2030.