Where and How to Buy Electroneum (ETN) Coin?
September 1, 2022
How to Buy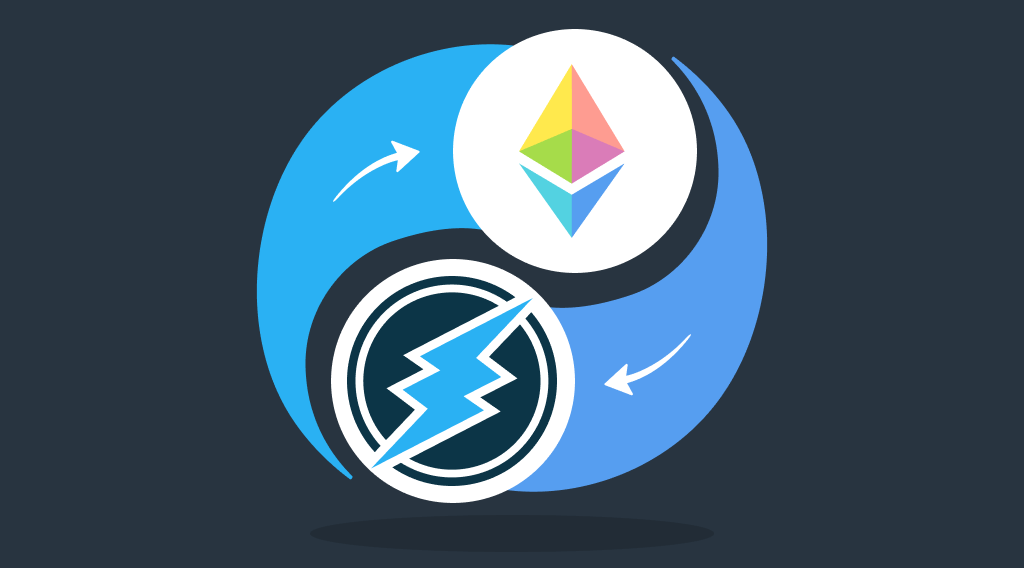 One of the most popular functions of cryptocurrencies is payment for goods and services, and transferring money worldwide. While almost any crypto is suitable for this purpose, some projects specialize in payments. One of such projects is Electroneum. Read more about how to buy Electroneum coin in the new StealthEX article.
Electroneum is a digital payments ecosystem that allows anyone to store, send and receive digital funds via their smartphone. The mission of the company is to use the power of blockchain and unlock the global digital economy for millions of people in the developing world.
The company's mobile-based payments solution is powered by ETN, the project's cryptocurrency. ETN crypto can be used to pay for everyday essentials including mobile airtime and data and utilities top-up. You can also use ETN to pay for your electricity meter top-up and order taxi rides to local market towns. Sending ETN anywhere in the world is just a tap away: for a fraction of the usual cross-border transfer cost, you can forward your money to any individual in over 190 countries.
Where to Buy Electroneum Coin?
There are many exchanges where you can buy Electroneum, and StealthEX is one of the safest options. This platform offers users to get ETN with no extra fees and with the best floating and fixed rates.
How to Buy ETN Crypto?
Just follow the guidelines below. Let's imagine you want to exchange ETH to ETN. To make an exchange, you need to take a few simple steps.
First, you should choose Ethereum in the left drop-down list. Then choose Electroneum in the right list of coins.
After setting the pair it is necessary to enter the amount of ETH you want to exchange.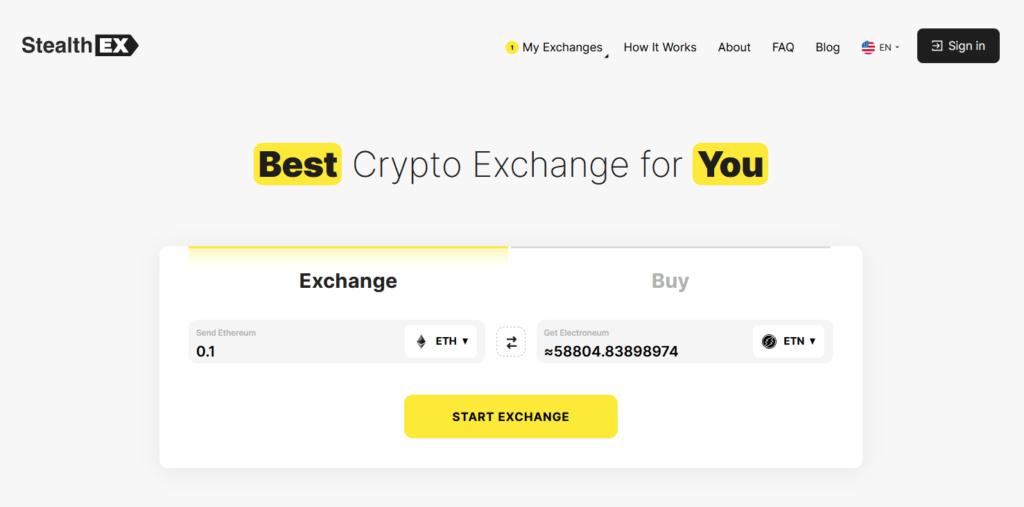 Here you will see the estimated amount of ETN crypto that you will receive after the exchange.
Now when everything is set, press the Start Exchange button and you will be taken to the next page.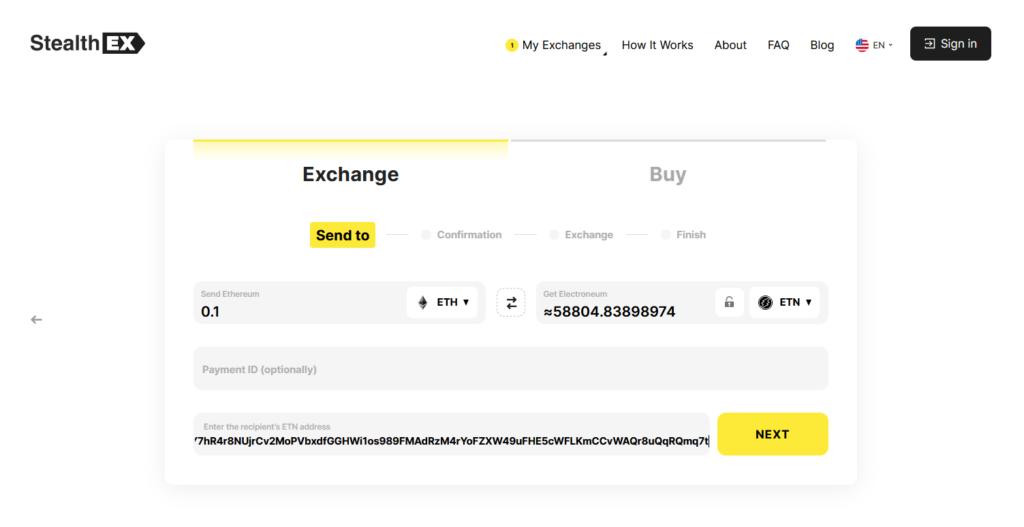 In the second step, you need to provide the ETN coin recipient address. The recipient address must match the crypto you are going to receive. Remember to double-check the information you enter prior to the exchange as the transaction you make cannot be canceled.
As soon as you have carefully checked all the details, you can press the Next button and you will be redirected to the Confirmation page.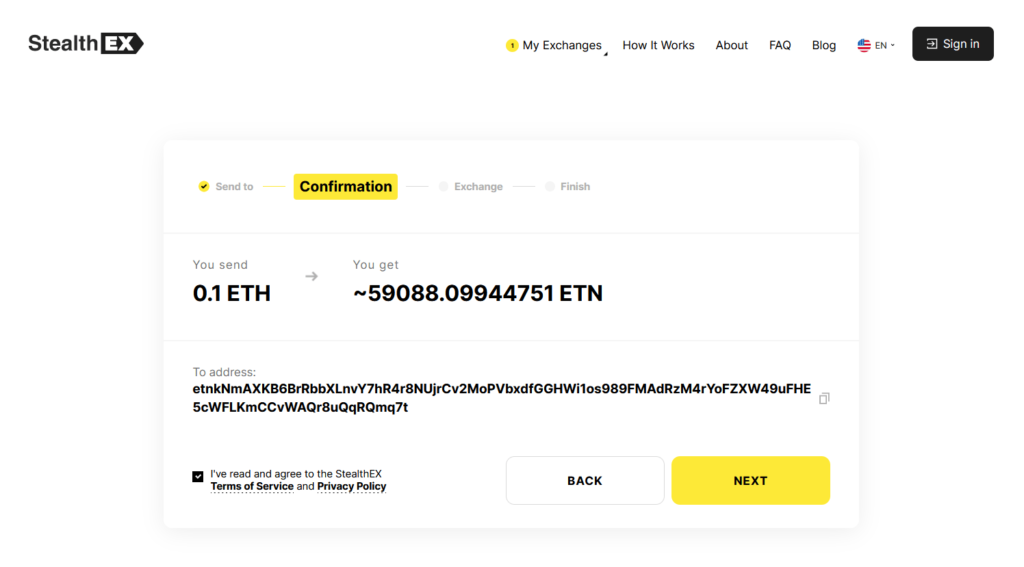 Here you can revise the address provided and the amount of Electroneum coin you will receive. Don't forget to read and check the Terms of Use and Privacy Policy box. Without checking the box you will not be able to continue the exchange. 
Pressing the Next button you will be redirected to the Exchange page. 
At first, you will see the address where you need to send your ETH coin to continue the exchange. StealthEX will also provide you with the exchange ID. It will allow you to keep all the information about the swap. It is recommended to save your exchange ID or the link to your exchange.
Exchange Statuses
After sending ETH coins to the shown address, the information on the Exchange page will be renewed automatically. The Exchange page has several statuses that will change during the time of the exchange.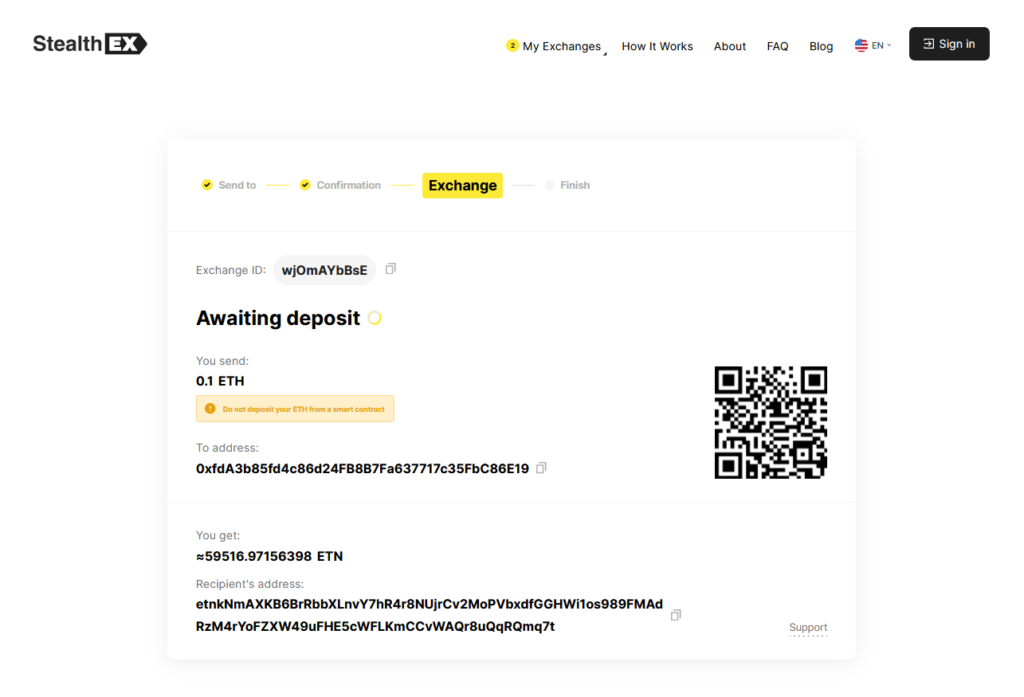 The first status is Awaiting deposit.
The following status is Confirming. This means that StealthEX is confirming the transaction you made.
The next status is Exchanging. During this time the exchange is being made.
Then the status will be changed to Sending to your wallet. This indicates that there are just a few minutes left until you will receive your Electroneum coin.
Finally, you will be redirected to the FINISH page. This shows that the exchange has been successfully made and you will receive crypto to the address provided. To be sure that ETN coins were sent to your wallet you can also use the Output hash shown on this page and check it in the blockchain list of transactions.
From here you can either create a new exchange on StealthEX.io or leave the page and check your Electroneum coin wallet to be surprised at how fast you got ETN crypto. Usually, the process is quite rapid so you won't need to wait long.
Keep reading StealthEX's article to learn more about Electroneum innovative blockchain and ETN crypto.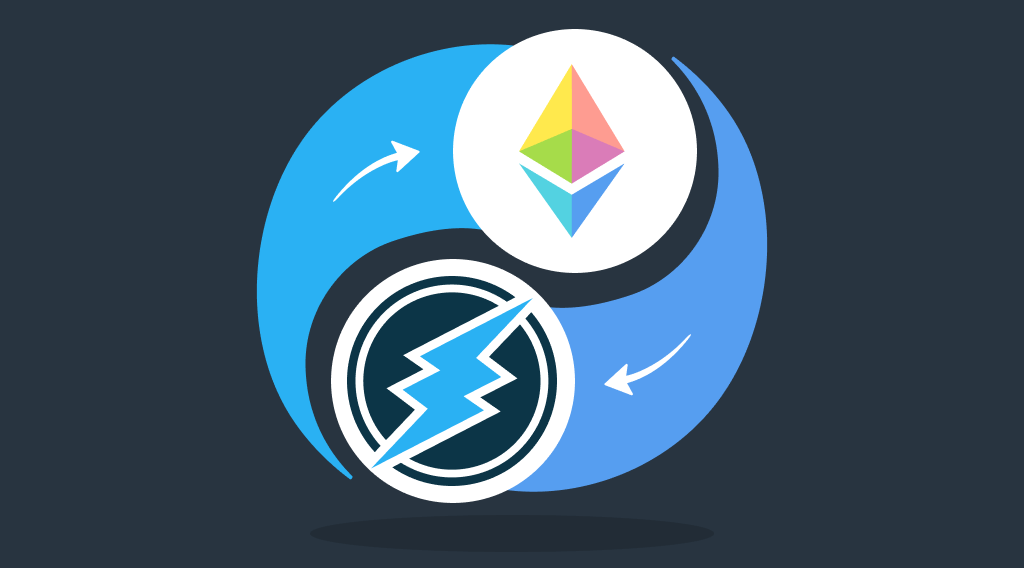 Electroneum: What Is ETN Crypto?
According to the project's white paper, the team continues to develop the existing platform. AML/CTF and KYC processes are embedded into the ETN-Network systems and the overriding aim is to make sure that the ETN-Network always operates within applicable laws and regulation and that the legitimate interests of the ETN user community are protected.
All in all, Electroneum offers an online educational resource, a mobile device, an online freelance platform, and an app.
Educational Resource TaskSchool
TaskSchool is a free online educational resource to enable people to learn a range of basic digital skills that have commercial value. It's a multi-language platform, showing users a range of skills from extremely simple (such as photo retouching with a free Android app, or making social media posts) to more complex tasks such as designing logos on a laptop with free software.
Mobile Phone by Electroneum Platform
In addition to the already existing ecosystem, the project offers their own mobile phone called M1 with Android 8.1 Go Edition, Quad Core 1.3Ghz, 1GB Ram, 8GB Internal, and a 4.5" Touchscreen.
AnyTask — Electronium Online Platform
AnyTask.com is the first freelance website that provides access to the global digital economy without the need for a bank account and without seller fees, providing financial inclusion for all. Sellers earn ETN through doing digital tasks for buyers around the globe and receive payment via the blockchain and their smartphone. The feature of paying and receiving ETN was released in June 2022.
Electroneum Application
The app developed by Electroneum offers the following features:
Storing ETN: built into the ETN App is an ETN Online Wallet. You can receive ETN into your ETN Online Wallet by simply showing your QR code to another user.
Safekeeping existing Electroneum: the ETN App is secured by a passcode that the user creates. For even greater security, you can transfer your ETN to a paper (offline) wallet.
Spending ETN easily: built into the ETN App is a simple currency converter, allowing users to see exactly how much they are spending, either in ETN or their local currency. More than 40 currencies are currently supported.
Where It All Began…
The crypto project was founded back in 2015 by Richard Ells. In August 2015, the basis of what has now become the ETN-Network ecosystem started to develop. Richard sought the technical abilities of his team at Retortal Ltd, one of Richard's other companies, to develop a cryptocurrency.
Throughout the rest of 2015 and 2016, the team continued to build upon the project. In 2017, Richard put forward the initial investment required to launch the cryptocurrency, forming Electroneum Ltd in July 2017.
In September 2017, Electroneum Ltd made ETN exchange tokens available for sale in the Initial Coin Offering (ICO), also known as a token sale. The ETN token sale was a great success closing early after having achieved the maximum Bitcoin and Ethereum targets. The value of the Bitcoin and Ethereum that was used to purchase ETN was $40 million USD at the time the sale closed.
Electroneum: News
Just by looking at the recent updates, we can see that Electroneum is sticking to its roadmap. In June, the project's developers announced that Ethereum's EVM is coming to Electroneum blockchain. Today's most popular blockchain-based VM is the Ethereum Virtual Machine (EVM), which Electroneum's blockchain team will start integrating within the coming weeks and months. The ETN network will be updated with the following key features:
Ability for users to create smart contracts.
IBFT consensus with single block finality for transactions.
Significantly lower transaction fees.
Potential for Electroneum to expand into the DeFi, NFT, and Metaverse.
Simplified cross-chain interactions with other popular EVM-based projects.
Scope for Electroneum's partners to build applications on top of the blockchain.
Creation of remote nodes for users to access.
Creation of a test-net faucet, enabling users to receive test-net ETN.
Moreover, the new changes in the project will include new ways to earn and spend Electroneum, building upon the ETN-Network instant payment system to enable a more seamless integration for third parties, expanding the choice of products and services within the ETN App, integrating food, building materials, retail vouchers, etc. into the ETN App, expanding existing services to more regions, whilst lowering costs of existing services, lobbying governments on crypto legislation and more.
ETN Coin Price Prediction
According to various sources, the project seems to be on its way to success. TechNewsLeader believes that in 2031, ETN coin will cost $0.13, while PricePrediction estimates that around the same time, the cryptocurrency's price will fluctuate around $0.11 on average.
Judging by the company's future plans to add smart contracts to the Electroneum platform and keep improving its already existing unique features, it seems that Electroneum may be a hi-tech project with a solid base and this may be a good investment opportunity. So, if you're looking for a place to buy ETN or other digital assets, don't forget that over 450 coins are available for purchase at StealthEX.
Our users can purchase cryptocurrencies using fiat and we still offer the opportunity to buy crypto at fixed rates!

Make sure to follow us on Medium, Twitter, Telegram, YouTube, and Reddit to get StealthEX.io updates and the latest news about the crypto world. If you need help, drop us a line at [email protected]
Please make sure to always research any cryptocurrency and assess your risks before you invest.
crypto world
Electonium
ETN
how to buy
how to buy crypto
Recent Articles on Cryptocurrency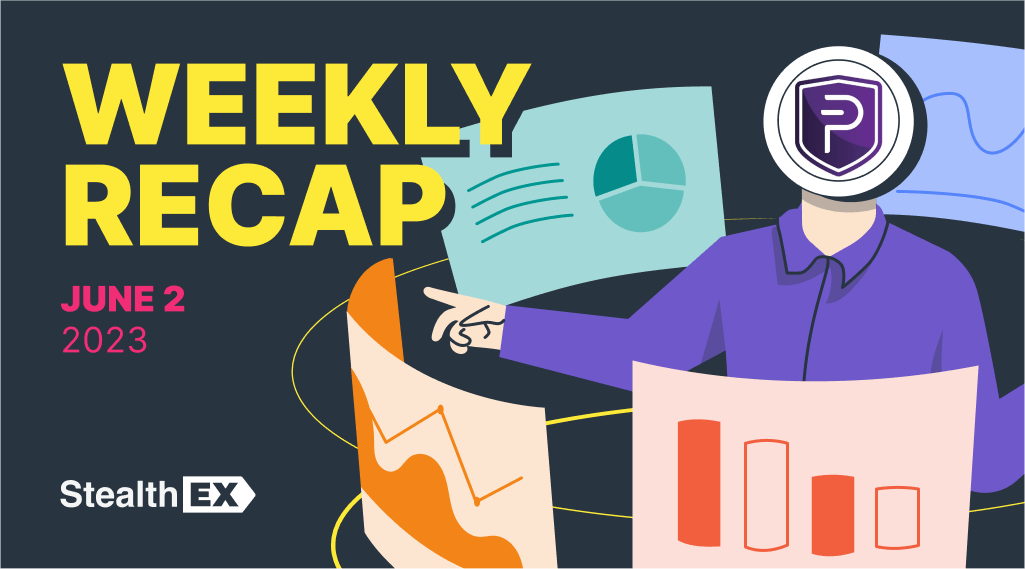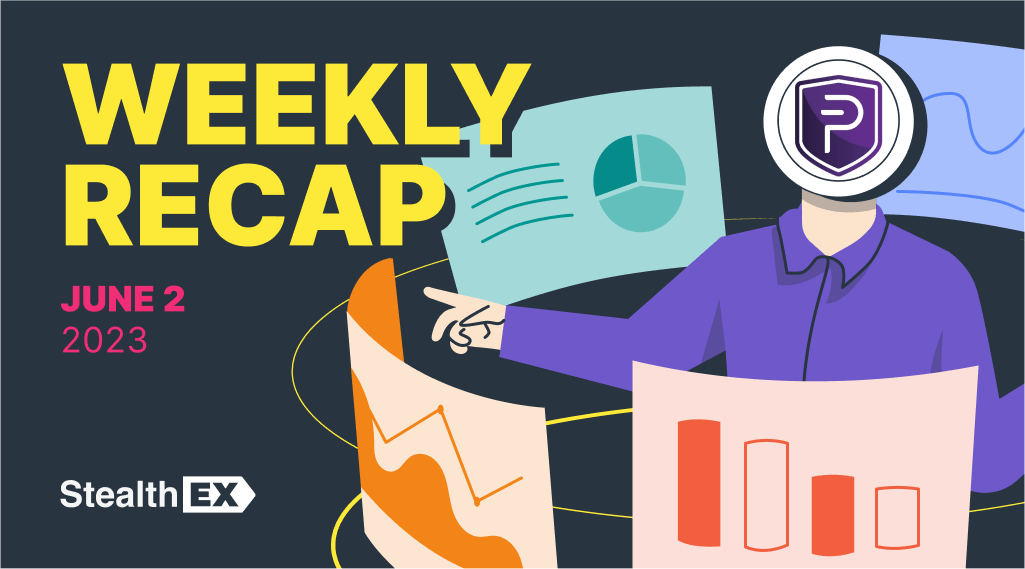 Review of the Crypto Market: June 2, 2023
Weekly Crypto Market analysis with major trends, Ethereum & Bitcoin performance, and impactful news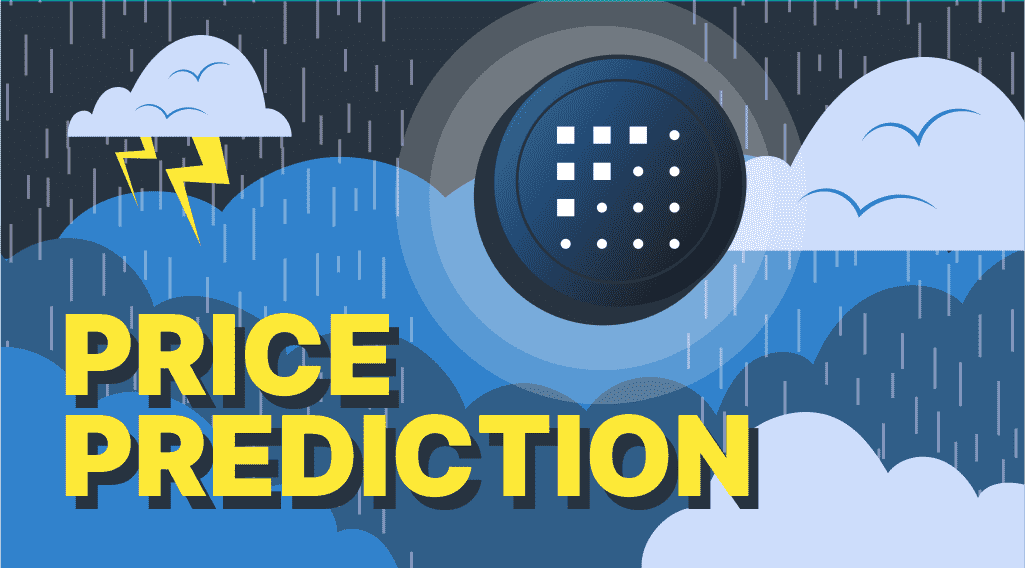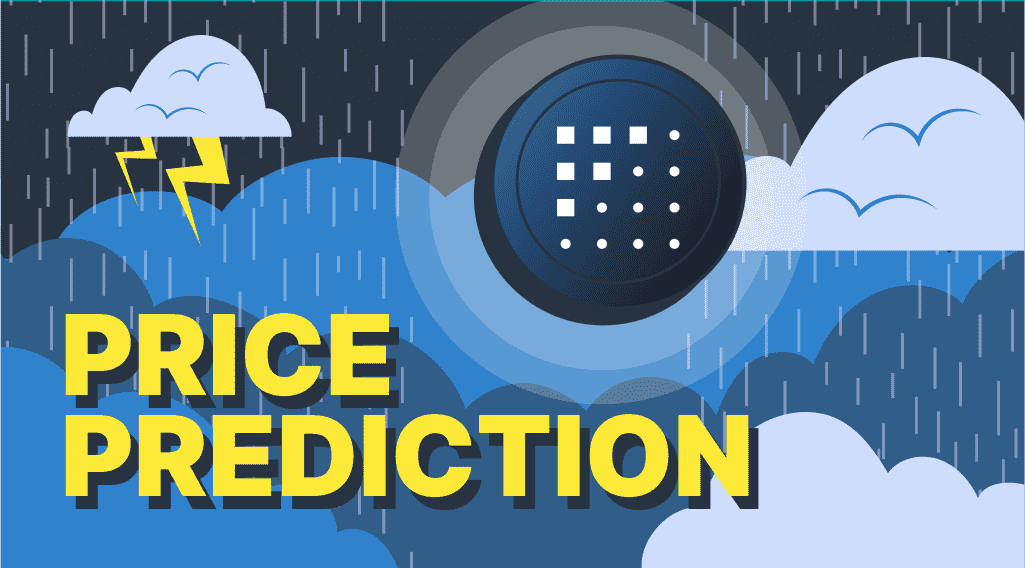 June 1, 2023
Price Prediction
Fetch.ai Price Prediction: Unveiling Future Trends of FET Crypto
Uncover Fetch.ai Price Prediction, empowering you to anticipate market trends and make decisions about its future.