Where and How to Buy RichQUACK Coin QUACK?
November 28, 2022
How to Buy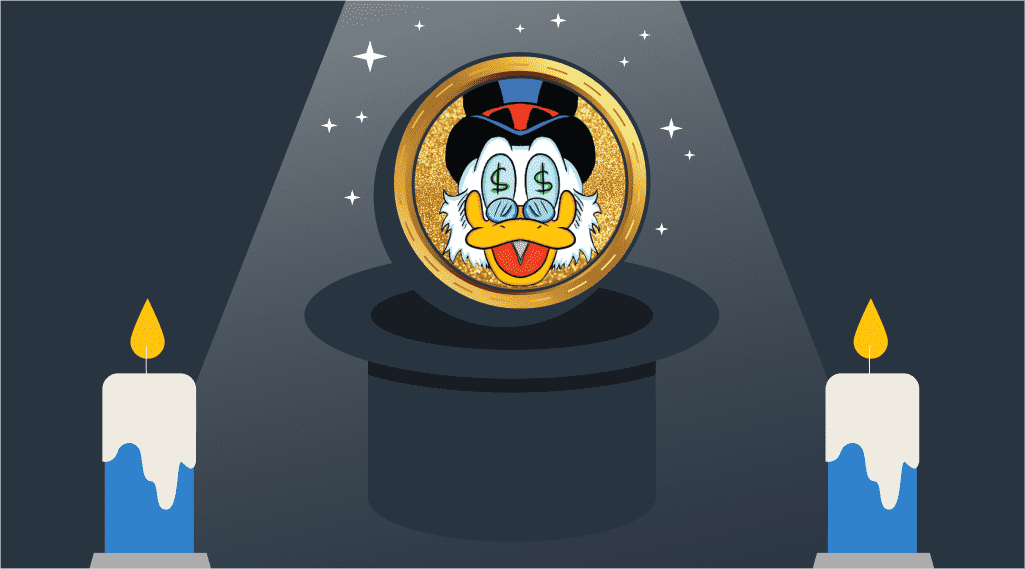 The world of meme coins isn't limited to shiba inu variations. There's a large number of other memecoins that have gained popularity over the years. One of them is RichQUACK (QUACK) crypto with Scrooge McDuck as its logo. In October 2022, RichQUACK briefly became the third-largest memecoin by market capitalization overnight, trailing only Dogecoin, before profit-taking dropped it back to fifth, below Baby Doge Coin and Dogelon Mars. So what's the secret behind the project? Read more about how to buy RichQUACK coin in the new StealthEX article.
Where to Buy RichQUACK Coin?
There are many exchanges where to buy $QUACK coin, and StealthEX is one of the safest options. This platform offers users to get RichQUACK coin with no extra fees and with the best floating and fixed rates. This meme cryptocurrency is always freely available for purchase via StealthEX.
How to Buy RichQUACK Coin?
Just follow the guidelines below. Let's imagine you want to exchange ETH to QUACK. To make an exchange, you need to take a few simple steps.
First, you should choose Ethereum in the left drop-down list. Then choose RichQUACK (QUACK) in the list of coins on the right.
After setting the pair it is necessary to enter the amount of ETH you want to exchange.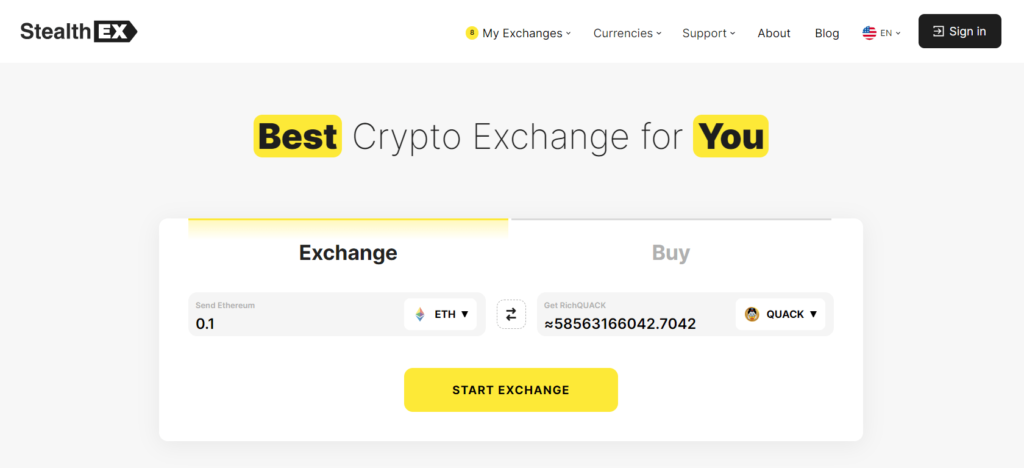 Here you will see the estimated amount of RichQUACK coin that you will receive after the exchange.
Now, when everything is set, press the Start Exchange button and you will be taken to the next page.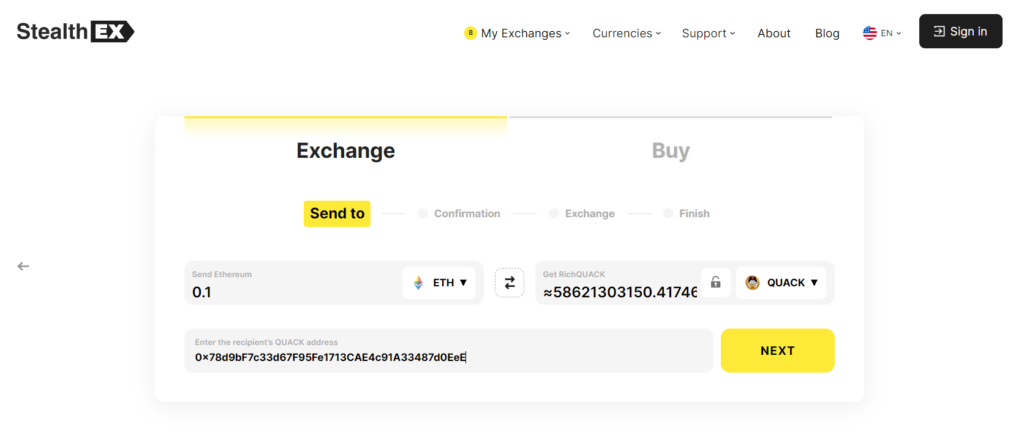 In the second step, you need to provide the QUACK crypto recipient address. The recipient address must match the crypto you are going to receive. Remember to double-check the information you enter prior to the exchange as the transaction you make cannot be canceled.
As soon as you have carefully checked all the details, you can press the Next button and you will be redirected to the Confirmation page.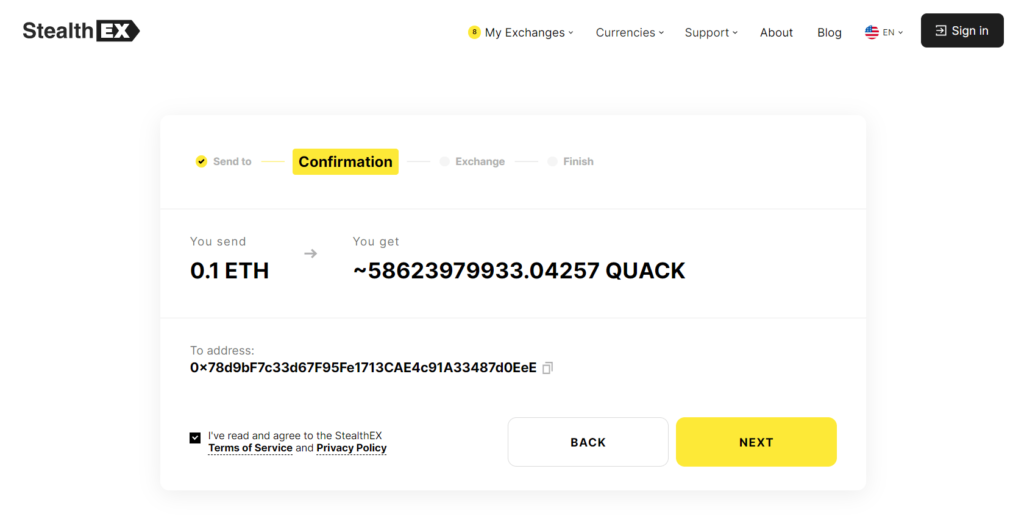 Here you can revise the address provided and the amount of RichQUACK coin you will receive. Don't forget to read and check the Terms of Use and Privacy Policy box. Without checking the box you will not be able to continue the exchange. 
Pressing the Next button you will be redirected to the Exchange page. 
At first, you will see the address where you need to send your ETH coin to continue the exchange. StealthEX will also provide you with the exchange ID. It will allow you to keep all the information about the swap. It is recommended to save your exchange ID or the link to your exchange.
Exchange Statuses
After sending ETH coins to the shown address, the information on the Exchange page will be renewed automatically. The Exchange page has several statuses that will change during the time of the exchange.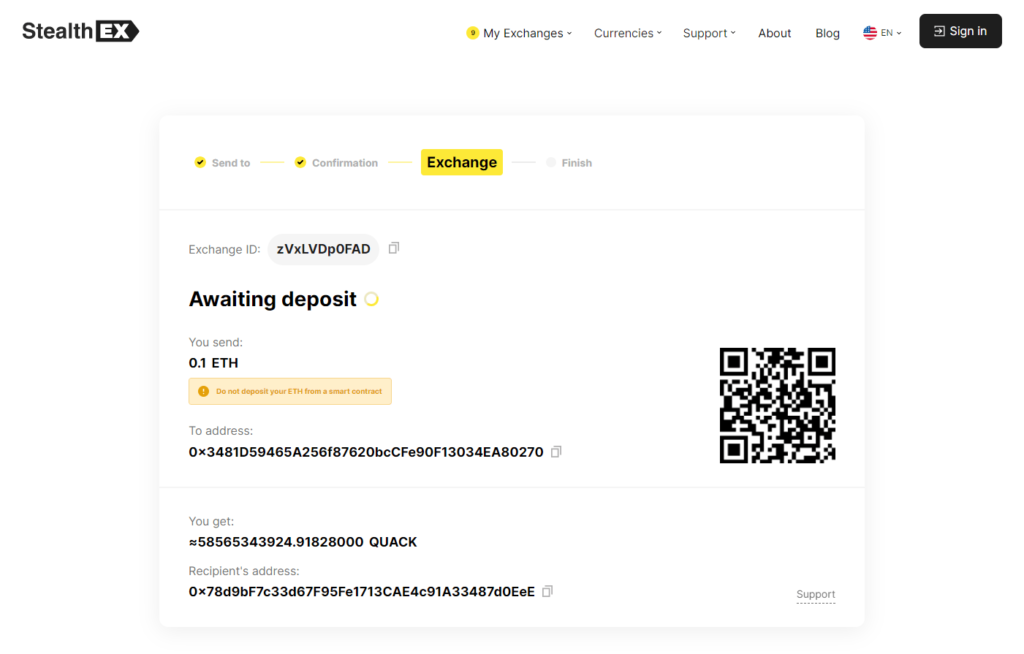 The first status is Awaiting deposit.
The following status is Confirming. This means that StealthEX is confirming the transaction you made.
The next status is Exchanging. During this time the exchange is being made.
Then the status will be changed to Sending to your wallet. This indicates that there are just a few minutes until you receive your QUACK crypto.
Finally, you will be redirected to the FINISH page. This shows that the exchange has been successfully made and you will receive crypto to the address provided. To be sure that RichQUACK coins were sent to your wallet you can also use the Output hash shown on this page and check it in the blockchain list of transactions.
From here you can either create a new exchange on StealthEX.io or leave the page and check your QUACK crypto wallet to be surprised at how fast you get QUACK coin to your address. Usually, the process is quite rapid so you won't need to wait long: QUACK swaps are processed in a matter of minutes.
Keep reading StealthEX's article to learn more about the project itself and RichQUACK crypto.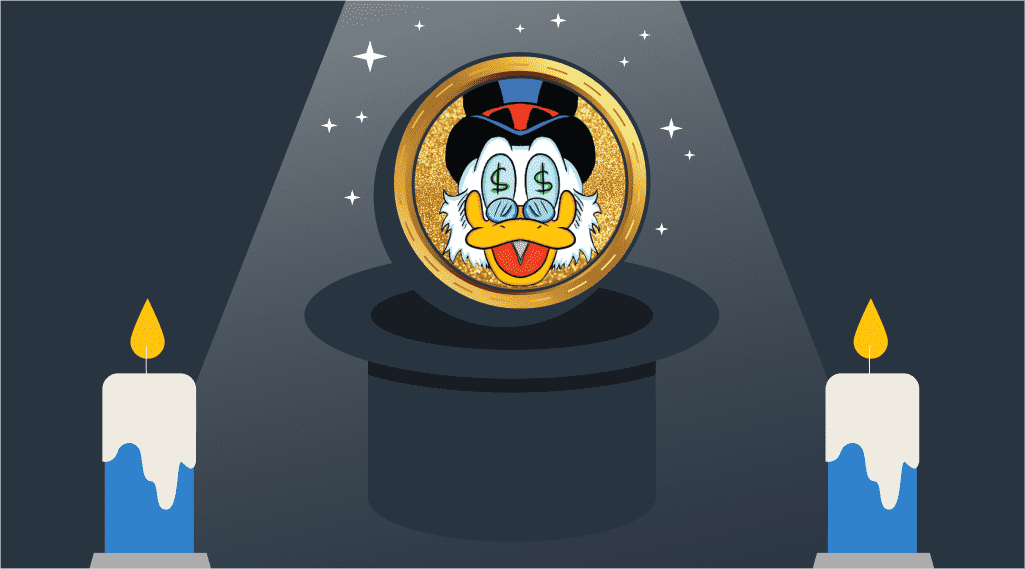 What Is RichQUACK Token?
RichQUACK is a hyper-deflationary, self-generating automatic liquidity platform that aims to offer static rewards to the token holders on the platform. Hyper-deflationary tokens allow the platform to reward community members by protecting their holdings from supply changes and increasing the value of their holdings.
Here are the basics of how RichQUACK works:
Staking. Staking for levels gives every holder a fair guaranteed allocation to invest in projects. GA model is broken down into 9 levels based on the number of QUACK users have staked on RichQUACK. You can also get free tokens from our incubated projects and partner projects.
DAO voting. The project needs to have enough votes to move forward to the Launchpad. Voting will remain open until the time the IDO is about to start. Each holder only needs a minimum 100B QUACK to vote. Only the staked amount of QUACK by the investor will be reflected in the voting.
Launchpad. Users can become early investors in the top Blockchain startup. QUACK aims to be a fair, decentralized, multi-chain launch ecosystem to help bring next generation projects to life. To join the Launchpad, users will need to pass QUACK Quality Standard check and KYC to reduce risk exposure.
The QUACK token operates on the Binance Smart Chain (BSC). The QUACK token was created in June 2021. The maximum total supply of QUACK is 100 quadrillion QUACKs.
The project aims to be a 100% community-driven, governance-based, and transparent token offering real utility. The token aims to have an anti-whale feature in which no wallet holds more than 1% of token supply and selling is restricted to less than 1% of the total supply. An anti-whale mechanism is a system that counters or checks the activities of crypto traders who manipulate the price of a cryptocurrency. The QUACK token has a 12% transaction fee, which is further distributed as a 4% reward to the holders, 4% in auto liquidity, 2% in Quack PUMP (purchasing of large quantities to push the demand) and burn wallet, and 2% to the marketing wallet.
RichQUACK Crypto News 
RichQUACK has been quite popular as a meme token and has attracted a strong community. In November and earlier, RichQUACK became one of the most mentioned cryptos. As a result of the community's persistent promotion on social media, a recent surge in price made it the most discussed memecoin on various social media platforms like Reddit and Twitter.
Is QUACK Coin a Good Investment?
RichQUACK is appealing not just because it is a cheap meme token with upside potential, but also because it serves as a Launchpad and incubator for other initiatives. Investors who own QUACK crypto are empowered to have a say in which initiatives receive funding, may invest in those ventures, and earn a profit from those initiatives.
The hyper-deflationary burn process that rewards holders is the primary reason for its popularity and apart from that, RichQUACK promises a Metaverse, Play-to-Earn games and other lotteries where investors can participate and win by 2023.
In contrast to Shiba Inu, whose holders can burn tokens on their own initiative and DOGE, which has a supply that grows over time, QUACK tokens are destroyed once they are spent as they are sent a burn wallet and holders receive a 12% of the transaction tax.
RichQUACK Price Prediction 
QUACK coin has been doing well in October, becoming the third-largest memecoin by market capitalization overnight. In fact, the last time the coin was above $0.000000002 was January, and the coin reached a yearly low of $0.0000000004 in June. Investors who bought at that time have made 400% if they still held until October.
Long-term predictions for RichQUACK vary, however, many websites promise the coin a steady growth in price, indicating that by 2031, it may reach $0.00000005. Other sources promise that RichQUACK's coin price will climb to $0.00000008. It's difficult to say whether the crypto project is going to become more popular, however, developers are backing it up with their constant work. In the future, RichQUACK may lean on its community for a price raise.
We'd like to remind you that if you're looking for a RichQUACK crypto exchange or simply want to buy QUACK coin right away, you can do it via StealthEX. Our users can purchase cryptocurrencies using fiat and we still offer the opportunity to buy crypto at fixed rates.

Make sure to follow us on Medium, Twitter, Telegram, YouTube, and Publish0x to get StealthEX.io updates and the latest news about the crypto world. If you need help, drop us a line at support@stealthex.io.
Please make sure to always research any cryptocurrency and assess your risks before you invest.
crypto meme
cryptocurrency exchange
how to buy crypto
QUACK
RichQUACK
Recent Articles on Cryptocurrency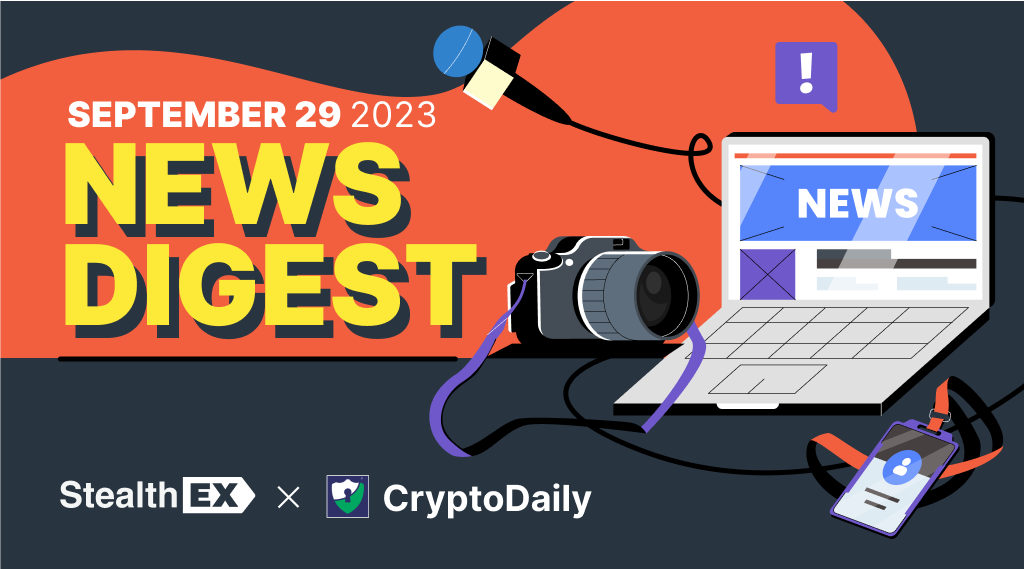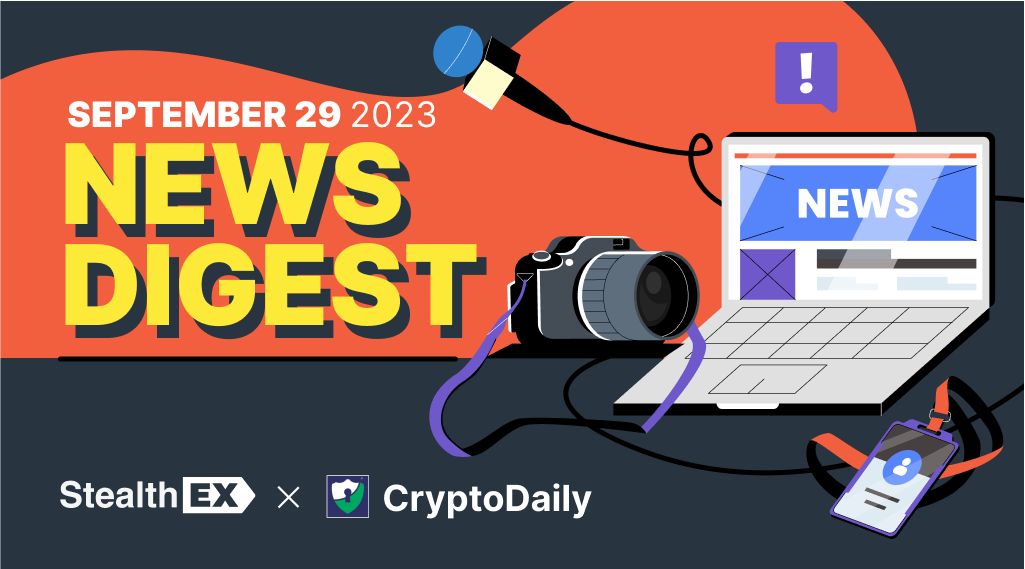 September 29, 2023
Crypto World
MicroStrategy, Coinbase, and MoneyGram Wallet in StealthEX x CryptoDaily Digest
MicroStrategy's new BTC buy, SEC scrutiny on Gensler, MoneyGram wallet, and Marathon Digital's invalid block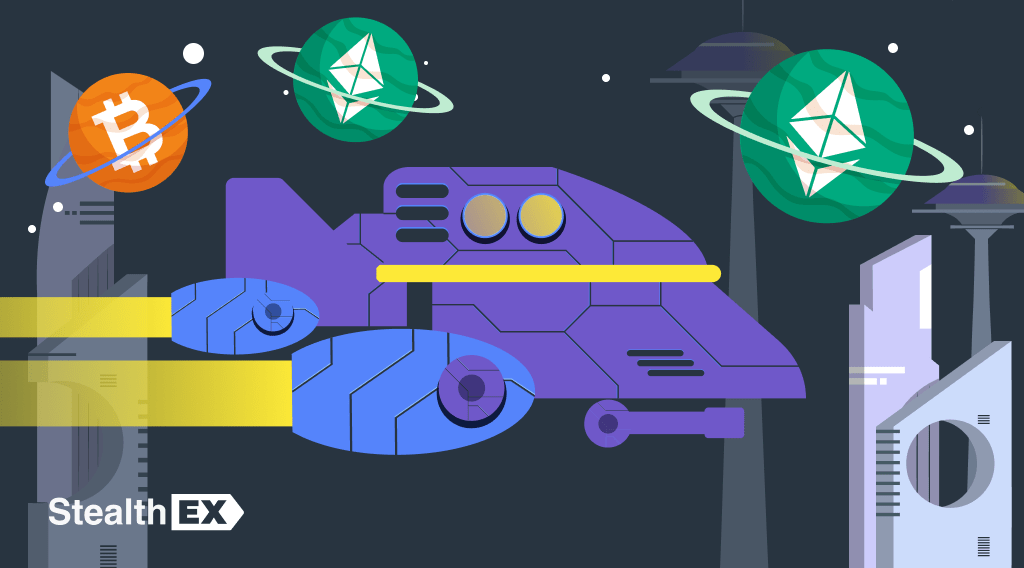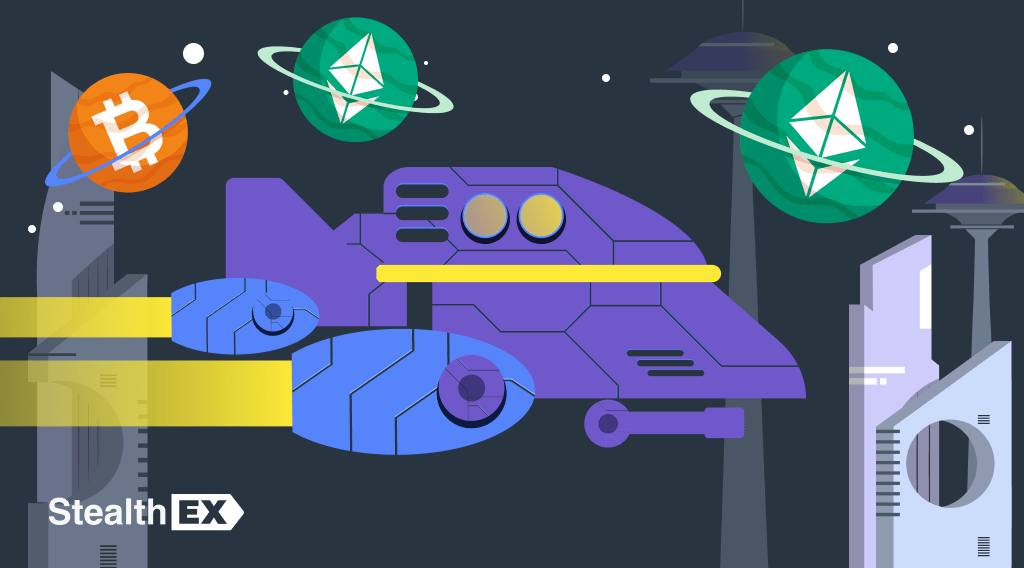 September 28, 2023
Investment
Future of Crypto in the Next 5 Years: Trends, Challenges, and Predictions
Navigating the future of crypto in the next 5 years: what can we expect from the cryptocurrency market in the…