Where and How to Buy VeChain VET Crypto?
August 23, 2022
How to Buy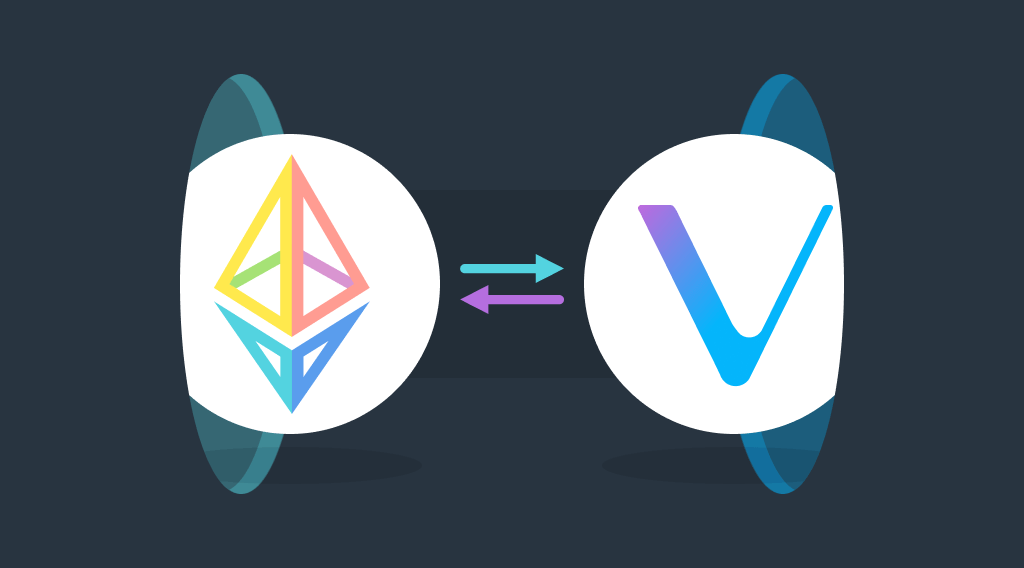 The world of crypto wouldn't be half that fascinating if it wasn't for unique and ground-breaking crypto projects with a grand vision behind them. One of such projects is VeChain. Read more about how to buy VeChain coin in the new StealthEX article.
VeChain is a cryptocurrency and software that works as part of the VeChainThor blockchain, supporting two unique cryptocurrencies and smart contracts. The VeChainThor blockchain – the public blockchain behind VeChain – runs the VeChain token (VET) and the VeThor token (VTHO). The VeChain token is used to transfer value across the network, while the VeThor token is used as energy to power smart contract transactions. As stated in the VeChain's white paper, the two-token system was devised for effective governance and to have a predictable economic model for decentralized applications developers. VeChain is the larger, more influential digital token.
VeChain, a blockchain focused on supply chain and logistics needs, was officially launched in 2015 by a Shanghai-based team following about a year of development. One of its founders is Sunny Lu, the former CIO of Louis Vuitton China. In June 2016 the project launched VeChain 0.1v. At the moment, it's run by a team of more than 100 workers globally, offering blockchain-as-a-service (BaaS) products to customers in the logistics and data management industries.
How to Buy VeChain VET Coin?
There are many exchanges where to buy VeChain, and StealthEX is one of the safest options. This platform offers users to get VET with no extra fees and with the best floating and fixed rates.
Just follow the instruction below. Let's imagine you want to exchange ETH to VET. To make an exchange, you need to take a few simple steps.
First, you should choose Ethereum in the left drop-down list. Then choose VeChain in the right list of coins.
After setting the pair it is necessary to enter the amount of ETH you want to exchange.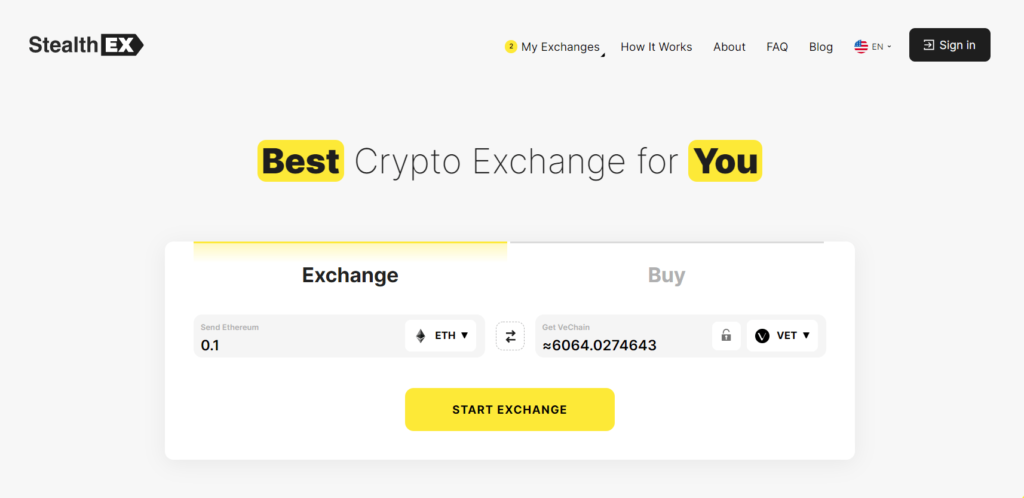 Here you will see the estimated amount of VeChain crypto that you will receive after the exchange.
Now when everything is set, press the Start Exchange button and you will be taken to the next page.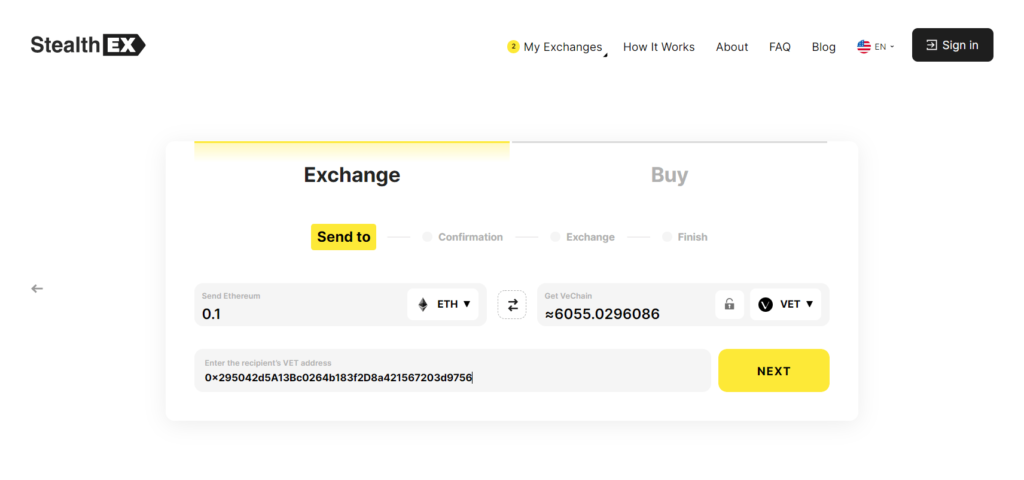 In the second step, you need to provide the VET coin recipient address. The recipient address must match the crypto you are going to receive. Remember to double-check the information you enter prior to the exchange as the transaction you make cannot be canceled.
As soon as you have carefully checked all the details, you can press the Next button and you will be redirected to the Confirmation page.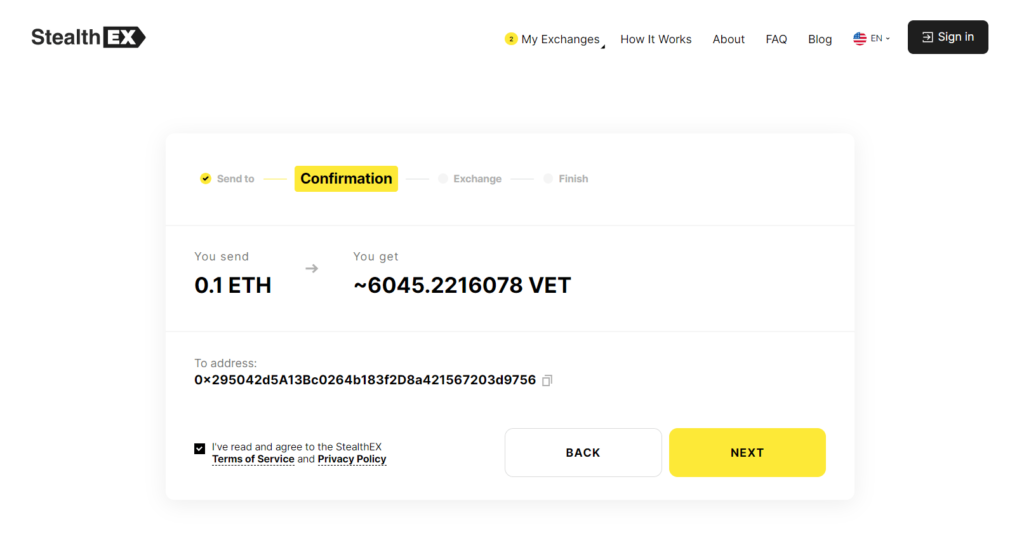 Here you can revise the address provided and the amount of VET coin you will receive. Don't forget to read and check the Terms of Use and Privacy Policy box. Without checking the box you will not be able to continue the exchange. 
Pressing the Next button you will be redirected to the Exchange page. 
At first, you will see the address where you need to send your ETH coin to continue the exchange. StealthEX will also provide you with the exchange ID. It will allow you to keep all the information about the swap. It is recommended to save your exchange ID or the link to your exchange.
Exchange Statuses
After sending ETH coins to the shown address, the information on the Exchange page will be renewed automatically. The Exchange page has several statuses that will change during the time of the exchange.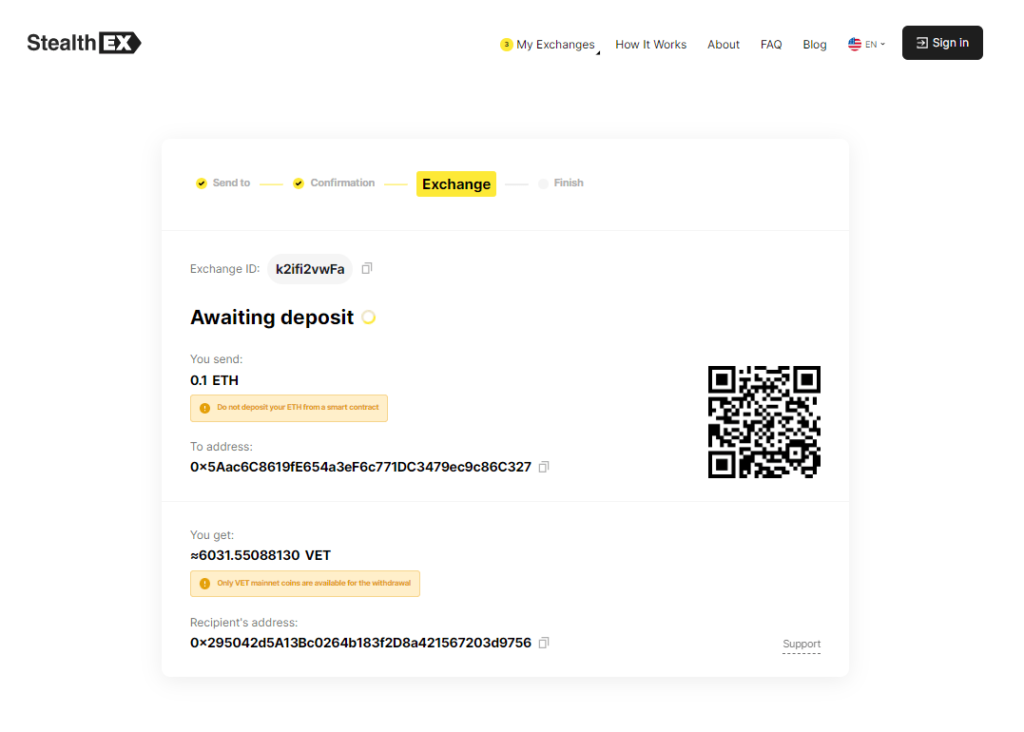 The first status is Awaiting deposit.
The following status is Confirming. This means that StealthEX is confirming the transaction you made.
The next status is Exchanging. During this time the exchange is being made.
Then the status will be changed to Sending to your wallet. This indicates that there are just a few minutes left until you will receive your VeChain coin.
Finally, you will be redirected to the FINISH page. This shows that the exchange has been successfully made and you will receive crypto to the address provided. To be sure that VET coins were sent to your wallet you can also use the Output hash shown on this page and check it in the blockchain list of transactions.
From here you can either create a new exchange on StealthEX.io or leave the page and check your VeChain coin wallet to be surprised at how fast you got VET crypto. Usually, the process is quite rapid so you won't need to wait long.
Keep reading StealthEX's article to learn more about VeChain innovative blockchain and VET crypto.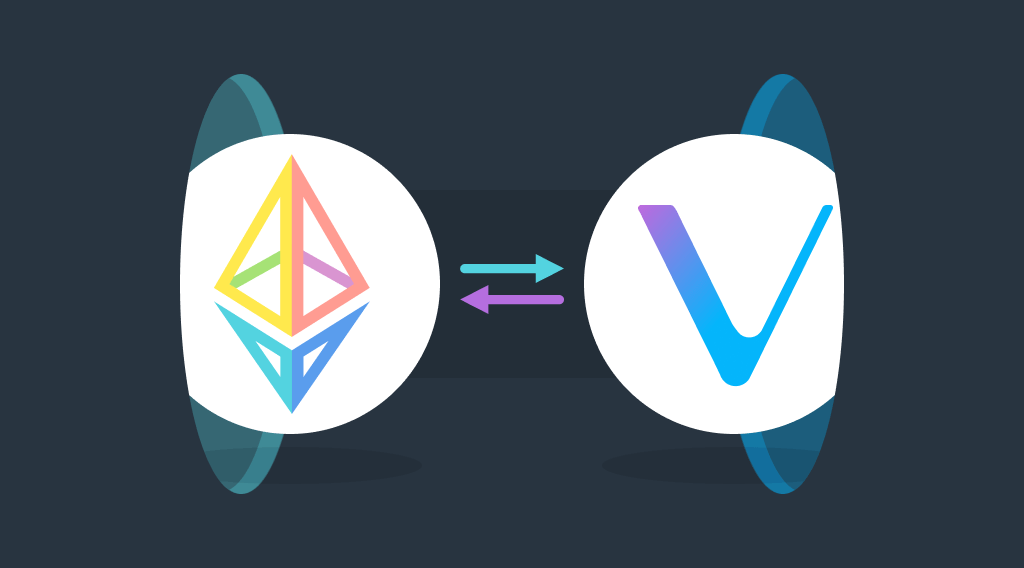 VeChain Crypto: About the Project
According to the project's white paper, VeChain's vision is 'to lower the barrier and enable established business with blockchain technology to create value and solve real world economic problems.'
To enable mass public adoption, the team has identified the three major phases of blockchain evolvement – Technical Consensus, Business Consensus, and Governance Consensus. Phase one, Technical Consensus refers to technical developers. Business Consensus will be the second phase of the project's evolution. It will focus on business owners and enterprises that will become the major force to drive blockchain technology development and adoption, based on business needs and demands. During the Governance Consensus phase, authorities along with or against big corporations and insightful technical players will be the major forces to drive the regulatory development of blockchain technology and applications.
The VeChain ecosystem rejected the Proof-of-Stake and Proof-of-Work systems. Instead, it goes beyond these by using a Proof-of-Authority (PoA) system. PoA is a consensus method that gives a small and designated number of blockchain actors the power to validate transactions or interactions with the network and to update its more or less distributed registry. One or more validating machines are responsible for generating each new block of transactions that will be included in the blockchain.
The new block can be accepted directly without verification, or by unanimous vote of the block generators, or simply by a majority, depending on the configuration chosen for the blockchain. VeChain is the most notable blockchain using PoA. The other, lesser known crypto, is Xodex.
VeChain Use Cases
So how can VeChain be used? VeChain has many special features available. The main features that set VeChain apart are its use cases for tracking goods and data. The project will prove irreplaceable in the following fields.
Logistics
Shipping
Retail
Manufacturing
Warehouse
Food and grocery
Anti-counterfeiting
Open financial transactions
Pharmaceutical industry
Using the smart contract features of VeChain, users can track ownership and control of any number of goods. For example, an electronics manufacturer can track the process of products to distribution. A mushroom company can track fungal spores, sellable products, and sales for end-to-end compliance requirements. If a company needs to buy it or sell related items, you can track it using VeChain.
VeChain's technology can also let consumers know that their purchases are authentic and help companies gain greater transparency during the manufacturing and delivery process. Moreover, VeChain has developed sensor chips for physical products that are uniquely linked to its blockchain platform. The system is exclusively geared for mass enterprise adoption. Its real-world tech has been in use since 2015, when it developed NFC tracking chips to be placed inside handbags for one of the French luxury brands.
In 2016, VeChain applied this tech for the Renault car company to track vehicle history. It keeps track of maintenance, mileage, and anything else that has happened to the car from the time it first hits the road. And that's just one of the many use cases the blockchain has to offer. The potential for VeChain to be integrated within various Internet-of-Things technologies is incredible.
VeChainThor Blockchain
VeChainThor is a public blockchain that is designed for mass adoption of blockchain technology by business users of all sizes. It is intended to serve as the foundation for a sustainable and scalable business blockchain ecosystem.
From a technical point of view, the VeChainThor blockchain is built upon existing proven blockchain innovations and novel technologies that are created for achieving mass adoption. These technologies include the Proof-of-Authority consensus algorithm, meta transaction features, protocols of transaction fee delegation, on-chain governance mechanism, built-in smart contracts as well as tools for developers.
Per VeChain's consensus protocol, votes are disbursed based on VET holdings and disclosure. VET holders without Know Your Customer (KYC) credentials and with 1 million tokens in their account are assigned 20% of all votes while VET holders with KYC and the same amount in their accounts are responsible for 30%.
There are 101 master nodes responsible for reaching consensus on transactions in VeChain's blockchain. This system is different from Bitcoin, which requires all nodes to vote on a transaction before reaching consensus. The system is said to use less power, and it does not require a minimum number of validators to reach consensus.
The other type of master node in VeChain is the economic master node. These do not produce blocks or ledger records and are used as a check on power. This is done by allocating a certain number of votes to each economic master node based on their VET holdings. Each 10,000 VET held by an economic master node gets it a single vote.
Facts from VeChain History and VeChain News
In 2018, VeChain launched its own wallet called VeChainThor Wallet. It is a light mobile wallet app that provides users with a powerful, secure, simple, and fully functional portal to the VeChainThor blockchain. The VeChainThor Wallet has undergone a series of security testing by trusted third-party security firms, including functional test, source code review, smart contract audit, session management audit, input security audit, etc.
In 2020, VeChain officially launched its blockchain-enabled Sustainability Solution to help companies digitalize and increase efficiency for sustainable business practices.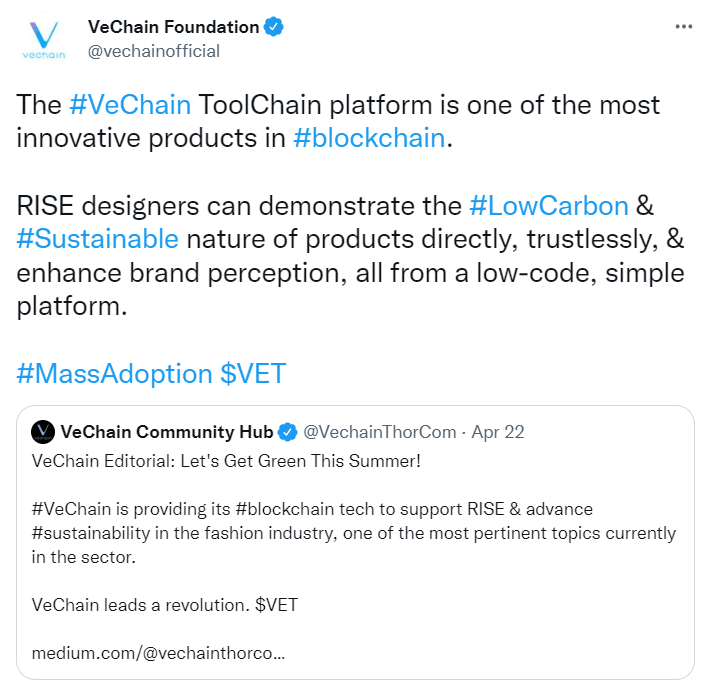 The solution is built on its one-stop data Blockchain-as-a-Service (BaaS) platform VeChain ToolChain™. The initiative is characterized by its high standardization, light cost, and flexible payment in the market, and is easily implemented by businesses in every sector. Most importantly, it offers customizable tools and whitelabel services, where companies can implement their Sustainability Service for their own clients.
That year VeChain also entered into a partnership with a high-end brand COS. In the past, VeChain had worked with H&M subsidiary Arket to verify the organic manufacturing process of their beanies and other apparel items. Now, H&M began using their tracking system.
Just a couple of days ago, VeChain has announced the successful update of the VeChainThor public testnet to include VIP-220.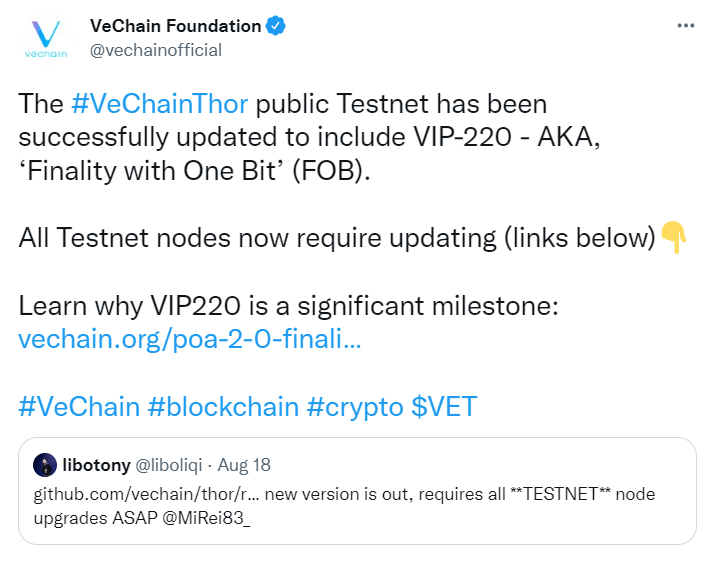 According to the report, the new feature included in the latest version is also known as Finality with One Bit (FOB). The foundation pointed out that all Testnet nodes are now required to be updated.
VeChain Price Prediction
The future of the project seems to be bright. New partnerships, new initiatives and new ideas keep coming, so the platform seems to be thriving. While at the moment VET coin costs $0.02566, different sources offer different predictions. For instance, PricePrediction believes that in 2031, the average VET crypto price will rise to $1.06, and TechNewsLeader experts forecast that the token will cost around $1.19.
VeChain is one of the crypto projects that is successfully transferring from the digital field into the physical world – all thanks to the innovative technology behind it. However, supply and demand is what will ultimately define the value – or rather, the price – of VET-USD.
And by the way, don't forget that if you're looking for a place to buy VeChain crypto, StealthEX is exactly what you need.
In addition, our users can purchase cryptocurrencies using fiat and we still offer the opportunity to buy crypto at fixed rates!

Make sure to follow us on Medium, Twitter, Telegram, YouTube, and Reddit to get StealthEX.io updates and the latest news about the crypto world. If you need help, drop us a line at [email protected]
Please make sure to always research any cryptocurrency and assess your risks before you invest.
how to buy
VeChain
Vechain VET
VET
VeThor
Recent Articles on Cryptocurrency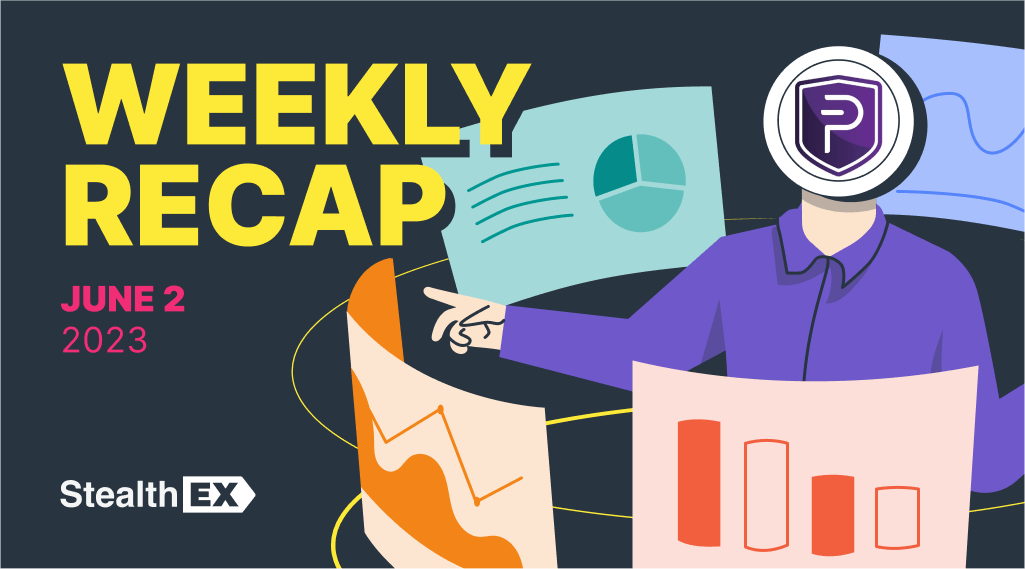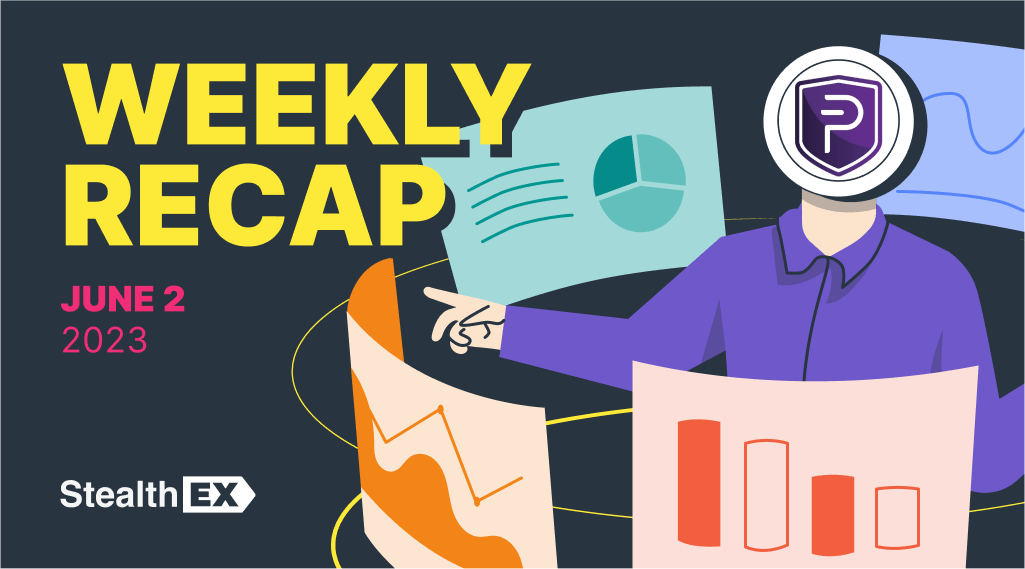 Review of the Crypto Market: June 2, 2023
Weekly Crypto Market analysis with major trends, Ethereum & Bitcoin performance, and impactful news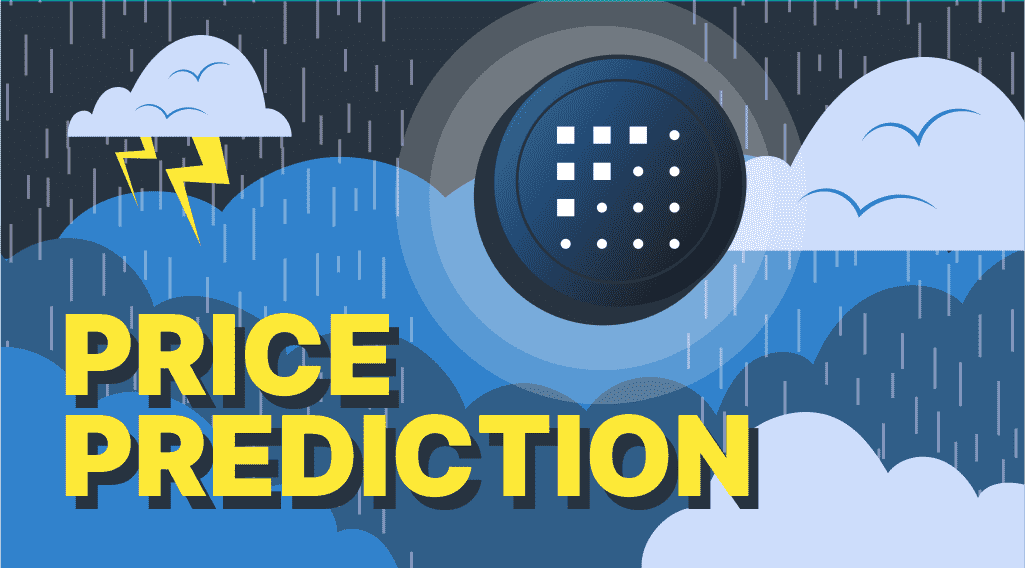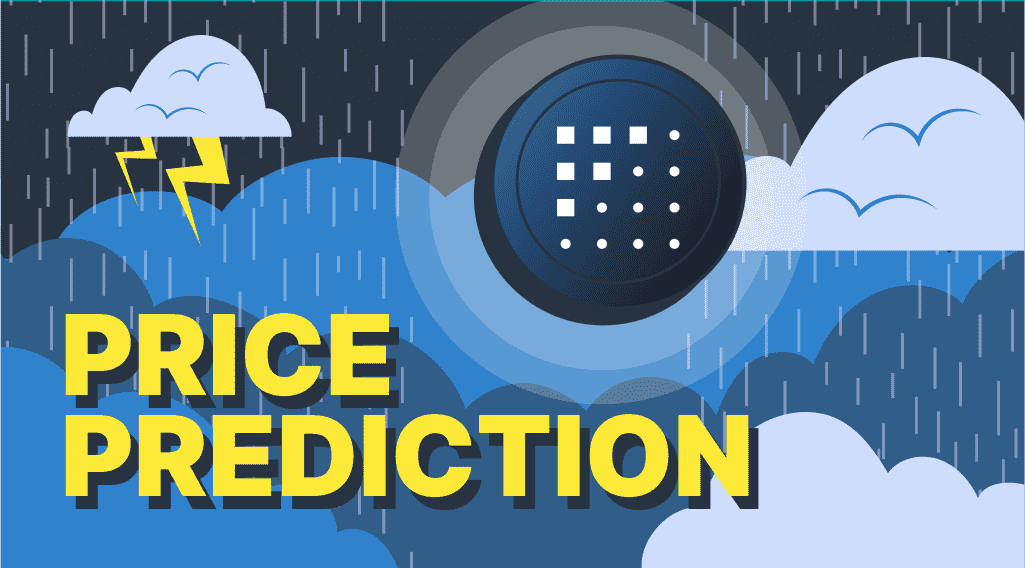 June 1, 2023
Price Prediction
Fetch.ai Price Prediction: Unveiling Future Trends of FET Crypto
Uncover Fetch.ai Price Prediction, empowering you to anticipate market trends and make decisions about its future.