Where and How to Buy Verge XVG Coin?
October 11, 2022
How to Buy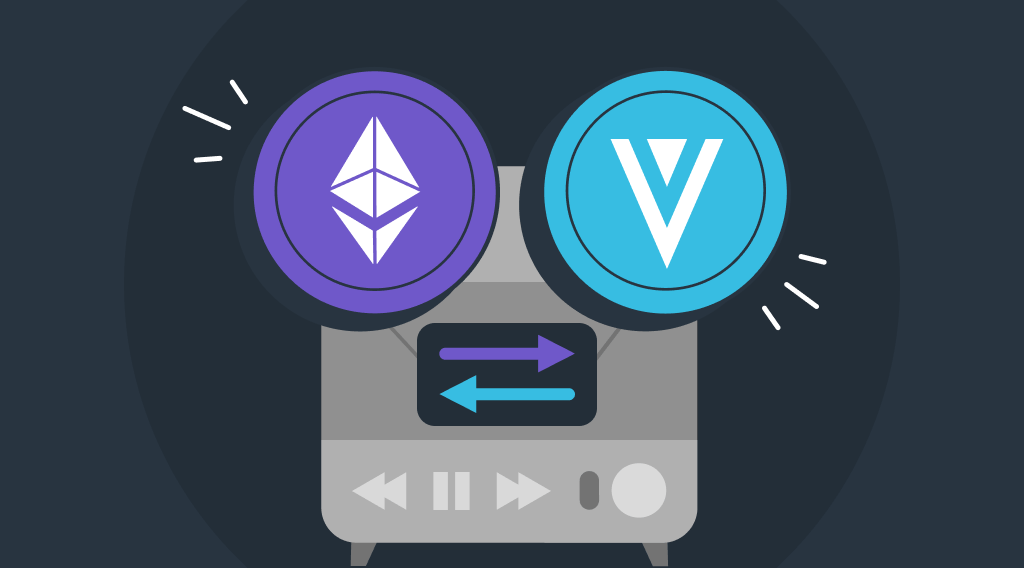 The crypto space is rich with all kinds of tokens – from security tokens, such as tZero and Blockchain Capital to utility tokens, such as MATIC or Axis Infinity. There's also a separate category of payment tokens that are used as an alternative means of payment and exchange. One of these is Verge network and its native token XVG. Read more about how and where to buy Verge cryptocurrency in the new StealthEX article.
Verge is a cryptocurrency designed to give users TOR-level privacy and security while still allowing the cryptocurrency to be practical for everyday use. Verge improves upon the original Bitcoin blockchain and aims to fulfill its initial purpose of providing individuals and businesses with a fast, efficient, and decentralized way of making direct transactions. XVG can be categorized as a privacy coin. This cryptocurrency area includes tokens like Monero, Pivx, and ZCash. Verge developers are working on giving XVG users a maximum level of anonymity along with providing a way to make effortless payments.
Where to Buy Verge Crypto?
There are many exchanges where to buy Verge crypto, and StealthEX is one of the safest options. This platform offers users to get Verge token with no extra fees and with the best floating and fixed rates.
How to Buy XVG Coin?
Just follow the guidelines below. Let's imagine you want to exchange ETH to XVG. To make an exchange, you need to take a few simple steps.
First, you should choose Ethereum in the left drop-down list. Then choose Verge (XVG) in the list of coins on the right.
After setting the pair it is necessary to enter the amount of ETH you want to exchange.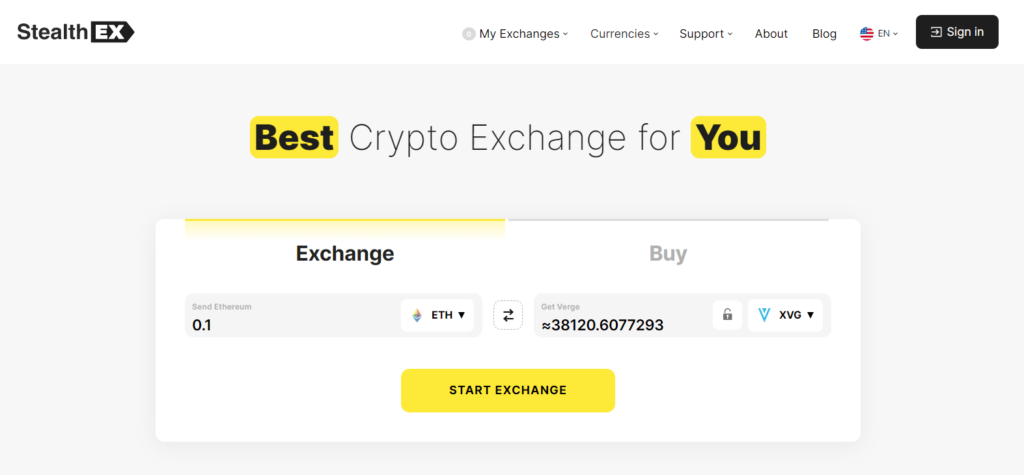 Here you will see the estimated amount of Verge crypto that you will receive after the exchange.
Now when everything is set, press the START EXCHANGE button and you will be taken to the next page.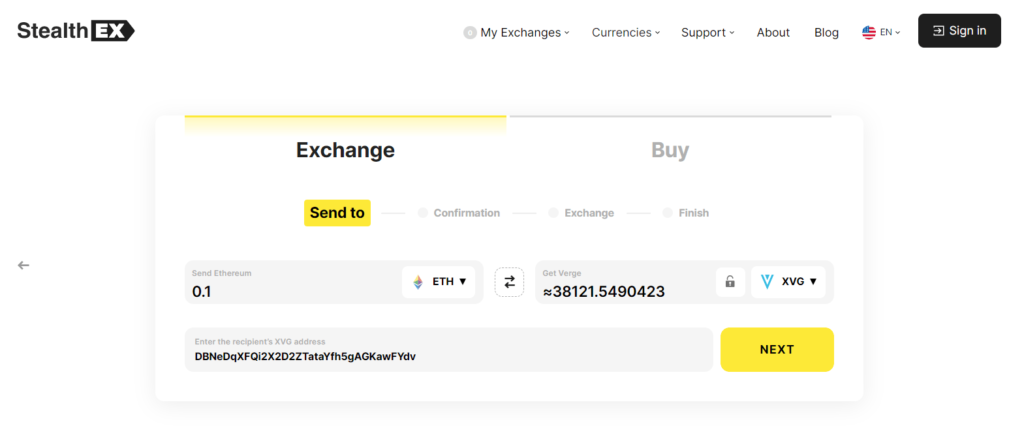 In the second step, you need to provide the Verge coin recipient address. The recipient address must match the crypto you are going to receive. Remember to double-check the information you enter prior to the exchange as the transaction you make cannot be canceled.
As soon as you have carefully checked all the details, you can press the NEXT button and you will be redirected to the CONFIRMATION page.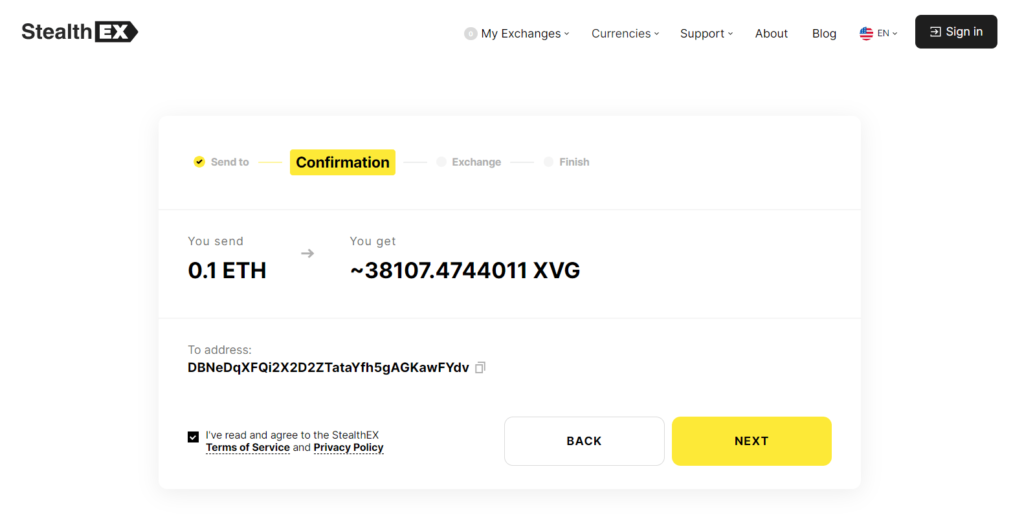 Here you can revise the address provided and the amount of Verge coin you will receive. Don't forget to read and check the Terms of Use and Privacy Policy box. Without checking the box you will not be able to continue the exchange.
Pressing the NEXT button you will be redirected to the EXCHANGE page.
At first, you will see the address where you need to send your ETH coin to continue the exchange. StealthEX will also provide you with the exchange ID. It will allow you to keep all the information about the swap. It is recommended to save your exchange ID or the link to your exchange.
Exchange Statuses
After sending ETH coins to the shown address, the information on the EXCHANGE page will be renewed automatically. The EXCHANGE page has several statuses that will change during the time of the exchange.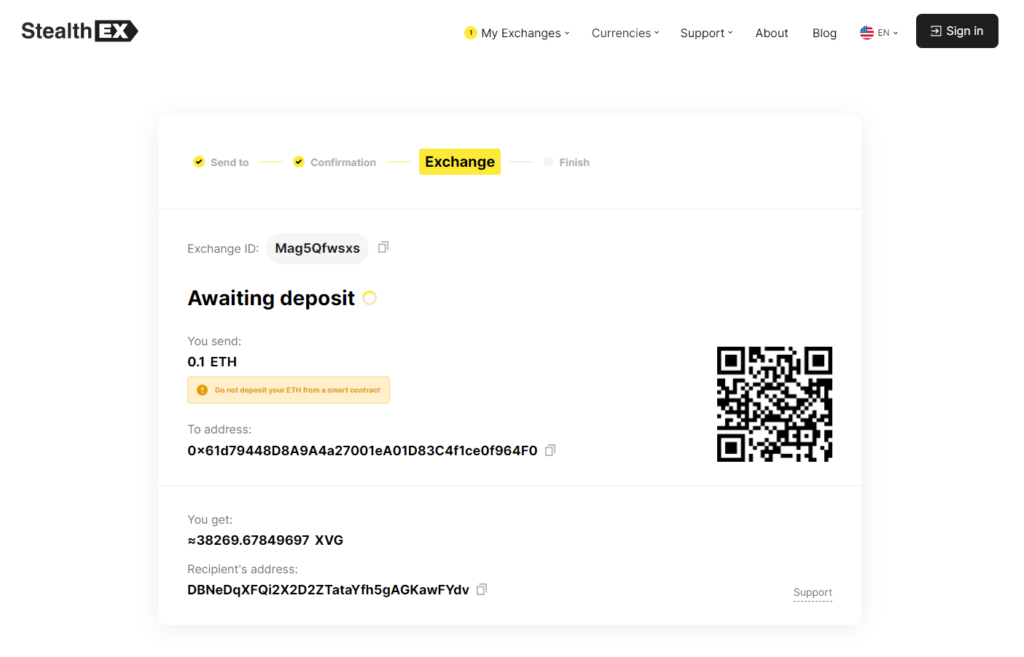 The first status is Awaiting deposit.
The following status is Confirming. This means that StealthEX is confirming the transaction you made.
The next status is Exchanging. During this time the exchange is being made.
Then the status will be changed to Sending to your wallet. This indicates that there are just a few minutes left until you will receive your Verge crypto.
Completion of the XVG Coin Exchange
Finally, you will be redirected to the FINISH page. This shows that the exchange has been successfully made and you will receive crypto to the address provided. To be sure that Verge coins were sent to your wallet you can also use the Output hash shown on this page and check it in the blockchain list of transactions.
From here you can either create a new exchange on StealthEX.io or leave the page and check your Verge coin wallet to be surprised at how fast you go Verge (XVG) crypto. Usually, the process is quite rapid so you won't need to wait long.
Keep reading StealthEX's article to learn more about the project itself and Verge crypto.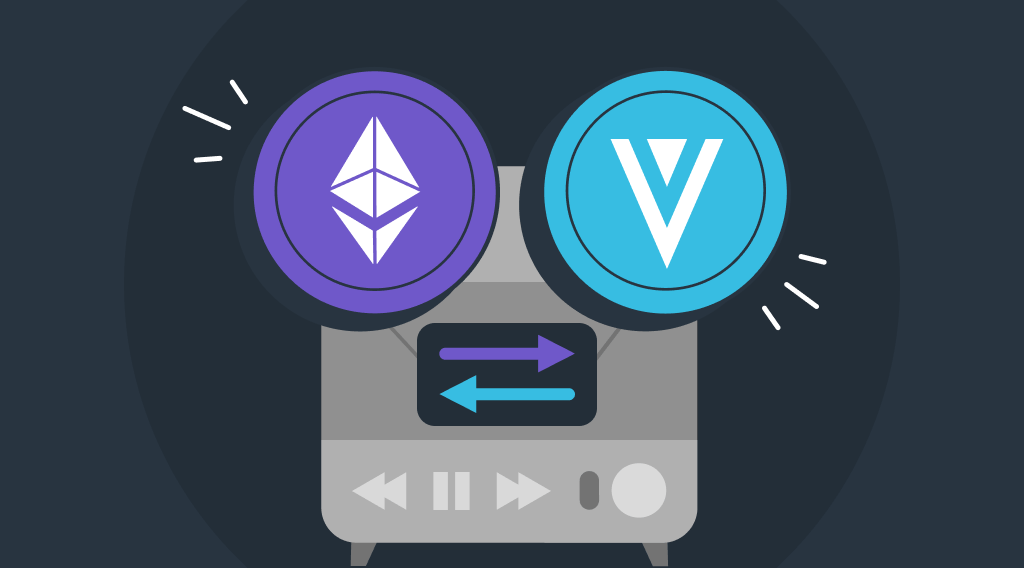 What Is Verge Crypto?
Verge is classified as a digital currency designed for people and for everyday use. The cryptocurrency provides its users with several valuable features:
Transaction speed and immediate availability. There is no third party-dependent waiting period, like with bank-owned payments. Verge uses Simple Payment Verification (SVP) to help keep transaction times down. Depending on the network load, transaction time varies between 5 and 10 seconds, which makes for an impressive speed level. The transaction is then accessible immediately.
Lower transaction costs. Credit card payments usually come with a 2-4% charge fee. When transacting with Verge, this amount is only 0.1 Verge. It means that users can save up to 90% on transaction costs.
Community-driven coin. Verge is an open-source project, and the development team is always in close contact with the community. Verge is not a private company.
Mass adoption. With its quick transactions, low fees, and high volume in circulation, Verge is perfectly positioned for mass adoption.
Security. The network is safe to use and provides a high level of security.
TOR and I2P integration. TOR and I2P are effective tools to help anonymize their users, and Verge features both.
Privacy. Verge coin gives its users the option to protect their privacy and prevent outside entities from tracing their transactions. The Verge TOR wallet was designed to bring IP obfuscation services to personal mobile devices when transacting with Verge.
Open-source. Verge is a completely open-source project and anybody can scrutinize the code behind the project on GitHub.
Electrum Wallet
In terms of usability, Verge offers Electrum-powered wallets on every platform including Linux. The team has further enhanced the utility of XVG with the release of the RSK platform.
Electrum is fast and simple, and its secure remote servers that handle the most complicated parts of the Verge network, allow users to recover their wallets with a secret seed phrase.
Electrum also offers an easy cold storage solution. This allows users to store all, or part of their coins, offline. Additionally, Electrum enables multi-signature support, which requires more than one key to authorize an Electrum transaction. Standard transactions on the Verge network could be called Single-signature transactions, because transfers require only one signature – from the owner of the private key associated with the Verge address. An Electrum transaction, with multi-signature support, requires the signatures of multiple people before the coins can be transferred. Verge then requires multiple different party addresses to be provided to do anything with them.
Key Moments in Verge's History
Verge was founded in 2014 under the name DogeCoinDark. Originally, it was a fork of Dogecoin and was designed to provide an anonymous alternative to Dogecoin. Despite having a small devoted community, DogeCoinDark struggled to acquire popularity.
In 2016, the crypto was rebranded under the name Verge. This was done to help differentiate the currency from other so-called 'dark' coins to position it as an independent project.
In December 2020, Verge and Voice Life partnered to bring to life a new integration of VergePAY with its partner's Far-field wireless charging system capabilities. This strategic alliance with Verge combines Voice Life's (FFWCS) smartphone capabilities with VergePAY to design a blockchain based system utilizing Verge Currency (XVG) for daily use activities. The duo unveiled the conceptual system in January, 2021.
In February 2021, Verge blockchain and its native token XVG once made headlines for being added to the popular adult website Pornhub. As a result, for a while the Verge network has suffered several hacker attacks.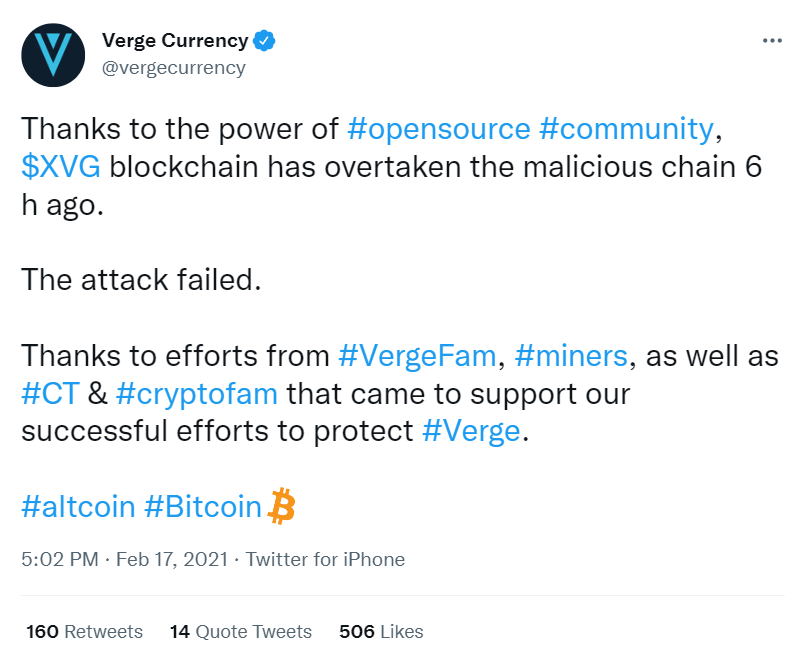 In its official Twitter, the project claimed that the attack was thwarted and failed, this being the result of a stable and secure developer community.
In September 2021, the Verge network announced its listing with SimpleHold Wallet. This means that SimpleHold Wallet holders would be able to store and hold XVG tokens.
In October 2021, Binance Pay added XVG to pay marketplaces. Binance Pay is a contactless, borderless, and secure cryptocurrency payment technology that allows Binance users to pay and get paid in crypto. As a result of this partnership, users could begin shopping with XVG at a variety of merchants.
Is Verge Coin a Good Investment?
The crypto project has been quite successful in terms of development. It offers its users fast transfers, low fees and, most importantly, privacy. In the medium to long-term, Verge has a positive price outlook. It has experienced fairly explosive growth that self-corrected as more features are added to the blockchain.
XVG performed well in January and April this year, and despite the overall crypto market recession, the token stays on CoinMarketCap, ranking #349. Additionally, despite the crypto winter, experts are quite bullish on Verge and privacy-focused cryptocurrency in general. For instance, analysts at PricePrediction believe that in 2031, Verge (XVG) will cost $0.11 on average, while TechNewsLeader estimates that in 2031, Verge coin price will rise to $0.20.
And by the way, don't forget that if you're looking for a place to buy Verge crypto, StealthEX is exactly what you need.

In addition, our users can purchase cryptocurrencies using fiat and we still offer the opportunity to buy crypto at fixed rates!
Make sure to follow us on Medium, Twitter, Telegram, YouTube, and Reddit to get StealthEX.io updates and the latest news about the crypto world. If you need help, drop us a line at [email protected]
Please make sure to always research any cryptocurrency and assess your risks before you invest.
crypto exchange
how to buy
how to buy crypto
Verge
XVG
Recent Articles on Cryptocurrency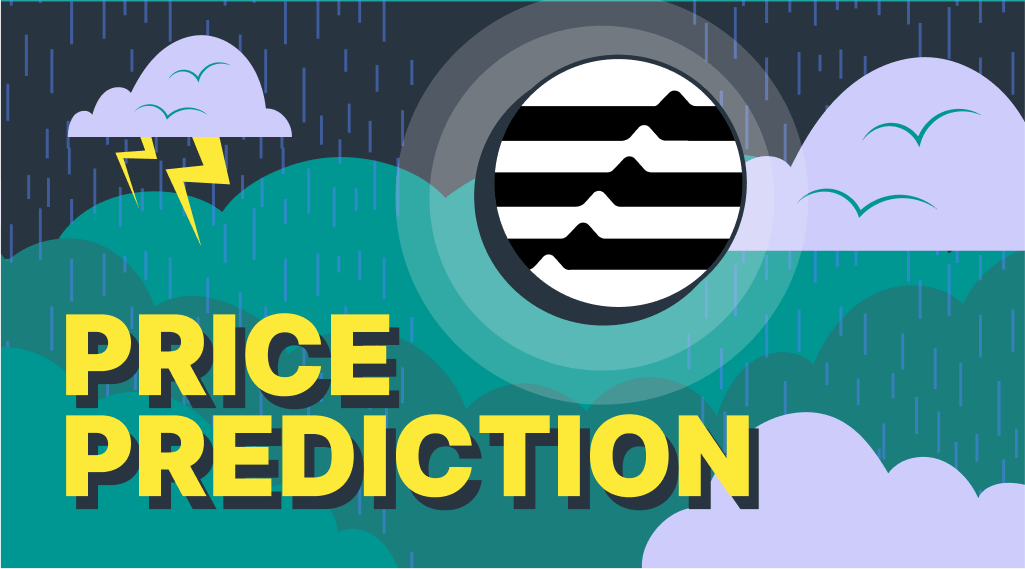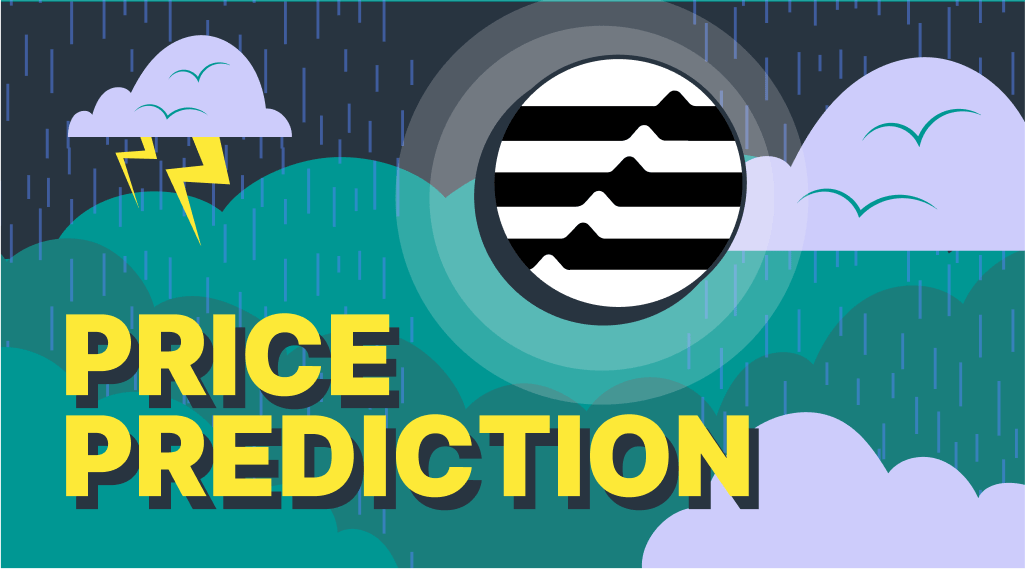 March 17, 2023
Price Prediction
APT Coin Price Prediction: Is Aptos Crypto a Good Investment?
Is Aptos crypto a good investment? APT coin price prediction 2030 shows that Aptos price may rise by 1500 percent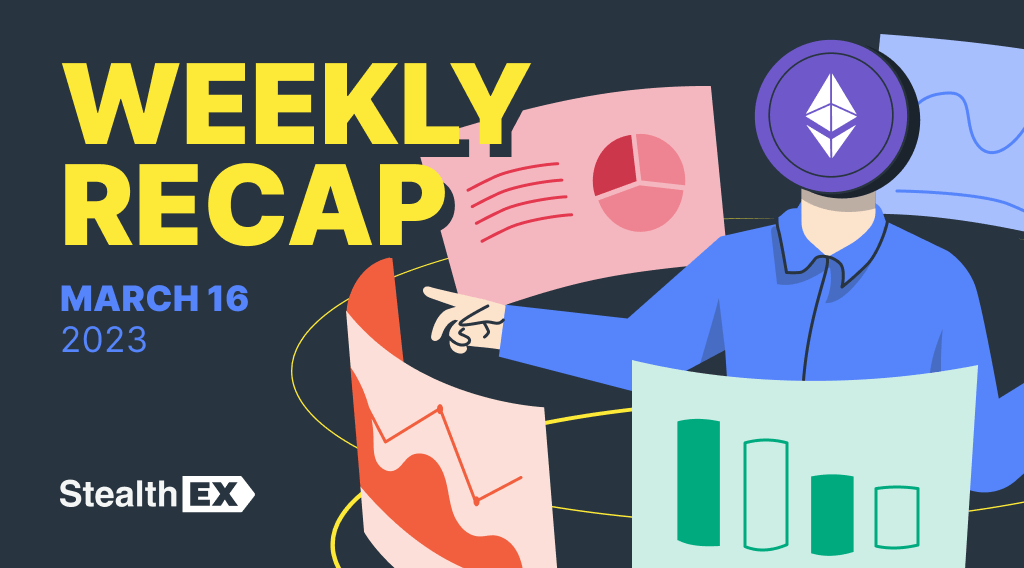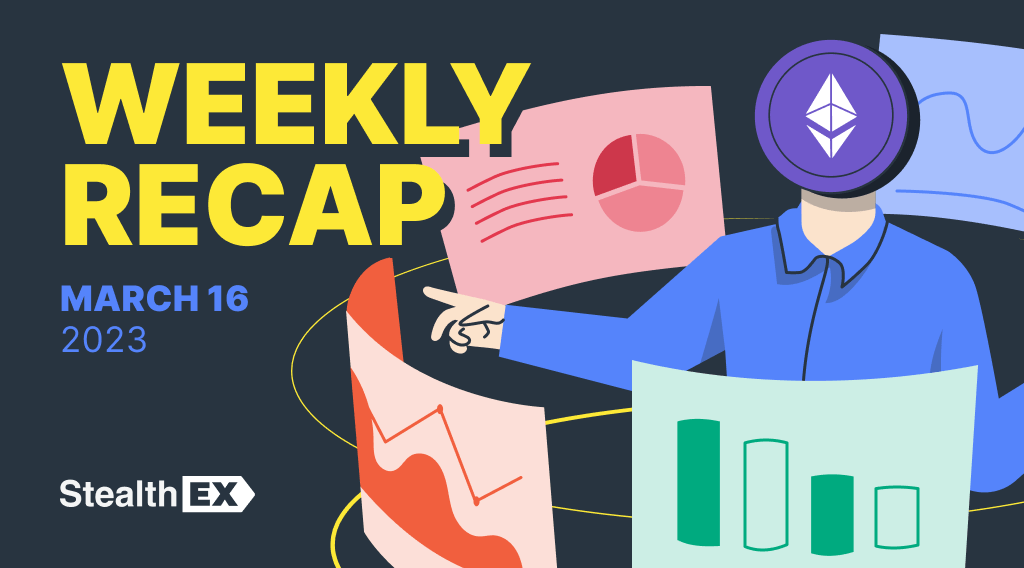 March 16, 2023
Crypto World
Crypto Market Week in Review: March 16, 2023
Let's look at the most important news from the crypto market, and there are a lot of them this week