Where Can I Buy SXP Coin? BTC to SXP Crypto Exchange
January 10, 2023
How to Buy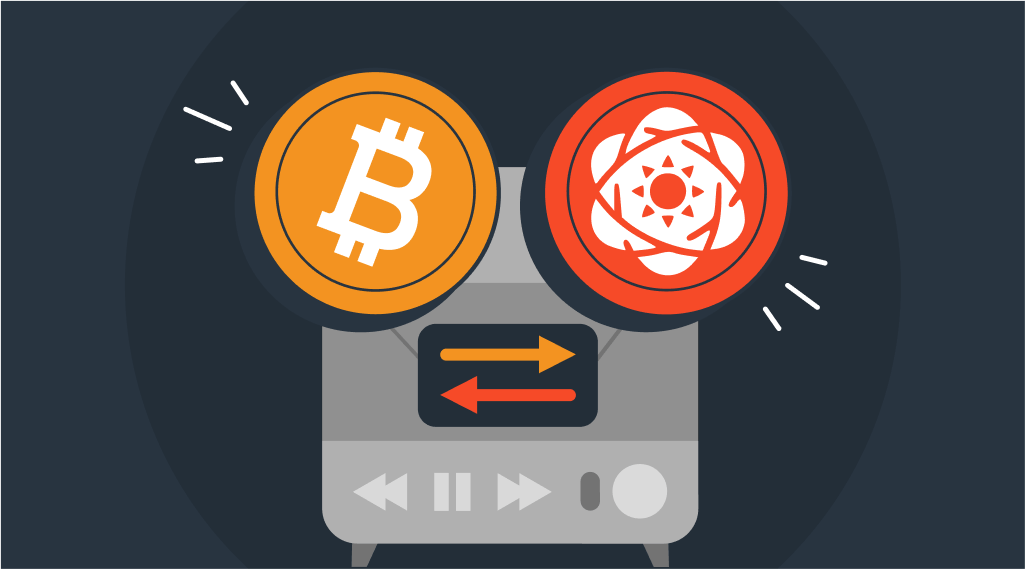 The crypto market is rich in cryptocurrencies that even hardcore crypto fans have not heard of or know very little about. Yet they may prove to be even more promising or interesting than many well-known coins. One of these crypto projects is Solar, it is designed from open-source blockchain protocols to power peer-to-peer decentralized payments with unique features governed by a DAO. Built with a DPoS consensus, Solar is secured and validated by block producers known as Delegates who are voted in based on SXP vote delegation. SXP is the native cryptocurrency of the network and is used throughout the protocol and Solar ecosystem. Read more about how to buy SXP coin in the new StealthEX article.
Where Can I Buy SXP Coin?
There are many exchanges where to buy SXP token, and StealthEX is one of the safest options. This platform offers users to get SXP crypto with no extra fees and with the best floating and fixed rates. This meme cryptocurrency is always freely available for purchase via StealthEX.
How to Buy SXP Crypto?
Just follow the guidelines below. Let's imagine you want to exchange BTC to SXP. To make an exchange, you need to take a few simple steps.
First, you should choose Bitcoin in the left drop-down list. Then choose Solar (SXPMAINNET) in the list of coins on the right.
After setting the pair it is necessary to enter the amount of BTC you want to exchange.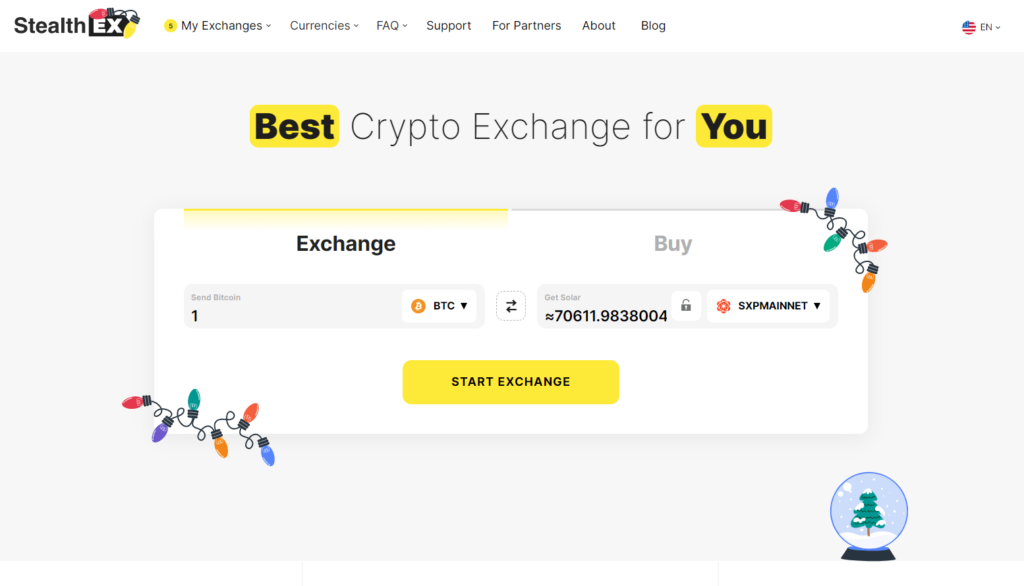 Here you will see the estimated amount of Solar coin that you will receive after the exchange.
Now, when everything is set, press the Start Exchange button and you will be taken to the next page.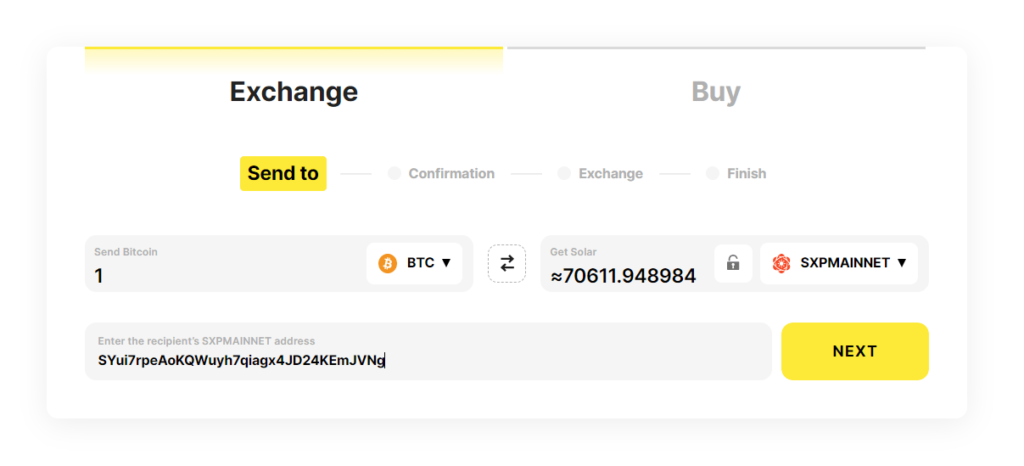 In the second step, you need to provide the SXP crypto recipient address. The recipient address must match the crypto you are going to receive. Remember to double-check the information you enter prior to the exchange as the transaction you make cannot be canceled.
As soon as you have carefully checked all the details, you can press the Next button and you will be redirected to the Confirmation page.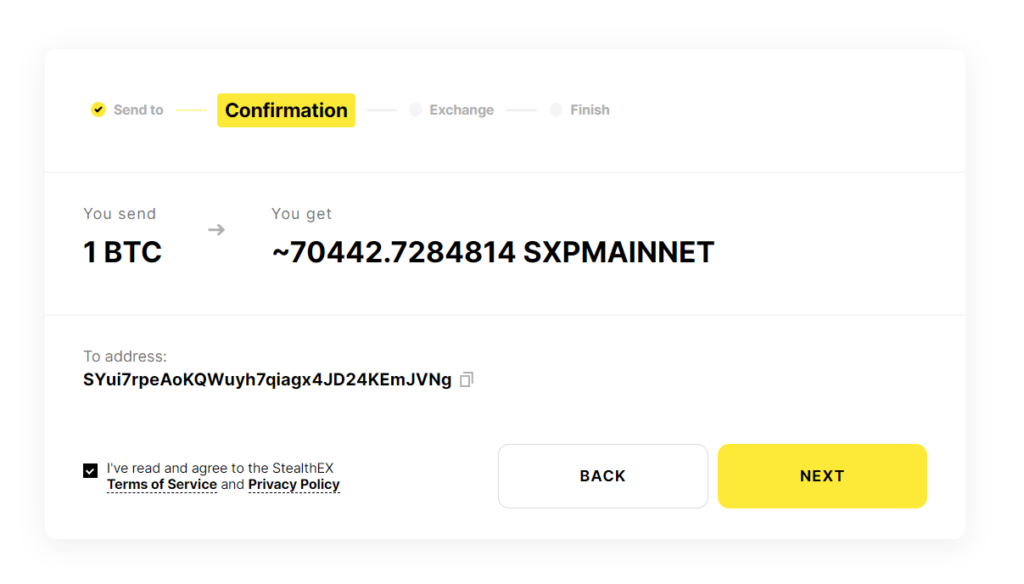 Here you can revise the address provided and the amount of SXP crypto you will receive. Don't forget to read and check the Terms of Use and Privacy Policy box. Without checking the box you will not be able to continue the exchange.
Pressing the Next button you will be redirected to the Exchange page.
At first, you will see the address where you need to send your BTC coin to continue the exchange. StealthEX will also provide you with the exchange ID. It will allow you to keep all the information about the swap. It is recommended to save your exchange ID or the link to your exchange.
Exchange Statuses
After sending BTC coins to the shown address, the information on the Exchange page will be renewed automatically. The Exchange page has several statuses that will change during the time of the exchange.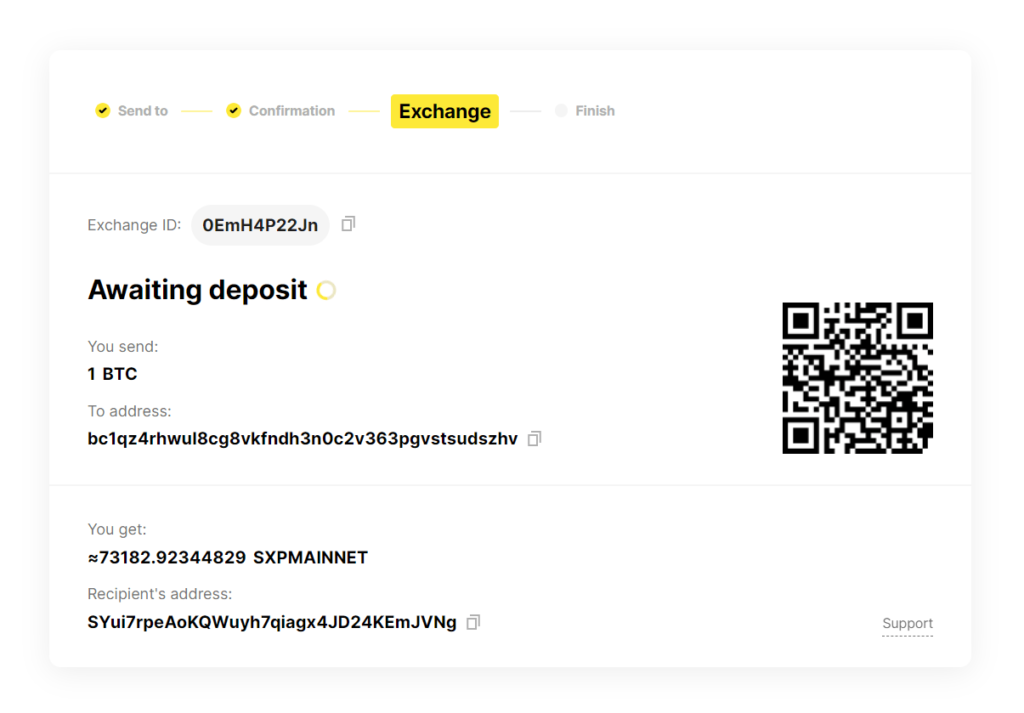 The first status is Awaiting deposit.
The following status is Confirming. This means that StealthEX is confirming the transaction you made.
The next status is Exchanging. During this time the exchange is being made.
Then the status will be changed to Sending to your wallet. This indicates that there are just a few minutes until you receive your SXP coin.
Finally, you will be redirected to the FINISH page. This shows that the exchange has been successfully made and you will receive crypto to the address provided. To be sure that Solar crypto was sent to your wallet you can also use the Output hash shown on this page and check it in the blockchain list of transactions.
From here you can either create a new exchange on StealthEX.io or leave the page and check your SXP crypto wallet to be surprised at how fast you get the SXP token to your address. Usually, the process is quite rapid so you won't need to wait long: Solar crypto swaps are processed in a matter of minutes.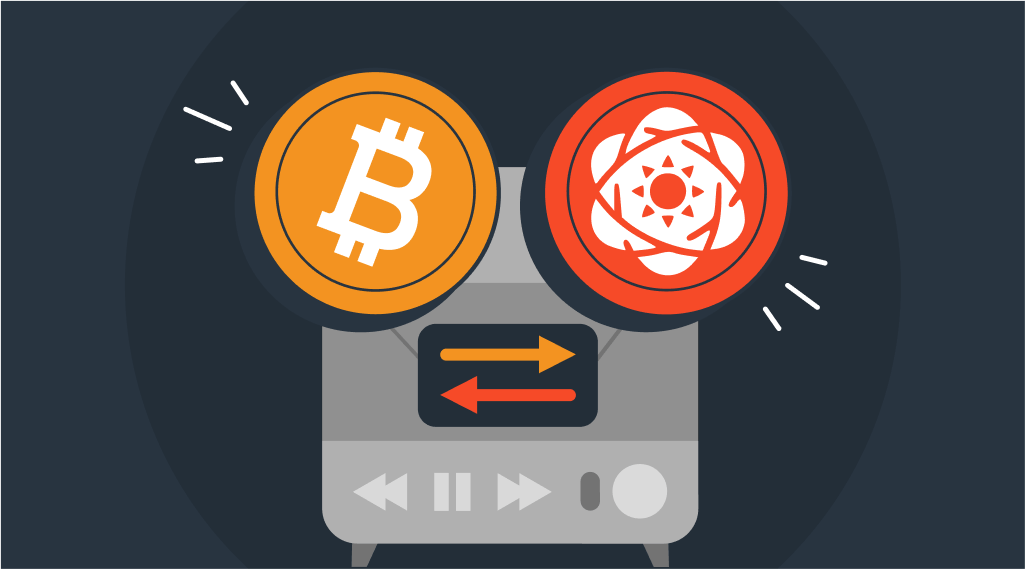 Keep reading StealthEX's article to learn more about the project itself and SXP crypto.
What Is SXP Coin?
Solar is powered by Solar Core, a safe and secure Layer-1 blockchain framework. Solar blockchain utilizes the Delegated Proof-of-Stake consensus, also known as DPoS. The blockchain with its own native coin named SXP is fast, modular, sustainable, efficient and fully decentralized without the known issues and vulnerabilities from traditional Proof-of-Work (PoW) blockchains. Issues and vulnerabilities such as being energy intensive or the risk of taking part in 51% attack vectors. The blockchain framework has been forked from ARK Core.
Solar Core improved on the security of the blockchain framework by fully utilizing Schnorr for signatures. The Solar Core entirely drops all support for ECDSA due to persistent signature malleability vectors. Solar Core also provides a more robust block production routine to minimize the likelihood of nodes missing blocks and therefore creating a more stable and operational blockchain.
The blockchain framework is open-source and actively maintained on Github by dedicated Core developers. Anyone is able to create a PR or open an issue on our Github repositories to discuss or point at a potential vulnerability in the code. The Solar Core has several enhancements such as the Side Ledger Protocol for token issuing with and without metadata and custom transaction types to allow burning and SolContract which allows the creation of Solidity Smart Contracts on the SXP Blockchain. The Solar Core also enables dynamic forging rewards based on the position of a delegate.
Staking
Delegates are elected by their voters. Voters will be using the weight of the wallet to vote for a delegate. If a delegate has enough weight, it will enter the top 53 and it will start earning rewards. Voters are not required to lock or send their SXP coins to a delegate. When a user casts a vote, their vote-weight is assigned to the network validator (delegate) of their choice. A user's vote-weight adjusts automatically as funds are sent and received, and there is no need to re-vote or un-stake. To change a vote, a user simply un-votes their current validator and elects another by casting a new vote transaction.
Voting transactions can be made by using the wallets provided by Solar. Delegates are able to contribute more to the ecosystem other than just simply sharing the forging rewards with their voters. By simply sharing the forging rewards, you are enabling the delegates and voters to sell the inflationary forging rewards without any additional contribution to the ecosystem. Voting for these types of delegates comes at a cost where the value of SXP might decrease over time and where it exposes the well-known issue of inflationary assets.
Side Ledger Protocol
The Side Ledger Protocol, also known as SLP is a feature that enables users to create fungible and non-fungible tokens on the SXP blockchain. The goal of deploying SLP on the SXP blockchain is to allow anyone to create either simple utility tokens or creating assets with specialized mechanics for advanced utility in the enterprise sector or any other industry where blockchain is needed.
Creating fungible tokens or NFTs can be done by using the Solar wallets or by using the project's SDKs. The SLP features will be similar to ERC20/BEP20 or ERC721 and are not strictly binded to Solidity technology. The fees to send SLP tokens over the SXP blockchain are dynamic and use lower than 0.2 SXP. Creating fungible tokens or NFTs costs 5 SXP.
Launchpad
Solar has already started developing a Launchpad with a few important key features that will be beneficial for the SXP holder.
Each project that wishes to display their project on the Solar Launchpad will have to pay a certain fee in order to be listed.
These fees will be anywhere between 10 SXP for regular listing, up to 1000 SXP for projects that are looking for funding (ICO's).
The Launchpad will be decentralized and will offer unique optional features such as KYC and Audits for projects that are applying for listing.
Projects will be able to get funded directly through the Launchpad platform.
All transaction fees and listing fees on the Solar Launchpad will be burned instantly.
Is SXP Coin a Good Investment?
At the moment, SXP coin costs $0.2253 and ranks #164 on CoinMarketCap. It reached an all-time high in the spring of 2021 with $5.86, which shows that the SXP coin is capable of reaching a higher price level under favorable conditions and in a bull market. According to many experts, the SXP coin has an even higher potential and can reach a price level of $30 around 2030. According to some sources, in 2030, the SXP price can reach a maximum level of $37-$38 with the average trading price of $34.
We'd like to remind you that if you're looking for a Solar coin exchange or simply want to buy SXP crypto right away, you can do it via StealthEX. Our users can purchase cryptocurrencies using fiat and we still offer the opportunity to buy crypto at fixed rates.

Make sure to follow us on Medium, Twitter, Telegram, YouTube, and Publish0x to get StealthEX.io updates and the latest news about the crypto world. If you need help, drop us a line at support@stealthex.io.
Please make sure to always research any cryptocurrency and assess your risks before you invest.
exchange cryptocurrency
how to buy crypto
Solar
Solar Network
SXP
Recent Articles on Cryptocurrency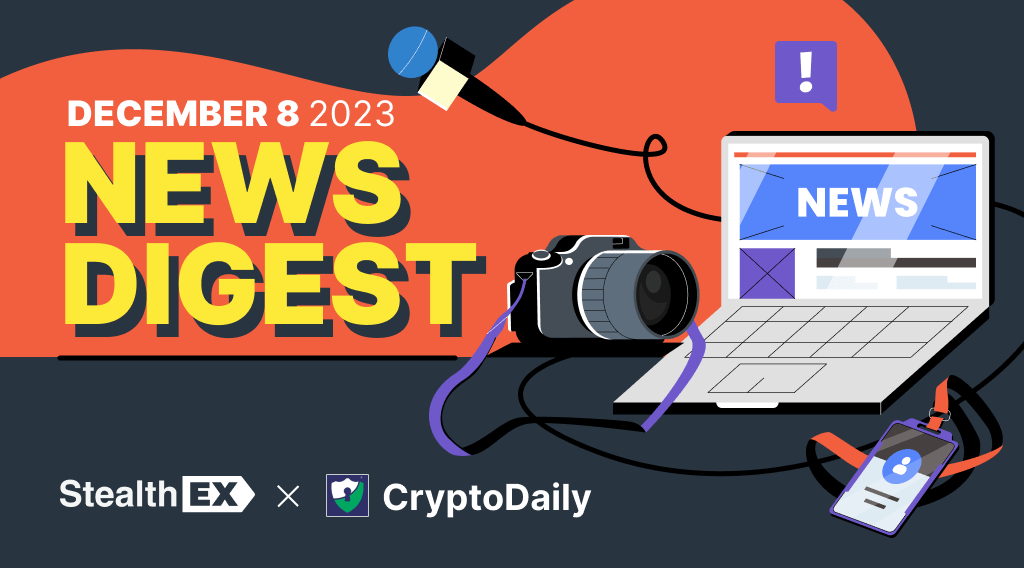 December 8, 2023
Crypto World
StealthEX & CryptoDaily: Weekly Crypto Insights
Explore key cryptocurrency developments and trends in StealthEX's insightful weekly roundup, in partnership with CryptoDaily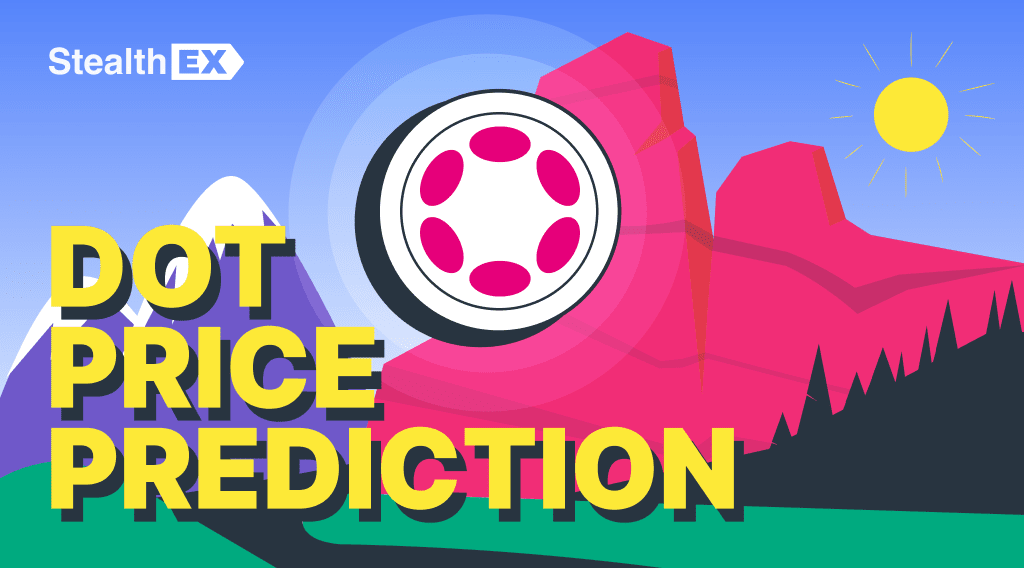 November 29, 2023
Price Prediction
Polkadot (DOT) Price Prediction: Will DOT Coin Reach $1000?
According to the long-term Polkadot price prediction by the end of 2030, the DOT price may rise to $195