Find Out Where to Buy Civic Crypto?
June 4, 2021
How to Buy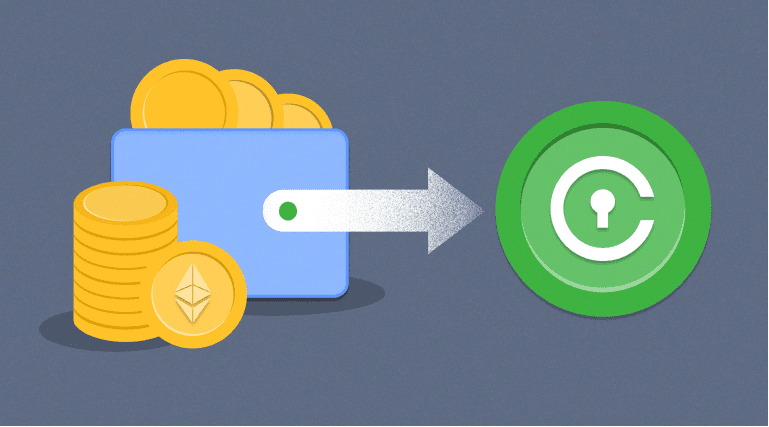 If you look for information on where to buy Civic crypto? Then you have come to the right place, by the way, the best choice is StealthEX. What is Civic crypto? How to mine Civic coin? And how to buy CVC token? All this and much more in our new article. So let's roll.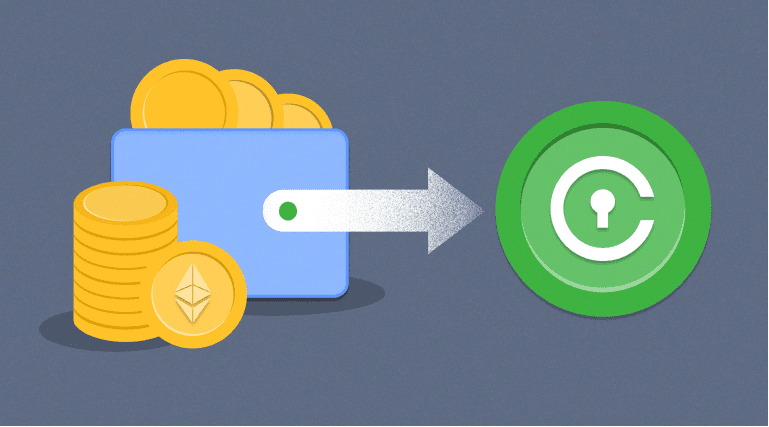 What Is Civic Crypto?
Civic crypto is a blockchain-based solution for those users – individuals and enterprises – who want to fully control and privacy cover personal identity information. Civic blockchain was specially designed for these purposes – it aims to bridge the gap of identity issues between people and corporations. Thus, once you've verified your identity via the Civic platform, you can use it in subsequent logins to your bank or cooperative accounts without needing to provide personal data all over again – Civic guarantees your identification.
Civic was created by Jonathan Smith and Vinny Lingham in 2015. It was let then be until 2017 when the ICO took place, and then in 2018 CIvic was officially and fully launched.
The project was designed to change the idea of identity verification. It's implied to give users more control over personal data while accessing more services and tools to control and manipulate the data.
What makes Civic unique is that it stores all the sensitive data on its mobile device. Users can authorize the app and all stored data by providing a biometric signature in the Civic app.
What Is CVC Coin?
The Civic ecosystem is powered by the native utility token the Civic token (CVC token) which makes all the in-system transactions fast and simply completed. All the identity-related transactions between Civic holders are conducted by means of CVC.
How To Mine Civic Coin?
The CVC can be minted through completing different simple tasks, such as signing up for a service, or via activating a referral system. Also, validators can earn CVCs for validating documents for service providers.
Civic Blockchain Projects
Civic has ownership of two significant products: the Civic wallet and Health Key.
Civic Wallet
The Civic wallet is a mobile app where users can conduct various crypto operations with the leading cryptocurrencies.
Health Key
Health Key is Civic's newest product. In 2020 when the world was shaken by the COVID19 epidemic, the Civic team created an app in which employers can securely verify the health status of employees and make sure they're not sick by storing the information of whether they have antibodies in blood or have been vaccinated. The privacy of employees is of course fully secured.
Where To Buy Civic Crypto?
If you think about where to buy Civic crypto, then this coin is available on most cryptocurrency exchanges, including StealthEX. This platform allows you to exchange other coins on CVC crypto with no need to provide a lot of information. Before exchanging, take a look at Civic crypto CVC coin price prediction.
How To Buy CVC Token?
Just go to StealthEX and follow these easy steps. Let's imagine you want to exchange Ethereum to CVC. To make an exchange, you need to take a few simple steps:
First, you should choose Ethereum in the left drop-down list. Then choose CVC coin in the right list of coins.
After setting the pair it is necessary to enter the amount of ETH you want to exchange.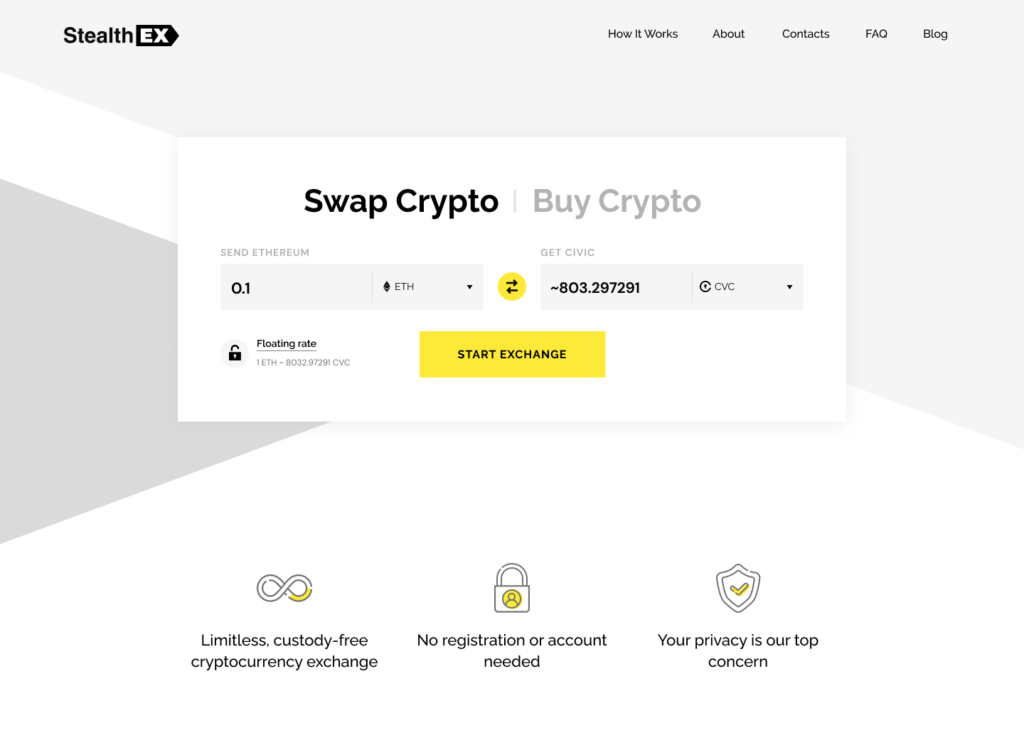 Here you will see the estimated amount of CVC coin that you will receive after the exchange.
Now when everything is set for the exchange, press the START EXCHANGE button and you will be taken to the next page.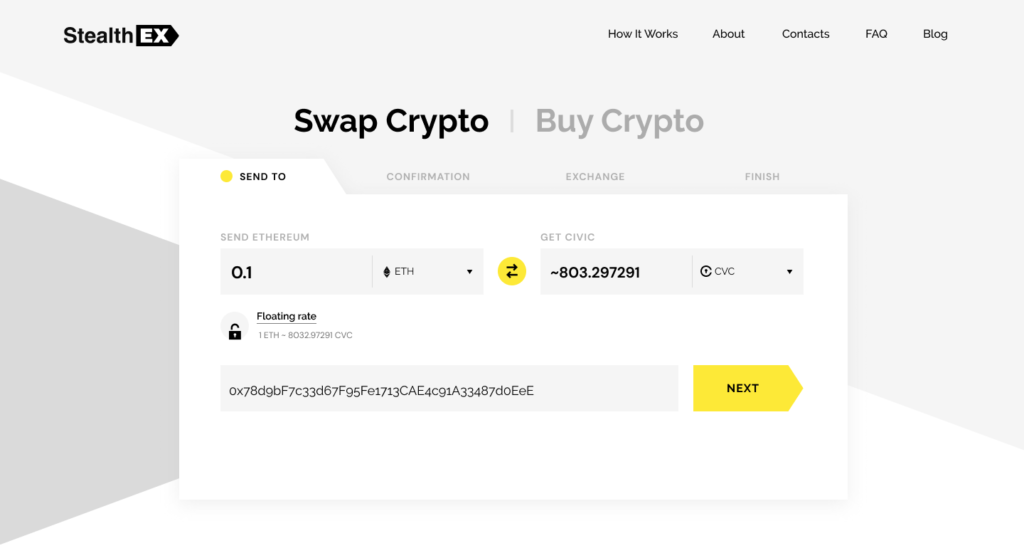 As the second step, you need to provide the CVC token recipient address. The recipient address must match the cryptocurrency you are going to receive. Remember to double-check the information you enter prior to the exchange as the transaction you make cannot be canceled.
As soon as you have carefully checked all the details, you can press the NEXT button and you will be redirected to the CONFIRMATION page with the information about the exchange.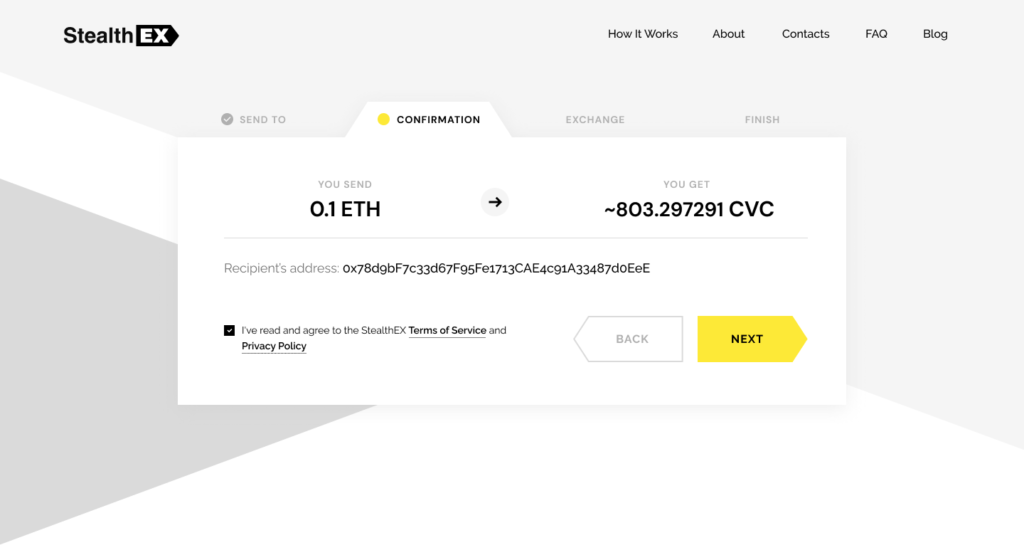 Here you can revise the address provided and the amount of Civic cryptocurrency you will receive. Don't forget to read and check the Terms of Use and Privacy Policy box. Without checking the box you will not be able to continue the exchange.
Pressing the NEXT button you will be redirected to the EXCHANGE page.
At first, you will see the address where you need to send your ETH coin to continue the exchange. StealthEX will also provide you with the exchange ID. It will allow you to keep all the information about the swap. It is recommended to save your exchange ID or the link to your exchange.
Exchange Statuses
After sending Ethereum to the shown address, the information on the EXCHANGE page will be renewed automatically. The EXCHANGE page has several statuses that will change during the time of the exchange.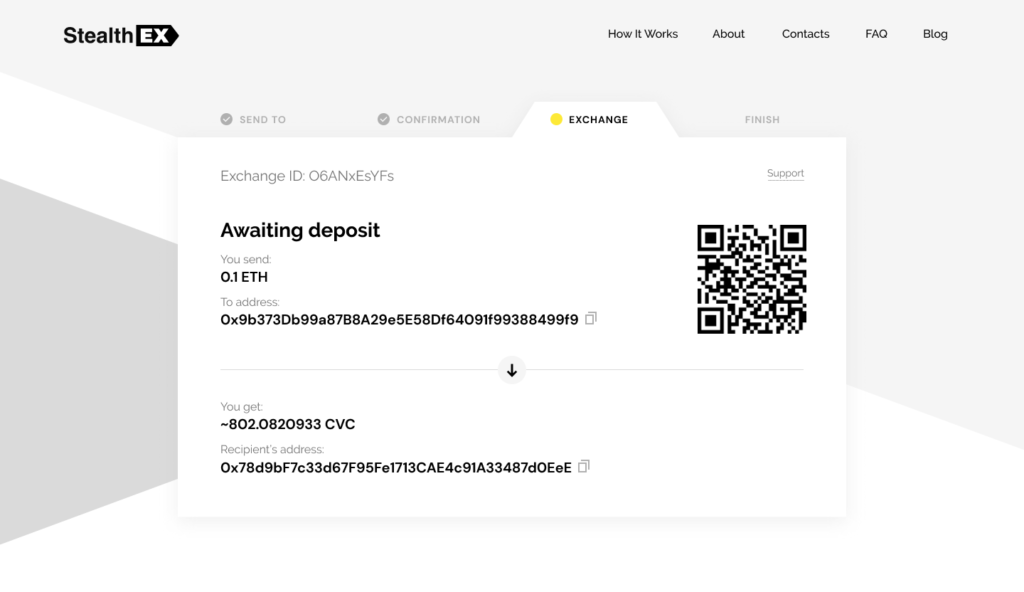 The first status is Awaiting deposit.
The following status is Confirming. This means that StealthEX is confirming the transaction you made.
The next status is Exchanging. During this time the exchange is being made.
Then the status will be changed to Sending to your wallet. This indicates that there are just a few minutes left until you will receive your CVC coin.
Completion Of The Exchange
Finally, you will be redirected to the FINISH page. This shows that the exchange has been successfully made and you will receive crypto to the address provided. To be sure that CVC was sent to your wallet you can also use the Output hash shown on this page and check it in the Civic blockchain list of transactions.
From here you can either create a new exchange on StealthEX.io or leave the page and check your Civic coin wallet to be surprised at how fast you got Civic crypto. Usually, the process is quite rapid so you won't need to wait long.
And by the way, don't forget that now our users can purchase cryptocurrencies using fiat and we still offer the opportunity to buy crypto at fixed rates!
Follow us on Medium, Twitter, Telegram, YouTube and Reddit to get StealthEX.io updates and the latest news about the crypto world.
We are always ready to give you support if you have any issues with exchanging coins. Our team does our best to protect all members and answer their questions. For all requests message us via [email protected]
You are more than welcome to visit StealthEX exchange and see how fast and convenient it is.
June 4, 2021
Civic
crypto exchange
CVC
how to buy
how to buy cryptocurrency
Recent Articles on Cryptocurrency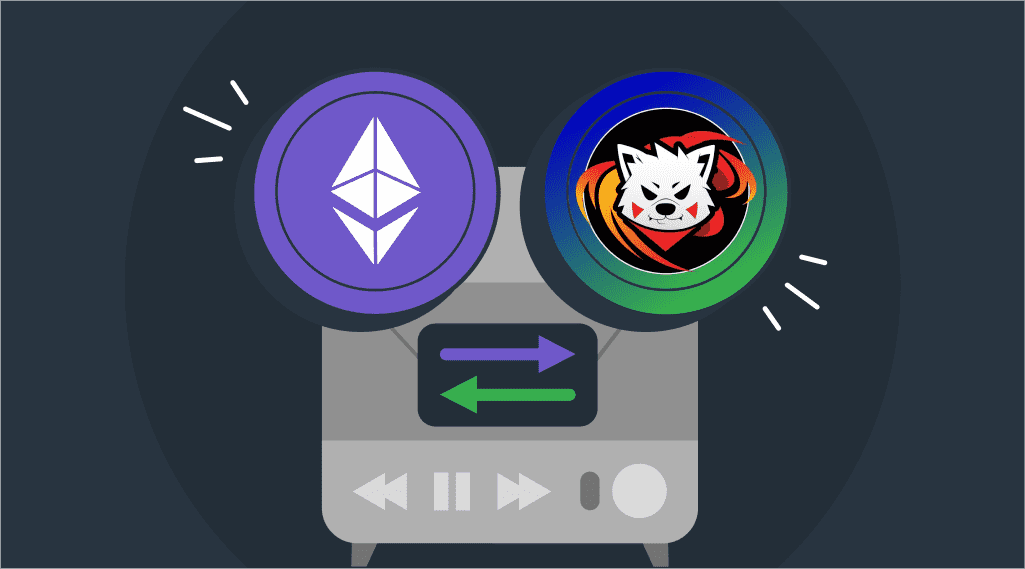 December 6, 2022
How to Buy
$KIBA Coin: Where and How to Buy Kiba Inu Coin? 
Full beginner's guide on how to buy Kiba Inu coin $KIBA with no extra fees!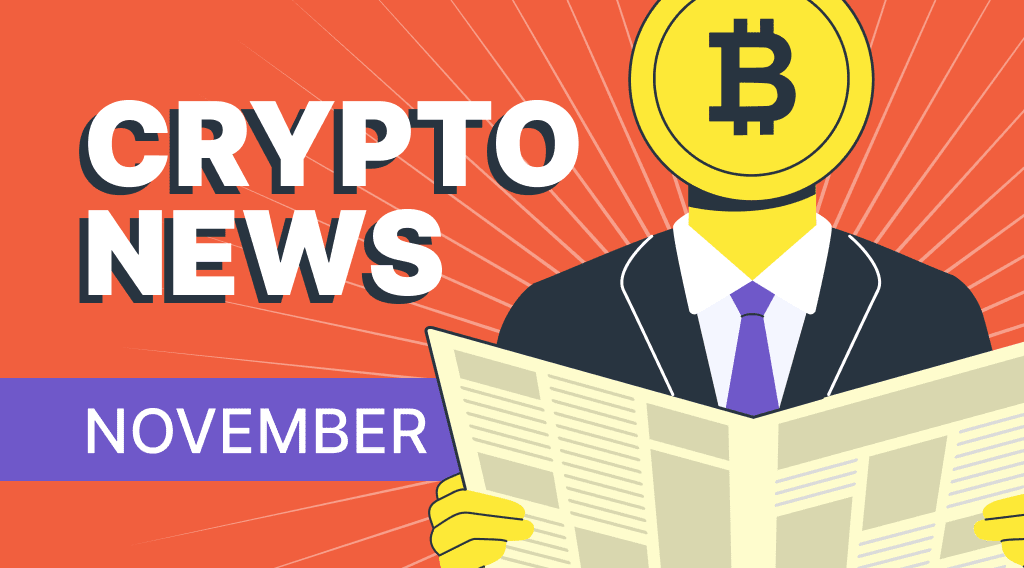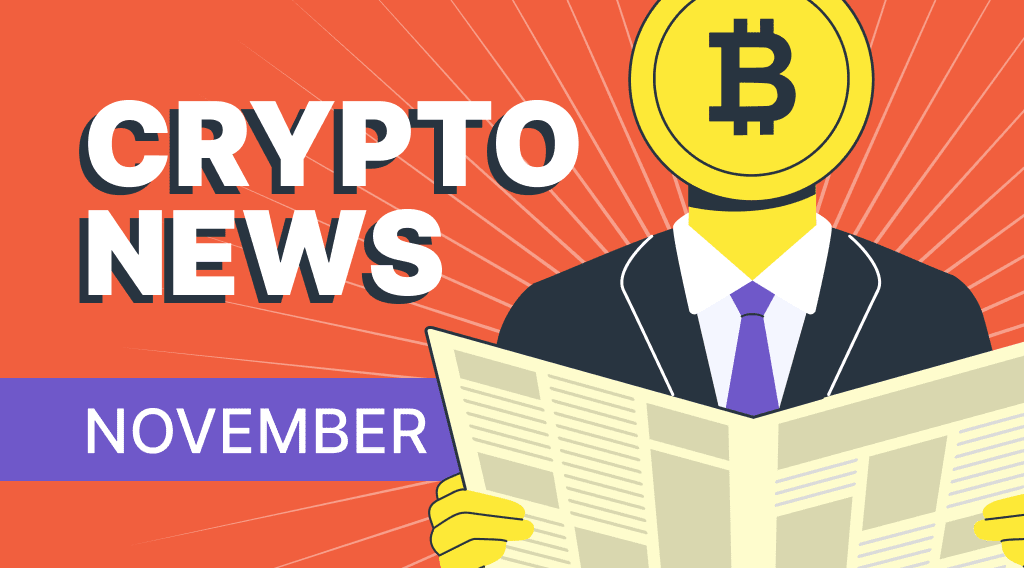 December 2, 2022
Crypto World
Latest Crypto News You Missed This November
Get the latest crypto news: Bitcoin price plummets, Apple Pay is available on Circle, Huobi and Poloniex partnership...