Gamer Crypto: How and Where to Buy GMR Coin?
July 5, 2022
How to Buy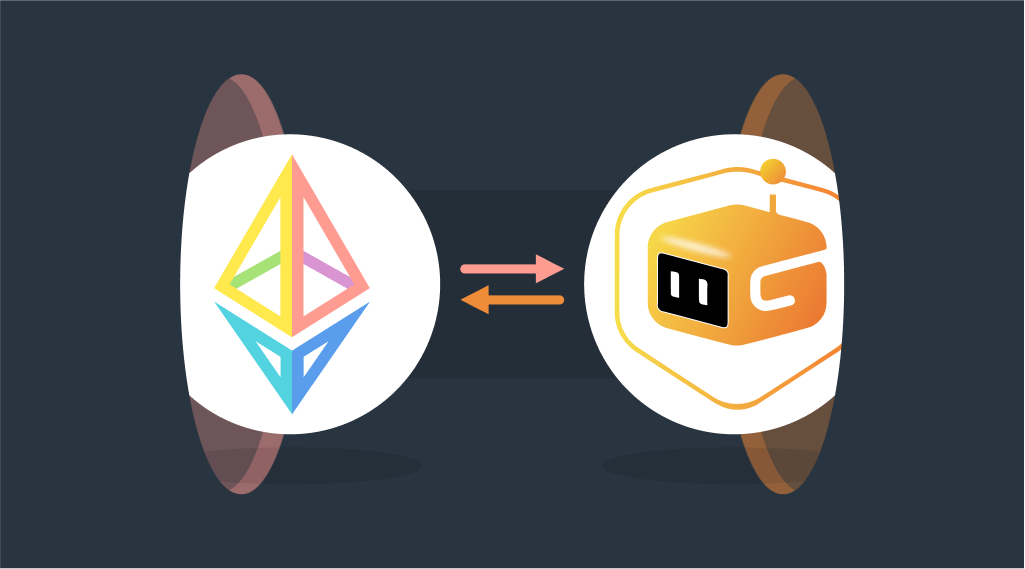 The gaming industry has benefited from blockchain. Blockchain is transforming the way the field is constructed and redefining it. Blockchain technology will probably forever change the way games are created, managed, and played in the future. GMR (Gamer) is one of those crypto projects that are helping change the face of gaming. It is a utility token created to formulate a credible synergy between cryptocurrency investments and the online gaming industry. It was invented by a company called GMR in 2021 with Ryan Washington as its CEO. Read more about Gamer crypto and where to buy GMR coin in the new StealthEX article.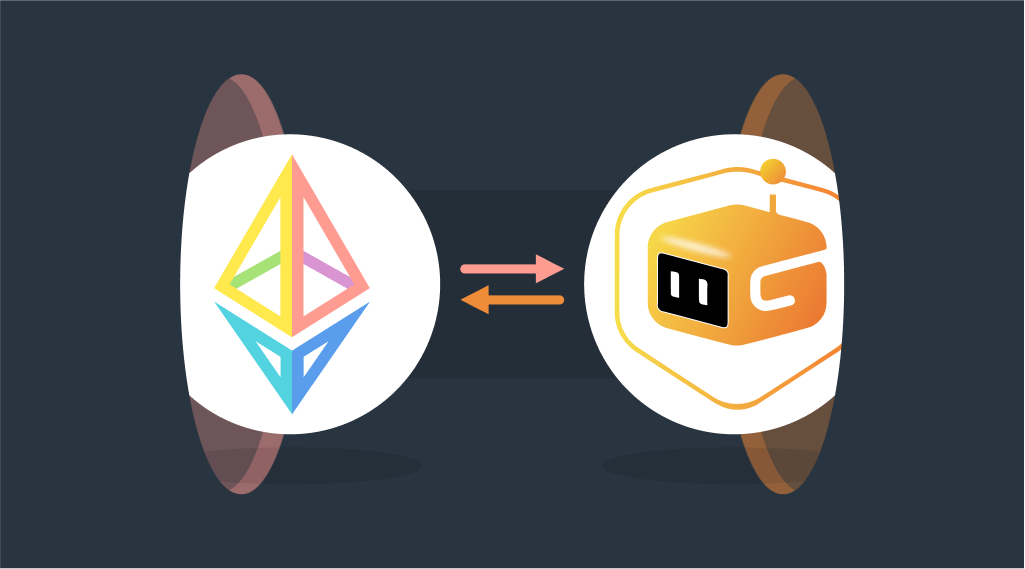 GMR is working toward bringing the gaming community together, offering exclusive content, premium creator partnerships, NFTs, and a great deal more – all thanks to their new project called GMR Center. GMR Center is an independent platform that will let content creators create new revenue streams, and help gaming enthusiasts create amazing artworks inspired by their favorite games. This innovative ecosystem is where individuals can get information on all aspects of the project, join the project, share information with the community, invest in a range of NFTs, trade NFTs, invest in the GMR token, hold tokens, register for news, and events, etc.
Where to Buy GMR Crypto?
If you're willing to invest in GMR cryptocurrency, you can use StealthEX. This non-custodial exchange allows you to select from over 700 cryptocurrencies and makes everything fast because you must provide only general information for transactions.
How to Buy Gamer Token?
Just go to StealthEX and follow the instruction below. Let's imagine you want to exchange ETH to GMR. To make an exchange, you need to take a few simple steps.
First, you should choose Ethereum in the left drop-down list. Then choose Gamer token in the right list of coins.
After setting the pair it is necessary to enter the amount of ETH you want to exchange.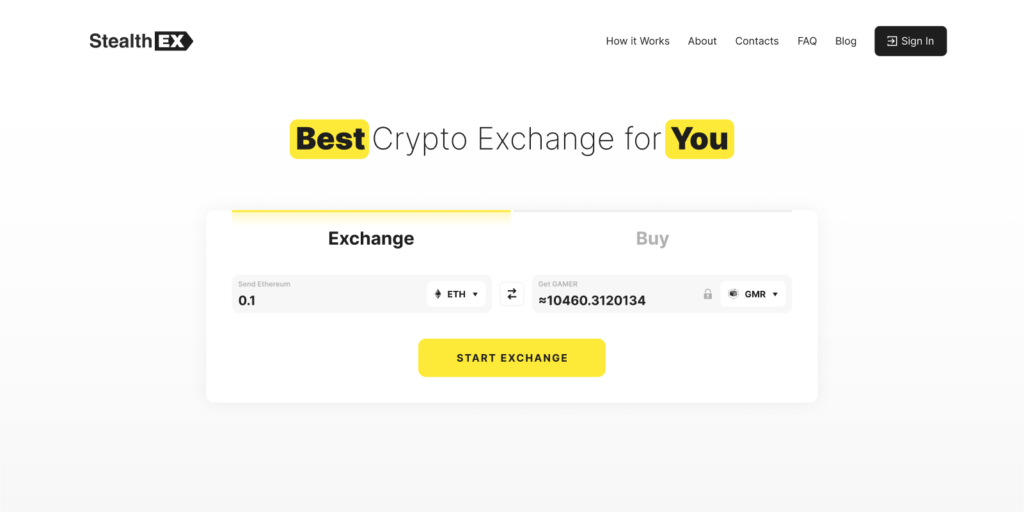 Here you will see the estimated amount of Gamer crypto that you will receive after the exchange.
Now when everything is set for the exchange, press the Start Exchange button and you will be taken to the next page.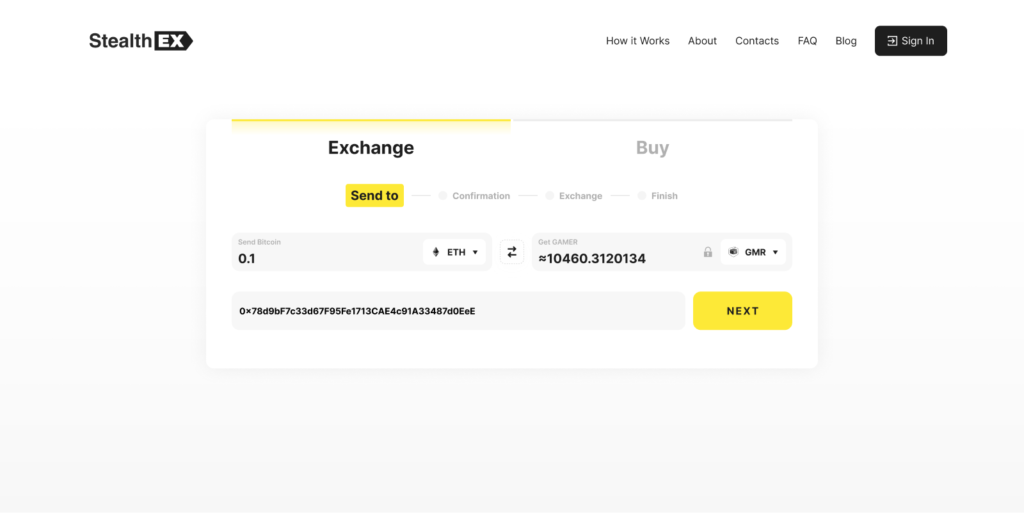 In the second step, you need to provide the GMR recipient address. The recipient address must match the cryptocurrency you are going to receive. Remember to double-check the information you enter prior to the exchange as the transaction you make cannot be canceled.
As soon as you have carefully checked all the details, you can press the Next button and you will be redirected to the Confirmation page with the information about the exchange.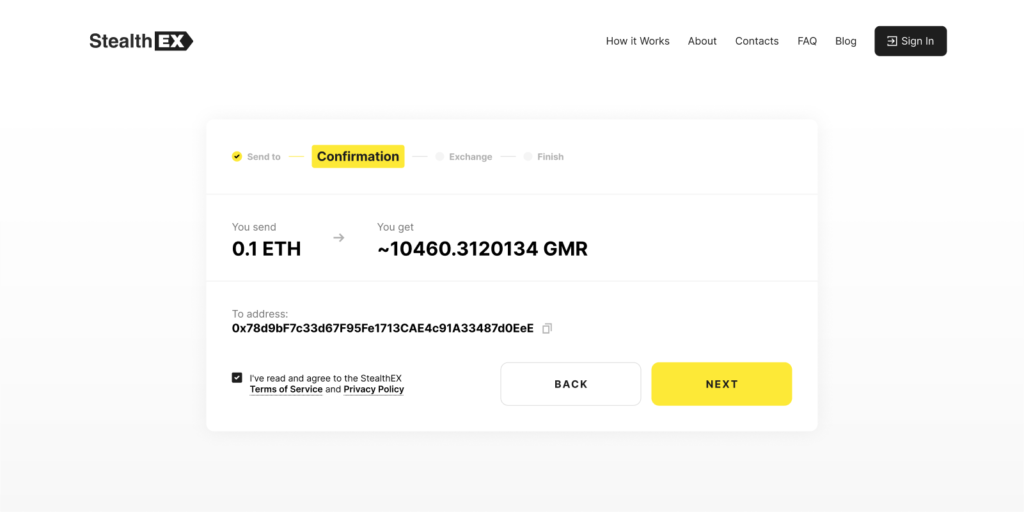 Here you can revise the address provided and the amount of GMR cryptocurrency you will receive. Don't forget to read and check the Terms of Use and Privacy Policy box. Without checking the box you will not be able to continue the exchange.
Pressing the Next button you will be redirected to the Exchange page.
At first, you will see the address where you need to send your ETH coin to continue the exchange. StealthEX will also provide you with the exchange ID. It will allow you to keep all the information about the swap. It is recommended to save your exchange ID or the link to your exchange.
Exchange Statuses
After sending ETH coins to the shown address, the information on the Exchange page will be renewed automatically. The Exchange page has several statuses that will change during the time of the exchange.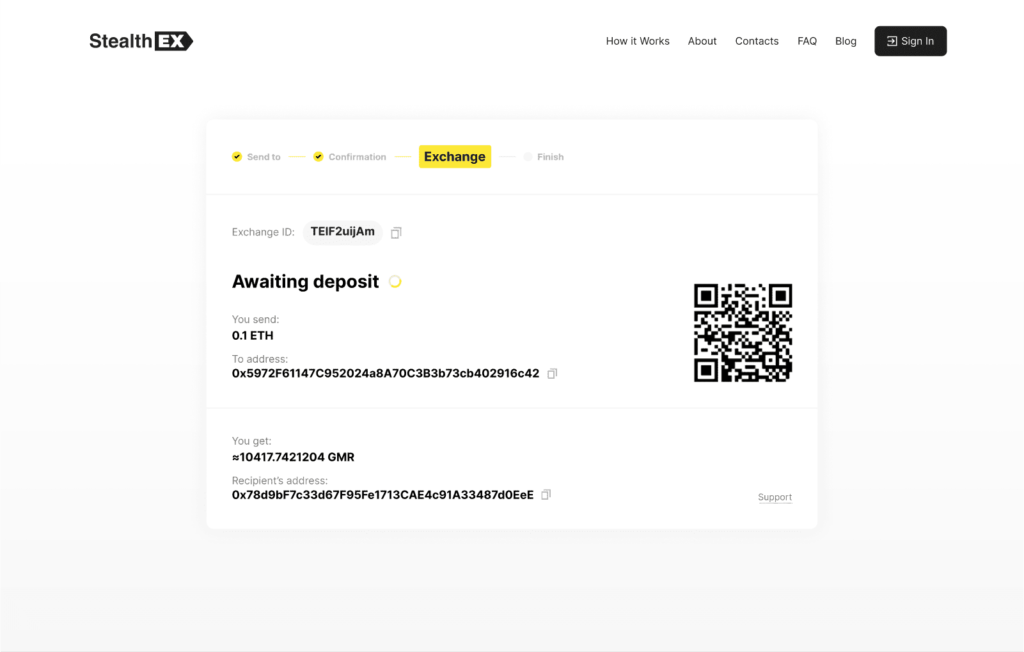 The first status is Awaiting deposit.
The following status is Confirming. This means that StealthEX is confirming the transaction you made.
The next status is Exchanging. During this time the exchange is being made.
Then the status will be changed to Sending to your wallet. This indicates that there are just a few minutes left until you will receive your Gamer coin.
Finally, you will be redirected to the FINISH page. This shows that the exchange has been successfully made and you will receive crypto to the address provided. To be sure that GMR coins were sent to your wallet you can also use the Output hash shown on this page and check it in the blockchain list of transactions.
From here you can either create a new exchange on StealthEX.io or leave the page and check your Gamer coin wallet to be surprised at how fast you got GMR crypto. Usually, the process is quite rapid so you won't need to wait long.
Gamer Token: About
The GMR token is a BEP20 contract deployed to the Binance Smart Chain and built using the industry-leading OpenZeppelin standards. The core technology behind the GMR crypto is currently deployed to the Binance Smart Chain. Through roadmap activation, the GMR ecosystem will be opened to other EVM compatible networks including Ethereum, Polygon, and Cronos. The token has recently migrated to GMR v2 that will help improve security and stability with a Multi-Signature and timelock ownership structure through OpenZeppelin Defender.
To maximize trust and to put security at the forefront, the company took following measures when creating and deploying the GMR token contract:
Developed in-house with industry-leading OpenZeppelin ERC20 standards.
Applied ZERO tokenomics to the token.
CertiK audited with a 100% score.
Committed to creating a community governance mechanism.
Battle Leet — First Proof-of-Concept Game
GMR Center is developing a toolkit for game developers to seamlessly integrate blockchain into their games. To achieve this, they are working on two proof-of-concept games, the first of which – Battle Leet – will be released later this year. Battle Leet will allow gamers and holders of the Non-Fungible Leets NFTs to pit their collection against others in a battle for domination, pride, and GMR tokens.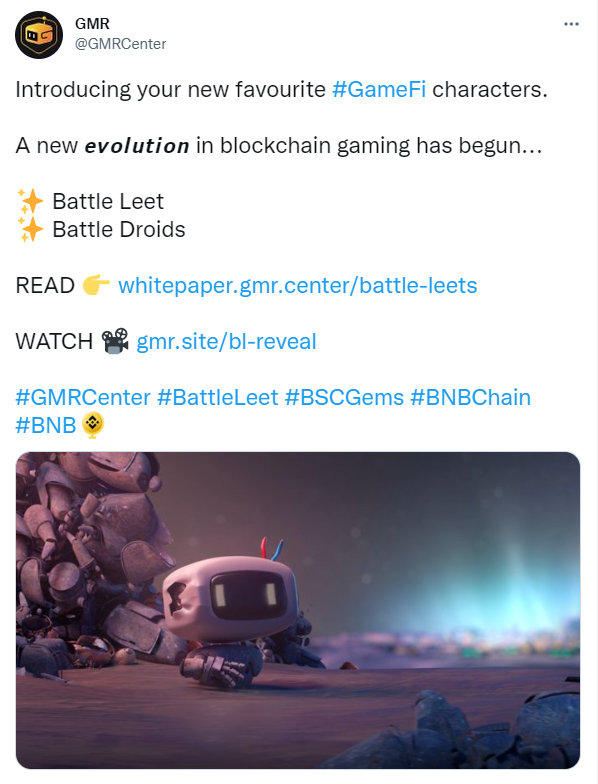 To enter the platform, all users will need to sign up and create an account. After that, they will be assigned a dedicated wallet ID and get access to the wallet linking function which will allow them to bring in funds from various crypto wallets and transfer assets. Once enrolled, users will be able to set preferences and indicate certain interest areas so that they are served content most relevant to their passions. This will include all aspects of gaming (casual or competitive), NFT, Crypto-related topics, company news, staking, streaming, and a whole host of other options.
Through roadmap activation, the staking option will be activated. At GMR Center, you will be able to stake and earn in a variety of ways:
GMR – GMR vested locked staking.
GMR – Partnered token staking.
Approved NFT staking – such as Non-Fungible Leets.
GamerVerse
GMR Center is also working on the so-called GamerVerse, an NFT-based multiverse, an open sandbox and 3D world that will offer a range of arcade games and will be made up of purchasable plots of land.
In-game assets will include:
Leet Trailers/Caravans
Bunkers
Arena merch
Guild houses
Arcades
Vehicles
Treasuries
Arsenals and weaponry
Festival of Gaming by GMR
GMR announced the "FOG" in October 2021. The event is powered by and in partnership with eFuse, whose robust solution solves esports' talent discovery challenges by providing a pipeline for top talent to compete, connect with other competitors, and access opportunities for growth. With vast experience in influencer lead gaming events, and by being partnered with world-renowned game labels such as EA, they are the perfect partner to put GMR on the map.
The Festival Of Gaming is a fantastic opportunity to drive awareness of GMR to the very audience the project is aiming to attract, and presented by trusted industry figures. As of January 2022, the Festival of Gaming has run for two months and delivered 35 events with:
126 giveaways
$50,000 in cash/GMR prizes
Over 30,000 new members to the GMR Center
GMR Center will also provide a range of opportunities for streamers. All the content can be monetized through the platform and will be used to ever enhance the project. In addition to that, there will be live game rooms for people to interact live and in real-time regarding any particular game and peruse the selection of streamers live in that game.
Is GMR Coin a Good Investment?
It really depends on whether you're a gaming fan or not. Taking into consideration the current crypto recession, GMR token is currently at its lows, which may be a good opportunity for crypto investments. However, any investment in cryptocurrencies carries a risk, so make sure to evaluate all the pros and cons.
And by the way, don't forget that now our users can purchase cryptocurrencies using fiat and we still offer the opportunity to buy crypto at fixed rates!

Make sure to follow us on Medium, Twitter, Telegram, YouTube, and Reddit to get StealthEX.io updates and the latest news about the crypto world. If you need help, drop us a line at support@stealthex.io.
Please make sure to always research any cryptocurrency and assess your risks before you invest.
crypto market
GMR
how to buy
how to buy cryptocurrency
investment
Recent Articles on Cryptocurrency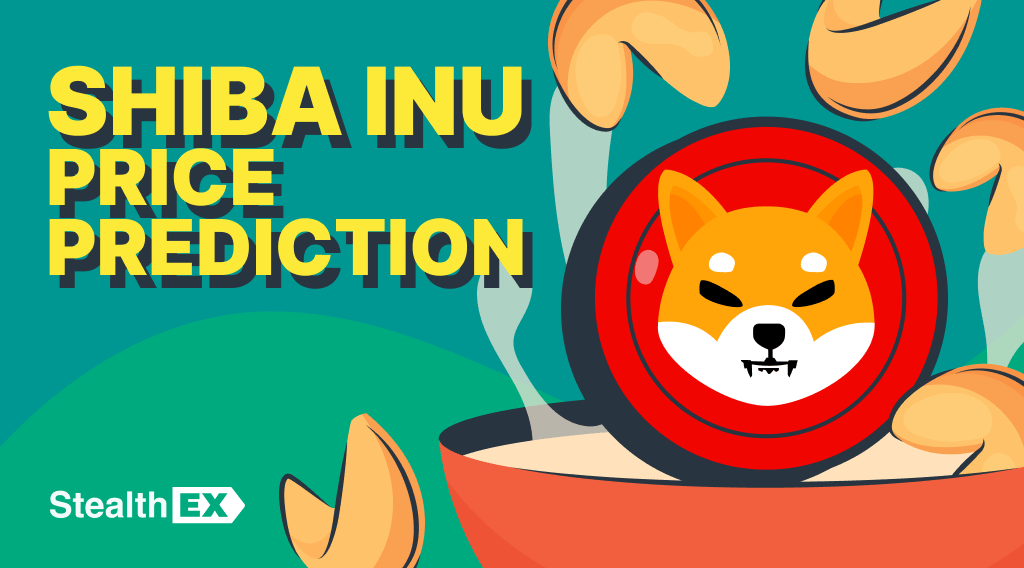 November 28, 2023
Price Prediction
Shiba Inu Price Prediction: Will SHIB Coin Reach $1?
Shiba Inu price prediction, by the end of 2030, the SHIB coin price is expected to reach a maximum level…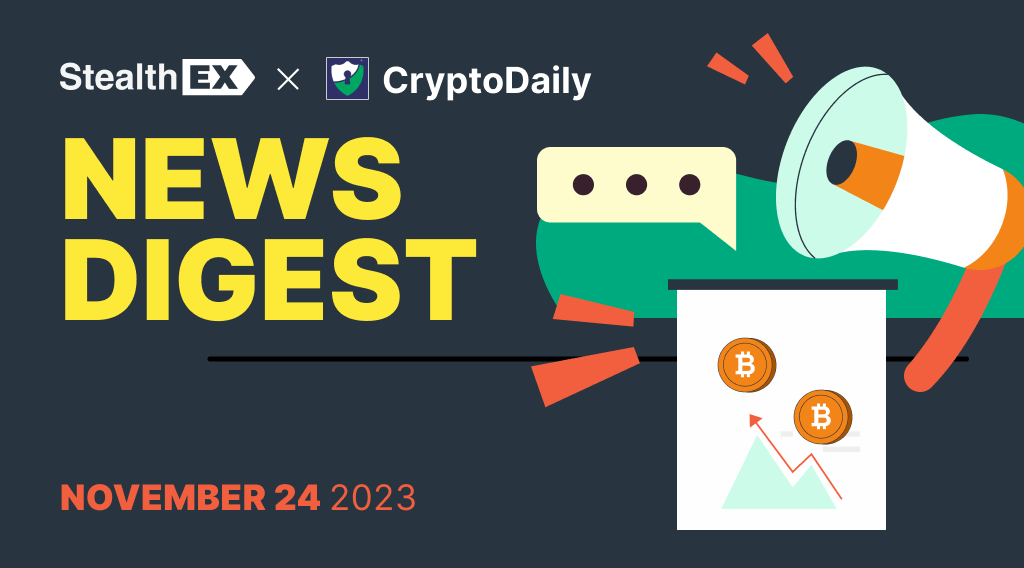 November 24, 2023
Crypto World
StealthEX & CryptoDaily: Key Elections, Investments, and Crypto Market Movements
Welcome to StealthEX weekly crypto digest, in collaboration with CryptoDaily: summary of this week's key events and trends in the…