Polkadot (DOT): How and Where to Buy Polkadot Coin?
May 31, 2022
How to Buy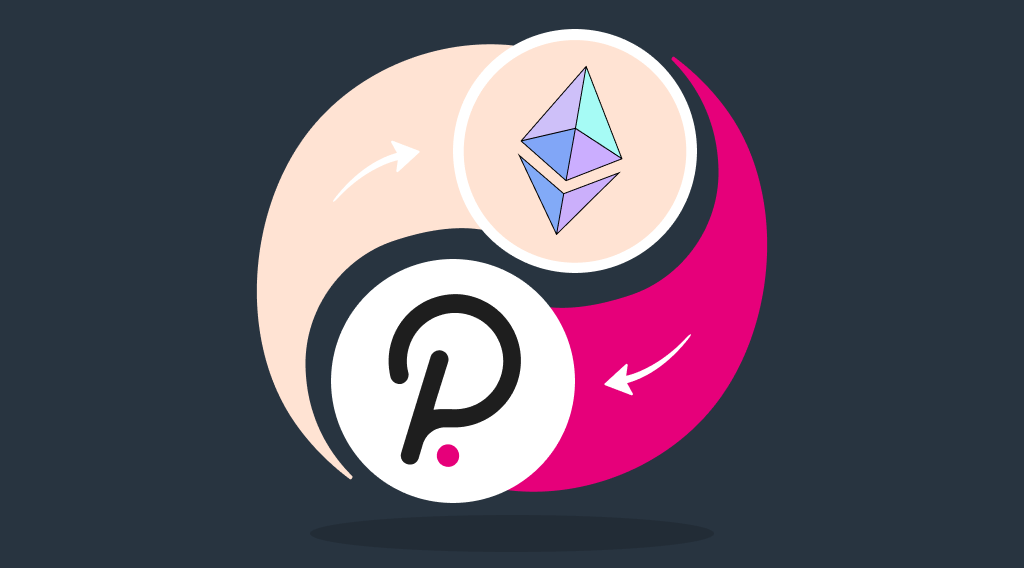 Polkadot crypto has been enjoying a lot of attention lately. Just recently, large investors have diversified their portfolios with altcoins and multicurrency crypto products, considering them safer in times of instability. Over the past several weeks, institutional whales invested over $1 million in Polkadot alone, with Cardano, Litecoin and other prominent cryptocurrencies being their second choice. So what is Polkadot coin, and is Polkadot a good investment?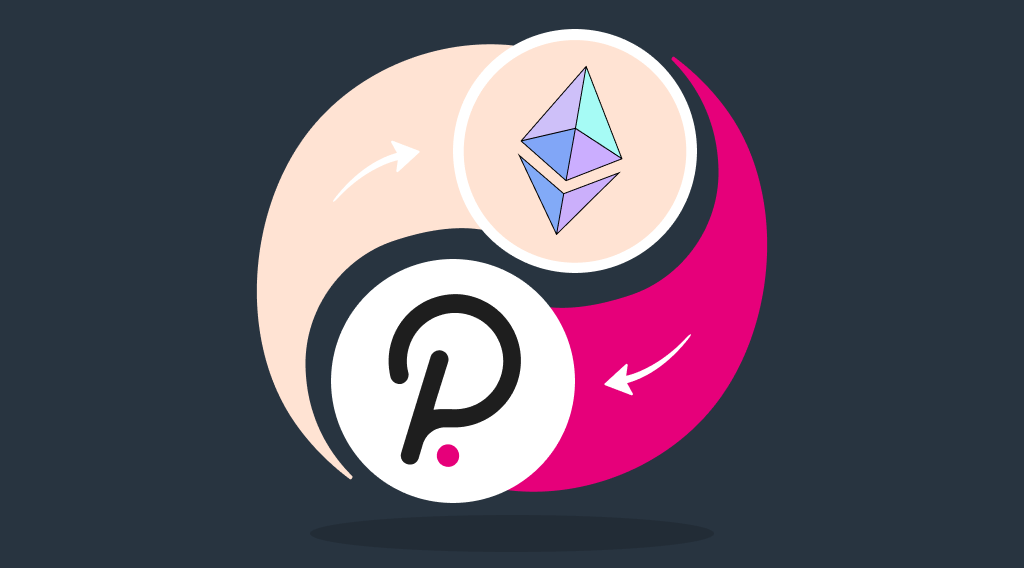 Where to Buy Polkadot Coin?
Investing in DOT crypto is simple: you can do it by using SteathEX. This non-custodial exchange allows you to select from over 700 cryptocurrencies and makes everything fast because you must provide only general information for transactions.
How to Buy DOT Crypto?
Just go to StealthEX and follow the instruction below. Let's imagine you want to exchange ETH to DOT. To make an exchange, you need to take a few simple steps.
First, you should choose Ethereum in the left drop-down list. Then choose Polkadot token in the right list of coins.
After setting the pair it is necessary to enter the amount of ETH you want to exchange.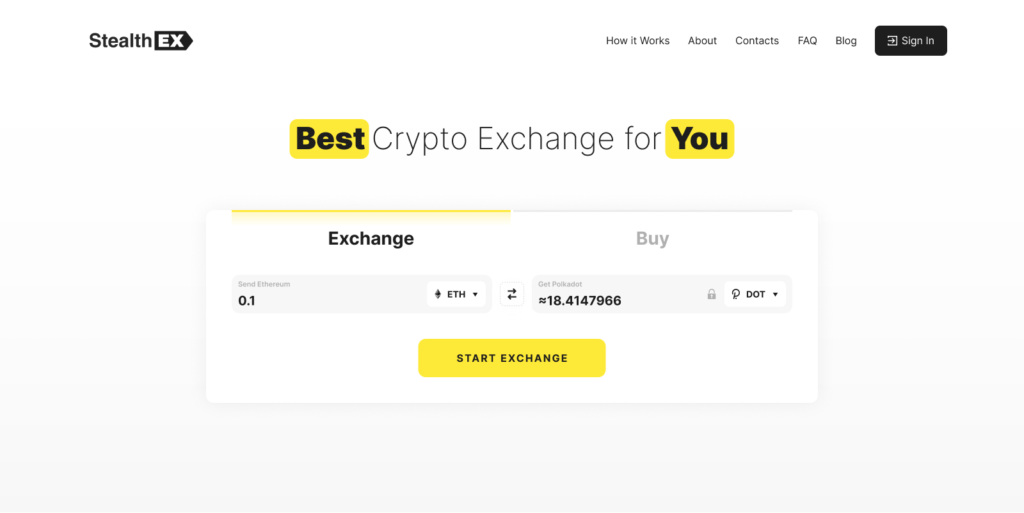 Here you will see the estimated amount of Polkadot crypto that you will receive after the exchange.
Now when everything is set for the exchange, press the Start Exchange button and you will be taken to the next page.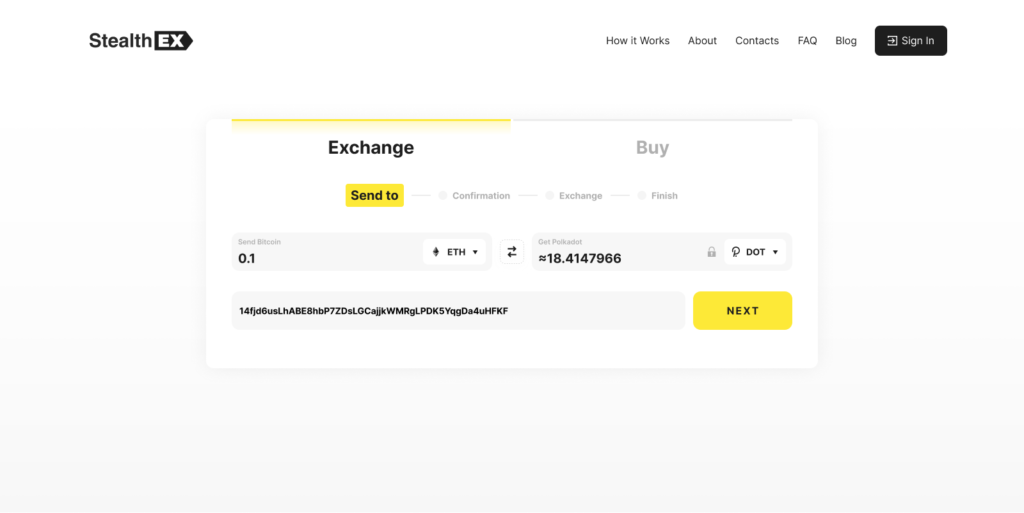 In the second step, you need to provide the DOT recipient address. The recipient address must match the cryptocurrency you are going to receive. Remember to double-check the information you enter prior to the exchange as the transaction you make cannot be canceled.
As soon as you have carefully checked all the details, you can press the Next button and you will be redirected to the Confirmation page with the information about the exchange.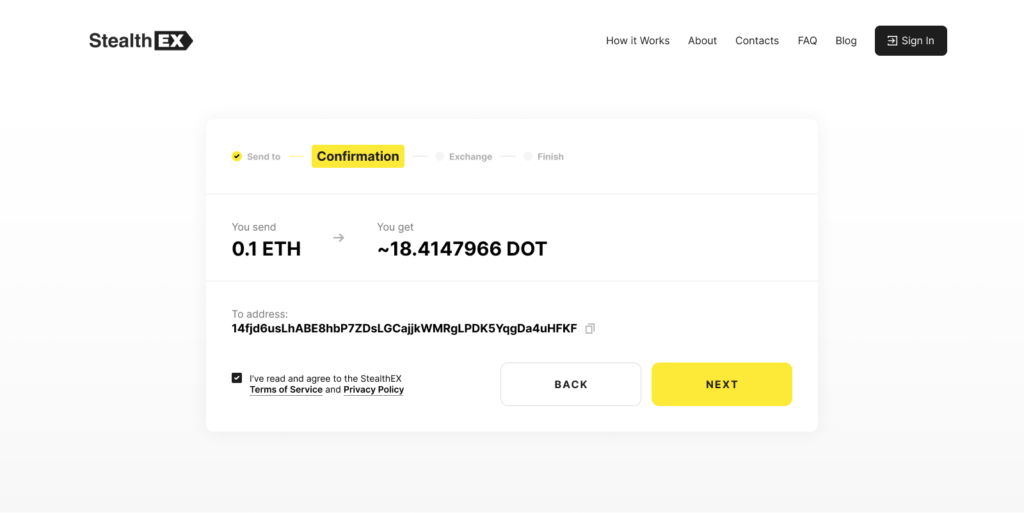 Here you can revise the address provided and the amount of DOT cryptocurrency you will receive. Don't forget to read and check the Terms of Use and Privacy Policy box. Without checking the box you will not be able to continue the exchange. 
Pressing the Next button you will be redirected to the Exchange page. 
At first, you will see the address where you need to send your ETH coin to continue the exchange. StealthEX will also provide you with the exchange ID. It will allow you to keep all the information about the swap. It is recommended to save your exchange ID or the link to your exchange.
Exchange Statuses
After sending ETH coins to the shown address, the information on the Exchange page will be renewed automatically. The Exchange page has several statuses that will change during the time of the exchange.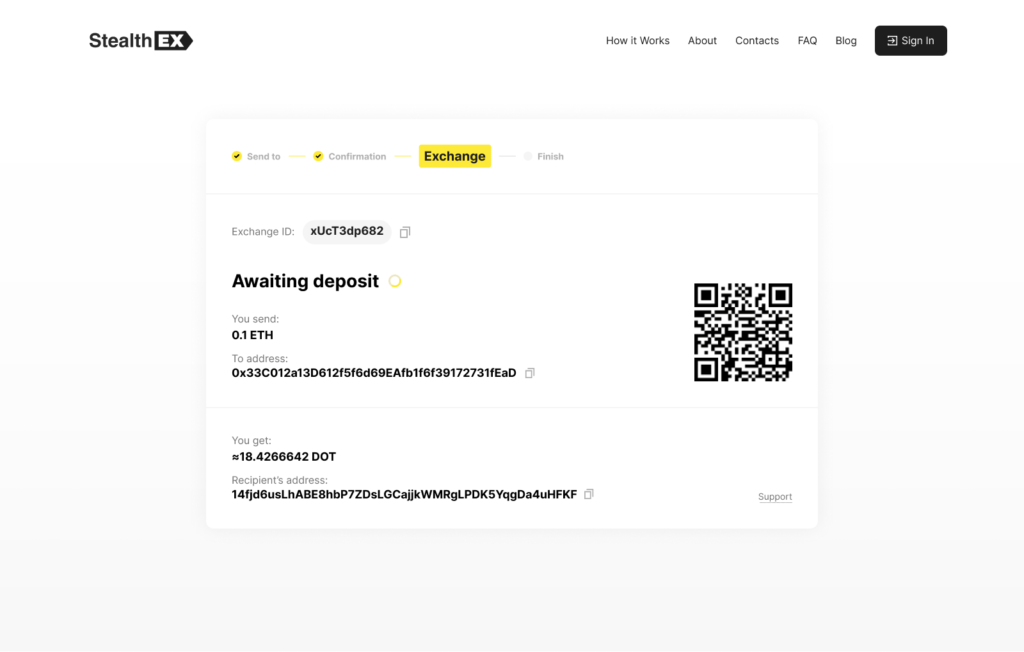 The first status is Awaiting deposit.
The following status is Confirming. This means that StealthEX is confirming the transaction you made.
The next status is Exchanging. During this time the exchange is being made.
Then the status will be changed to Sending to your wallet. This indicates that there are just a few minutes left until you will receive your Polkadot coin.
Completion of the Exchange
Finally, you will be redirected to the Finish page. This shows that the exchange has been successfully made and you will receive crypto to the address provided. To be sure that DOT coins were sent to your wallet you can also use the Output hash shown on this page and check it in the blockchain list of transactions.
From here you can either create a new exchange on StealthEX.io or leave the page and check your Polkadot coin wallet to be surprised at how fast you got DOT crypto. Usually, the process is quite rapid so you won't need to wait long.
What Is DOT Crypto and Polkadot Blockchain?
Polkadot is a blockchain network being built to enable the Web3 ecosystem, a new step in the evolution of the World Wide Web. This protocol connects different blockchains and enables different platforms to scale by integrating with each other and by implementing the following functions:
Transferring any data type between blockchains;
Maintaining persistent communication between networks;
Security consolidation;
Supporting various interconnected, application-specific sub-chains called parachains (short for parallelized chains).
The number of blockchains being developed to meet the needs of specific industries is growing rapidly. They all have different technical features and implementations and may be based on different consensus mechanisms. To overcome such inconsistencies and ensure consistent operation, Polkadot combines individual blockchains for mutual transactions, and optimizes them for specific tasks through its own sharding model. Polkadot is based on Substrate, a protocol for blockchain creation, and its programming languages are accessible to a wide range of developers.
The benefits of Polkadot are obvious. It can boast high stability and high security, and it leans on more conservative governance and upgrades, while offering higher validator rewards.
In January 2021, LD Capital launched the Polkadot Ecosystem fund. This fund, estimated at $10 million, focuses on building a community for development in a variety of areas.
Polkadot and Web 3.0: The Beginning of a New Internet Era?
The development of the Internet is often divided into three distinct stages: Web 1.0, Web 2.0 and Web 3.0 or web3. In web3, applications run either on blockchain, in decentralized networks of multiple peer-to-peer nodes (servers), or in a combination of these two technologies that form a cryptoeconomic protocol.
Web 3.0 application and utility extend far beyond the world of blockchain, according to Polkadot (DOT) founder Gavin Wood. He claims that Polkadot and its native cryptocurrency, DOT, are designed to tackle the Web 3.0 challenge and can safely adapt to the emerging ecosystem. Polkadot is innovative in many ways and encompasses a large number of features that will let it run smoothly in the new Internet era.
And by the way, don't forget that now our users can purchase cryptocurrencies using fiat and we still offer the opportunity to buy crypto at fixed rates!

Make sure to follow us on Medium, Twitter, Telegram, YouTube, and Reddit to get StealthEX.io updates and the latest news about the crypto world. If you need help, drop us a line at support@stealthex.io.
Please make sure to always research any cryptocurrency and assess your risks before you invest.
DOT
how to buy
invest in crypto
investment
Polkadot
Recent Articles on Cryptocurrency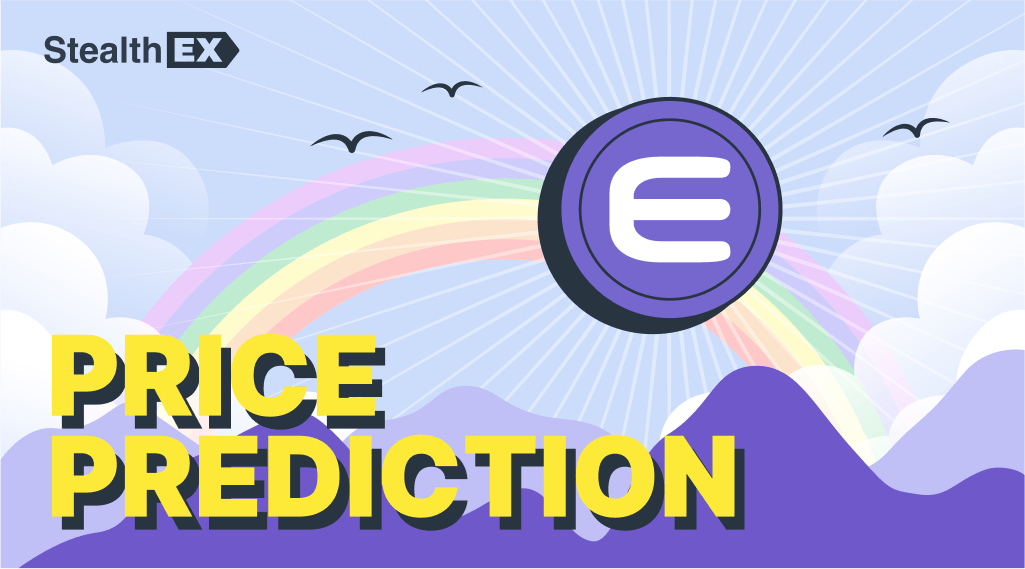 September 27, 2023
Price Prediction
Enjin Coin Price Prediction: How High Will $ENJ Crypto Go?
Based on expert Enjin Coin price prediction, the maximum price of ENJ crypto is predicted to be $75 by 2030.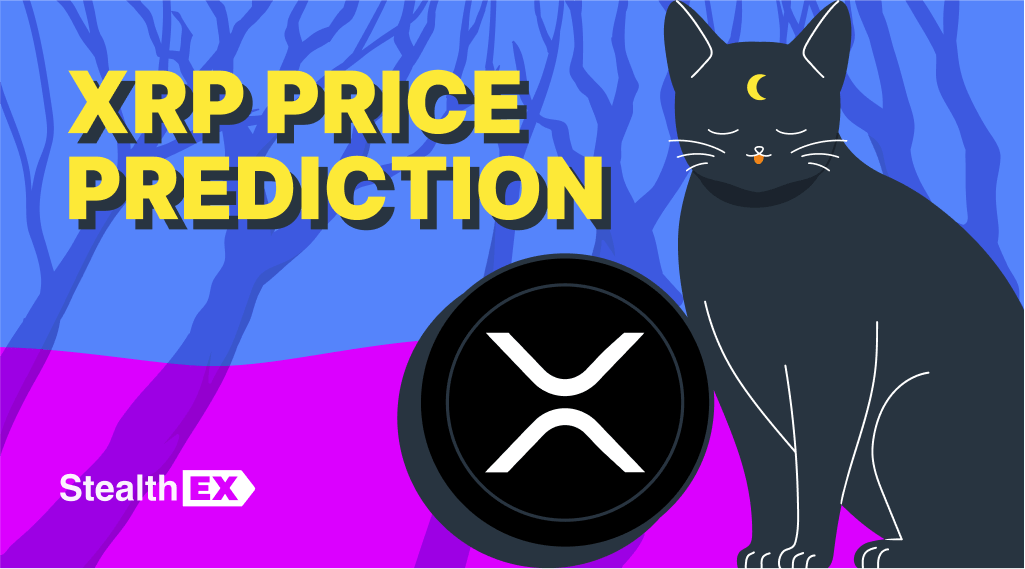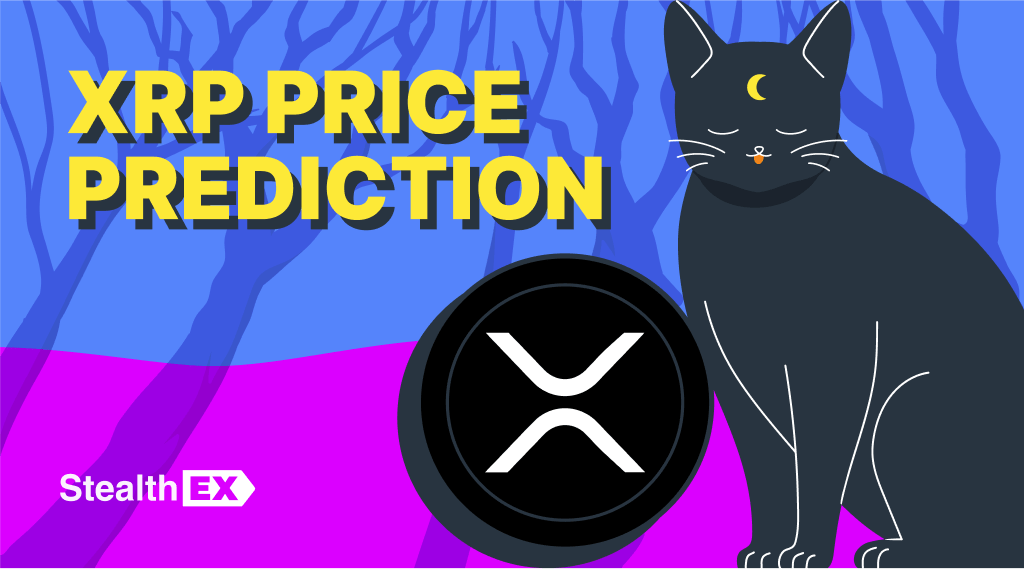 September 26, 2023
Price Prediction
Ripple XRP Price Prediction: How High Can XRP Go?
Based on expert XRP price prediction, the maximum price of XRP coin is predicted to be $12 by 2030.