Where to Buy Saitama Inu Coin With the Best Rates?
December 21, 2021
How to Buy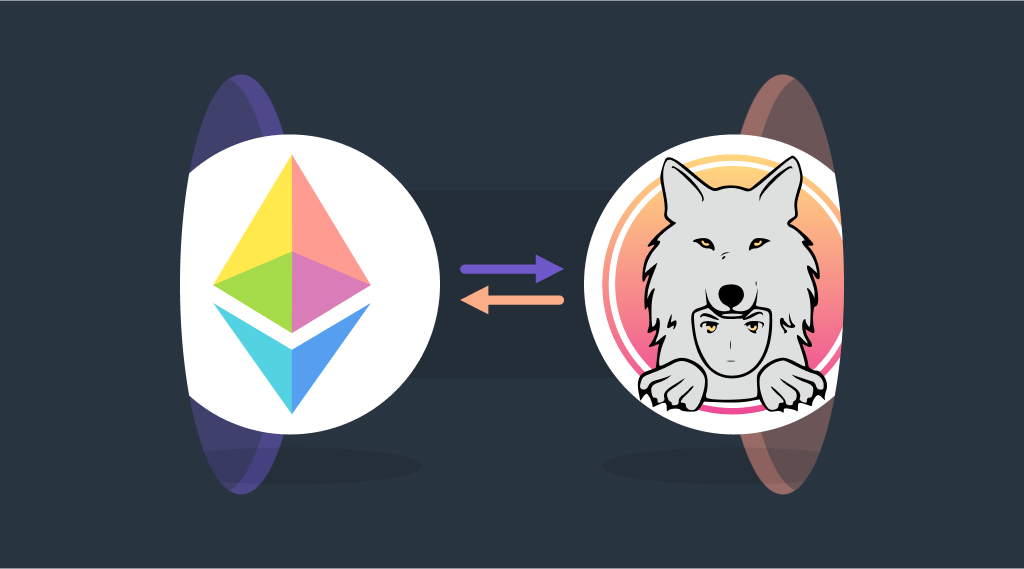 Saitama Inu (SAITAMA) is yet another meme coin and a transactional network designed for ordinary people, crypto enthusiasts, and traders who can use it to carry out currency transactions and make payments. The project went live in July 2021. Keep reading the new StealthEX article and find more about SAITAMA crypto and where to buy Saitama Inu coin.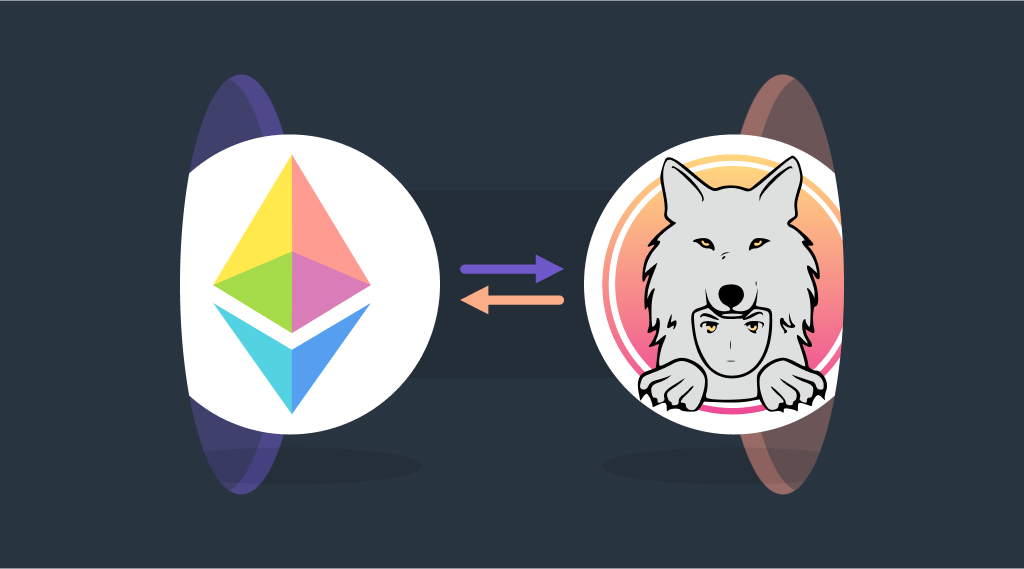 The name of the project comes from the legend about a mysterious ghostly dog that roams in the mountains of the Japanese prefecture of Saitama, located in the Kanto region on the island of Honshu.
Where to Buy Saitama Inu Coin?
With StealthEX, there's no point in thinking where to buy Saitama Inu coin twice. This non-custodial exchange allows you to select from over 400 cryptocurrencies and makes everything fast because you must provide only general information for transactions.
How to Buy SAITAMA Crypto?
Just go to StealthEX and follow the instruction below. Let's imagine you want to exchange ETH to SAITAMA. To make an exchange, you need to take a few simple steps.
First, you should choose Ethereum in the left drop-down list. Then choose SAITAMA token in the right list of coins.
After setting the pair it is necessary to enter the amount of ETH you want to exchange.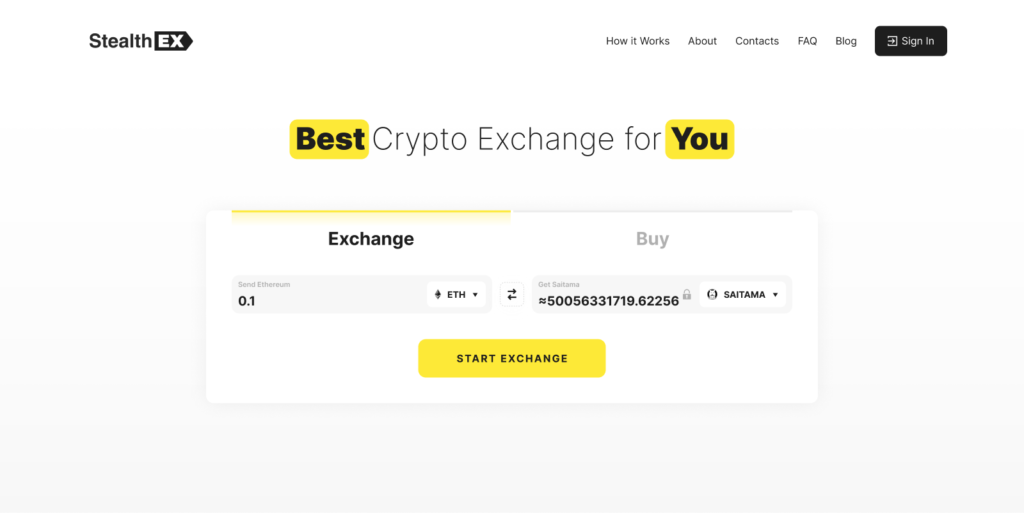 Here you will see the estimated amount of Saitama crypto that you will receive after the exchange.
Now when everything is set for the exchange, press the Start Exchange button and you will be taken to the next page.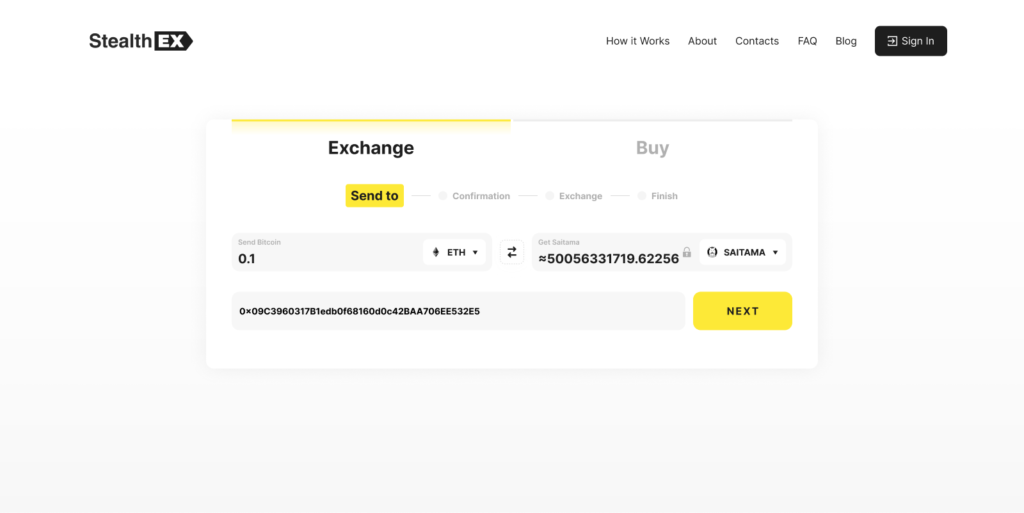 In the second step, you need to provide the SAITAMA recipient address. The recipient address must match the cryptocurrency you are going to receive. Remember to double-check the information you enter prior to the exchange as the transaction you make cannot be canceled.
As soon as you have carefully checked all the details, you can press the Next button and you will be redirected to the Confirmation page with the information about the exchange.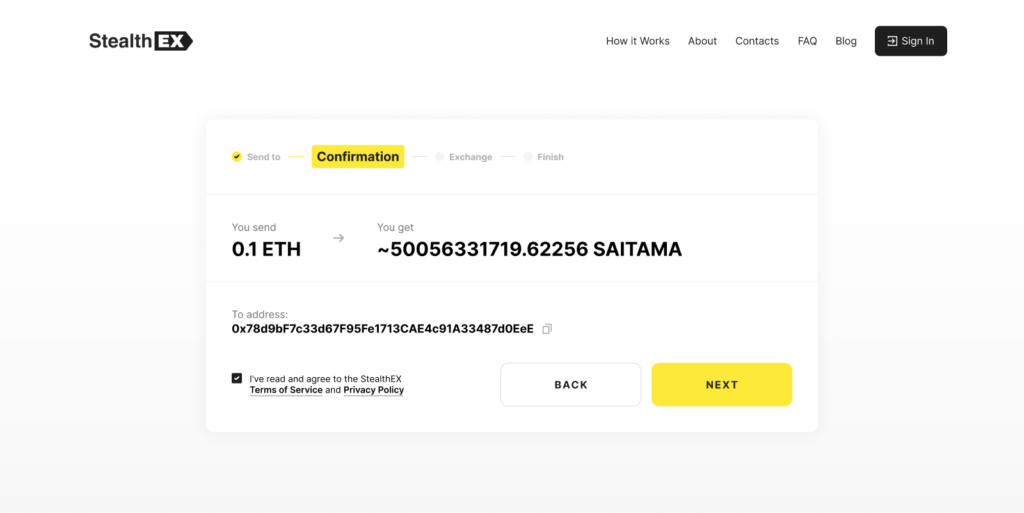 Here you can revise the address provided and the amount of SAITAMA cryptocurrency you will receive. Don't forget to read and check the Terms of Use and Privacy Policy box. Without checking the box you will not be able to continue the exchange. 
Pressing the Next button you will be redirected to the Exchange page. 
At first, you will see the address where you need to send your ETH coin to continue the exchange. StealthEX will also provide you with the exchange ID. It will allow you to keep all the information about the swap. It is recommended to save your exchange ID or the link to your exchange.
Exchange Statuses
After sending ETH coins to the shown address, the information on the Exchange page will be renewed automatically. The Exchange page has several statuses that will change during the time of the exchange.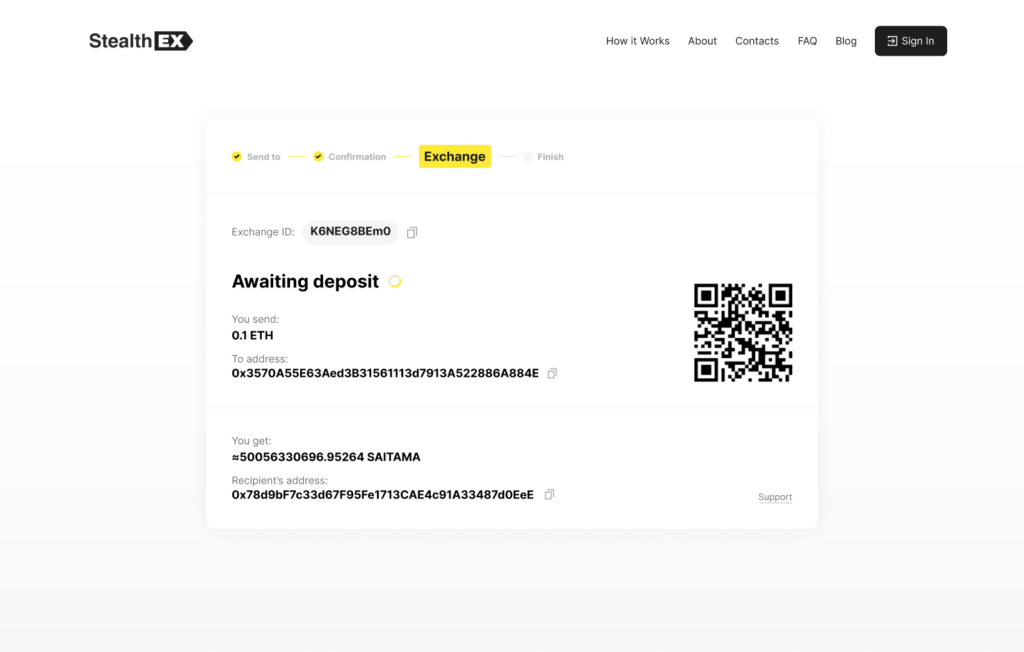 The first status is Awaiting deposit.
The following status is Confirming. This means that StealthEX is confirming the transaction you made.
The next status is Exchanging. During this time the exchange is being made.
Then the status will be changed to Sending to your wallet. This indicates that there are just a few minutes left until you will receive your Saitama coin.
Finally, you will be redirected to the Finish page. This shows that the exchange has been successfully made and you will receive crypto to the address provided. To be sure that SAITAMA coins were sent to your wallet you can also use the Output hash shown on this page and check it in the blockchain list of transactions.
From here you can either create a new exchange on StealthEX.io or leave the page and check your Saitama coin wallet to be surprised at how fast you got SAITAMA crypto. Usually, the process is quite rapid so you won't need to wait long.
Saitama Crypto Features 
The creators of Saitama crypto aim to provide users with a secure token that people with limited funds could invest in. Since these crypto developers are avid supporters of renewable energy, they chose the Proof-of-Stake algorithm for their project. Saitama is a community-driven ERC-20 token, which means it was built on the Ethereum network.
One of the goals of the project is to prevent whales from manipulating market prices. This goal is achieved through a special Anti Whale Contract, real-world value creation, and real use cases.
The deflationary mechanisms of the network include a redistribution system: 2% of each transaction is distributed to holders as a reward, 2% of each transaction is burned. This gives investors the opportunity to generate passive income. In total, 49% of tokens were burned – including blocked liquidity and funds from Anti-Whale Coded Contracts.
The project offers a smart wallet app that according to its creators solves fundamental problems in decentralized finance by allowing investors to be in control of their crypto. Using SaitaMask, users can buy, sell, swap, stake and transfer cryptocurrencies.
Except for the app, the project will offer SaitaMarket, a marketplace where holders can purchase goods and services. Its goal is to build partnerships with a variety of goods and service vendors.
On top of that, Saitama holders will be able to use SaitaMaker, an NFT based launchpad platform that's aimed at supporting users in the community to create, launch and promote projects based on the token's system.
SAITAMA News
In November 2021, Saitama Inu hosted the SaitaMask event in Las Vegas. During the event, the project announced the launch of a content platform, NFT platform, educational platform, smart wallet, blockchain, and marketplace.
It is assumed that the educational program, digital wallet, and payment system will be operational in 2022. According to the Saitama white paper, SaitaMask v1 Release will take place in Q2, along with SaitaRewards v 1.1. and SaitaEducation.
NFT projects will be launched in Q3-Q4 2022, starting with the rollout of SaitaMarket and SaitaMaker along with SaitaSocial.
In March 2022 Saitama announced an Exclusive Multi-Year Partnership with Mixed Martial Arts League Eagle FC.
In May 2022 Chinese cryptocurrency exchange CoinTiger added Saitama Inu to the platform.
A blockchain called SaitaChain, built on top of the Ethereum network will go live in 2023, along with SaitaPayments upgrade.
And by the way, don't forget that now our users can purchase cryptocurrencies using fiat and we still offer the opportunity to buy crypto at fixed rates!

Make sure to follow us on Medium, Twitter, Telegram, YouTube, and Reddit to get StealthEX.io updates and the latest news about the crypto world. If you need help, drop us a line at [email protected]
Please make sure to always research any cryptocurrency and assess your risks before you invest.
how to buy
how to buy crypto
Saitama
Saitama Inu
Saitama V2
Recent Articles on Cryptocurrency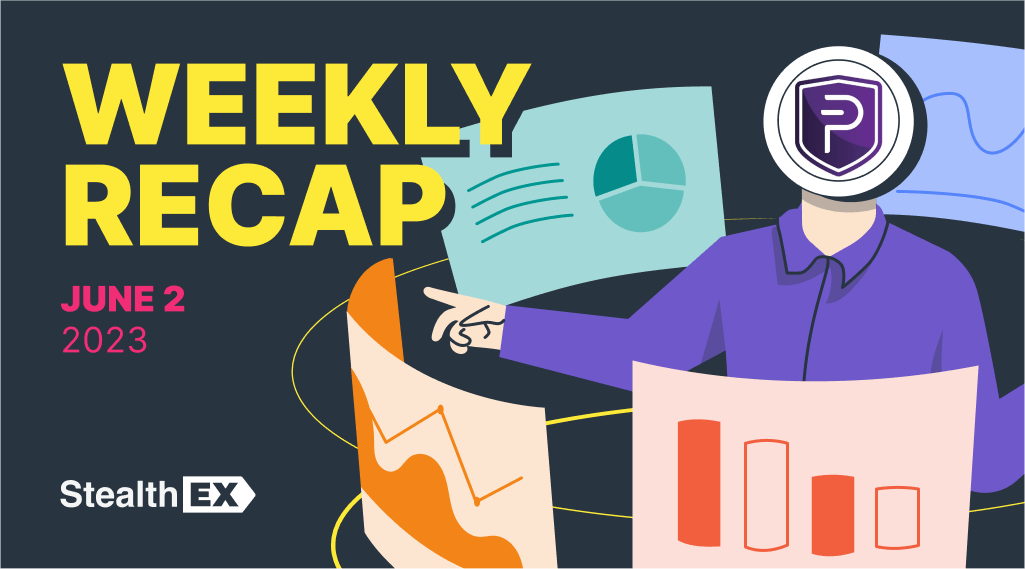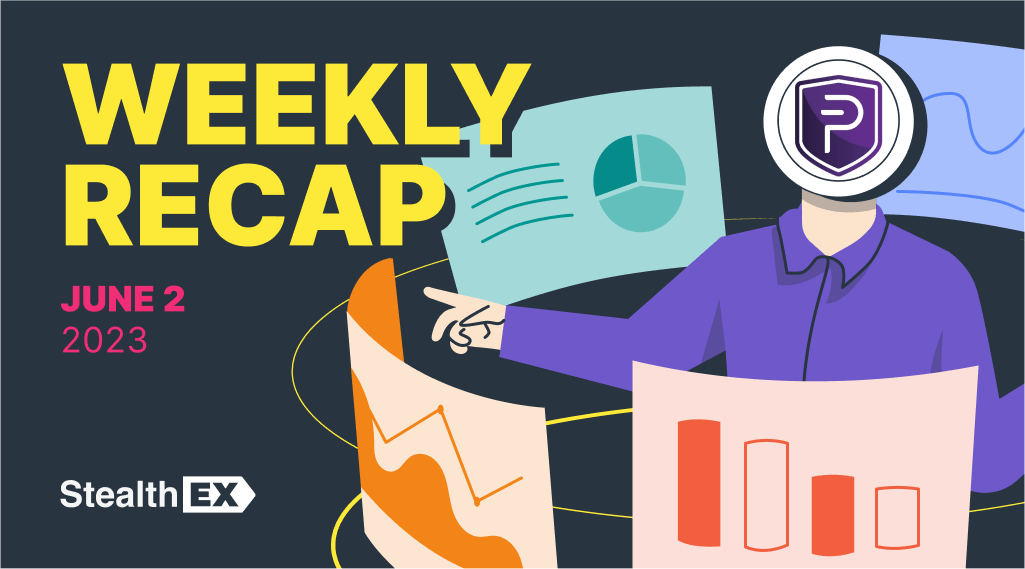 Review of the Crypto Market: June 2, 2023
Weekly Crypto Market analysis with major trends, Ethereum & Bitcoin performance, and impactful news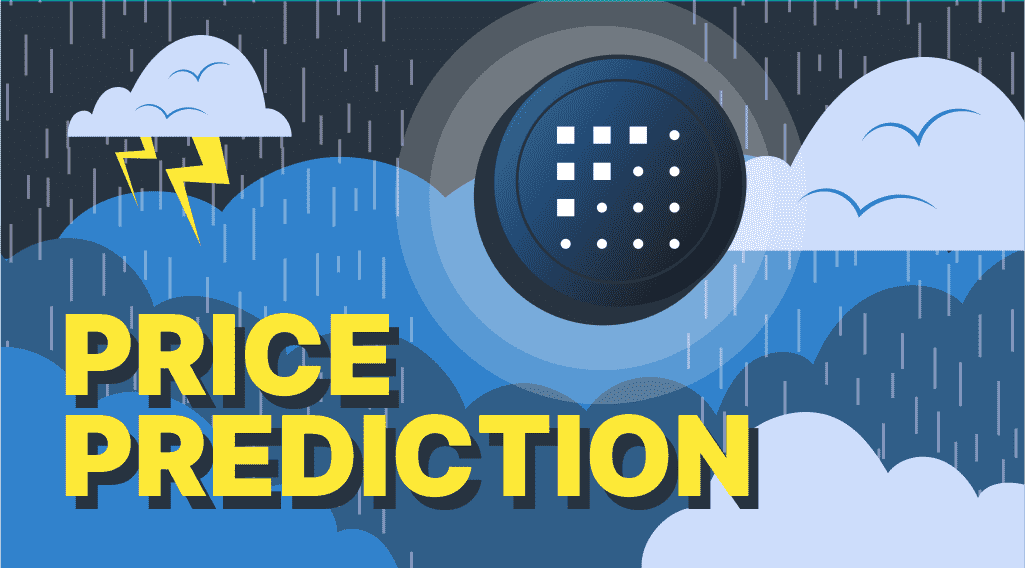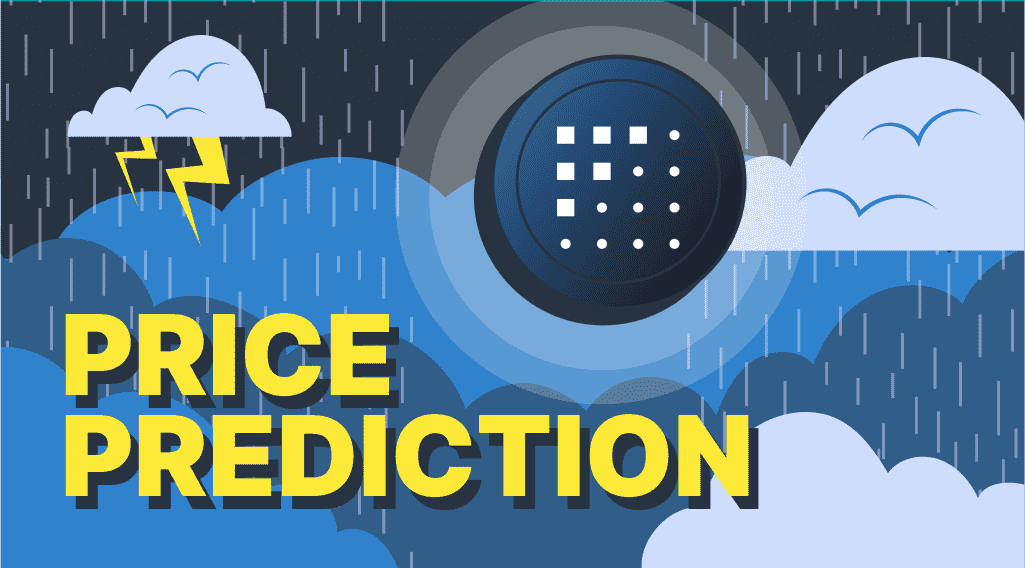 June 1, 2023
Price Prediction
Fetch.ai Price Prediction: Unveiling Future Trends of FET Crypto
Uncover Fetch.ai Price Prediction, empowering you to anticipate market trends and make decisions about its future.