10 Best Performing Cryptos of 2019: Part 1
February 4, 2020
Investment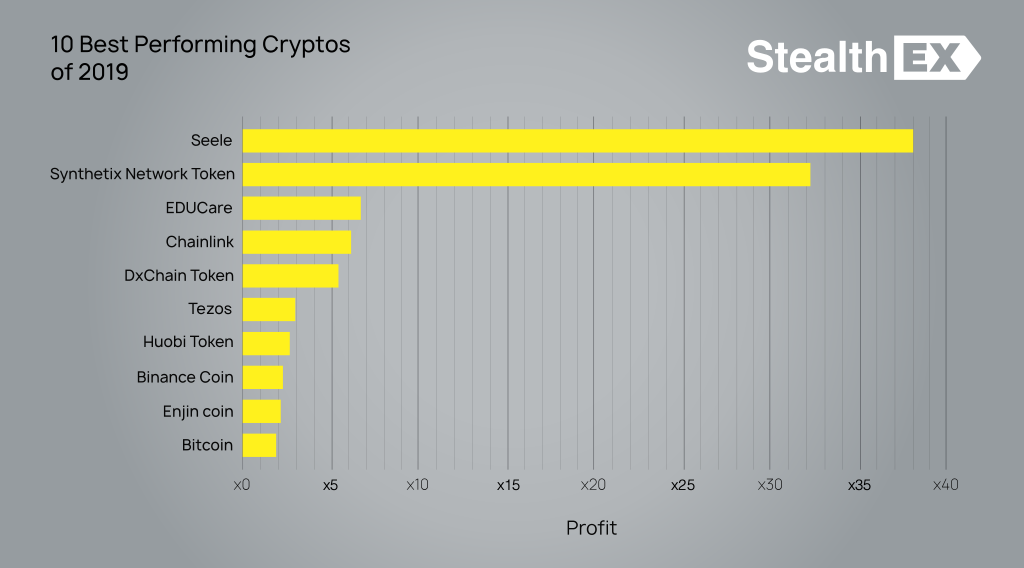 Last year was a roller-coaster for the cryptocurrency market. The total market capitalization of cryptocurrencies in January was about $130 billion. However, by July, market capitalization had already reached a whopping $366 billion. By the end of the year, the market began to fluctuate at $200 billion.
Despite market fluctuations, some cryptocurrencies showed steady growth. Let's take a look at their performance in this article.
Data was taken from CoinMarketCap. "Price Jan 01" is the open price on January 01, 2019; "Price Dec 31" is the close price on December 31, 2019; "Market Cap" is Market Cap on December 31; "Profit 2019" calculated by the formula ((Price Dec 31/Price Jan 01)-1)*100%
For our research we took cryptocurrencies that:
• Trading at least at one crypto exchange from CoinMarketCap DATA alliance.
• Daily trading volume is more than $100,000.
Overview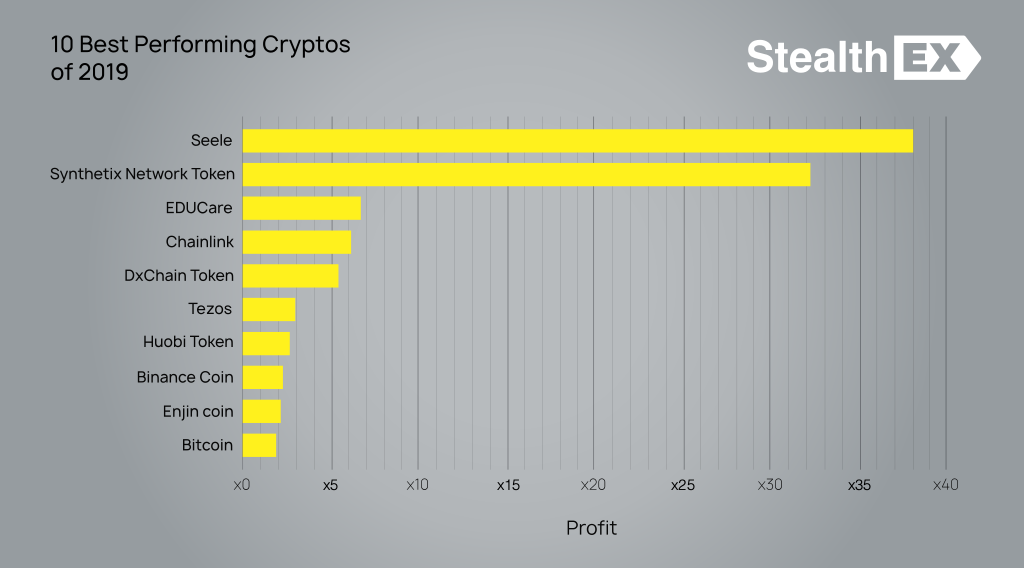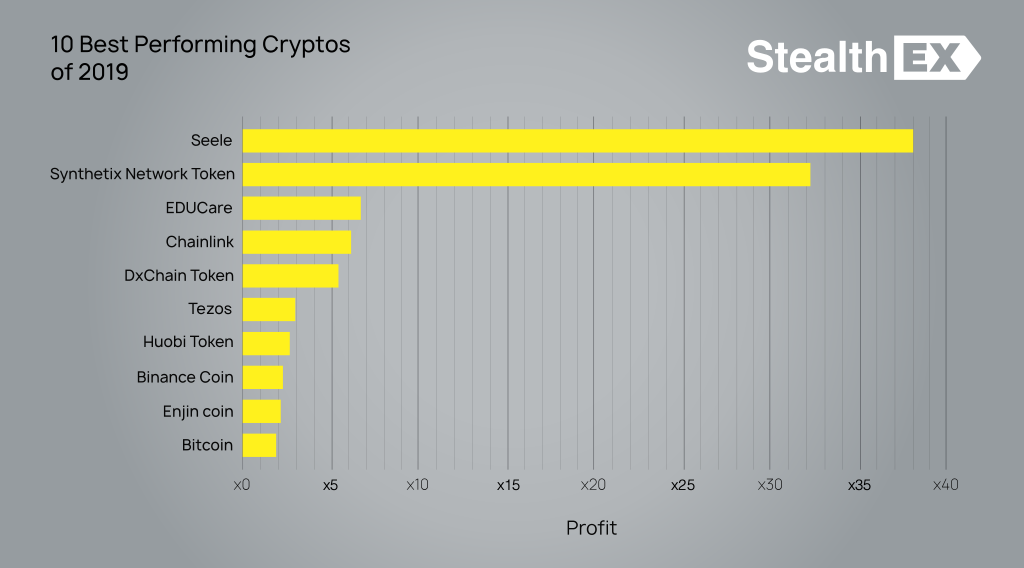 №10 Bitcoin (BTC)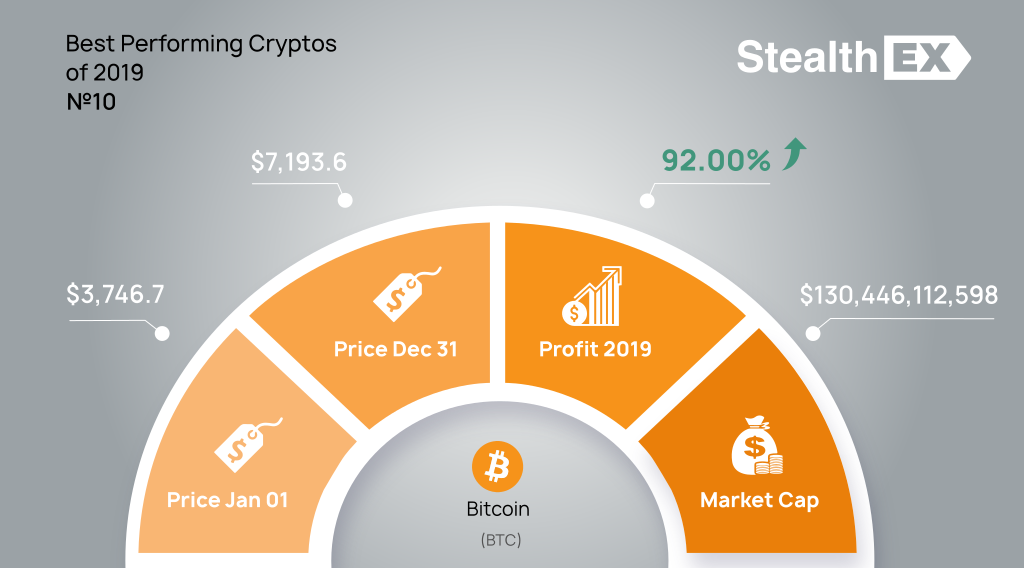 Bitcoin is the largest cryptocurrency dominating, with 68% of the total market share. Bitcoin price changes affect the entire crypto market. Bitcoin (BTC) started the year off trading at $3,500 in late June was a bullish run towards a two-year high at $13,797, before retracing to the current level at $7,500.
№9 Enjin coin (ENJ)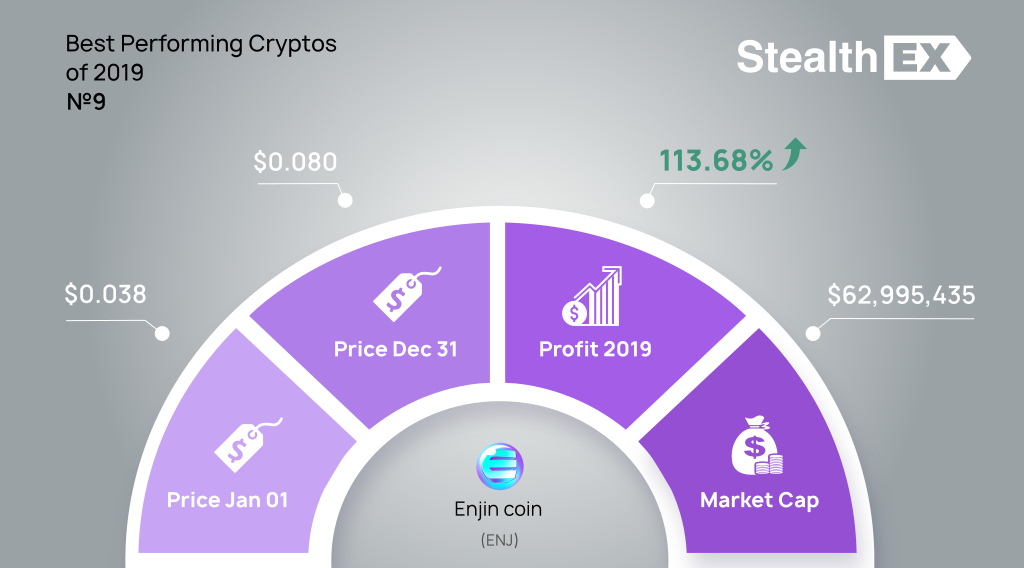 Enjin is a platform for user-first blockchain products that enable anyone to easily create, manage, distribute, and integrate blockchain assets. Enjin Coin (ENJ) price has increased by more than 200 percent after listing on Samsung Galaxy S10 Blockchain Wallet.
№8 Binance Coin (BNB)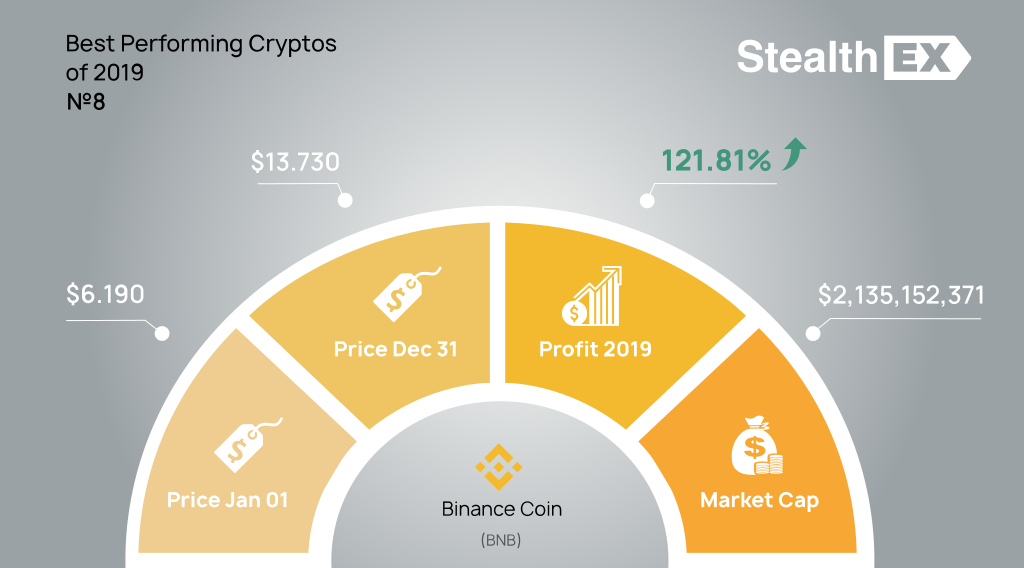 Binance issued Binance Coin (or BNB) in 2017 as an ERC20 token for discounted trading fees. In 2019, Binance made many new products for its platform, thereby expanding the ways to use BNB token. Notably, the launch of the Binance Launchpad was the reason for the rise of the entire market.
№7 Huobi Token (HT)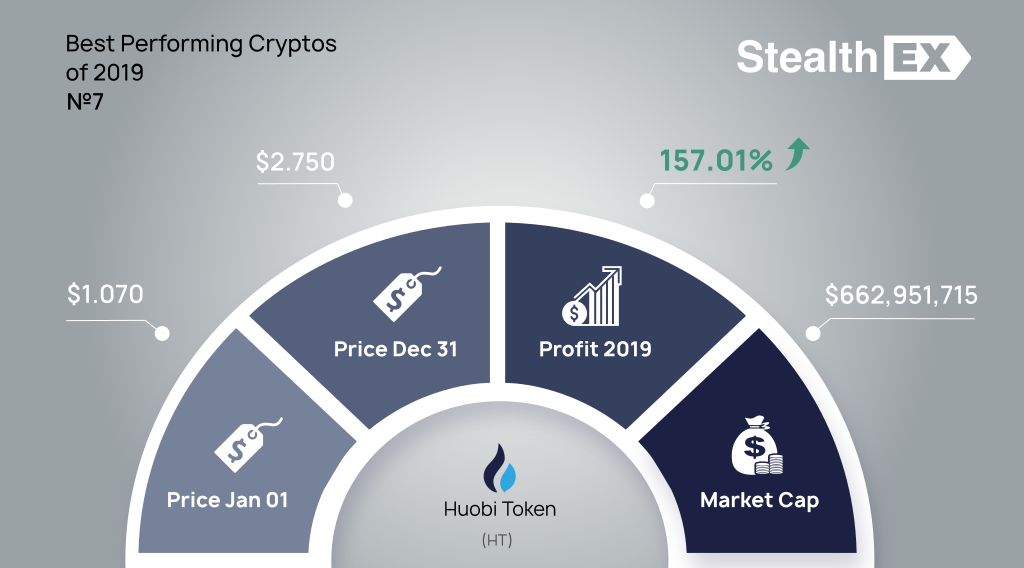 The Huobi Token was issued in January 2018 to reward Huobi exchange users with lowered trading fees. HT can be stored in any wallet that supports ERC-20 tokens because it is an ERC-20 token on the Ethereum blockchain. In March 2019, they launched Huobi Prime, a premium service letting users invest early in select coins.
№6 Tezos (XTZ)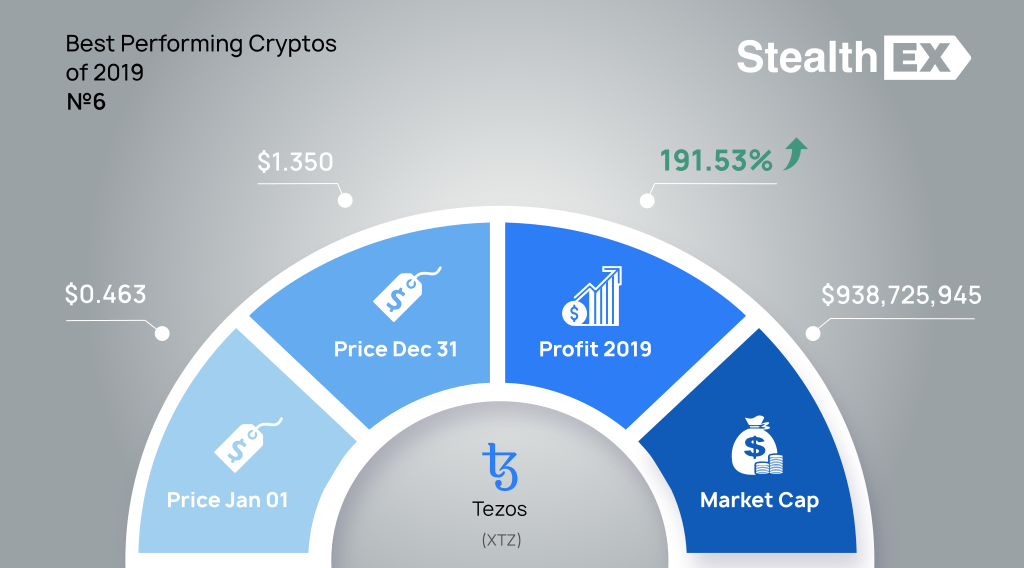 Tezos (XTZ) is a decentralized computing platform that governs itself by establishing a true digital commonwealth. Tezos uses a formal verification protocol and a proof-of-stake consensus module. XTZ price increased due to the listing on Binance and CoinBase exchanges. Also, XTZ was added to Binance TrustWallet.
Exchange cryptocurrencies at StealthEX
Follow these easy steps:
✔ Choose the pair and the amount for your exchange. For example Bitcoin (BTC) to Tezos (XTZ).
✔ Press the "Start exchange" button.
✔ Provide the recipient address to which the coins will be transferred.
✔ Move your cryptocurrency for the exchange.
✔ Receive your coins.
Follow us on Medium, Twitter, Facebook, and Reddit to get StealthEX.io updates and the latest news about the crypto world. For all requests message us via [email protected]
February 4, 2020
Binance
Bitcoin
CoinMarketCap
Enjin
Huobi
Recent Articles on Cryptocurrency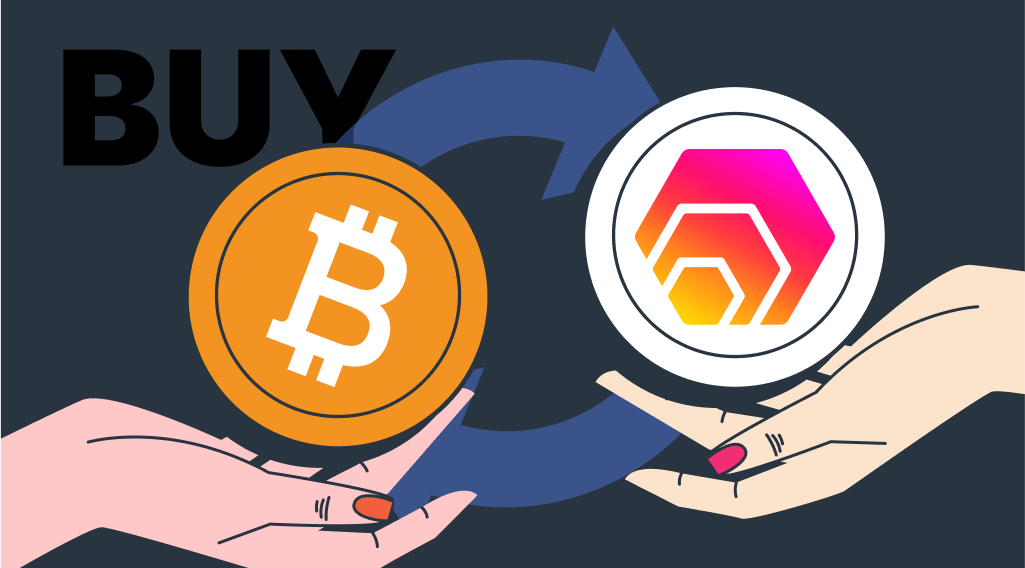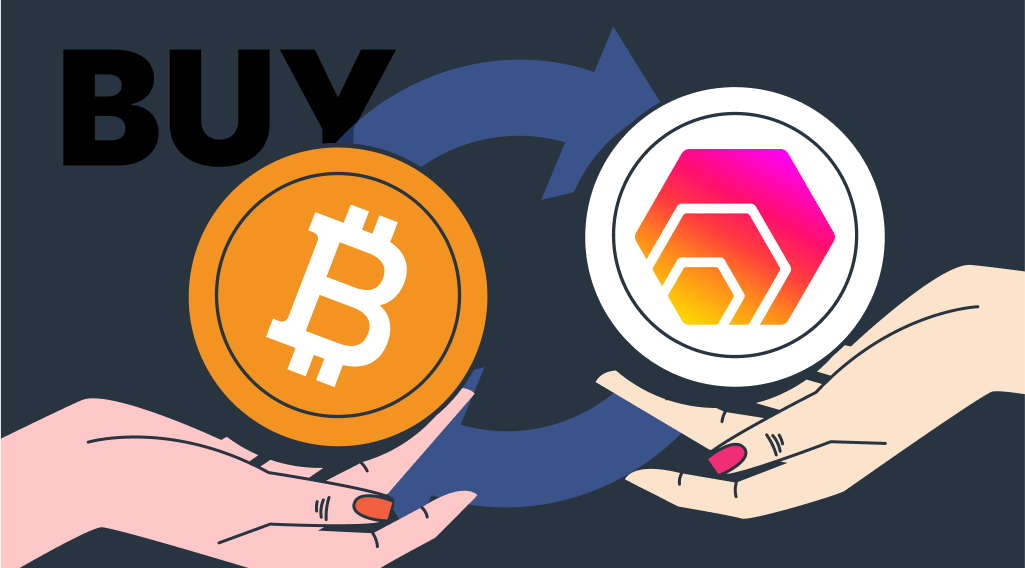 March 28, 2023
How to Buy
Where and How to Buy HEX Coin: A Comprehensive Guide
Learn to buy HEX coin effortlessly with our guide, exploring its background, benefits, and potential as an investment.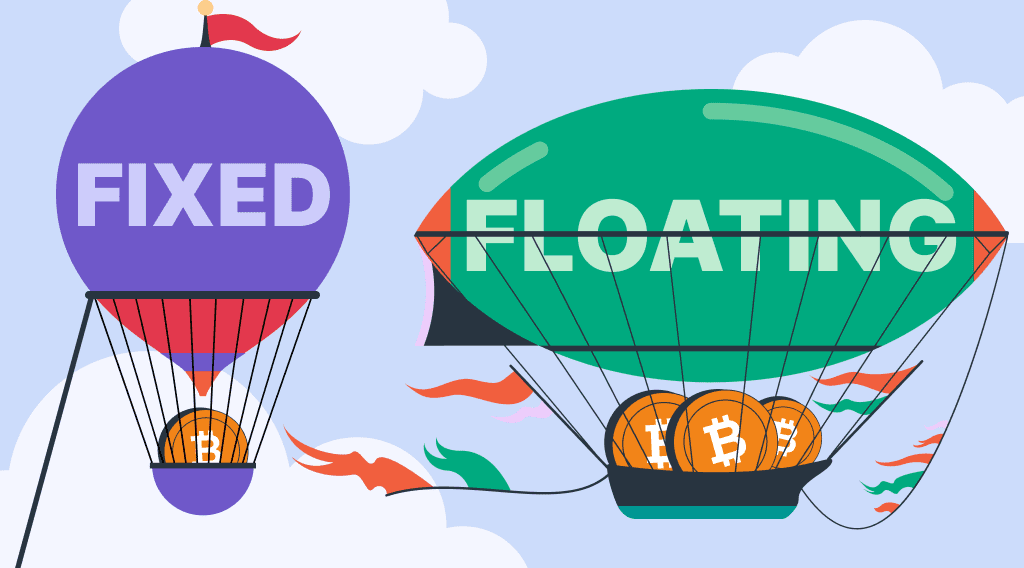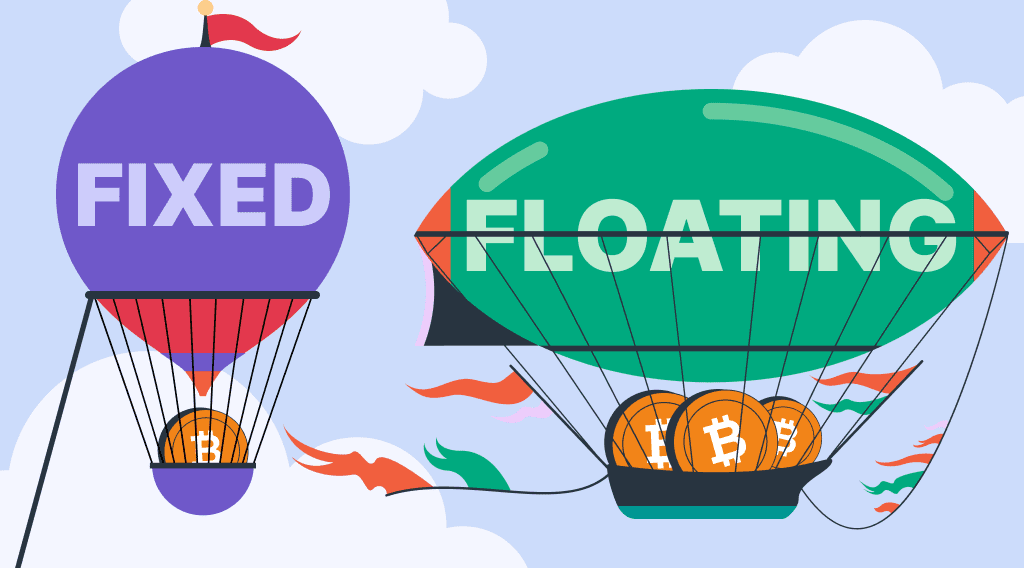 March 24, 2023
Our News
Fixed Exchange Rates on StealthEX — Get Exactly What You Want
Crypto is unstable, exchange rate fluctuations happen quite often — get what you want with exchanges at a fixed rate