How to Convert SOL to ETH? Solana to Ethereum Bridge
February 14, 2023
How to Buy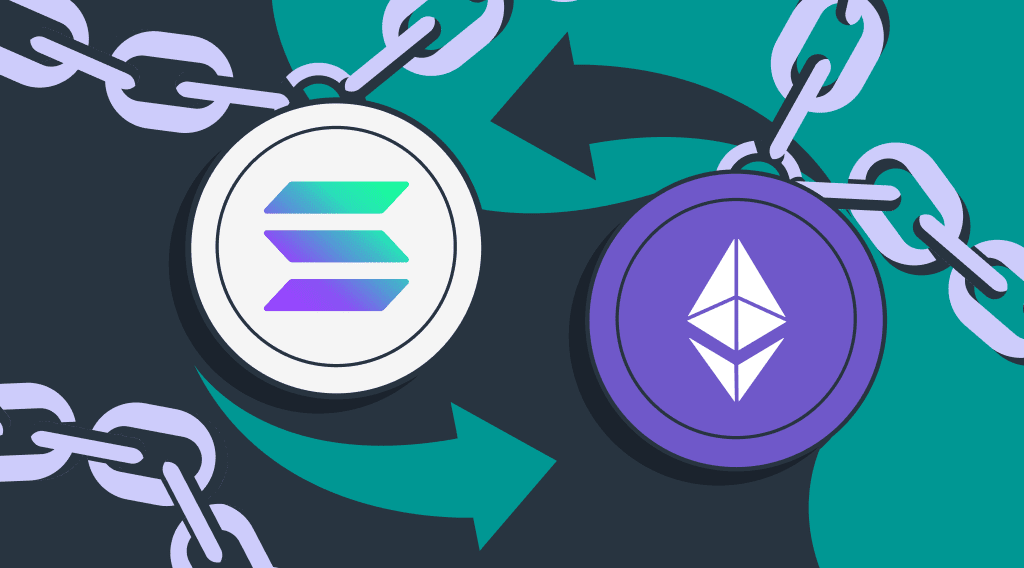 The concept of cross-chain bridges offers a significant value improvement in services accessible to blockchain developers and users. When it comes to interoperability between blockchains, cross-chain swap is what makes all the difference. Not all swappers and wallets support cross-chain. For that reason, many users have to register on major crypto exchanges: it can be Binance, Kraken, or a number of other large crypto hubs. StealthEX offers its customers an option of exchanging tokens created on various blockchains smoothly and quickly, without signing up for the service. Cross-chain swaps are one of the platform's key benefits. Read more about how to convert SOL to ETH in the new StealthEX article.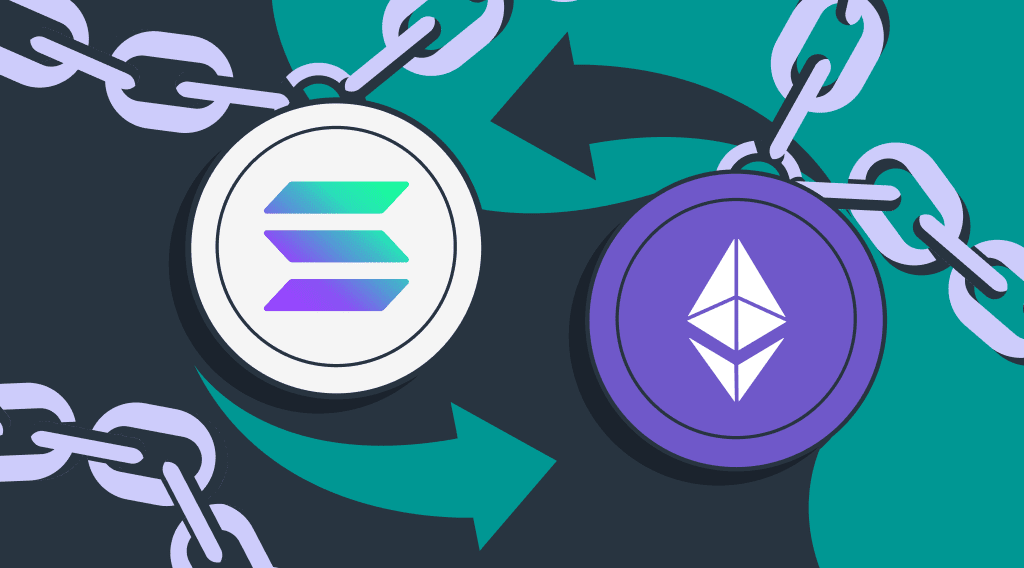 SOL to ETH: A Simple and Straightforward Process
There are many swappers where you can exchange Solana to Ethereum, and StealthEX is one of the safest cross-chain exchanges. This platform offers users to convert SOL to ETH with no extra fees and with the best floating and fixed rates. Such cross-chain exchanges are always freely available via StealthEX.
How to Convert SOL to ETH?
Just follow the guidelines below. Let's imagine you want to exchange SOL for ETH. To make an exchange, you need to take a few simple steps.
First, you should choose Solana (SOL) in the left drop-down list. Then choose Ethereum (ETH) in the list of coins on the right.
After setting the pair it is necessary to enter the amount of SOL you want to exchange.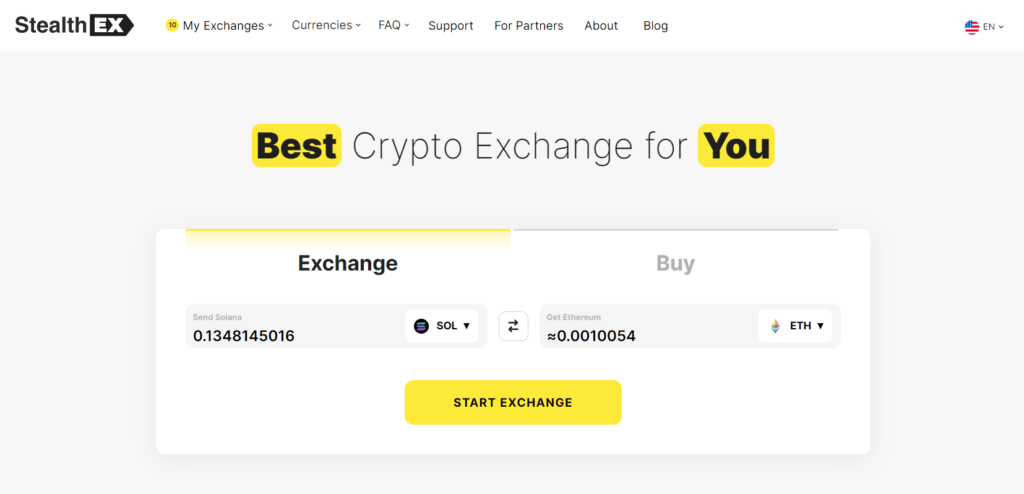 Here you will see the estimated amount of ETH that you will receive after the exchange.
Now, when everything is set, press the Start Exchange button and you will be taken to the next page.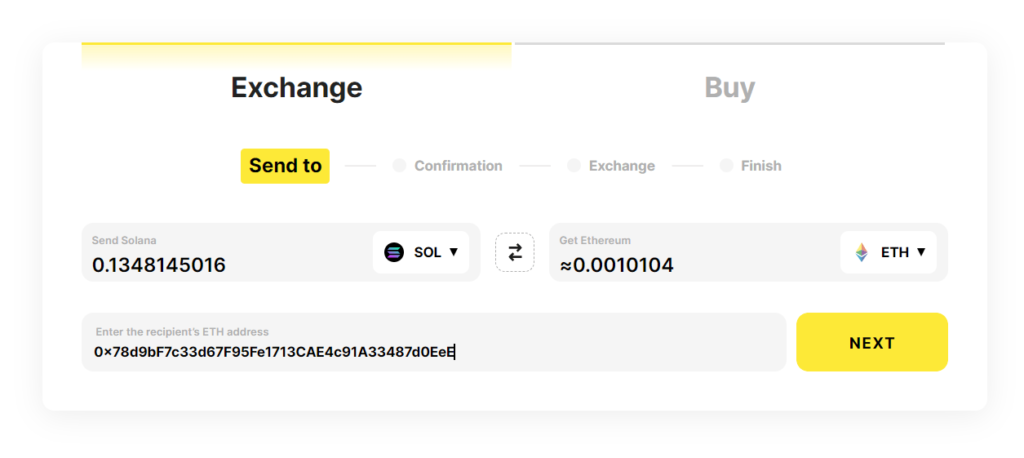 In the second step, you need to provide the ETH crypto recipient address. The recipient address must match the crypto you are going to receive. Remember to double-check the information you enter prior to the exchange as the transaction you make cannot be canceled.
As soon as you have carefully checked all the details, you can press the Next button and you will be redirected to the Confirmation page.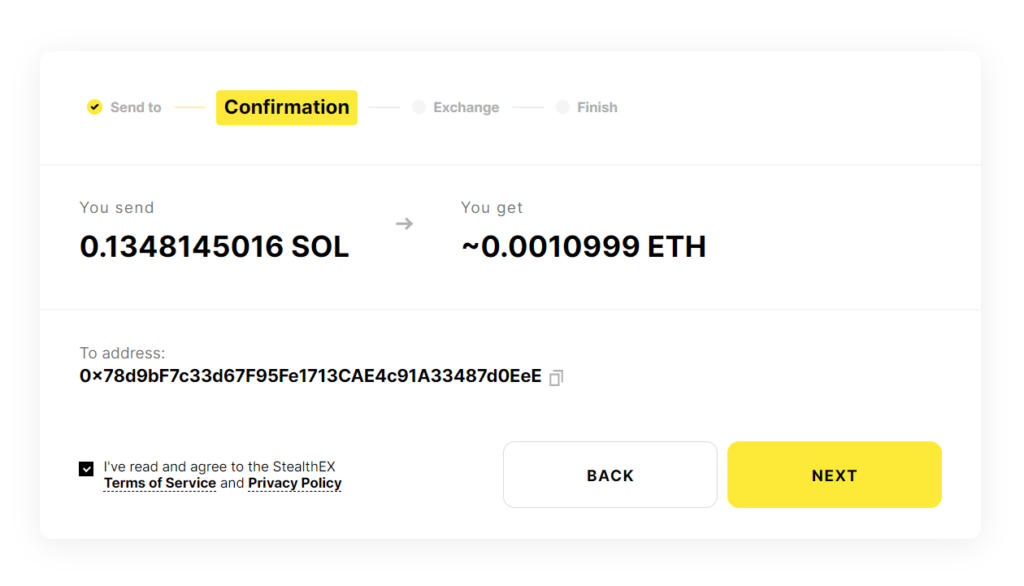 Here you can revise the address provided and the amount of Ethereum you will receive. Don't forget to read and check the Terms of Use and Privacy Policy box. Without checking the box you will not be able to continue the exchange.
Pressing the Next button you will be redirected to the Exchange page.
At first, you will see the address where you need to send your SOL to continue the exchange. StealthEX will also provide you with the exchange ID. It will allow you to keep all the information about the swap. It is recommended to save your exchange ID or the link to your exchange.
Exchange Statuses
After sending Solana coins to the shown address, the information on the Exchange page will be renewed automatically. The Exchange page has several statuses that will change during the time of the exchange.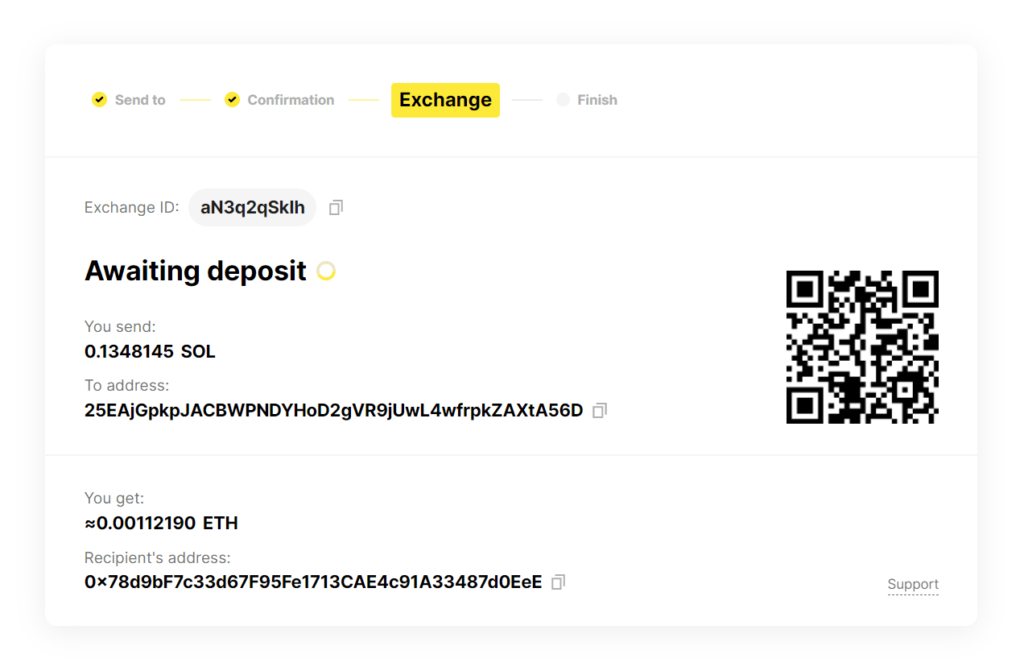 The first status is Awaiting deposit.
The following status is Confirming. This means that StealthEX is confirming the transaction you made.
The next status is Exchanging. During this time the exchange is being made.
Then the status will be changed to Sending to your wallet. This indicates that there are just a few minutes until you receive your Ethereum cryptocurrency.
Finally, you will be redirected to the Finish page. This shows that the exchange has been successfully made and you will receive crypto to the address provided. To be sure that Ethereum was sent to your wallet you can also use the Output hash shown on this page and check it in the blockchain list of transactions.
From here you can either create a new exchange on StealthEX.io or leave the page and check your Ethereum wallet to be surprised at how fast you get ETH to your address. Usually, the process is quite rapid so you won't need to wait long: SOL-ETH crypto swaps are processed in a matter of minutes. Alternatively, you can exchange Ethereum to Solana or choose any other crypto pair available on the platform.
Keep reading StealthEX's article to learn more about cross-chain swaps.
How Do Cross-Chain Swaps Work?
If you're already familiar with how a cross-chain bridge works, it's not a far leap to imagine a cross-chain swap. In brief, a bridge works like this: it takes a deposit of native tokens on Chain A, verifies that deposit, and mints a corresponding number of wrapped tokens on Chain B. One of the uses of cross-chain bridging is a cross-chain swap: trading a token issued on Chain A for a token that is issued on Chain B – all via the decentralized web.
A cross-chain swap works like this: you find a bridge that connects Chain A and Chain B, deposit your Chain A tokens and send a wrapped version of them to the destination chain where your desired token lives. Then, you swap the wrapped tokens via a DEX on the destination.
As you can see, it takes an awful lot of clicks and swaps to get the result you need. This is why state-of-the-art cross-chain swappers like StealthEX crypto exchange are so popular.
Cross-Chain Swaps Use Cases
So how can cross-chain swaps be used? Why would we need them in the first place? Well, they are way more relevant today as the market offers a large number of coins, and they are all built on different blockchains. A user may need to pay for something with a certain cryptocurrency, and that's where they would need a cross-chain swap. Alternatively, you may want to buy/invest in a certain coin, but it turns out it was made for and in another network. A huge number of cryptocurrencies were created on ETH, BSC, TRX, Solana, Polygon, and these blockchains are the ones where you would need cross-chain swaps the most.
Cross-chain swaps with StealthEX offer a multi-cryptocurrency exchange and independence for its users. Basically, it allows users to swap different crypto between two chains directly. If you're tired of intermediaries and a long and tiresome process of converting one coin to another, for instance, ETH to Solana, StealthEX should be your number one option.
If you're looking for a cross-chain exchange or simply want to convert SOL to ETH and ETH to SOL right away, you can do it via StealthEX. Our users can purchase cryptocurrencies using fiat and we still offer the opportunity to buy crypto at fixed rates. You can read more about cross-chain swaps via StealthEX in one of our latest articles.

Make sure to follow us on Medium, Twitter, Telegram, YouTube, and Publish0x to get StealthEX.io updates and the latest news about the crypto world. If you need help, drop us a line at support@stealthex.io.
Please make sure to always research any cryptocurrency and assess your risks before you invest.
cross-chain bridge
cross-chain swap
Ethereum
SOL to ETH
Solana
Recent Articles on Cryptocurrency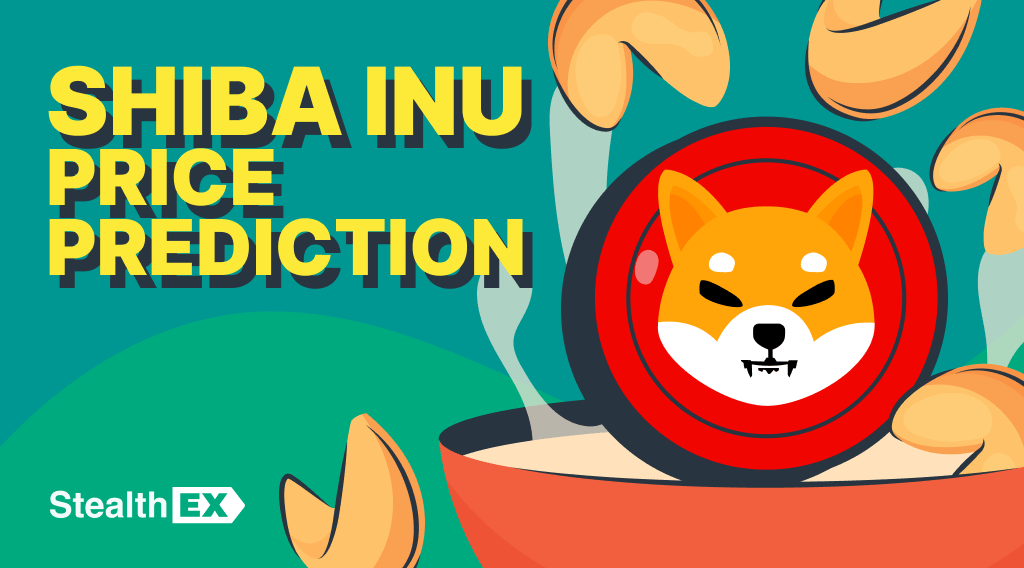 November 28, 2023
Price Prediction
Shiba Inu Price Prediction: Will SHIB Coin Reach $1?
Shiba Inu price prediction, by the end of 2030, the SHIB coin price is expected to reach a maximum level…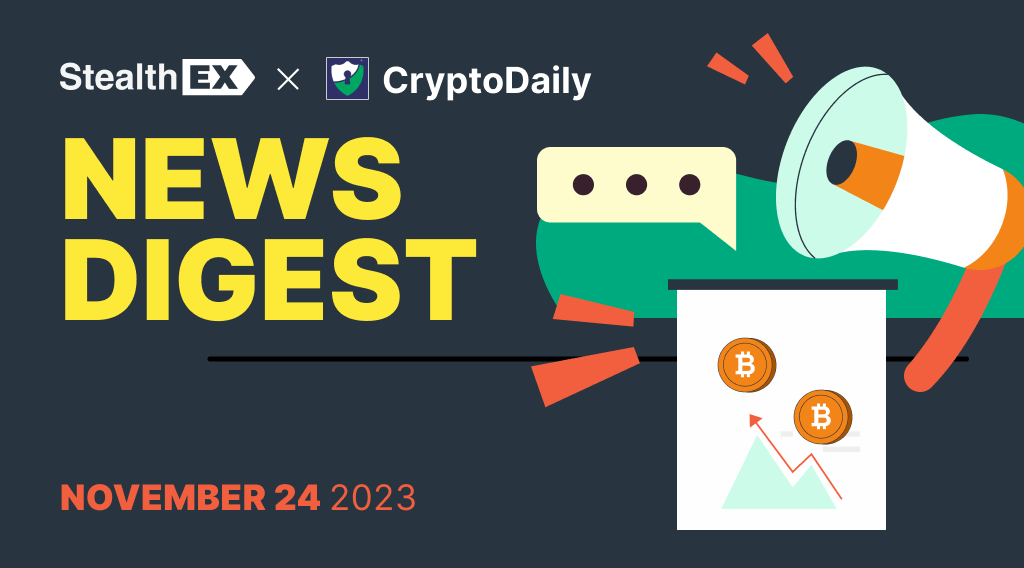 November 24, 2023
Crypto World
StealthEX & CryptoDaily: Key Elections, Investments, and Crypto Market Movements
Welcome to StealthEX weekly crypto digest, in collaboration with CryptoDaily: summary of this week's key events and trends in the…