Crypto and Blockchain Technology in the Baltic States EU
November 10, 2022
Crypto World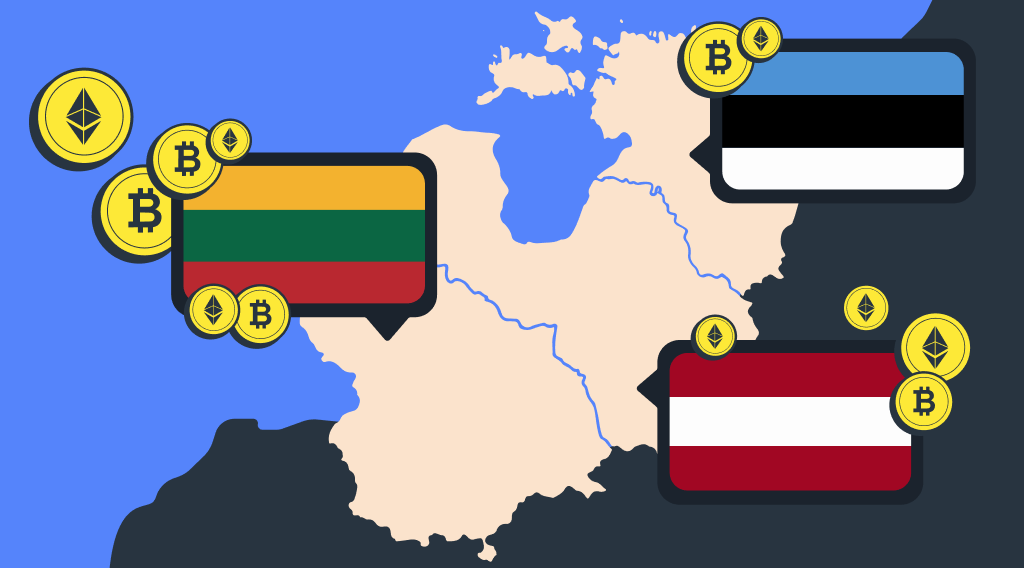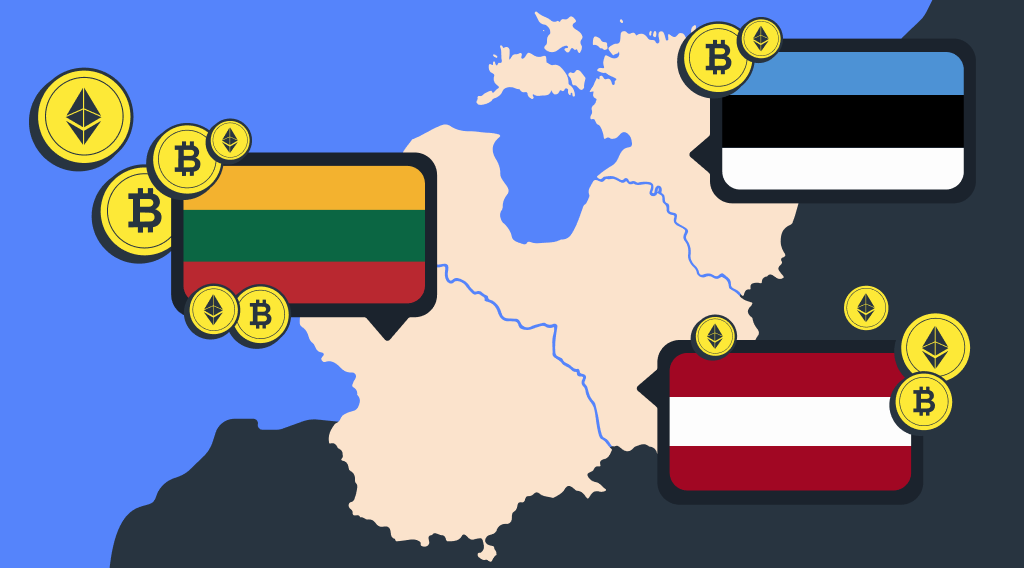 As cryptocurrencies and blockchain technology keep spreading throughout different fields of modern society, some countries have stepped to the forefront and became crypto havens. Just several years ago, the Baltics have become an unexpected blockchain hotbed. They have been named a crypto paradise based on high concentrations of Bitcoin full nodes, the amount of ICOs per capita, as well as the support from the local governments. By 2018, both public and private sectors of blockchain flourished in the Baltics, thus creating favorable conditions for every crypto enthusiast. Let's take a closer look at the regulations, cryptocurrency usage, and blockchain technologies.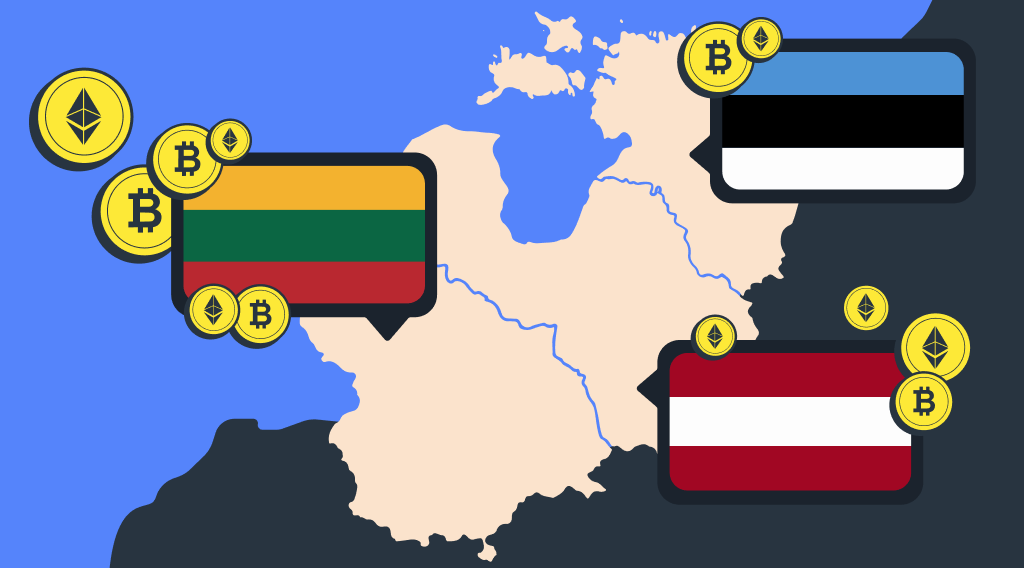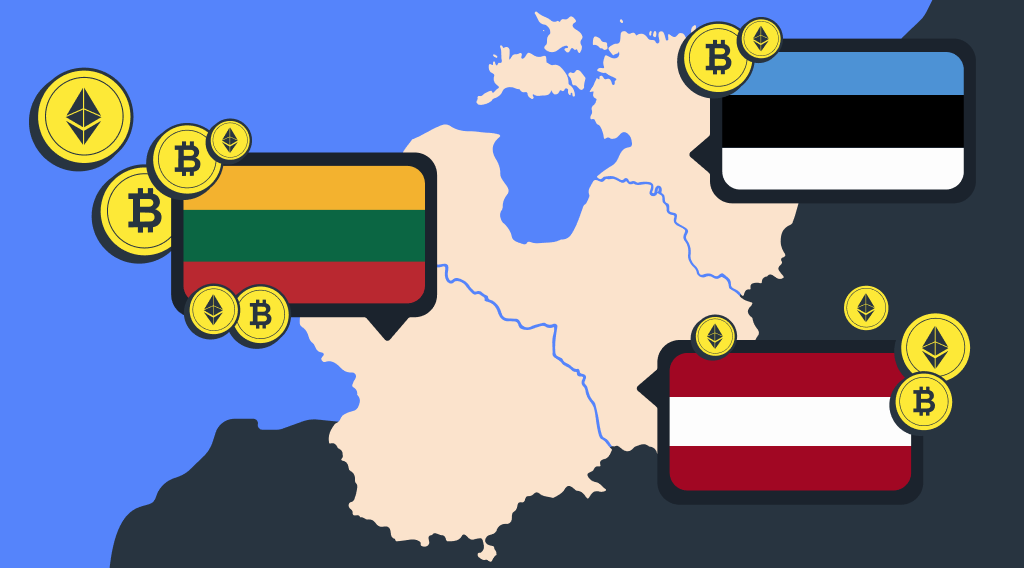 Blockchain Technology in the Baltic States of the EU
Latvia
Latvia has entered the crypto scene with one of the first largest blockchain events, the Baltic HoneyBadger Bitcoin Conference and a vast number of crypto startups. Taking into consideration that there is no specific national framework for obtaining authorization for crypto-asset transactions, Latvia soon became popular with crypto enthusiasts.
The position of the Bank of Latvia and the State Revenue Service is that cryptocurrency is a contractual, not statutory, means of payment that can be used in transactions of exchange. Cryptocurrency cannot be considered as official currency or legal tender because the issuance and use of these instruments remain unregulated and they are not linked to any national currency. Depending on the business model, the possibilities for using crypto-assets and classification, issuers and/or service providers are subject to the legislation existing in Latvia. The Latvian PIT Act defines crypto as a capital asset subject to the general capital gains tax, which is 20%. It's no wonder that Latvia became a number one choice for blockchain professionals.
The country has come up with 15 crypto startups and a number of important legislations. In 2019, the Economic Ministry of Latvia introduced two blockchain-based pilot projects. The first one should strengthen the supervisory capacity of the State Revenue Service and reduce the shadow economy through the implementation of a blockchain-based cash register. The second would ease the process of acquiring limited liability company status by using blockchain systems in the Enterprise Registry.
The nationally owned airline, AirBaltic, became the first airline to accept crypto payments, and Latvia is the first Baltic country to accept crypto payments for real estate. In 2021, it even added Dogecoin to its list of payment options.
Lithuania
Lithuania has become an even bigger attraction for crypto fans because it has created the necessary legal environment for crypto business. It is one of the few member states of the European Union in which legal financial transactions with cryptocurrency are possible, and there is an official permit for the conduct and regulation of cryptocurrency business by the state (FCIS).
The Central Bank supports the development of financial technologies and non-bank payment services. Favorable environment has also been created for the development of fintech startups, and the procedure for obtaining licenses has been simplified. The number of fintech companies has increased drastically, and large international players are showing their interest in the Lithuanian market. Since 2020, Lithuania has been included in the top 10 most friendly countries for cryptocurrency companies. If you own a crypto company, you'll have to pay a 15% tax; the same flat rate goes for the individual's income. As a result, the number of blockchain startups originating in Lithuania grew: all in all, the country is home to over 30 crypto projects.
In 2018, the Bank of Lithuania launched a digital currency sandbox called LB Chain. The project aims to become a prototype for central bank-issued blockchain-backed coins. As it has been developed by a financial market regulator, it combines regulatory and technological infrastructures. In addition, it allows market participants to test their business solutions in a controlled environment. The platform plans to serve the key needs of fintech and start-ups and provides them with the possibility to gain new knowledge, carry out blockchain-oriented research, test and adapt blockchain-based services as well as offer advanced innovations to their clients.
Estonia
According to some statements, Estonia is a cashless society with over 99% of financial transactions occurring digitally. In the Baltic nation's March 2019 parliamentary elections, more than 40 percent of ballots were cast using the 'i-Voting' online system. The country is also one of the hotspots for crypto companies in Europe as it is one of the pioneers in blockchain technology and one of the first countries to issue cryptocurrency business licenses. It was the first European country to provide clear regulations for the crypto industry.
In April 2019, the Estonian Financial Intelligence Unit (FIU) created additional regulations for the cryptocurrency license process which included, but were not limited to, paying a licensing fee, registering a headquarters physically located in Estonia, and identifying customers. In addition, new regulations and legislation were considered regarding the governing of crypto tokens and other blockchain adjacent currencies and funds.
As of March 2020, virtual currency service providers are considered 'financial institutions' in Estonia. Crypto companies were required to comply with the same reporting rules and requirements as any other financial institution in Estonia. A unified cryptocurrency license in Estonia allowed exchanging cryptocurrency for fiat and cryptocurrency for cryptocurrency. With the Estonian cryptocurrency license, the company can provide crypto/fiat exchange services also with market leaders like Coinbase, Kraken, etc. Digital currencies are qualified as property and their exchange is subject to a capital gains tax of 20%, which is a bit more than in Lithuania. Over the years, Estonia issued around 4,000 crypto licenses.
New Legislation in Estonia
However, the once glossy image of Estonia as the most crypto-friendly country in Europe may be shattered. The Baltic nation is now getting tough on how it regulates its digital assets and will bring in new rules this month, which some say could deter Estonia's thriving start-up scene. The country's new rules come into force as Europe cranks up crypto regulation and as policymakers become more wary of crypto in the wake of the collapse of the infamous stablecoin TerraUSD and Luna.
Estonia's updated regulations may mean new challenges for the country's crypto industry, even though last year it was home to more than half the world's registered virtual-asset service providers. The new rules, which begin on June 15, mean Estonian crypto companies will need to meet new transparency requirements; they can no longer have anonymous accounts and they must have a capital of at least 250,000 Euro. It's still unclear to what extent this will prevent emerging crypto startups from registering in Estonia. While the crypto market battles a strong recession, there may be more crypto-friendly options out there.
Conclusion
While the Baltics continue to remain crypto-friendly, there are signs that the regulations in Europe seem only to aim at limiting the market and innovation around everything that is decentralized. The governments now opt for safer solutions and favor centralized solutions run by the states, the EU, or big-tech. With the bear market in full swing, we still have to see where EU regulations will take it.
---
If you are looking to buy crypto, you can always use the user-friendly and non-custodial StealthEX crypto exchange platform. You can purchase crypto privately and without the need to sign up for the service. Our crypto collection has more than 600 different coins and you can do wallet-to-wallet transfers instantly and problem-free.
How to Buy Cheap Crypto?
Just go to StealthEX and follow these easy steps:
Choose the pair and the amount you want to exchange. For instance, BTC to ETH.
Press the "Start exchange" button.
Provide the recipient address to transfer your crypto to.
Process the transaction.
Receive your crypto coins.

Follow us on Medium, Twitter, Telegram, YouTube, and Reddit to stay updated about the latest news on StealthEX.io and the rest of the crypto world.
Don't forget to do your own research before buying any crypto. The views and opinions expressed in this article are solely those of the author.
blockchain technology
crypto world
cryptocurrency
Estonia
European Union
Recent Articles on Cryptocurrency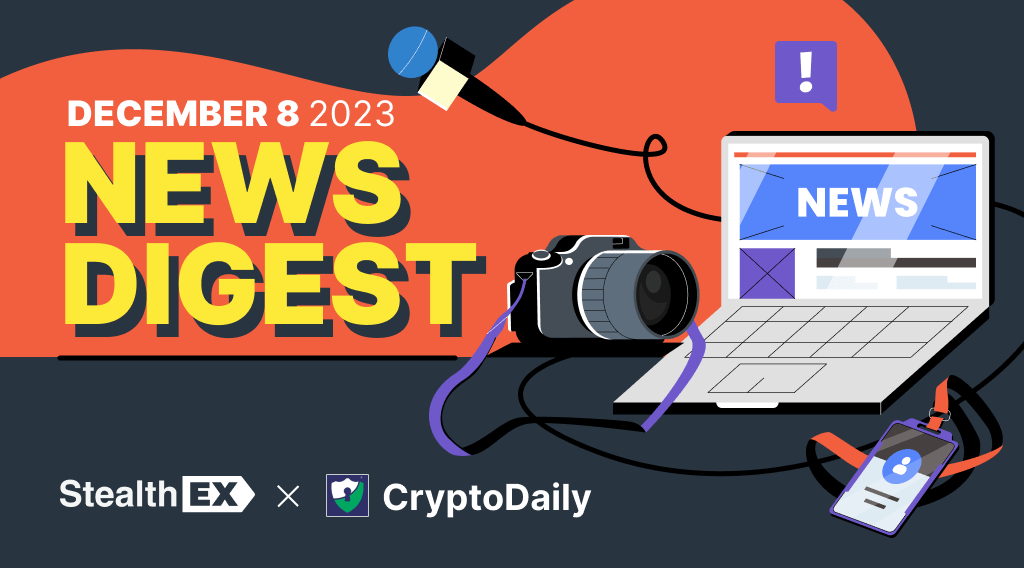 December 8, 2023
Crypto World
StealthEX & CryptoDaily: Weekly Crypto Insights
Explore key cryptocurrency developments and trends in StealthEX's insightful weekly roundup, in partnership with CryptoDaily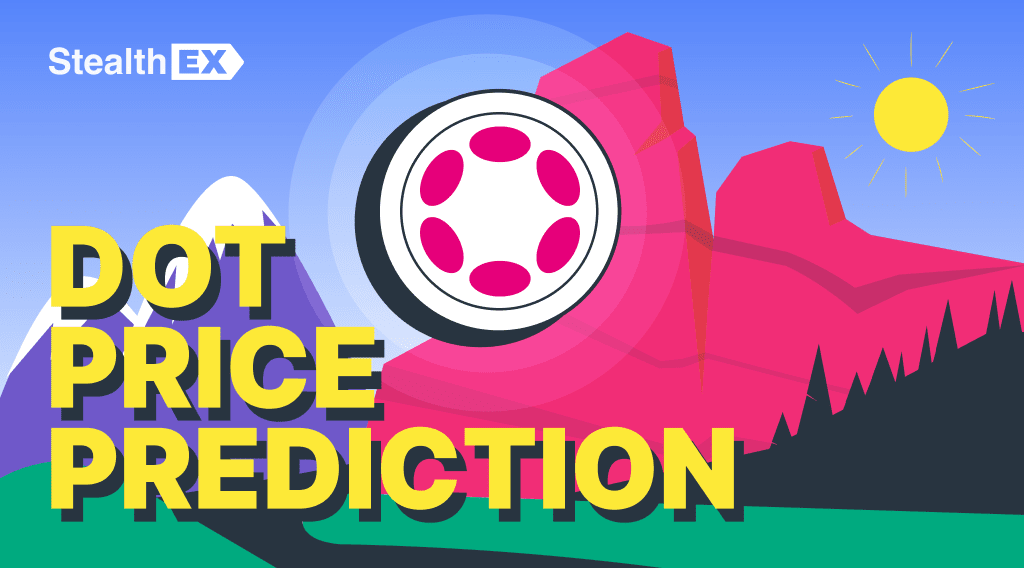 November 29, 2023
Price Prediction
Polkadot (DOT) Price Prediction: Will DOT Coin Reach $1000?
According to the long-term Polkadot price prediction by the end of 2030, the DOT price may rise to $195