Crypto Market Week in Review: March 2, 2023
March 2, 2023
Crypto World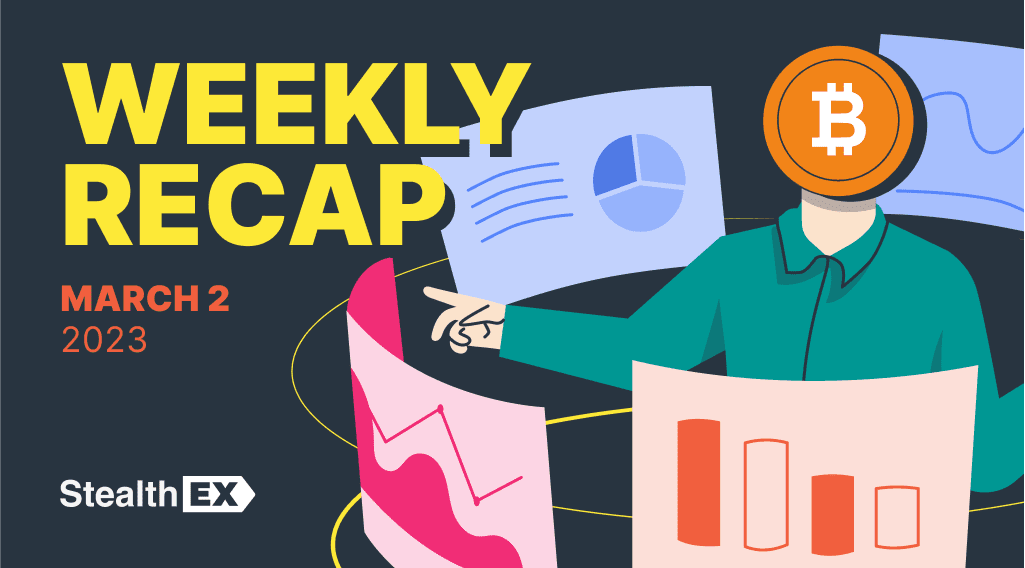 This week in the crypto market was fairly quiet. Admittedly, on February 24, the prices of both Bitcoin and Ethereum recorded a sizable red candle, but there was a quick rebound, and BTC still remains above $23,000. Let's check, what happened to crypto this week – look at the charts of Bitcoin and Ethereum and analyze the most important news.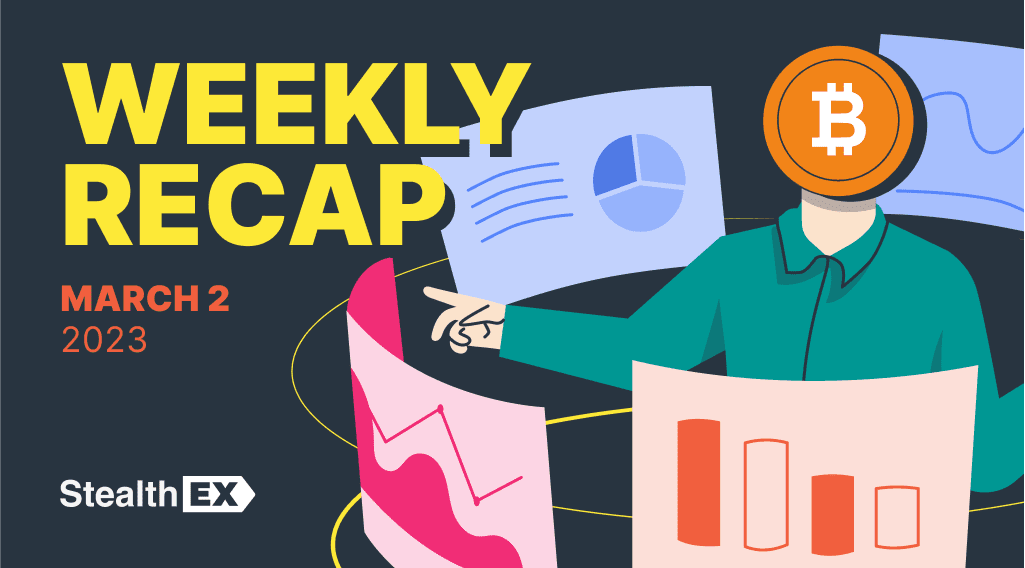 What Happened to Crypto This Week?
As we do every week, we'll start our recap of the week with a quick analysis of Bitcoin and Ethereum charts.
Bitcoin Price in USD This Week
The price of Bitcoin behaved fairly calmly this week with one exception, namely the day on February 24. On that date, a long red candle appeared on the chart. The price of BTC in USD fell by more than $1,200 – from over $24,000 to below $23,000.
Then a rebound took place, and since then, Bitcoin has been trading in a narrow range of $23,000-23500 – only once, on March 1, it touched the $24,000 level.
So, what is the Bitcoin price today? The current price of BTC is $23,453, and the market cap oscillates around $452 billion. The 7d high of BTC was $23,846.37, while the 7d low stood at $23,400.96, according to Coingecko. The dominance of the primary cryptocurrency has gently declined and currently stands at 40.48%.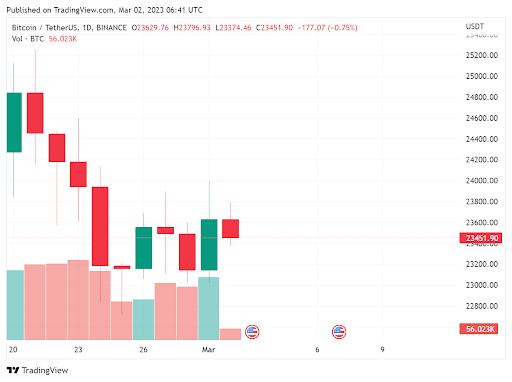 Regarding investor sentiment, the Fear & Greed Index indicates a neutral level. It currently shows 51 points – 5 points lower than a week ago.
Ethereum Price USD This Week
The situation with Ethereum looks similar to that with Bitcoin. On February 24, ETH recorded a long red candle, but a recovery quickly followed. Today's ETH price is $1647, and the market cap oscillates just below $200 billion. ETH's 7d high reached $1,670.69, while the 7d low as $1,639.59 – as we can see, Ethereum also traded in a very narrow range. The dominance of the second-largest cryptocurrency gently increased to 17.7%.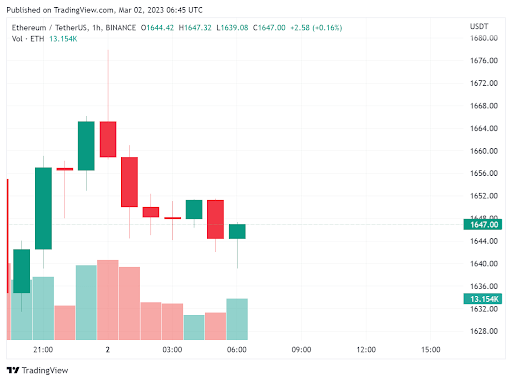 Biggest Crypto Gainers This Week
Although Bitcoin and Ethereum traded in narrow ranges, some altcoins did much better than the leaders. Of the top 100 largest cryptocurrencies according to Coingecko, the biggest crypto gainers were:
Frax Share (FXS) and Bitget Token (BGB) also saw more than 10% gains over the past seven days. The mix of the biggest crypto gainers is heavily diversified. It includes A.I., DEX, and even centralized exchange tokens.
Cryptocurrency News of the Week
Now that we've analyzed the price of Bitcoin and Ethereum, and know which projects are the biggest crypto gainers of the week, let's check out this week's top news in the crypto world.
New Macroeconomic Data from the U.S.
This week we learned new macroeconomic data from the U.S. Bureau of Economic Analysis (BEA). Inflation in the U.S. is not falling as fast as investors would like.
According to the authority, the so-called PCE deflator (a measure of changes in the prices of goods and services purchased by consumers; the Fed's preferred measure of price growth) was 5.4 percent year-on-year in January 2023. A month earlier, it was 5.3 percent year-on-year. At the same time, this is revised data – preliminary calculations pointed to 5 percent. So the data is worse than the forecasts and estimates from December.
However, what do these figures mean? They show us that there is still a lot of inflationary pressure in the U.S. economy. Therefore, we will wait to say goodbye to high price increases in the U.S. as soon as we assume.
While the ordinary consumer need not worry much, this should interest investors. After all, if inflation continues to rise, the Fed will be forced to raise interest rates further. This process chokes off gains in the stock or crypto markets.
However, not everything is painted in such gloomy colors. First, let's note that the market has already priced in even 2-3 more interest rate hikes. As long as these are kept low – 25 basis points – the markets should not react with sharp and large declines. Only shallow, healthy corrections may occur. The question is whether we are in danger of higher increases, such as at 50 bps.
Coinbase Develops Its Own Layer 2 Blockchain
America's largest blockchain Coinbase has announced the launch of Base. It aims to be a secure, low-cost, developer-friendly Layer 2 platform.
Base offers a secure, low-cost, and developer-friendly way to create decentralized applications. The network will become a "base" for Coinbase's on-chain products and an open ecosystem for those who want to develop the blockchain market. The whole thing will be based on Optimism, a Layer 2 scaling protocol created to improve Ethereum's performance.
The company immediately announced that it would not issue a token for the new network. The reason? Possibly fear of SEC. The body has recently been attacking cryptocurrency companies for creating "unregistered securities" (that is, according to officials, precisely tokens).
But why did the exchange decide to take such a step? As it admits, it's about the desire to increase the adoption of blockchain technology – "to attract billions of users to cryptocurrencies, dApps." The problem with this process today is that using blockchain solutions is difficult. In the future, "it needs to be easier, cheaper and more secure."
Ukraine Raised $70 Million in Cryptocurrencies for a Year
February 24 marked one year since Ukraine has been fighting for its independence. During that time, country received over $70 million in cryptocurrencies. The funds were spent on military equipment and humanitarian aid.
The above figures come from a February 24 report published by Chainalysis. Donors gave Ukraine $28.9 million in ETH, $22.8 million in BTC, and $11.6 million in stablecoin USDT.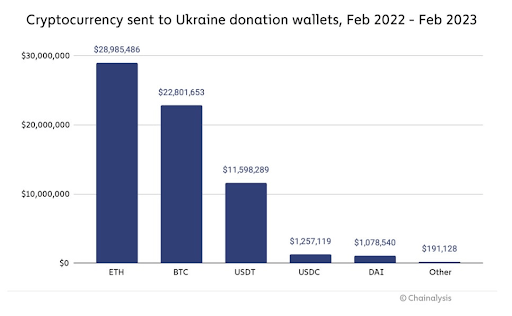 It wasn't just funds given directly to organizations that helped Ukraine. NFT auctions also played an important role. This includes the sale of an NFT tied to a graphic of the Ukrainian flag. The transaction raised as much as $6.1 million.
Most of the $70 million donated to Ukraine was raised during the first few months of the war.
Did Binance Move $2 Billion Illegally? The Exchange Comments on Media Reports
Binance, the world's largest cryptocurrency exchange, has denied reports by Forbes, which suggested that the company transferred $1.8 billion belonging to its users without their knowledge or consent.
What exactly is the issue? According to Forbes, between August 17 and early December 2022. Binance "quietly" transferred $1.8 billion deposited as collateral for its customers' stablecoins. The tokens in question were specifically "B-peg USDC" tokens, "digital replicas of USDC, a stablecoin pegged to the dollar."
The transferred funds reportedly went to Alameda Research and Cumberland/DRW funds. This would be a similar policy to that of the collapsed FTX platform, also making free use of its users' assets. Worse, it would mean that the stablecoins had no collateral for some time – they represented "empty" money.
Spotify is Testing Playlists for NFT Hodlers
Spotify, one of the world's largest streaming platforms, is testing a playlist feature with NFT integration in its latest pilot. This is another attempt to use NFT outside of the art world, where tokens have become very popular as a form of digital art collection and a milestone for the business and the cryptocurrency sector.
The functionality would allow the creation of playlists, which will only be available to users with the corresponding NFT token. To use it, a user would have to link his cryptocurrency wallets, such as MetaMask or TrustWallet, to an account with Spotify Premium functionality (this is a paid subscription option for an account on that platform). This would make selected playlists available only to a narrow, elite audience that has previously decided to purchase a particular NFT (for example, belonging to a specific artist or group of artists).
Among the projects taking part in the pilot program are such collection as FLUF World (its avatars are highly distinctive animated rabbits), Moonbirds (a project owned by well-known Silicon Valley start-up founder Kevin Rose), Kingship (a band owned by the Bored Ape Yacht Club team) and Overlord.
However, the streaming giant's idea to use NFT in its business model has raised many doubts among the crypto community. Following the upheaval in the cryptocurrency market in recent months, these tokens have lost popularity, Mainly due to their rapid loss of value (both in cryptocurrencies and in fiat currencies). Many believe that the monetization of NFT tokens has even taken an absurd form, with the largest tokens becoming artificially inflated balloons with no fundamental value.
News and Updates from StealthEX Partners
In addition to news from the wide world of cryptocurrencies, we also want to bring you the latest news from our partner Coinpaprika.
Integration of StealthEX into CoinPaprika's COINS Wallet
Cryptocurrency data aggregator CoinPaprika has integrated our services into its COINS wallet. What does this mean? From now on, you can buy and sell various digital assets directly in COINS – without KYC and simply and securely, as always, on StealthEX.
---
Follow us on Medium, Twitter, Telegram, YouTube, and Publish0x to stay updated about the latest news on StealthEX.io and the rest of the crypto world.
Don't forget to do your own research before buying any crypto. The views and opinions expressed in this article are solely those of the author.
Bitcoin
crypto news
crypto world
Ethereum
news
Recent Articles on Cryptocurrency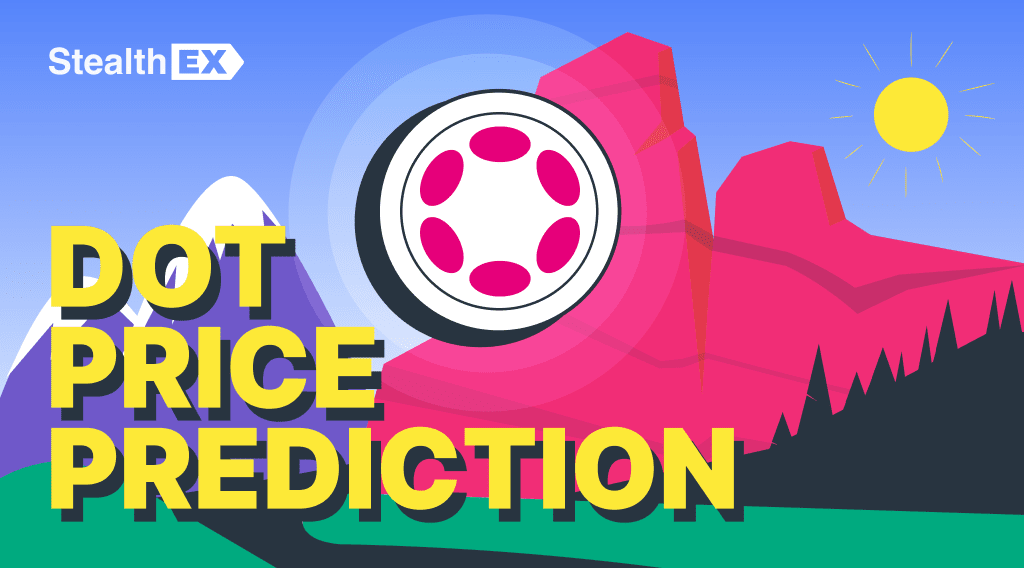 November 29, 2023
Price Prediction
Polkadot (DOT) Price Prediction: Will DOT Coin Reach $1000?
According to the long-term Polkadot price prediction by the end of 2030, the DOT price may rise to $195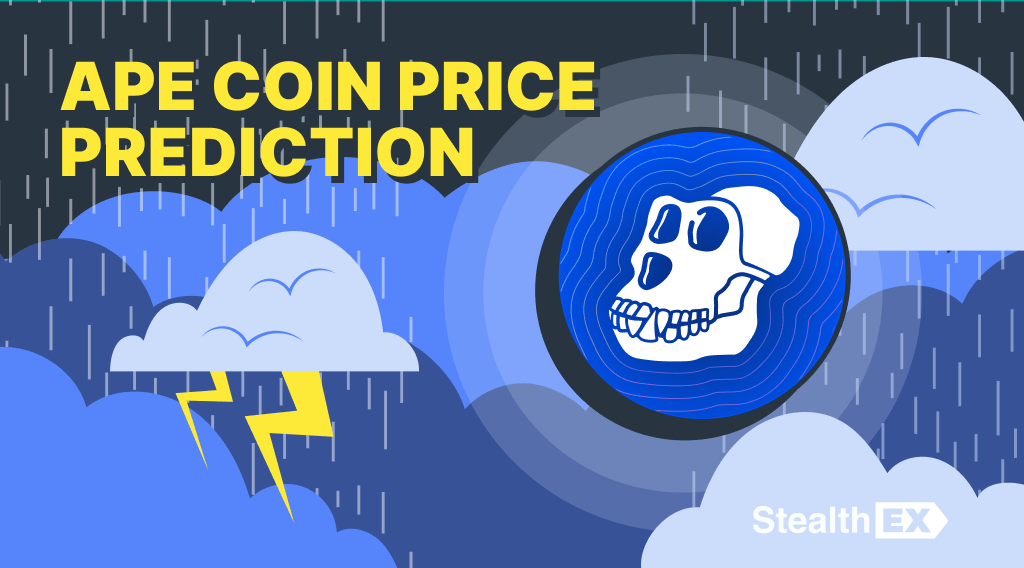 November 29, 2023
Price Prediction
ApeCoin Price Prediction: Is APE Coin a Good Investment?
According to the long-term ApeCoin price prediction by the end of 2030, the APE price may rise to $250