Crypto News: A Hectic October in Crypto Space
October 28, 2022
Crypto World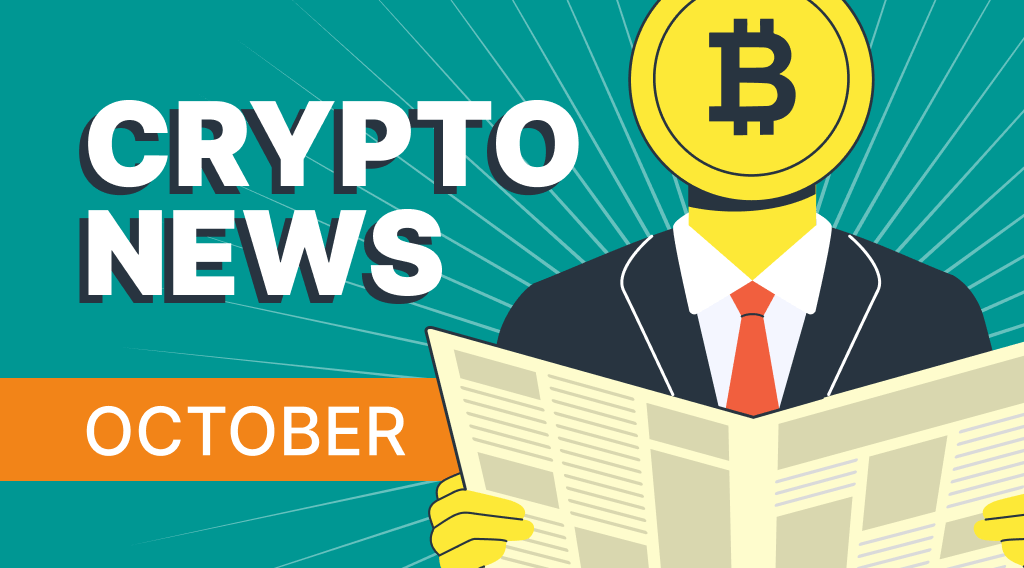 Despite the overall bearish tendencies, the crypto space keeps developing. In October, the crypto market cap rose about 4.99 percent, and this led to some excitement in the field. Here are the most interesting pieces of the latest crypto news.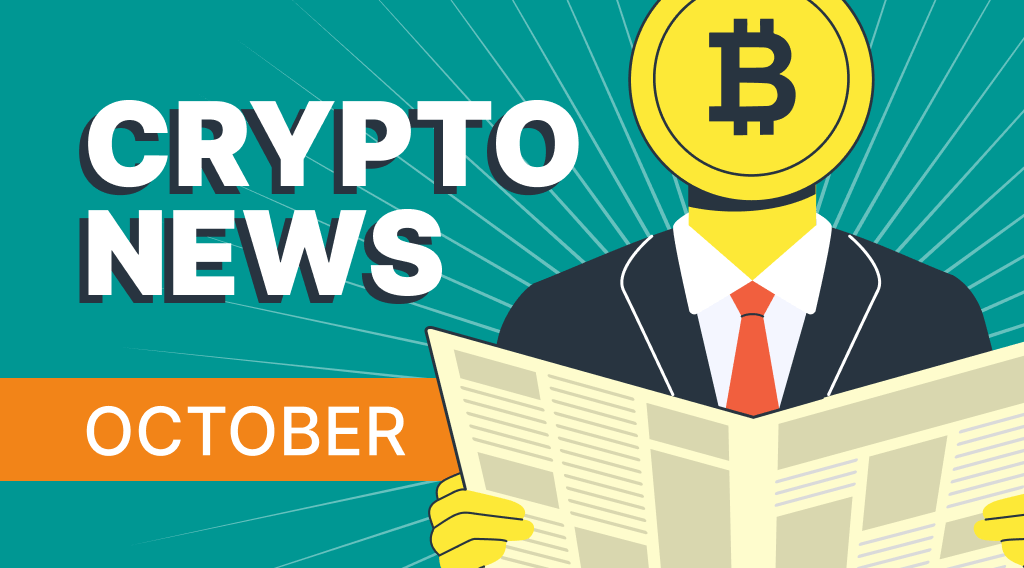 Latest & Breaking Crypto News
BNY Mellon to Offer Crypto Services
At the beginning of October, the world's largest custodial bank by assets announced it added Bitcoin (BTC) and ether (ETH) to its custodial offerings. BNY formed a unit in 2021 to develop solutions for digital asset technology, tapping companies Fireblocks and Chainalysis. According to BNY Mellon CEO Robin Vince, client demand for crypto was the key factor in launching a crypto custody offering.
The 238-year-old bank won the approval of New York's financial regulator earlier this fall and is the first of the eight systemically important U.S. banks to store digital currencies. It's also one of the leading banks that allowed their customers to use one custody platform for both traditional and cryptocurrency holdings.
Google Partners with Coinbase
Google will start accepting crypto payments for cloud services early next year. As the company claimed on its Cloud Next conference, the company would be receiving payments in cryptocurrencies via an integration with crypto exchange Coinbase. Crypto-payment collection will be powered by Coinbase Commerce, which accepts the most popular digital coins: Bitcoin, Ethereum, Dogecoin, Shiba Inu, Litecoin, and a few others, including stablecoin USDC.
Crypto payments will initially be rolled out to a handful of customers involved in the Web3 industry. Google will also use Coinbase's custody service, Coinbase Prime. Coinbase, which generates a majority of its revenue from retail transactions, will consequently move data-related applications to Google from the market-leading Amazon.
McDonald's and Crypto Payments
McDonald's fast-food chain began accepting Bitcoin payments. The global fast food chain is among the first to participate in a crypto-friendly experiment in the town of Lugano that is located in the Italian-speaking region of Switzerland.
A short video of ordering food from a McDonald's digital kiosk with a woman paying for her order at the regular register was uploaded on Twitter by Bitcoin Magazine. In the video, a logo could be spotted next to the Bitcoin symbol on the credit cash machine. This comes as no surprise as in March 2022, the city of Lugano announced it would accept Bitcoin, Tether, and the LVGA token as a legal tender.
Elon Musk to Buy Twitter
Elon Musk is currently attempting to finalize his purchase of Twitter for $54.20 a share. The famous entrepreneur made this offer in April and even came close to getting an eight percent discount though that, unfortunately, didn't happen. After a series of tedious discussions and lawsuits, the $44 billion deal is finally looking to complete sometime this week.
However, there is still the matter of actually raising the necessary capital. Elon Musk already has $12.5 billion in debt financing, but he needs $32 billion more to finish the deal. He is looking for outside investors to help pay for this. Musk's stock sales would happen at the same time the electric car company is thinking about its first-ever stock buyback, which could cost between $5 billion and $10 billion.
In connection with Musk's changing his Twitter profile tag to Chief Twit as a hint that the purchase would eventually go through, Dogecoin's price rose by 20%. DOGE's price also soared this high after Musk published a video where he entered Twitter headquarters.
Twitter Rumored to Release a Crypto Wallet
Musk's tedious ordeal of Twitter purchase isn't the only Twitter-related news that made the headlines this October. According to reports first surfaced by established software frontend dev Jane Manchun Wong, a new Web3 based crypto wallet is in the works for the social media company. The rumors come during a tumultuous time for the company.
There have been no official confirmations or mentions from the social media company on the matter. As Wong notes, the wallet is expected to support deposits and withdrawals, but the initial token support is unclear, as well as many other details.
Kardashian Settles with SEC
In the beginning of October, Kim Kardashian agreed to pay more than $1 million to settle SEC charges for failing to disclose a payment she received for promoting a cryptocurrency on Instagram.
Kardashian agreed to pay $1.26 million to settle the charges over a promotion for EthereumMax's crypto asset, the SEC said. She will also cooperate with an ongoing investigation, and has agreed to not promote crypto securities for three years, the regulator added. In a statement, a lawyer for Kardashian said she is pleased to have resolved the matter. The celebrity neither admitted to the charges, nor denied them. The settlement helped Kardashian avoid a much more intrusive process that might have involved a deposition and document collection, according to attorney Duncan Levin.
EU Bans Payments from Russian Crypto Accounts
In a statement on October 6th, regulators in the European Union banned all crypto-asset wallets, accounts, and custody services from Russia. This measure is part of yet another set of sanctions against Russia due to the prolonged conflict in Ukraine.
The new sanctions include a complete ban on cross-border crypto payments between Russians and the EU. This statement includes the prohibition of, 'all crypto-asset wallets, accounts, or custody services, irrespective of the amount of the wallet.' The previous sanctions capped crypto payments from Russian to EU wallets at 10,000 EUR (approximately $9,900).
The ban comes shortly after the Russian officials' approval of cross-border payments in crypto. The Bank of Russia and the country's Ministry of Finance have just reportedly reached an agreement allowing cross-border settlements in cryptocurrencies.
Rio de Janeiro to Allow Citizens to Pay Taxes in Crypto
The Brazilian city of Rio de Janeiro will let its crypto-holding residents use their coins to pay their property tax bills from next year, as was reported by Globe on October 11th. According to the newspaper, Brazilian city hall has published a decree in its Municipal Gazette that states that Rio will 'hire companies specialized in carrying out the conversion of crypto assets into fiat' to let Rio residents pay a property tax known as the IPTU (the Urban Building and Land Tax).
The city government explained that its deals with crypto firms would allow 'the municipality to receive 100% of the value' of crypto payments in fiat without incurring 'additional cost' to city hall. The project is the brainchild of the city's mayor, Eduardo Paes, a staunch pro-crypto government official, who earlier this year indicated that he was looking into ways of allowing Rio to start holding crypto in its treasury.
Tenge to Be Accepted by Binance
The Binance team is waiting for the National Bank of Kazakhstan to prepare options for the use of the digital tenge. Binance CEO Changpeng Zhao revealed that the BNB Chain will play a role in the Republic of Kazakhstan's central bank digital currency (CBDC). The central Asian country has been in the race for a CBDC since May 2021.
In his Twitter, Zhao wrote that the Binance team is relentlessly pushing the global adoption of cryptocurrencies. The advisors met with the First Deputy Governor of the National Bank of Kazakhstan (NKB), Berik Sholpankulov, and the Head of the Payments and Technology Center, Binur Zhalenov, in recent weeks. While no further details are known yet, it seems likely that the CBDC will be based on a multi-chain architecture. In fact, NKB announced in December 2021 that the CBDC is being piloted on R3's Corda platform.
MAS Proposes Measures to Reduce Risks from Crypto Trading
On October 26th, the Monetary Authority of Singapore (MAS) suggested regulatory measures to reduce the risk of consumer harm from cryptocurrency trading and to support the development of stablecoins. These measures will be part of the Payment Services Act. This comes after the bankruptcy of the Singaporean crypto hedge fund Three Arrows Capital (3AC).
The central bank of Singapore has issued two consultation papers on proposals for regulating the operations of digital payment token service providers and stable coin issuers under the Payment Services Act. Both consultation papers aim to reduce risks to consumers from crypto trading and improve standards of stable coin-related transactions.
Mastercard to Launch Crypto Trading for Banks
One of the largest international payment companies Mastercard continues its efforts to promote cryptocurrency adoption by developing a new tool allowing banks to trade cryptocurrencies like Bitcoin. On October 17th, Mastercard officially announced a new program to enable financial institutions to bring crypto trading capabilities and services to their customers.
The program is called Crypto Source and has been designed to allow users to buy, hold and sell cryptocurrencies, complemented by Mastercard's proprietary Crypto Secure solution for additional security and compliance. The tool has been designed in cooperation with Mastercard's existing partner Paxos Trust Company and is reportedly expected to launch in Q4 2022. Paxos is known for providing similar services to global payment giant PayPal, which launched its first crypto services in late 2020.
StealthEX Launches Its Crypto App
October has also been a productive month for SteathEX.io. The platform has just released its own brand new crypto app that allows you to buy cryptocurrency on Android mobiles in just a few clicks. It's currently available for pre-registration, and you can sign up to download it later. Please read our press release if you would like to know more about StealthEX's crypto app.
Follow us on Medium, Twitter, Telegram, YouTube, and Reddit to stay updated about the latest news on StealthEX.io and the rest of the crypto world.
Don't forget to do your own research before buying any crypto. The views and opinions expressed in this article are solely those of the author.
crypto news
crypto world
Elon Musk
StealthEX news
twitter
Recent Articles on Cryptocurrency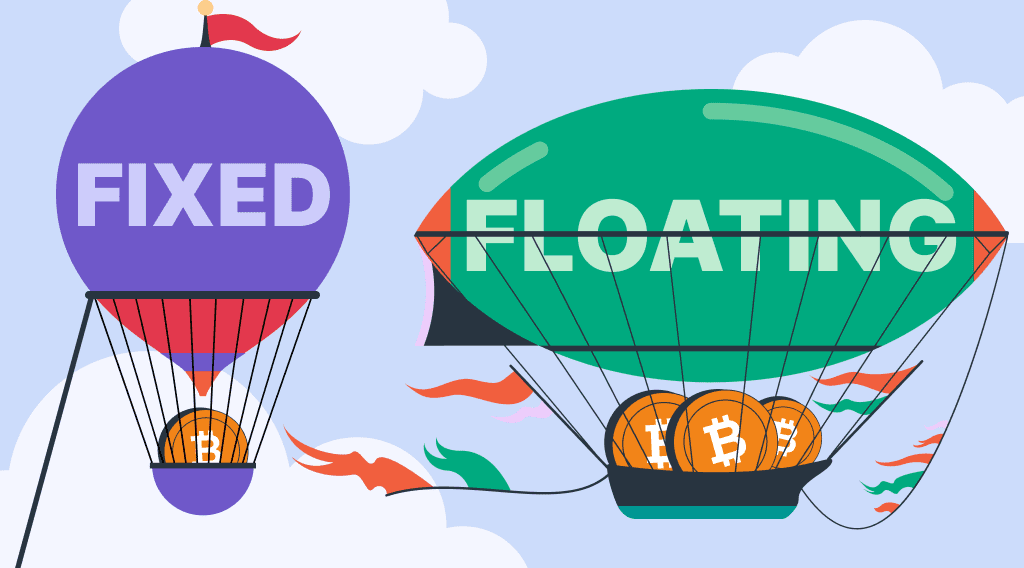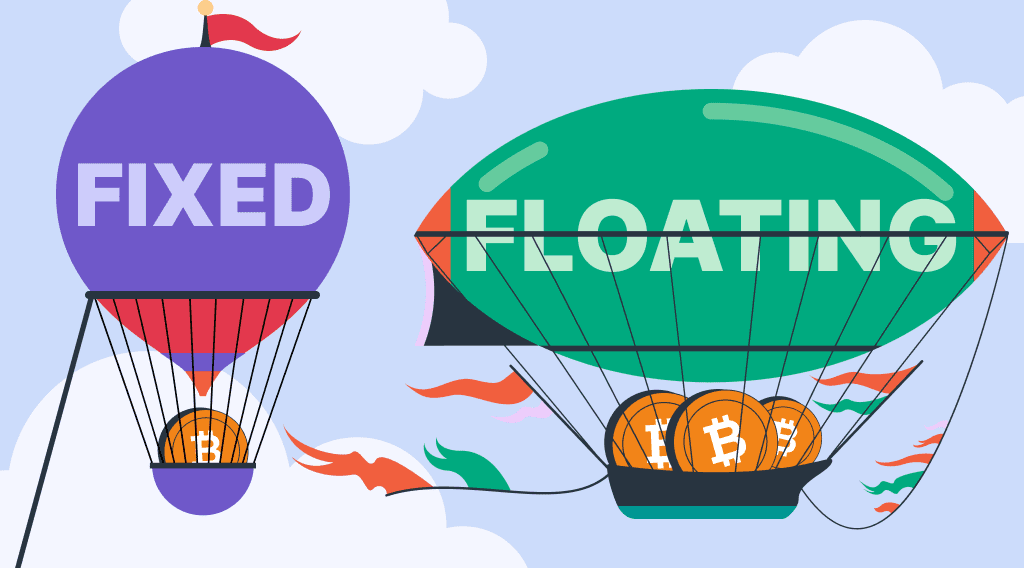 March 24, 2023
Our News
Fixed Exchange Rates on StealthEX — Get Exactly What You Want
Crypto is unstable, exchange rate fluctuations happen quite often — get what you want with exchanges at a fixed rate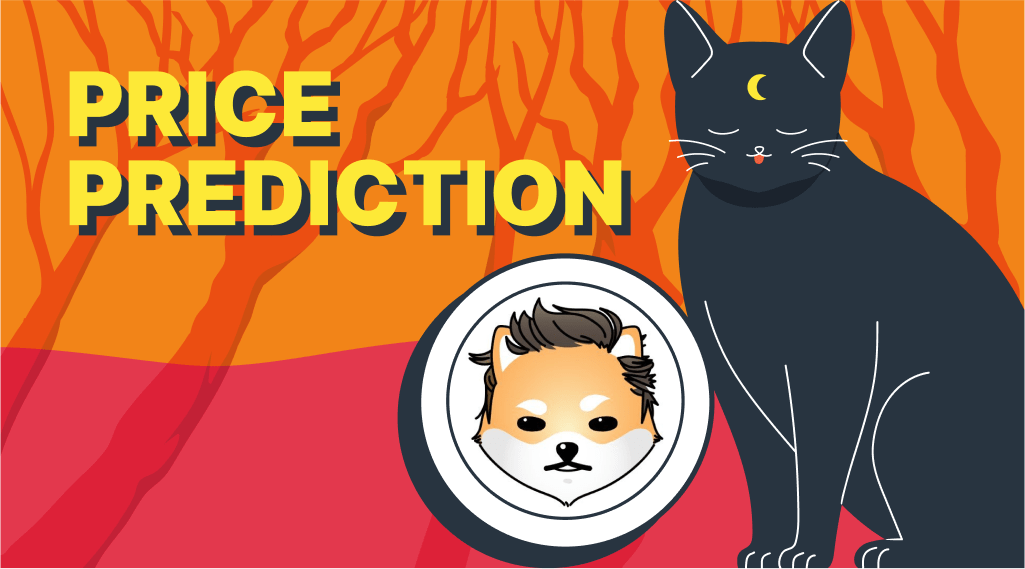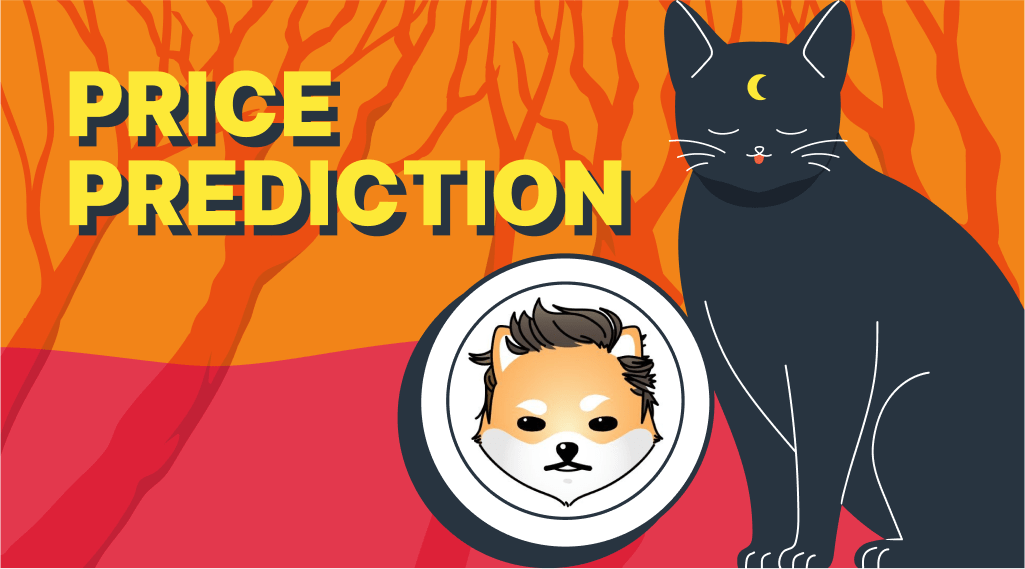 March 23, 2023
Price Prediction
Dogelon Mars Price Prediction, News, and ELON Coin Analysis
Is ELON coin a good investment? Dogelon Mars price prediction 2030 shows that ELON price may rise by 20,000 percent