Ethereum Price Prediction 2023: Will ETH Coin Go Up?
January 19, 2023
Price Prediction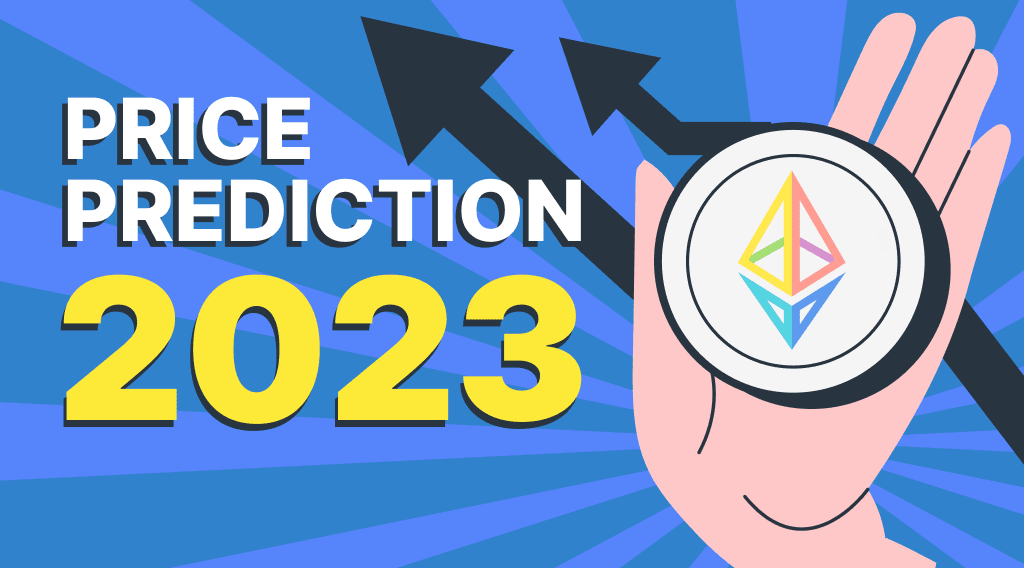 Ethereum (ETH) is the second largest cryptocurrency token in terms of market capitalization. This is due to the fact that it has brought a lot of innovation and use-cases within the industry by introducing smart contract functionality, which has paved the way for the decentralized finance industry (DeFi) and decentralized apps, or dAapps. In addition, Ethereum is an open-source blockchain platform that runs on the usage of its native currency, called Ether or ETH. All network transaction fees, or gas fees, are paid in ETH, which remains one of the most well-known cryptocurrencies. Read more about Ethereum price prediction 2023 in the new StealthEX article.
| | | |
| --- | --- | --- |
| Current ETH crypto price | ETH price prediction 2023 | ETH coin price prediction 2025 |
| $1,593.97 | $2,084 | $5,543.9 |
Ethereum Price Prediction 2023
PricePrediction ETH Price Prediction 2023-2032
PricePrediction analytics believe that Ethereum is a pillar in the market, so in terms of price, ETH's earning potential is +102% in one year and +623% in four years. According to their estimates, ETH coin will rise in price in 2023, and it can be expected to reach $2,648.38 (+66%). The website experts also believe that in 2030, we may see a new price level for ETH: it will reach $36,659.59 (+2,199%). A newer price prediction for 2032 shows that the token may go as high as $80,010.30 (+4,919%).
WalletInvestor Ethereum Price Prediction 2023-2028
WalletInvestor experts have drawn up a detailed, but generally negative analysis of future Ethereum price movements. According to their forecast, Ethereum will be traded at $1,557.895 (-2%) per coin by the end of December 2023, and they believe it'll be its maximum price at that moment. If we are to believe their predictions, the year 2023 will be relatively good for Ethereum. However, they also think that the coin will go down in price around the middle of 2025: according to them, in 2028 the token's price will go as low as $510.050 (-212%).
Talegaon Ethereum Price 2023-2050
Telegaon gives a relatively 'low' price prediction for Ethereum, considering their cryptocurrency predictions are mostly optimistic. For instance, the website's experts believe that in 2023, the maximum ETH crypto price can each $2,529.21 per coin (+58%), while in 2030, it may reach a much higher price level with a maximum of $10,131.42 (+535%). According to their predictions, the maximum price for ETH crypto in 2040 may reach $25,241.81 (+1,483%).
When it comes to long-term predictions, making a long-term prediction for ETH or any other cryptocurrency is very difficult. Nonetheless, some experts, for instance, the above mentioned Telegaon, believe that in 2050, the crypto market may expect a maximum price of $50,156.47 (+3,046%) per ETH coin, which is relatively low given the fact most other crypto price predictions believe that Ethereum will reach this price level much sooner.
ETH Coin Price Chart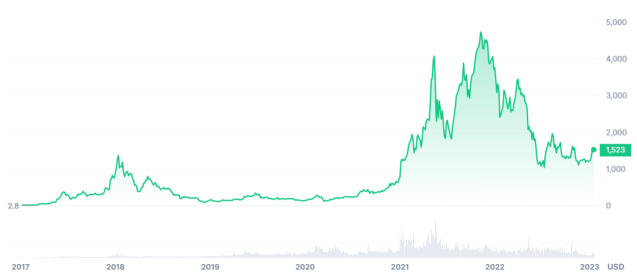 | | |
| --- | --- |
| Current Price | $1,593.97 |
| Market Cap | $194,750,577,835 |
| Volume (24h) | $7,524,163,088 |
| Market Rank | #2 |
| Circulating Supply | 122,373,866 ETH |
| Total Supply | 122,373,866 ETH |
| 7 Day High / Low | $1,602.11 / $1,323.58 |
| All-Time High | $4,891.70 Nov 16, 2021 |
Source: CoinMarketCap, 19 January 2023
ETH Crypto Price Technical Analysis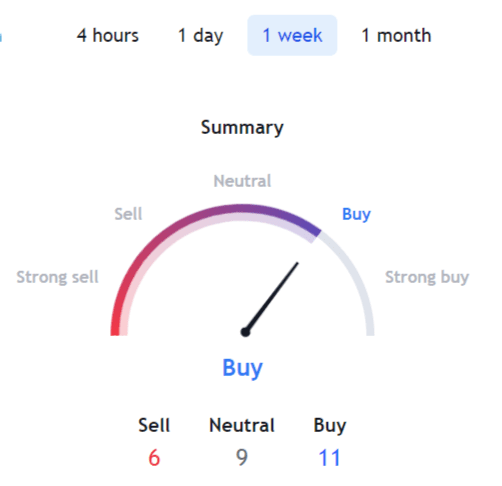 Source: Tradingview, Data was taken on January 19, 2023
Keep reading StealthEX's article to learn more about ETH coin.
What Is Ethereum?
Ethereum is a decentralized global software platform powered by blockchain technology. It is most commonly known for its native cryptocurrency, ether (ETH). Ethereum can be used by anyone to create any secured digital technology. It has a token designed to pay for work done supporting the blockchain, but participants can also use it to pay for tangible goods and services if accepted.
Ethereum is designed to be scalable, programmable, secure, and decentralized. It is the blockchain of choice for developers and enterprises creating technology based upon it to change how many industries operate and how we go about our daily lives.
Ethereum Features
Ethereum has a number of features that accommodate diverse mechanisms, and these include:
Ether, Ethereum's main cryptocurrency. It is the fuel that runs the network. It is used to pay for the computational resources and the transaction fees for any transaction executed on the Ethereum network.
Smart contracts. Ethereum allows the development and deployment of these types of contracts. Many crypto coins are implemented using the Ethereum development platform.
Ethereum Virtual Machine. Ethereum provides the underlying technology (the architecture and the software) that understands smart contracts and allows you to interact with it.
Decentralized applications (dApps). Ethereum allows you to create consolidated applications, called decentralized applications.
Decentralized autonomous organizations (DAOs). Ethereum allows you to create these for democratic decision-making.
In September, Ethereum successfully went through the so-called Merge, which was the blockchain's transition from a mining-based Proof-of-Work (PoW) blockchain to a more energy efficient, scalable Proof-of-Stake (PoS) system. After the Merge, Ethereum's miners were replaced by stakers, who lock up ETH for the right to validate transactions. In doing so, the transition is expected to reduce energy usage on the network by more than 99.5%.
The Merge also lays the foundation for future upgrades planned for Ethereum. Proposed network scalability improvements, like sharding, can only work under a PoS consensus model. Sharding is a technique of splitting a blockchain into smaller, independent shard chains in order to reduce network congestion and increase transaction throughput.
Ethereum: Use Cases
Ethereum currently has nearly 3,000 different decentralized applications on its platform, which touch a range of use cases like gaming, security, and social media. And a particularly interesting area is decentralized finance. DeFi services provide financial services, like saving, lending, and borrowing, without the need for a central authority. Despite the waning trust in the industry thanks to major blow-ups of important firms in the space in 2022, the total value locked on Ethereum, or money that's deposited into various dApps and DeFi protocols, totals $25.2 billion, far more than any other cryptocurrency.
Additionally, non-fungible tokens (NFTs) have also become very popular. While the market for NFTs has cooled off dramatically this year, they are likely to be used not only as a method for trading and owning digital artwork. Real businesses can introduce NFTs into their loyalty programs, like Starbucks plans to do with its Odyssey program. Being one of the oldest and most developed blockchain networks, Ethereum could be a hotbed for this type of activity.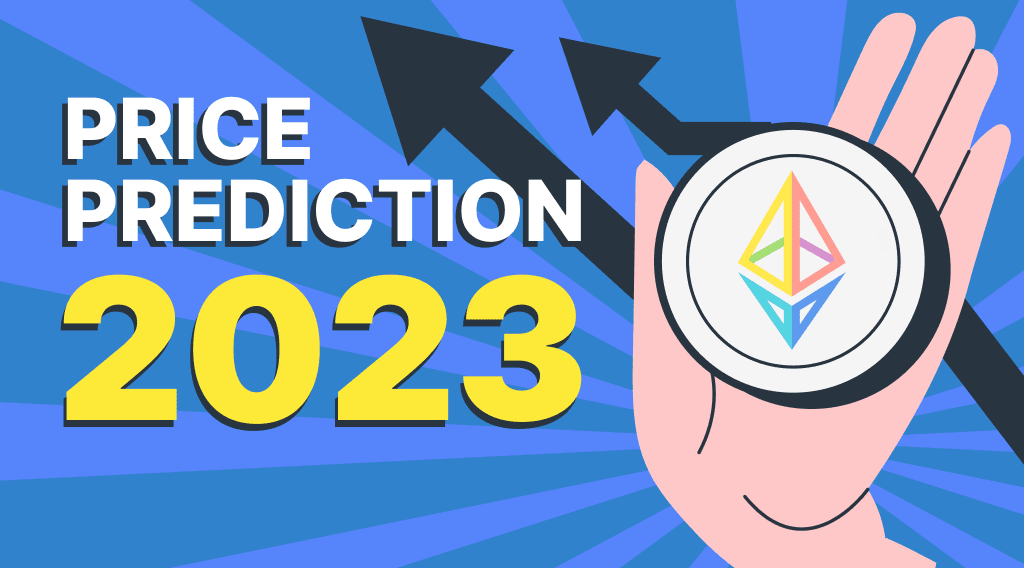 Is Ethereum a Good Investment?
No matter how the crypto market will develop, it will remain under some pressure, so any investment has to be carefully thought through. It is expected that more regulations will eventually arrive. Despite this, Ethereum remains one of the largest platforms out there and certainly the status of the second largest cryptocurrency adds to its credibility. With all the crypto projects assembled under one roof, Ethereum is still a host for innovation.
Additionally, Ethereum lost 84% of its price value after the so-called 2017 'crypto bubble popped,' but it did not die. On the contrary, Ethereum has gained strength and momentum. Moreover, Vitalik Buterin, Ethereum CEO, is focused on making Ethereum the best smart contract platform, so we can assume that we still are to see the success of Ethereum.
Where to Buy ETH Coin?
StealthEX is here to help you buy or swap Ethereum (ETH). You can do this privately and without the need to sign up for the service. Our crypto collection has more than 700 different coins and you can do wallet-to-wallet transfers instantly and problem-free.
How to Buy Ethereum Coin?
Just go to StealthEX and follow these easy steps:
Choose the pair and the amount you want to exchange. For instance, BTC to ETH.
Press the "Start exchange" button.
Provide the recipient address to transfer your crypto to.
Process the transaction.
Receive your crypto coins.

Follow us on Medium, Twitter, Telegram, YouTube, and Publish0x to stay updated about the latest news on StealthEX.io and the rest of the crypto world.
Don't forget to do your own research before buying any crypto. The views and opinions expressed in this article are solely those of the author.
Recent Articles on Cryptocurrency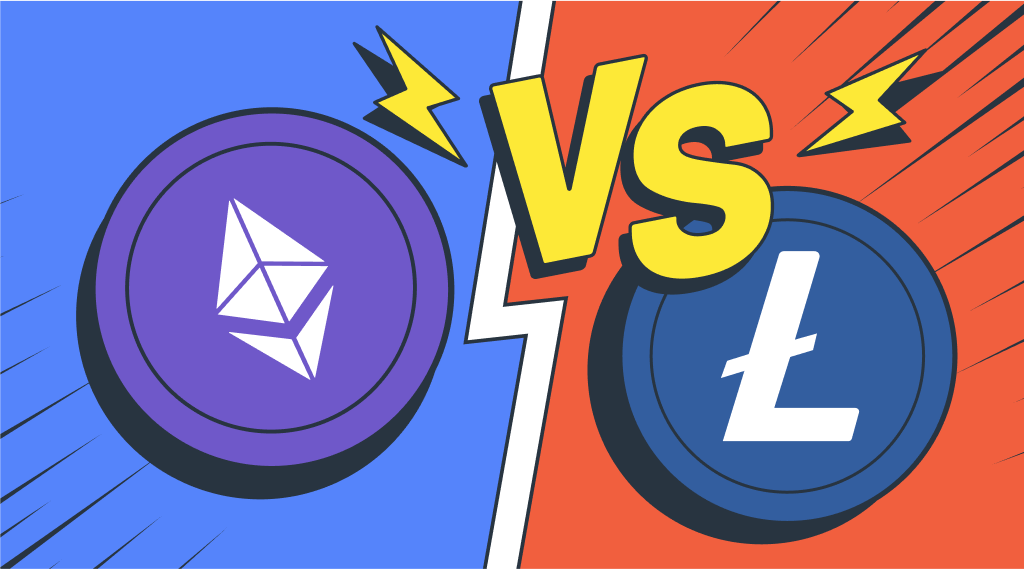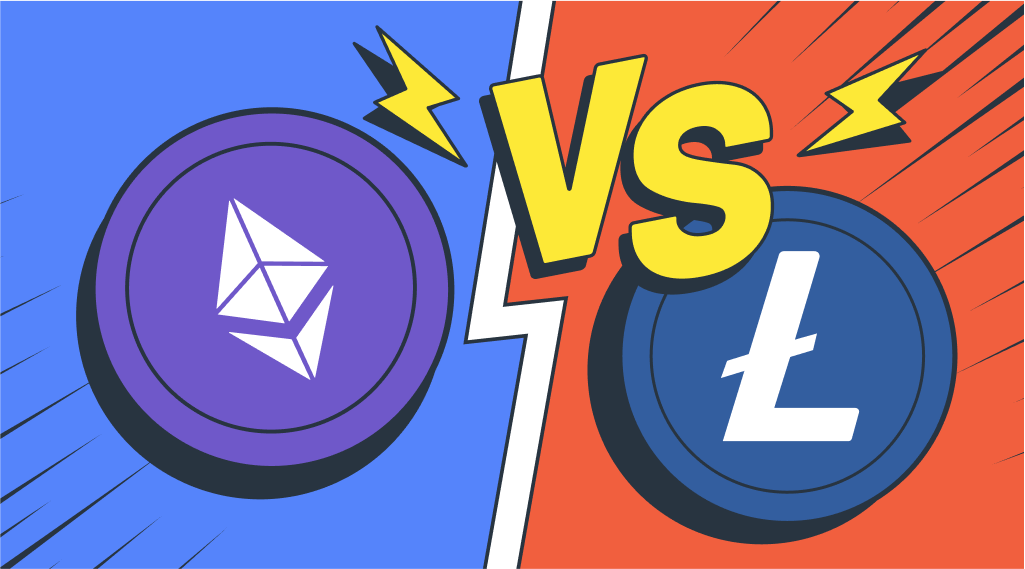 September 25, 2023
Crypto World
Litecoin vs Ethereum: Which Crypto to Choose? LTC & ETH
This article delves into the differences and similarities between LTC and ETH, offering a comprehensive comparison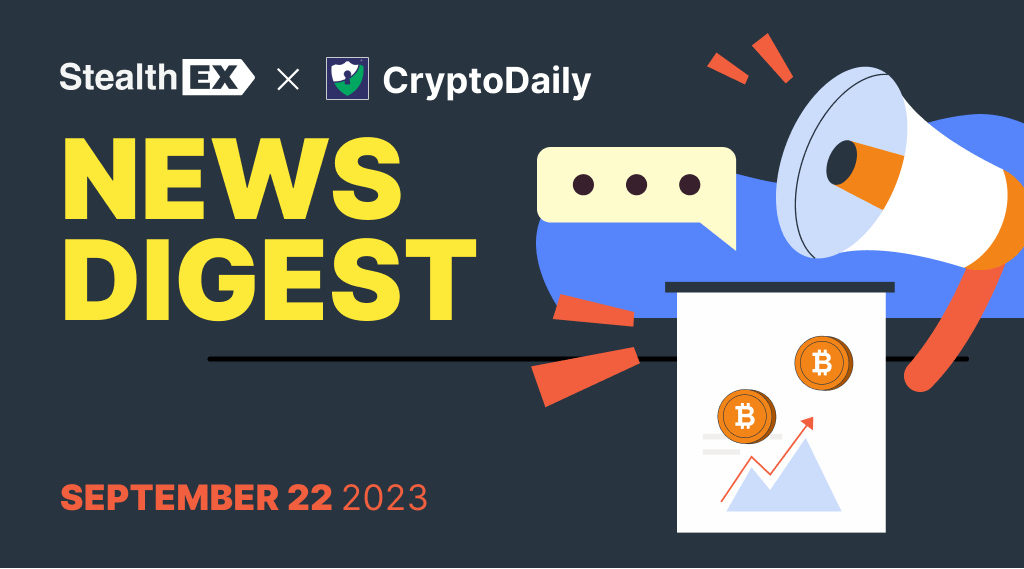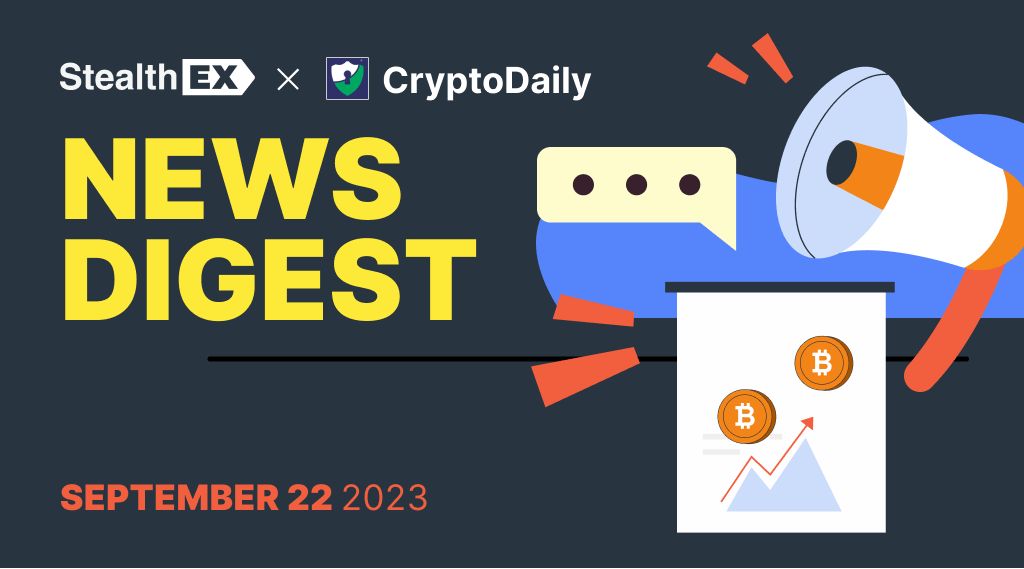 September 22, 2023
Crypto World
USDC on Polkadot, FTX Lawsuit, and SEC Actions: StealthEX x CryptoDaily Digest
In the dynamic sector of crypto, staying informed is crucial. Dive in to get a concise overview of the week's…