FEG Crypto: Where and How to Buy FEG Token?
October 25, 2022
How to Buy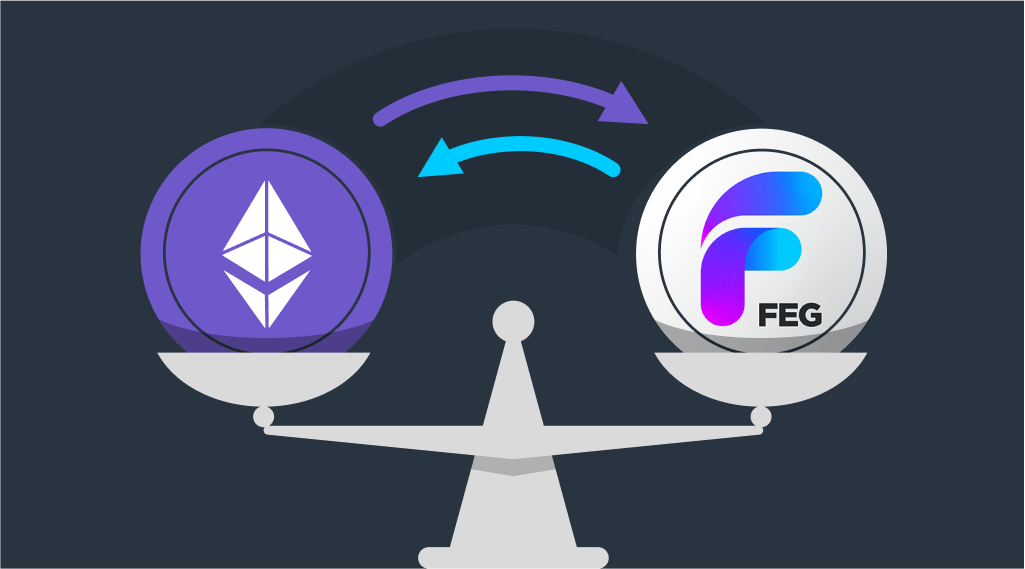 Why is today's DeFi field so fascinating? Well, mainly because it offers a large number of innovative crypto projects aimed at expanding the current financial system. One of these projects is FEG Token. FEG Token stands for Feed Every Gorilla and previously featured a logo with gorilla's face as the blockchain's mascot. The project aims to redesign the way decentralized finance is structured. It focuses on reshaping the industry while delivering the most robust ecosystem ever designed for DeFi's much-needed advancements. Read more about how to buy FEG token in the new StealthEX article.
FEG Token: Where to Buy?
There are many exchanges where to buy FEG crypto, and StealthEX is one of the safest options. This platform offers users to get $FEG coin with no extra fees and with the best floating and fixed rates. The current FEGtoken exists both on the Binance Smart Chain (FEGbsc) and Ethereum Network (FEGeth), and both are available on StealthEX.
How to Buy FEG Token?
Just follow the guidelines below. Let's imagine you want to exchange ETH to FEG. To make an exchange, you need to take a few simple steps.
First, you should choose Ethereum in the left drop-down list. Then choose FEG cryptocurrency in the list of coins on the right.
After setting the pair it is necessary to enter the amount of ETH you want to exchange.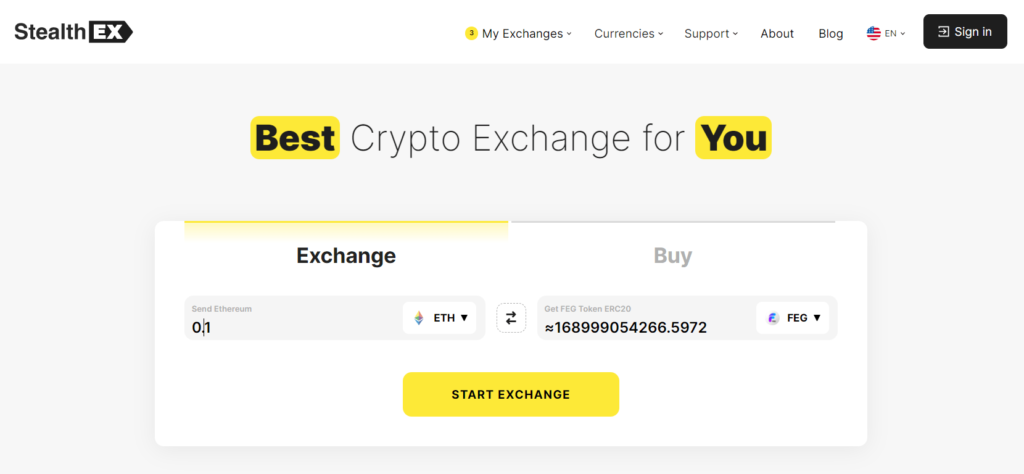 Here you will see the estimated amount of FEG crypto that you will receive after the exchange.
Now when everything is set, press the Start Exchange button and you will be taken to the next page.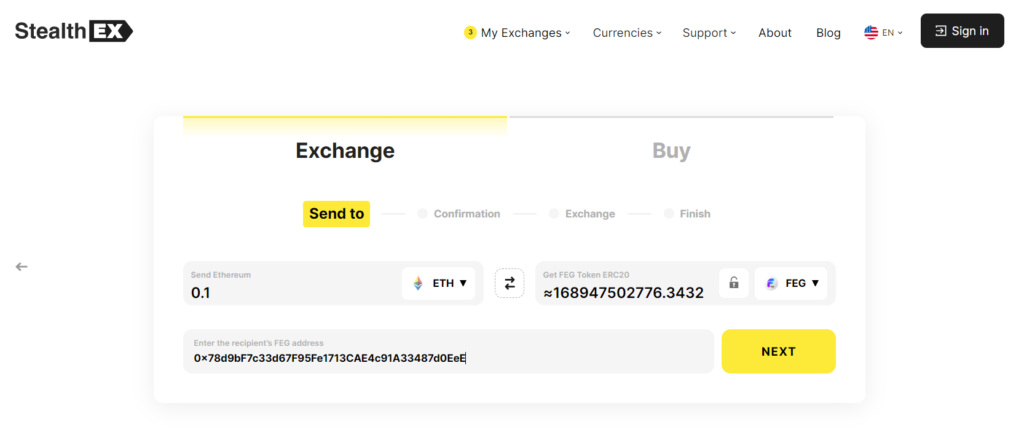 In the second step, you need to provide the FEG coin recipient address. The recipient address must match the crypto you are going to receive. Remember to double-check the information you enter prior to the exchange as the transaction you make cannot be canceled.
As soon as you have carefully checked all the details, you can press the Next button and you will be redirected to the Confirmation page.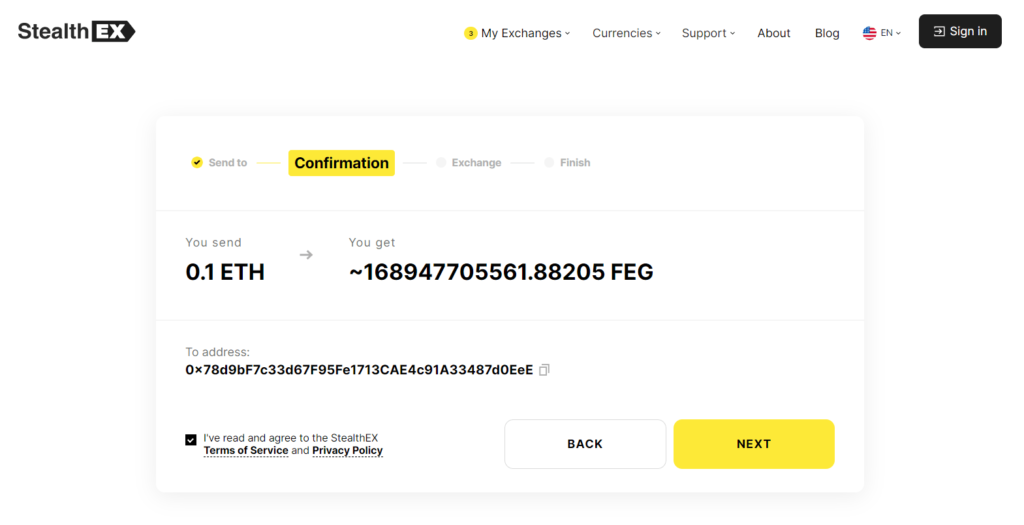 Here you can revise the address provided and the amount of FEG coin you will receive. Don't forget to read and check the Terms of Use and Privacy Policy box. Without checking the box you will not be able to continue the exchange. 
Pressing the Next button you will be redirected to the Exchange page. 
At first, you will see the address where you need to send your ETH coin to continue the exchange. StealthEX will also provide you with the exchange ID. It will allow you to keep all the information about the swap. It is recommended to save your exchange ID or the link to your exchange.
Exchange Statuses
After sending ETH coins to the shown address, the information on the Exchange page will be renewed automatically. The Exchange page has several statuses that will change during the time of the exchange.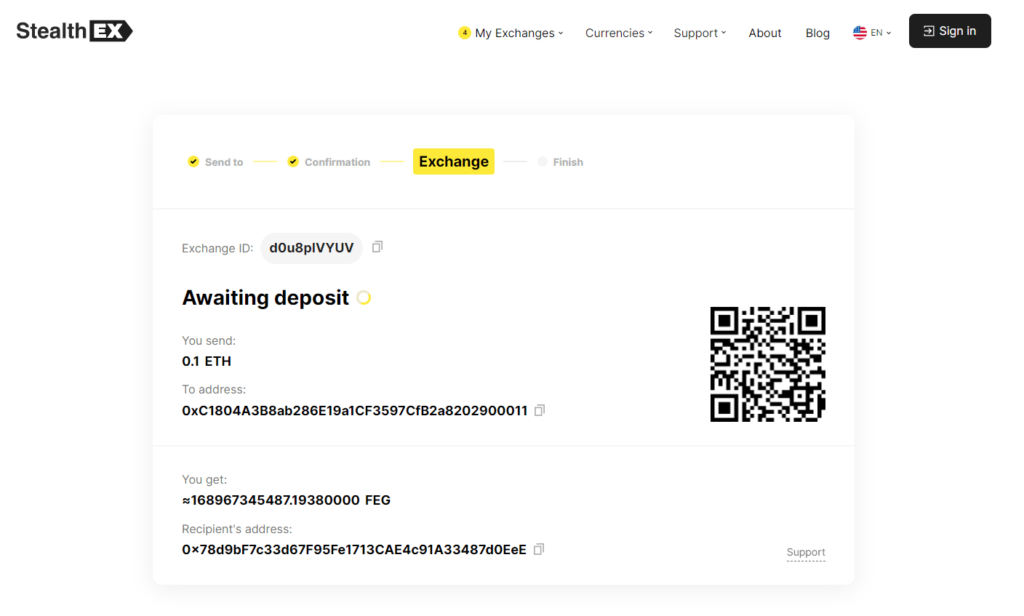 The first status is Awaiting deposit.
The following status is Confirming. This means that StealthEX is confirming the transaction you made.
The next status is Exchanging. During this time the exchange is being made.
Then the status will be changed to Sending to your wallet. This indicates that there are just a few minutes left until you will receive your FEGtoken.
Finally, you will be redirected to the FINISH page. This shows that the exchange has been successfully made and you will receive crypto to the address provided. To be sure that FEG coins were sent to your wallet you can also use the Output hash shown on this page and check it in the blockchain list of transactions.
From here you can either create a new exchange on StealthEX.io or leave the page and check your FEG crypto wallet to be surprised at how fast you get FEG coin to your address. Usually, the process is quite rapid so you won't need to wait long: FEG swaps are processed in a matter of minutes.
Keep reading StealthEX's article to learn more about the project itself and FEG crypto.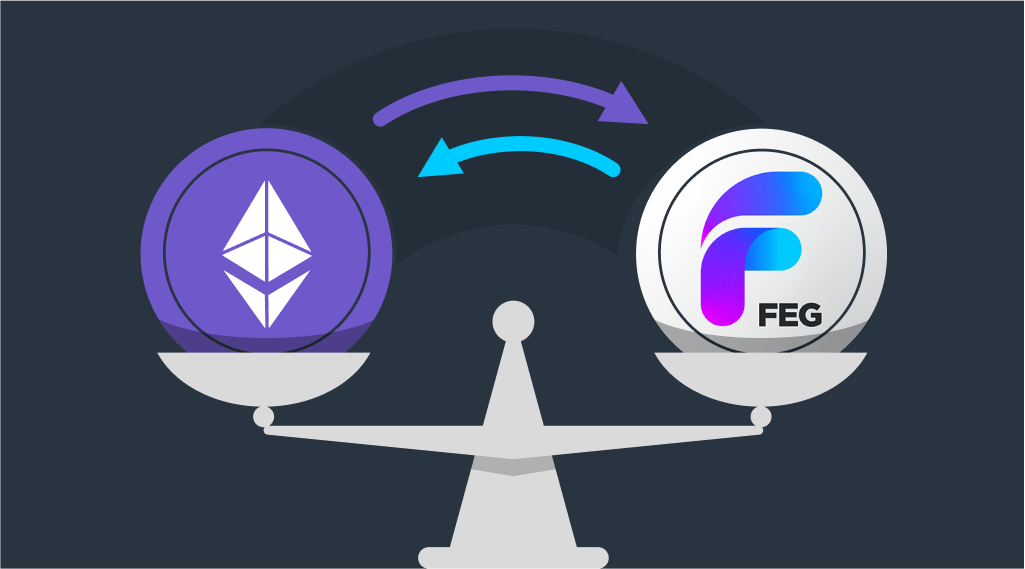 What Is FEG Token?
FEG Token is a DeFi coin that aims to provide a decentralized transaction network, which operates on the Ethereum blockchain (ERC-20) and the Binance Smart Chain (BEP-20). The project is in essence a hyper-deflationary token with a maximum circulating supply of 100Q (quadrillion). Depending on each holder's percentage of ownership, a 2% transaction tax is distributed among all holders. This includes the burn wallet, which is essentially a holder that collects more tokens over time as transactions occur. As the circulating supply decreases, the scarcity of the token increases. This inversely proportional relationship constitutes a supply and demand model.
The project offers its own aggregator that can be used for trading and offers the best prices for different tokens across multiple chains.
FEG Features
The crypto project has a number of features, including the following characteristics:
From the Wallet or FTW platform. FTW Limit-Order trading platform that allows the user to trade directly from their wallet to other users and vice versa. This platform is fully Decentralized as the user maintains possession of their Cryptocurrency or NFT throughout the entire process.
Non-custodial. The FTW limit order protocol is built such that users maintain full custody of their assets at all times.
NFT trading. Beyond regular tokens, FTW also supports NFTs, enabling non-custodial peer-to-peer NFT trading between buyers and sellers.
Peer-to-Peer. Transactions through the project's FTW trading protocol are peer-to-peer, maximizing efficiency and minimizing gas cost.
Membership fees. These will distribute rewards to staking, marketing, and project growth/sustainability.
Additionally, FEGToken offers a FEGscholars program that aims to educate young crypto enthusiasts about the world of crypto. FEGscholars is the project's philanthropic effort to improve the financial literacy of the next generation across the globe.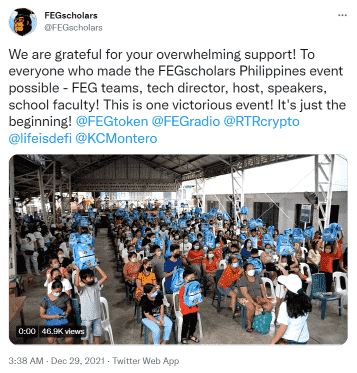 In December 2021, the project held the FEGscholars Philippines event that helped children learn more about the ecosystem and its future possibilities. Moreover, the project's FEGradio provides easy listening while you're on the road or simply enjoying a bit of downtime and learning about the FEG ecosystem.
FEG Coin
The cryptocurrency has already been accepted by many major exchanges and is traded on PancakeSwap, Uniswap, Gate.io, and many others. Token creators are also planning further development. The path moving forward for FEGtoken is largely determined by market fluctuations and the adoption of its non-custodial trading platforms. In Q4 of 2022, FEGtoken & ROX token will be merged into a new token launched off of the SmartDeFi Technology. FEG token holders will have to migrate manually, through a custom-build migration tool. ROX token holders will receive their token share via airdrop. The new token will bring together the FEG and ROX tokens to offer increased utility, asset-backing, interest-free lending, and the means to earn a passive income through staking.
FEG Token: New Developments 
FEG Token project also plans to release their SmartDeFi (SD) Launchpad Technology where anyone will be able create a cryptocurrency and instantly take it to market. The new developments will vitalise the project, bring new tokenomics (e.g. marketing funds), and new mechanics, including asset-backing and SmartLending. The updated project will have the following features:
SD Tokens will be tradeable on any CEX or DEX. The new token contract will feature novel blockchain technology while conforming to the standards accepted by decentralized and centralized exchanges.
Updated security.
SD tokens will be able to pair against any token.
Growth fund taxes (Marketing/DEV).
Passive income. A 2% transaction tax on the new token's volume is fed to stakers. The FTW trading protocol and aggregator will fund additional income streams to the staking pool.
Asset-backing in the token users are paired against.
SmartLending.
Liquidity locking (any time-frame).
100% audited. To maximize investor safety, the token contract will be fully audited by a professional third-party auditing firm.
---
If you're looking for a FEG crypto exchange or simply want to buy FEG token right away, you can do it via StealthEX.

In addition, our users can purchase cryptocurrencies using fiat and we still offer the opportunity to buy crypto at fixed rates!
Make sure to follow us on Medium, Twitter, Telegram, YouTube, and Reddit to get StealthEX.io updates and the latest news about the crypto world. If you need help, drop us a line at support@stealthex.io.
Please make sure to always research any cryptocurrency and assess your risks before you invest.
Ethereum
exchange crypto
FEG
FEG Token
how to buy
Recent Articles on Cryptocurrency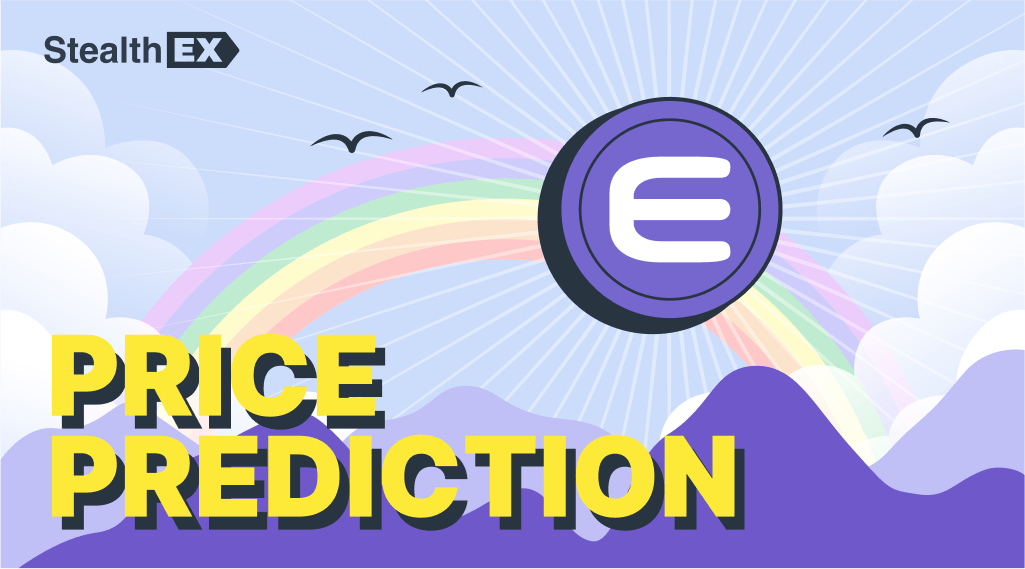 September 27, 2023
Price Prediction
Enjin Coin Price Prediction: How High Will $ENJ Crypto Go?
Based on expert Enjin Coin price prediction, the maximum price of ENJ crypto is predicted to be $75 by 2030.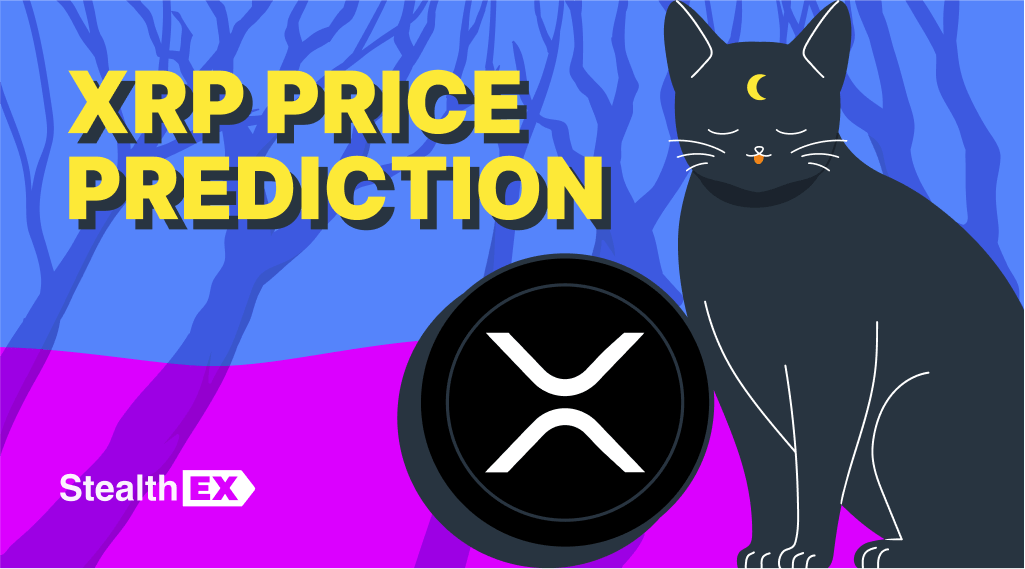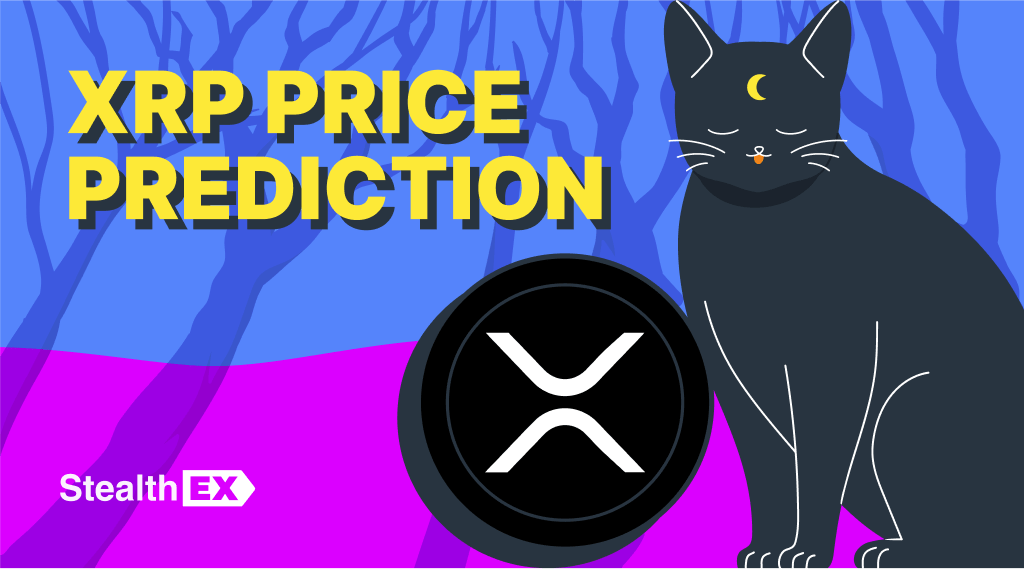 September 26, 2023
Price Prediction
Ripple XRP Price Prediction: How High Can XRP Go?
Based on expert XRP price prediction, the maximum price of XRP coin is predicted to be $12 by 2030.