Floki Inu Coin & StealthEX AMA Recap – All You Need to Know
March 25, 2022
Crypto World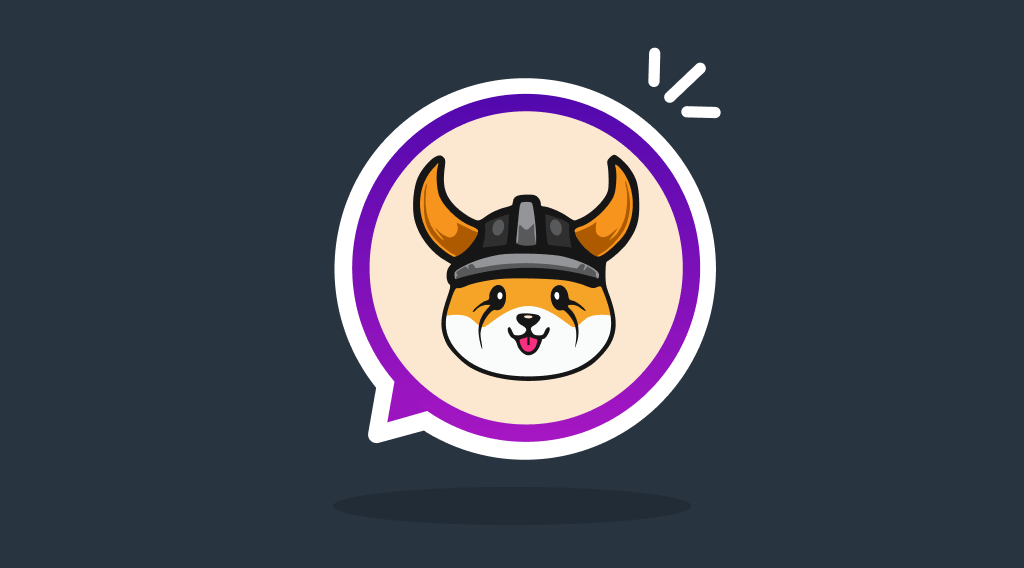 On March 22, 2022, we had StealthEX & Floki Inu coin AMA Session in our Telegram Community Chat, and here is a recap. Just take a little time to read through and learn everything you need about FLOKI crypto.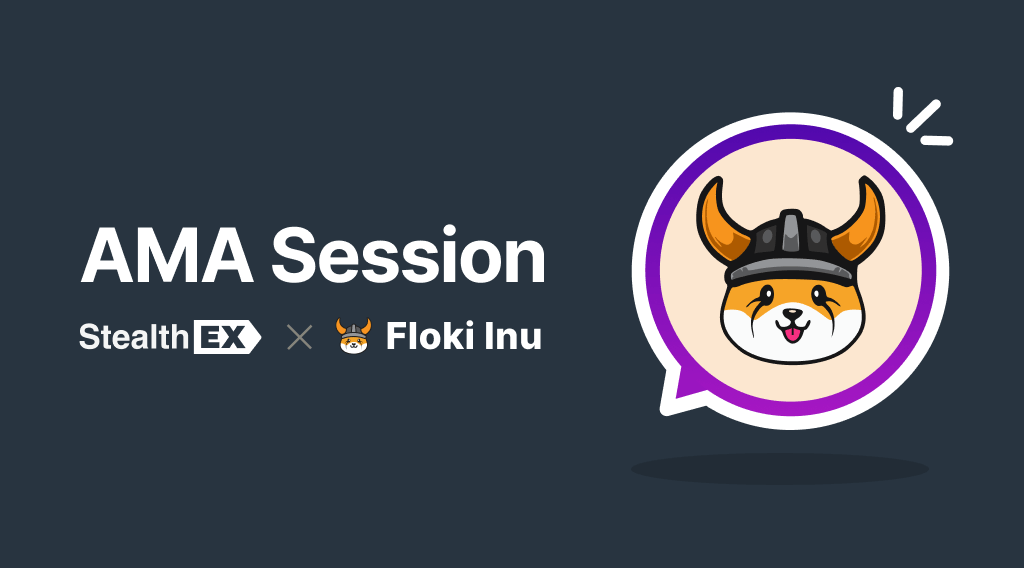 We are pleased to be joined by B (The Viking) @BDaViking, Floki Inu Core Contributor.
Ben Frost, StealthEX: Hi there, everyone, and big thanks for taking the time to be here! It's amazing to see the excitement and the buzz in the chat 🙂 Today we are joined by none other than @BDaViking, a core team member at Floki Inu 💪
As always, we will start off with a round of questions from Twitter, with the chat being turned off. Once that is done and over, I will turn the chat back on for a few moments, to allow everyone to ask their own questions.
Alright, without further ado, @BDaViking are you ready to get started? 😎
BDaViking: Thanks for having me hear, Ben. It's a pleasure!
SrealthEX: It is mutual, it is a pleasure to have you! Without wasting anyone's time, let's plow ahead and start off with the first question.
Questions from Twitter
Q1: Which area are you focusing on at the moment? (DeFi, Stake, NFT ,Dapps …) and what are your goals for this year and next year?
BDaViking: Of course! FLOKI is focusing on a mix of everything:
We're currently building a PlayToEarn Metaverse NFT game named Valhalla.
We recent had partnerships with Chainlink, Inverse Finance, and BranBridge to provide DeFi and staking to users. There is a need for a re-integration with Chainlink due to our recent contract upgrade, but this is being worked.
In general FLOKI will be building a lot of blockchain applications that require the FLOKI token to function, so the future is quite bright.
Our goal this year and the next is to have most of our utility products out there and send a clear message that we're a utility-focused memecoin. We will also be working towards ensuring mainstream adoption through aggressive marketing initiatives.
StealthEX: Wow, you pretty much answered a ton of questions I saw on Twitter in one single reply! 😅
That is great, 2022 is shaping out to be an amazing year for Floki!
Q2: Does the team have a specific marketing strategy to lure in not just the regular game players of the world, but the lower-income non-gamers who would benefit greatly from the P2E aspect of Valhalla?
BDaViking: Thank you! The team has a solid, strategic plan towards getting people from all walks of life to adopt the P2E aspect of Valhalla.
Firstly, Valhalla as a game is designed to be impressive and easy to play. The game itself will provide a great experience both from a visual and blockchain perspective. More importantly, you can play Valhalla on any device. Right now, those qualified to play the alpha version of the Valhalla Battle Arena only need to visit the Valhalla website and they can start playing. No need for expensive devices, gadgets, or heavy installations. This automatically makes the game an option for the vast majority of people.
Secondly, FLOKI's marketing strategy is done in such a way that whatever product FLOKI releases can easily have mass appeal. For example, FLOKI is partnered with 8 football clubs. It is clear that football is the sport of the people, enjoyed by both poor and rich alike. The brand familiarity being built through these football partnerships will ensure a lot more people pay attention (due to being familiar with the FLOKI brand!) when targeted marketing focusing on Valhalla begins.
Finally, FLOKI's branding as the people's cryptocurrency ensures that low-income non-gamers are more likely to pay attention to Floki's NFT game. We're very clear in our messaging that FLOKI isn't for the hedge funds or VCs. This message resonates with low-income earners, I'm sure, and is going to make adoption with them a lot easier when Valhalla launches.
StealthEX: I have to say, I really enjoyed the recent Valhalla TV ad campaign and I appreciate the fact that you try to market to the broader audience who might not be familiar with crypto, gaming, or even both.
Q3: So, as the first of the early "meme" token projects of the crypto market. What is the vision of FLOKI as a project based on MEME in the future? Is the meme project still exist for the next 5 years? Or do you have a plan to delete "MEME token" from your title?
BDaViking: Indeed. The Valhalla TV ad campaign is quite 🔥🔥🔥!
To answer this question, I think a lot of people have a major misconception when it comes to memes — often equating memes to lack of utility, especially from a crypto perspective. This isn't true, however!
Memes are the fastest ways ideas spread, and this explains why the only cryptocurrencies that have ever eclipsed BTC in popularity are the DOGE and SHIB memecoins.
So FLOKI is happy to be a memecoin, and will not stop being one, especially seeing it is being positioned as the people's cryptocurrency. More importantly, we would like to place emphasis on our utility focus.
Compared to popular memecoins like DOGE and SHIB, FLOKI has a lot more utility. In particular, the FLOKI ecosystem is broad and encompassing:
The Valhalla Metaverse game will help people earn a living by playing games.
The FlokiPlaces store will let people trade NFTs and goods with crypto.
The Floki University crypto education platform will help the mainstream learn about crypto.
Our various DeFi integrations will allow people to get actual value from their finances.
Etc.
So FLOKI will always be fun and have the memes, and with strong utility underlying it's going to stand among the giants!
StealthEX: I have to admit, this was a very eloquent answer to the memecoin debate. Very well said!
Q4: Will #FLOKI metaverse be integrated somehow with Valhalla?
BDaViking: Yes, the FLOKI Metaverse will be integrated with Valhalla. Players of the game can have a fun experience playing the game while also connecting with each other in the Valhalla Metaverse.
StealthEX: Sounds very exciting, this is personally the metaverse I am looking forward to the most, something about the Viking setting just tickles me the right way 🙂
Q5: Do you have plans to expand to other networks like Polygon, Solana, Polkadot, etc? The integration of a bridge in different chains is very useful for investors and their assets in terms of cost reduction
BDaViking: That's so kind of you. Thank you! Indeed, there is something about the Viking vibe that makes this primed for success.
With regards to cross-chain expansion plans, while not in the near future I won't rule it out completely. FLOKI aims to be the most used cryptocurrency in the world, which means we need to be where the users are.
There are a lot of interesting chains right now, with a lot of fast and impressive ones increasingly gaining more adoption. If we realize that we need to expand to other blockchains to capture significantly more users in the future, then we will expand.
StealthEX: That's the approach: never rule out anything, and if the circumstances call for it – adapt! I quite like it as well 🙂
Q6: Is there a plan to make $Floki deflationary currency again in the near future?
BDaViking: I believe several of the utility products we're developing are likely to give FLOKI deflationary attributes in the future — not as a gimmick, but by the very nature of their utility.
A good example is the Project L being developed by us. It is a small utility protocol that will come in handy for people who have tokens and NFTs they want to preserve in some way. Users have to "spend" FLOKI tokens to use it, however. "Spent" FLOKI tokens are likely to be burnt, ensuring FLOKI becomes more deflationary with each use.
StealthEX: Oh I would love to go a bit further into details with the Project L, but I have to stick to the questions from Twitter. Hopefully someone will ask more about it during the live part 😉
Q7: Which is the most proudest milestone Floki Inu has achieved so far?
BDaViking: There is a lot of interest in what "Project L" is so far, but we can't reveal too much until things are near the final phases. More details will be out soon, however.
In terms of our proudest milestones at FLOKI, we've achieved quite a lot in the 8 months or so that this team took over:
We relaunched the project and took it from a market cap of $4 million to $3.5 billion ATH.
We got partnerships with 8 major football clubs including SSC Napoli, Fenerbache, etc.
We partnered with a major team in the Formula 1.
We got to 400,000 holders.
For me personally, however, the proudest milestone is our charitable initiatives such as the schools we are building in Nigeria, Laos, Guatemala, and Ghana. Looking at the smiles we're putting on the faces of kids from countries I might never visit in my life gives me so much joy. It shows the power of crypto to be a force for good.
StealthEX: Awesome, you know I'll be looking forward to more "Project L" details along thousands of others Floki enthusiasts 🙂
And oh, you're making me feel emotional, this sounds like something that I would definitely be very proud of. Really good on you 💪
And on this sweet note we proceed to the live part of the AMA. I will turn the chat on, so you can ask your questions. But try to be fast, because the chat tends to be influxed with messages and I have to turn it back off quite quickly.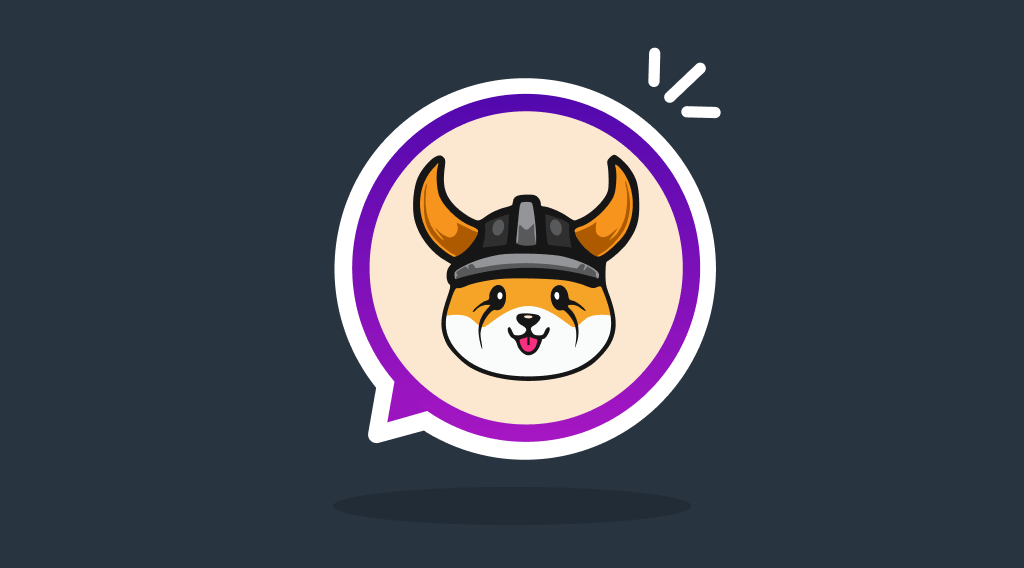 Live Questions
Q1: Can you briefly describe your PARTNERSHIP so far and upcoming partnerships?
BDaViking: FLOKI currently has multiple partnerships from a utility and marketing and adoption standpoint:
From a utility perspective we're partnered with with Chainlink, Inverse Finance, BarnBridge, and OpenLeverage to help facilitate DeFi for FLOKI. We are also partnered with Shopping.io and CryptoCart — partnerships that make it possible to use the FLOKI token for ecommerce and to purchase items available on Amazon, eBay, PlayStation, etc.
From a marketing perspective we're partnered with the leading Formula 1 team Alfa Romeo, 8 football clubs that include SSC Napoli, Bayer 04 Leverkusen, Cadiz CF, Fenerbahce, Spartak Moscow, FC Twente, Kerala Blasters, and FC Goa. Combined, these partnerships position FLOKI to be seen by billions of people.
From an adoption standpoint we're partnered with Wintermute to help facilitate institutional adoption, liquidity provision, and OTC trades of the FLOKI token.
From a charity standpoint we're partnered with Pencils of Promise and Tabitha Cumi foundation to build schools and provide education for the underprivileged. We've also worked on several amazing initiatives aimed at fighting food insecurity with the Million Gardens Movement.
Q2: According to the project's roadmap- what are your most important next priorities?
BDaViking: According to the FLOKI roadmap, our most important next priority is a heavy focus on utility.
This means more utility partnerships and releases of several of our own utility products in the coming quarter.
Q3: Where can I currently buy Token?
BDaViking: You can buy the FLOKI token directly on StealthEX.
You can also buy FLOKI on several major centralized exchanges that include Huobi and the Gate exchange.
You can also find links to other places to buy FLOKI (including on DEXs) directly on the FLOKI website.
StealthEX: So that was it, folks and gals! It was truly a pleasure to have @BDaViking on our platform and we are very grateful for his insight into the inner workings of one of the most exciting projects in the making 🙌
Thank you, everyone, for coming and we hope you all have a wonderful weekend!
Don't forget you can use our cross-chain services to swap $FLOKI with 400+ coins. We support both BSC and ERC20 versions of the token 🙂
How to Buy Floki Inu Crypto Coin?
Just follow these easy steps:
Press the "Start exchange" button.
Provide the recipient address to which the coins will be transferred.
Move your cryptocurrency for the exchange.
Receive your crypto coins!

If you have remaining questions about the StealthEX exchange service you can go to our FAQ section and find all the necessary information there.
Follow us on Medium, Twitter, Telegram, YouTube, and Reddit to get StealthEX.io updates and the latest news about the crypto world.
We are always ready to give you support if you have any issues with exchanging coins. Our team does our best to protect all members and answer their questions. For all requests message us via [email protected]
You are more than welcome to visit StealthEX exchange and see how fast and convenient it is.
AMA
crypto world
cryptocurrency
FLOKI
Floki Inu
Recent Articles on Cryptocurrency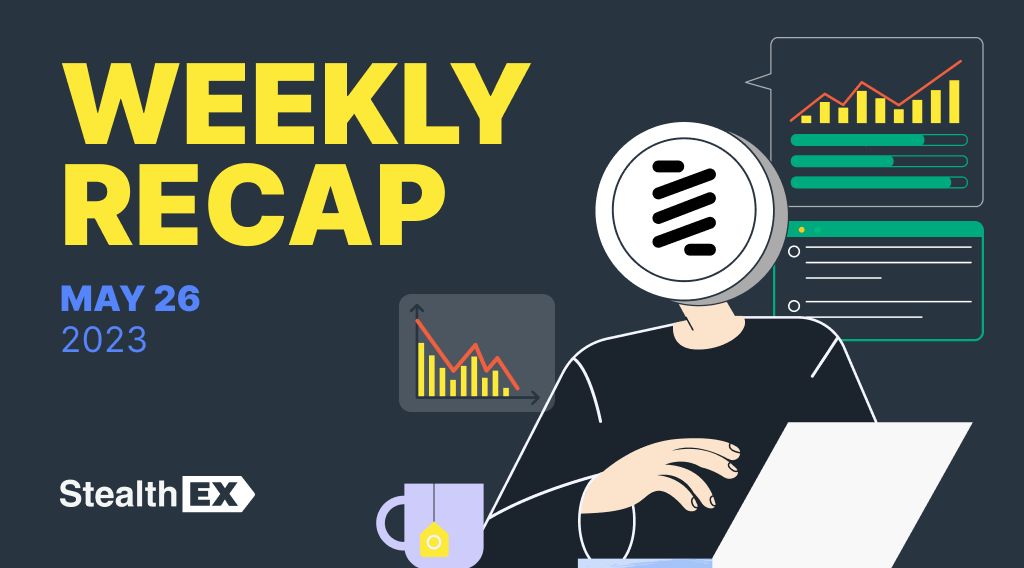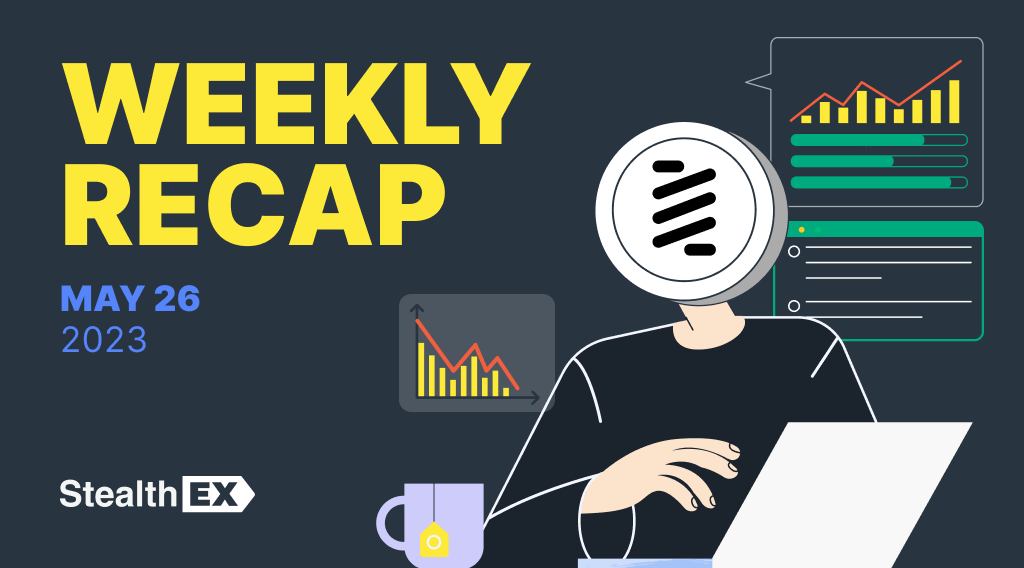 May 26, 2023
Crypto World
Review of the Crypto Market: May 26, 2023
Dive into the crypto market's weekly trends: get the detailed analysis and major news for May 20-26, 2023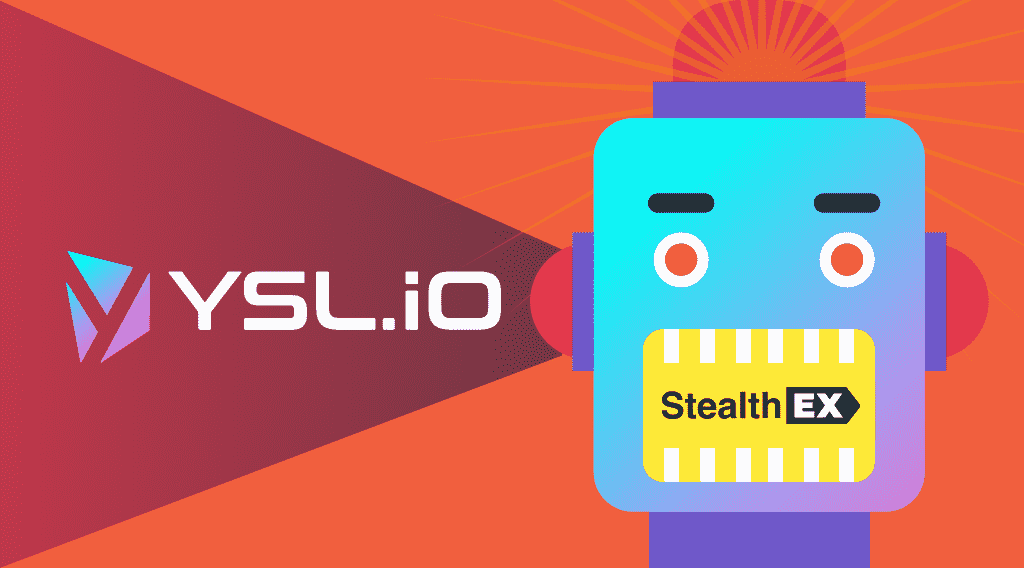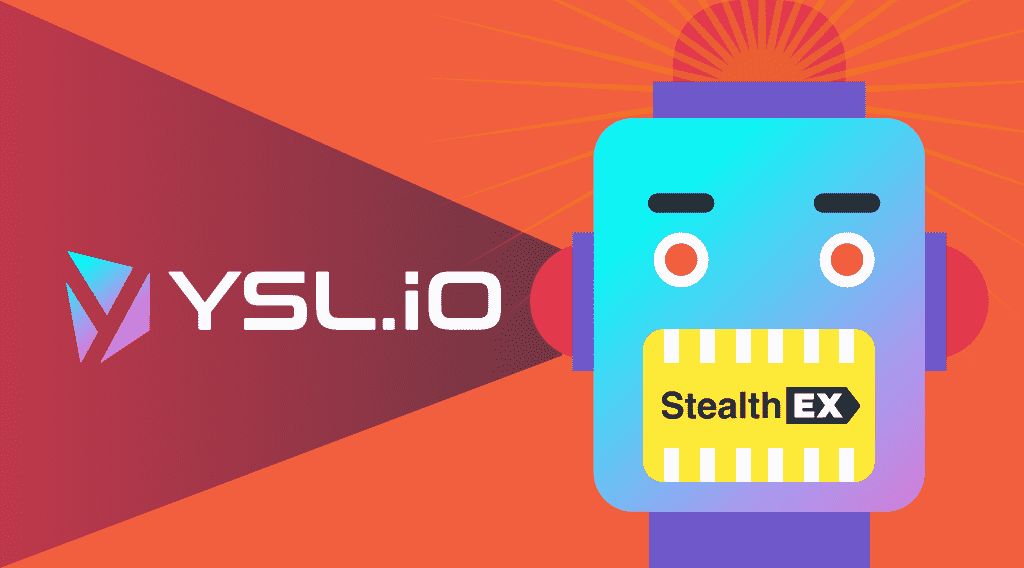 May 25, 2023
Our News
StealthEX Has Been Integrated into ChainZap by YSL.IO
Instant crypto exchange StealthEX partners with DeFi 3.0 protocol YSL.IO for seamless integration into ChainZap