How and Where to Buy MultiVAC Crypto Coin MTV?
August 16, 2022
How to Buy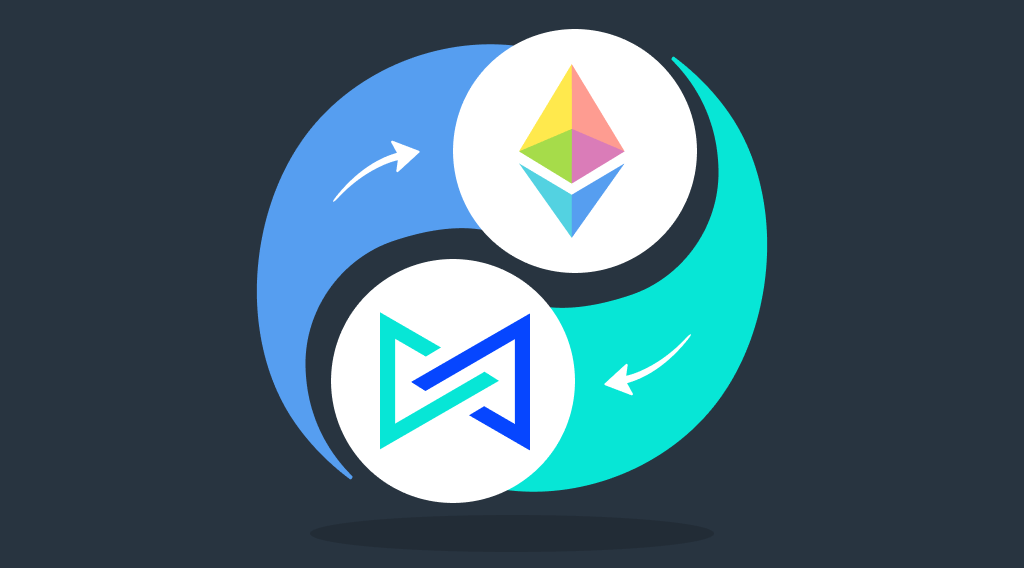 The current crypto market is teeming with various crypto projects – some of them fail, others become more and more popular, and there are those that many crypto enthusiasts have yet to discover. One of the lesser-known blockchain platforms is MultiVAC, a high-throughput flexible blockchain platform based on all-dimensional sharding that was invented in 2018. The project published its Sharding Yellowpaper and went live in 2019. MultiVAC blockchain has been designed for performance and flexibility, pioneering a miner selection model that redefines sharding and smart contracts. Read more about MTV coin and where to buy MultiVAC crypto in the new StealthEX article.
The MultiVAC project has been named after the supercomputer from Isaac Asimov's short story, The Last Question. This hints at the fact that the platform aims to excel and become a hi-tech pioneer in the field of blockchain.
MultiVac aims to enable large-scale commercial DApps to integrate into the blockchain, so that everyone could easily use blockchain applications to improve their work efficiency and quality of life.
MultiVAC can rightfully be proud to be the world's first fully sharded blockchain with sharded transmission and storage. When it comes to the infamous blockchain trilemma, MultiVAC pioneers flexible sharding, allowing DApp developers the flexibility to trade-off between the impossible triangle of decentralization, scalability, and security.
Where to Buy MultiVAC Crypto?
StealthEX is here to help you buy MultiVAC coin. This non-custodial exchange allows you to select from over 450 cryptocurrencies and makes everything fast because you must provide only general information for transactions.
Just follow the instruction below. Let's imagine you want to exchange ETH to MTV. To make an exchange, you need to take a few simple steps.
First, you should choose Ethereum in the left drop-down list. Then choose MultiVAC in the right list of coins.
After setting the pair it is necessary to enter the amount of ETH you want to exchange.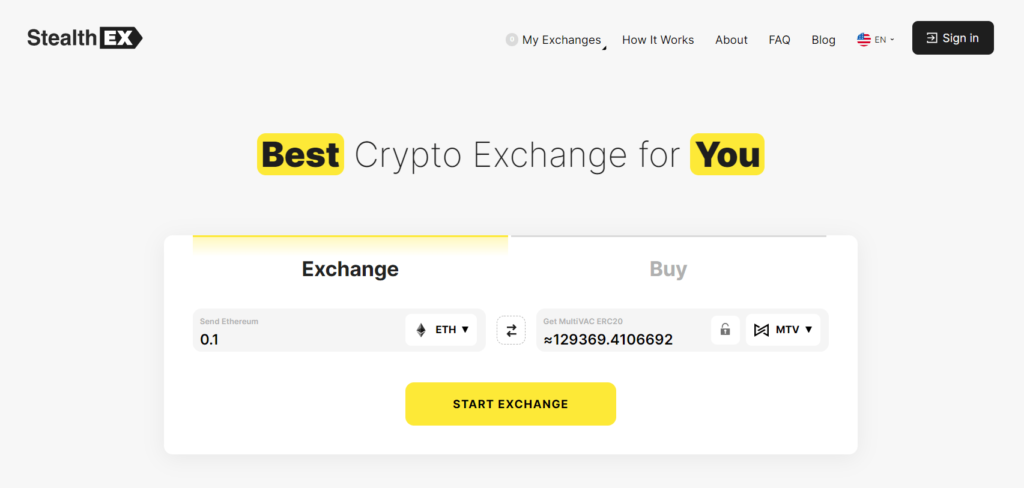 Here you will see the estimated amount of MultiVAC crypto that you will receive after the exchange.
Now when everything is set, press the Start Exchange button and you will be taken to the next page.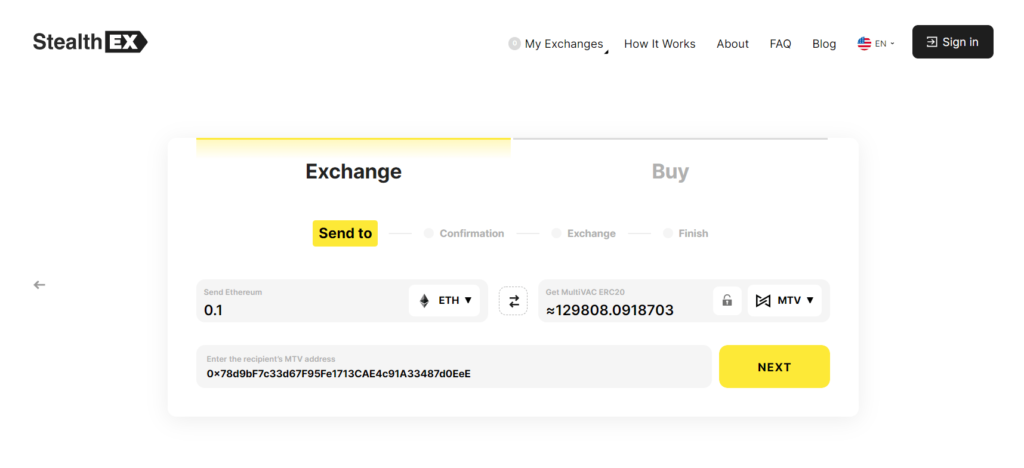 In the second step, you need to provide the MTV coin recipient address. The recipient address must match the crypto you are going to receive. Remember to double-check the information you enter prior to the exchange as the transaction you make cannot be canceled.
As soon as you have carefully checked all the details, you can press the NEXT button and you will be redirected to the CONFIRMATION page.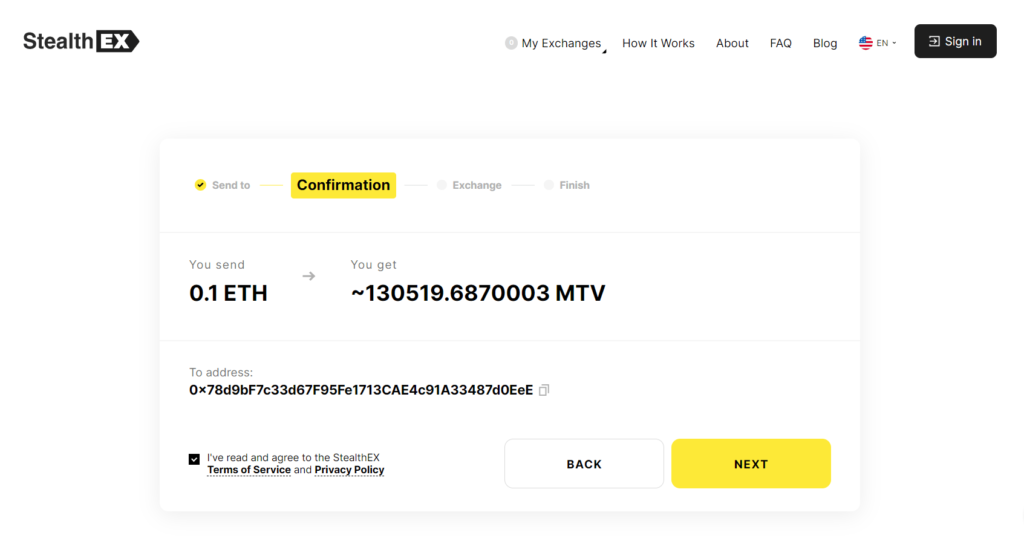 Here you can revise the address provided and the amount of MTV coin you will receive. Don't forget to read and check the Terms of Use and Privacy Policy box. Without checking the box you will not be able to continue the exchange. 
Pressing the Next button you will be redirected to the Exchange page. 
At first, you will see the address where you need to send your ETH coin to continue the exchange. StealthEX will also provide you with the exchange ID. It will allow you to keep all the information about the swap. It is recommended to save your exchange ID or the link to your exchange.
Exchange Statuses
After sending ETH coins to the shown address, the information on the Exchange page will be renewed automatically. The Exchange page has several statuses that will change during the time of the exchange.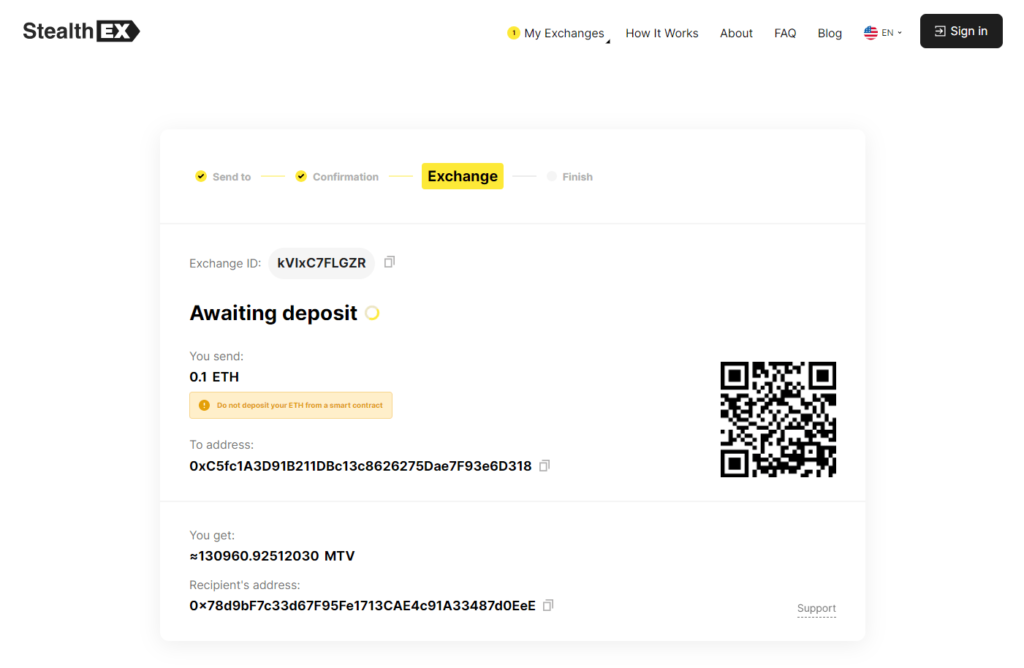 The first status is Awaiting deposit.
The following status is Confirming. This means that StealthEX is confirming the transaction you made.
The next status is Exchanging. During this time the exchange is being made.
Then the status will be changed to Sending to your wallet. This indicates that there are just a few minutes left until you will receive your MultiVAC coin.
Finally, you will be redirected to the FINISH page. This shows that the exchange has been successfully made and you will receive crypto to the address provided. To be sure that MTV coins were sent to your wallet you can also use the Output hash shown on this page and check it in the blockchain list of transactions.
From here you can either create a new exchange on StealthEX.io or leave the page and check your MultiVAC coin wallet to be surprised at how fast you got MTV crypto. Usually, the process is quite rapid so you won't need to wait long.
Keep reading StealthEX's article to learn more about MultiVAC unique project.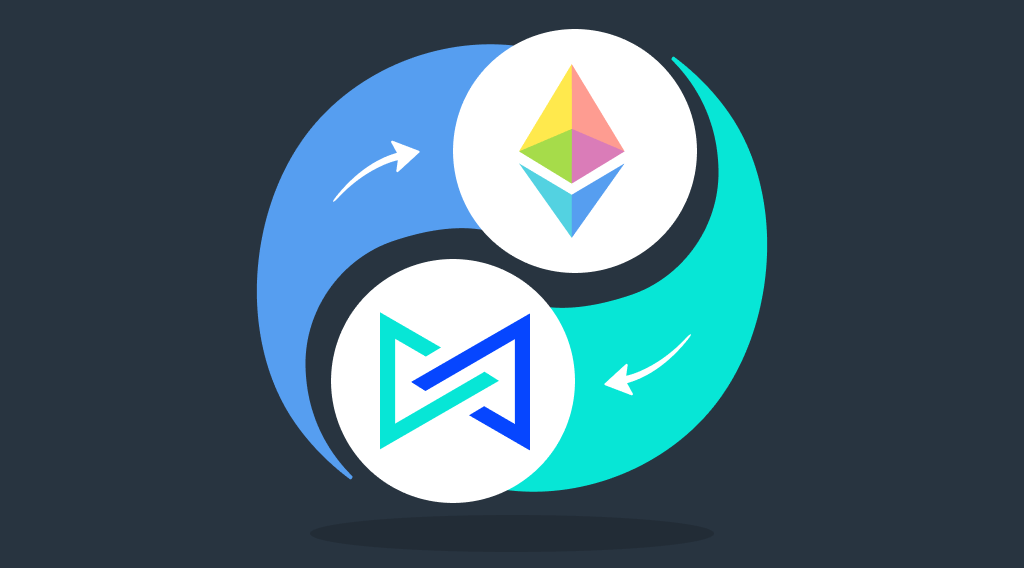 What Is MultiVAC Blockchain?
MultiVAC is a next-generation high-performance public blockchain for industrial-scale decentralized applications. Its trusted sharding technology allows for unlimited and sustainable scalability, and it provides a novel approach towards solving the blockchain scalability problem currently preventing mainstream blockchains from reaching industrial capability.
MultiVAC is the first to propose a sharding model based on Verifiable Random Functions (VRF) and applies this model to transactions, computation, and storage. We confirm transactions in our network through a classic UTXO model with miners dynamically selected through a probability model. MultiVAC allows for the high levels of safety and reliability needed by industrial applications while only requiring processing on a small number of nodes, producing significant speed improvements.
With new tests in the technology as well as business model, the MultiVAC team is trying to build strategic competitive advantages in comparison with other competitors in the market.
Before publishing lab data, MultiVAC had already released its white paper and all-dimensional sharding solution Yellow Paper. MultiVAC has an all-star team consisting of six Ph.D. Experts, 18 Researchers and Engineers, who are from the R&D team of leading tech companies such as Google, Facebook and Microsoft. In addition, MultiVAC's three Co-Founders have extensive experience as well as excellent business, academic and technical backgrounds.
MultiVAC Features
The platform has the following features:
All-dimensional sharding: MultiVAC breaks through the limitations of blockchain scalability by developing the world's first fully sharded blockchain with sharded transmission and storage.
Blockchain trilemma flexibility: MultiVAC pioneers flexible sharding, allowing DApp developers the flexibility to trade off between the impossible triangle of decentralization, scalability and security.
High TPS & infinite expansion: MultiVAC maximizes throughput on every shard while maintaining decentralization and security, allowing decentralized blockchains to achieve industrial capacity.
MultiVAC Sharding
Bitcoin's scalability is its limitation with only 7 TPS (transactions per second), the scalability of Ethereum is 10 TPS. This limitation has resulted in increasing transaction fees and delayed processing of transactions. In fact, until today, no blockchain has achieved all three elements: decentralization, security and scalability at the same time. Understanding this problem, MultiVAC wants to be the first blockchain solution to achieve all conflicting variables through a sharding model. Sharding stands out as one of the potential solutions to this problem. As one of the classic expansion solutions in distributive data systems, sharding can effectively enhance the capacity of the system and retain good scalability as the number of nodes in the network increases.
Sharding is a database partitioning technique used by blockchain companies with the purpose of scalability, enabling them to process more transactions per second. Sharding splits a blockchain company's entire network into smaller partitions, known as 'shards.' Sharding can help reduce the latency or slowness of a network since it splits a blockchain network into separate shards.
MultiVAC uses All-Dimensional Sharing, a solution that parallelizes consensus processing, consensus storage, and consensus message transmission. The platform also incorporates flexible sharing, which makes it possible for DApps developers to choose features of the shards they want to use, so that these features are specifically tailored for their performance.
MTV Crypto: New Horizons
The platform offers the basic functions like listing and trading products, and on top of that, it supports MTV, the MultiVAC mainnet native coin.
One of the most exciting features about MultiVAC is their NFT marketplace on the MultiVAC Mainnet. The ongoing concerns about growing gas fees on the Ethereum network create an opportunity where new and innovative projects can step up and save the day. Compared with the gas fees of ERC-721, which are easily hundreds of dollars, the transaction cost of MRC-721 costs very little.
The native token of MultiVAC, MTV coin, is used as gas in the ecosystem; the address of native token is compatible with ETH and BSC. Crypto enthusiasts can use Metamask and other decentralized wallets to directly load their ETH or BSC address to the MTV Mainnet, and the same address can be used for sending and receiving three types of MTV tokens.
There is 3.59 billion in circulation and a maximum supply of 10 billion MTV. The MTV tokens are allocated accordingly: 30% goes to the ecosystem, 27% to the founders, 15% goes to the team, 10.21% remains private, the rest is divided between seed, public sale and adviser.
MultiVAC History
In 2018, MultiVAC released their whitepaper, where it presented a flexible blockchain protocol based on trusted sharding.
In 2019, MultiVAC's testnet 1.0 'Phoenix' is officially launched, which also signals that the all-dimensional sharding scheme was completely enforced, and the high-performance blockchain transaction, storage and transmission has become a reality. CoinMarketCap then listed MTV on 11 April 2019 at $0.011. The cryptocurrency saw a number of spikes during its first few months of action.
In 2020, MultiVAC published the final version of testnet 3.0 'Oracle,' which makes tremendous improvements in the underlying infrastructure and transmission efficiency. New functions like asset transfer, new address format, offline signing have been included. The new version of the mining client has been greatly upgraded based on the original version, mainly in the interaction between client and MultiVAC system, and optimization of network performance.
In 2021, MultiVAC made several breakthroughs: it launched its mainnet and updated its protocol. The update featured compressed data transportation, native cross-chain features, and other significant updates and more features for the DeFi ecosystem. It also worked on MultiVAC Bridge and MultiVAC Sandbox that supports ETH and BSC addresses and virtual machines, allowing one-stop migration from ETH/BSC to MTV.
In 2022, the project expanded its plans to work on ecosystem construction and wrapped MTV tokens, MTV.ART NFT Marketplace with community projects, the mainnet code audit and mainnet token listing, long-term staking and much more.
MTV Coin Price: Experts Are Hopeful over MultiVAC Crypto
The token's rally occurred in the first quarter of 2021, when the wider market was seeing a surge. MTV was integrated into the Binance Smart Chain, which allowed holders of its ERC-20 token to swap for a BEP-2 version. The token reached a high of $0.018 on 13 April 2021.
MTV's most substantial breakout took place later that year. The blockchain launched the second phase of its mainnet at the end of August with a goal to reach three billion staked MTV. The token rocketed and reached $0.02 on 7 September.
At the moment the current MultiVAC coin price is $0.001385. The coin might currently be stuck in a bearish trend, however, many experts are hoping its price will go up. Many believe that starting 2025, MultiVAC crypto price will be climbing higher and higher, to a new all-time high of $0.15 or $0.18.
Most MTV Coin price predictions are fairly optimistic, however, cryptocurrencies are volatile, so you should never invest more than you can afford to lose.
And by the way, don't forget that if you're looking for a place to purchase MultiVAC crypto, StealthEX is exactly what you need.
In addition, our users can purchase cryptocurrencies using fiat and we still offer the opportunity to buy crypto at fixed rates!

Make sure to follow us on Medium, Twitter, Telegram, YouTube, and Reddit to get StealthEX.io updates and the latest news about the crypto world. If you need help, drop us a line at [email protected]
Please make sure to always research any cryptocurrency and assess your risks before you invest.
exchange cryptocurrency
how to buy
how to buy crypto
MTV
MultiVAC
Recent Articles on Cryptocurrency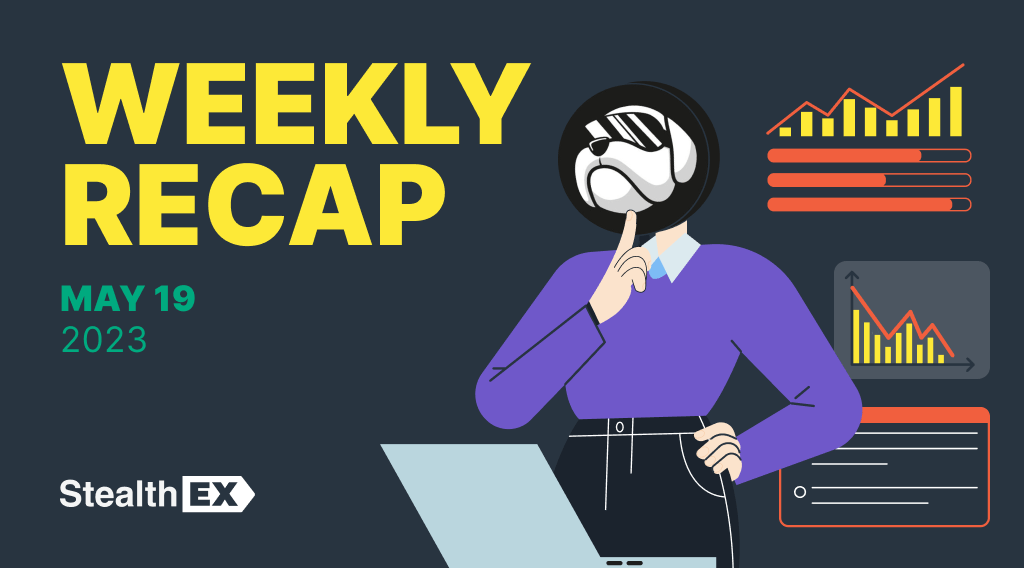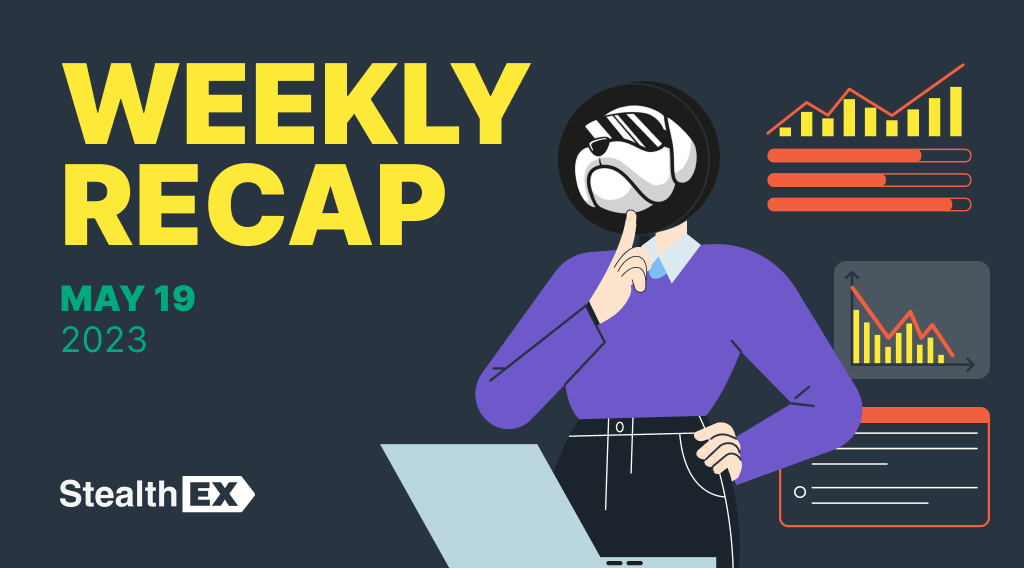 May 19, 2023
Crypto World
Review of the Crypto Market: May 19, 2023
Weekly Crypto Market analysis with major trends, BTC & ETH performance, and impactful news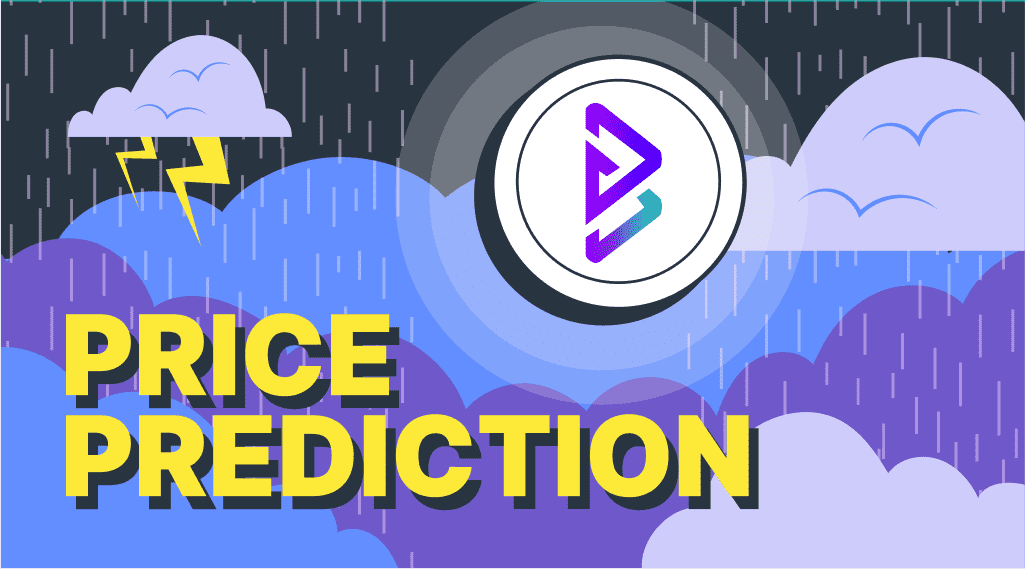 May 18, 2023
Price Prediction
Bitgert Price Prediction: Surprising Crypto Journey Awaits!
Delve into the future of BRISE coin with comprehensive Bitgert Price Prediction and analysis of the ecosystem