How to Buy Buff Doge Coin crypto DOGECOIN?
November 1, 2022
How to Buy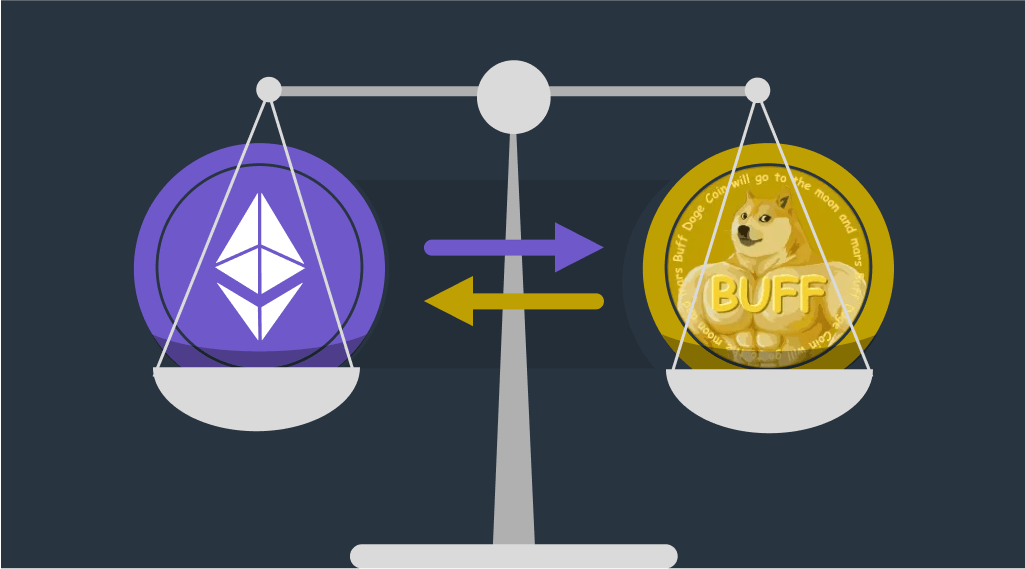 The crypto field is rich in both serious blockchain projects and fun projects. The second group includes meme coins and their derivatives. One of such hilarious crypto startups is Buff Doge Coin. This project is essentially the buff version of Dogecoin that has been newly launched in August 2021 as the Buff Doge Coin. The meme in the original DOGE coin inspired its creation, and the cryptocurrency is a decentralized system allowing users to trade and transfer coins seamlessly. Read more about how to buy Buff Doge Coin in the new StealthEX article.
There are many exchanges where to buy Buff Doge crypto, and StealthEX is one of the safest options. This platform offers users to get Buff Doge Сoin with no extra fees and with the best floating and fixed rates. This meme cryptocurrency is always freely available for purchase via StealthEX.
How to Buy Buff Doge Coin?
Just follow the guidelines below. Let's imagine you want to exchange ETH to DOGECOIN. To make an exchange, you need to take a few simple steps.
First, you should choose Ethereum in the left drop-down list. Then choose Buff Doge cryptocurrency in the list of coins on the right.
After setting the pair it is necessary to enter the amount of ETH you want to exchange.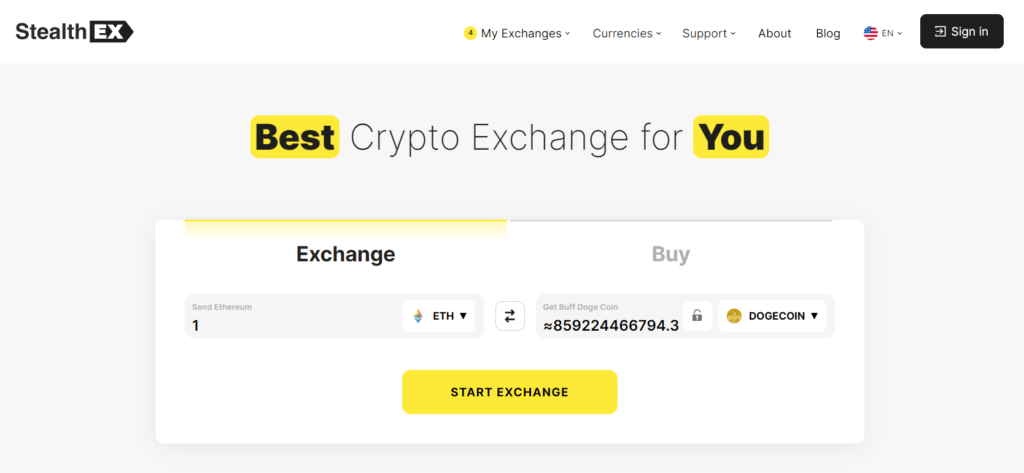 Here you will see the estimated amount of Buff Doge crypto that you will receive after the exchange.
Now, when everything is set, press the Start Exchange button and you will be taken to the next page.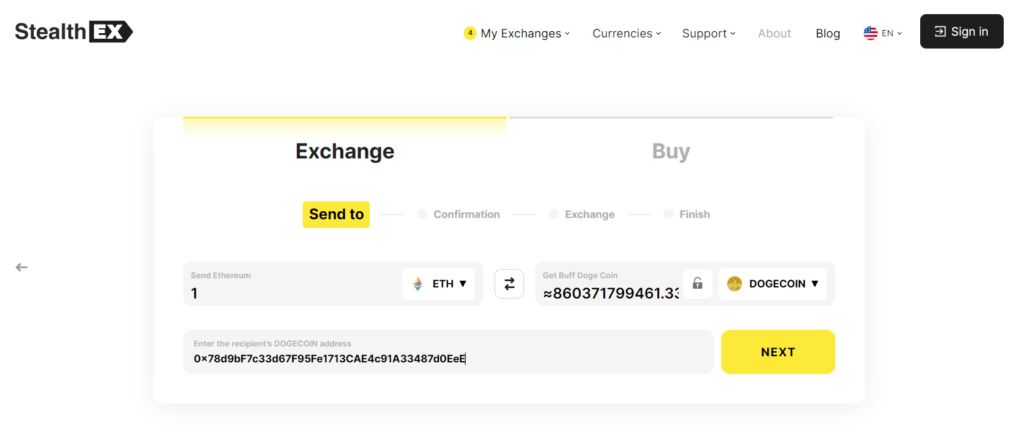 In the second step, you need to provide the Buff Doge coin recipient address. The recipient address must match the crypto you are going to receive. Remember to double-check the information you enter prior to the exchange as the transaction you make cannot be canceled.
As soon as you have carefully checked all the details, you can press the Next button and you will be redirected to the Confirmation page.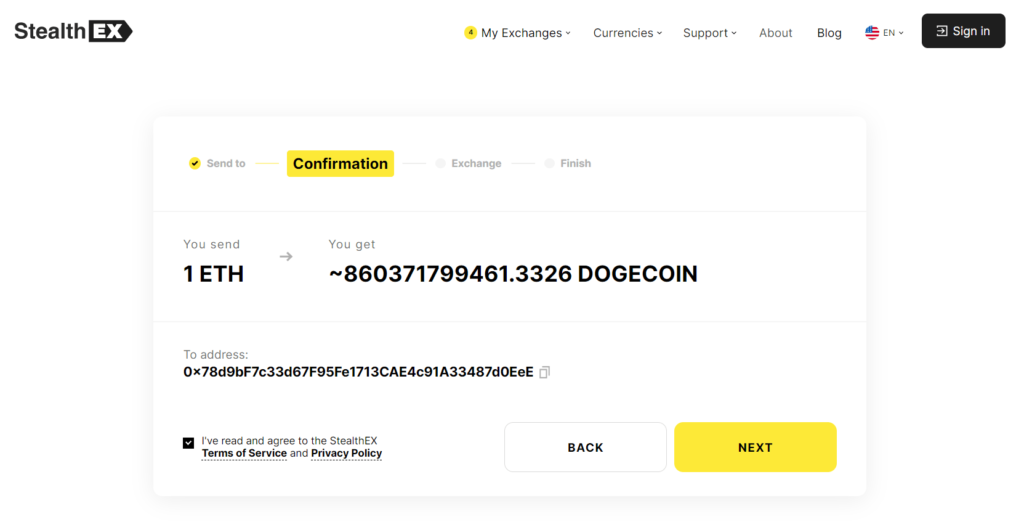 Here you can revise the address provided and the amount of Buff Doge Coin you will receive. Don't forget to read and check the Terms of Use and Privacy Policy box. Without checking the box you will not be able to continue the exchange. 
Pressing the Next button you will be redirected to the Exchange page. 
At first, you will see the address where you need to send your ETH coin to continue the exchange. StealthEX will also provide you with the exchange ID. It will allow you to keep all the information about the swap. It is recommended to save your exchange ID or the link to your exchange.
Exchange Statuses
After sending ETH coins to the shown address, the information on the Exchange page will be renewed automatically. The Exchange page has several statuses that will change during the time of the exchange.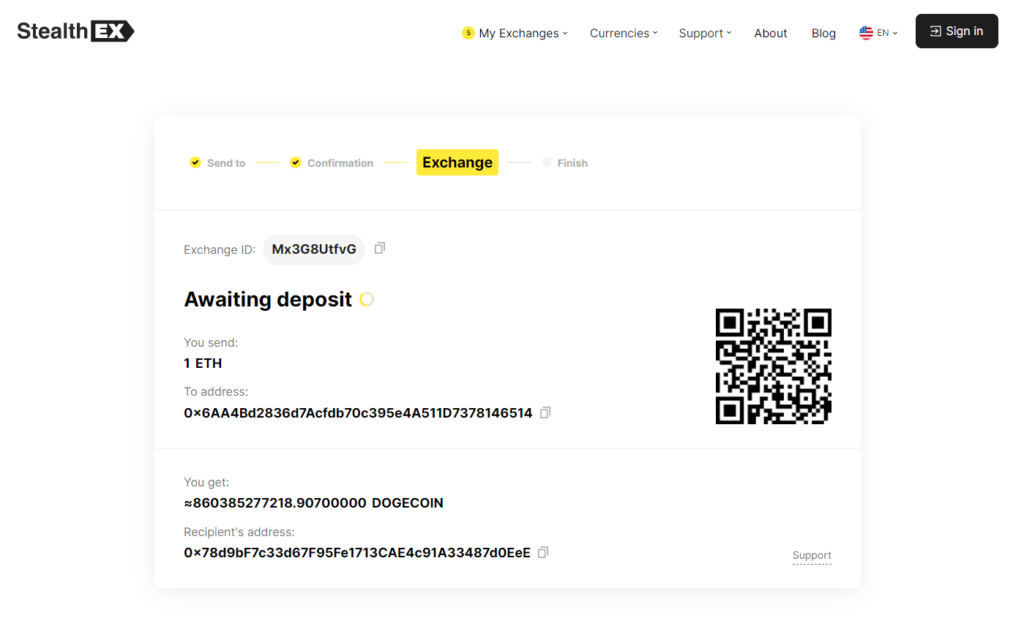 The first status is Awaiting deposit.
The following status is Confirming. This means that StealthEX is confirming the transaction you made.
The next status is Exchanging. During this time the exchange is being made.
Then the status will be changed to Sending to your wallet. This indicates that there are just a few minutes until you receive your DOGECOIN crypto.
Finally, you will be redirected to the FINISH page. This shows that the exchange has been successfully made and you will receive crypto to the address provided. To be sure that Buff Doge coins were sent to your wallet you can also use the Output hash shown on this page and check it in the blockchain list of transactions.
From here you can either create a new exchange on StealthEX.io or leave the page and check your Buff Doge crypto wallet to be surprised at how fast you get Buff Doge Coin to your address. Usually, the process is quite rapid so you won't need to wait long: Buff Doge swaps are processed in a matter of minutes.
Keep reading StealthEX's article to learn more about the project itself and Buff Doge crypto.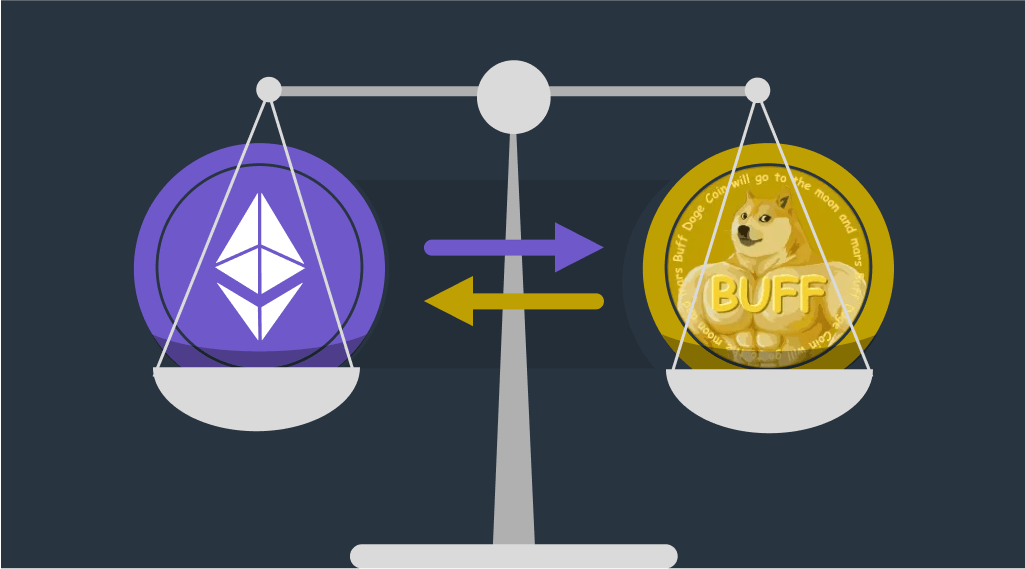 Buff Doge Coin: Value Behind the Project
Buff Doge Coin or DOGECOIN is a hyper deflationary cryptocurrency where each burn will double in its quantity to the previous burn. Despite the fun nature of the meme coin, the project aims to rescue animals, provide for shelters and tackle environmental issues, such as forest conservation.
The Buff Doge coin features cheaper gas fees and quicker block speed supporting faster transactions on the blockchain. Users pay gas fees to execute transactions and compensate for the computing energy utilized to validate and process transactions on a blockchain.
Buff Doge Coin is primarily created on a Binance Smart Chain (BSC), utilizing solidity smart contracts. The blockchain aids in assuring improved performance, lower transaction fees, and a quick five-second block speed. BSC uses a token protocol called BEP-20, which is known for 5-second block speeds, which is much faster than the famous Dogecoin with 1-minute block speeds.
When it comes to future endeavors, Buff Doge coin plans to purchase land on Sandbox. The land of Buff Doge Coin is located near ATARI, very close to the Atari Centipede game, and directly connected to the Oasis. This land is critical for the future of Buff Doge coin, it will be used for marketing, meeting, and hangout places for Buff Doge Coin holders to meet in metaverse, games & events, promotion, and passive income to buy back more Buff Doge coin.
Buff Doge Coin Features
Not only is the blockchain quite innovative when it comes to block speeds, but it also offers the following features:
Rewards and holding. 5% of each transaction is redistributed to token holders. That means you can earn more Buff Doge Coins by just holding them in your wallet.
Auto and manual burn. Each burning token will double the amount of the previous burn so that the token price increases. As time goes on, Buff Doge coin will burn 100% of its remaining supply. The less the total token supply is, the higher the token price will be.
Locked liquidity. Liquidity Pool is locked and the 5% fee is split 50/50. Half of it is sold by the contract into BNB, while the other half of the Buff Doge coin is automatically plaid with the previously mentioned BNB and added as a liquidity pair on Pancakeswap.
Charity wallet. Buff Doge coin supports animal shelters and environmental issues.
Buff Doge coin has a total supply of 990,050.69B DOGECOIN. As of right now DOGECOIN has a market capitalization of $1,824,193. The project has been listed on a number of crypto exchanges worldwide.
Buff Doge Coin Price Prediction
Various sources give different predictions for Buff Doge coin. For instance, DigitalCoinPrice states that in 2031, the coin will reach $0.0000000127 at its highest. TechNewsLeader experts believe that in 2031, Buff Doge Coin will cost $0.00000005 per coin, while PricePrediction believes that in five years, Buff Doge crypto will have a minimum price of $0.00000001 and a maximum price of $0.00000001 per DOGECOIN. All in all, the project seems to be doing well riding the wave of meme cryptomania.
If you're looking for a Buff Doge crypto exchange or simply want to buy Buff Doge Coin right away, you can do it via StealthEX.

In addition, our users can purchase cryptocurrencies using fiat and we still offer the opportunity to buy crypto at fixed rates!
Make sure to follow us on Medium, Twitter, Telegram, YouTube, and Reddit to get StealthEX.io updates and the latest news about the crypto world. If you need help, drop us a line at support@stealthex.io.
Please make sure to always research any cryptocurrency and assess your risks before you invest.
Buff Doge Coin
crypto meme
DOGE
Dogecoin
how to buy crypto
Recent Articles on Cryptocurrency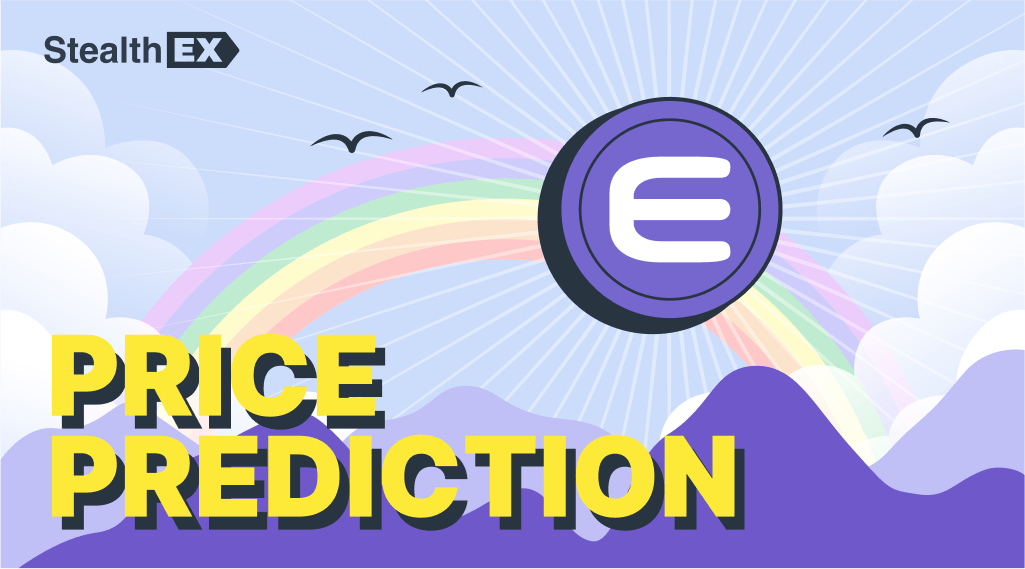 September 27, 2023
Price Prediction
Enjin Coin Price Prediction: How High Will $ENJ Crypto Go?
Based on expert Enjin Coin price prediction, the maximum price of ENJ crypto is predicted to be $75 by 2030.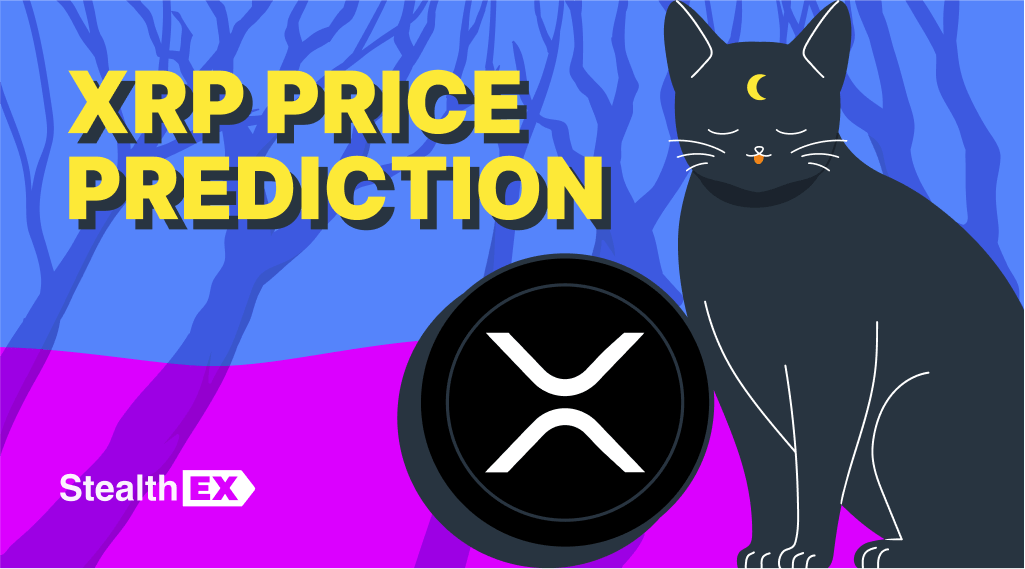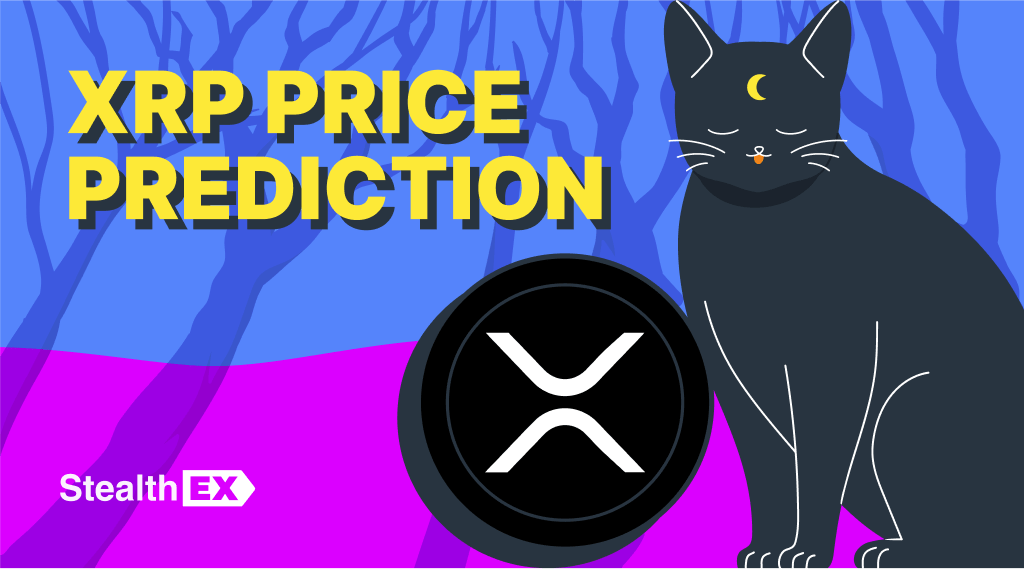 September 26, 2023
Price Prediction
Ripple XRP Price Prediction: How High Can XRP Go?
Based on expert XRP price prediction, the maximum price of XRP coin is predicted to be $12 by 2030.