How to Buy GTC Coin: Buy Gitcoin in a Few Simple Steps
June 28, 2023
How to Buy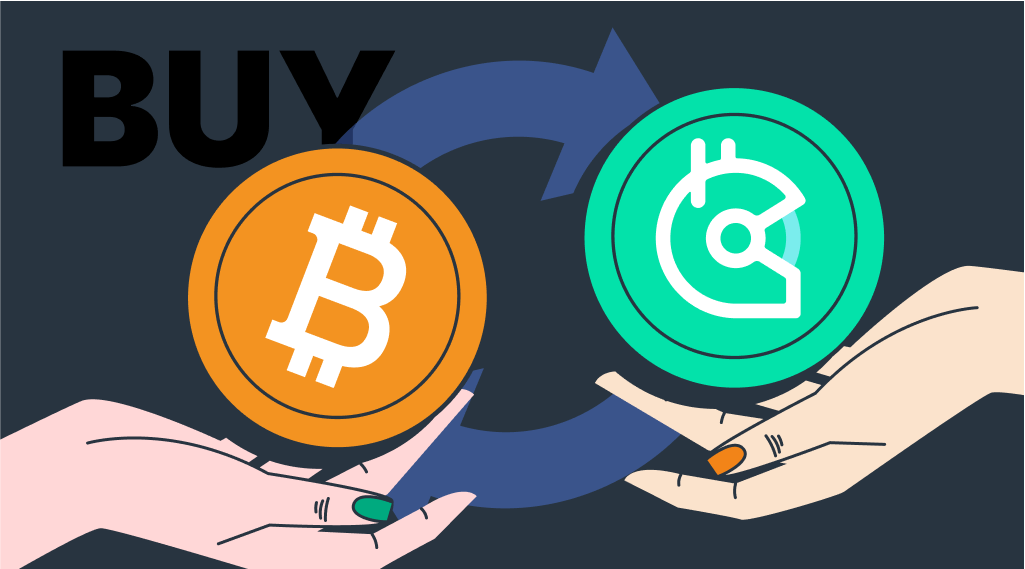 A number of projects in the crypto industry are partnering with some of the most impactful organizations that are fueling the future of open-source software and public goods. One of these projects is Gitcoin. It is a blockchain-based platform that connects projects, independent builders, and funders to collaborate on open-source software. Gitcoin combines open-source programming projects with a crypto payment system. Project owners can publish bounties alongside task specifics. Gitcoin also supports open-source projects that add value to the Web3 ecosystem through quarterly grants that use Quadratic Funding, a democratic approach for funding public goods. Let's take a closer look at Gitcoin crypto and how to buy GTC coin.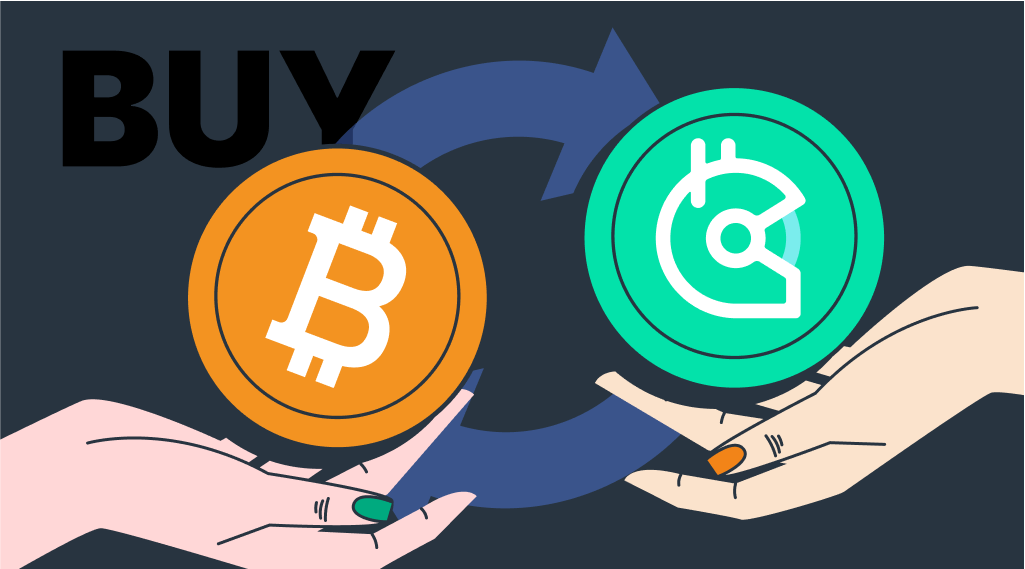 Where to Buy Gitcoin (GTC) Crypto?
There are many exchanges where one can buy Gitcoin, and StealthEX is one of the safest options with maximum security. This platform offers users to buy Gitcoin (GTC) with no extra fees and with the most competitive floating and fixed rates. Gitcoin crypto is always freely available for purchase via StealthEX.
How to Buy GTC Coin? Step-by-step
Just follow the guidelines below and learn how to buy Gitcoin with StealthEX now. Let's imagine you want to exchange BTC for GTC, that is, to use its Bitcoin to GTC exchange. To make an exchange, you need to take a few simple steps.
First, you should choose Bitcoin in the left drop-down list. Then choose GTC in the list of coins on the right. After setting the pair it is necessary to enter the amount of BTC you want to exchange. Here you will see the estimated amount of GTC crypto you will receive after the exchange. When everything is set, press the Start Exchange button and you will be taken to the next page.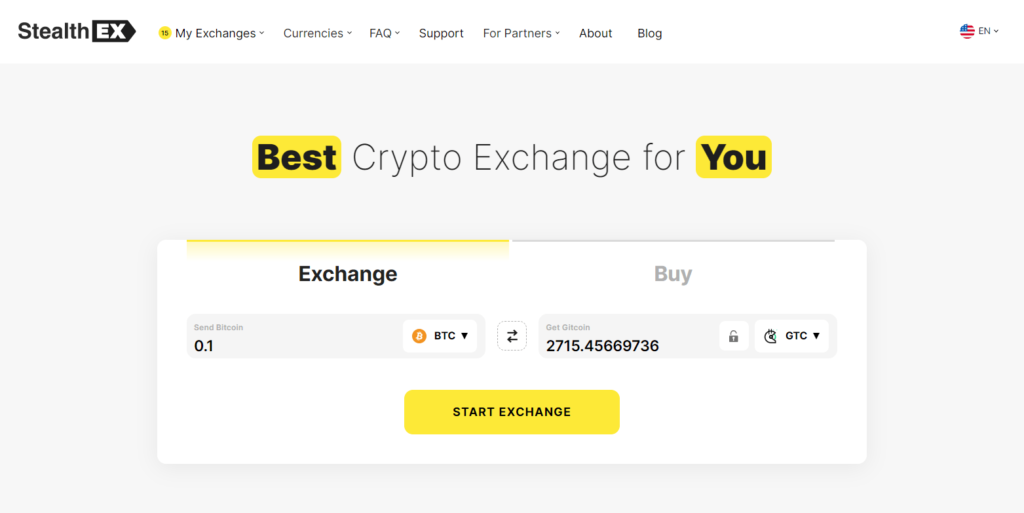 In the second step, you need to provide the GTC recipient address. The recipient address must match the crypto you are going to receive. Remember to double-check the payment details you enter prior to the exchange as the transaction you make cannot be canceled. As soon as you have carefully checked all the details, you can press the Next button and you will be redirected to the Confirmation page.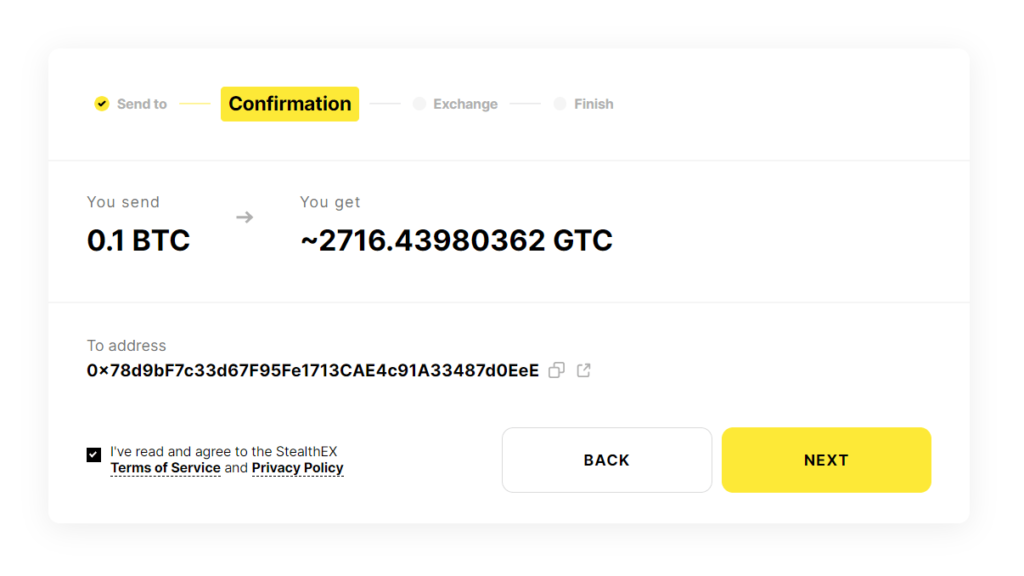 Here you can revise the address provided and the amount of Gitcoin you will receive. Don't forget to read and check the Terms of Use and Privacy Policy box. Without checking the box you will not be able to continue the exchange. Pressing the Next button you will be redirected to the Exchange page.
At first, you will see the address where you need to send your Bitcoin to continue the exchange. StealthEX will also provide you with the exchange ID. It will allow you to keep all the information about the swap. It is recommended to save your exchange ID or the link to your exchange.
Buy Gitcoin – Exchange Statuses
After sending BTC coins to the shown address, the information on the Exchange page will be renewed automatically. The Exchange page has several statuses that will change during the time of the exchange.
The first status is Awaiting deposit.
The following status is Confirming. This means that StealthEX is confirming the transaction you made.
The next status is Exchanging. During this time the exchange is being made.
Then the status will be changed to Sending to your wallet. This indicates that there are just a few minutes until you receive your Gitcoin (GTC).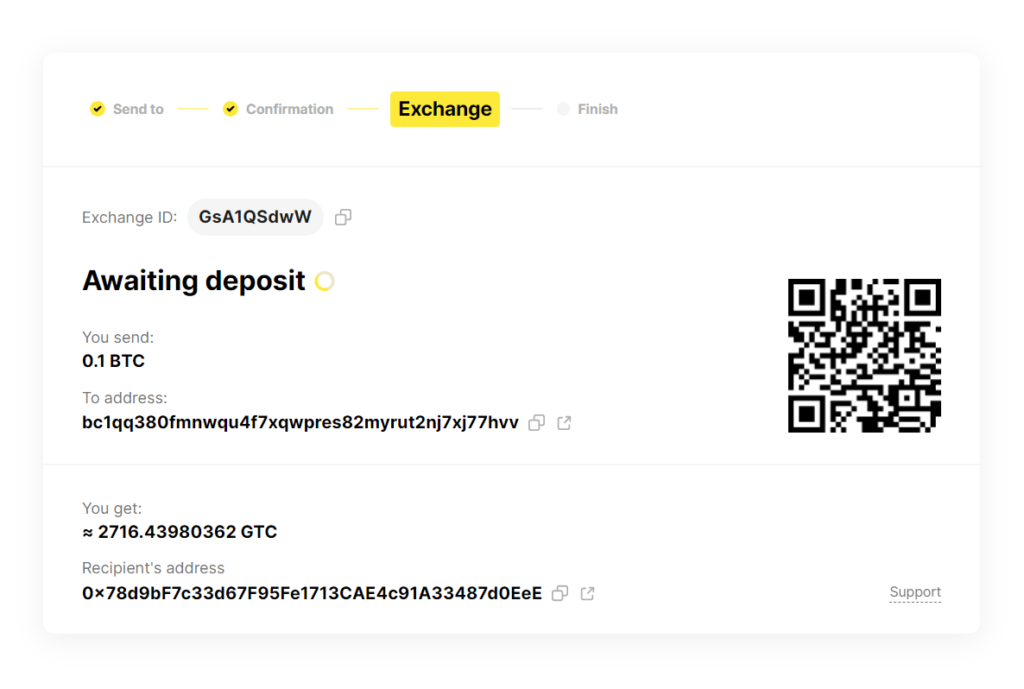 Finally, you will be redirected to the Finish page. This shows that the exchange has been successfully made and you will receive crypto to the address provided. To be sure that GTC crypto was sent to your wallet you can also use the Output hash shown on this page and check it in the blockchain list of transactions.
From here you can either create a new exchange on StealthEX or leave the page and check your GTC wallet to be surprised at how fast you get GTC crypto sent to your address. Usually, the process is quite rapid so you won't need to wait long: GTC coin swaps are processed in a matter of minutes.
Now that we've sorted out how you can buy Gitcoin (GTC) via StealthEX, let's take a closer look at the project and its properties.
What Is Gitcoin Crypto?
Gitcoin is a platform where coders and developers can be compensated for their efforts on open-source software written in a number of programming languages. Users can also use the Gitcoin platform to crowdsource cash from contributing donors for their own project ideas. Aside from direct community financing, Gitcoin uses a unique technique known as quadratic funding to help match community fundraising efforts in order to speed development of the most popular projects. Overall, Gitcoin is a platform designed to encourage the creation of important, open-source projects while also better aligning the interests of contributors and developers. It also contributes to Ethereum decentralization.
The Gitcoin platform focuses on sponsoring 'public goods' initiatives that are often 'non-rivalrous' and 'non-excludable'. That is, they are intended to benefit everyone without necessarily competing with one another. Projects relating to clean air, infrastructure, and privacy are examples of public goods projects. However, the majority of Gitcoin-funded public goods projects address blockchain within the Ethereum environment. There are ongoing projects, for example, to translate Ethereum's source code into several languages, to hasten Gitcoin's move to complete decentralization, and to assist instructional content providers.
Gitcoin aims to attract outstanding hackers by providing money incentives to participate in hackathons, bounties, and supported community grants. Developers who want to work on a project can submit it to the Gitcoin platform and crowdsource cash from other contributors directly, as well as engage in quarterly possibilities to earn extra funding using the network's revolutionary quadratic funding method.
Gitcoin: History of the Project
Gitcoin is headquartered in Denver and was founded by Kevin Owocki and Scott Moore. Owocki had founded multiple open-source projects and worked as an engineer, while Moore had started out in blockchain finance, eventually developing a fascination with Ethereum in particular.
Gitcoin was launched in November 2017 by Kevin Owocki, Scott Moore, and Vivek Singh, and it is now a portfolio project at Consensys. Gitcoin raised $11.3 million in an investment round led by Paradigm in April 2021, allowing them to break away from Consensys and become more self-sufficient.
Community Governance via GTC Coin
The native governance token of Gitcoin, GTC, is an ERC-20 token designed for community platform governance.
There are 100 million GTC tokens in total, which are distributed as follows:
15% provided to platform users via retroactive airdrop.
35% of the funds were disbursed to current stakeholders.
50% to be distributed by the Gitcoin decentralized autonomous organization (DAO)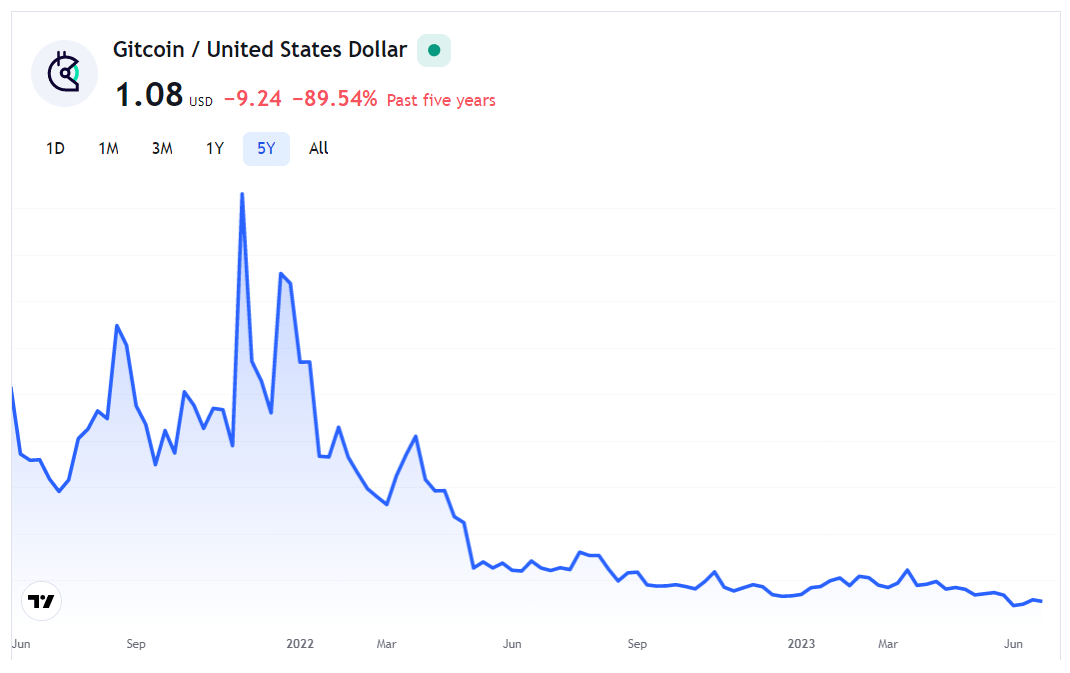 Gitcoin Price Chart, Tradingview, 28 June 2023
The goal of the GTC token distribution is to reward both early Gitcoin platform users and future contributors. The retroactive airdrops were distributed to early platform users who took part in activities such as launching a bounty, submitting work to a bounty, opening a grant, or contributing to a grant, among others. The founders, investors, staff, and key partners received the majority of the GTC disbursed to stakeholders. The GTC tokens reserved for the Gitcoin DAO are managed by a community-led treasury.
GTC can be purchased using traditional currencies, traded for cryptocurrencies (for example, Bitcoin), or gained in modest amounts through apps in exchange for work – as a Gitcoin faucet.
Gitcoin takes a novel approach, utilizing open-source projects to achieve a company goal of full decentralization. From a broader perspective though, Gitcoin's system has the potential to impact the world of cryptocurrency trade as a whole and allows for experimentation with all kinds of exciting ideas. With the arrival of the Metaverse, innovative companies like Gitcoin may very well eventually propel the crypto world toward new prosperity.
Gitcoin Price Prediction: Is GTC Crypto a Good Investment?
According to most sources, Gitcoin can be a profitable investment.
Gitcoin price prediction range from $2.39 to $3.92 by 2025, crypto experts believe GTC coin could rise to reach $19.58 by the end of 2030.
Here is a full article with an overview of the price of Gitcoin.
---
Start Buying GTC Now

Make sure to follow StealthEX on Medium, Twitter, Telegram, YouTube, and Publish0x to stay updated about the latest news on StealthEX.io and the rest of the crypto world.
Don't forget to do your own research before buying any crypto. The views and opinions expressed in this article are solely those of the author.
Bitcoin
BTC
Gitcoin
GTC
how to buy crypto
Recent Articles on Cryptocurrency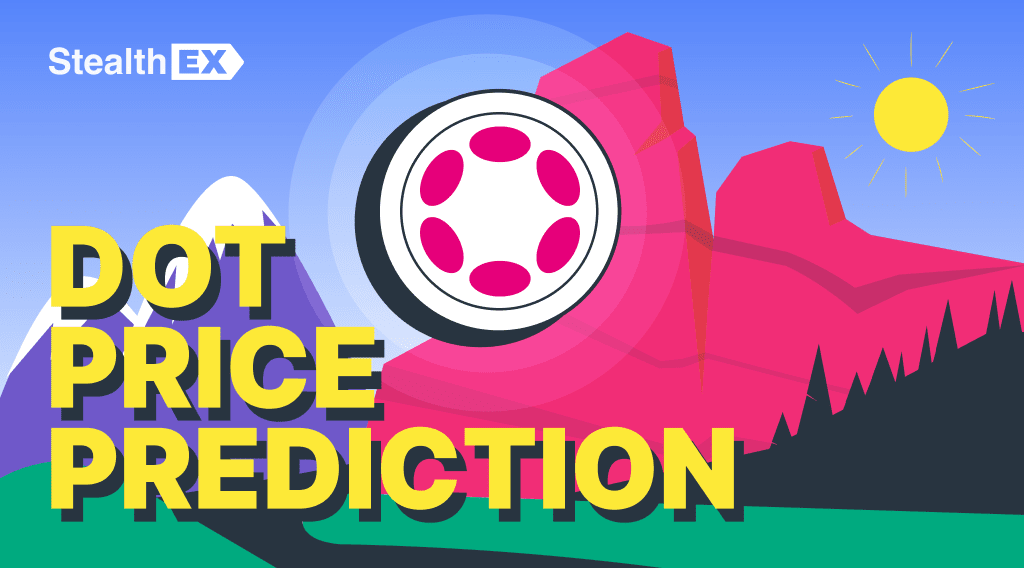 November 29, 2023
Price Prediction
Polkadot (DOT) Price Prediction: Will DOT Coin Reach $1000?
According to the long-term Polkadot price prediction by the end of 2030, the DOT price may rise to $195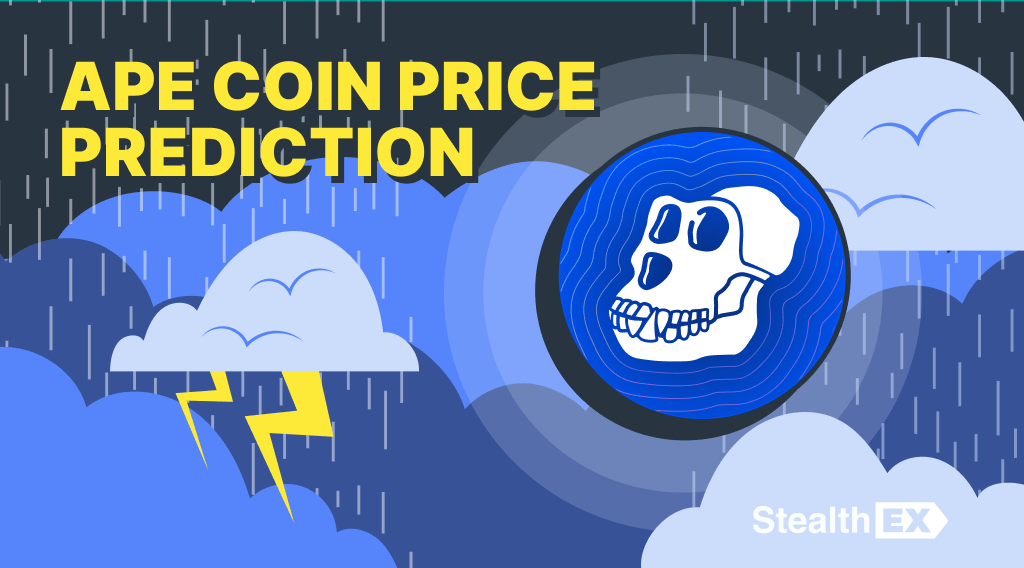 November 29, 2023
Price Prediction
ApeCoin Price Prediction: Is APE Coin a Good Investment?
According to the long-term ApeCoin price prediction by the end of 2030, the APE price may rise to $250