Where and How to Buy HEX Coin: A Comprehensive Guide
March 28, 2023
How to Buy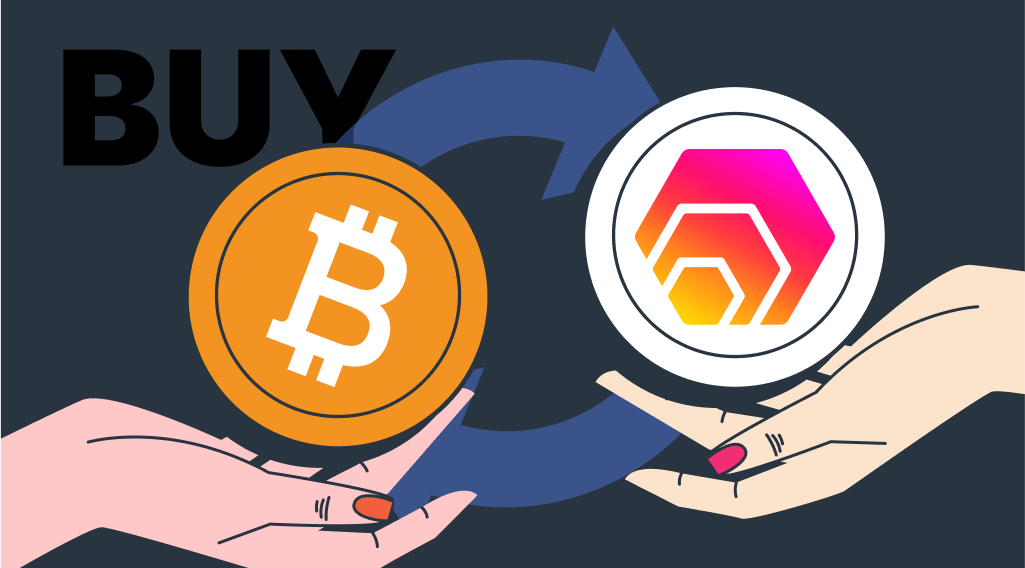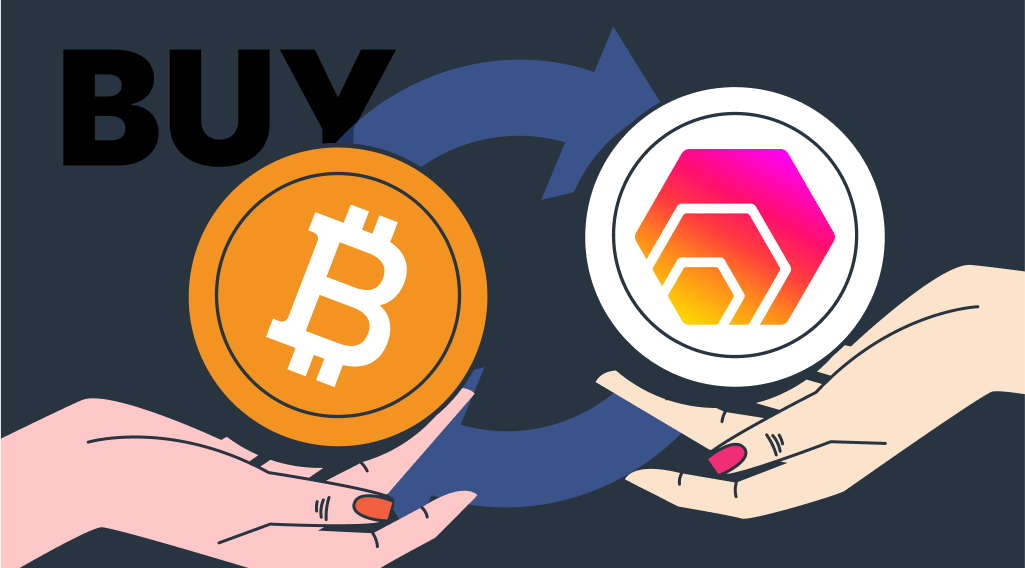 The crypto industry provides a number of unique solutions both for the DeFi field and the banking system. One of the projects that allows users to act as their own bank is HEX, a new financial tool that was launched on the Ethereum network on December 2, 2019 by Richard Heart, a social media influencer. By staking their HEX coins to reduce its supply, users put upwards pressure on the token's price. Read more about how to buy HEX coin in the new StealthEX article.
Where to Buy HEX Crypto?
There are many exchanges where to buy HEX token, and StealthEX is one of the safest options. This platform offers users to get HEX cryptocurrency with no extra fees and with the best floating and fixed rates. This cryptocurrency is always freely available for purchase via StealthEX.
How to Buy HEX Coin: Step-by-Step Guide
Just follow the guidelines below. Let's imagine you want to exchange BTC for HEX. To make an exchange, you need to take a few simple steps.
First, you should choose Bitcoin in the left drop-down list. Then choose HEX (HEX) in the list of coins on the right.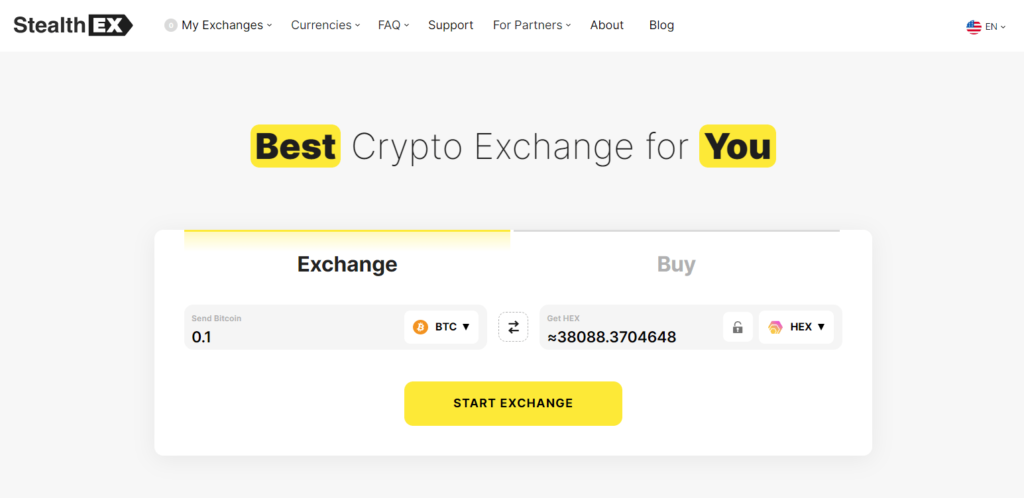 After setting the pair it is necessary to enter the amount of BTC you want to exchange.
Here you will see the estimated amount of HEX that you will receive after the exchange.
Now, when everything is set, press the Start Exchange button and you will be taken to the next page.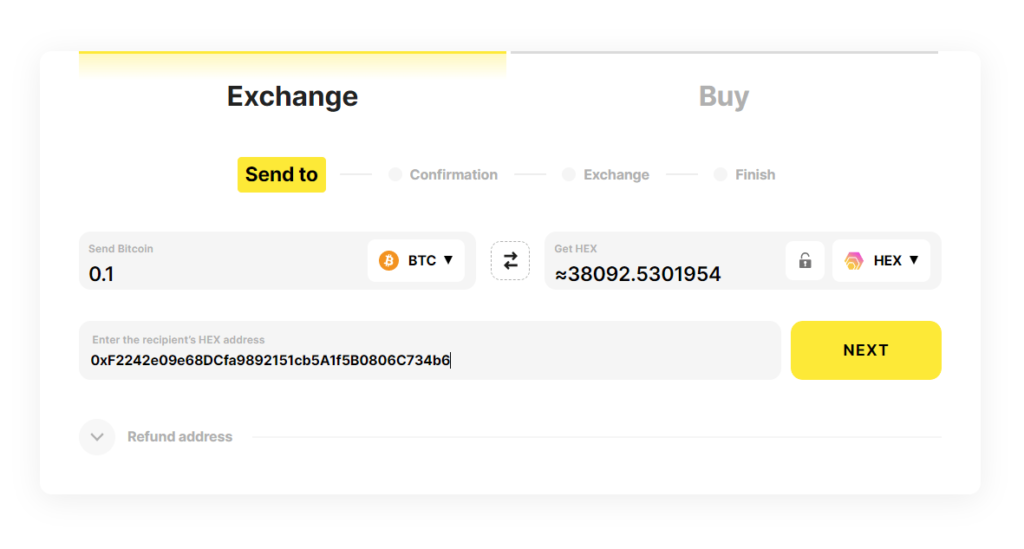 In the second step, you need to provide the HEX crypto coin recipient address. The recipient address must match the crypto you are going to receive. Remember to double-check the information you enter prior to the exchange as the transaction you make cannot be canceled.
As soon as you have carefully checked all the details, you can press the Next button and you will be redirected to the Confirmation page.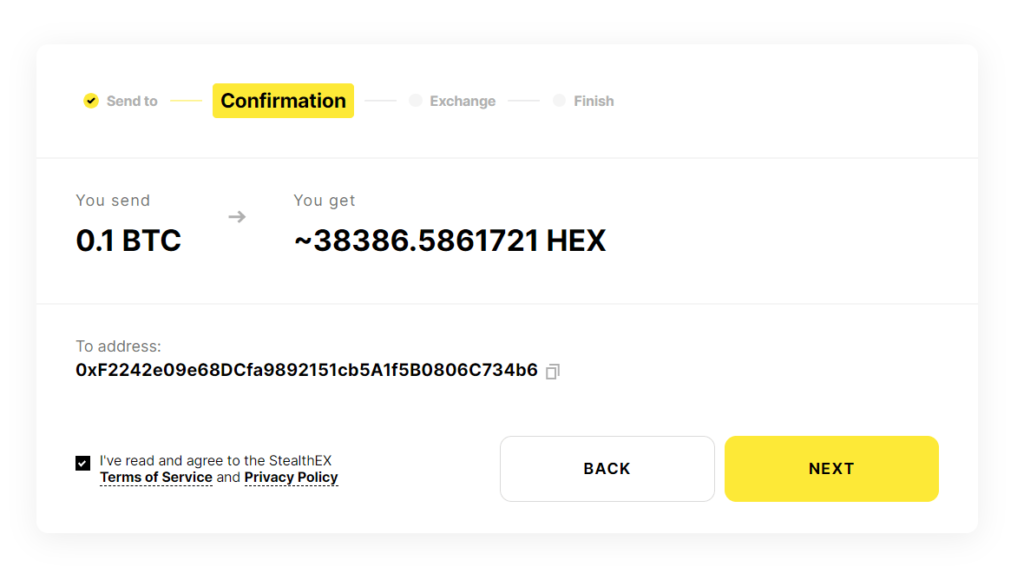 Here you can revise the address provided and the amount of HEX coin you will receive. Don't forget to read and check the Terms of Use and Privacy Policy box. Without checking the box you will not be able to continue the exchange.
Pressing the Next button you will be redirected to the Exchange page.
At first, you will see the address where you need to send your BTC coin to continue the exchange. StealthEX will also provide you with the exchange ID. It will allow you to keep all the information about the swap. It is recommended to save your exchange ID or the link to your exchange.
Exchange Statuses
After sending BTC coins to the shown address, the information on the Exchange page will be renewed automatically. The Exchange page has several statuses that will change during the time of the exchange.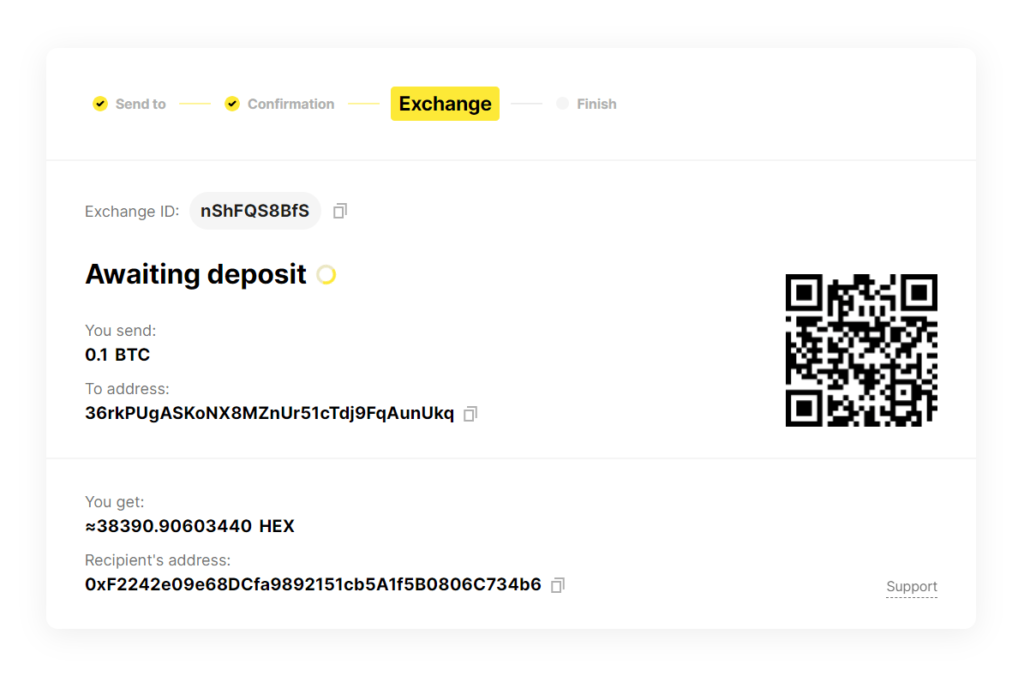 The first status is Awaiting deposit.
The following status is Confirming. This means that StealthEX is confirming the transaction you made.
The next status is Exchanging. During this time the exchange is being made.
Then the status will be changed to Sending to your wallet. This indicates that there are just a few minutes until you receive your HEX token.
Exchange Complete: Get HEX in Minutes!
Finally, you will be redirected to the Finish page. This shows that the exchange has been successfully made and you will receive crypto to the address provided. To be sure that HEX crypto was sent to your wallet you can also use the Output hash shown on this page and check it in the blockchain list of transactions.
From here you can either create a new exchange on StealthEX.io or leave the page and check your HEX coin wallet to be surprised at how fast you get HEX sent to your address. Usually, the process is quite rapid so you won't need to wait long: HEX crypto swaps are processed in a matter of minutes.
Keep reading StealthEX's article to learn more about the project itself and HEX coin.
Discover HEX: Transforming Crypto Staking
HEX is the first high-yield blockchain Certificate of Deposit (CD). HEX virtually lends value from stakers to non-stakers, as staking reduces supply, causing positive price pressure on unstaked coins. The HEX needed to create a share (share price) goes up every day, simulating compounding interest. Shareholders profit from the 3.69% annual inflation and early and late end stake penalties. HEX promotes itself as being free for Bitcoin holders.
In essence, HEX is a hybrid Proof-of-Work (POW) and Proof-of-Stake (POS) system. Stakers are paid inflation in HEX while ETH miners receive small amounts of ETH to perform your HEX transaction. Сonforming to the ERC20 standard, HEX maximizes interoperability and security. HEX is easily extensible because smart contracts can be built on top of it or reference it. Additionally, HEX works with distributed exchanges like Uniswap and atomic swaps easily.
HEX is designed for those who stake longer, so they will benefit the most by eliminating intermediaries. HEX addresses the Store of Value, currency and Certificates of Deposit (or 'Time Deposits'), markets that Bitcoin can't address. All of them combined are worth around $100T.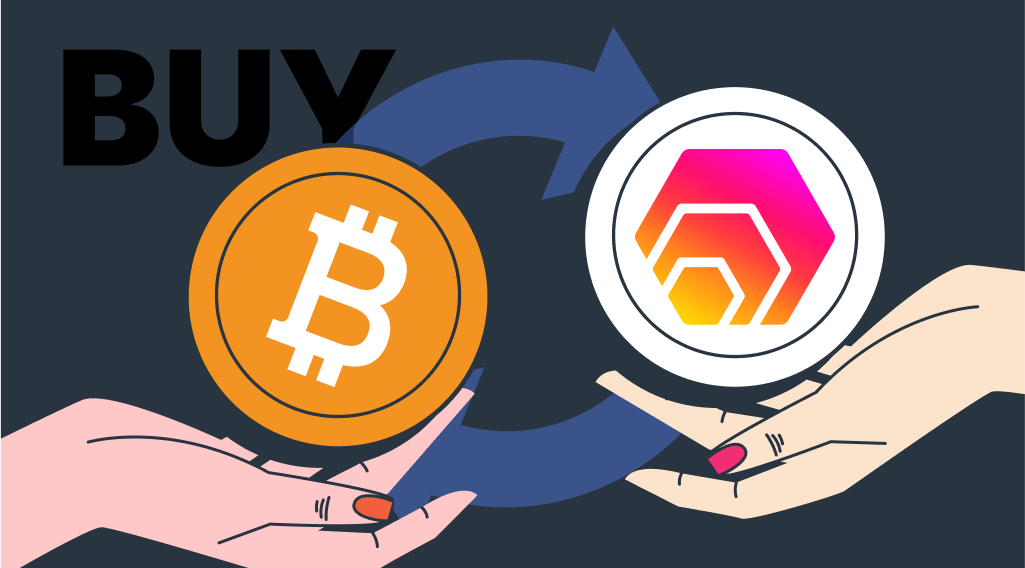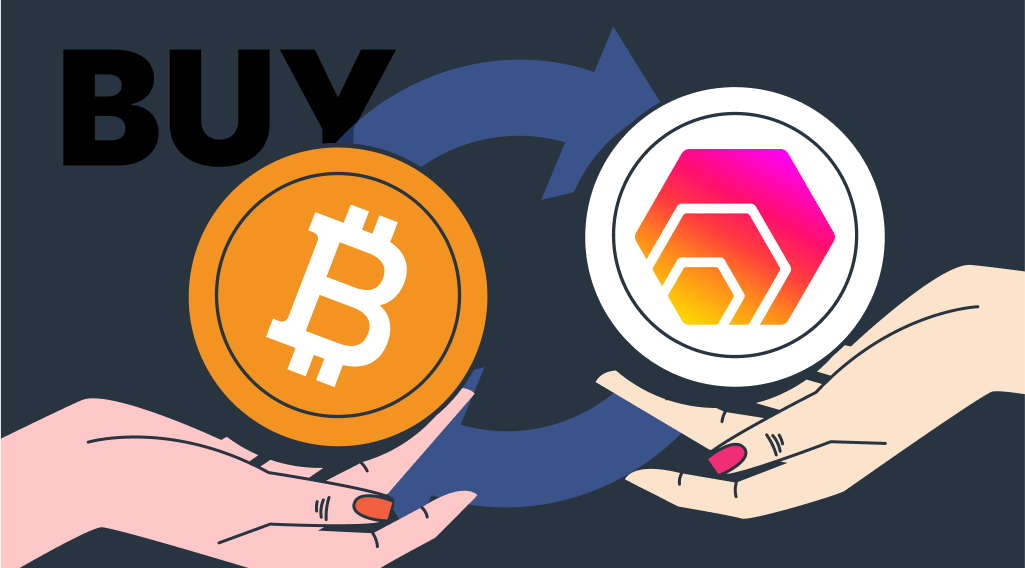 HEX: Speed, Security & Ethereum Advantage
In some ways, the HEX cryptocurrency is faster and cheaper to transact and more secure in some ways than Bitcoin because it uses Ethereum security. HEX is built on top of Ethereum, which is a Proof-of-Work blockchain with more decentralized hashing power than Bitcoin. Contrary to BTC, the HEX code is immutable and open source. It is an externally audited token. Hex has security and economy audited from Chainsecurity and CoinFabrik. Hardware wallets like Trezor and Ledger can be used with MetaMask for HEX and ETH.
HEX vs Bitcoin: Rethinking Crypto Solutions
While Bitcoin was the first cryptocurrency on the market that changed the way we look at payments and currencies, its creation and adoption have created a number of problems.
In many ways, BTC and HEX are analogs. Bitcoin and HEX are peer-to-peer networks that store and transmit value. With Bitcoin, miners buy mining hardware and electricity from companies. With HEX, miners buy HEX from other HEX holders, then use time to mine. HEX is Proof-of-Wait instead of Proof-of-Work. Instead of lending their Bitcoin, holders – that Richard Heart claims are many – can solve this issue by using HEX cryptocurrency.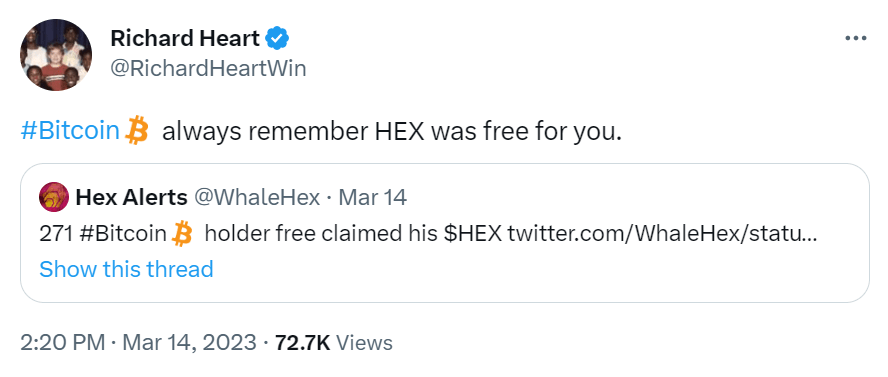 HEX replaces these third parties with a trustless peer-to-peer system: to earn yield on your HEX, you just have to stake them.
HEX lets its users own a larger part of the total supply than Bitcoin will. If the user is all in on Bitcoin, the % they own of the network gets smaller every 10 minutes. If they traded all of their Bitcoin for HEX they would own a much larger % of the total HEX than they did of Bitcoin.
HEX Crypto News
Richard Heart is a well-known entrepreneur and author in the world of cryptocurrency and blockchain technology. However, he faced a lot of criticism and accusations due to the lack of transparency of his HEX project. In reply to these claims he wrote: 'I feel sorry for so many out there calling HEX a scam. Their scam detector is working fine, seeing language talking about potential returns and their mind just turns off. Sadly for them, they met an exception to the rule. Effective marketing language on top of a genuine project.'
Is HEX Crypto a Good Investment: Controversial High Returns or New Bitcoin?
While HEX seems to have a proper website and a place in the CoinMarketCap rating, the amazing returns the project offers led many to think HEX may be misleading its investors. A promise of high returns in crypto during bearish tendencies should always be carefully researched as the market abides by its laws. However, many back up HEX to be the new Bitcoin.
We'd like to remind you that if you're looking for a HEX coin exchange or simply want to buy HEX crypto right away, you can do it via StealthEX. Our users can purchase cryptocurrencies using fiat and we still offer the opportunity to buy digital assets at fixed rates.

Make sure to follow us on Medium, Twitter, Telegram, YouTube, and Publish0x to get StealthEX.io updates and the latest news about the crypto world. If you need help, drop us a line at [email protected]
Bitcoin
cryptocurrency
HEX
how to buy
how to buy crypto
Recent Articles on Cryptocurrency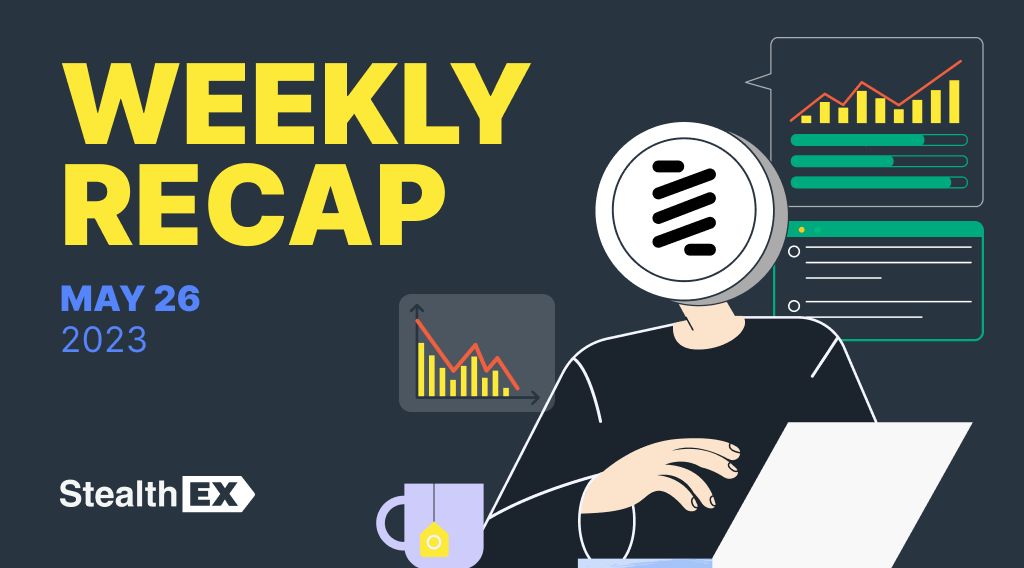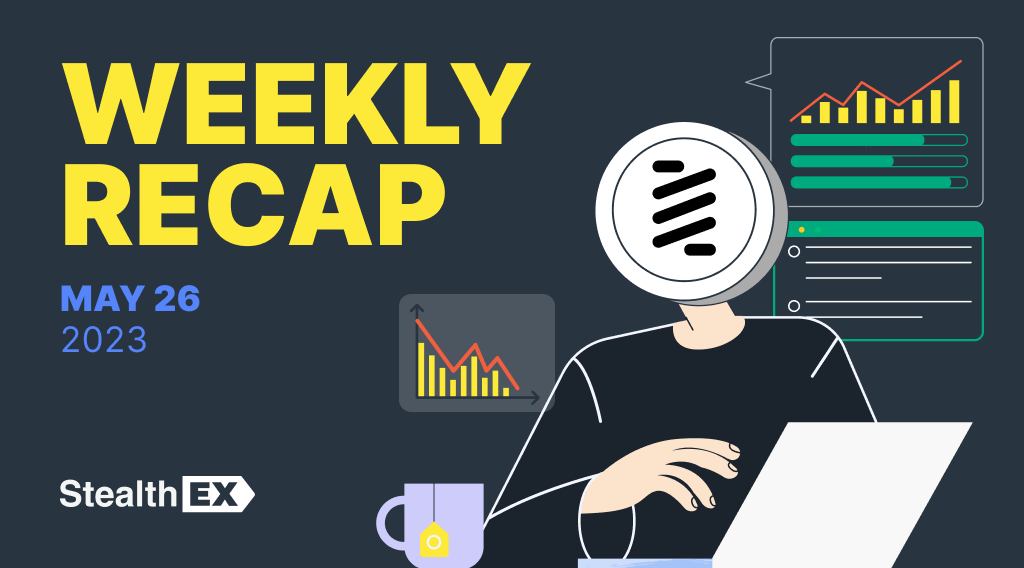 May 26, 2023
Crypto World
Review of the Crypto Market: May 26, 2023
Dive into the crypto market's weekly trends: get the detailed analysis and major news for May 20-26, 2023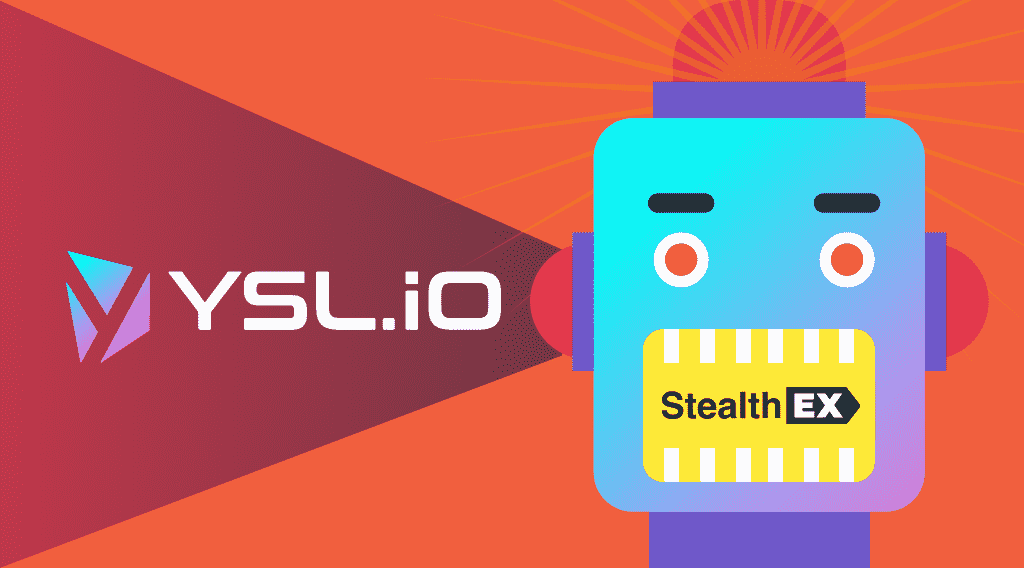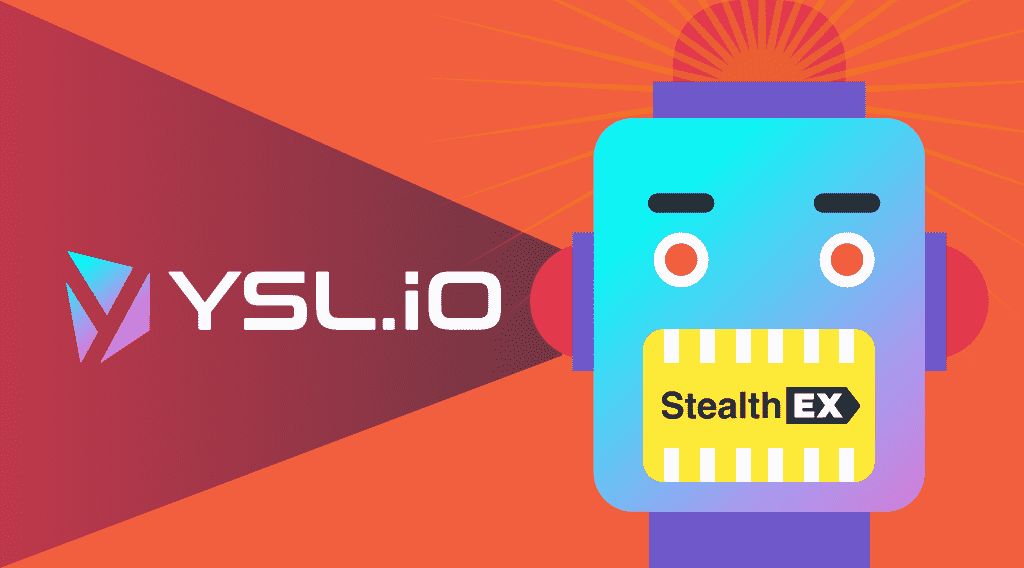 May 25, 2023
Our News
StealthEX Has Been Integrated into ChainZap by YSL.IO
Instant crypto exchange StealthEX partners with DeFi 3.0 protocol YSL.IO for seamless integration into ChainZap