How to Buy Pepe Coin: A Step-by-Step Guide for Beginners
September 19, 2023
How to Buy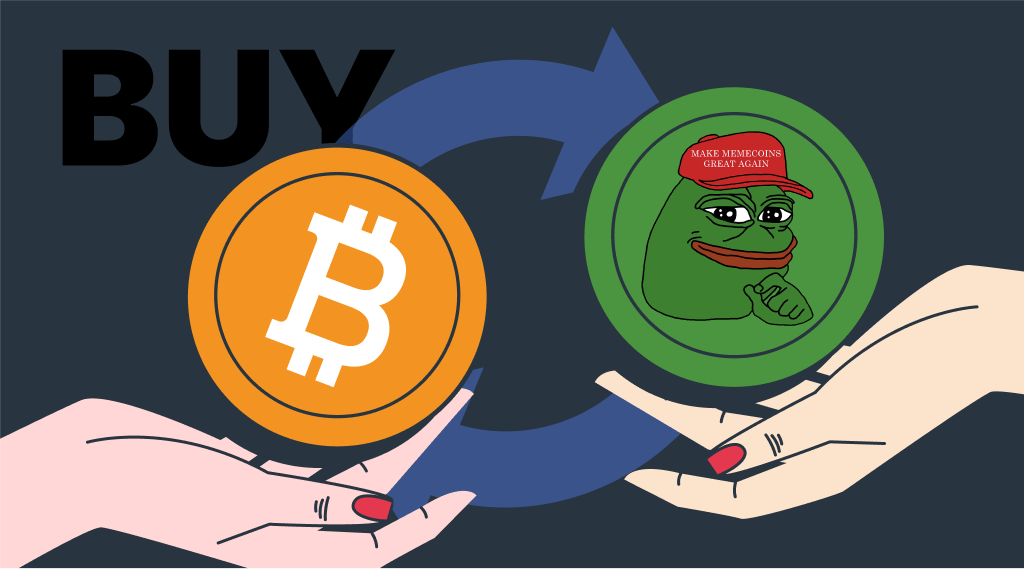 The world of memes has come up with a number of meme crypto projects that became extremely popular, and some of them have gained traction just recently. Pepe launched global adoption in April 2023, piggybacking on the success of the well-known Pepe the Frog Internet meme. Around the middle of May, the token's market cap peaked at about $1.5 billion before collapsing shortly after. Will Pepe coin go up in the future? Let's take a closer look at the Pepe project itself and where you can buy PEPE coin.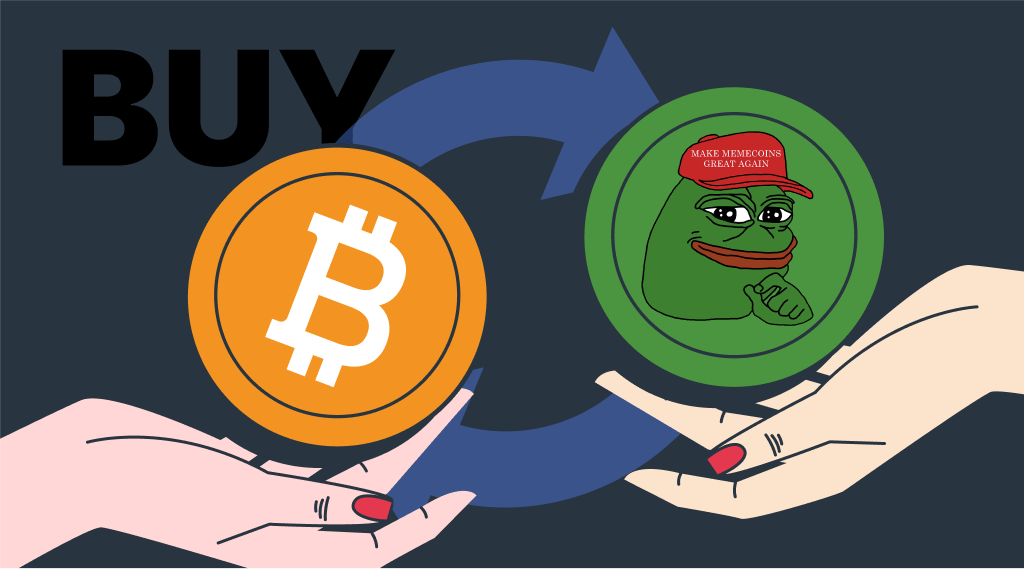 Where to Buy PEPE Coin?
There are many exchanges where one can swap PEPE, and StealthEX is one of the safest options. The platform allows users to convert $PEPE coin with no extra fees and with the best floating and fixed rates.
How to Buy Pepe Coin?
Just follow the guidelines below. Let's imagine you want to swap BTC for PEPE. To make an exchange, you need to take a few simple steps.
1. First, you should choose Bitcoin in the left drop-down list. Then choose $PEPE coin in the list of coins on the right. After setting the pair it is necessary to enter the amount of BTC you want to exchange. Here you will see the estimated amount of Pepe crypto you will receive after the exchange. When everything is set, press the Start Exchange button, and you will be taken to the next page.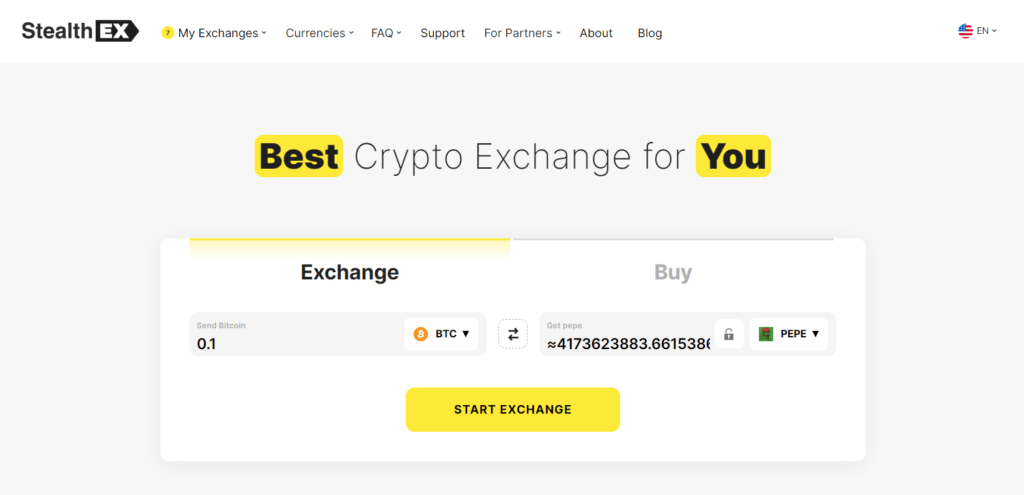 2. Provide the PEPE coin recipient address. The recipient address must match the crypto you are going to receive. Remember to double-check the information you enter prior to the exchange. As soon as you have carefully checked all the details, you can press the Next button and you will be redirected to the Confirmation page. Don't forget to read and check the Terms of Use and Privacy Policy box. When you press the Next button, you will be redirected to the Exchange page.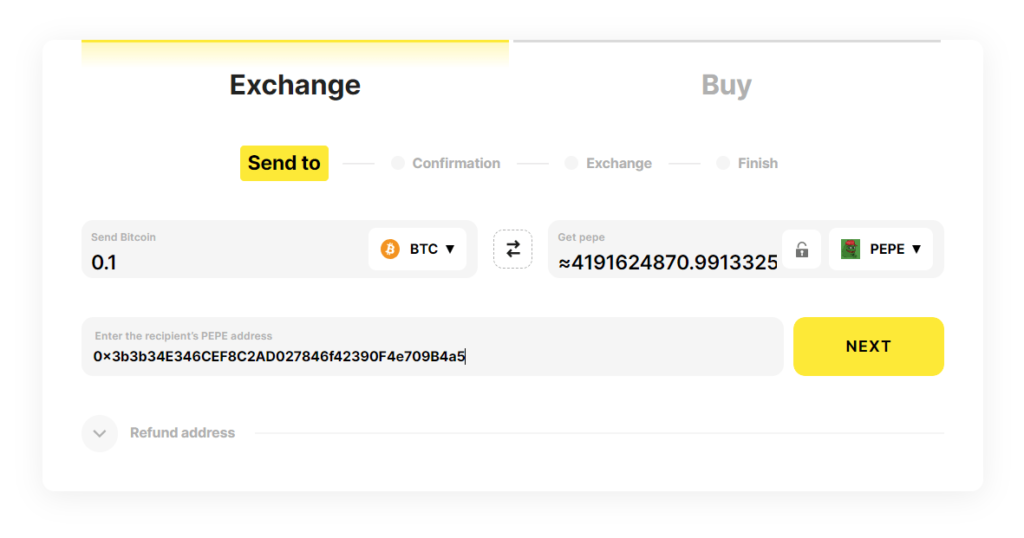 3. All you need to do now is send the deposit in Bitcoin to the address StealthEX has generated for you. After you send coins, your swap will be processed. The exchange statuses on the page will be renewed automatically during the time of the exchange.
3.1 The first status is Awaiting deposit. The following status is Confirming. This means that StealthEX is confirming the transaction you made.
3.2 The next status is Exchanging. During this time the exchange is being made.
3.3. Then the status will be changed to Sending to your wallet. This indicates that there are just a few minutes until you receive your PEPE coin.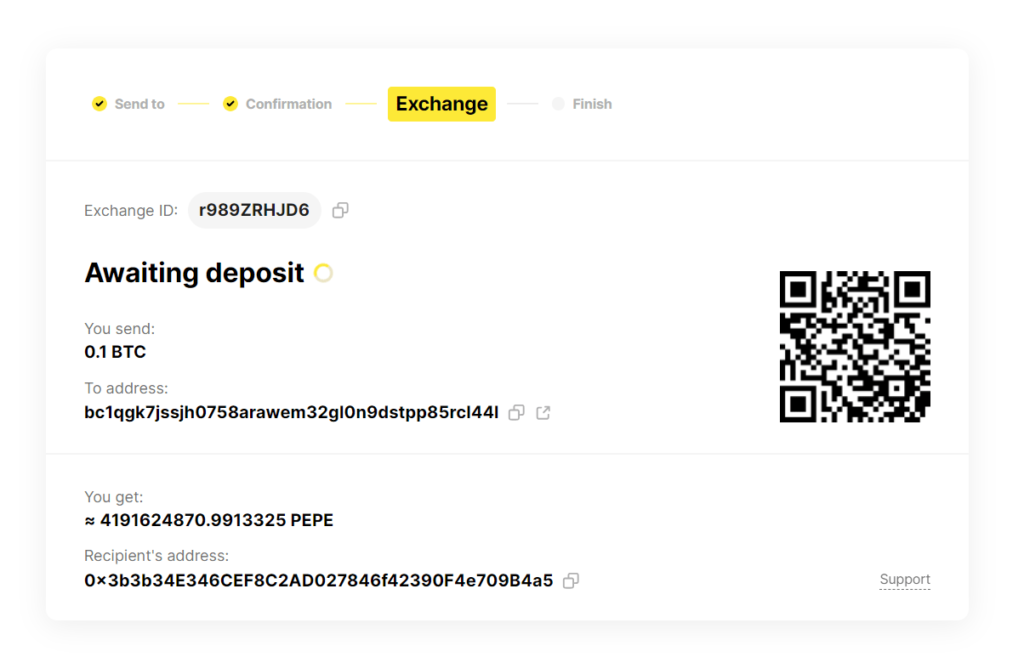 4. Finally, you will be redirected to the Finish page. This shows that the exchange has been successfully made and you will receive crypto to the address provided. To be sure that $PEPE coin was sent to your wallet you can also use the Output hash shown on this page and check it in the blockchain list of transactions.
From here you can either create a new exchange on StealthEX or leave the page and check your Pepe coin wallet to be surprised at how fast you get Pepe coin sent to your address. Usually, the process is quite rapid so you won't need to wait long: a PEPE swap is processed in a matter of minutes.
Now that we've sorted out how you can buy Pepe coin via StealthEX, let's take a closer look at Pepe and its properties.
Pepe: A Popular Meme Coin
Meme coins, or cryptocurrencies based on online memes, have attracted investor interest as well as scoffs due to a perceived lack of seriousness. Typically popularized and promoted by influencers or significant players in the industry, such as Elon Musk. However, there is still a genuine chance for investors to make a killing with meme coins.
PEPE launched in April. The idea behind the meme coin is based on the Pepe the Frog meme, which was first made popular by Matt Furie in 2005 and has previously been linked to, among other things, the alt-right political movement. PEPE, like countless other Pepe the Frog-themed tokens, has no formal affiliation with Furie or the original animated character. There are other characteristics of PEPE that indicate its status as a meme coin, such as the fact that 420 million PEPE tokens are now in circulation, which is a reference to cannabis culture's '4/20.'
PEPE uses its no-tax policy to win over the Bitcoin community. By charging no transaction fees while purchasing or selling the token, PEPE provides a low-cost trading experience. This means that when traders make transactions, they won't be subject to any additional fees that must be paid to the project. Current token holders are given a portion of each transaction, encouraging user engagement and long-term investment. It pays long-term investors. Here are some valuable Pepe features:
Merging memes and blockchain: PEPE coin's strong approach in combining memes and jokes with decentralized blockchain technology is notable. It has become a leader in the meme coin sector, gaining recognition as a valuable token.
Dedicated community: A crypto community is what keeps it alive. The bigger the community, the more likely the long-term success of the crypto. With over 100,000 token holders, the PEPE coin certainly has a huge community. These members are ready to continue the advancement of the token, too, fueling its future value.
Strong meme foundation: Other meme coins are based on popular animal memes, like Doge and Cate. However, the Pepe coin ventures far beyond cute and amusing images. There are Rare Pepe NFTs, Pepe merch lines, and more. The applications for the PEPE crypto can extend far beyond the blockchain.
Pepe Coin News
PEPE gained notoriety in its early days as a result of a high-profile acquisition that enthralled the Twitter cryptocurrency community. A meme coin investor traded a stunning 5.9 trillion PEPE tokens for 0.125 ETH, or around $250. The value of those tokens increased as PEPE coin gained popularity, reaching a high of $1.8 million on April 19, 2023, with a potential return of almost 4,500 times the original investment. Perhaps not unexpectedly, tens of thousands of additional investors were lured in by the promise of a quick profit and hoped to load up on PEPE tokens before the price rose too high.
It's crucial to keep in mind, though, that given PEPE's very small liquidity pool, the investor who purchased those 5.9 trillion tokens might find it challenging to sell them at the present price.
Pepe Crypto Price Prediction
The crypto sector has produced countless 'rags-to-riches' stories based on culture over the years. Among these are meme coins. Only DOGE and SHIB, which consistently outperformed similar models from an investment standpoint during a challenging down market, have been observed before in the business. Perhaps the third notable example of this tendency is the Pepe coin. The Pepe meme was incredibly popular even before the coin was made. A sizable community of crypto enthusiasts is now brought together by the coin. There are a wide variety of very skilled members, including painters, designers, and crypto professionals. They are all committed to the PEPE cryptocurrency. To make sure their cryptocurrency investments genuinely pay off, the PEPE coin Army will assist, counsel, and cooperate.
Additionally, the total supply of PEPE tokens is 420,690,000,000,000. About 93% is in the liquidity pool, which was then burnt. The remaining 7% is held in a multi-sig wallet. Because of the coin's enormous supply, it will satisfy demand and make use simple. Its tokenomics system is very clear and easy to understand. 50 USD will buy you a little over 62 million PEPE coins as of this writing, and this makes for an attractive investment.
When it comes to Pepe coin price prediction, sources like DigitalCoinPrice forecast that the maximum price PEPE can reach in 2032 would be $0.0000133, while sources like PricePrediction give a price prediction of $0.00005022 for 2032. This might make a current investment into PEPE quite valuable.
Can Pepe Reach 1 Cent?
It seems unlikely for PEPE to reach 1 cent. At 1 cent, the market cap of PEPE would have to grow to the current market cap of the entire cryptocurrency combined together or more.
Can Pepe Coin Reach $1?
In order for Pepe to reach $1, it would need to increase enormously. At $1, PEPE's market cap will be trillions. If Pepe coin were to grow at a rate of 25% each year, it would take over 30 years to reach $1.

If you have any questions, check out the comprehensive FAQ that contains the most important information about StealthEX.
Don't forget to follow StealthEX on Medium, Twitter, Telegram, YouTube, and Publish0x to stay updated about the latest news on StealthEX.io and the rest of the crypto world.
Please make sure to do your own research before buying any crypto. The views and opinions expressed in this article are solely those of the author.
crypto meme
exchange cryptocurrency
how to buy crypto
PEPE
Pepe Coin
Recent Articles on Cryptocurrency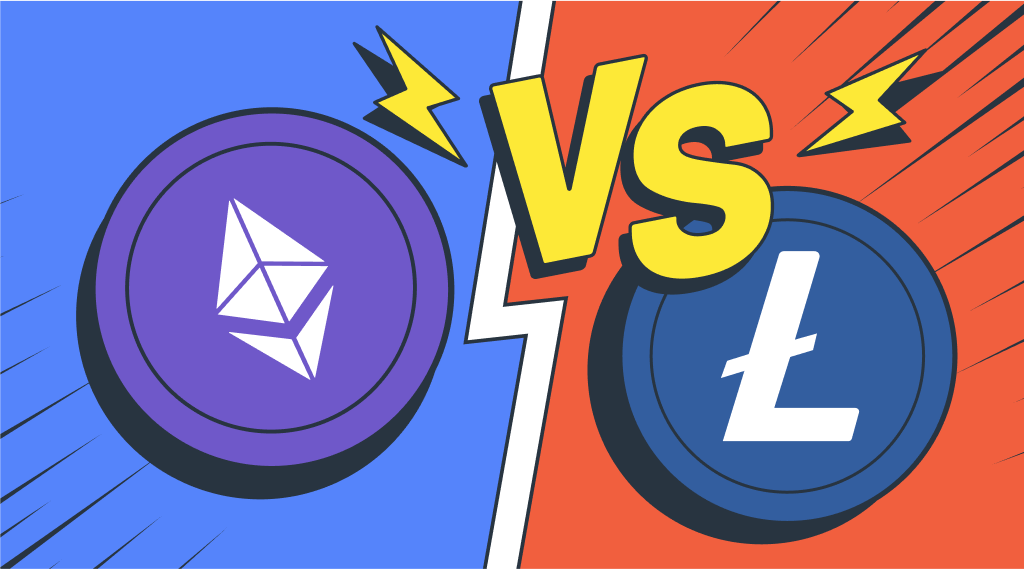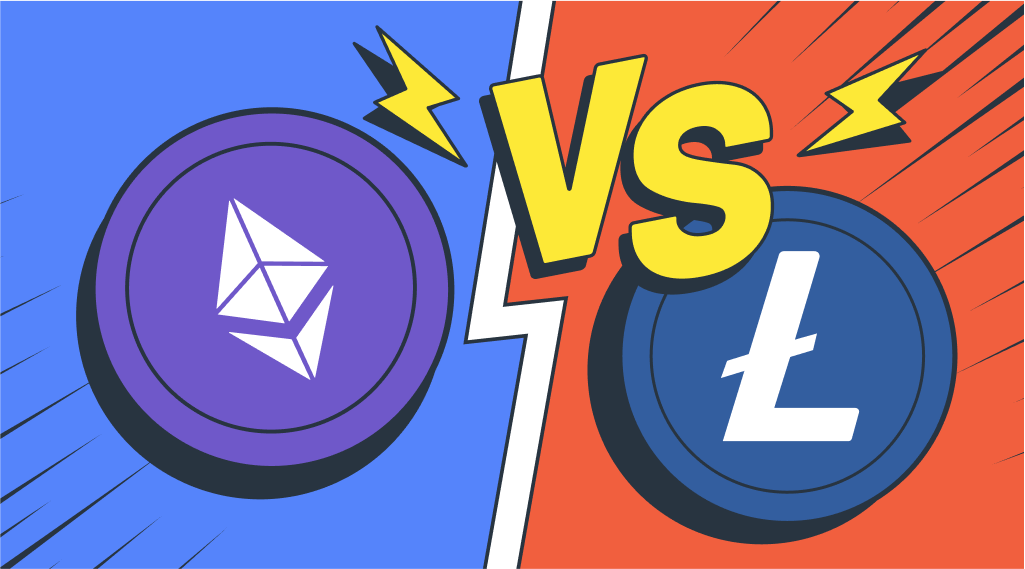 September 25, 2023
Crypto World
Litecoin vs Ethereum: Which Crypto to Choose? LTC & ETH
This article delves into the differences and similarities between LTC and ETH, offering a comprehensive comparison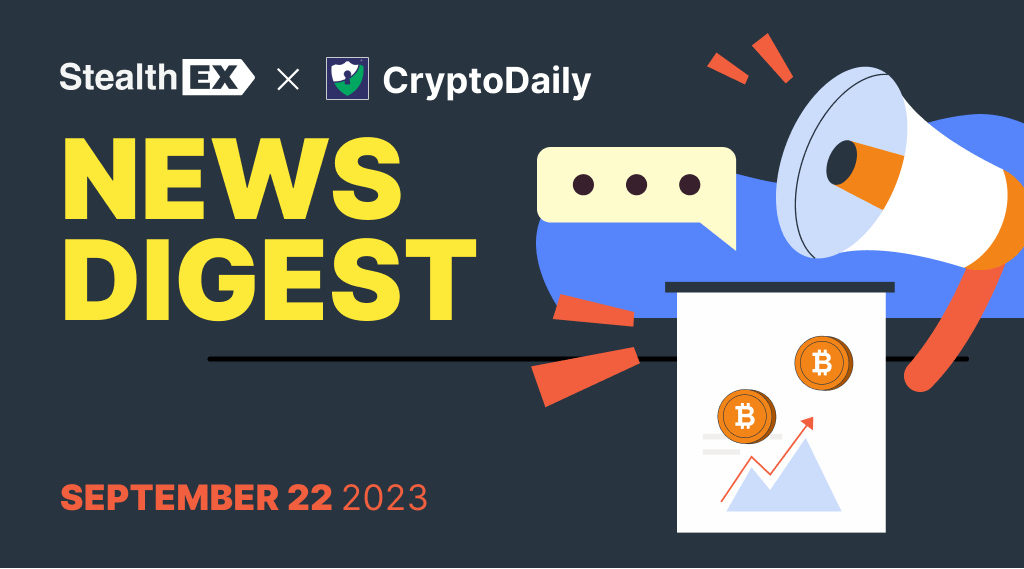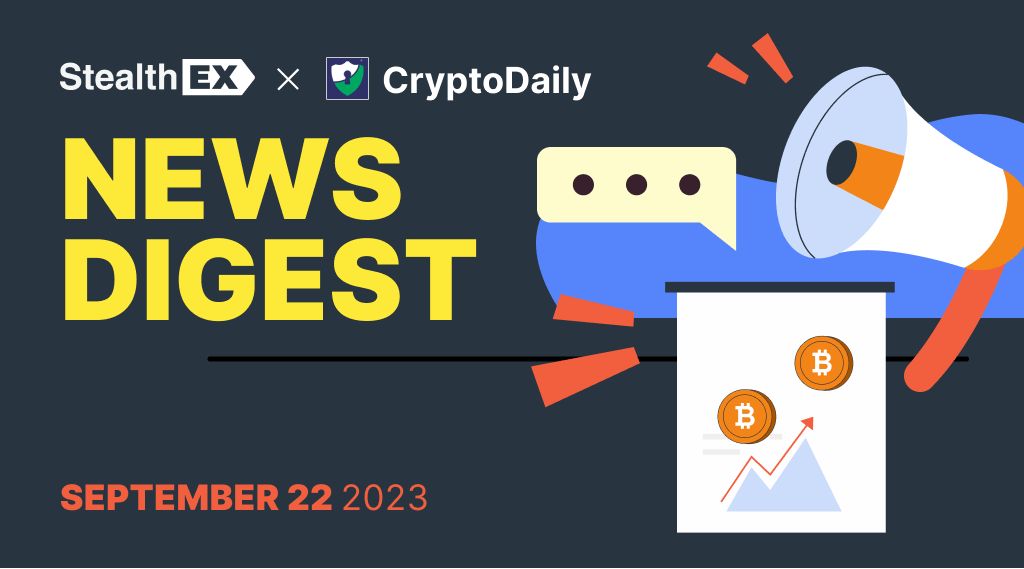 September 22, 2023
Crypto World
USDC on Polkadot, FTX Lawsuit, and SEC Actions: StealthEX x CryptoDaily Digest
In the dynamic sector of crypto, staying informed is crucial. Dive in to get a concise overview of the week's…