Litecoin Halving Is Hours Away: How High Can LTC Price Rise Now?
August 2, 2023
Crypto World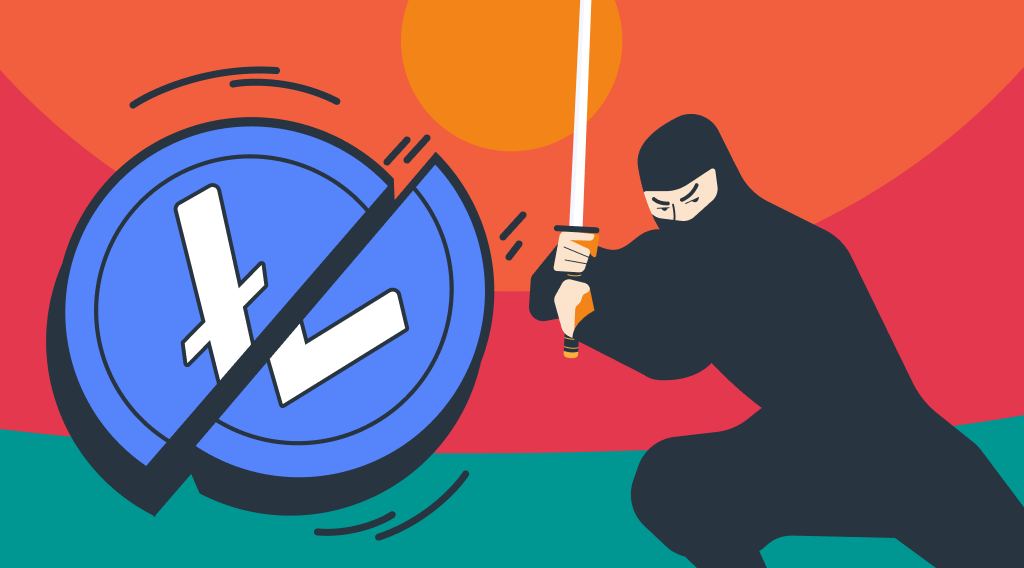 We've all heard of Bitcoin halving. But Bitcoin is not the only 'traditional' cryptocurrency that undergoes this process: the digital currency ecosystem is anticipating one of the most important network events for the coming week, the Litecoin halving 2023 event. Litecoin remains the 11th-largest cryptocurrency by market cap at around $6.6 billion. In this article, we'll try to find out what LTC halving is and how it's going to affect this cryptocurrency's price.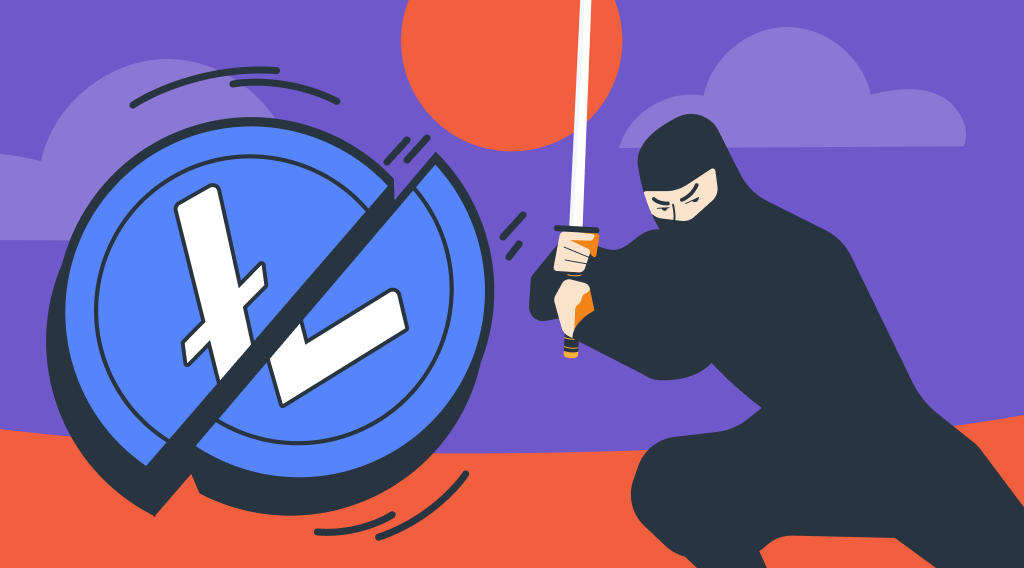 What Is the Litecoin Halving?
For starters, let's find out what halving actually is. When the block reward that miners earn for confirming transactions on the blockchain is cut in half, this is referred to as halving. In essence, this process results in 50% fewer Bitcoin being awarded to miners for each block they create. This method was put in place to limit the cryptocurrency asset's rate of inflation and to foster scarcity, which might eventually raise the asset's value. A smaller number of new currencies being released onto the market as a result of the block reward decreasing since mining new coins becomes more difficult and expensive. In different crypto assets like Bitcoin, Bitcoin Cash, and Bitcoin SV, this is a very important process. Just like Bitcoin, Litecoin undergoes halving. This happens in the case of Litecoin when 840,000 blocks, or roughly four years, have been mined.
When Is the Next Litecoin Halving?
The next Litecoin halving is scheduled for August 2nd. This date can differ, however, depending on a few different factors. In their Twitter account, the Litecoin team mentioned that it's just hours away.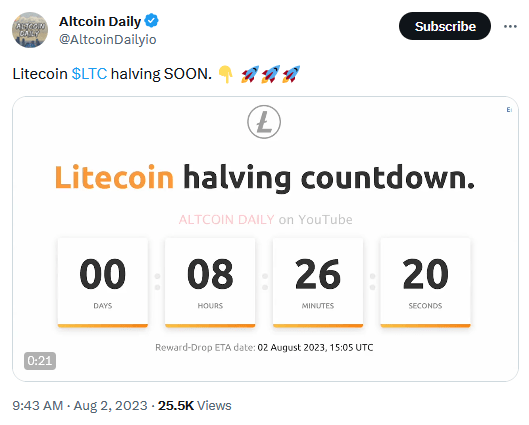 Like other well-known Proof-of-Work (PoW) protocols, the Litecoin halving event happens automatically without the Litecoin Foundation's involvement. The past halving event's success has significantly increased the likelihood that the upcoming one will be just as successful.
When Was the Last Litecoin Halving?
| | | | |
| --- | --- | --- | --- |
| LTC Halving | Block Height | Block Reward | Date |
| Litecoin Halving 2023 | 2,520,000 | 6.25 LTC | August 2, 2023 |
| Litecoin Halving 2019 | 1,680,000 | 12.5 LTC | August 5, 2019 |
| Litecoin Halving 2015 | 840,000 | 25 LTC | August 25, 2015 |
| Litecoin Halving 2011 | 0 (Genesis Block) | 50 LTC | October 7, 2011 |
Historically, Litecoin has undergone two halvings so far. Its genesis block was mined back on October 7, 2011, when the reward was 50 LTC. About 4 years later, at a block height of 840,000, Litecoin underwent its first halving, and the reward was cut down to 25. The second halving happened at the block height of 1,680,000 when the reward was further halved to 12.5 LTC. Now the upcoming halving event in Litecoin is expected to happen approximately on August 2, 2023 – at a block height of 2,520,000, and the reward would be halved to 6.25 LTC.
---
Choose StealthEX for Exchange and Buy Crypto
Earn from Each Exchange by Joining StealthEX Affiliate Program.
Become a partner right now and use affiliate tools:
---
Previous Litecoin Halving Dates: Analytics
Since its inception back in 2011, the Litecoin blockchain has already witnessed two halvings. The significance and goal of the Litecoin price halving are due to its significant impact on the price and, consequently, the market capitalization of Litecoin. In these kinds of blockchain networks, the goal of the halving event is to regulate the rate of Litecoin inflation and attempt to reduce the token supply's availability, increasing its value over time. The decreased mining payouts encourage miners to keep supporting the network while restricting the amount of fresh Litecoins that are released into circulation.
Predicting how this Litecoin halving event is going to affect the price of Litecoin is difficult. However, we can take a look at how LTC prices have reacted in the past during the previous two halving events. This would give us a fair idea of how the reaction might be this time around.
Let's take a look at Litecoin's response in price to the previous halving events.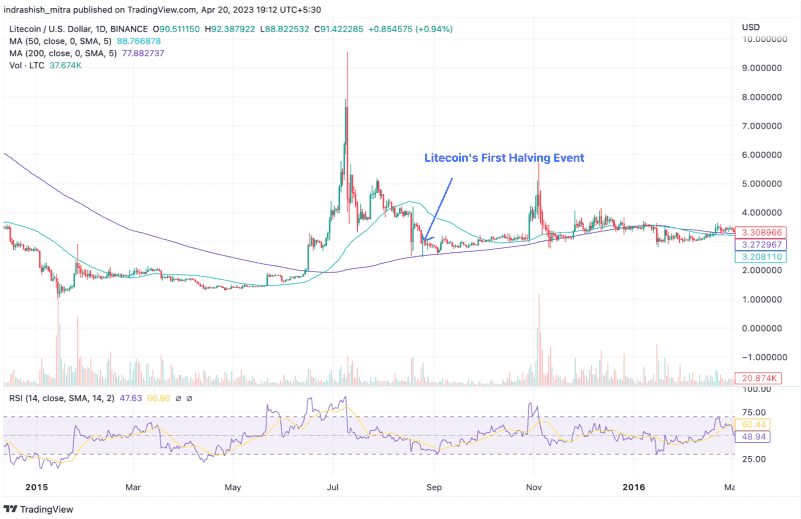 Litecoin First Halving Event. Source: TradingView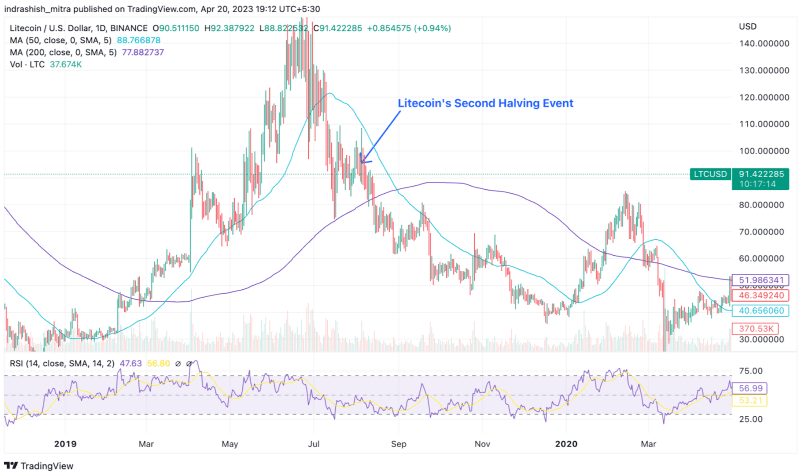 Litecoin Second Halving Event. Source: TradingView
Overall, the figures demonstrate that prices have generally reacted slowly to events, especially when they occur for the first time. The second time, we also saw a sizable decline that started prior to the halving event and persisted even after it. All in all, it can be seen from historical data that LTC sees a strong rally prior to the halving before the price drops sharply immediately. It is therefore quite challenging to predict what will happen next.
What to Expect from the Litecoin Halving 2023
Regarding its potential impact on the price of the asset, the approaching halving event for Litecoin has generated a lot of speculation and discussion within the cryptocurrency community. The value of Litecoin is expected to increase when it has been halved. Nonetheless, there is disagreement about whether or not this has already been included into the present price.
According to those who anticipate a positive price impact, the block reward reduction will result in a drop in the quantity of freshly created Litecoin, which as previously mentioned could lead to a supply-demand imbalance that increases the asset's value. This expectation could be supported by historical data from past halvings in different cryptocurrencies.
On the other side, skeptics contend that market participants have already taken into account the halving event when determining prices and their pricing techniques. According to this perspective, the consequences of the halving may have already been 'priced in,' which means that any prospective price impact has already been accounted for in the present market value. Unlike Bitcoin, the price for LTC wasn't affected by the Litecoin halving in the past. In the case of LTC, it is more likely that the halving will have very little impact on the pricing, and the halving event may not always be a key factor in price change.
Amidst the broad optimistic projection ahead of the halving, some analysts are already advocating caution with a thesis that the event might trigger a selloff for Litecoin. The coming week will hold a lot of significance into how high the price of LTC coin can grow post-halving and LTC is bound to be on many investors' watchlists. As per Twitter, on-chain activity has surged ahead of the halving event. On-chain data from Santiment reveals that mid-sized Litecoin whales – addresses holding 100 to 10,000 LTC – have purchased 205,400 LTC since June 14. The firm attributed this cohort's 'aggressive accumulation' to the halving event.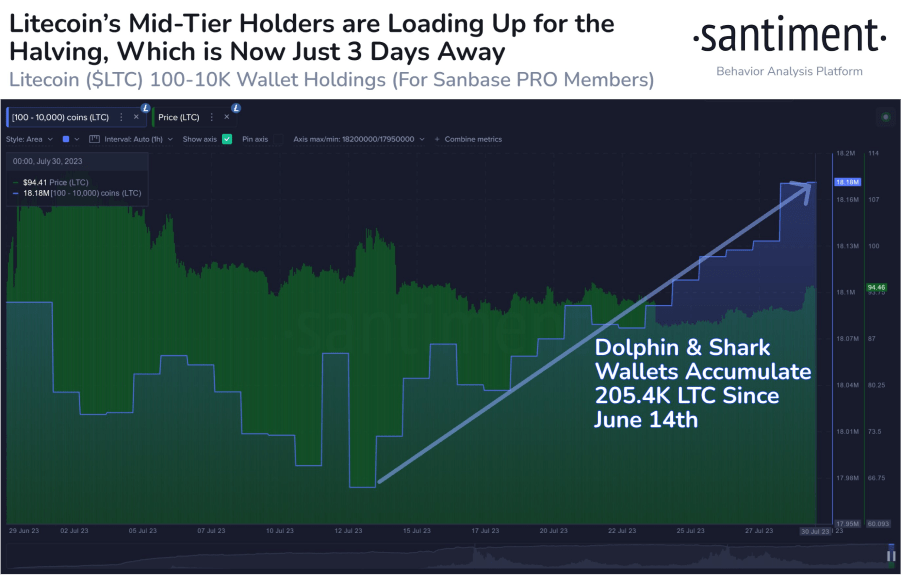 Source: Santiment
Litecoin After Halving – Will LTC Halving Increase Price?
Looking at the historical charts, it becomes apparent that Litecoin's price response to the halving events has been mixed and not necessarily straightforward. Market circumstances and cryptocurrency values can be extremely unpredictable, and the performance of Litecoin in the future is dependent on a number of variables and unknowns.
Bitcoin's halvings have undeniably had a profound impact on the market, with historical evidence showcasing significant disruptions. Numerous cryptocurrencies rose to high heights in the years that followed Bitcoin halvings in 2016 and 2020, which set off amazing rallies. The situation with Litecoin, however, has been different because on-chain data shows that its prior halving events failed to generate similar outcomes. Litecoin and Bitcoin are comparable in that both have halving mechanisms, although the market reaction to Litecoin has been rather subdued. Blockchain insights into transactions and activity show that Litecoin's halving events did not result in major price increases or disruptions.
Follow us on Medium, Twitter, Telegram, YouTube, and Publish0x to stay updated about the latest news on StealthEX.io and the rest of the crypto world.
Don't forget to do your own research before buying any crypto. The views and opinions expressed in this article are solely those of the author.
crypto news
crypto world
halving
Litecoin
LTC
Recent Articles on Cryptocurrency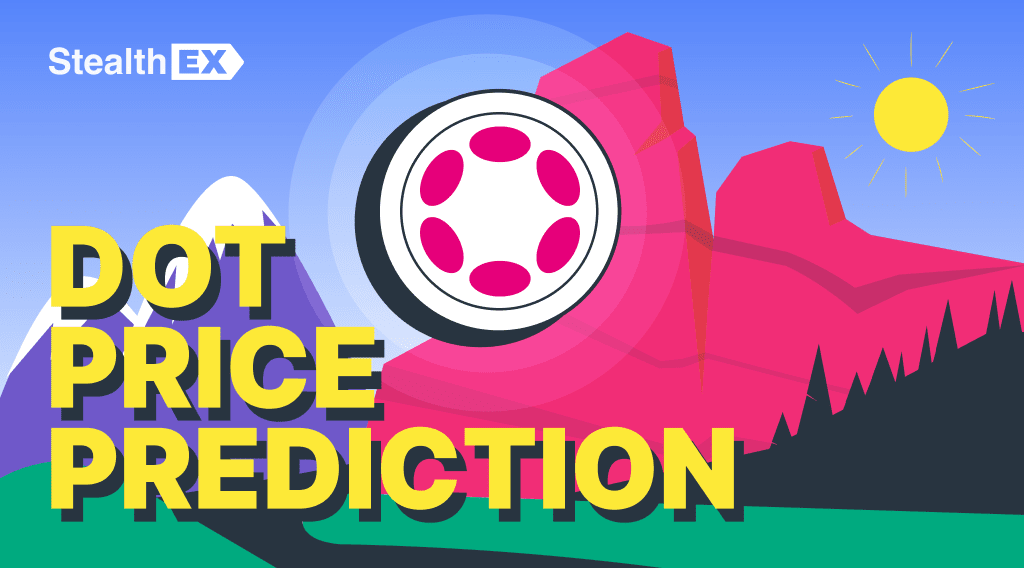 November 29, 2023
Price Prediction
Polkadot (DOT) Price Prediction: Will DOT Coin Reach $1000?
According to the long-term Polkadot price prediction by the end of 2030, the DOT price may rise to $195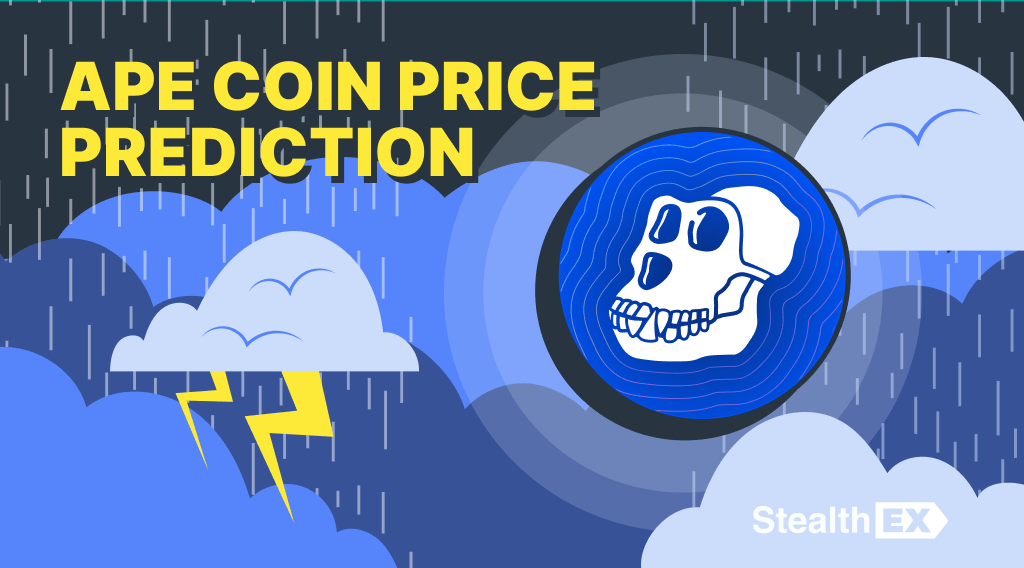 November 29, 2023
Price Prediction
ApeCoin Price Prediction: Is APE Coin a Good Investment?
According to the long-term ApeCoin price prediction by the end of 2030, the APE price may rise to $250