What Is the Best Instant Crypto Exchange for You?
March 9, 2023
Our News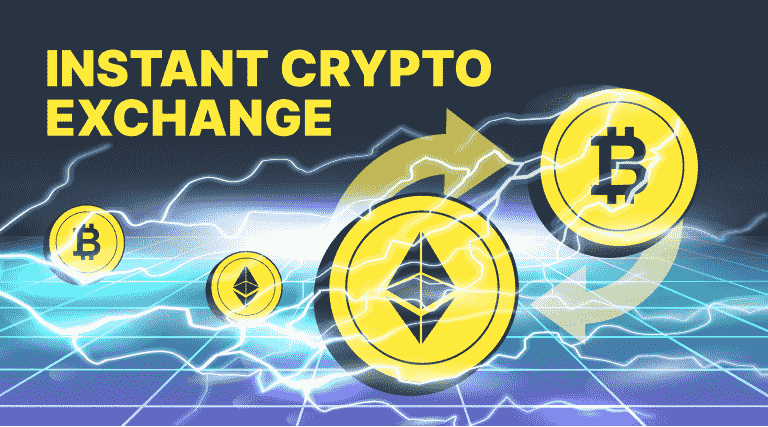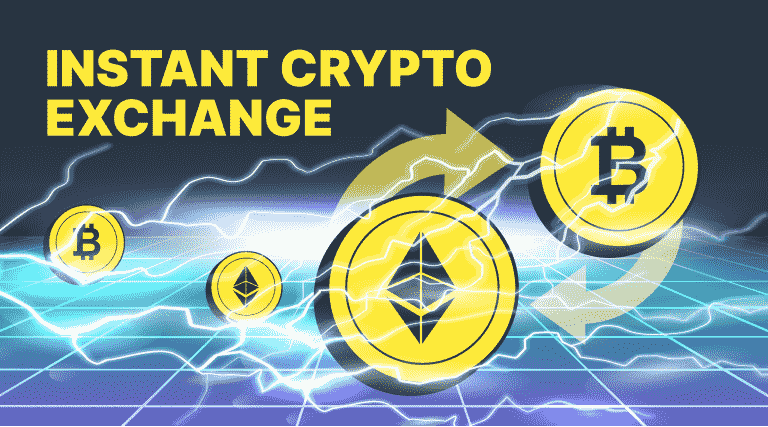 For many people starting out in crypto the choice of crypto platforms may seem endless and confusing. Every crypto hub has its own features, policies, its own collection of crypto assets, its own liquidity pool, and requirements for trading/exchange. There are a number of major and well-known custodial traditional exchanges like Binance, Coinbase, Huobi, and more, and there are lesser known private non-custodial solutions. But what's the difference between these exchange platforms and what benefits does instant crypto exchange offer? Let's find out more about the world of crypto swappers.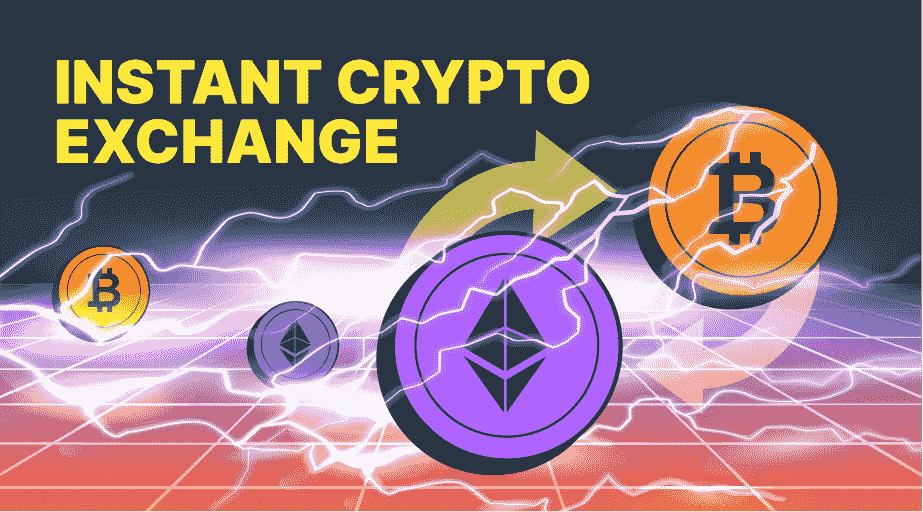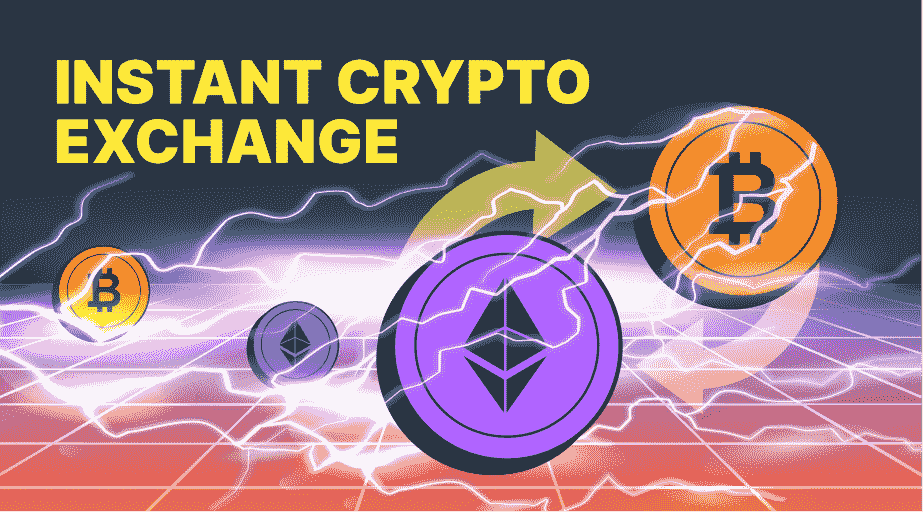 Custodial vs. Instant Crypto Exchange
Custodial Crypto Exchanges
Pros: Custodial exchanges are online platforms that allow users to buy and sell cryptocurrencies, such as Bitcoin, Ethereum, Cardano, Monero, Solana, etc. These exchanges act as custodians, holding the assets and private keys on behalf of the user and facilitating the buying and selling process.
One of the main advantages of custodial exchanges is that they offer simplicity for beginners to get started with crypto trading. Custodial exchanges have a range of features and provide you with a number of tools, such as charting tools, real-time market data, and the ability to set stop-loss orders, which can be helpful for more experienced traders. These platforms can be seen as huge hubs where crypto enthusiasts flock to sell/buy and exchange crypto.
Cons: However, there are also some drawbacks to using custodial exchanges. One of the main risks is the potential for hacks or security breaches where users will have their funds stolen. The last year is notoriously known for the number of crypto hacks which led to the loss of millions of dollars. In addition, custodial crypto exchanges also typically charge fees for their services, which can impact the profitability of trades.
Additionally, KYC/AML procedures make the process of signing up with a major exchange inconvenient. Sharing your data may not be safe and the verification process can take days or even weeks, making it difficult for a newbie to get started in crypto. Moreover, custodial crypto exchanges are not always instant, and it'll take time before you make the exchange.
Instant Crypto Exchanges
Instant or non-custodial crypto exchanges and traditional exchanges are different and have essentially been created for different use cases. Non-custodial exchanges (referred to as DEXs, Decentralized Exchanges) are online platforms that allow users to buy and sell cryptocurrencies without holding their assets or private keys. Instead, non-custodial exchanges facilitate peer-to-peer trades, meaning that users can trade directly with each other without the need for a third party to hold their assets.
Instant crypto exchanges, such as StealthEX, do not require storing funds on the platform – they do instant crypto swaps between crypto wallets. One of the main benefits of non-custodial crypto exchanges is that they offer more control to users over their assets. This can be particularly appealing to users who are concerned with security and privacy. Another advantage of non-custodial exchanges is that they often have lower fees compared to custodial exchanges. This can make them more profitable for traders who are looking to minimize their costs.
Developing an understanding of instant crypto exchanges will help you determine which solution best fits your needs. Below are the reasons why an instant crypto exchange like StealthEX may be a convenient tool to use in your everyday life as it offers you a great opportunity to buy BTC instantly with a debit card.
Exchange Crypto Instantly with StealthEX
In a nutshell, StealthEX is an instant cryptocurrency exchange for limitless swaps. It is a non-custodial crypto swap platform that never holds your funds. The service offers its customers a wide range of assets that is regularly updated for you to buy crypto instantly with debit/credit cards or exchange one crypto for another.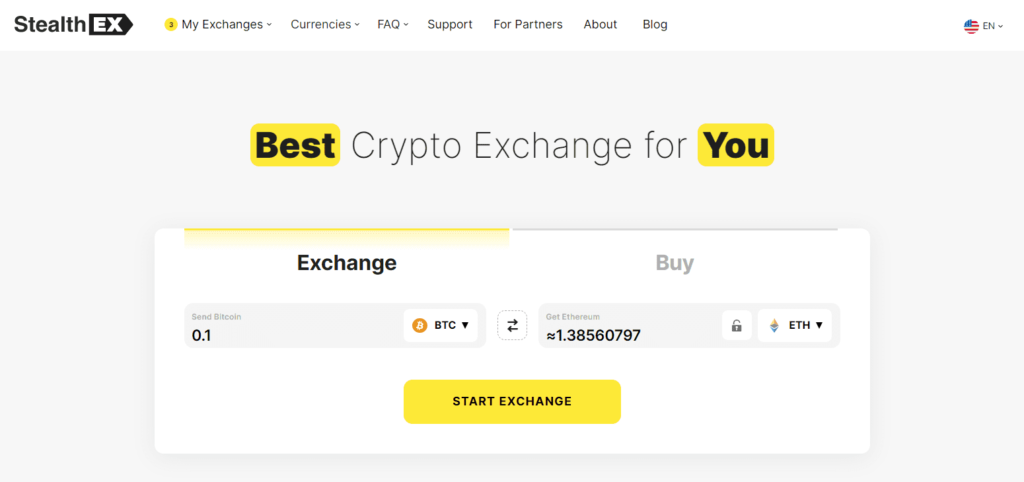 At the moment, the vast crypto collection includes over 700 popular and rare cryptocurrencies, and the list grows every month. Here are the main features of this instant crypto exchange:
Users can choose between floating or fixed rate swaps. Nearly every crypto enthusiast has found themselves in a situation when an exact amount of coins is needed. However, considering the ups and downs of the market, it can be hard to calculate this amount. StealthEX offers fixed rate exchange to avoid confusion.
Competitive rates are available, all collected from a variety of renown providers. StealthEX has partnered with Binance, Huobi, KuCoin, and HitBTC to find the ultimate best rate for its customers.
The service is transparent and requires no sign-up while maintaining your privacy. Crypto swaps are easily processed without the need for the user to register with StealthEX.
Cross-chain swaps. With StealthEX, it's easy to initiate a swap between absolutely different blockchains without the need to go through numerous steps that most swaps require. Basically, StealthEX allows its users to swap different crypto between two chains directly. It's one of the best features of the platform as it makes any swap effortless and trouble-free.
Additional StealthEX Features
No KYC Swaps
StealthEX tries to simplify the process of buying crypto and making it as smooth and quick as possible. To do that, the platform introduced no KYC swaps. KYC (Know Your Customer) is a procedure that aims to protect both customers and trading platforms. Most crypto exchanges require you to sign up with them, take your selfie, send in your ID, and provide your credit/debit card details to buy or sell crypto coins. Regulations become tighter, and large crypto platforms have a number of Anti Money Laundering (AML) policies in place.
However, StealthEX does its best to make life easier for its customers and maintain their privacy. Thanks to an agreement with their trusted partner Mercuryo, a London-based cryptocurrency payments company that facilitates their fiat swaps, you can now purchase an amount of crypto without KYC if it's less than €700 or the equivalent of this amount in other currencies. Buying crypto has become so much easier.
Low Fees at StealthEX
When it comes to fees, StealthEX calculates a fixed fee for each transaction and does not use a spread. The final fee is determined by various factors, including the cryptocurrency being exchanged, network fees, and others. For every exchange, you have to pay the network transaction fee – this payment is needed to push the transaction into the blockchain. Besides, there might be trading fees on the liquidity provider's side. However, StealthEX is fully transparent regarding fees, so all the possible fees will be included in the transaction estimate and presented to the customer before they make an instant crypto swap.
At the moment, the service also offers its users an opportunity to buy crypto with fiat money. You can use the following currencies – USD, EUR, GBP, TL, KES, ZAR, GHS, TZS, MXN, VND, and BRL – to buy Bitcoin instantly.
Public API Integration and Exchange Widget
The platform offers an exceptionally convenient Affiliate Program that can be used by bloggers, product owners, and webmasters alike. One of the most effective ways of joining the program is to use its smooth Public API. API (Application Programming Interface) is an interface that allows developers to use ready-made blocks to build an application. In essence, it is ready-made code to make life easier for the programmer. By using StealthEX's API, product owners can conveniently add the platform's crypto exchanger to their website or even create their own exchanger based on the provided API. Here are additional benefits that StealthEX's API integration offers:
Customizable fees and a flexible fee structure.
Fixed and floating rate options for crypto swaps.
Bridgeless cross-chain swaps.
24/7 customer support.
Huge asset collection.
The public crypto API is open for everyone and can be easily built into your existing product.
API integration is an essential tool for crypto wallets and aggregators. StealthEX's inbuilt features will help StealthEX partners earn money by turning their services into a multi-functional tool.

In 2022, StealthEX launched a convenient widget that's easily customizable and lets partners do quick withdrawals via their accounts. Additionally, it can be integrated into any platform within only a
couple of minutes. Additionally, StealthEX's innovative widget can be adapted according to the partner's likes and tastes. It can be embedded into a website, and it'll charge 0.4% off each transaction it generates. The platform's widget will prove beneficial for influencers, website owners, coin foundations, and review platforms.
User-Friendly Mobile App by StealthEX
To make crypto swaps even easier, StealthEX released a new user-friendly mobile app that lets its users initiate crypto exchanges while on the go. The app is available in Google Play Store along with other apps for Android, it can also be downloaded as an APK file, and will soon be available in App Store.
From now on, users will be able to effortlessly exchange cryptocurrencies or buy a number of digital assets with their credit/debit cards, including exchange history, a crypto watchlist, crypto rates, competitive rates, floating or fixed rate swaps for more flexibility, and provides its users with full transparency.
Conclusion
While there are a number of accessible and easy-to-use instant crypto swappers on the market, StealthEX encompasses the best non-custodial platforms have to offer: it's user-friendly, instant, limitless, and offers efficient 24/7 customer support. If you're wary of large crypto platforms, you can try and do a test transaction to see whether StealthEX will work for you.

Make sure to follow us on Medium, Twitter, Telegram, YouTube, and Publish0x to get StealthEX updates and the latest news about the crypto world. If you need help, drop us a line at support@stealthex.io.
Please make sure to always research any cryptocurrency and assess your risks before you invest.
instant
NO KYC
non custodial exchange
non-custodial
StealthEX exchange
Recent Articles on Cryptocurrency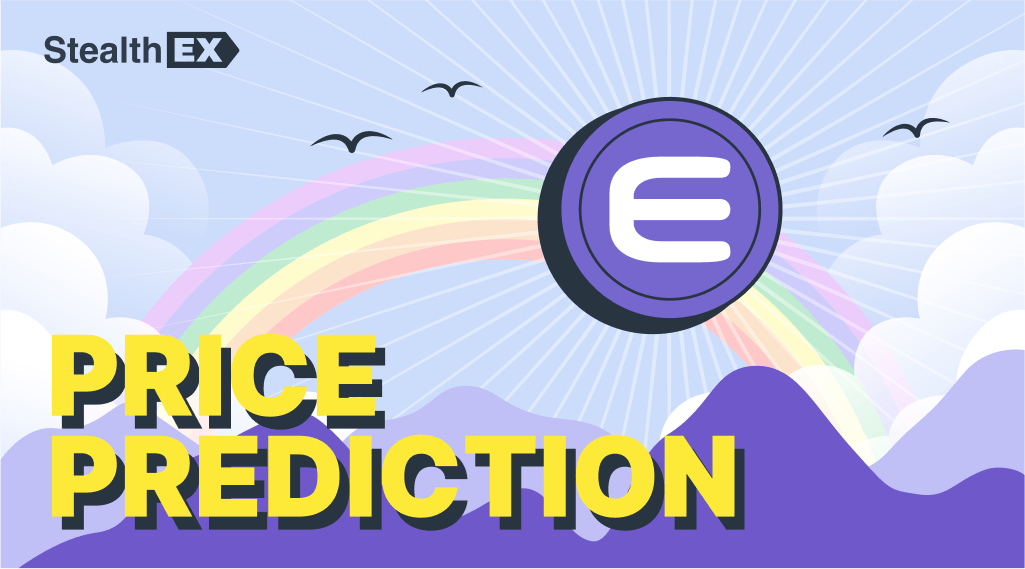 September 27, 2023
Price Prediction
Enjin Coin Price Prediction: How High Will $ENJ Crypto Go?
Based on expert Enjin Coin price prediction, the maximum price of ENJ crypto is predicted to be $75 by 2030.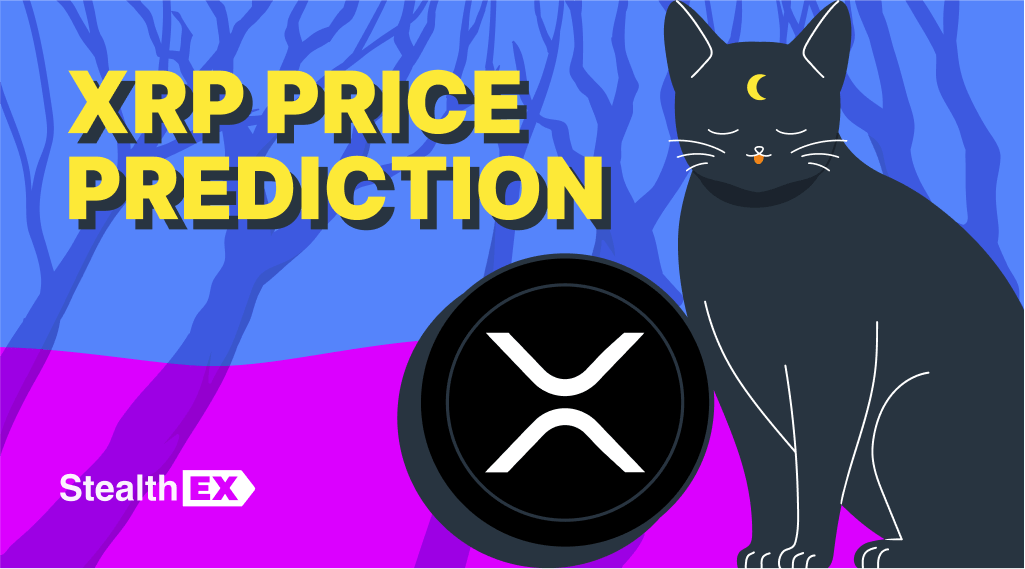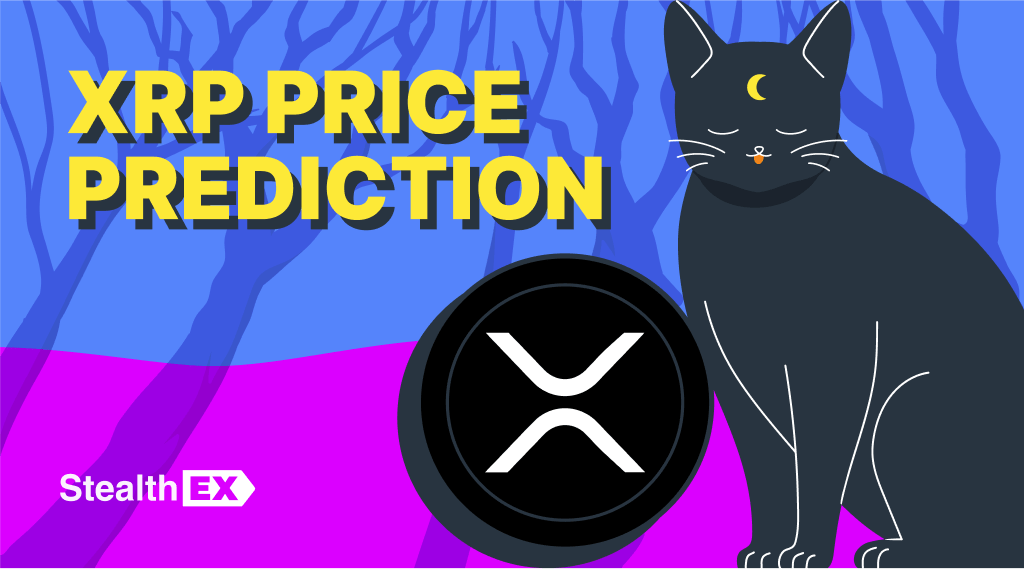 September 26, 2023
Price Prediction
Ripple XRP Price Prediction: How High Can XRP Go?
Based on expert XRP price prediction, the maximum price of XRP coin is predicted to be $12 by 2030.