Review of the Crypto Market: May 19, 2023
May 19, 2023
Crypto World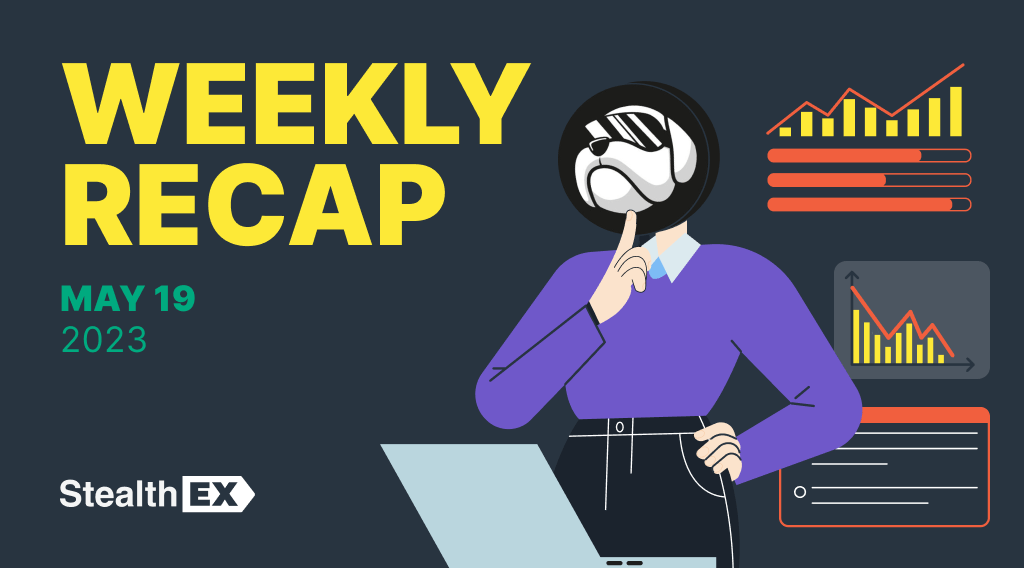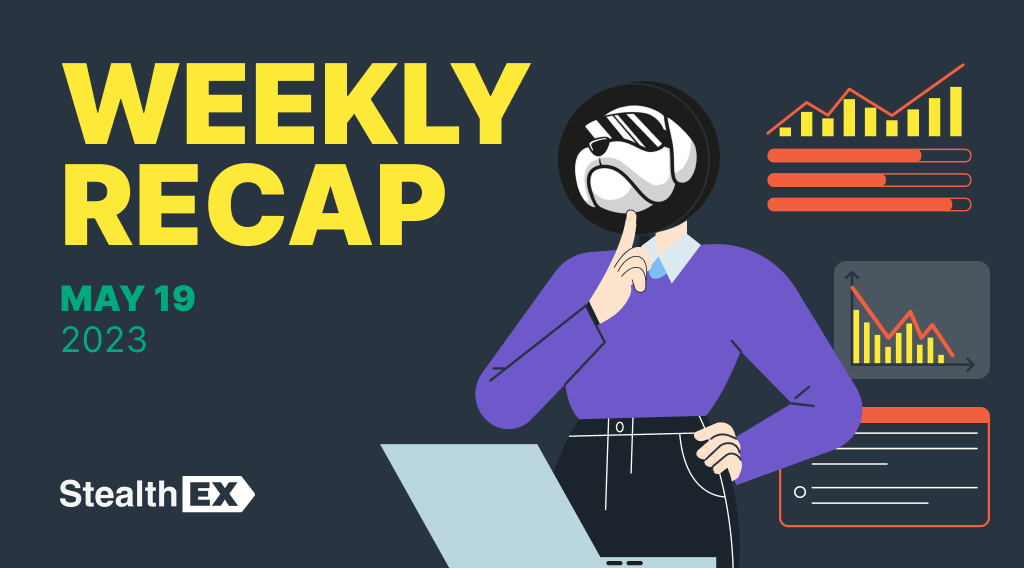 Last week, massive red candles appeared on the charts of BTC and ETH. Unfortunately, the crypto market has not recovered these losses in the previous seven days. However, it has behaved in a relatively stable manner. The prices of the largest cryptocurrencies are almost at the same level as the week before. We invite you to our next week's recap, in which we will once again look at the situation of BTC and ETH and analyze the most important news of the past week!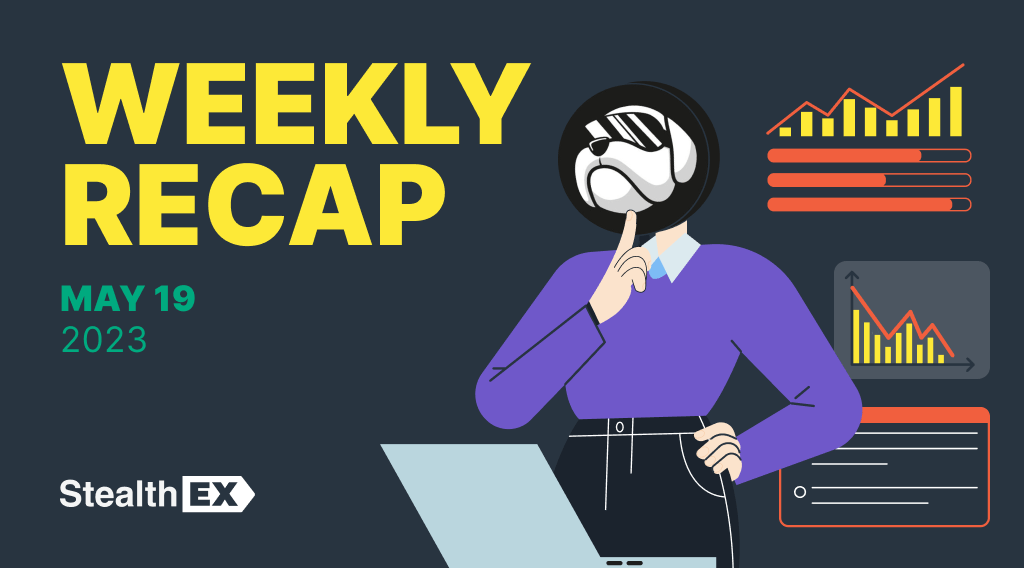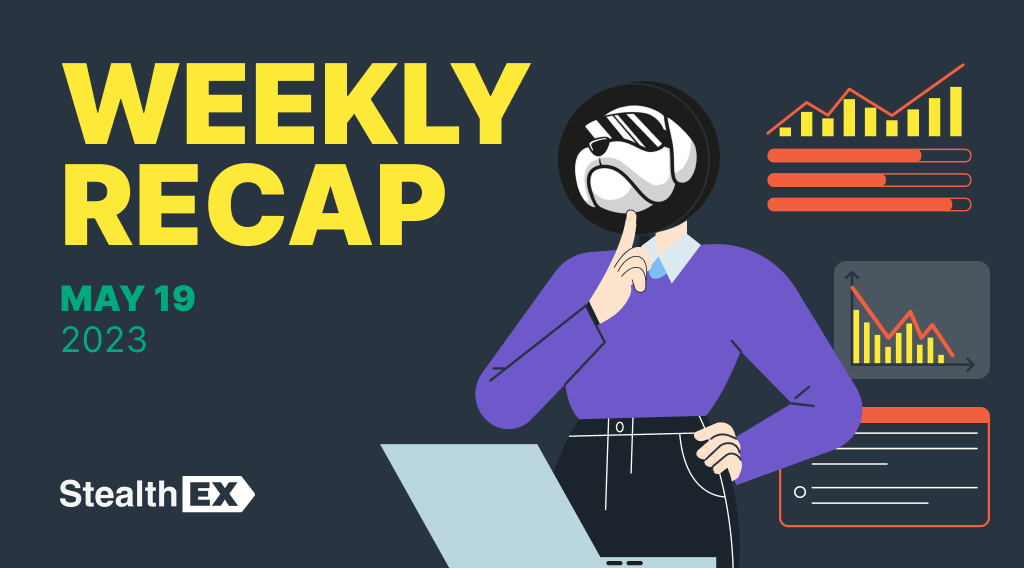 What Happened to Crypto This Week?
Before we move on to crypto news, let's analyze the price charts of the king of cryptocurrencies and the king of smart contracts – BTC and ETH.
Bitcoin Price in USD This Week
Bitcoin started the week at around $27,000 and ended it that way. Although there were minor ups and downs, the price remained fairly stable. The 7d high of BTC formed at nearly $27,700, and the 7d low at the current bitcoin price – around $26,800. So, what is the exact price of Bitcoin today? As of today, BTC costs exactly $26,857.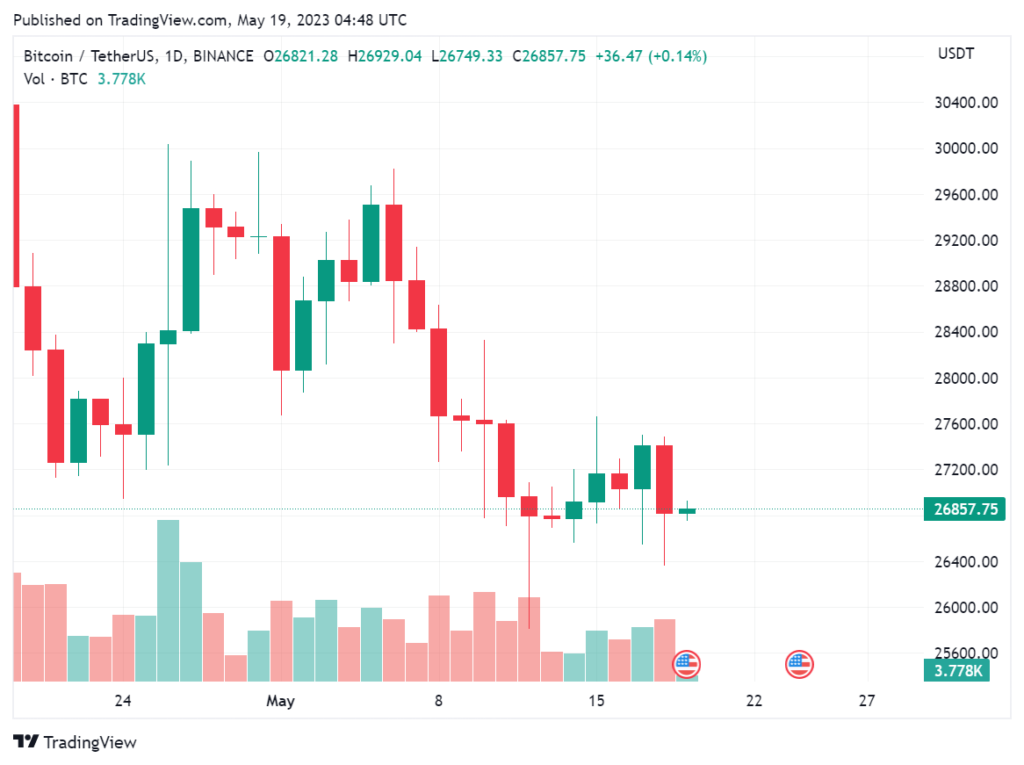 The dominance of the primary cryptocurrency saw a gentle decline from 44.9% to 44.5%. As for investor sentiment, it is still neutral, but the Fear and Greed Index fell by 1 point – from 49 to 48.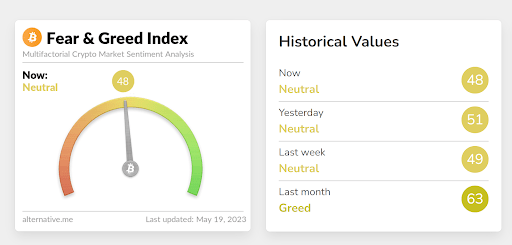 Ethereum Price in USD This Week
The chart of Ethereum looks very similar to that of Bitcoin. The price also oscillated in a narrow range. The 7d high of ETH was just above $1800, and the 7d low was just below. At the time of this writing, ETH's price is exactly $1802.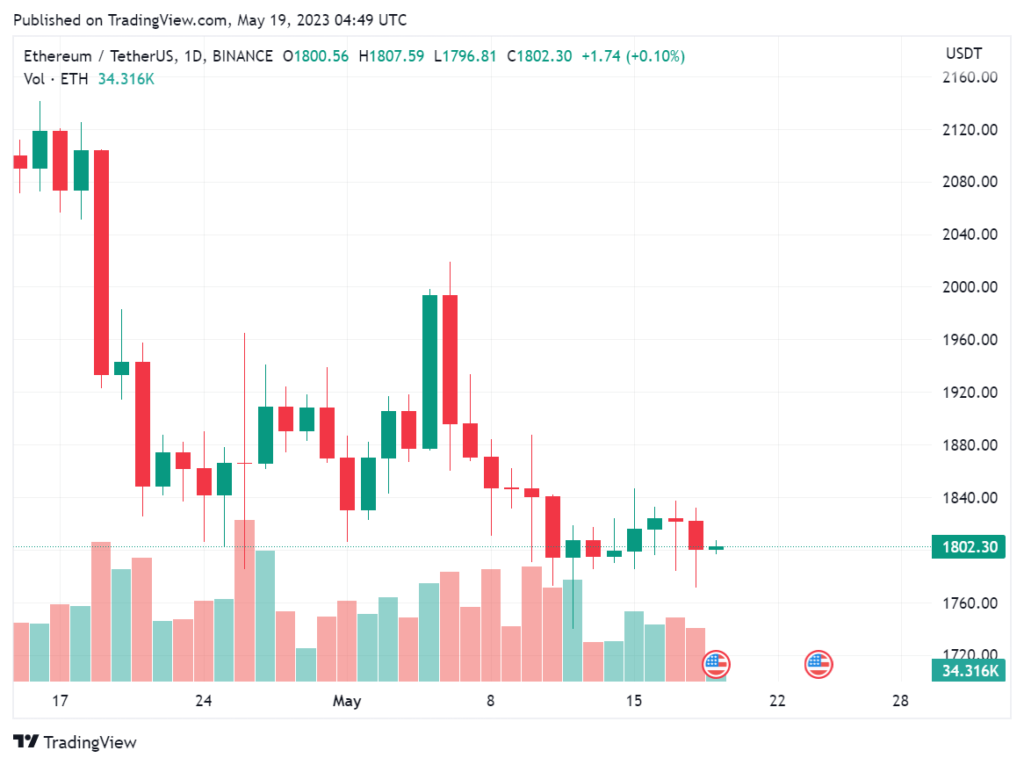 Ethereum's dominance is exactly where it was a week earlier, at 18.5% of the market. Investor sentiment, however, unlike Bitcoin, has increased significantly. There is greed in the ETH market at the moment.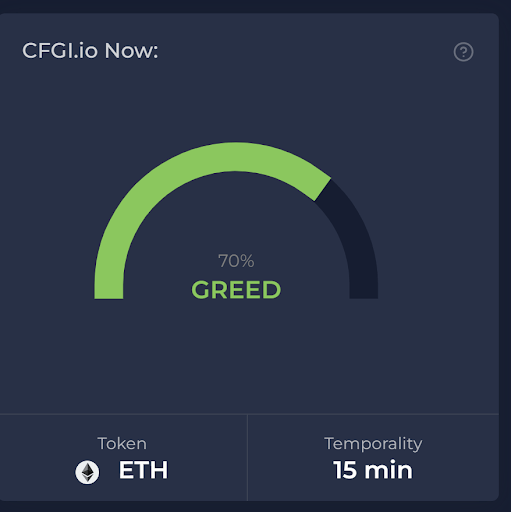 Biggest Crypto Gainers This Week
As for BTC and ETH, these coins gained 0.2% and 2%, respectively, over the past week. However, among the top 100 biggest cryptocurrencies, some projects have done much better. So, which projects are the biggest crypto gainers this week? Here is the list:
Render (RNDR) – 40%
Lido DAO (LID) – 32.8%
Pepe (PEPE) – 23%
Synthetic Network – 22%
Frax Share (FRX) – 20%
In addition, Conflux (CFX), Litecoin (LTC), and Injective (INJ) also recorded gains of more than 15% over the week.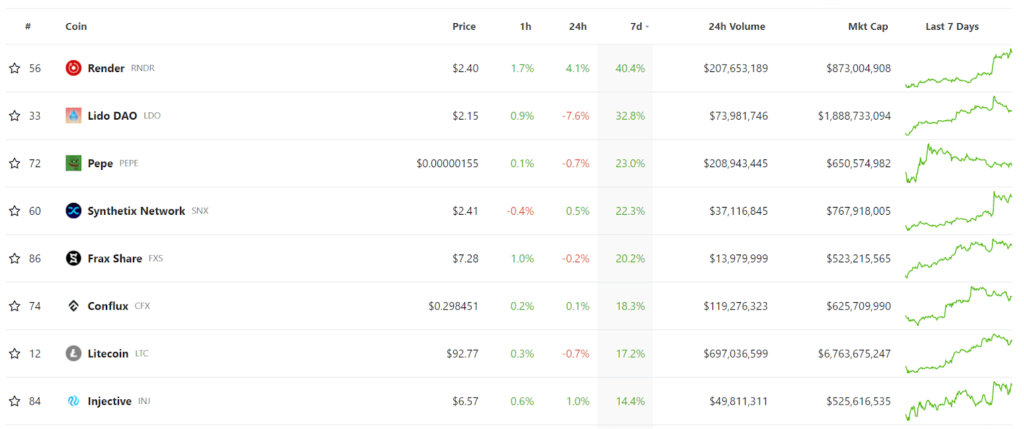 Crypto News of the Week
Now that we know how the situation in the crypto market looked last week, it's time to get down to the details. Let's check out what happened and analyze the most important news!
Elon Musk Resigns as CEO of Twitter
One of the world's richest men – Elon Musk – has announced his resignation more than six months after taking the Twitter CEO's chair. However, this does not mean he intends to sell the company, for which he paid $44 billion in October. Musk has announced that he will take over the chief technology officer and chief executive officer role at X Corp., which is Twitter's parent company.
The billionaire will be replaced by Linda Yaccarino, who is in charge of the advertising division at media company NBCUniversal.
The billionaire's predecessor as Twitter CEO was Parag Agrawal, who was fired immediately after Musk bought the website. Agrawal, however, succeeded Jack Dorsey, the platform's co-founder, who now runs the cryptocurrency company Block (formerly Square). Twitter launched in 2006.
Do Kwon Released From Prison on Bail
A court hearing was held Thursday on the issue of the continued incarceration of the co-founder of the Terra ecosystem, which collapsed an equal year ago. Do Kwon had been moving between countries and hiding from justice for over six months. On March 23, however, he was recognized and detained at an airport in Montenegro, where he tried to cross to Dubai. Officially, local authorities accused him of using fraudulent documents. He already faces up to a year in prison in that country for that. However, that's no big deal compared to the 40-year sentence he faces if convicted of financial crimes by a South Korean court.
It still needs to be determined where Do Kwon will be sent after his trial in Montenegro. That one is scheduled for June 16. The United States and South Korea, of which Kwon is a citizen, are seeking extradition. However, his home country does not have a signed extradition agreement with Montenegro. Therefore, Kwon could potentially end up in the US – where an indictment against him has also been issued.
However, he has now been released on bail of about $435,000, which his spouse will pay on his behalf. The same decision was made in the case of his companion on his last trip, Han Chang-joon, or former director of Terra. Both men assured the court they would not try to elude law enforcement officers. They will, moreover, respond to all calls from the Montenegrin prosecutor's office. They have been assigned a location in one of the local villages, which they will not be allowed to leave, and in addition, police surveillance will be imposed on them.
European Union Finance Ministers Have Boted Down MiCA
The European Union's Economic and Financial Affairs Council – consisting of finance ministers from all member states – has given the green light to the long-awaited MiCA regulation. The politicians voted it down on May 16. All finance ministers from member states voted in favor of the law and amendments to several regulations and directives relating to the new rules.
Following the MiCA vote, the European Parliament also passed two more pieces of legislation. These included a regulation on information accompanying transfers of funds and certain cryptocurrency assets.
The European Parliament formally voted on the MiCA regulations on April 20, paving the way for final approval by the European Council.
The new EU regulations are clear guidelines and requirements for using cryptocurrencies and related services. They will apply throughout the European Union. The scope of the rules covers a range of assets: cryptocurrencies, tokens, and stablecoins.
The Number of Addresses Storing a Minimum of 1 BTC Has Reached ATH
In 2022, the price of Bitcoin fell by several tens of percent. The price was below the $20,000 level, the ATH of the 2017 bull market. Some investors capitalized on the slump. Over the past year, the number of addresses with at least one Bitcoin has skyrocketed. The most noticeable increase occurred during the sharp market crash in June (Terra – LUNA). Then from November 11, the day FTX announced its bankruptcy.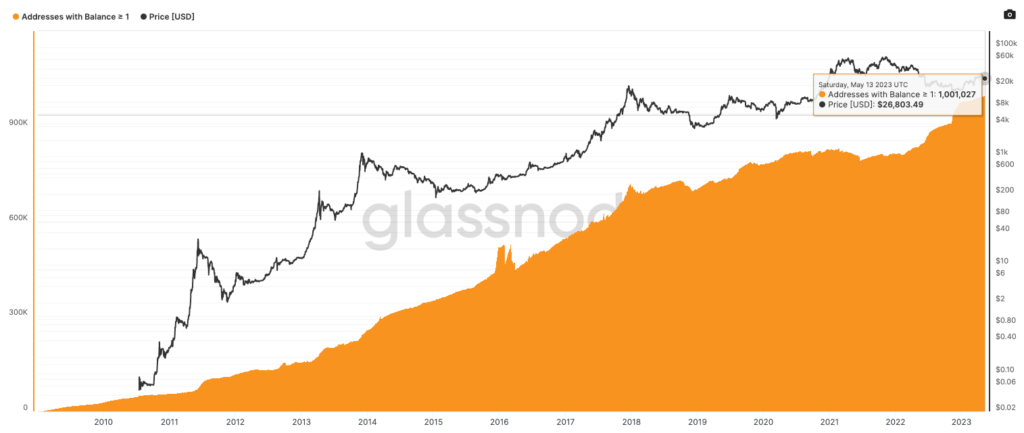 It is worth noting that one address on the Bitcoin network does not always represent one person. Many crypto investors have a couple of addresses. It is common for addresses to belong to large institutions, crypto exchanges, and investment companies, which typically hold large amounts of BTC.
According to data from analyst firm CoinGlass, of the roughly 19 million bitcoin currently in circulation, 1.89 million are held on major centralized exchanges such as Binance and Coinbase.
On the other hand, as many as 3 million BTCs – worth some $80.4 billion today and accounting for 17% of the total coin supply in circulation – have been "lost forever." That's according to estimates by Glassnode, whose calculations are based on a combination of different data.
Ledger Launches Controversial Update
A new software update from cryptocurrency hardware wallet developer Ledger allows users to link a seed phrase to an identity document. Is it a controversial idea? Of course!
Cryptocurrencies are intended to allow us to complete privacy. While the fact is that registering on exchanges involves sending our documents to their administrators and going through the KYC/AML path, using a wallet should be fully anonymous. Ledger shows that there is another way. The question is whether the right one.
As part of a new service – Ledger Recovery – users of the company's hardware wallets will be able to secure access to their addresses with identity documents. After all, to recover it – in a situation where they lose a seed phrase – they must present their passport or ID card. All of this, of course, is to confirm identity. It sounds like regaining access to a bank account.
That's not all, however. The new software version also allows users to share fragments of their password made up of seed phrases with partners Ledger, Coincover and EscrowTech.
A company spokesperson assured us that everything is heavily secured. Wallet users, however, feel uneasy. And it's not hard to surprise them since the data of about 273,000 customers was stolen from Ledger's databases in 2020. These were "only" email addresses and phone numbers. The question, however, is whether the said wallet security will be 100% secure.
He Bought a Ferrari with Bitcoin and… Went to Jail
When 21-year-old Frenchman Thomas Clausi decided to buy a luxury Ferrari using Bitcoin, he didn't anticipate that a seemingly ordinary transaction would have such far-reaching negative consequences. In a country where current laws consider cryptocurrencies illegal, he was targeted by the Moroccan legal system.
The case against Clausi began in 2021. That's when he used Bitcoin to purchase a Ferrari car, paying 400,000 euros for it. Moroccan customs considered this an illegal transfer of funds. Clausi was arrested in December 2021. In October, he was sentenced to imprisonment and a huge fine. In recent days, an appeals court in Casablanca upheld the sentence.
He was sent back to serve 18 months. He must also pay an astronomical fine of 3.4 million euros. The charges included fraud and payment in foreign currency on Moroccan territory.
However, this is one of his offenses. Has was also accused of forging a check for luxury watches. The good news for the Frenchman is that he has only a month to serve his sentence.
AMA HOGE x StealthEX
As you may have noticed, there is a lot going on in the crypto market from week to week. There is also a lot going on with our partners, including the Hoge Finance project. Therefore, we decided to prepare an AMA with the HOGE team. It will be held on May 25 on the Twitter Spaces platform. To make sure you don't miss this event, follow us and Hoge Finance on social media channels.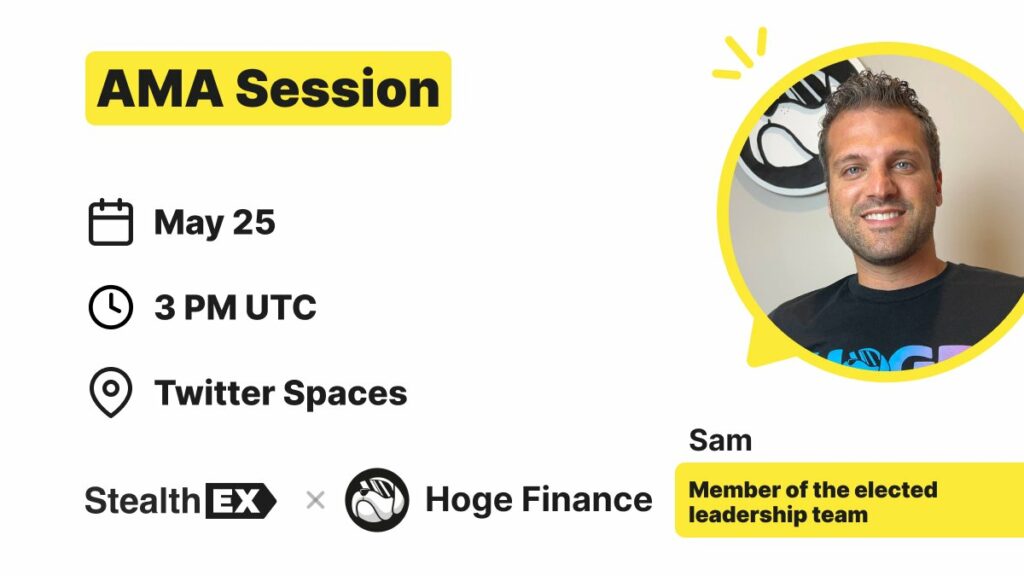 ---
Follow us on Medium, Twitter, Telegram, YouTube, and Publish0x to stay updated about the latest news on StealthEX.io and the rest of the crypto world.
Don't forget to do your own research before buying any crypto. The views and opinions expressed in this article are solely those of the author.
Bitcoin
crypto
crypto world
Ethereum
how to buy
Recent Articles on Cryptocurrency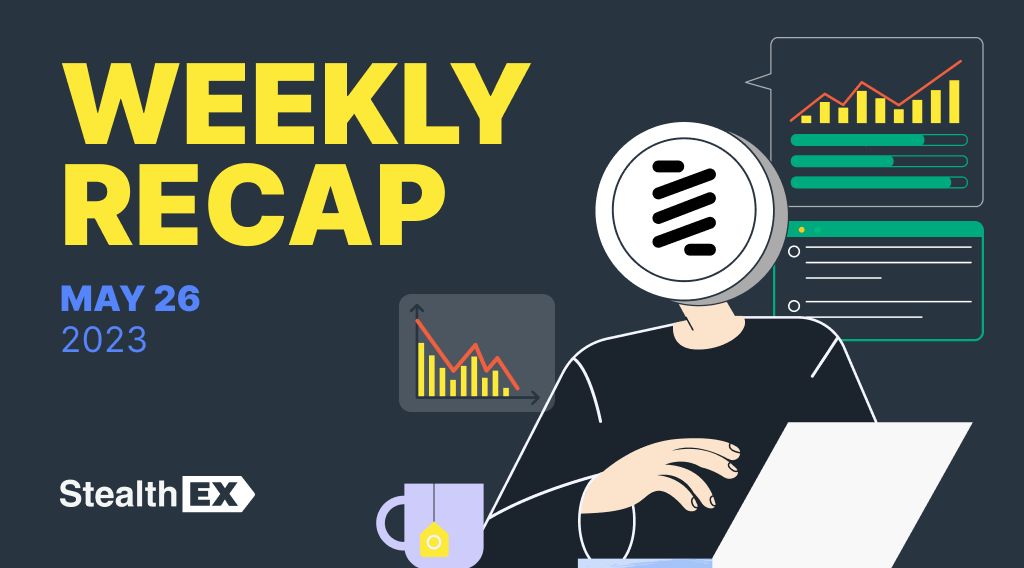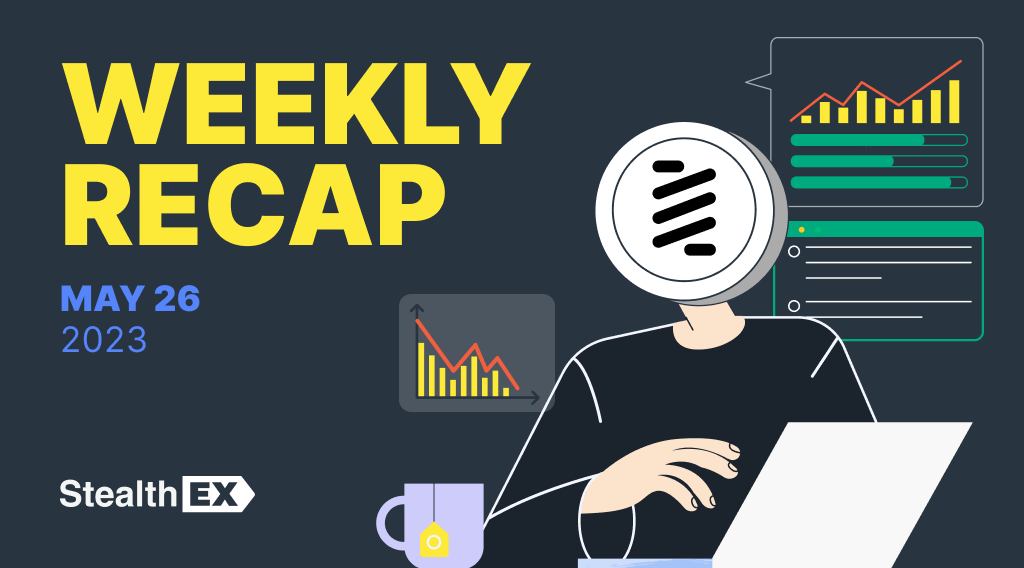 May 26, 2023
Crypto World
Review of the Crypto Market: May 26, 2023
Dive into the crypto market's weekly trends: get the detailed analysis and major news for May 20-26, 2023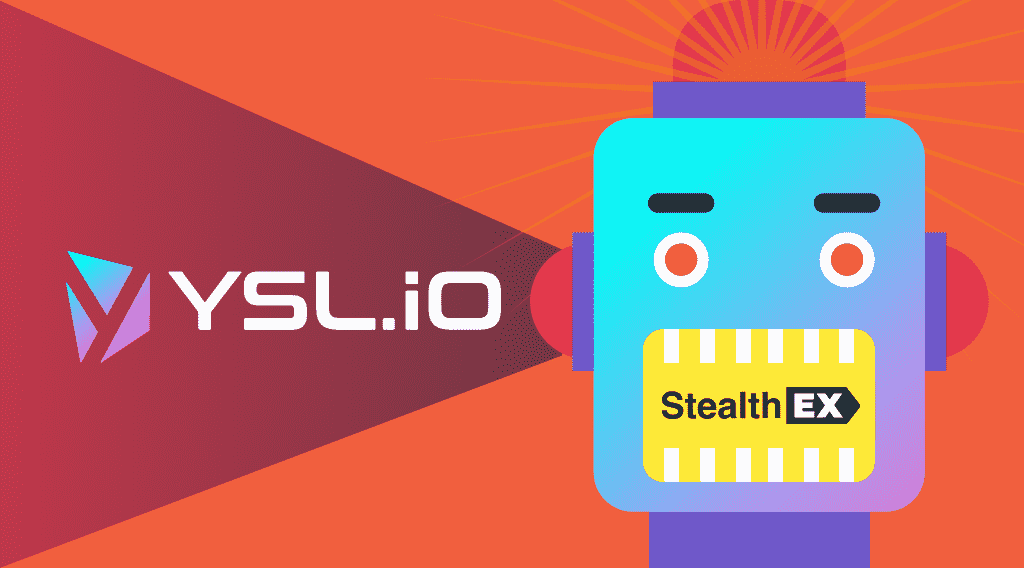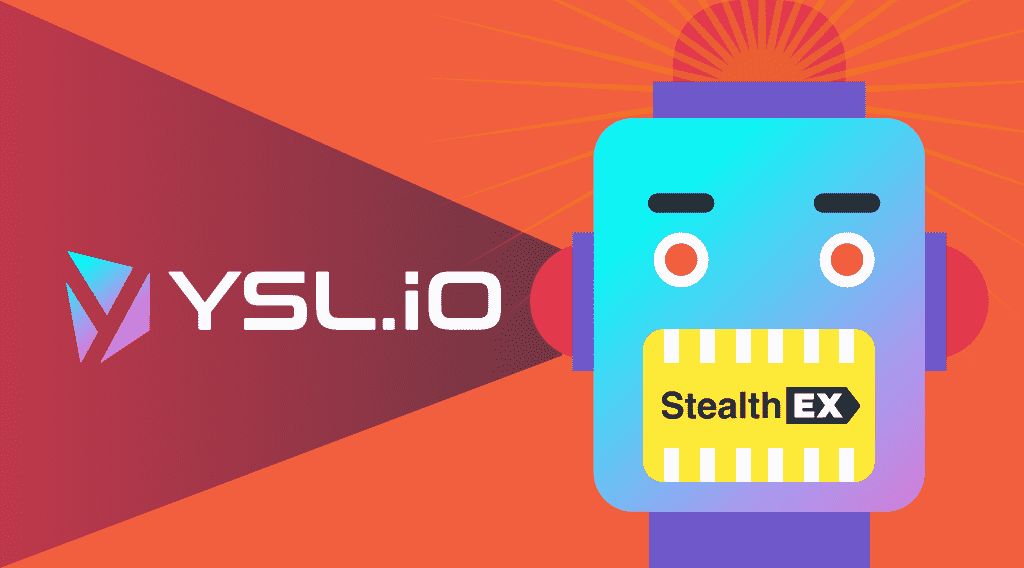 May 25, 2023
Our News
StealthEX Has Been Integrated into ChainZap by YSL.IO
Instant crypto exchange StealthEX partners with DeFi 3.0 protocol YSL.IO for seamless integration into ChainZap